Customers are bound to come and go. But as business owners, you want to keep your customers for as long as possible. Learn how to re-engage inactive customers today.
This article teachers you how to successfully re-engage inactive customers. Read on!
Customers are the backbone of any business. Without them, your business will lose much more than just revenue. It will lose its purpose.
Therefore, attracting and retaining customers for your business has to be a top priority to remain successful and competitive in your industry.
That's why knowing how to re-engage inactive customers should be a top-of-mind priority and challenge for your business. It's what holds most businesses back.
Customer churn plays a critical role in today's business practices. If you've been in the industry long enough, then you should know by now that every business's customers differ on multiple fronts. Their expectations differ significantly, meaning every business must take a unique approach to wow its customers. Anything short of impressive, and you will see your customers walk straight to your competitor's path.
What Causes Customers to Leave?
If there's one thing worse than seeing your customers not purchase your product/service, it's seeing them in your competitor's stores. But what causes customers you fought for to leave your business for the competition?
Without knowing the concrete answer to this question, you won't be able to solve this puzzle, and your company will continue bleeding customers and revenue.
Sometimes, there are those times when no matter how hard you try to deliver the best experiences and products/services you can afford, you still record a drop in your sales. And you don't understand how you could spend so much time, effort, and resources optimizing your website and sales processes but not receive positive results.
Well, sometimes, the problem might not be in your content creation at all but other aspects of your customer engagement process.
Here are some of the common issues you should be aware of:
1. Poor Service and Treatment
When it comes to winning back lost customers, you will definitely need to adjust your customer service and attitude.
This is perhaps the most common reason why most customers leave businesses. Ironically, it's also one of the most overlooked reasons.
You may have everything else air-tight, from content creation to marketing and sales processes. But if your business is offering poor customer service and treatment, they will still leave and probably never return.
If you don't offer your customers an outstanding experience using your website, they will likely become disillusioned with your company.
An excellent marketing campaign will definitely drive more customers to your doorstep and keep your sales and conversions up. However, you must also know the proper way of interacting with your customers when they arrive.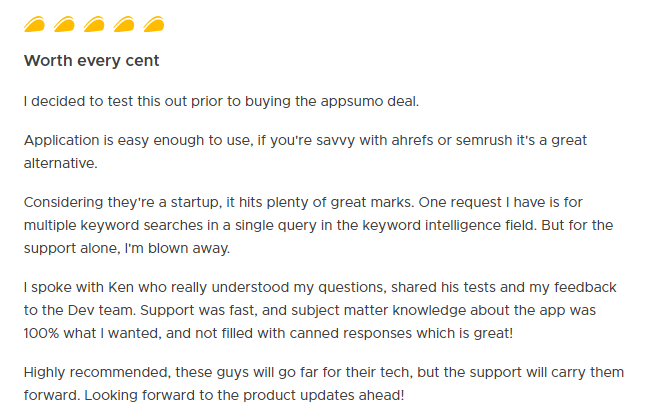 We live in a world where people are obsessed with experience. Today, even "just good enough" doesn't do. You must provide an exemplary customer experience. Something your customers will remember and appreciate when leaving your store.
One great strategy is to monitor your customers' reviews and testimonials. You will learn a lot about what they like and dislike about your business. Use this to your advantage, and your customers will stick to your business like glue.
2. Needs Lower Costs
Sometimes, your customers might just decide to leave because of your product/service pricing, especially when it's too high.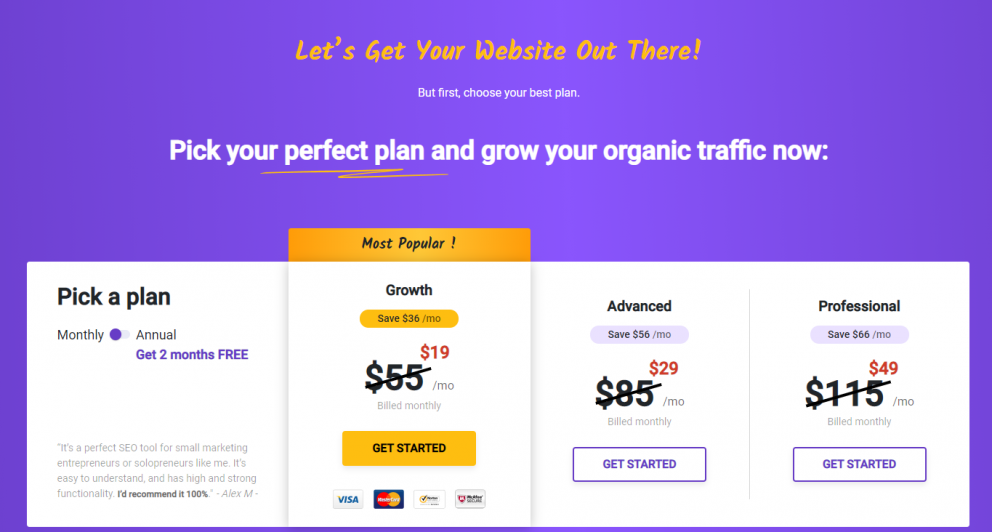 Pricing is another major adjustment most companies make without considering their customers' financial positions. It's also one of the most common sections businesses adjust when they start losing customers.
At the same time, businesses overly rely on pricing adjustments to solve problems resulting from outdated products or poor customer service.
However, if you have legitimate pricing issues, then dealing with them will require some research. You will need to monitor your cash flows and margins, the perceived value you're creating with your marketing, and industry standards. All these factors play a critical role in ensuring you get your product/service pricing just right.
3. Competitors Win Over
At other times, your customers will likely leave when they feel that your competitor can solve their problems much better than you can. Perhaps your competitors are offering better products/services with better features at a better price.
If so, what's stopping them from turning to your competitors for their products/services?
It's just the natural law of things. After all, you would do the same if you realized that a new supplier was offering better raw materials or products better than your current supplier. You would want the best products for your business to attract more customers to your website.
These may also include better quality products, prices, and reviews from other customers. Other deals like discount coupons will just as easily grab your customers' attention. Therefore, always ensure you are on the lookout for competitors threatening to steal some of your customers and outshine them in their tactics.
4. Your Solution is No Longer Needed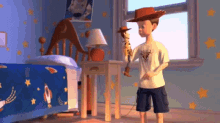 While death might be a little heavy and dramatic for online businesses and websites on customer retention, it is undeniably a real threat that makes it difficult to retain customers.
NOTE: customers won't always need the products/services you are offering. This is especially true if you don't evolve with the rapidly changing customer expectations.
There are two major reasons why your customers' needs won't always remain the same:
Customers Move Up/Down Market
Like all businesses, your business mostly serves a tiny segment of your entire industry and market. As such, you likely offer excellent products/services to customers in your segment, while other companies do the same in other segments.
Therefore, you will likely lose customers when they decide to leave your market segment. This happens to all industries. Your greatest insurance is how you recover from this and become the perfect fit for their needs again.
Customers Exit Your Market Entirely
Customers can leave your market segment entirely as well, and for several reasons. This is more permanent, and you won't stand a chance of recovering them once they leave.
For instance, when a customer dies, you won't be able to sell to them. They may also decide to go for the better product/service, leaving yours entirely.
Why Are Winning Back Lost Customers Crucial?
It's amazing how far too many SMEs still miss out on huge potential new sales sources. This data isn't just under their noses but also one of the most cost-effective strategies to achieve extra sales. It's also surprising how most new sales often come in the shape of former clients.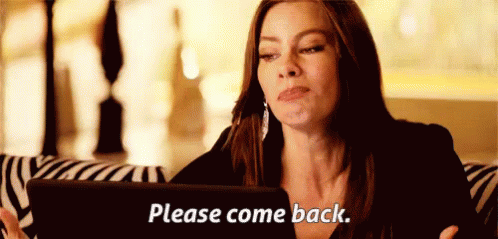 Lost customers can significantly impact your business, especially if your business relies on revenue paid regularly. That's why you must strive to re-engage inactive customers to avoid churn, which can kill your business if it gets too out of hand.
Your marketing and sales efforts can become even more expensive if you spend fortunes marketing products/services to new prospects. Admittedly, attempting to replace the customers you've already lost is never easy.
In fact, you may even spend less at winning back your lost customers. You also stand a much better chance of winning them back than successfully chasing after new ones.
Generally, customers who've already identified and shown a need for your product/service are a lot easier to find and target. After all, you already have their contact information. So, you've already got half the job done. You don't have to start over. Just continue building the momentum from your existing list.
Ways to Re-Engage Inactive Customers
Customer lifecycle marketing is difficult to monitor. But traditionally, you find that the acquisition stage is what keeps marketers and salespeople busy.
However, it seems the tables are turning, as retention and re-engaging customers are not key focus points of the customer funnel.
So, how can you re-engage inactive customers to interact with your business actively again?
There are several authentic and mutually beneficial strategies that you can use in reactivating lost customers. Let's jump into some popular methods you can use to win back your lost customers:
1. Reach Out and Ask Questions
Winning back lost customers doesn't require much technical or marketing skills. You just need to find the right words and questions to ask your inactive clients—more so, why they aren't purchasing from you anymore.
You don't necessarily have to wait and send a survey once they cancel their subscription with your business. Send them email surveys requesting feedback and asking questions about why they canceled. You can also request suggestions they may have for your business.
You will be surprised about the wealth of knowledge some customers have that could help steer your product/service and engineering efforts.
Therefore, in addition to gathering valuable data from your inactive clients, you will also be reminding them that you still exist and that you genuinely care about them. You will also want to thank them for their time as you urge them to reconsider their decision.
2. Provide Meaningful Content
Knowing how to re-engage inactive customers demands that you craft an effective strategy that gets them lining up to use your products again.
When done well, you will identify all your lost customers, identify a purpose, create catchy subject lines, create content that aligns with your purpose, and follow up.
Past customers already know about your brand. You just need to give them a nudge to get them back on track. Give them a small push, putting a fun and enticing return discount or promotion that drives them to your business. These may include:
Sponsoring contests
Hosting giveaways
Offering deals for customers and friends
Introducing new features, products, and services
BiQ Content Intelligence is an especially great tool you can use in this case. The Content Intelligence feature allows you to draft, edit, and optimize your content for search engines and prospective customers. You will also have a real-time content editing feature that provides you line-by-line relevancy.
BiQ's Content Intelligence will also provide you with SEO-friendly content-driven features and interactive writing tips to aid your content creation. It is the ultimate tool that helps get your content in front of the right audience.
3. Adjust the Offer
Most marketers consider this option when brainstorming customer re-engagement campaigns. Winback promotions have always done the trick and enabled most businesses to re-engage inactive customers successfully.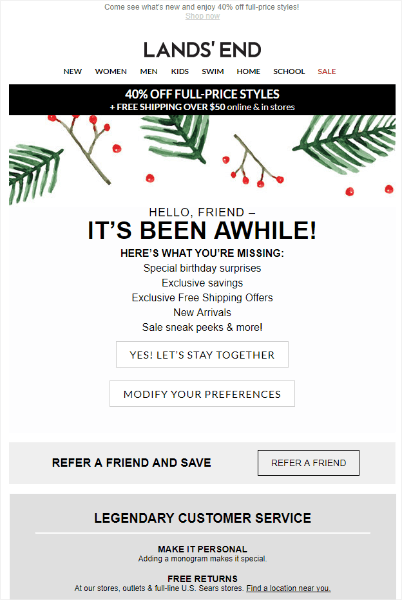 This involves sending email invitations to recently canceled customers to try your product/service once again at a discounted price.
However, while win-back promotions can refill your customer funnel fast, you must ensure you aren't just hurting yourself by overly discounting your prices or other incentives. Remember, customers that return to your business because you offered them some incentives often show a lack of stickiness. They're more likely to churn out after using your product/service.
4. Use Social Media for Re-Engagement
Digital retargeting is probably one of the most effective strategies to re-engage inactive customers. The best part is that it doesn't require you to have your customers' contact information either.
Digital retargeting allows you to use cookies or tag people who visit your website and social media profiles. You can then use these cookies to group them into categories based on other pages they visit.
Then you can display ads most relevant to them using social media PPC ads and Google display.
This re-engagement strategy allows you to put your website in front of your previous customers and interested prospects.
5. Utilize Email Marketing
You shouldn't let your customers and prospects stray away from your business in the first place. One of the best ways to do this is by creating newsletters that go out to them weekly, bi-weekly, or monthly.
Regularly getting in front of your current and inactive customers is an excellent strategy for staying on top of their minds and preventing them from drifting.
Additionally, you can create targeted email campaigns that win back customers based on their past actions and behaviors. You can do this by designing promotional emails and marketing messages personalized to their preferences. This will be made possible through:
Past purchases
Birthdays
Location
Your web pages visited by the customers
Linked customers clicked on previously
Last interaction with your brand
Knowing the right time to send your messages is also just as important, if not more important. You don't want to send emails and other messages to your inactive customers if they won't read them.
6. Create a Community or Group
Creating a community for your customers is another effective way to keep your business top-of-mind of your existing customers. Your community should both feed your funnels and keep them full. As such, whenever a customer cancels, you should consider sending them an email thanking them for their time as your customer.
It is also always best to apologize for not meeting their needs and expectations. During this time, you can encourage them to join your community and enjoy other benefits your brand offers. These may include educational content, updates, and other great sources.

Online forums like Quora and Facebook are particularly great community-based platforms.
7. Introduce Loyalty Programs
As we see more businesses use loyalty programs, winning back lost customers has become easier. Inviting your old customers to join your loyalty programs or participate in your loyalty campaigns offers them a new way of benefiting from your brand. This will definitely pique their interests, and they will want to engage with your product/service at a deeper level.
Conclusion
There are several ways you can re-engage inactive customers that once tried and canceled using your product/service. As lifecycle marketing keeps evolving, you will find more channels and opportunities available for engaging customers.
It's your responsibility to leverage as many strategies as possible in reactivating lapsed customers.