If you're into SEO and content writing before, then you should know about keyword density. This article talks about what is keyword density and how do you calculate it.
Read on to know all about keyword density and how you can achieve an optimal percentage.
Besides publishing relevant content and optimizing your web design, ranking for the right target keywords will help your website stand out from the crowd. It's one of the best strategies to get your content on top of the search engine results pages.
Therefore, it shouldn't be a surprise that most SEO advice and tactics are centered on keywords. But selecting and ranking for the top-performing keywords isn't as simple as it may seem, especially if you don't have the skillset for the job.
But when done right, keyword usage can boost user engagement and increase your overall sales and content visibility.
Then again, how many keywords would you say are enough? How many would you say are too many keywords? How would you know when you've reached the required keyword limit? Will Google penalize you for using excessive or too few keywords in your posts? Who really knows the answers to these questions?
In this post, we'll cover keyword density in-depth, dig into why it's important, and provide functional formulas and keyword density tools to ensure you have an effective keyword strategy.
What is Keyword Density?
Keyword density refers to the recurrence of the keywords in your blog posts and articles per 100 words. It's one of the most significant factors in on-page SEO optimization. At other times, the keywords rate is determined not as a percentage rate but based on the number of words in your blog post.
For example, incorporating the focus keyword 10 times in a 1000-word blog post isn't the same as a 5% keyword density. The latter would equate to 50 uses of the focus keyword in a 1,000-word post. Understand this; Google will penalize you heavily for this, which would negatively impact your overall search engine rankings.
In most instances, keyword density is reported as a ratio or percentage. The higher your value, the more the selected keyword will appear on your web page.

Keywords are what drive searches and determine the searchers' intent. They are what allow users to look for products/services or information online. Online users will typically use a keyword to reflect their general search intent and expect the search engine to provide them with relevant results.
The key takeaway, you cannot simply "stuff" keywords into your content and still expect to get reliable results. Sure, this Blackhat SEO tactic used to work during the Wild West days. Most brands would write low-value blog posts and cram keywords and keyword tags into them, along with links to similarly-stuffed web pages on their sites.
Not surprisingly, online users quickly became frustrated with this, and search engine providers like Google, Bing, and Yahoo! quickly realized they needed a different and better approach.
As of writing this, keyword stuffing has the complete opposite effect in the SERPs. Search engines will now penalize your web page rankings if you use the keyword stuffing strategy.
Is Keyword Density Still Important?
Of course, it is!
Why not? Inasmuch as keyword density may not be a ranking factor right now, we know it used to. Therefore, it's safe to say Google still holds it in high esteem.
Perhaps Google has completely moved on from this. But still, it's better to be safe than sorry, right?
Generally, search engines discourage keyword stuffing and will penalize you for exercising this Blackhat SEO strategy. It also just means you're a bad writer. At the very least, you should have a gauge to determine whether you are abusing the same keyphrase too many times in your content.
One of the main tools search engines used in the fight against keyword stuffing was to develop a content density algorithm. A few years back, if you wrote a decent piece of content with a keyword density of 2%, you stood a fair chance of landing in the first few pages of search engines.
Today, SEO specialists spend several hours creating well-written and lengthy posts with keyword densities ranging 2%. At the end of the day, they have nothing to show for their work. Such instances may have been what made content marketers believe that keyword density is no longer effective.
But that's just what it is – a myth. Keyword density is very much a ranking factor and can either make or break your overall ranking in the SERPs and overall content visibility. Thus, it's as important as any of the other Google ranking factors.
What is the Formula for Keyword Density?
Sadly, there's no set rule for the overall keyword density you should use in your content. How many times should your keyword appear on your blog post?
Search engines haven't publicized their preferred target keyword density percentage. But that doesn't mean there's no formula to use or the best practices to guide you. Therefore, it falls on you to use discretion and common sense just to determine how much is too much or too little.
Most SEO experts claim that the ideal keyword density for any post should be between 1-2%. As such, your target keyword should appear about one or two times for every 100 words written. At this rate, your keyword will appear just enough times to tell the search engines what your content is about without falling victim to keyword stuffing.
Learning how to calculate the ideal keyword density should be fairly easy. Simply take the number of times your target keyword appears in your content. Divide this number by the number of words for the entire content, as illustrated above.
Keyword density = (number of words in copy)/ (Number of times keyword appears in copy)
Multiply this by 100, and you'll get the percentage of your content's keyword density.
What is the Ideal Percentage of Keyword Density?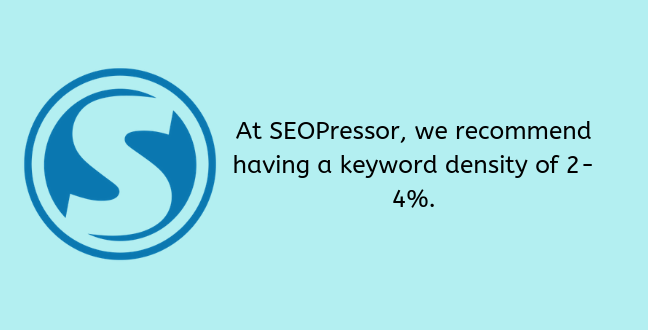 By this stage, you probably already know that using your target keyword many times won't help your blog post rank higher in the SERPs. It's one myth many content marketers fall for but mostly end up facing the wrath of Google.
Google will probably treat your web page (and website) as "keyword stuffing," which may lead to an over-optimization penalty.
All in all, two things you must remember:
Blogs with low keyword density don't always achieve the desired results in the SERPs
Blogs with very high keyword density may likely get the entire site flagged for keyword spamming.
As you can see, there's a very fine line between having too little or too many keywords in your blog posts.
A less than 3% keyword density plus "LSI keywords" and "semantic keywords" should be perfect. Google suggests that you write articles and blog posts naturally. Again, you'll notice there's no ideal percentage. However, placing your keywords naturally in your content will work the best.
A good keyword percentage won't look natural or stuffed, and search engines will reward you for it.
It's one of the key issues most freelance copywriters face. Say you hire a freelancer to write a two-word keyword. Then the freelancer adds the two-word keyword 20 times in a 500-word post. That article will look like a piece of spam that won't make any headway with the search engines.
Fortunately, you can use several keyword density tools and calculators to determine your overall keyword density. But remember, you always want to keep it somewhere around 1-2%.
How to Increase Keyword Density
This section will discuss some key places in your blog post where you can use your target keywords for SEO.
1. H1, H2 Tags
SEO's and search engines have considered H1 and H2 important for several years. With the advent of HTML5, content creators debated whether search engines would be able to understand this new content writing structure. The new semantic markup encourages content marketers to use H1 and H2 tags in their posts and multiple sections within their articles.
As it turns out, SERPs won't penalize you for using H1 and multiple H2 tags within your posts. You only have to use them where it makes sense and sparingly, too. Remember also that search engines have safeguards in place that penalize websites that use spammy tactics. That includes using H1 and H2 tags an excessive number of times in body texts.
2. Meta Title Tag
The meta description is another important area to use keywords. Your meta description shows up under your content title on the search results entry. Although it's no longer a direct ranking factor, using keywords in your meta description helps Google determine how relevant your web page is to what searchers are looking for.
Your meta description also helps online users determine whether to click through to a search result to check the full content on your web page or not.
As such, ensure you use the right keywords in your meta title tag. By this, we mean relevant to your content that searchers look for when clicking your post.
3. Alt Text Images
Sure, images might probably not be the first place you think to use your keywords. But you cannot afford to ignore them, especially if you want to get positive results from SERPs.
Images are indexed, thereby creating a way for searchers to find your post. Images also help you handle content accessibility that helps millions of online searchers globally who struggle with a disability.
4. URL Link
You've probably seen those URLs that show large strings of numbers and other weird characters. Such URL links can be a big turnoff, especially for visitors who're checking your website for the first time.
Then, there are those website URLs that give Google and visitors a clue of what your page is about. Such URL links describe what's on your page. Here's where you can also capitalize your use of the SEO keywords.
The best practice is always to keep your URL links short and use no more than one or two keywords in them. Also, remember that the URL should make sense for users who are visiting your page for the first time.
BiQ's Content Intelligence plays a critical role in this prospect by providing you with fundamental SEO optimization processes to help searchers understand what your topic is about.
With BiQ's Content Intelligence, you can provide searchers with the best content-driven strategies that are SEO-friendly.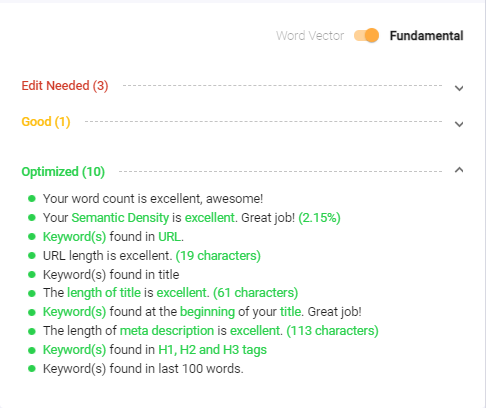 Assuming you've already got a great keyword in hand, the next stage is knowing how to use it in your content. BiQ's Content Intelligence analyzes your content against the best-ranking organic content on Google and the reason for their top performances. Better still, it provides you with a breakdown of your target keyword in terms of usage and similar keywords in the SERPs.
What are the Best Keyword Density Tools?
You can find several keyword density tools online that promise to give you results and get your content ranking again. But not all live up to their promises.
Here are two of the best keyword density tools the internet has to offer:
If you're looking for a keyword density tool that shows you the number of times your targeted keyword repeats in your content, BiQ's Content Intelligence is it.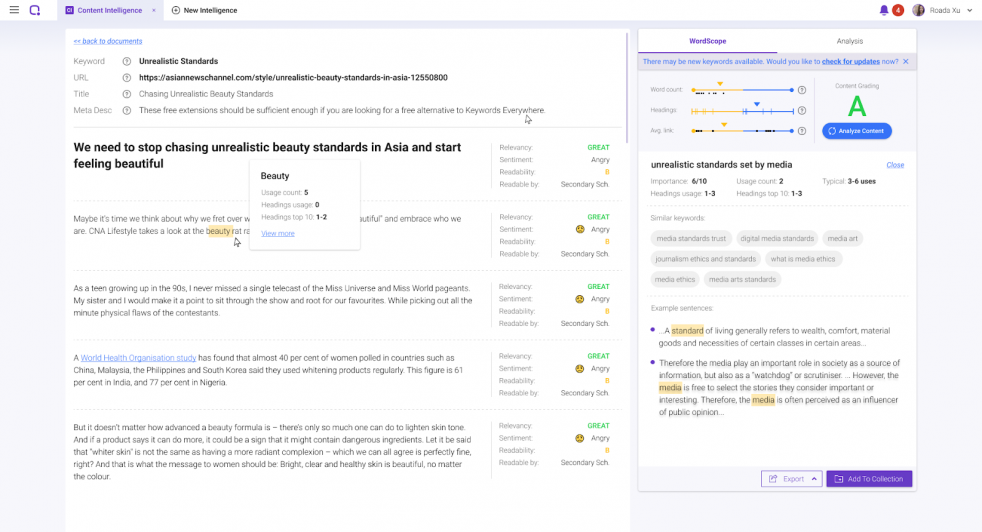 With Content Intelligence, you can naturally include keywords in your content, thereby increasing its relevance for that particular term without drawing the wrong kind of attention from Google.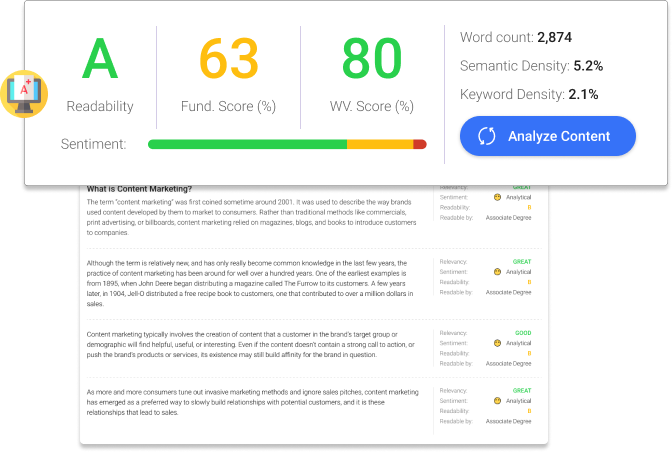 BiQ's Content Intelligence enables you to achieve semantic content excellence for higher rankings and is centered on boosting your site's visibility. This tool also provides you with your content word count and semantic density alongside keyword density. With this information, you'll know whether you're abusing your keyword usage or within the acceptable limits.
Sign up today to use BiQ Cloud for free to aid your writing and enjoy the many features it offers for your SEO-optimization processes.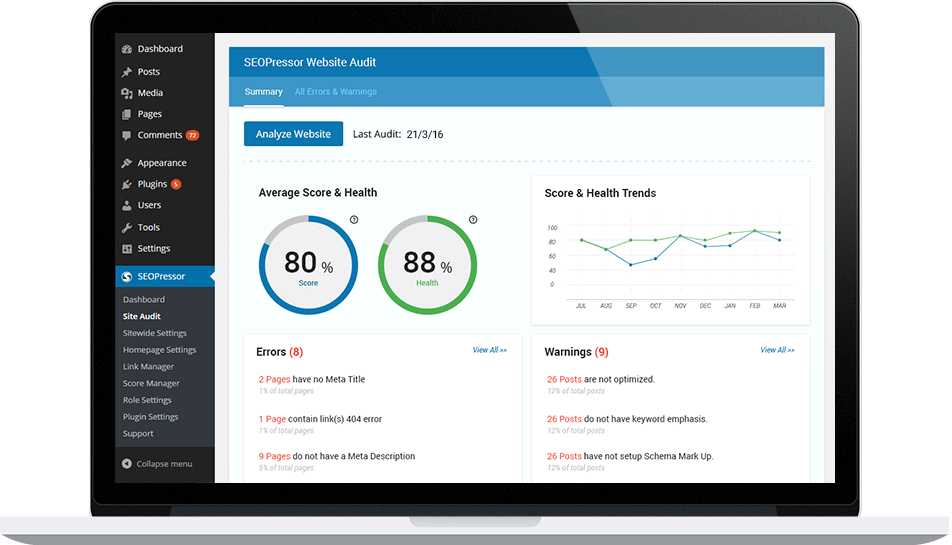 SEOPressor is another great tool for gathering the most critical SEO intelligence for your content. This keyword density tool presents all your SEO intelligence processes in one place, thereby providing you with critical data and insight into your site's SEO health.
With SEOPressor Connect, you'll be able to determine your keyword density. The tool also provides real-time suggestions for the best keyword optimization strategies with crystal clear clarity.
Conclusion
There are 200+ signals Google considers when ranking websites. Keyword density is definitely one of those signals. Therefore, using your keywords properly will help your content a lot, but abusing its use will not be good on your part.
Now that you know and understand keyword density and how many times to use your key phrases, get tools like the ones mentioned above to determine your post's keyword density today. Optimize your content the best way you can with BiQ Cloud today and enjoy the results in the SERPs.
Start reaching your optimal keyword density today!