Businesses can choose to venture into different strategies: product centric vs customer centric. Learn the different approaches and ways to attend to on either side.
A look at product centric vs customer centric strategies and how companies of either side should approach them.
Customers are fundamental to every business's strategic success. Without them, even the most optimized businesses wouldn't make sales.
At the heart of everything your organization does, you must have an all-encompassing consideration for your customers. This is what we mean by being centric. What's the center of your business strategy? What does your business work toward?
Digital channels and tools have transformed how buyers choose to buy products/services online so dramatically that you must use critical insights and data to determine how best to approach them. Digital tools have empowered customers so much that businesses have been forced to follow suit.
Customers will research for content online before purchasing a product or contacting the sales rep.
It is for this reason that the fate of marketing campaigns now lies in the hands of buyers. But despite this shift in power, online businesses still have more control over how their consumers access their products/services. Thus, the product centric vs customer centric battle.
Today, we will look at everything both from the product's point of view and the customer's point of view:
Definition of Centric
Centric basically means the center of a specific thing. It's the point of interest or focus for something. In this post, centric refers to the approaches and models used by businesses in their marketing strategies.
Therefore, choosing a product centric approach will mean that a particular product is sold to customers based on its features. Marketers will sell products by defining their characteristics, without considering whether they are important to their customers or not.
You'll be looking at something like this:
On the other hand, for a customer centric approach, businesses market products based on how they resonate with customer needs. As such, marketers sell products based on their attributes.
You would expect something like the image shown below:
What is Product Centric?
Product centric businesses place their efforts on products instead of customers. These businesses are always developing newer and more advanced products irrespective of their market demand. All the business processes and strategies are built around specific products and work accordingly.
Such businesses invest heavily in expansions by developing new product lines and adding them to their portfolio.
Here's an interesting quote from Steve jobs that resonates well with product centric businesses: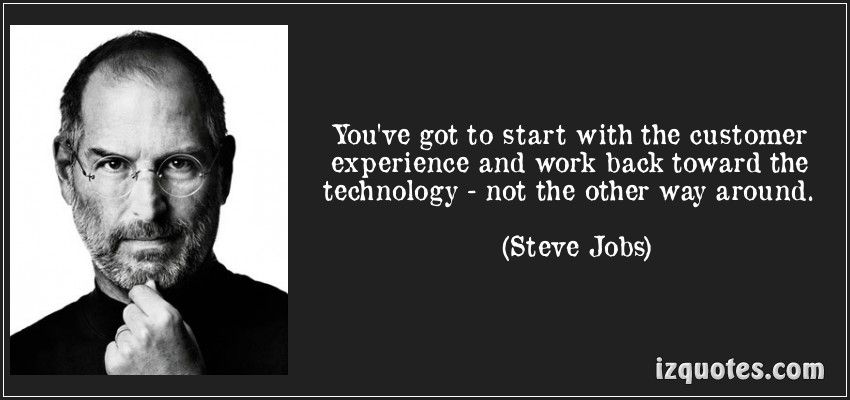 Businesses that use this approach will launch new products that perform exceptionally well in one market to newer customer segments. Similarly, they might decide to kill underperforming products and maybe deploy those resources and time to the high-performing products.
Think of it as a model that comes and goes with its products.
Product Centric Approaches
Product centricity models require a stable tram that's aligned along with your business's capabilities. It emphasizes more on the outcome instead of output. This approach comes with a team that's responsible for the product's complete lifecycle and is tasked with building its use cases.
With this data, here are some product-centric approaches that you should know:
1. Continue Evolving for the Better
A product-centric approach is set on adopting continuous delivery of products. This ensures that teams continue to make frequent but small releases of products, thereby allowing for granular validation benefits.
Mobile phone companies like Apple and Samsung have perfected this art and are always prepared to rival any competing products by tapping into every market in their niche.
This solution will help solve workflow issues and help businesses construct new solutions to communicate any product-related information to the intended market. Imagine a business that focuses on building an experienced and laser-focused team that's cross-functional across all boards. This team's work is to keep your product in the driver's seat while maintaining consistent innovation in your industry.
2. Ideas Come from Within
Remember that experienced, laser-focused team? Well, this is the team that evolves your products to match the market's evolving needs. Therefore, all ideas for the product come from within. In most instances, teams don't have strict guidelines for buyer personas when constructing their products.
Businesses will create what they feel their target audience needs instead of developing products that fit the current customer needs.
3. First Raise Awareness That a Problem Exists
This is perhaps one of the major drawbacks of using the product centric approach. Businesses that use this approach must first raise awareness to the general public that a problem exists somewhere and that their products offer the solution to these issues.
Remember, people aren't actively searching for these products, especially if they're new to the market. Therefore, it makes it difficult to sell your products if people don't even know it exists.
You'll want to develop people's interest and focus on your product. Without proper brand awareness, people could easily pass over your products online. This is mainly because you risk losing touch with your market and target audience and being replaced by your competitors.
4. Focus on the Features
In marketing, you would sell your products based on characteristics and features instead of why those products are important to your customers. Ideally, you are driven by a desire to focus your attention on building and bringing more products to the market instead of bringing them to the customers that actually buy those products.
As such, you'll find that these businesses focus on developing new products and add the most innovative technology to them. Businesses do this for the direct purpose of extending their product's reach to everyone.
What is Customer Centric?
Customer centric businesses place customers at the center of all their business strategies. These businesses identify their customers' needs, challenges, and pain points and then build solutions to sell them. You develop a keen understanding of your customer segments to which they market their products.
Besides giving focus to the solution you offer your customers, this business approach articulates your whole customer journey for an even greater customer experience. As such, your business will develop a keen eye on building a better and stronger loyal customer database, thereby growing your business.
Customer Centric Approaches
This section entails a simple modern marketing map for businesses that use the customer centric approach in their marketing strategies. Here's what you should know about the customer centric business approach:
1. Build Relationships, Not Problems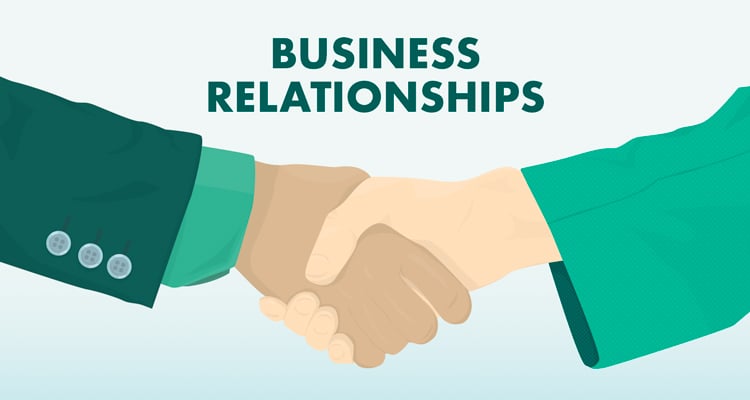 Unlike the product centric approach, the customer centric approach is more proactive. Businesses that use this approach don't waste time using the big data they collect to develop more products/services around their customer's needs.
Instead, these businesses market their products as solutions meant to fulfill certain customer demands, not focus on product features.
To ensure you are on the right track with your solution development plan, you can use the BiQ Keyword Intelligence tool to listen to how your customers search for your content. BiQ's Keyword Intelligence will provide you with critical insights on finding and targeting long-tail keywords that are related to your target keywords.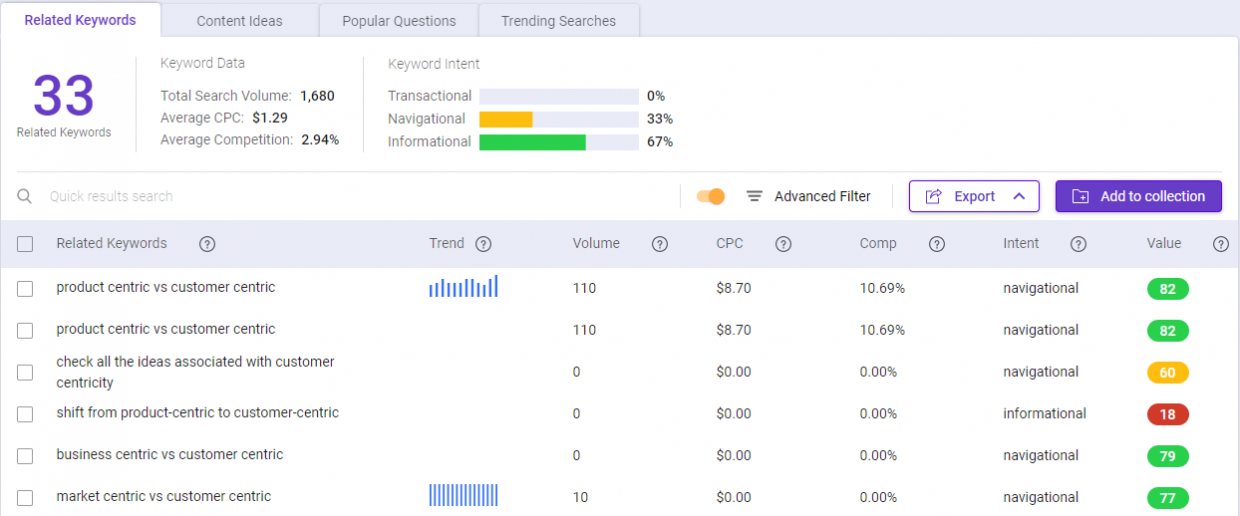 This way, you'll know the right long-tail keywords to use based on their value, as higher-ranking keywords mean more potential traffic at a lower competition.

BiQ's Rank Intelligence feature will also provide you with important data to know your competitor's keywords and monitor their search rankings using the keyword map. With this amazing tool, you'll have more insights into your competitor's marketing efforts and the keywords they're ranking for.
Using this data, you'll be better placed to create a more extensive keyword mapping strategy that trumps your competition in the SERP rankings.
2. Personalization
Customer centric businesses always strive to personalize the customer experience by categorizing customers into segments. They then distribute relevant content to each customer segment, thereby improving their content engagement and product purchases.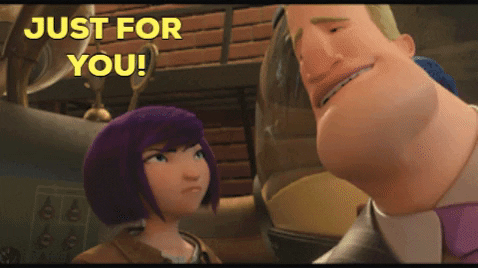 These businesses have also developed the culture of sending personalized messages to their customers and prospective customers. This strategy has been known to boost their customer lifetime value and retention rates significantly.
One study also found that 75% of customers revealed that they would purchase from businesses that remembered them and referred to them by their names. This would tell customers that these companies cared about them, were aware of their purchase history, and recommend items their customers would like based on their previous purchases.
Customer centric businesses understand that every customer is different and has different purchasing behaviors and preferences. They understand that there's no one-size-fits-all approach when it comes to product/service sales to customers.
3. Get Content Ready for All Stages of the Buying Process
The self-empowered modern-day buyers actively go out of their way to seek knowledge about a product/service online before purchasing a product online. Today's buyers strive to find solutions to their pain points online before approaching businesses to make inquiries about products or purchase items.
It's up to you to understand your customers well enough to know the different stages of their buying processes as a business.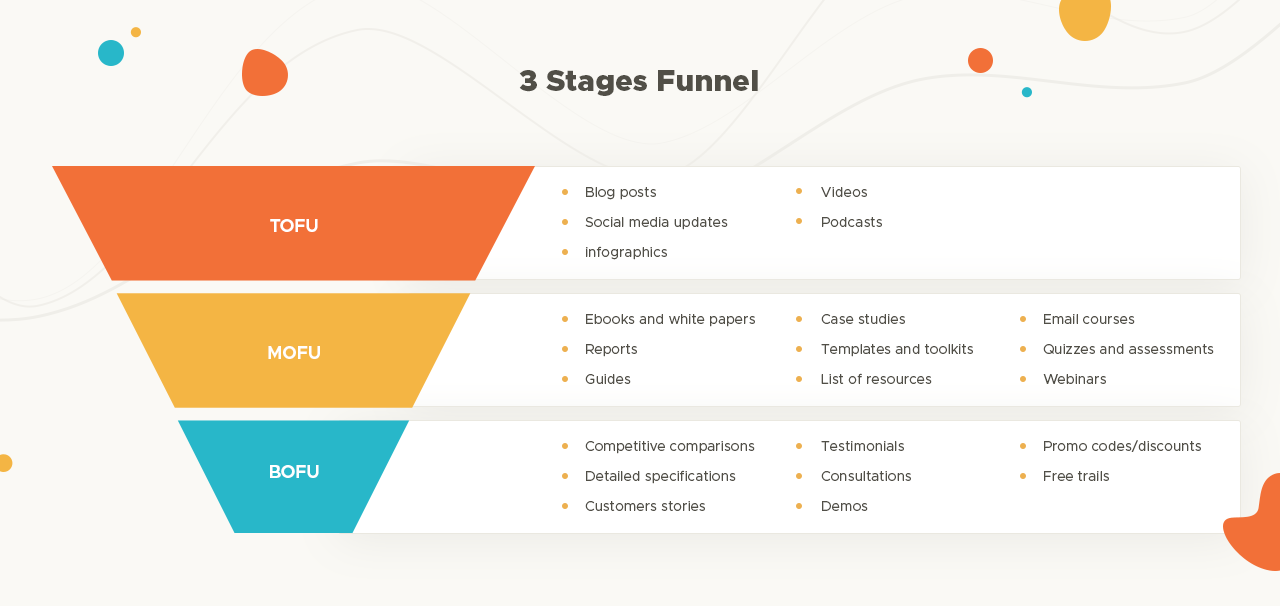 It's crucial that you align your products/services for different stages of your customers' buying process while maintaining a specific buyer persona.
Above all, you'll want to create content that tells a story to your customers. This could be a how-to video, instructional webinar or podcast, eBook, infographic, or whitepaper. Whatever format you use for your content, you must ensure it's in line with your buyer persona.
When applied properly, the same buyers can easily turn into search engines and social networks and spread the word about your product/service and perhaps even customer service.
BiQ Content Intelligence is the best tool to help you draft, edit, and optimize your content for search engines and users. You'll have critical data to provide you with content-driven strategies to help you draft and publish only SEO-driven content.
With BiQ's Content Intelligence, you'll also be able to edit your content in real-time as you type to ensure you capture and remove any errors as they appear. You will also have data for your keyword count and usage, thereby allowing you to know if you've used enough keywords in your content or not.
This Content Intelligence tool is the perfect addition to your arsenal to promote a customer centric business approach.
4. Advocate Your Customers
Your best and biggest salespeople are actually your customers. These are people who enjoy using your products/services so much that they are willing to say good things about your business. Besides having more options and choices in the buying process, customers also have a far-reaching voice today.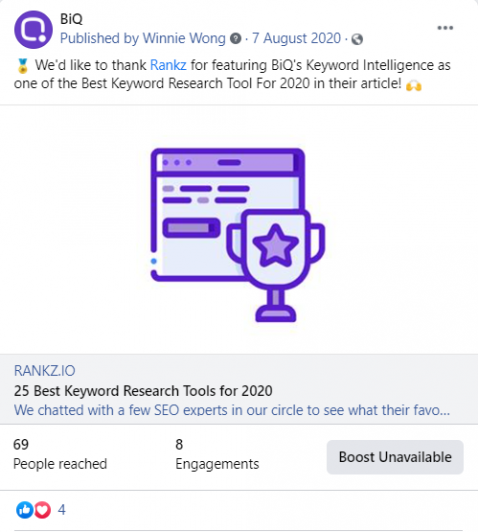 A customer centric business is more likely to leverage customer advocacy to its advantage. Customers with great experiences are also 75% more likely to proactively share about those brands.
And the key to developing an effective customer advocacy program is through clear communication. You shouldn't oversell your products or make customers buy your products when they're still not ready. Instead, you should strive to create an amazing customer experience through honesty, selling great products, accurate marketing, and responsible salespeople.
Turning a potential buyer into an advocate is relatively simple. You'll have to design your marketing process to create advocacy. Remember, advocacy isn't by random. Neither is it by chance. It's about people and the relationships you create.
Therefore, ensure you create the best experiences for your customers. Experiences that generate enough emotion to make customers want to sell your brand for you to their friends and family members.
Conclusion
Deciding which approach is better between product centric vs customer centric marketing approaches requires that you first understand what your business is offering. Mentioned above are great approaches and use cases of product centric approaches and customer centric approaches.
If you're building an innovative product like smartphones or other electronics, a product centric approach may be preferable. On the other hand, a customer centric approach places your customers at the core of your organization and marketing strategies.
Therefore, we would consider combining both approaches for even smarter marketing.
What about you? What are your thoughts on these two business approaches? Which approach would you prefer using?