On-page SEO (or on-site SEO) is the process of optimizing your webpages to improve their rankings on search engine results. You can practice these 9 steps in order to optimize your on-page SEO.
The digital landscape is transforming so rapidly that succeeding in organic search requires constant optimization of your SEO strategies.
Not to mention a combination of several search engine ranking factors to consider; on-page and off-page SEO.
However, the reality is that off-page SEO can't do your content rank much good if you don't pay attention to what's really important.
On-page SEO.
Generally, on-page SEO is less complicated and technical.
But that doesn't discredit the fact that it's one of the most fundamental strategies to get your content in front of the right audience and search engines.
What is On-Page SEO?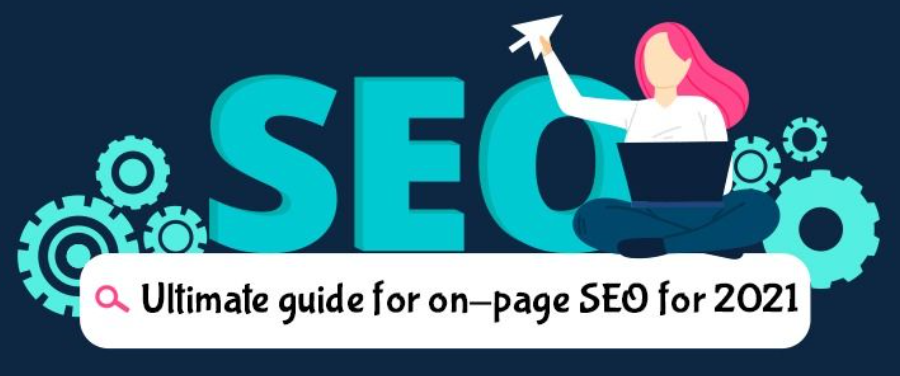 On-page SEO is also known as on-site SEO.
On-page SEO is the process of optimizing your web pages to improve their search engine rankings to earn more organic traffic.
There's no simpler explanation for it.
Besides publishing relevant and high-quality content for your audience, on-page SEO also involves optimizing headlines, HTML tags, and images.
That's to say, there's a lot more to this content creation strategy than meets the eye.
So, what's the importance of on-page SEO?
Besides making web pages authoritative, on-page SEO also boosts your brand's trustworthiness and demonstrates a high level of expertise.
It takes into account several aspects of your web page that, when used collectively, will improve your site's visibility in the SERPs.
Steps To Improve On-Page SEO
Smart SEO practitioners know the importance of on-page SEO optimization and the reasons to constantly prioritize it.
Now, the issue is how best you can use on-page optimization to benefit your webpage.
You've come to the right place.
I compiled a list of on-page SEO techniques to improve your website's rankings and site visibility.
1. Use Heading Tags
If you want your website to perform well on the search engines, then it's time you started writing compelling headlines.
However, crafting a killer headline isn't always as easy as most people think.
Creating a title for your article may seem like a basic process.
But a great headline plays an instrumental role in compelling a visitor to click and interact with your content.
That said, it's critical that you create your headlines strategically.
They need to spark interest to stand out on the search engines and entice users to click through to your website.
Header tags are HTML elements used to identify titles and subtitles within your content from other text types (paragraph text).
While header tags aren't as important for website rankings as they used to be, they still serve a critical function for your on-page SEO and users.
They can indirectly impact your website rankings in the following ways:
Make your content easier and more enjoyable to read
Provide keyword-rich context for the search engines
Whatever you do, always check your website's code to ensure your heading and keyword is in the H1 tag.
You can also include the keyword in your subheadings (H2 tags).
2. Monitor Your Keyword Frequency
Keyword frequency basically means how many times a keyword appears in your blog post.
For the longest time, Google continues to deny that using the same keyword multiple times in the same content helps.
However, SEO experts with experience will tell you something different.
For instance, let's imagine you write one of your best blog posts yet, and Google also seems to like it.
But then you use the focus keyword once on the page.
How confident can the search engine giant be that your page is about that focus keyword?
It can be about many other things within your content.
So, not very much confidence.
On the other hand, your page mentions your focus keyword multiple times within your content piece.
Google will be more confident in determining what your content is about.
One fact to note: we're not talking about keyword stuffing your blog post or anything of that sort.
We're simply advising that you mention your target keyword a few times in your post to inform search engines that your page is about a specific topic.
Provided you use your focus keyword naturally a few times, you should be good.
BiQ Content Intelligence is the perfect tool to help you check your keyword density.
The Content Intelligence feature allows you to achieve semantic content excellent for higher rankings by refining your content strategies to suit the more sophisticated search engines we have today.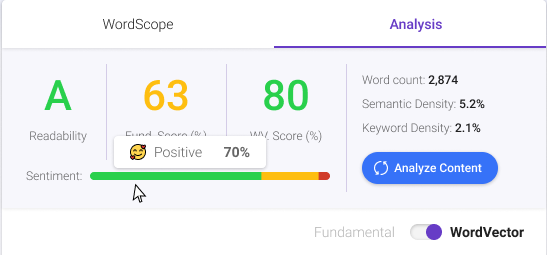 BiQ's Content Intelligence has the metrics you need to boost your content visibility.
You can use this data to analyze your content rankings and determine the best action to improve your position in the SERPs.
3. Link Your Contents
So, you've finally completed creating a blog masterpiece that people will line up to search for.
Your article answers your audiences' questions, and search engines understand what your content is about.
But while all this sounds good to hear, these qualities alone won't mean your article will rank.
If you want to outrank your competition with these qualities, you'll also have to establish authority.
And one of the best on-page SEO techniques to accomplish this is by using authoritative links.
Google has confirmed several times that links and quality content are among the most important ranking factors today.
Trustworthy websites are known to link to other trustworthy websites.
The same is true for spammy websites that link to other spammy websites.
Good link building practices inform Google that your web page is a hub full of quality information.
The search engine will reward you by improving your rankings and visibility.
4. Use HTTPS
Security is clearly a major concern for most online users today.
Cybersecurity threats today are at an all-time high.
Online users are now more inclined to click on websites that use HTTPS security than ones that don't.
The same applies to search engines like Google that penalize unsecured websites.
It's quite clear that HTTPS offers the security many internet users need.
Therefore, this is absolutely the way you want to go if you want Google to favor your website.
Additionally, there are other benefits for SEO you might want to consider.
An increase in rankings being the obvious one.
As already noted, Google offers a ranking boost to sites that use HTTPS.
Referral data is also preserved whenever traffic passes through HTTPS websites.
In 2018, Google started penalizing non-HTTPS websites by showing this image to users who clicked on unsecured web pages.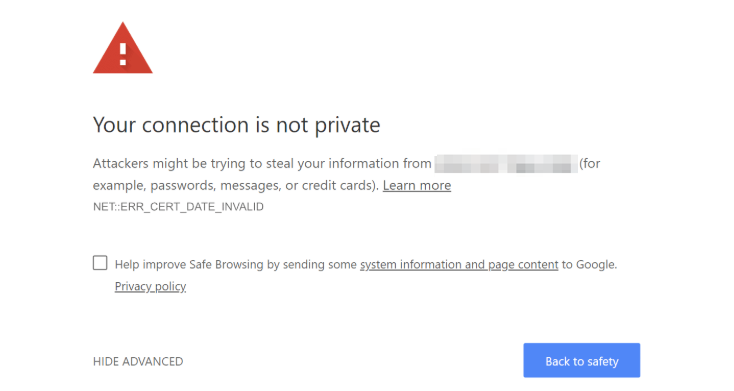 You've probably come across such a warning before when browsing through the internet.
It's a direct result of visiting a non-HTTPS website on Google.
As you can see, the protocol (HTTPS) that preceded your domain name is quite important to stay on Google's good books.
5. Make Sure Your Page Loads Fast
It makes a lot of sense to want to click on a website and get to the contents instantly.
After all, everyone hates having to wait.
Not to mention the instant gratification of the internet, which has only made searchers more impatient.
Now, Google also cares about site speed, and so should you if you want to improve your rankings in the SERPs.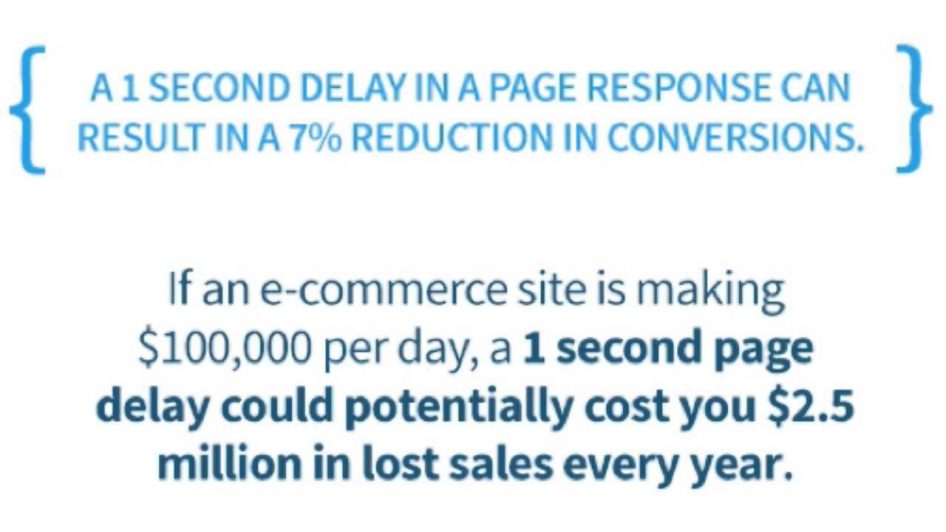 From the Webmasters Central Block in 2010, Matt Cutts announced that website speed would carry less weight than other search engine ranking factors like relevance, authority links, etc.
But that's no longer the case as site speed is nearly as important as a cornerstone keyword phrase used by SEO experts.
Recent studies reveal that even a one-second delay in page responsiveness could result in a 7% reduction in conversions.
To iterate: site speed definitely impacts webpage rankings.
Fortunately, there are many on-page SEO techniques you can use to boost your site speed and, consequently, site rankings.
6. Optimize Meta Description
Search engines use your website's meta description to gauge what your topic and content are about and the best audience to send your page to.
So, you can tell that it's quite crucial to get it right.
A good meta description should be short and descriptive; no more than 160 characters.
Therefore, there's no need to stuff keywords in the meta description, hoping to increase your rankings.
It would still work against you.
Not to mention, the 160 characters just don't offer enough space for stuffing anything.
Instead, you'll want to use synonyms or LSI keywords of your focus keyword to maximize your on-page SEO in the Meta description.
A good meta description helps you stand out from the competition, boosting your CTR.
This way, you keep the search engines happy too.
7. Provide Unique, Quality, And Relevant Content
Creating content that drives search traffic is one of the best types of on-page SEO tactics you can apply.
Content is the backbone of any business thriving online. On-page SEO is the backbone of all things content marketing.
If you've been in the content marketing industry for a while, then you've probably come across this phrase.
"Content is King."
That phrase speaks volumes in the online content creation space.
However, there are several other factors to consider to have a successful content marketing campaign other than just "content."
For one, you'll have to publish content that your audience wants to read, that drives traffic and ultimately grows your business.
Anything less, and you'll be writing for the search engine bots, not potential customers.
You'll also observe an increase in your organic traffic with every in-depth content you produce and publish.
The opposite is true for poor-quality content.
Search engines will favor you because you'll be answering searchers' questions and offering solutions to their pain points.
This generation's consumers are smarter than you think.
Content marketers must be willing to listen to and learn from their customers to determine what motivates their search for solutions.
What makes your target audience search for certain questions?
And how can you capitalize on these searches to ensure you create content that provides the solution to their problems?
Content drives traffic.
It's a simple fact you must focus on to get any results from your published articles.
BiQ's Content Intelligence helps users to write good content that visitors want to read.
Content Intelligence provides users with the best content-driven strategies that are SEO-friendly and boosting engagement.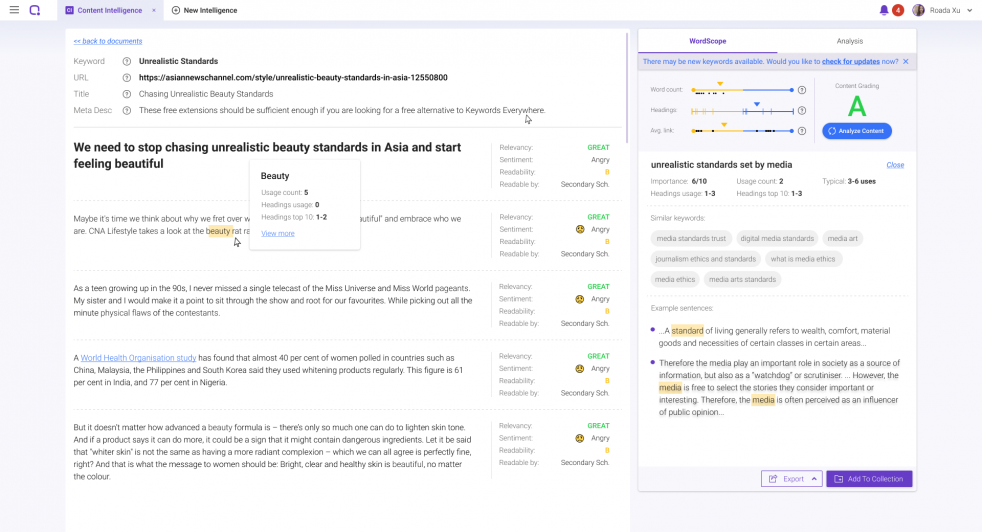 If your content isn't of the highest quality yet, BiQ's Content Intelligence will suggest the necessary edits and corrections to take it there.
8. NAP For Local Business
NAP is the acronym for Name, Address, and Phone number.
Your business's NAP must be correct and consistent throughout your webpages, especially when optimizing your site for local searches.
Google values relevant and accurate information.
Plus, why would you want to include incorrect NAP if you're a legitimate local business?
Search engines scan all NAP listings to ensure that all details are accurate and consistent throughout your whole website.
Therefore, any incorrect information in your NAP citations could lead to confusion for visitors and, consequently, a poor user experience.
NAP helps customers find your local business easily, increasing your leads and conversions.
9. Make Sure It's Mobile-Friendly
When Google rolled out its Panda update, most websites didn't take it seriously, a mistake they came to pay for dearly.
Take eBay, for example.
The eCommerce giant lost about 80% of its prime rankings in the search engines.
Considering how big of a name eBay is, you can only imagine the loss the company suffered.
There were many more giant companies whose overall rankings plundered significantly and recorded significant losses.
The moral story here is that you should always keep ahead of any major updates, especially ones from Google.
Take them seriously and prepare for the outcomes.
April 21st, 2015 was the day Google gifted mobile users by setting up standards that forced websites to consider the mobile search platform.
Website owners that weren't prepared for this update got dinged in search rankings yet again.
Box Office Mojo was one such website that saw its search rankings and visibility nosedive because it didn't have a mobile-friendly site.

Since then, Google's passion for mobile users has increased a hundredfold, and it seems the trend will continue in the future.
But this is totally understandable with mobile usage only going up every year.
The statistics above should help you better understand the opportunities you could exploit if you make your website mobile friendlier.

You want to make it easier for users to access your website from their mobile devices by using layouts that depict your sites as responsive and easily navigable.
Use this Google Mobile-Friendly Test Tool to test the mobile-friendliness of your website. Simply insert your website URL into the search box and click "Test URL."
The tool will determine whether your site is mobile-friendly or not.
Conclusion
On-page SEO is vital if you want to increase your site's chances of ranking in the SERPs.
Optimizing your website for on-page SEO benefits you by improving your organic traffic and conversions as well.
That's how important it is to ensure your website is ready for the search engines.
Writing top-notch, high-quality, relevant, and informative content can only get you so far.
There are several other factors you must consider as well.
Share your thoughts with me if you have more on-page SEO steps and strategies that I might have missed.