Long-tail keywords are search phrases with more extended word counts, making them more specific than searches with fewer words. When you know how to find these keywords fast and efficiently, it can help with your SEO.
You will learn:
Learn what are long-tail keywords and how they help with SEO
Know how to find quality long-tail keywords
SEO is getting more competitive and complicated. The way people search is increasingly varied nowadays (voice search, for example). That is why we must take advantage of long-tail keywords. They can capture more specific search intent and help you strengthen the semantic relevance of your content to the search query.
This article will answer why long-tails are your bridge to trusted sources of targeted traffic and how to optimize your pages for statistics, facts, and figures. You will also learn about using a keyword research tool to find long-tail keywords easier – LSIGraph.
What are long-tail keywords?
Long-tail keywords are longer and more specific keyword phrases that visitors are more likely to use when they're closer to a point-of-purchase. Because of their specificity, long-tails are generally made up of three or more words.
Most long-tail keywords have lower search volume than short or "head" keywords. They're a bit counter-intuitive at first, but they can be extremely valuable if you know how to use them.
Long-tail keywords typically provide the best fit for specific search phrases and answer a particular searcher's intent regardless of low search volume.
Let's say a user wants to purchase a scented candle. An example of a long-tail keyword would be "scented candles without essential oil." On the other hand, a short tail keyword would be "scented candle."
The use of long-tail keywords:
There are three categories of keywords – short tail (head and body) and long tail.
Head: These are single-word keywords with substantial search volumes (for example, "shoes" or "food"). These terms are broad, and people might be searching for various things using these keywords.
Body: These keywords are 2-3 word phrases that get decent search volume (1,000 to 2,000 searches per month) and are more explicit than the head (for example, "running shoes" or "food recipe").
Long-tail: These terms don't have a lot of search volume, but statistically, they make up the majority of searches online.
When a reader searches for more specific information, the keywords tend to grow longer as well.
Why do you need long-tail keywords?
According to ImpactPlus, 69.7% of search queries contain four words or more.
Long-tail keyword searches have a click-through rate of 3% to 5% higher than generic searches.
So, if you want to increase your traffic and conversions more quickly (and with less effort), using long-tail keywords is the way to go.

To be specific, long-tail keywords have more benefits:

#1. Long-tail keywords are easier to rank.
Given the vastness of the internet and high competition on common keywords, long-tail keywords are easier to rank.
That's because they are so niche that not many businesses would be competing to grab the top spot on the search results of Google.
For instance, it is hard to rank for "noodle" but easier to rank for "seafood noodle restaurant in Chinatown."
Instead of focusing on only high-competition keywords, why not aim for the thousands of individual long-tail keywords and make your website a more dynamic and valuable destination?
#2. Less Competition = Lower Costs
Long-tail keywords are valuable for businesses who want their content to rank organically on Google searches. But they're potentially even more helpful for advertisers running paid search content. That's because when you bid on long-tailed keywords, the cost per click is inevitably lower since there's less competition.
By targeting more prolonged, more specific long-tail keywords in your campaigns, you can get higher ad rankings on relevant searches without having to pay a premium for every click.
#3. Finding Qualified Searchers:
One of the uses of long-tail keywords is to narrow down what people look for as they search for products, services, or information.
When people are on a purchasing or knowledge journey, they often start with broad or general keywords, maybe two-word phrases. As they refine their research, search queries become more specific and, usually longer.
Compare the two searches:
"sunscreen" vs. "the best long-lasting sunscreen."
Which investigation indicates a buyer who is ready to purchase?
The traffic you draw to your websites will be better: more focused, more committed, and more desirous of your services.
Remember that you may pull in less traffic with long-tail keywords, but, in return, your investment may be proportionally much higher. You will attract precisely the audience you're looking for, and that audience will be far closer to point-of-purchase than that of your less-savvy competitors.
#4. Conversion Rate of Long-tail Keywords is High
Short-tail keywords are what your customers use when they are researching a product or a service and making comparisons. Because these are informational keywords, you are less likely to get a conversion.
However, if buyers have made up their minds, they'll search where to buy the item from, making the long-tail keywords your transactional keywords.
Long-tail keywords have a 2.5X higher chance of converting than a head term. This means that long-tail search terms help boost not just your CTR in search results, but your sales conversion later on.
Here is a great illustration that sums it up nicely:
When someone searches for "the best long-lasting sunscreen," they know exactly what they want, right down to the description and purpose. If you rank at the top of Google for that query, they will click through to your page. And if they do, they're most likely going to make the purchase.
How can you find long-tail keywords?
#1. Google
One of the easiest and efficient ways to find relevant long-tail keywords is to use Google suggestions.
Google offers a treasure trove of long-tail keywords if you know where to look. Check their autocomplete suggestions as well as "People also ask" and "Related Searches."
Google Search
First, when you type selected keywords into Google Search, look at the autosuggestions.
Another quick way to do your long-tail keyword research for SEO is by using Related Searches. It works the same as Google Autocomplete, except, in this case, don't use the space bar after your short tail keywords. Instead, press enters and go to the search engine results page. At the bottom of this page, you will find Searches Related to your keyword.
You can perform this technique with different keywords and pick the terms best suited to your needs.
Use Your Own Google Analytics and Search Console
This is the way for you when you already have content on your site. You can use these tools to find out which search phrases are bringing people to your site pages.
Open Google Analytics and navigate to Traffic Sources, then Sources, Search, and Organic. There will be many search terms displayed, and in there, you will find a good number of long-tail keywords with low SEO difficulty.
Using the Search Console report, you can see the top keywords that get the most clicks, impressions, CTR, and their average position.
#2. Use a keyword generator:
Keyword generators create lists of keywords to help with overall search engine optimization strategies. Rather than targeting a general term, like "sporting goods," these tools run through a large set of data to find long-tail keywords. They also provide valuable information about those keywords that can be used in planning to leverage use, like CPC, Volume, Trend, and so on.
I want to introduce you to one long-tail keyword generator – LSIGraph. 
LSIGraph will provide you with both the primary and potentially related semantic keywords. Semantic keywords are similar in nature and context to the main keyword you're targeting within your content. 
Contextual keywords are used to supplement your main keywords, adding context to your content. Ultimately, it helps search engines and users to understand your content better.
Just enter your seed keyword, choose your search location and language, and wait for the result. LSIGraph returns a list of semantic keywords you can use in your content.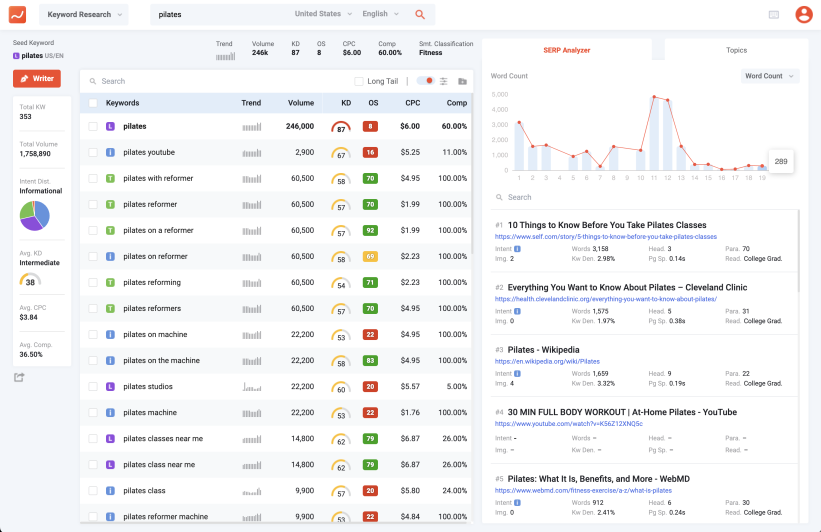 When you get the results, what do you need to pay attention to shortlist your keywords?
Volume & Comp: Search volume represents how many times a keyword or term is being searched monthly. More often than not, the popular search terms already have a significant amount of competition, making it very difficult to achieve top positions in search engines. The ideal combination would be a keyword with high search volume and low search competition.
Trend: This data shows the trend of search volume. If you observe a rising trend, then it is likely that this keyword may receive even more searches down the road.
Opportunity Score: LSIGraph's proprietary Opportunity Score crunches the metrics of a keyword to find you the keywords that are easy to rank for with the least amount of effort and cost. In other words, low-hanging keywords that you should prioritize.
#3. Refer to competitor keywords and content.
Look at what your competitors are doing, and do it even better. This is an effective & advanced tactic that you can use to find the right keywords within your niche.
Keyword gap analysis, otherwise known as competitive keyword analysis, is a more thorough approach to analyzing the gap between you and your competitor's ranking keywords. It considers your ranking keywords and how it is performing compared to your competition.
Through this practice, you are not only looking for search terms you have yet to target or rank but identifying and understanding how you can better optimize your content.
RankingGap is one great tool that you can use to run this strategy. This tool allows you to add up to 4 competitors at once. The four views, common, unique, gap, and missing, will show you the related keywords.
You can look at keywords that your competitors rank in the missing view, and you don't. Go to your keyword gap analysis tool and get a list of competitors' keywords ranking in the top 10 results on Google now.
You can read more about competitor keyword analysis here: Competitor Keyword Analysis: 3 Secrets & 4 Use Cases
TL;DR
There isn't one best method for finding the best long-tail keywords for your business. But, it is always recommended to combine some of the above methods to find the most suitable long-tail keywords, which is to use Google, LSIGraph, and RankingGap.
Keyword generator tools may pull up to thousands of results, and you must know how to filter this information. Once you have set your marketing strategy, you can categorize and choose the type of keywords that will best describe your business purpose, you want to look for keywords with high volume but relatively low competition.