To make it big on Facebook requires so much work and effort in terms of marketing. There are 5 popular Facebook business page examples that you are about to see.
Want to learn from the best? Here are 5 popular Facebook business page examples that you can learn from.
Brand presence on social media platforms is serious business. Unfortunately, some businesses haven't quite tapped into the benefits the social platform has to offer, especially when it comes to brand visibility and exposure.
Social media advertising revenues soared to new highs in 2020 as it became the strongest-growing ad category.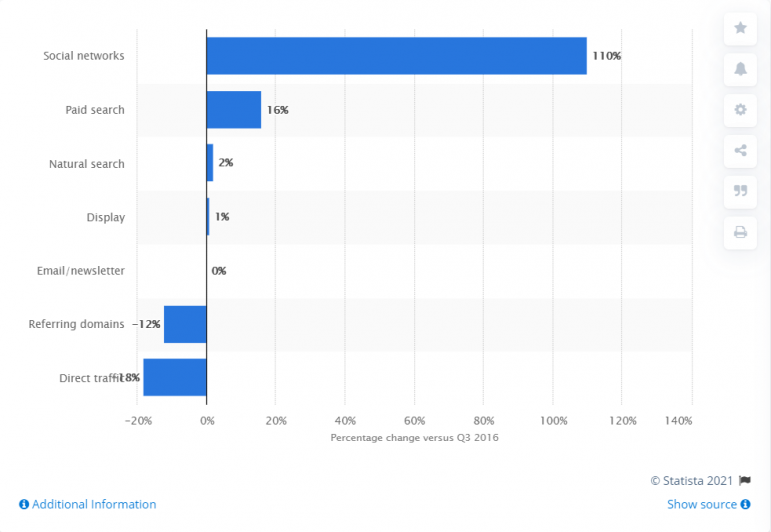 And with social networks now generating unmatched traffic for retail sites across the United States and the rest of the world, it's no wonder many big brands and retailers invest big bucks in social media advertising.
Facebook isn't just a social media advertising channel. It's also the largest digital channel and boasts the most influence on purchasing decisions in the United States and a large portion of the globe.
Facebook's advertising influence extends well beyond the social media space. The company consistently ranks among the media companies with the largest advertising revenues. So far, Google is the only digital competitor that boasts more ad revenue.
With all these advertising options at your fingertips and opportunities to explore, it's no wonder every new business or brand wants to get in on the action.
If you want to do good business online and get remarkable results, then having a Facebook presence is just compulsory.
5 Popular Facebook Business Page Examples
Today, we will share with you 5 of the most popular Facebook business page examples with a remarkable online following on the platform and raking in millions from Facebook.
The best part about it is that you don't even have to be a mega-brand to establish yourself as one of the top Facebook business pages. You just have to be smart in your advertising strategies and stay consistent throughout the course.
Some brands have found ways to use their presence on the platform to speak to, service, sell to, and entertain their online following. And the best part about it is that they don't have to pay to play big.
With that, here's a list of the top 5 business page examples and what got them to the top:
1. Coca-Cola
With well over 105 million likes on Facebook and the same notable number of followers on Facebook, Coca-Cola just seems to be doing everything right. Since 2014, the brand has added over 29 million loyal followers to its roaster.
It averages 15k new followers per day, which is a remarkable feat itself.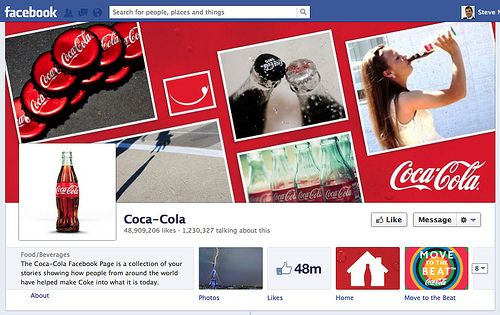 For a company that's been around for more than a century, Coca-Cola has established itself as a legendary brand. It has captured the hearts of millions since its inception and continues to record colossal numbers in the social media space.
Coca-Cola still uses its Facebook business page and organic reach to promote upcoming events, occasional campaigns, and competitions. That's why it's still one of the most successful brands on the social media platform.
In that respect, the company hasn't changed much on its Facebook page advertising since it started the account 10 years ago.
Therefore, it's no surprise that the brand ranks top of the list as one of the most liked and most-followed brands on Facebook.
Coca-Cola's list of successful and viral campaigns on the social platform deserves a webpage on its own. The company just always knows what to put up, when, and how to share it with the fans. You would probably remember the "Share a Coke" campaign that allows fans to order personalized Coca-Cola bottles through Facebook. It did phenomenally well.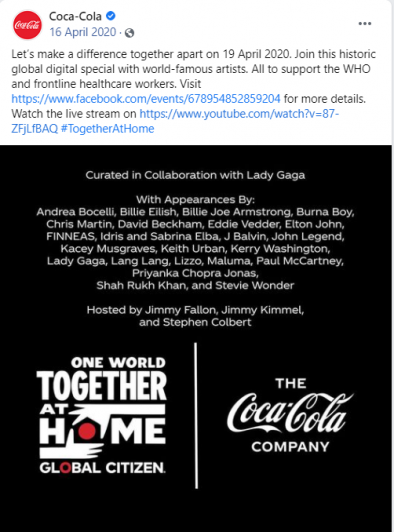 The brand won tons of engagement on the platform and gained millions of loyal followers. The brand is also somewhat an expert in chiming in on new and trending topics. It can add a spin to trending news to make it unique and more engaging. People just love that and the brand too.
With time, you can bet that Coca-Cola will continue to rake in even more impressive numbers and following on Facebook.
2. Samsung
With more than 160 million likes on Facebook, Samsung is a beast when it comes to online marketing. The tech giant also boasts over 160 million followers on Facebook, making it one of the most followed business pages on the platform.
But for a company that's dedicated to posting at least three times a week, mostly in video forms, you would gather why it's getting so much attention.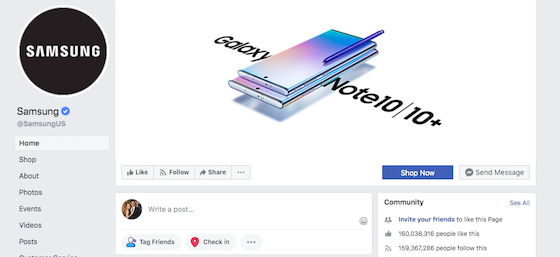 With Facebook prioritizing video advertisements and other content, the Korean company has perfected the art of giving fans something different with each post.
If Samsung isn't sharing some of its new products or services with its fans, it's probably sharing content from other influencer campaigns. Therefore, its Facebook business page never misses something unique, evergreen, and totally relevant to share with its fans.
No competitor of Samsung even comes close to its 160+ million followers on Facebook.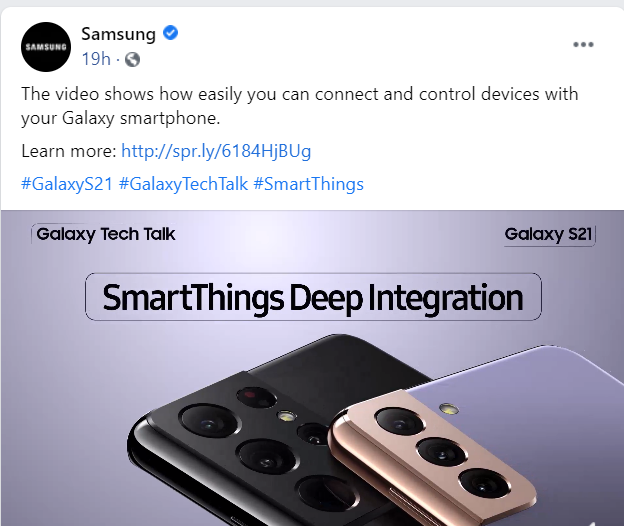 Facebook is the dominant social network used by Samsung to discuss product launches, spread news and information to its fans, and support existing campaigns. The brand's content strategy has proven to be very effective. It uses a mixed bag that includes video clips, images, and live events coverage.
So far, Samsung's strategy has won it a ton of engagement, with millions of fans visiting the page daily for new content. It has multiple Facebook accounts that cater to specific countries and different geographical locations, making it even more personalized.
Samsung is the embodiment of Facebook business page tips that every online brand should emulate.
3. CGTN (China Global Television Network)
Next on our list is China Global Television Network, commonly known as CGTN.
Here's another mega-brand that has amassed well over 113 million followers on the social media giant. CGTN also has well over 113 million likes, meaning people love associating with it and the contents on its Facebook business page.
CGTN is an international English-language news broadcasting channel based in Beijing. It is owned by China Central Television. This new telecaster shares information, trends, and updates related to China and the world.
Some of CGTN's areas of interest include business, science, sports, culture, travel, and politics. The content on CGTN usually ranges from in-depth interviews to commentaries, newscasts, and more. But the company is also well-known for hosting live streams and several TV presentations.
For a glimpse of how massive CGTN's online following is, about 85 million viewers in over 100 countries tune into the platform regularly. So, yes. It's a pretty big name.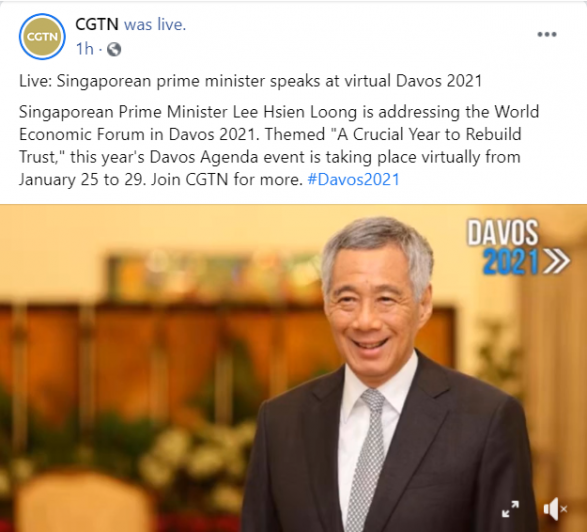 CGTN can post several posts a day with content that includes live streams, status updates, and news articles on its Facebook business page. There's always fresh content to go by for fans who're always yearning for more.
CGTN will also share critical information about national health emergencies, such as the Coronavirus outbreak that has plagued the globe.
On average, CGTN's posts get hundreds of likes as followers participate in conversations and debates in its comments section.
Despite the Chinese internet space not having Facebook, this hasn't stopped the country from building one of the world's biggest audiences using CGTN. And the company employs hundreds of foreign new staffers and journalists to report on current events.
4. Netflix
You would be hard-pressed to find an avid online user who hasn't heard about Netflix before this post.
Netflix easily ranks as one of the best, if not the best, over-the-top content platforms and production companies in the world. Founded in 1997, the company has established itself as the best disc-mailing service globally. Thanks largely to its immense catalog of amazing movies and probably the best original programming, Netflix is one streaming brand to contend with.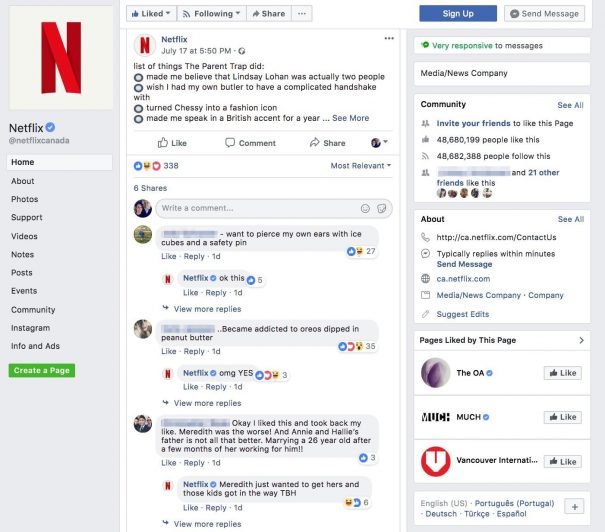 So, why is Netflix so successful with a Facebook business page following over 72 million?
Well, videos that feature on the Netflix Facebook page are usually clips from upcoming TV shows or movies. Therefore, loyal fans always have a sneak peek into the next clips in store for them.
Besides videos, Netflix's Facebook page also uploads GIFs, images, and simple text posts with questions about their current TV shows and movies. There's no better way to boost your brand's engagement than to ask them about a movie or TV show they enjoy watching or can't wait to start watching.
Netflix has mastered this art and learned to capitalize on it. The brand boasts an average of 28,000 new followers every day, which is a record on its own.
The brand's witty replies to fan queries and other engaging conversations also make it more relatable and easier to engage with. The company has built one of the strongest social presence and loyal fanbases on Facebook.
BiQ Keyword Intelligence is one of the best tools to help you establish your business as one of the top Facebook business pages and boost your content engagement on the platform. With BiQ's Keyword Intelligence, you can search for related keywords that are in trend to make your content on Facebook more relevant to your target audience's search intent.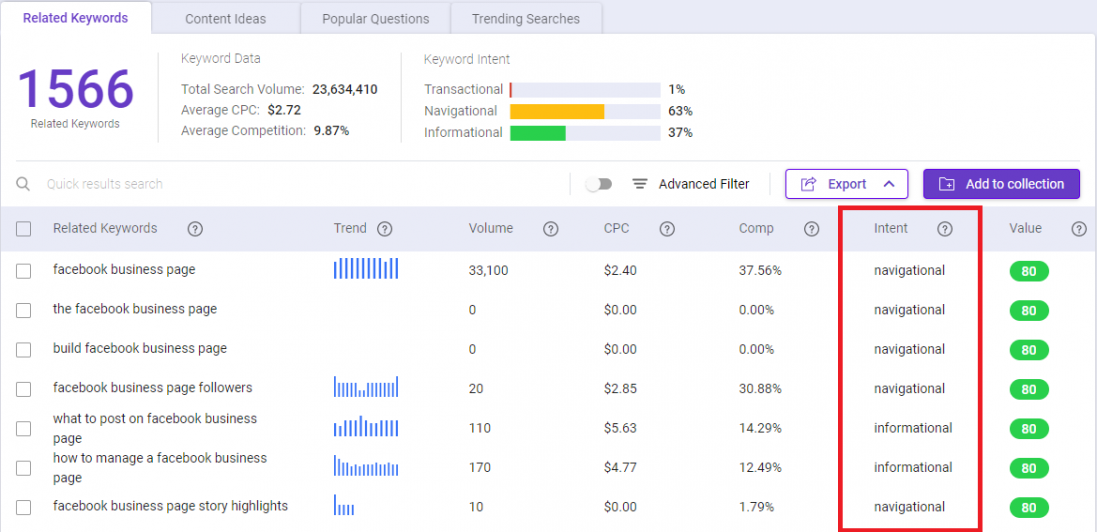 Think of it this way, Netflix could use the Keyword Analyzer feature in BiQ Keyword Intelligence to gather critical data about keyword volume, trends, and keyword optimization. This will allow the brand to advertise content that brings in even more traffic at even lower competition.
5. Buzzfeed's Tasty
Tasty belongs to Buzzfeed, a very well-known news company. Buzzfeed first broke into the internet space by posting information about internet media. They would write about topics like taking care of health, beauty, houses, and cooking.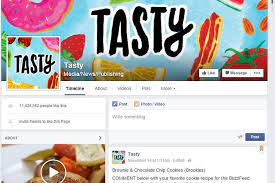 The company soon realized that food was a very hot topic and decided to start Tasty. Little did they know that Tasty would garner well over 98 million likes and 100+ million followers on Facebook.
That's right. Tasty is one of the top Facebook business pages today.
It posts recipes for simple and complicated dishes on its YouTube channel then shares those videos on its Facebook page. Within a short period, viewers started watching more and more posts on their Facebook page. These visitors also commented a lot, which drove engagement through the roof.
As Tasty's content went viral, it began posting podcasts only on Facebook.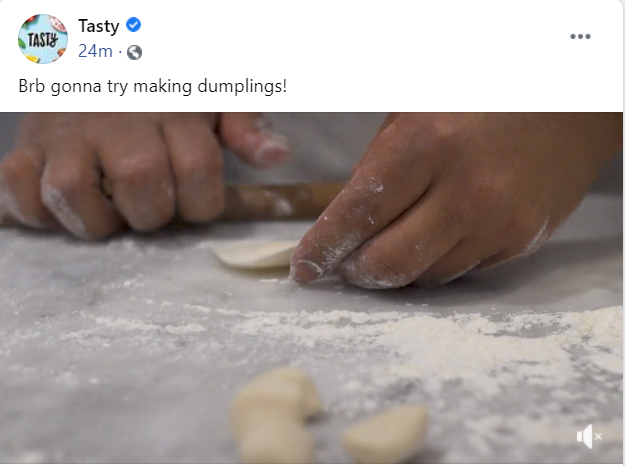 The brand would share recipes of typical dishes worldwide by uploading short videos that didn't have a voice. They also write blog posts and articles that go with some of the videos they post, making it easier for fans to better understand the different recipes.
Tasty would also post varied recipes of cooking the same dish, especially for some of its most popular postings.
If you're looking for a Facebook business page that posts not only tempting but tasty food, this is your brand.
Tasty's business is food. That's all they do. And people love food. So, it makes sense that the brand has such a massive following on Facebook.
* On a side note
BiQ's Content Intelligence could be your best solution for drafting, editing, and optimizing your content in a way that meets your fans' needs. Remember, Tasty focuses on providing its fanbase with top-of-the-line, highly accurate recipes for some of the most exquisite dishes around the world.
BiQ Content Intelligence will provide you with critical data to make your content more engaging and SEO-optimized for your audience and the search engines.
Tips to Help You Score Big on Facebook
Winning a large following on social media isn't at all difficult. You can have thousands of fans on your social media posts streaming on your business page as soon as today with these Facebook business page tips.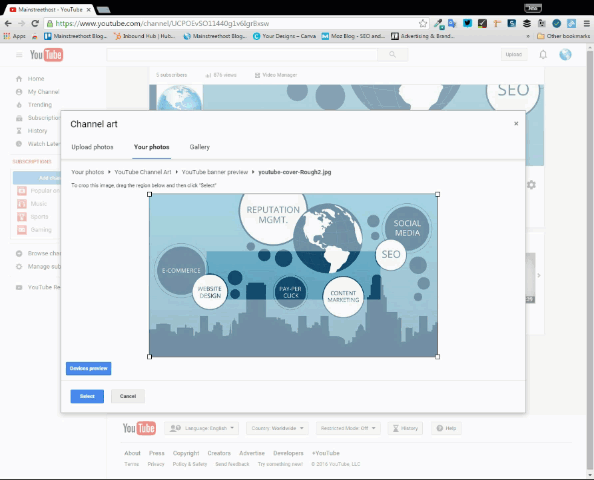 Here's what you need to do:
Be consistent
Timing matters
Content is king
Build a strong customer relationship
Leverage trending topics
You shouldn't have to pay for advertising again. Seize these moments today as they will surely win you good interactions on Facebook.
Conclusion
Your ability to reach a larger Facebook following doesn't have to be stressful. If you can increase your Facebook business page engagement today and turn your customers into raving, loyal fans, you will start recording enormous numbers on your business page.
Learning from these Facebook business page examples should provide you with several tactics to keep your fans raving for more content. These include consistency, engagement, relevancy, and many more strategies to keep you ahead of the competition.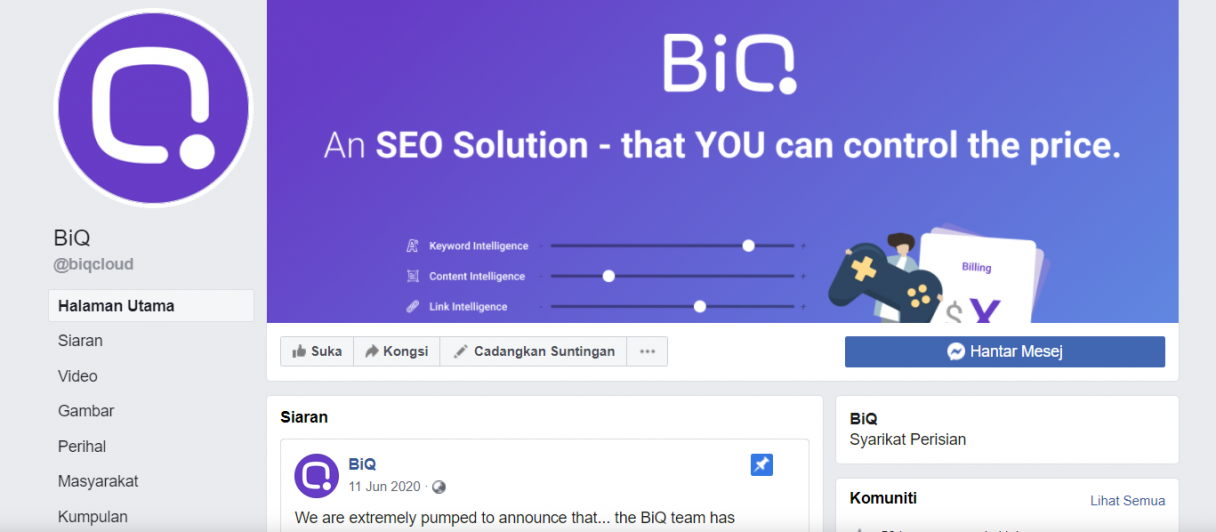 Remember, the key is to understand what you are doing so your business adapts the same approach throughout your social media marketing campaign.