Read these 6 simple steps to create a winning social media marketing strategy. To successfully level up your business, having an effective social media plan is key.
Every business in 2020 needs a social media strategy.
Social media is such an important communication tool today, and we know as we try to navigate unexpected and unprecedented challenges with many users turning to social media for some form of support.

This is because social media is able to overcome the constraints of time and space, thus bringing together people from diverse backgrounds and locations across the globe. Here are some quick facts:

Youtube is the second largest search engine next to Google
Facebook, Instagram, and Snapchat are mostly used by teenagers and young adults
TikTok is the recent video content platform favorite of Gen Z
LinkedIn and Twitter are the social platforms for professional businesses
The host of updates to social media platforms sees each one of them shaping new trends that affect how users engage on these platforms. It is not a gimmick – it's hard work that can be extremely engaging when implemented the right way.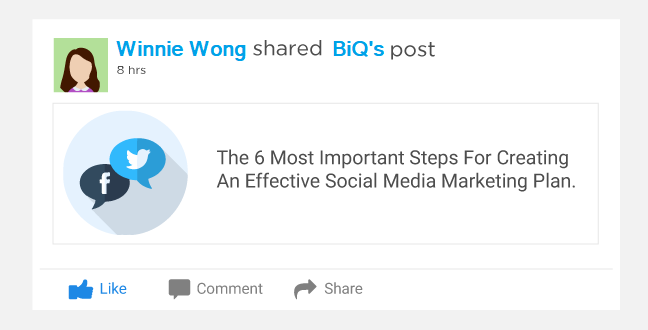 Look around and you'll find a number of small and big businesses successfully using social platforms to power their social media marketing strategy.
So what is social media strategy? A social media marketing strategy is a summary of everything you plan to do and hope to achieve on social media.

Now in order to stay ahead of the competition, you'll need to adjust yours too. If you're overwhelmed or don't know where to start, this article serves as a guide to creating a winning social media marketing strategy from scratch.

Creating Effective Social Media Strategies

If you are armed with a solid social media strategy, then it becomes easier to reach out to the right customers and also look into how your competitors are performing.

The problem that persists today is many small business owners and marketers try to jump into using social media without proper planning. And this one mistake can cost you hundreds if not thousands of marketing dollars in the long run.

1. Set social media marketing goals
…that aligns with business objectives. Yes, the very first question is the Why.

Knowing how you are progressing with your social media efforts is crucial if you want to continue moving in the right direction.

Writing your goals down and regularly reporting on your progress will significantly increase the likelihood of achieving what you've set out to do. Goals give you purpose and direction, in a documented way that you can share with others.

In general, there are eight social media goals you can have:

(i) Increase brand awareness
(ii) Generate new leads
(iii) Drive traffic
(iv) Grow revenue (by increasing signups or sales)
(v) Establish brand engagement
(vi) Nurturing a community around your business
(vii) Increase mentions online
(viii) Listen to conversations around your brand

You'll likely be going to have more than one social media goal and that's totally fine. For example, BiQ's Facebook page has these goals in mind: increase brand awareness, drive traffic, establish brand engagement, and increase mentions online.

(i) Establish your most important metrics

There are several metrics I'd focus on whenever I start setting goals to track my efforts on social media organically. Metrics like retweets and likes are easy to track, but it's hard to prove their real value. Instead, focus on targets such as these:

Engagement – Tracking your engagement will help you see which posts are working and which posts are not. It pertains to likes, comments, shares, views, etc. People buy from brands they like and trust, and your engagement rate is a great way to check in on how your followers feel about you and your brand.

* To calculate engagement rate, use the following formula: Likes + Comments + Shares / Total Followers) x 100. For example, if you have 10,000 followers and receive 200 likes, shares and comments on a post, the engagement rate for the post is 2%
Click-Through Rate (CTR) – A high percentage of people who saw your post are clicking on your content and going to your website. This tells that your overall message and image are effective which leads to your audience taking action.

* To calculate CTR, divide the number of clicks a post gets by the number of impressions it received, and multiply the result by 100.
Conversion Rate – It is the number of visitors who, after clicking on a link in your post, takes action on a page (subscribe to your newsletter, register for a webinar, etc) against that page's total visitors. A high conversion rate means your content is valuable and compelling to your target audience.

*To calculate conversion, divide the social media conversions by the total number of conversions and multiply by 100 to get your social media conversion rate percentage.
Bounce rate – By paying attention to this metric, you can see what types of content your social media followings are interested in, what topics they don't care about, and which topic generates the most interest. A high bounce rate is the percentage of page visitors who click on a link in your post, only to quickly leave the page without taking any action.
Unique Visitors – Unique visitors are different from the "visitors" metric. Unique visitors are the number of individuals who have visited your website. If a visitor has a cookie on his browser and visits the site twice on different dates, this visitor will be recognized as a unique visitor and counted only once in the analysis period.
Subscribers, Leads & Sales – At the end of the day, it's creating new sales that matter the most. This isn't said often, but social media can be one of the best sales tools to connect with leads/prospects, drive sales, and close leads. In the world we live in today, a majority of visitors make buying decisions based on social media.
2. Research your target audience

Once you figured out your Why, the next thing to consider is Who.

Knowing who your audience is should not depend on guesswork or instinct. To optimize your social media marketing efforts, you have to be doubly sure of your ideal customer's preferred social network.

For instance, BiQ knows that its target audience loves to read about SEO tips and how the revolutionary SEO tool can help them, so the social media team constantly shared valuable content like that.
To identify your target audience, you'll have to:

i) Create personas

Creating a detailed persona of your ideal customer should help you find the right people to connect on social media. This fictional persona is the audience that you should be targeting once you've got everything listed out – the more, the better.
Here's an example of what an audience persona might look like:

Notice how the persona details the person's goals and pain points. By identifying these, you'll be able to cater to the right content, and Rachel will have a higher chance of being your loyal subscriber!

ii) Seek feedback from your current customers

You can choose to send surveys to your customers to learn more about the type of content they consume, why would they be using your service, their habits, what sites they follow besides yours, and most importantly which social platforms they are most active at.

Every single feedback from your customer has to be deemed important (because not everyone is willing to do so). This method can be used to improve your social media marketing.

3. Analyze Your Competitors

Social media competitive analysis is constant monitoring, tracking, and analysis of the competitor's activities on social media, to formulate winning marketing strategies. By taking the time to look at the data of your competitors, you'll see exactly where your social media strategy stands.

(i) Conduct competitive analysis

So your first step in creating a competitive strategy is to select your competitors.

You will want to find businesses similar to yours, but not limit your analysis to competitors of a specific size. For instance, you may be running a small marketing agency, but you will want to include other small local agencies along with larger ones that offer similar services.

Find your potential competitors on Google, eCommerce stores, or even social media platforms. Identify as many as 10 competitors before moving to the next step; it feels like a lot of work but it'll be worth it.

Let's say one of your competitors is dominant on Facebook but has put little effort into Twitter. Then, you might want to focus on the networks where your audience is underserved, rather than solely trying to win fans away from a dominant player.

Once you've identified your competitors, conduct a competitive analysis with BiQ's Rank Intelligence and find out exactly which keywords they are ranking for with a click of a button.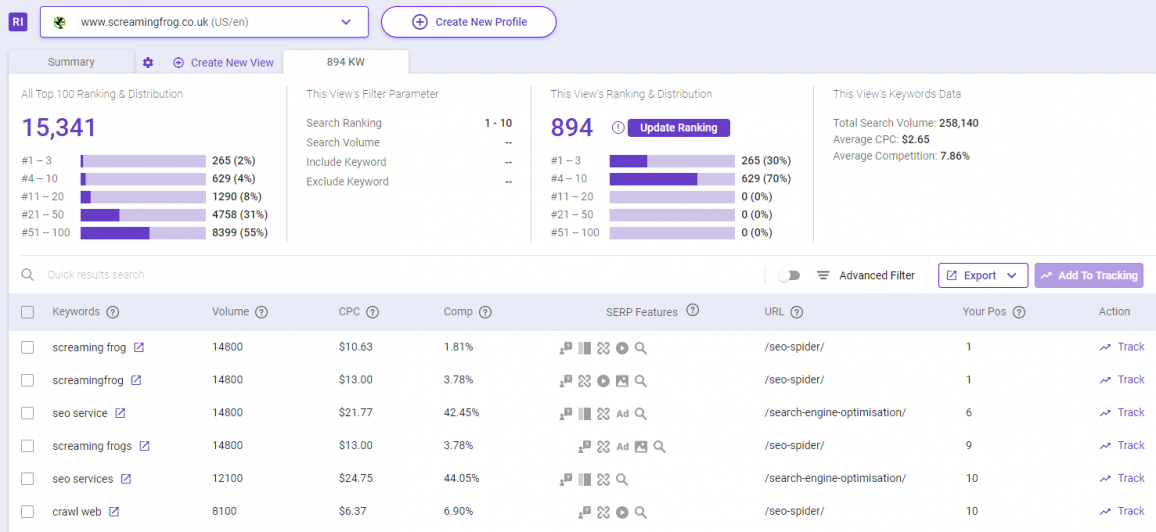 4. Conduct Social Media Audit

Social media audit is simply the steps taken to evaluate and optimize your social media marketing strategy on various platforms.

Now, I'm pretty sure you've gotten involved in using social media tools for your business. But every now and then, it'll be wise to take a step back and look at what you've already done and accomplished.

Doing an audit determines how your social media presence is affecting, changing, and converting users into potential buyers of your services. It also clears whether your marketing goals are relevant to your business as you've set. (Still remember the goals you've set in the first step?)

A social media audit helps you answer the following questions:

What's working and what's not?
Is my presence on Twitter bringing new customers?
Is my LinkedIn profile targeting and converting correctly?
How can I maximize your social media marketing strategy?
Is my Facebook page attracting old or new clients?
Why and how do some posts perform well?
What's your posting frequency on each of the platforms?
Once you've got the questions you want to be answered, proceed to track down each social media account separately. Outside the Big Three (Facebook, Twitter, Youtube), you might also want to check on these places such as Instagram, Pinterest, LinkedIn, Tumblr, and Quora. Take note of them all.
As you've located your accounts, make note of the ones you find and keep track of the following elements in a spreadsheet:
The social media network
The URL
Your profile name and/or description
The number of followers or fans
The date of your last activity
If you no longer have a good reason to use the account or if you find that your target market is elsewhere, don't hesitate to cut ties and focus your effort where it is better spent. Hence, it is important for you to have a social media audit done on a regular basis, otherwise, you may lose track of what you should be doing.

After this whole auditing session, perhaps you'll figure that your banner images need updating, or finding out you actually have a 400% growth in referral traffic in one of your platforms!

5. Create a social media calendar

A social media calendar is a working document used to schedule content that you'll post across all social media platforms for a certain period of time.

(i) Create a posting schedule
Keep this simple and work on a quarterly basis. It doesn't need to be a fancy calendar either. According to my personal experience, delivering content consistently will give a better impact on your brand.

In the social media calendar, you can have sets of stories with publishing dates/day, venue, type of media, topic/title, assets needed. Well, there are many ways of doing this. The approach below is what I've been using since the start of BiQ:

(ii) Plot your content mix
It would be great if you can have a mix of content so that everything you post is working to hit your business goals, assigned to each social profile. For example, if your goal is to get traffic to your blog, you might decide that:

50 percent of content will drive traffic back to your blog
25 percent of content will support selling, lead generation
25 percent of content will be about giving valuable content
* I'd recommend you to use more videos on your social platforms. Or else make sure you have high-quality images to increase engagement!

(iii) Determine the best posting times

As there are constant streams of content published on social media every second, there are peaks and valleys in posting at different times. Read in detail about the best and worst times to post on social media here: https://seopressor.com/blog/science-behind-best-worst-time-to-post-social-media/

Since every brand and its demographic audience aren't exactly similar, it's important that you analyze your best posting times on your own. It could be 11 am on Wednesdays and Fridays or 10.30 pm on weekends for some.

You can make use of the insights offered on the social media platforms to determine when your audience is most active and work towards it!

6. Evaluate your results and optimize

Any good marketer relies on trial and error. The magic formula for optimizing social media marketing performance IS to optimize until it reaches the industry benchmark. (or higher)

Once you've started and seen data coming in, you can use this information to test different posts, campaigns and work out a plan that's even better. Constant testing and optimizing is vital as it allows you to understand what works and what doesn't; this time with proven results.

Allow me to show you a case study of split test design to see which exit pop has a higher opt-in rate:

This real-time data analysis provides the opportunity to make informed decisions and to evaluate and adjust a social campaign to optimize your spending.

Here's another insight from Facebook analytics that tells you where your views are coming from:

Each previous step should be re-evaluated after you have had time to analyze the results of your marketing efforts. Let the data drive you. If it is telling you Facebook or Twitter is your most effective channel, consider doubling down.

A great social media strategy is never set in stone. It is a constant work in progress that changes when necessary. So get out there, create a strategy, and start optimizing it as you continue to grow and learn more about your business and your audience.

Conclusion
My last piece of advice: Be real!
The thing to remember about creating a social media strategy is to remember to be genuine. Social media is a platform that people use to connect with one another. It's a place to be raw. To be honest.
As humans we make decisions based on feelings, in order to evoke feelings, you need to be real. I can't say it enough!

Building an effective social media marketing strategy is no easy feat. It takes blood and sweat and that for a long time to make it successful. And this is why it is important to get it right the first time around. So, why make mistakes when a blueprint that will lead you in the right direction is already given?

Remember, the 6 simple steps to create a winning social media marketing strategy:
Set social media marketing goals
Research your target audience
Analyze your competitors
Conduct a social media audit
Create a social media calendar
Evaluate your results and optimize
As we continue our journey sheltered in place and wait for the pandemic to give us a glimpse of a light at the end of the tunnel, I encourage everyone to continue to learn, evolve and adapt to what's best for their business. All the very best in your social media marketing strategy!