SEO vs. SEM: Understand how they're different and what do you need for your business.
Learn the key differences and how they're related: SEO vs. SEM
Before you develop a viable search optimization campaign, you must understand the terminologies used in this form of marketing from the top.
Search marketing essentially relates to any strategy that helps businesses gain attention by appearing top in SERPs (search engine results).
This includes tactics to enhance visibility and traffic to a site or particular page.
And there are two main classifications when it comes to search marketing:
SEO (Search Engine Optimization) uses organic tactics to appear in search
SEM ( Search Engine Marketing) uses paid tactics to appear in search results
What is Search Engine Optimization (SEO)?
Search engine optimization, or SEO, is a search marketing method that uses organic techniques to get visibility in SERPs.
Here businesses do not pay to rank high; instead, they utilize various methods that trigger search engines such as Google to show their pages or website at the top of search engine results because the content is authoritative and valuable.
In other words, Search Engine Optimization involves tens of techniques that can help a business enhance search rankings. The techniques are usually categorized into three main categories:
On-page SEO
On-page SEO refers to the process of optimizing every page of a site to target a particular keyword to charm search engines.
There are many on-page SEO techniques you can find. It includes content creation, keyword optimization, and keyword research. The tactic helps search engines such as Google and others understand a page's content to rank it higher.
Technical SEO:
This is the process of fine-tuning the non-content aspects of a site and the site entirely to enhance the back-end foundation and structure.
The technical SEO tactics relate to; security, structured data, site architecture, indexing, crawl-ability, mobile-friendliness, and speed. Technical SEO enhances both crawler and user experience leading to higher rankings in search results.
Off-page SEO:
This tactic boosts a site's authority and reputation by linking it to other quality sites. The methods include: acquiring quality links from other authoritative sites and managing local directory profiles and listings.
When high-quality sites link to the brand, it tells search engines that the site is reputable, reliable, and trustworthy, enhancing its ranking.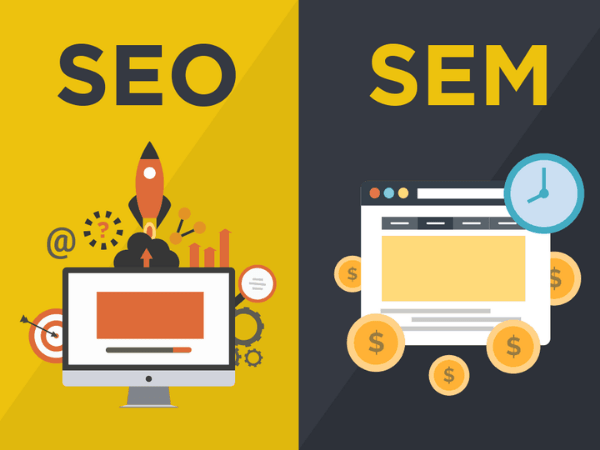 What is Search Engine Marketing (SEM)?
SEM or Search Engine Marketing involves drawing site traffic by utilizing paid ads to enhance a site's visibility on Google and other search engines.
Nonetheless, your targeting tactic and ad copy must resonate with the keywords that match your audience's questions allowing your adverts to show in relevant SERPs.
So, is SEO a component of SEM?
Through paid ads, SEM allows your brand to enhance the visibility of its landing pages, blog articles, website pages, and more.
As such, savvy marketers utilizing SEM must also tap into SEO for high-quality content and keyword strategy and PPC(pay per click) ads to drive traffic and target potential customers.
In other words, SEO is part of SEM.
Google Ads, previously known as Google AdWords, is the platform that is mostly used for SEM. With this method, businesses conduct keyword research and then develop search marketing campaigns that target suitable keywords for their sector.
You can see Google ads at the bottom or top of search engine results, and the business is charged every time a user clicks on the ad.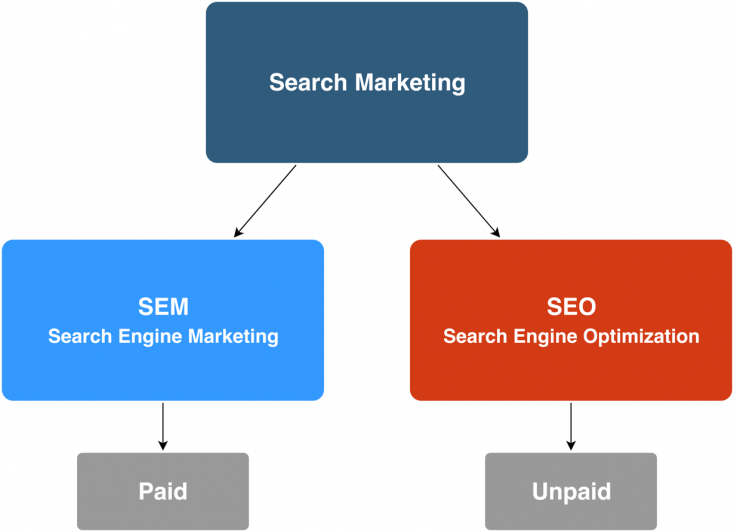 SEO vs. SEM: What Is the Difference?
In terms of nature
SEO is not a paid strategy, while SEM is a paid search marketing strategy. In Search Engine Optimization, you concentrate on driving organic traffic to your site while SEM focuses on bringing both organics and paid traffic to your site.
In other words, SEO engages your readers to make them buy or spend time on your site, and SEM is a method of bringing users to your website.
In terms of cost
As mentioned earlier, you are charged anytime potential clients click on SEM search results.
On the other hand, you do not pay anything when users click on SEO results. This technically means that you must have a budget if you want to show SEM ads or use PPC continually. The opposite happens when a user clicks on an SEO result. You do not pay for anything.
In terms of time
Search Engine Marketing's effect is instant, while SEO takes a while. Through paid adverts, you can start showing your site or pages in front of your potential clients almost immediately.
The moment you start your search marketing campaign, your site or pages start showing in search results.
You can also turn them off to stop showing or on to enhance visibility. On the flip side, SEO takes time. It can even take months to implement a viable SEO campaign before your brand starts to rank on Google and other search engines.
In terms of risk
When it comes to testing marketing, SEM is way better because it allows users to turn paid ads instantly.
Similarly, you can easily fine-tune your ad copy, change landing page content, and target new audiences to test your campaign efforts. The flexibility allows you to determine differences in your efforts instantly.
That is almost impossible to achieve with SEO as it takes a lot of time to make adjustments and track differences in results. Nonetheless, SEO will give better click-through rates ( CTR) if you can maneuver your way to the top.
However, if your page appears on the third on the 4th page, you will get more click-through rates via SEM. The image below shows the relationship between CTR and Organic search position in relation to the page.
SEO vs. SEM: What Is the Similarity?
Both rely on keyword research.
The first task in SEO and SEM is to do keyword research and identify the right keywords to target your campaigns.
The process usually entails looking at a keyword's popularity to ascertain your target audience's keyword phrases when searching for what you offer. Also, look at what keywords your competition is ranking for and figure out what to do to rank better or compete with them.
Now, to do keyword research, start with BiQ's Keyword Intelligence tool. Just type any name related to your industry, services, products, or business in the search box, and then it will give you all the related terms plus values on their competition and popularity.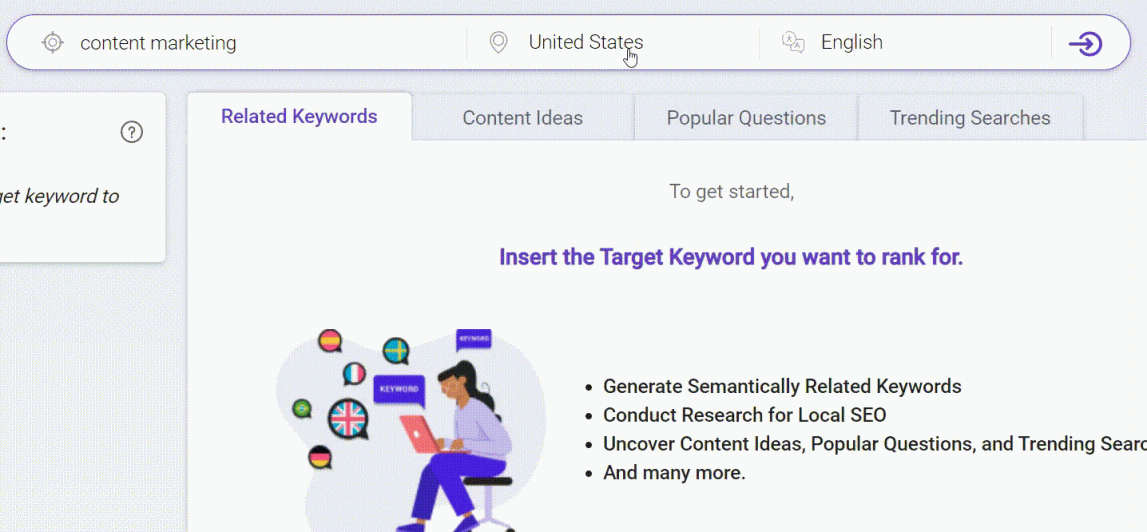 What makes BiQ's Keyword Intelligence stand out from the rest of the keyword research tools on the market is the keyword analyzer feature.
It helps you see why someone might be searching for the keyword in the search engine. With this data, you will be able to plan your content in such a way that meets your users' needs.

If you are unsure which keyword to use, you can sort the keywords based on their value. The higher valued keyword means it can potentially bring more traffic to your website at a lower competition.
Both help a brand appear in search results.
Both SEM and SEO's main goal is to help brands rank high on SERPs. Each method aims to make brands appear in search results when readers search for certain terms related to the brand's offerings, business, and industry.
Both are designed to drive more traffic to a website.
Another goal of the two search marketing terms is to increase search engines' visibility and drive traffic to a site or page. Each technique utilizes different techniques to enhance CTR and get more readers to click on search results.
Both require continuous monitoring.
When comparing SEO vs. SEM, keep in mind that they are not strategies that you can implement once and forget. They require regular evaluation, testing, and fine-tuning to enhance performance.
As such, whether you use SEO or SEM, make sure you continuously monitor the strategy to ensure the site stays fresh and drives more traffic to your site.
Using BiQ's Rank Tracking, you can easily link your ranking positions to your SEO or SEM efforts and processes. Find out what are the actions that lead to your keyword rankings growth.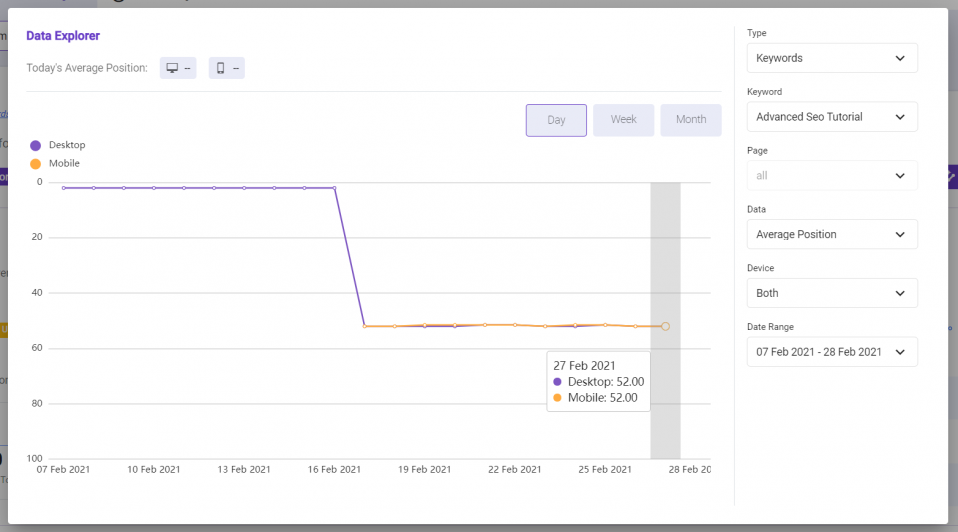 Whether you have just built some backlinks to your website or included target keywords in your post's title and meta description, BiQ's rank tracking can help you understand the actions that have led to your success.

BiQ allows you to use an advanced tagging system to group your ranking keywords and pages exactly how you want them and not be bound by the page URL.
You can group them according to topics and categories or personally.
This would give you a bird' eye view of your ranking data easily, especially when looking for daily or weekly changes.

No need for Google sheets tracking or notes; click on the tag to check your results, and it will show all the relevant pages and keywords we are tracking for the campaign.

This is important to understand what works for your website and actionable data on what to avoid so you can quickly recover your lost rankings.
SEO vs. SEM: Which one is better for you?
SEO and SEM, which is ideal for you? The information above has given you an idea of what the two search marketing terms mean. So, which is suitable for your needs? If you are still not sure, keep what you already know in mind and consider the following:
Consider your competition
Take a look at how your competitor is doing and how their search marketing approach is performing. If it is doing well, look for ways to compete or even beat them. Do some research and identify the search terms they are ranking organically for.
Similarly, look at what paid phrases they are using to direct traffic to their site. And as you do your research, look for any gaps in their tactics that you can fill and any areas where you will not be able to compete with them in both organic and paid search.
How well do you know your sector?
How long have you been in business? Do you know what your clients want? Do you know how to engage them best? If yes, start by developing a viable long-term SEO strategy that will give you results over time for a while.
However, if you are not sure or do not know how your target audience and the competition will respond to your message or offers, consider a Search Engine Marketing tactic. It will help you test your products, services as well as ideas.
How long is your typical customer buying cycle?
If you deal with products or services that sell faster or have a shorter buying cycle, where clients know what they want and what to search for, SEM will be ideal for you. The method will put your product or service right in front of your customers.
On the other hand, if your product or service takes longer to buy, where clients take time to research and compare for days or even weeks, SEM won't be ideal. The clients will not buy immediately after they see your paid ads.
What is the average cost per click in your type of business?
Before going for SEM, do some research and determine how much you will spend on paid results. Different keywords have different cost-per-clicks, depending on the competition.
If the cost per click is manageable, then go for SEM. Nevertheless, if it is unsustainable, you will be better off concentrating on SEO.
How old is your business?
If you are new to the game and have just launched your site, it will take time to build a viable SEO strategy and rank organically in search results.
This does not mean that you should not invest in an SEO strategy, but you will benefit more from an SEM method before developing your SEO. SEM will drive more people to your site while still boosting your organic SEO.
Consider the current status of your website.
Before investing your money in an SEM campaign, research your site to determine whether you can boost an organic SEO tactic that is already working.
To get a clear perspective of your website's status as IT relates to technical, off-page, and on-page SEO aspects, you can use BIQ's Rank Intelligence.
To get a clear perspective on how your website performs, you may use BiQ's Rank Intelligence.
You will get to see all the keywords your website is ranking for together with the important insights such as search volume, cost-per-click, and competition, and so on.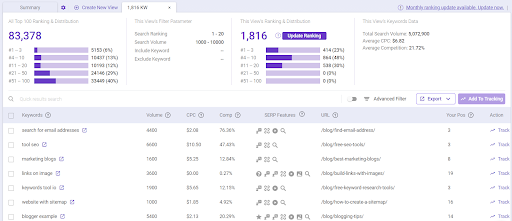 These insights let you know the search terms that searchers are searching for to reach your website. Do your ranking keywords match with the keywords that you have been targetting? If not, you can then look for solutions to optimize your site for better results.
When to focus on SEO
Use SEO if you want to rank higher in search engines and remain there. This will not happen overnight, as it needs a strategy that utilizes various elements to get to the top. However,  when you get there, you will enjoy long-term benefits.
Another scenario where an SEO strategy is ideal is if you are creating an authority site. This is a site that acts as a data or information source for a certain topic.
Once it is up and running, it is the type of website that generates traffic via URL recall, and the main strategy here would be informative and relevant content.
When to focus on SEM
If you are launching a new site, you will need immediate results and visibility in search engines. And with a well-thought-out PPC campaign, you can achieve that.
Obviously, you cannot rely entirely on PPC permanently because you will need to develop useful content that users will want to read or engage with once they land on your site via PPC.
SEO vs. SEM Expectations
Having a good idea of the main differences between search engine marketing and search engine optimization tactics will help you know what to expect from implementing each strategy.
You will not use SEO if you expect fast results. Similarly, you would not use SEM if you want long-term results without spending a dime.
The positive side of both methods is that they balance each other very well. If implemented together correctly, they can fill the void created by the other.
SEM is ideal for establishing your business, while SEO is excellent once your brand has a name online.
If you want to drive traffic to your site within a short period because of an offer or special sale, an SEM campaign will cut it. Nonetheless, if you are looking to rank your web page higher in search engines for an extended period sustainably, a noble SEO strategy will help.
As you can see, each strategy is perfect in different ways. And as a business, it is essential to establish both short- and long-term objectives when implementing a marketing campaign. This will allow you to determine which technique is working for your brand.
You will also want to check your budget before you implement any method. While it is expensive, SEM will give the best results within a short period. On the other hand, SEO will give you deep routed results but may disappoint you when it comes to turnaround time.
Final thoughts
When it comes to SEO vs. SEM, both methods are important. Search Engine Optimization is the best for getting organic traffic, while Search Engine Marketing is ideal for paid marketing. The tactic you go for will largely depend on the objectives of your marketing efforts.
Either way, both cannot be ignored; SEM is good if you are looking for instant buzz or visibility. However, it is limited by your budget and may not be sustainable in the long term.
That is why it is essential to try Search Engine Optimization from the start. Though it may take several weeks to start showing results, it is worth it in the long term.
Most savvy company firms choose to utilize both methods of search marketing to cover all the bases. SEO is used to handle the organic search part by enhancing search results through Bing, Google, and other search engines.
On the other hand, SEM takes care of prominent ad placement to drive users to your site. Both methods can give positive results at varied costs.