Looking to become a better copywriter creating SEO content that ranks? SEO copywriting is all about writing for both search engine and readers, that aims at ranking in Google for your target keywords. Here's how.
What is SEO Copywriting?
SEO copywriting is about creating useful and compelling content that other people will gladly promote on social media platforms, and in turn, rank high for your target keywords.
Copywriting with SEO in mind increases your content's relevance and authority besides boosting its search engine rankings for selected keywords. Therefore, when you recommend something on your site, Google will see it as highly relevant, and you'll achieve greater content results.
Since Google started rolling out its updates, SEO copywriting has constantly been evolving. Today, if you want to create highly engaging and relevant content that ranks in Google, you must take into consideration the search engine's ranking algorithm as well.
Ideally, these algorithms are meant to help search users to find the answer to their queries.
At the same time, it works to encourage and reward brands to reach customers and solve their problems and pain points with well-crafted content.
One of the biggest challenges content marketers and bloggers face is producing content that's optimized for the search engines. Not only that, but it must also appeal to your target audience. For your online marketing campaign to thrive, you must go beyond just "writing content."
Your content must appeal to your end-users needs and solve a particular problem. Only then can you claim that you've truly mastered copywriting for SEO.
Traditional Copywriting vs SEO Copywriting
Traditional copywriting and SEO writing may perhaps be two different disciplines, but they have a common ground. For one, they both require some serious chops.
Both copywriting and SEO writing also attract, engage, and convert leads. However, they both approach this goal from different angles. Think of it as the process of getting people to act vs. getting content to rank.
Consumption – Both traditional copywriting and SEO writing can be consumed online. However, SEO writing is more comprehensive and available in longer-form content like blog posts and articles.
Target audience – SEO writing is mainly crafted for people at the top of the funnel who are still investigating a particular problem. For copywriting, the leads are warm and are already leading towards buying your product/service.
Why Do You Need Copywriting for SEO?
When done right, copywriting for SEO provides value for readers in two core areas — it gets readers to take actions and boost rankings for the right key phrases.
To be clear, you are using the terms that the buyer is searching for, hooking them with the perfect content, and getting the results.
Compared to other SEO tips like link building, content promotion, and SEO audits, SEO copywriting is an effective high-leverage strategy. Changing just a few words on a web page could significantly impact your overall traffic and conversions.
Here are some SEO copywriting examples and stats to put things into perspective:
Moz Boosted Its Organic Traffic By 32% with Simple SEO Copywriting Tweaks
Moz applied these minor SEO copywriting tweaks across some of its top-ranking content, which made all the difference.
What Moz did:
Change the H1 and titles to target higher traffic keywords
Add images and videos to increase user-time-on page and the site's visual appeal
Add H2s and H3s to improve readability, crawlability, and page architecture
By applying these on-page SEO copywriting tweaks, Moz saw a 32% traffic increase in its organic traffic.
Highrise Boosted Conversions by Over 30% using a Single Headline Tweak
The most prominent element on any website is also the most persuasive. Therefore, instead of simply calling visitors to action and proposing your offers to them, Highrise made it crystal clear to its prospects and visitors that creating an account with them was risk-free.
With this, Highrise won its prospects' attention and increased conversions by making users feel like there's literally nothing to lose.
What Helps Content Rank in Search Results?
Whenever a user searches a query in a search engine and hit enter, they receive a list of search results relevant to their search terms. There's a ton of factors that goes into this.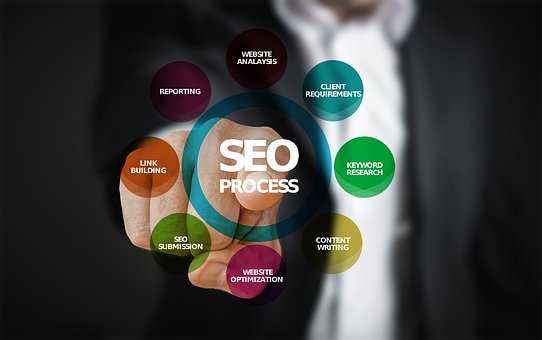 However, in a nutshell, SEO optimizes your content for search engines to help you rank higher than the content from other websites that target similar search terms. Search engines display web pages in their results pages based on their site authority and relevance.
So, how does Google measure relevance and authority?
Google measures authority using the number of authoritative links pointing to your page and how trustworthy they are
Google checks the relevance of your site page by analyzing your content based on several factors, like where and how often you use specific words in that content piece
In the online world, links are like votes but with a slight difference. Your web page's rank doesn't depend on the number of incoming links you have. Instead, it depends on the quality of those incoming links.
Then again, this can be earned by creating awesome content that people find useful and will automatically link to.
How to Write the Best Performing Copy
SEO copywriting is the art of creating content that prompts readers to either buy products, take a test drive of the product, subscribe to a list, or take other action that benefits both parties.
Therefore, if you are a blogger, online business entrepreneur, or freelance writer, you can become one of the best sought-after copywriters in the industry by perfecting your writing skills.
Before Writing: Start with Keyboard Research and SERP Analysis
Did you know that the very first step in SEO copywriting is doing intensive keyword research?
Before you even start typing, you need to find your target keywords and ensure that it is relevant and has an excellent search volume. This is what forms the basis of the perfect keyword research.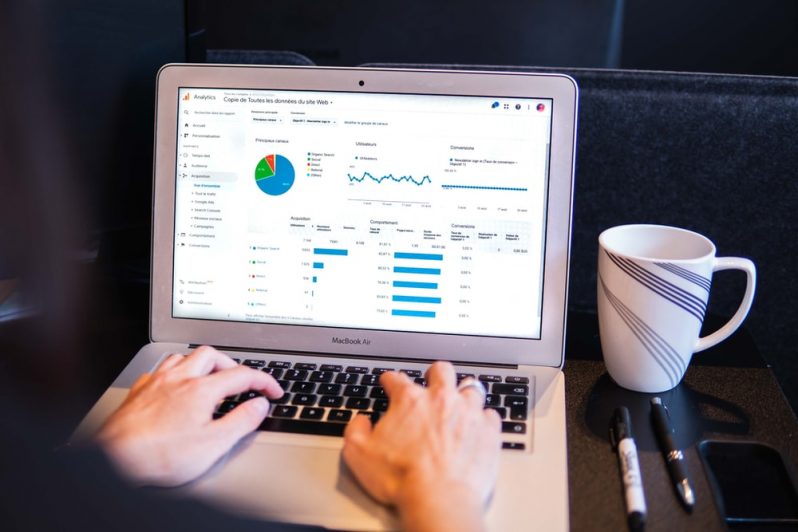 In other words, it's important that you dig a little deeper by asking yourself what answers your readers are looking for. Understanding how your audience searches for content online and the keywords they use is the most effective strategy for funneling relevant traffic to your content.
As a content marketer, the first thing you must always keep in mind is your understanding of the search intent. You must work on creating optimized content with your audience in mind.
Remember, searchers use search engines to find relevant answers to their questions. Therefore, it's imperative that you understand their search intent and why they are using certain terms and phrases to find certain content.
It's critical that your audience is your top priority, and you understand what motivates them to click and share content online.
It's a useful SEO copywriting technique used by top content marketers and bloggers to answer their target audiences' questions and provide solutions to their problems.
BiQ's Keyword Intelligence is an effective tool used to target the right keywords for your target audience. With BiQ's Keyword Intelligence feature, you can gather critical data on keyword volume, keyword competition, related keywords, trends, and more.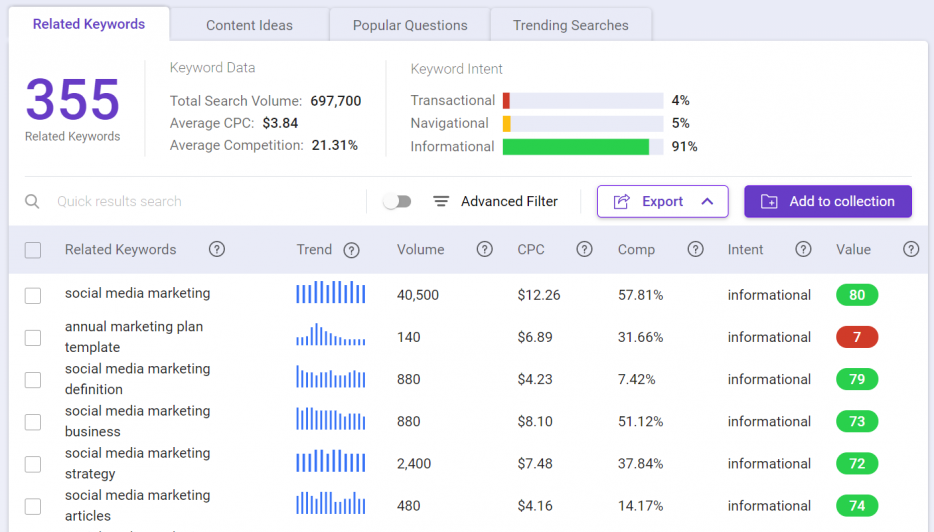 Using BiQ's keyword analyzer feature allows marketers to see why users might search for specific keywords and not others in the search engine. This data helps marketers and freelancers to plan content that meets the target audiences' needs.
Make a List of Relevant Keywords
When you understand why your audience search for whatever they search for, you'll be in a better position to create better content to rank high in the search results.
Searches help users to learn more about particular topics online and reach a specific website that is showing relevant context.
Therefore, it's important that you make a list of all the relevant keywords relating to your content and use them as appropriately as possible for better optimization. This way, you can rank for several keywords and reach a much wider target audience.
During Writing: Strategize Content Type and Optimize
If you want to build your audience, you must work on getting smarter with your content. One of the biggest challenges content marketers and bloggers face is writing content optimized for the search engine and appeals to people.
While this might be a difficult task, it's very achievable, with the right SEO copywriting strategy in play:
Determine Content Type and Format
Content comes in different types and formats like emails, blog posts, videos, web pages, social media posts, press releases, and any other messaging included in your marketing campaign. One constant factor for all content is that they all involve words that must be written in a special way to achieve an end goal.
Throughout your content writing and marketing career, you'll use several content formats to make your content strategies engaging for your target audience.
This is where the confusion comes about. While most marketing assets require some form of writing, not all deliverables have to be written in the same fashion. In that regard, it's vital that you know what content type and format you intend to use in your next SEO content strategy before you begin writing.
Besides, having multiple content formats like infographics or videos in your written content has also been proven beneficial to boost user's time on page, which in turn is helpful for ranking.
Focus on Your Buyer Persona
Writing a good SEO copywriting starts with understanding who your audience is and their goals.
With this information, you can develop more in-depth personas for each of your customers. Essentially, you want to look beyond the obvious demographics and analyze their psychographic profiles too.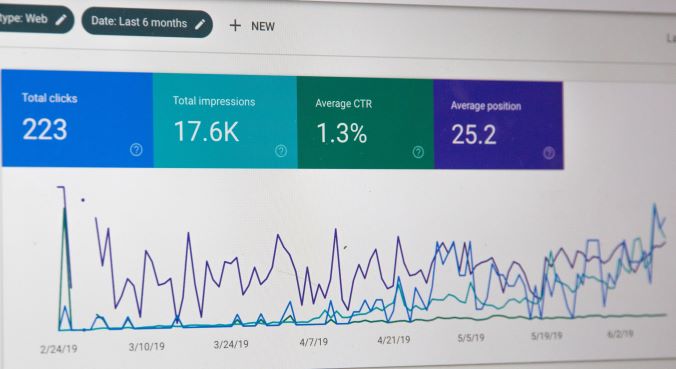 Great content marketing is about understanding how your audience thinks and using that information to determine their values, dealbreakers, needs, frustrations, objectives, and pain points.
Only then can you truly know the best content to write directly to each persona, situating your product/service as the answer or solution to their questions and problems, respectively.
So if you already have a website, take some time to look at your Google Analytics and find out who your customers and visitors are.
Though SEO copywriting may need you to insert specific keywords, you need to write naturally to please your audience.
After all, you don't want your content to read or feel like something forced. It doesn't always work.
A piece of advice is to include your primary keyword in your headline and H2 headings. Besides, also add related keywords and ensure that everything flows well in your content to build your context.
If your keyword doesn't flow well within your content, you can choose to ignore it and just write naturally. Google will love you for it and rewards you considerably. So will your target audience.
Optimize Your Content with Related Keywords
Yes, Google still uses keywords to gauge content and determine what your web page is about. However, there's also such a thing as over-optimization. You don't want to be "that" marketer who ends up over-optimizing content to the point that it loses taste completely.
Remember, you're not writing for Google here. It's more of a conduit you need to get your content in front of the right audience. But still, you also need to rank high in the SERPs to increase your site rankings.
Therefore, it' vital that you play your content optimization cards well.
In this case, you'll need to research and use keywords that rank best for your copy. In-depth keyword research is how you get your list of related keywords and key phrases that you want to rank for.
BiQ's Content Intelligence is one of the best tools to provide users with content-driven SEO-friendly strategies. BiQ's Content Intelligence allows marketers to achieve semantic content excellence for high rankings by using metrics centered on boosting content visibility.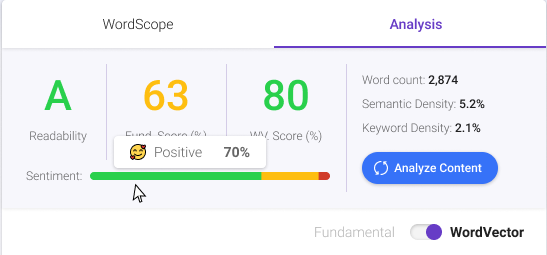 You just need to simply insert your target keyword along with your content URL and the tool will help you analyze and compare your content against the current top 10 rankings.
You will see how you fare and can edit your content to better fit the context by simply following the suggestions provided.
After Writing: SEO Copywriting Checklist
SEO copywriting isn't like other copywriting types. Several elements go into helping you optimize your content for SERPs and users. A copywriting for SEO checklist ensures your copy is properly formatted.
Targeted – Are You Speaking Your Audience's Language?
SEO copywriting is a discipline that creates content for a specific audience. for your copy to be effective, it must address your audience's problems or pain points in that target group, presenting your brand as a solution.
To create targeted content for specific individuals, you should focus on pinpointing specific demographic groups for your target audience.
This will help you remember your audience with your copy. Acknowledging your target audience enables you to pinpoint who your real audience is to prevent getting caught in the shuffle of constant message overload.
Storytelling – Is It Engaging, and Does It Have Emotional Appeal?
Storytelling can really set you apart as an SEO copywriter. Human beings are programmed to love good stories. So, if you can weave some interesting stories into your articles, blog posts, or videos, you'll be sure to attract more attention.
Brand storytelling isn't something new. Many brands have used it and continue to use it to make the maximum impact on their readers.
Your story must show others what they stand to achieve with the same results. It shouldn't be about you alone. Instead, look for ways to make it more appealing and interesting to your target audience.
Keyword Optimized Content
Several studies show that more than 66% of all user clicks actually go to the top three search engine results. To tap into this rare opportunity, you should invest in keyword-optimized content and keyword research best practices.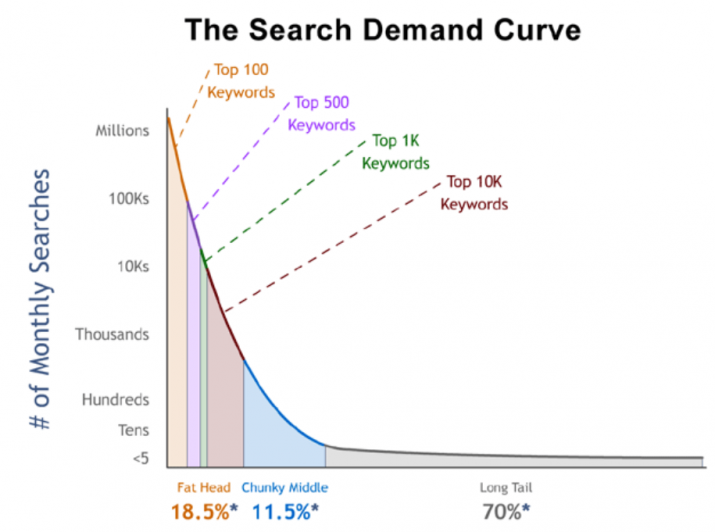 The only way you will dominate the search engines is by producing good content while also naturally targeting keywords that you plan to rank for.
Above all else, avoid on-page optimization mistakes, such as keyword stuffing, header tag stuffing, and excessive keyword insertion.
Does Your Headline Drive Clicks?
You may have valuable content, but your click-through rate won't be anywhere near what you hoped if your headline is mediocre
SEO marketers spend over 55% of their time creating content, tracking analytics, monitoring social signals and consumer reactions, etc.
Unfortunately, not as many people spend enough effort into crafting the perfect headlines for their content. When copywriting for SEO, your headline should attract your audiences' attention and prompt them to click your posts and read further.
Does Your Content Drive Users to Take Action?
Persuasion plays a critical role in driving your audience to action. While this might sound strenuous, it isn't too difficult since there are several high-quality tools and resources you can use to prompt an action from your audience.
Content is written to sell products/services or ideas. It also begins with how you sell yourself. Marketers always have 30 seconds at most to sell their products/services and leave their audience wanting more.
Here's what you should do to drive your users to take action:
Use bullet points
Have clarity of purpose
Create irresistible and valuable headlines
Words are powerful. They drive engagement and provide valuable pieces of content to the target audience. They will love you for it and stick around for even more content.
"There's no alternative to producing great content."
Remember, duplicate content, low-quality content, and keyword-stuffed content won't help with your target audience. It's not a good content strategy, and we really cannot emphasize this enough!
Your main focus should be promoting your content and optimizing it for the search engine and your target audience.
Conclusion
Copywriting for SEO is one of the best strategies you can ever use for your content. With these SEO copywriting strategies, you can increase your blog's traffic hundredfold, improve your brand, and your audience will love your content.
If you haven't leveraged persuasion and psychology into your SEO copywriting, now's the best time to start. You can improve your organic rankings and captivate your audience. Start practicing with BiQ Cloud to boost your copywriting for SEO today!