Successful search engine optimization tactics hinge on implementing the best practices and availing great user experience to rank high for your keywords in the search engine result pages (SERPs).
But how exactly do you measure success in SEO? This depends on your SEO keyword rankings and how you can use them to gain insight into what your prospects are searching for in your industry?
The answers to these questions are some of the most sought after by content marketers and analysts. We're here to help make your keyword research more effective and improve your overall ranking position.
What Are Your SEO Keyword Rankings?
SEO keyword rankings refer to your overall web page's position in the search engine results pages for a particular keyword search.
When an online user searches for a keyword, the ranking URL should be the web page that's listed for that keyword search. However, do note that one web page can rank for multiple search keywords or phrases.
Search results also vary, depending on Google rank checking algorithms and if the search engine deems your content relevant for that particular search keyword. In most instances, you'll typically see paid search ads in your search query header, sometimes in the footer of your results.
Why Do You Need to Keep Track of Your SEO Keywords Ranking?
Competitive keyword ranking and analysis is the lifeblood of a successful SEO strategy. But if your website is already ranking well, good for you. Now, you only need to keep track of your SEO ranking strategies that other big players use to keep you in the game.
Tracking your SEO keyword rank is an effective strategy for knowing your wins and losses and understanding which SEO efforts are effective and which ones aren't.
How Do Google Search Rankings Work?
Google sends bots to crawl all new websites and edited web pages to learn more about their content, which tells them:
What the site's content is about
How popular the site is
What searches are the most relevant to the site
With Google's site crawlers, the search engine can monitor and analyze your website daily or weekly, depending on several factors. That's the reason why your ranking will always fluctuate.
Google utilizes its user data to make very insightful ranking decisions based on user behavior to choose which web pages to list for which searches. With this information, Google inputs your web page data into its search algorithms along with other sites and pages.
How to Monitor Your Keyword Rankings?
Using SEO Keywords Ranking Tools
When running a website that generates revenue from search engine traffic, it's vital that you track it for specific keywords. And while this may only be one part of your SEO puzzle, it's important that you know your content is performing.
For that, you need the right tools.
1. Google Search Console
Not only is Google Search Console one of the best keyword tracking tools available, but it also has an inside track on Google's data. This remarkable tracking tool can also account for the differences in keyword searches caused by personalized search results.
Google Search Console can help website owners track their keyword positioning in SERPs. It does this by providing users with critical data about their website rankings. So, you'll always know whenever your rankings drop across your keyword searches overnight.
Google Search Console also provides average rankings and reports that let users see their keyword search data from different angles.
You can use the service to check the keyword you want your site to rank for by putting in the keyword you want to rank for along with your website domain name. Google Search Console will then show you the exact position of your specific keyword in Google.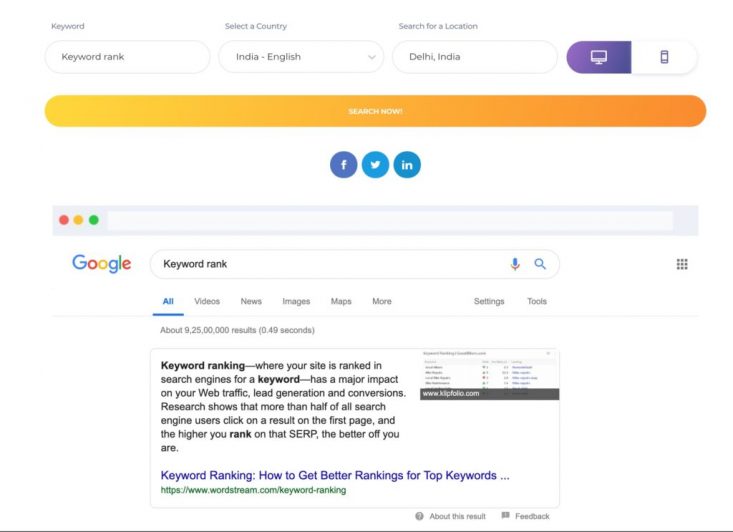 It's that easy!
2. BiQ Rank Intelligence and Rank Tracking
BiQ is another excellent tool that focuses on helping users track their keyword map using critical data that the ranking tool provides.
BiQ's Rank Intelligence allows users to map their keyword usage throughout their website to build more optimized content with SEO and content marketing in mind.
The tool feature also provides critical data for all content marketers by analyzing your content niche to provide you with data you didn't even know existed.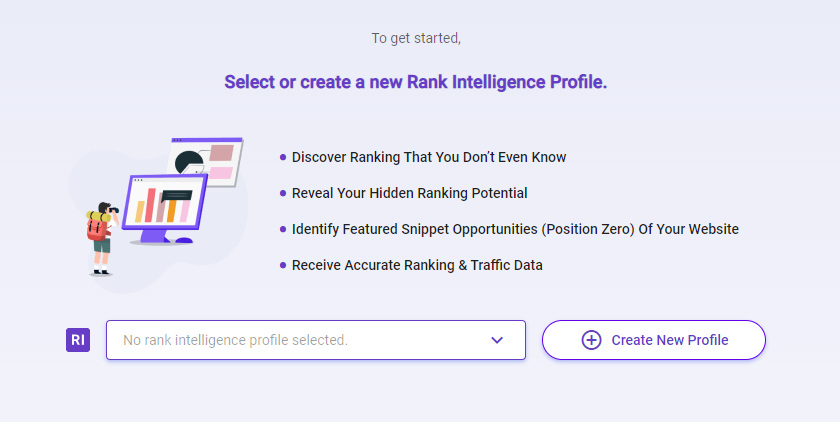 Connecting it to BiQ's Keyword Intelligence, you can discover all the relevant keyword data for the keywords that your website is ranking for and high-ranking keyword options to choose from.
BiQ's Rank Tracking is another top-tier tool marketers can use to track their daily keyword and page rank movements. This tool allows marketers to fill in missing data in their marketing strategies and fill in the time lag that you would otherwise only see in Google Search Console.
With BiQ's Rank Tracking, you can quickly identify any keyword gains or losses and learn how they impact your overall rankings to secure your overall page ranking.
This tool helps you optimize and experiment with SEO processes and efforts to constantly determine the best actions to make your keyword rankings grow.
In a nutshell, BiQ Cloud is a full-featured SEO keyword ranking and intelligence tool that you want to have working for you.
3. Grid My Business
Grid My Business is a grid-based local rank tracking tool that is specially designed to track and compare your Google My Business ranking performance against the top 20s in the local SERP through a specific search query.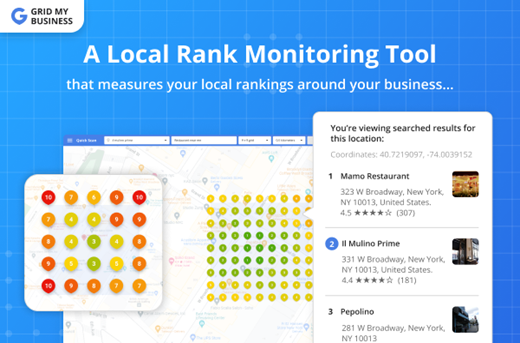 It allows users to identify their local search ranking for specific queries in more than 256 countries and 35 languages. It also allows them to monitor their ranking over time in the surrounding area, providing monitoring reports and regular updates.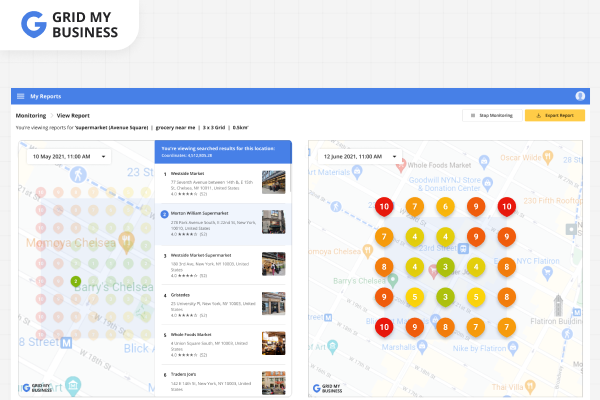 Users can also discover what search queries their local competitors are ranking higher for so they can compete with them.

With this tool, users can optimize their website to rank higher.

4. SERPWatcher
Right from the outset, you will know how effective this keyword ranking tool is for your content marketing endeavors.
SERPWatcher makes it crystal clear that it isn't just about tracking your site in real-time. Instead, this tool tracks the overall progress of your website on its creative "dominance index."
SERPWatcher's associated metrics are excellent for providing marketers with critical outputs for their SEO marketing and ranking processes.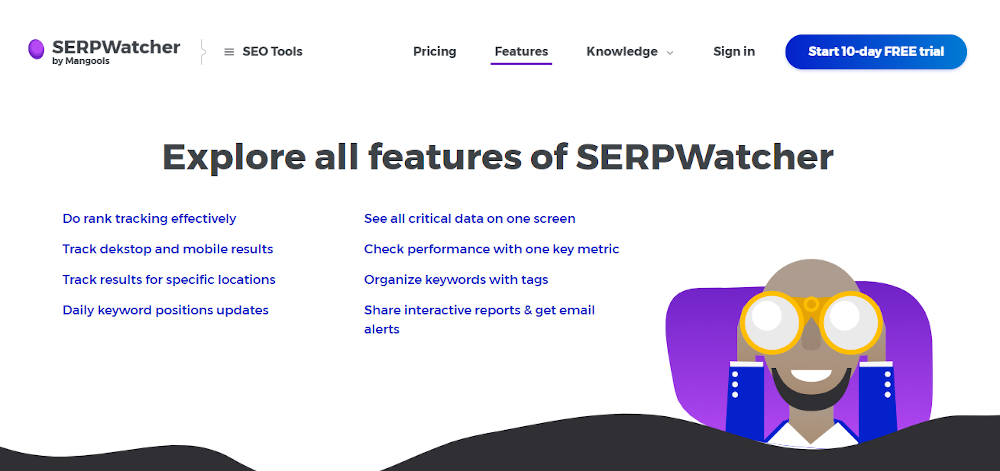 SERPWatcher is well-known for its history rank tracking by analyzing any percentage changes in position and search volumes. This data appears on SERPWatcher's chart and allows you to select a default period or choose your own time frame.
With this tool, you can add, create, rename, delete, or remove specific keywords at any time. Its dashboard also provides critical data on one screen, making it easier for users to analyze all information about their site rankings and positions.
5. SEMRush
SEMRush is a leader in the keyword ranking position process. You simply need to start a project for specific domains and use the tool to analyze their performance. This position tracking tool allows users to track their site's ranking for target keywords throughout Google's search index.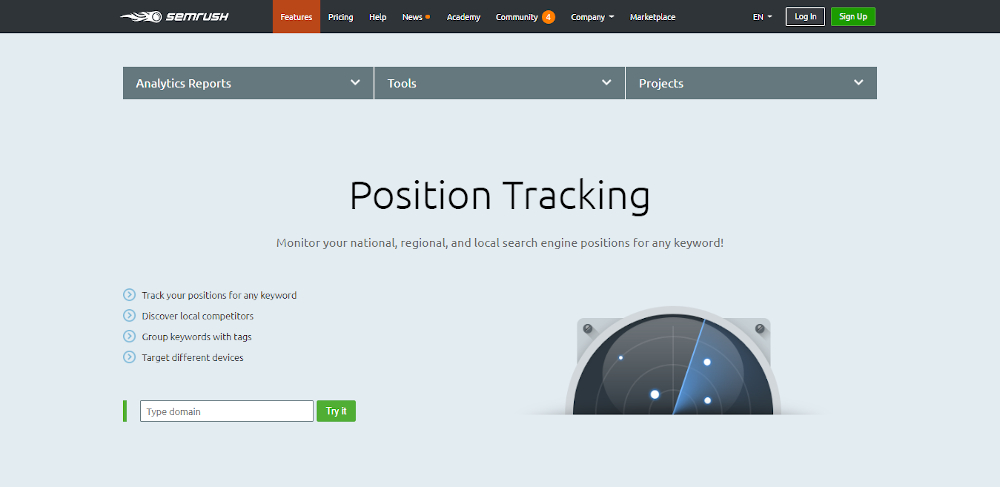 With SEMRush, you can also check your keyword ranking progress for organic and paid searches over time. You can also track historical data for competitors from the date you started your project. Another excellent feature of this site is that you can use it to track your competitor's ranking and analyze them using its side-by-side comparison feature.
SEMRush is a full-fledged SEO keyword ranking tool, making it a valuable partner for all your SEO strategies.
6. Ahrefs
Ahrefs is another popular tool among content marketers. It's one of the best tools for checking your Google Keyword ranking position. It's accurate location-specific ranking features make it a must-have tool for SEO experts.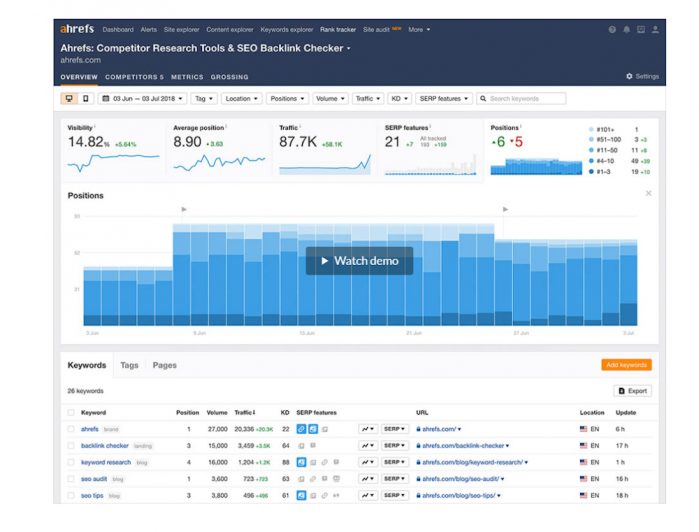 With Ahrefs, you only need to feed in or import your list of keywords into its search index, and it will track it. It will analyze and visualize this data for you and feed you regular updates. Ahrefs provides you with a full ranking history on a detailed graph.
7. Moz Rank Tracker
Lastly, we have Moz Rank Tracker, which tracks your site's keywords performance in real-time. It also tracks your overall site visibility in SERPs over time, making it an incredibly useful tool.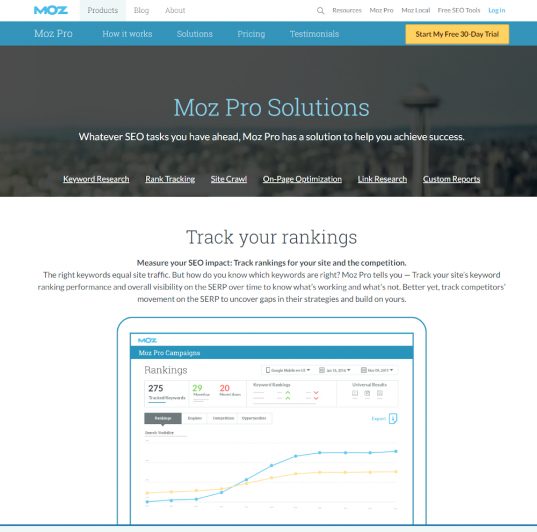 With Moz Rank Tracker, you can track and analyze your competition's keyword rankings as well. You can use this data to compare your SEO strategies with theirs and use the information to improve your overall visibility.
Now that we have covered the list of tools that can help you effectively discover and track your SEO keywords rankings, let's get into the details.
How to Analyze Your Keyword Ranking Information
Once you start tracking your ranking keywords, now it's time to get into how to analyze your information. We will cover what you need to look out for and how to gain insight into using your ranking information.
1. Gain Insights on what content format works best through SERP Features
Search engine result pages feature are a consideration for keyword analysis tools since they dictate your content structure, formatting, and design.
If you want higher rankings for a particular keyword, you'll need to consider the keyword's actual ranking factors and determine which features are present and the most effective.
Using BiQ's Rank Intelligence, you can actually get this all at a glimpse along with your ranking keywords.

Your awareness of these features will also empower you to optimize your web pages and control all prominent SERP data associates with your keywords.
Some potential SERP features include:
Maps
Images
Videos
Rich snippets
Knowledge panel
Newsbox
Advertisements
In-depth articles
If you see images and videos in the SERPs corresponding to your target keywords, it will do your website much good to embed them on your pages to compete.
Supposing your keyword's search engine returns a rich snippet, you'll know that your page needs to provide quick, concise answers to serve that target keyword's intent.
2. Discover New SERP Ranking Opportunities
Now that you have built a list of your ranking keywords, you can evaluate your target keywords to determine the true value and opportunity associated with each.
Your SEO keyword ranking position enables you to determine which keyword gaps you should target next that will have large monthly search volumes and how best you can compete with your competitors for their use.
Conversely, low-volume keyword terms provide you with opportunities to rank quality earning traffic.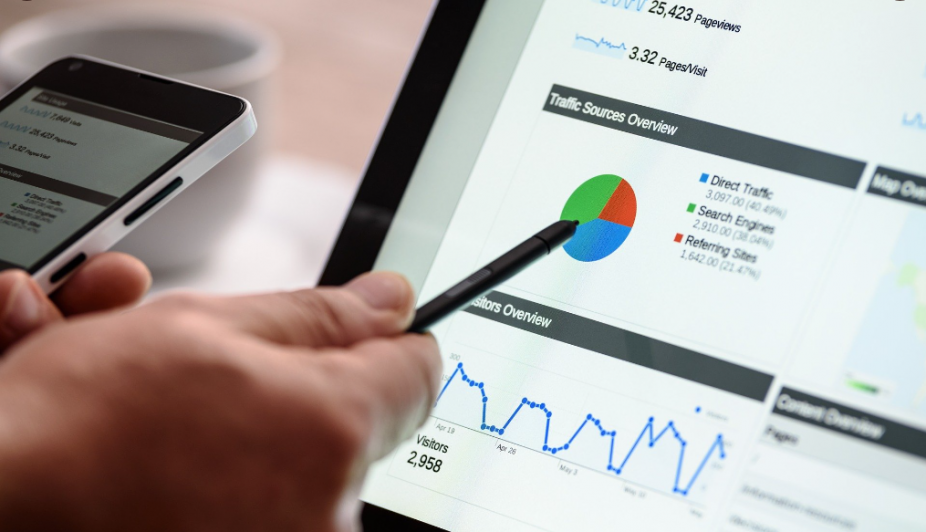 Grouping your keywords into opportunity criteria will help you determine the best opportunities that are present to earn you more traffic. The best keyword ranking opportunities will also serve larger goals and lead your business toward the path of least resistance.
3. Be Aware of Your Keyword Ranking Trends and Identify Keyword Rankings That are at Risk
As you start tracking your ranking keywords, you'll want to know how fast your keyword is growing or dying.
Using this information, you can edit your content accordingly. Update it to make sure it is showing the latest information and fresh. Also, one thing you want to pay attention to here is if your ranking keywords are seasonal.
It's simple. Just head to Google Trends and you can track and analyze how quickly the keyword's interest is growing or waning.
Your content may not rank well for a certain keyword now, but the trends may show that its search traffic will increase over time. These are the keywords you want now.
Besides, Google Trends also allows you to know which of your keywords are at risk and won't bring you the right traffic so you can replace them with more suitable keywords.
4. See the Historical Rankings for Your Keywords
It's difficult to develop a successful SEO keyword strategy based on just a few ranking checks.
Sometimes, you will need a lot more data that's recorded at regular intervals to really make your keyword ranking strategy work.
By tracking your keywords, you will have a ranking history graph that should also help you monitor your backlinks and cover a span of five weeks, with each node on your graph representing weekly ranking checks from the tool.
Your ranking trend should also give you a glimpse of your overall positions in the SERPs, making it a must-have tool in your Google rank checking tactics.
How to Further Improve Your SEO Keyword Rankings
Ultimately, what we are looking for is a higher keyword rank and that's why here are a few tips on how you can improve your keywords rankings.
The more power you have over your target keywords, the better off you'll be and how you use them.
1. Make Sure You are Tracking the Right Keywords for Your Business
If you are going to track your keywords in the SERPs, it's probably best to focus on the right keywords. It's also crucial to know the most effective ranking factors with respect to your keywords.
Too often, marketers short-change keyword research or rely heavily on third-party keyword suggestion tools. However, one critical issue with these third-party tools is that they aren't always personalized. Therefore, they return the same popular keywords to everyone, denying you the competitive edge your website needs.
At times, you may be tracking thousands of keyword rankings at once, and this data clutter can make it difficult to focus on what truly matters.
Like the Pareto 80/20 principle, some of the needle movers only fall into a bunch of keywords. Using BiQ's Rank Tracking, you can select which URL or keywords you want to track.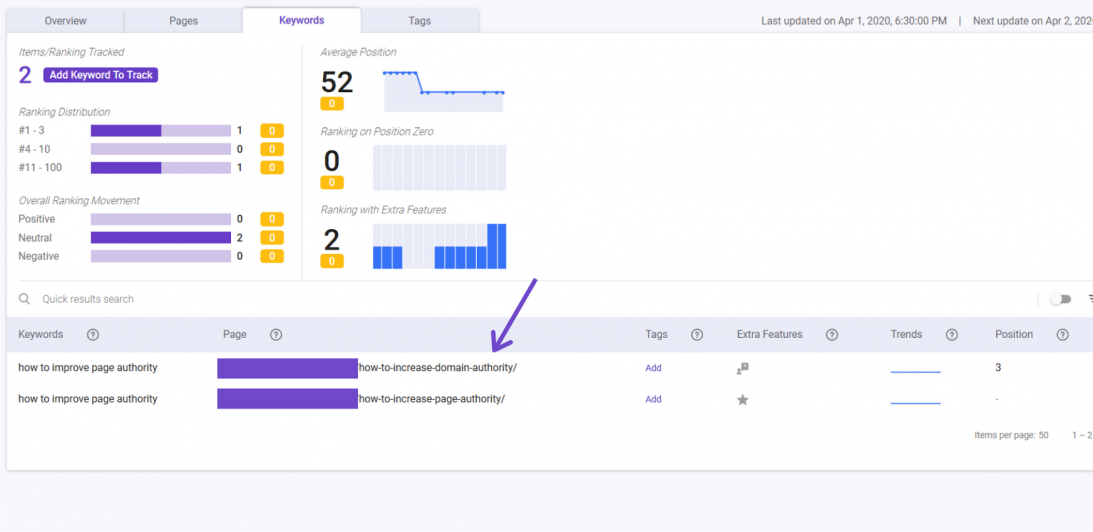 The solution is to focus only on your curated SEO keyword lists based on real, achievable data. Then, center your marketing efforts around them to get the most traffic and conversions for your website.
2. Make Sure You are Targeting the Right Geographical Regions
If you are a local business, the best way you can ever get around keyword ranking and competition is by targeting location-based keywords.
It's one of the most effective strategies that companies leverage. Moreover, it's quite simple to execute. You simply take into account all the keywords relating to your location, such as:
Your town
Your postcode
Your area in general
An excellent example would be writing a blog post with the title: "steps to hire a real estate contractor in Oregon." You would initially create content optimized for the keywords "Contractor in Oregon," which would include variations from contractors in other regions.
3. Focus on Long-Tail Keywords
Long-tail keywords are often less competitive and more targeted towards your audience. As their names suggest, long-tail keywords are longer. Long-tail keywords are also less common keywords that offer added benefits for search marketers.
Long-tail keywords are sophisticated and scalable, making them an excellent tool to store, group, analyze, and organize your keywords for higher rankings in the SERPs.
Using BiQ's Keyword Intelligence tool, you can easily find high-value long-tail keywords using our search filter.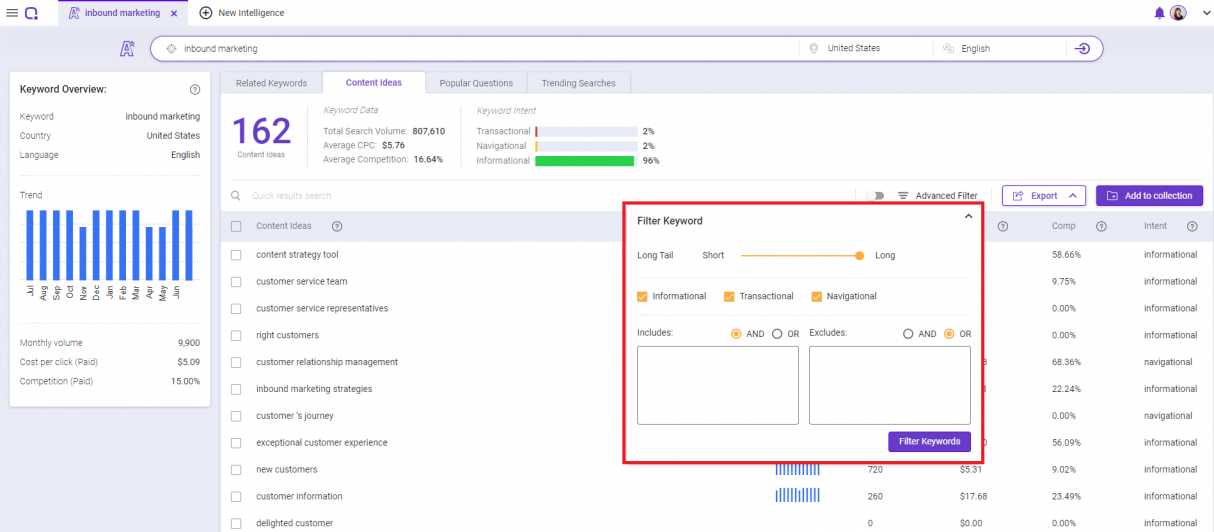 4. Group and Organize Your Keywords to Create Content Silos for Higher Rankings
BiQ is the most powerful keyword grouping and organization tool in this category. It effectively groups keywords, which makes a huge difference, especially when looking to improve your individual keyword rankings.
Tightly related keyword groups provide you with more strategic search marketing initiatives. A well-implemented and organized keyword group can contribute to:
More targeted landing pages
More targeted PPC ads
Stronger information architecture
Creating keyword groups is highly efficient since it will build an even stronger relevance to your already ranking keywords.
5. Use BiQ Content Intelligence to Improve and Optimize Your Content
With BiQ's Content Intelligence, you will have more data to create more effective content-driven strategies that are SEO friendly.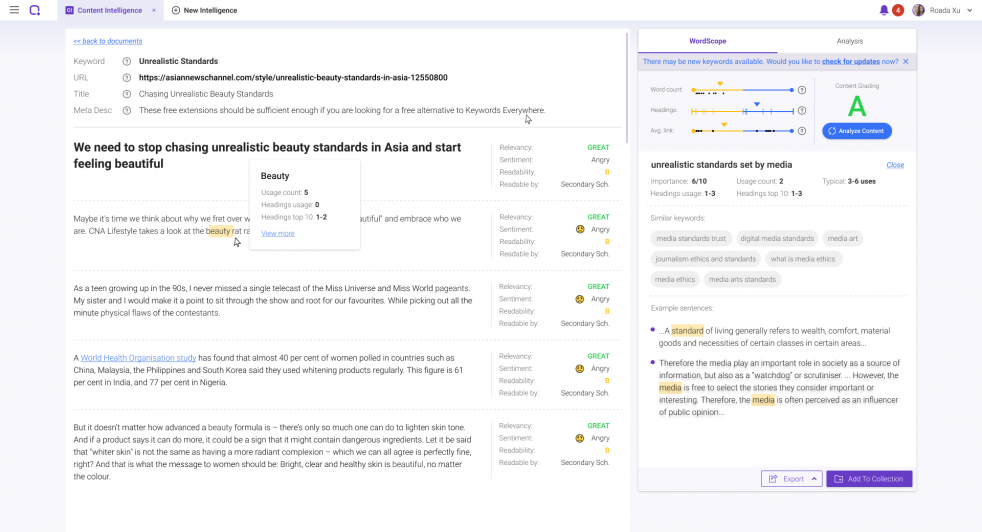 BiQ's Content Intelligence allows you to see the real-time content grade and analyze your keywords count. It allows you to determine how relevant your article is and how included enough your keyword density is.
Besides, it also provides marketers with the exact metrics that are centered on improving your content visibility.
Conclusion
Keyword research is a critical step in the SEO process, but it can only be further enhanced when you start keeping track of your SEO keyword rankings.
After all, the keywords you use in your content marketing strategy will always have a major impact on your website visitors. However, remember that this can be a time-consuming process and isn't always as clear as most marketers put it.
If you follow up on the ranking position steps on this page, you will have a much better chance of optimizing your website for keywords to help you reach your marketing goals. The secret is in optimizing your content and keeping track of your rankings to build your SEO!