The biggest factor to consider is increasing the domain authority for your profile link. A strong link profile is critical in getting your website to rank in the SERPs and boost your search traffic.
When you first register for a domain, it takes a while before building your authority.
Essentially, there are several factors you must consider, like proper on-page SEO, to ensure your site's content is high quality.
You must also focus on keeping your website mobile-friendly and work on shortening its loading speed.
But more on that later.
Perhaps the biggest factor to consider is increasing the domain authority for your profile link.
In fact, your domain authority score is your biggest measurement of how stable your profile link is.
While there are over 200 ranking factors in Google, backlinks are the #1 ranking factor, making them your best friend if you want to achieve your desired results.
A strong link profile is a critical factor in getting your website to rank in the SERPs and boost your search traffic.
It makes a lot of sense that backlinks are the biggest factor for increasing domain authority.
And while not so always absolute, it's probably safe to say that the stronger your website link profile, the higher your domain authority score will be.
What is Domain Authority?
Domain authority refers more to the total number of relevant backlinks you have on your website.
Backlinks are links to reputable websites other than yours.
The overall relevance of these backlinks will also factor in your overall domain authority score.
Moz's domain authority metric helps businesses determine where they may rank on the SERPs.
This metric estimates your page's possible ranking through several channels, including the number of total links and linking root domains, into a single domain authority score.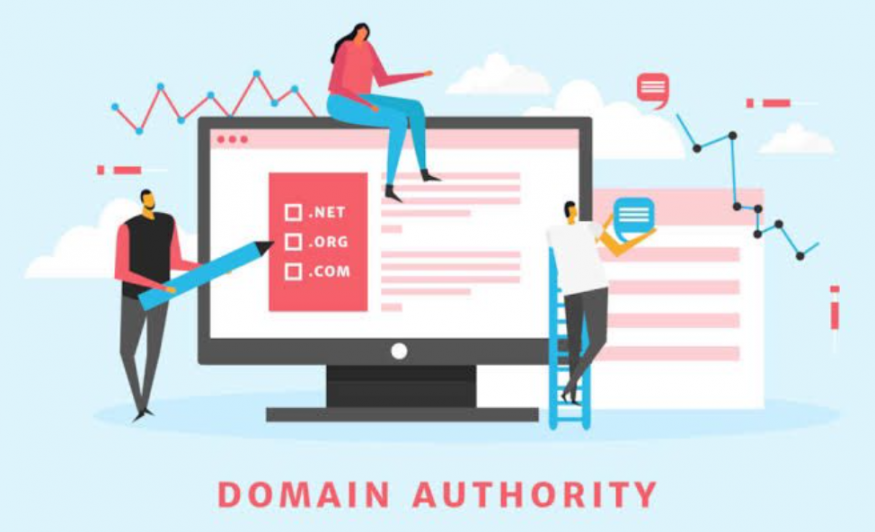 Moz's domain authority allows businesses to check domain authority by comparing websites and tracking their "ranking strength" over time.
You may wonder how some brands manage to remain authoritative even without seeming to try.
Well, it's mainly because the keywords they use on their websites carry more weight.
Take IMDB, for instance.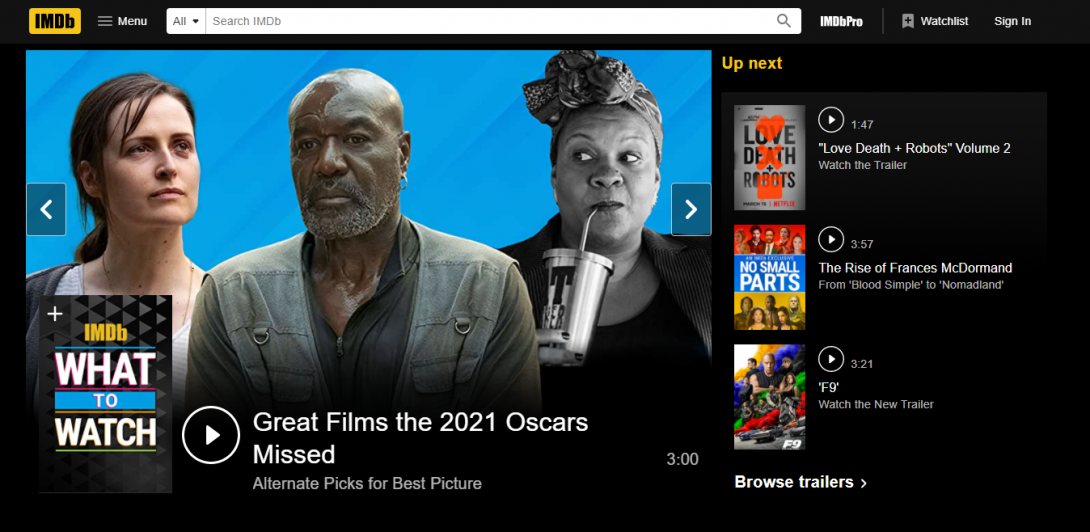 The website has a very high domain authority because it uses several high-ranking keywords that are naturally integrated into it.
The site is also filled with several secondary-related keywords embedded into it.
The secret lies in identifying the terms for which your website is deemed authoritative.
With this, you can optimize your website better and rank higher in the SERPs.
But it's not just the keywords.
The more authoritative your backlinks are, the higher your chances will be of having a good domain authority.
What is a Good Domain Authority Score?
Domain authority score ranges between 1 and 100.
With a greater authority score, you will more likely see increased web traffic and SERP rankings.
Also, the higher your DA, the more difficult it is to improve.
Brands and content creators debut new websites every day. Moz pointed out that websites with many external links usually rank higher with regard to domain authority.
A strong DA gauge for your website takes into account the ability to measure it against other competitive and similar sites.
Domain authority fluctuates with time.
And with so many moving parts, it can be increasingly difficult to identify what caused the change.
Moz highlights that several factors can influence your overall domain authority score.
For instance, your link profile may not have been seen by Google's index yet.
Higher authority websites could also have far more growth in link numbers, skewing your scaling process.
Factors to Calculate Domain Authority
Essentially, nailing down the specifics of domain authority scores is like trying to determine Google's algorithm.
Therefore, you'll only be privy to information Moz wants you to know.

Apparently, Moz uses over 40 different factors to determine domain authority. But the sad truth is that online users have access to very few of them.
Here are some critical factors we already know of:
1. Linking Root Domains
Root domains basically refer to the number of unique backlinks you include on your website.
You may have 1,000 links from a single website, but it will still be seen as a link from a single root domain.
Therefore, if you have three links from three different websites, you will have three root domains.
With more authoritative links from different websites, you can earn a higher domain authority than having several links from a single website.
2. Number of Inbound Links
Inbound links are especially important for calculating your overall DA score.
Websites with several inbound links from authoritative, relevant domains ultimately score higher.
For example, if you run a broadband firm, simply talking about your products won't be enough to rank you higher in the SERPs.
You will also need to have several inbound links to product pages, blog posts, and more to score higher.
3. Search Engine Friendliness
Essentially, search engine friendliness refers to your website's structure and user-friendliness.
Therefore, if you have a poor website structure, it becomes that much difficult for Google's bots to crawl it, thereby hurting your ranking scores.
4. MozRank (Moz's Version of Google PageRank)
This is the metric Moz uses to score the strength of website backlinks.
MozRank takes into account the number of external links your website has and the quality of those links.
MozRank tends to value content quality over quantity.
That means that one excellent external link is a lot better than having several mediocre links on your website.
5. MozTrust
Like MozRank, MozTrust is also a metric used to calculate the quality of your site's backlinks.
However, MozTrust is more in-depth in analyzing how closely your site is when related to other trusted websites.
How to Increase Domain Authority
Due to the complexities behind domain authority scores, there isn't that much of a definitive level you can use to define a good or bad score.
However, to get ahead of your competition, you must aim for a higher score than your competitors' domains.
Sure, you may not know all the ranking factors for Moz's algorithm.
But it's evident that it shares a few common factors with Google.
Here's what you must do to improve your DA and overall SEO score: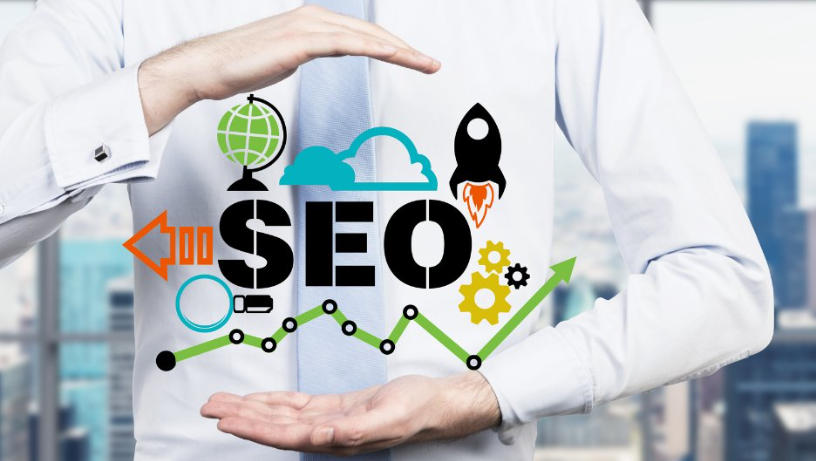 Create High-Quality, Engaging Content
When it comes to domain authority, creating high-quality content is critical.
Practically, this means you cannot afford to upload content with spelling errors.
It must be grammatically correct, topically comprehensive, well-written, highly engaging, among other critical measures.
Creating highly engaging content that your users find easy to read will directly lead to more traffic and higher rankings.
However, the key is to know what your page needs and use it to create great content that attracts even more readership.
Here's what you should focus on:
Have original content
Be visually appealing
Actionable items
Tell a compelling story
Publish varied content
Stimulate your audience's brain
Ensure you're delivering only accurate information
One great fact about content is that you can serve it in several different ways, including info-graphs, video, and prose.
Therefore, you don't have to risk getting your audience bored by having to go through your website only to find the same writing style, format, and content.
Mix up a few terms and visuals to make your content more interesting and intriguing to the reader.
There's really no better playbook for attracting more readers and traffic.
BiQ's Keyword Intelligence is a critical tool to use in this section.
With BiQ's Keyword Intelligence, you can find more creative content ideas that help make your content more compelling and unique to your website.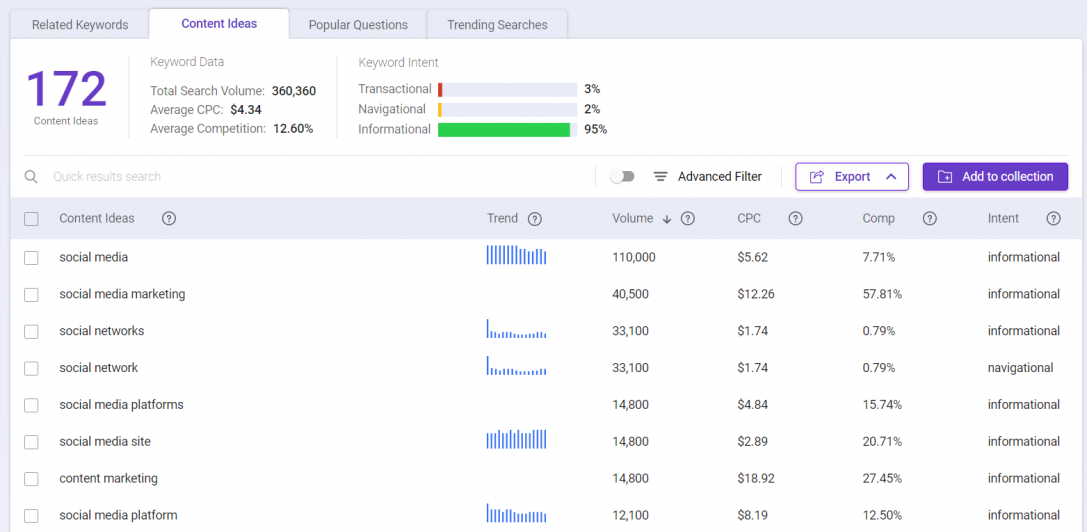 You simply need to enter your key phrases and Keyword Intelligence will provide you with a list of interesting content ideas that guarantee a hit with your readers.
BiQ's Content Intelligence also provides content marketers with critical data needed to understand important topics to cover in different industries.
Assuming you already have a great keyword that you intend to use, BiQ's Content Intelligence provides you with the necessary data to determine what goes into your content.
Increase On-Page SEO
Increasing on-page SEO is another sure strategy for improving and optimizing individual web pages for authority. On-page SEO has a positive effect on your overall domain authority and website strength.
Specifically, this means considering factors like:
Using relevant page titles
H1 and H2 title tags that contain the target keyword
Images and videos that are frequent and optimized
Image alt tags & descriptions that contain the target keyword
Links from other relevant content on your website
Ultimately, the critical factor here is your use of high-quality, interesting, informative, and engaging content.
It's one of Google's major ranking factors and one of the simplest strategies to boost your credibility, position, and domain authority quickly.
Another great strategy is to focus on long-form content, meaning you must write content with over 1,500 words.
Essentially, the more words you have, the better.
Long-form content tends to have a significant advantage, especially when it comes to boosting rankings in the SERPs.
Google loves long-form content, and several studies show that the search engines value and favor it more than its shorter content.
Longer-form content also attracts more backlinks and appears to be much more authoritative.
This, in turn, will attract more links from other quality sources.
BiQ's Content Intelligence is also a key player in helping content marketers to fix critical issues that may hurt their rankings.
Essentially, once you've written and published content, you want to know how it performs in the SERPs.
While this may take a while before you start noticing tangible results, Content Intelligence immediately provides you with this critical information.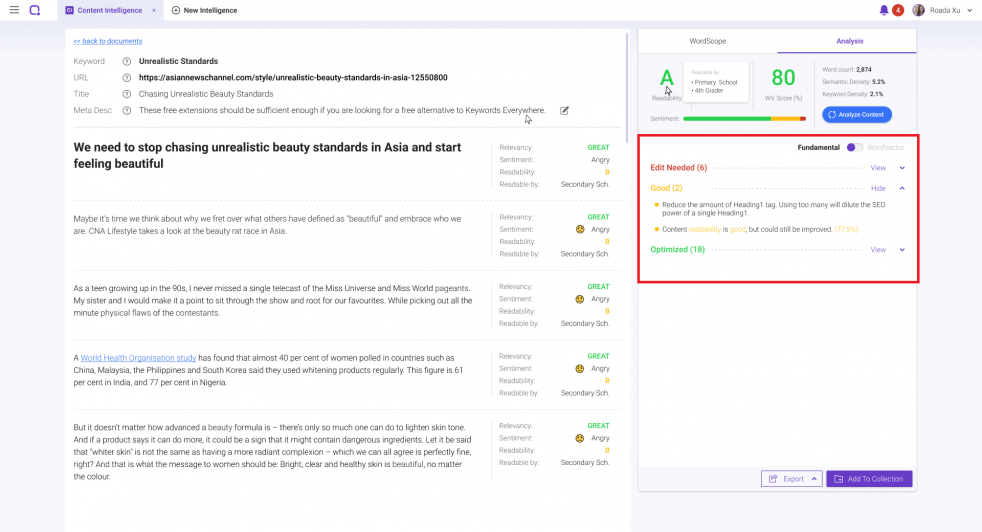 With BiQ's Content Intelligence features, you can analyze your content URL to determine any error points that need further improvements.
This tool allows you to boost your content performance now.
Conduct a Link Profile Audit
Well, it's no surprise that your site's overall link authority extremely correlates to higher rankings.
As you might have noticed, it's mentioned in almost all the factors above.
Therefore, we know for sure that a link profile audit has an effect on domain authority.
These actionable SEO techniques from BiQ are excellent ways to promote more organic traffic to your website.
But to understand how to improve your overall link profile and SEO, you must first know where you are.
Here's where a thorough link audit comes into play.
However, the thing about backlinks is that most content creators and freelancers don't realize how demanding it can be to obtain them.
Without a proper strategy, it becomes all too easy to end up with bad linking habits.
Ideally, you want to collect several authoritative links from different trusted websites to be recognized as authoritative and trustworthy by the SERPs.
You just have to ensure that the links you're using aren't part of some black-hat SEO tactics.
This can end up doing more harm than good to your website.
Gain High-Quality Backlinks
Here's yet another comprehensive but equally important pointer about inbound links.
Earning high-quality inbound links for your website is crucial for your website's domain authority.
And we cannot emphasize this enough.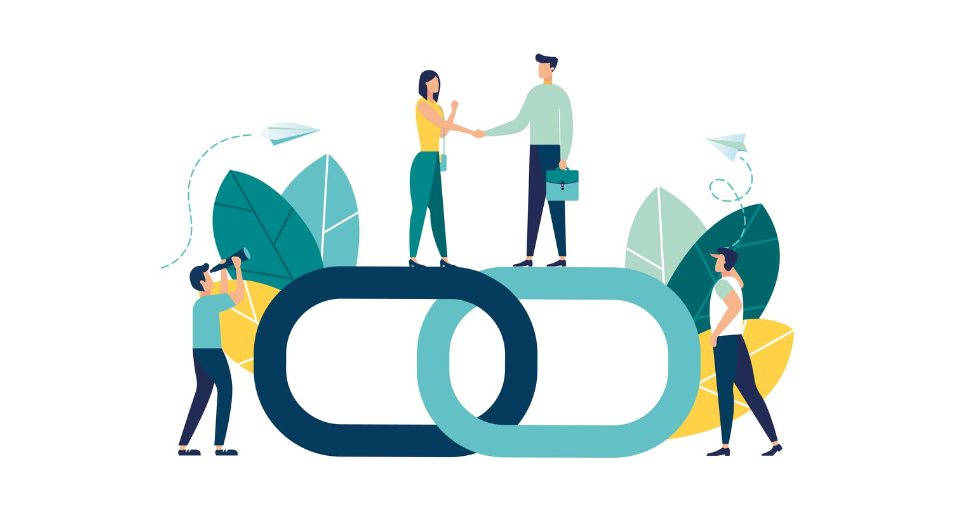 To earn high-quality backlinks, you must be prepared to invest a significant amount of time and resources.
You can try using Backlinko's skyscraper method, an SEO practice that allows its users to find content that ranks high for certain keywords you would like to rank for.
For instance, if your competitor's content ranks top of the SERPs, they will likely have tons of highly authoritative backlinks.
What you can do here is create content that's much better than the top-ranking posts and use Backlinko's tool to find all the websites your competitor is linked to.
Finally, choose the most relevant sites and use them in your content to boost your site's authority.
You can also always ask other websites with higher domain authority score to link to some of your top content.
It's a sure way to earn high-quality links, provided your content is engaging and relevant to the referring site's content.
Conclusion
While we don't really know everything we would like to know about domain authority, one thing's for sure.
Having a healthy link profile is a sure way of boosting your domain authority score.
Just remember, backlinks take time to build.
It's a long-term strategy that can be very demanding. But the patience pays off eventually.
When done correctly, a good domain authority produces long-term results that will boost your rankings, site visibility, and revenue.
Use the steps mentioned above to boost your domain authority, Google rankings, and organic traffic today.
And don't forget to add BiQ Cloud to your SEO toolbox too.
This ranking tool will provide you with a more comprehensive understanding of your keyword and content rankings plus overall website health.
You can click here to try it for free!