88 percent of users who did a local search visits or call the business within 24 hours. Learn these 9 golden practices to rank for local searches.
If your business has a physical location, you know by now that mobile search is the new front door to your store.

Google, 2016
Well, I believe it's not just mobile only but desktop as well.
Local search is a search made on the search engine by users, usually for the purpose of looking for products and services, in a specific region. In every local search, there will be a location included.
Local searches are made very often on the search engine. For instance, "cafe in Paris", "stationery shop near me" and "furniture shop at 32nd street".
Why Dominate Local Search?
Based on Google's Small Business Search Trends 2019 report, there is 350x more search interest in "local" + "near me" than 10 years ago.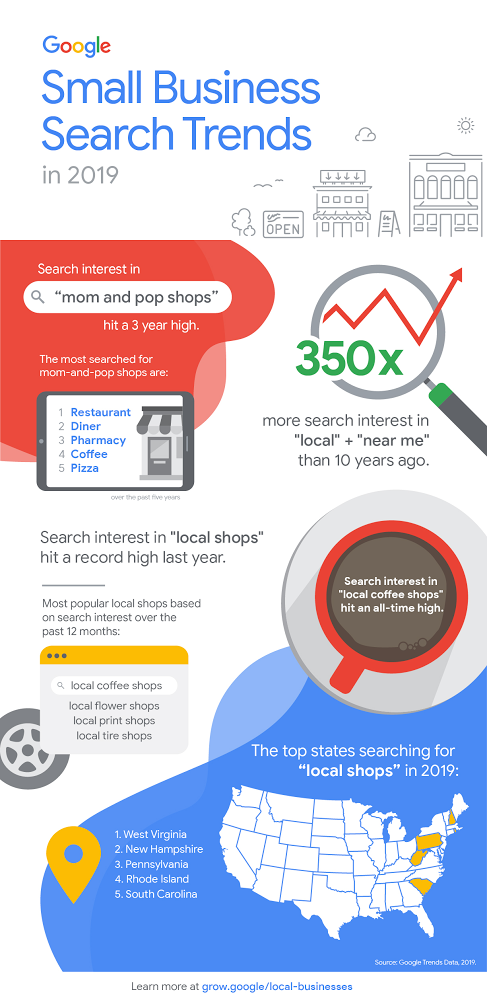 Also, according to various sources including Google (2016), more than 70% of the consumers who did local searches visit or calls the store within 24 hours.
That's why it's important to learn how you can dominate the local search. In this article, I have compiled 9 golden practices to get you way ahead.
We do Local SEO also because we want visibility and people to look for us. If you're a regular user of the search engine, you will know how useful the local search is.
When we are looking for nearby restaurants, we type in something like "seafood restaurants near me". And then, we will usually only look at the top 3-5 results. Relatable?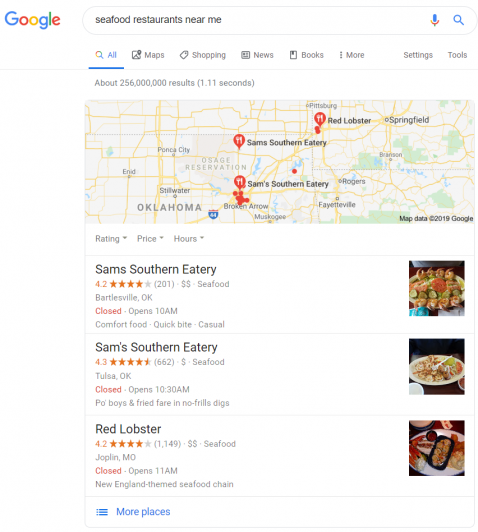 That's the benefit of doing Local SEO. You gain visibility.
Here are some more statistics to show how important it is to do Local SEO:
Close to 50% of all searches on Google are seeking local information
82% of people read customer ratings or reviews before buying something.
Over the years, mobile queries containing "store open near me" have been steadily increasing by over 250% in the last two years.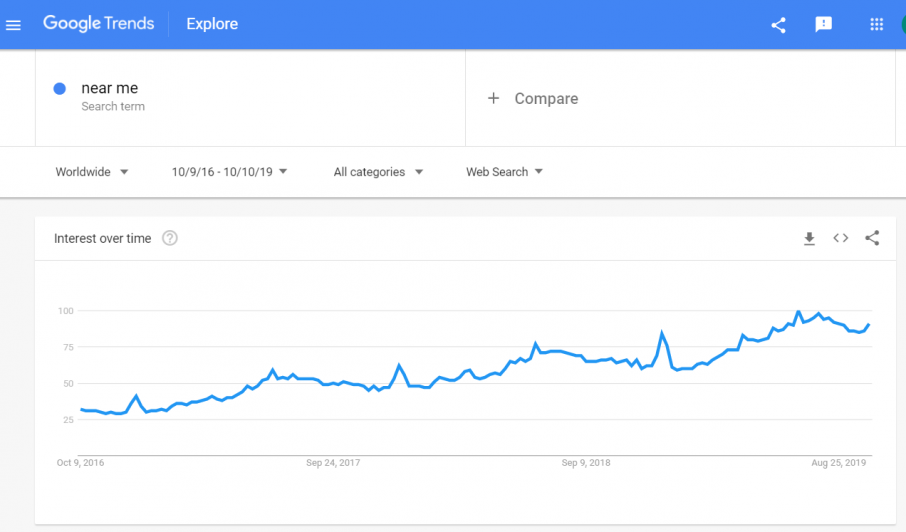 How to Dominate Local Search?
Are you ready to get to the top 3 spots on the SERP?
You can dominate local searches through both on-page and off-page efforts as well as offline! Let me explain further in detail below. So, the process of 'dominating' local search is called Local SEO. It is very much the same as the regular SEO just that we're optimizing for local search.
Before we go on, you need to know the 3 main factors that Google considers for ranking local businesses. They are relevance, distance, and prominence. The methods discussed below will be related to these 3 factors.
On-Page SEO
1. Business Information
Have you seen businesses on the knowledge panel that does not have any information besides their name?
Chances are the knowledge panel was not created by the owner itself. Now, if you own a website, Google may extract information and display it on the search engine for you, be it the knowledge panel or featured snippet.
So, to let Google and users know your business better, add your business information such as an address, opening hours, and contact on your page.
It is a way search engines can tell that the information is authentic and validates your business listings on other directories.
2. Keyword Research
There are many ways of saying the same thing, but it may vary across regions. For instance, if you created a soft drink brand, you will need to see which keyword is more popular. Is it "soda", "pop", or "coke"?
Americans have different names for soft drinks depending on which region of the United States they're from. Below is the current data of an ongoing survey.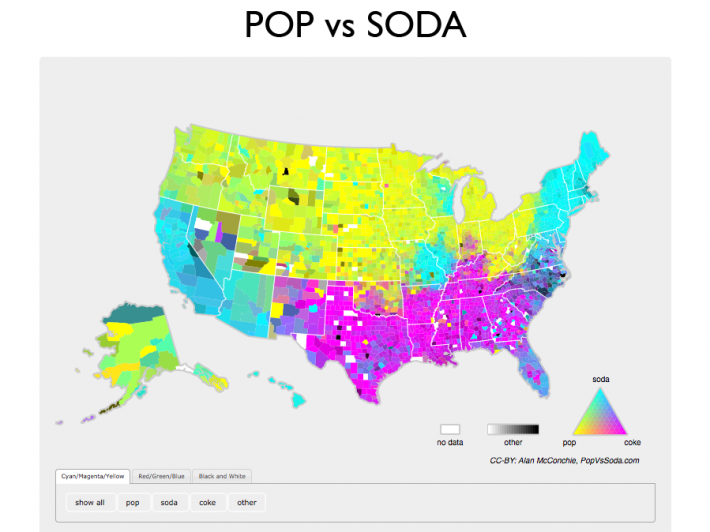 So, how would you know whether which keyword you should target? By using keyword research tools! If you don't know any, let me suggest two keyword tools from my previous article which are Google Trends and BiQ Keyword Intelligence.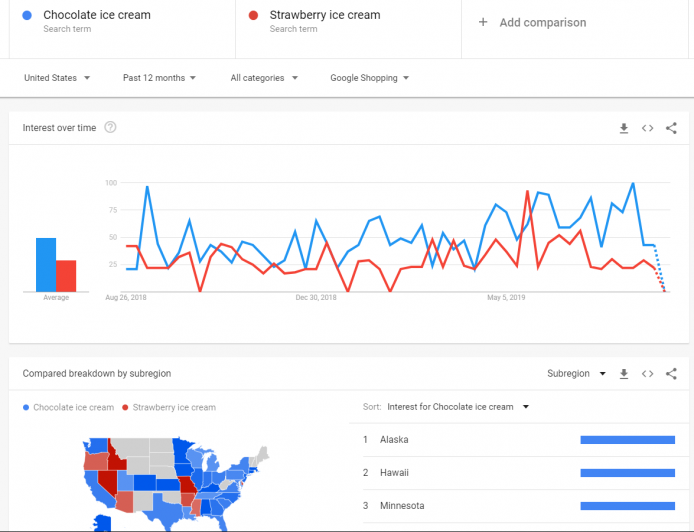 Here's how BiQ's Keyword Intelligence looks like.
First, enter your target keyword. Then, choose your preferred locations and languages.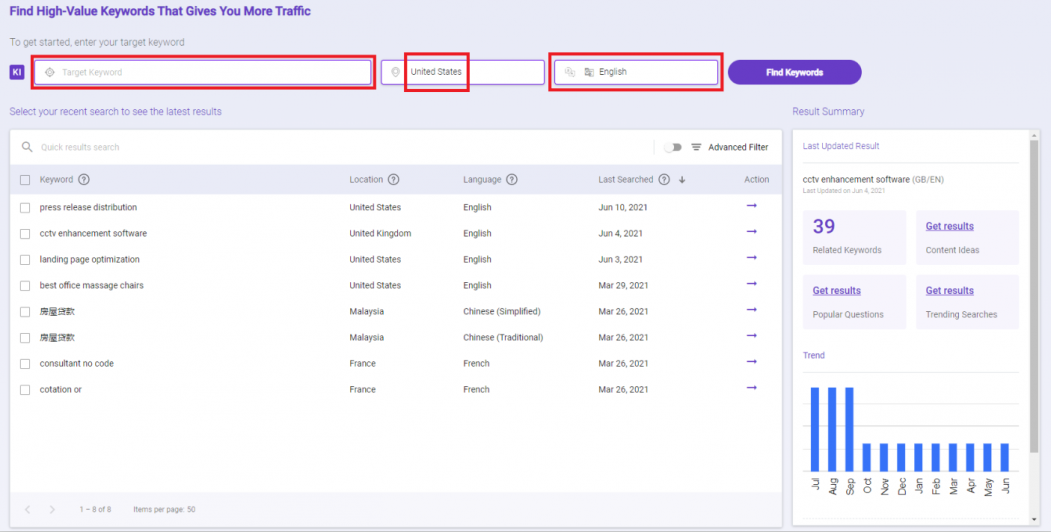 The fantastic keyword tool will show you the list of relevant keywords the local people are using.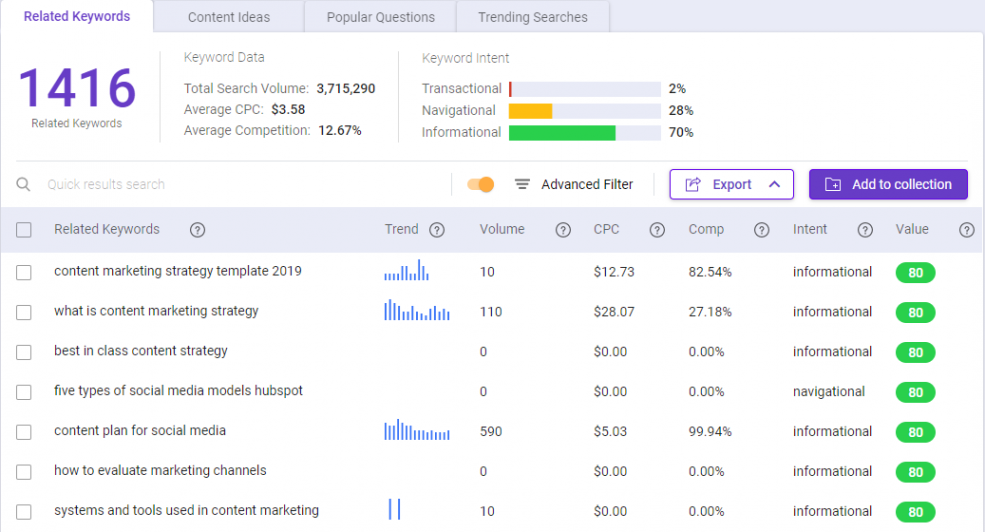 You can manually adjust the location and language of your choice to have the best results returned according to your niche.
Learn more about the keyword research tools here: 15 Best Free Keyword Research Tools.
Tips: Long-tail keywords and geo-targeting keywords are perfect for local businesses as they have low search volume, low competitive rate, specific search intent, and high conversion rate.
3. Schema Markup
Schema markup is a type of microdata that is added into the HTML to help search engines understand your page better and return more relevant results to the users.
It may also create a rich snippet that is likely to increase the number of users clicking on your page. As a result, it increases your page's ranking.
You can learn how to markup your content using microdata through schema.org's guide. Alternatively, you may use tools and plugins.
For local businesses, properties include opening hours, price range, address, and many more.
Here is a markup example for a local business:

With this microdata, the search engine now knows what the business is about, as well as its address and contact number.
If there is any information about the business that is not updated on the SERP, the search engine may extract from the information found on the business' website.
It considers the relatedness of the elements between the website and SERP entity (local 3 pack, knowledge graph). Hence, the more information you provide, the better it is, for you, the users, and the search engine.
Off-Page Local SEO
4. Google My Business (GMB)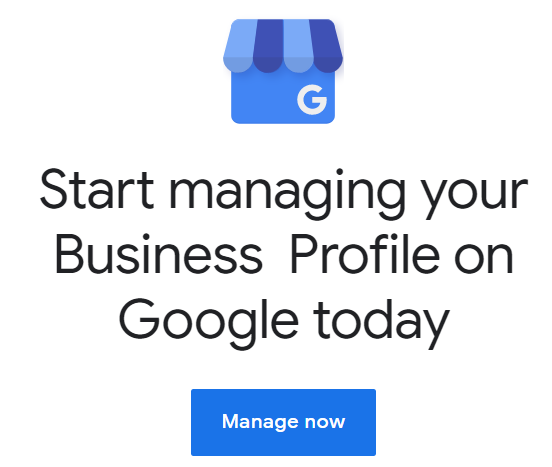 Google My Business is mandatory in order to optimize for local search. You can actually take control of how your business information is presented in the SERP. Google My Business was created to allow business owners to do just that.
So, remember to provide accurate information as well as an enticing description.
The information is then displayed on Google Maps, Knowledge Panel, as well as Local Packs for qualifying search queries.
Components of GMB:
i. Description
The first thing that you can work on is your business description. Create an enticing description because it is one of the first things that people see on the knowledge panel.
When it has gotten the users' attention, they will scroll further to know your business information such as opening hours and your address.
ii. Business information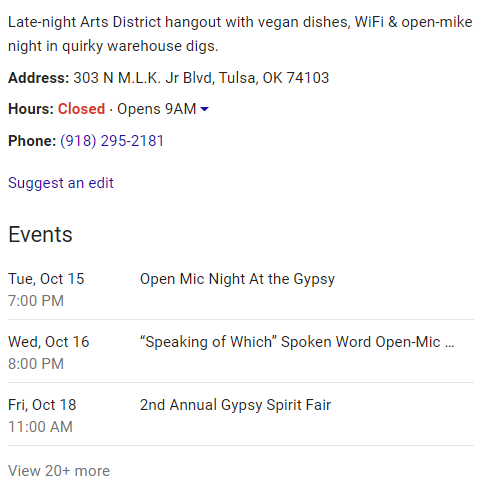 Next on GMB, you have business information which includes address, opening hours, phone number, and events.
In this section, you need to ensure that you provide accurate details. Based on past research, when users called the business and it appears to be the wrong information, the users will have a negative experience.
It makes users feel that they do not care about their business or they're inactive. Also, note that your competitors can edit your business information, so be sure to check it regularly.
iii. Question and Answer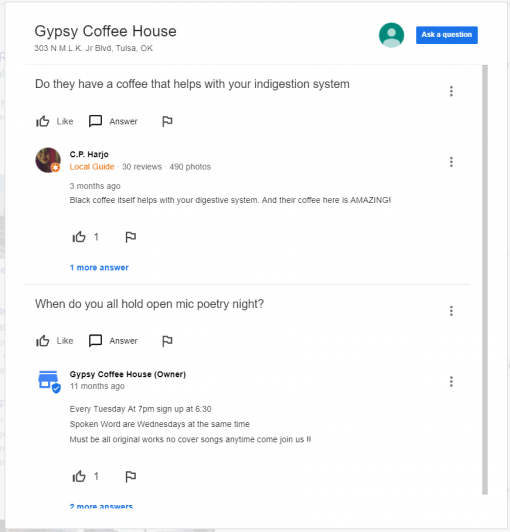 Now, the knowledge panel also contains a Question and Answer section. It's good as people getting to know the business can learn more by reading the questions and answers.
Be sure to answer all the questions asked. The users who asked could be your future customers. Also, it wouldn't look good if you do not answer them because it shows that you do not pay attention to your customers.
These questions and answers can act as FAQ pages. Businesses do not need to spend time answering the same questions over and over again when users can see them through this section.
iv. Reviews
Reviews affect Local SEO. The more review you have, the better you will rank. It will also give users the confidence to visit you if they see positive reviews or see how positively you respond to reviews.
In our previous blog posts, Allysa has shared how you can create a Google My Business account and how to optimize it. Read more here: How to rank for 'Near Me' searches in Local SEO.
5. Gain Backlinks
Backlinks will also help you with your Local SEO, just like how it does for SEO. It is a vote of confidence by others and Google takes that into consideration. Of course, Google will also take into action the links that link to you.
When you gain backlinks, people from that website will check you out. These add up to your popularity and it is a factor that Google uses to determine local ranking.
There are many ways to gain backlinks, for instance, asking a blogger to talk about your business and link them to you or get relevant websites to feature you and your content.
Sending a press release will also help you to increase traffic to your site and your popularity. There are a lot of press release services out there that distributes to hundreds of media outlets.
In the press release, you will have your business information, which is NAP (Name, address, phone number). Besides that, a link to your site will also be included in it. Imagine the number of traffic you'll gain from all these media outlets. Now, this is one way to boost your popularity!
6. Local Directories
Local directories contribute to your local ranking. Here's how:
Local directories such as Yelp and TripAdvisor allow you to find businesses in a specific region. Simply type in the business/service you're looking for.

You will then be presented with a list of businesses that matches your search and filters. Your business could be on this list, as well as lists in other directories.
As you can see from the image below, information such as business names, images, descriptions, phone numbers, and addresses is provided.
The rating and reviews can also be seen. They play a huge role as they affect the decision of users whether to click into the business listing or not for more information.
Upon clicking on them, more information will be provided like opening hours, reservations, and websites.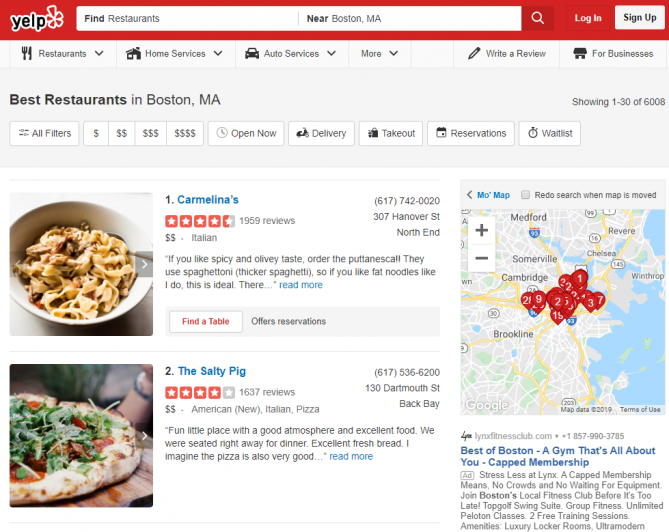 Imagine how much extra traffic you're getting just by listing your website on these local directories. The links on the page are dofollow links that may help you rank your own page.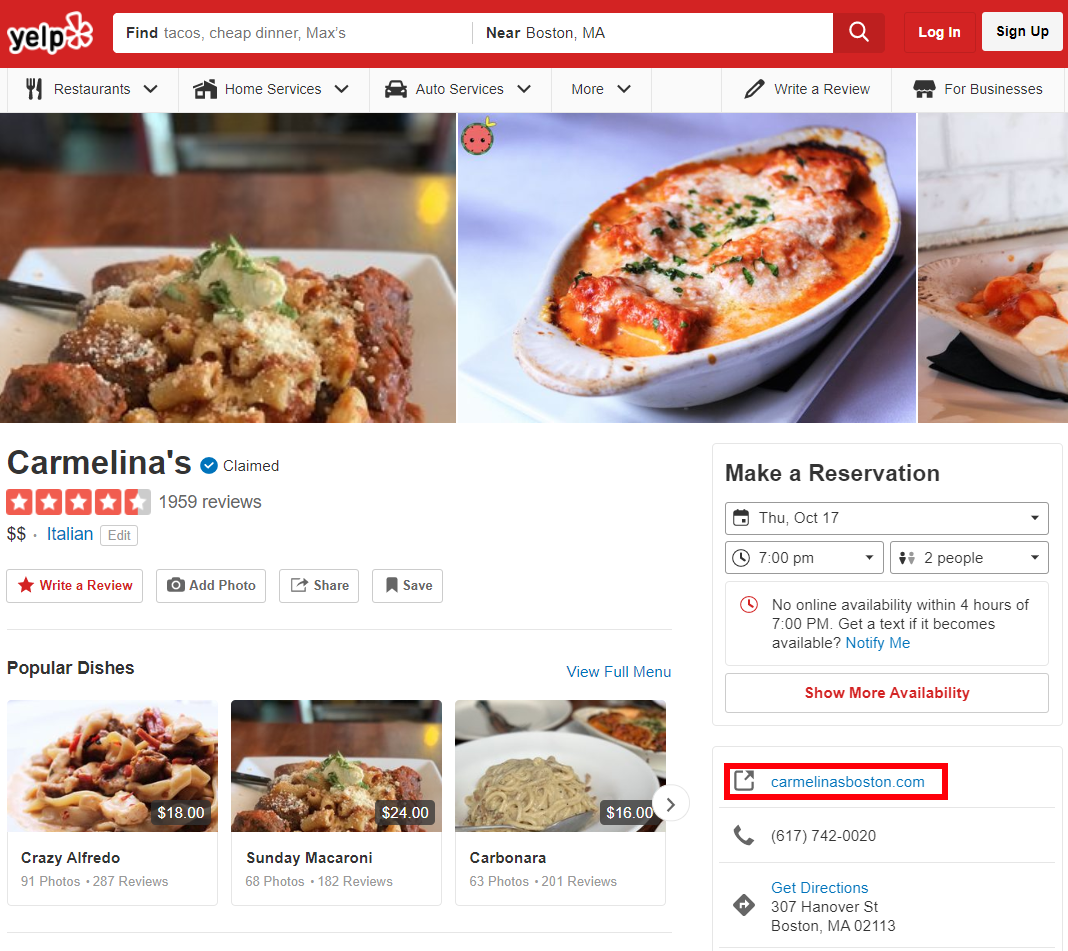 Bonus- Offline!
Besides just taking care of the online part, you will also need to take care of the offline part. I was just as surprised as you are now when I first read about it.
7. Improve Time Travel Investment
If people are willing to travel a distance to get to your business, it's called travel time investment. Google detects travel distance through its services such as Google Maps and Waze.
The information is then used in ranking local SEO. Hence, to get a good ranking, you should convince and entice people to travel to your store.
Some actionable tips are putting advertisements such as billboards or banners at a considerable distance away from your store. Next, send them marketing messages at the right time.
For instance, if you're operating a restaurant, send them notices on promotions going on a few hours before dinner time.
8. Provide Free WiFi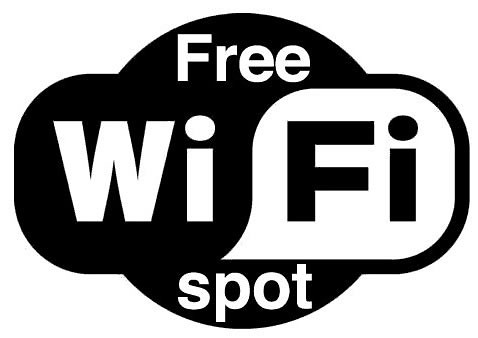 Today, WiFi has become a necessity in life. Everyone appreciates free WiFi. Perhaps everywhere you go, you'll ask one question:
"Hi, is there free WiFi here?"
WiFi may be additional costs to your business operation, but they're a pretty good investment and I believe the benefits outweigh the cost.
To this day, we continue to see the trend of people working from coffee shops going upwards. It just helps to boost your productivity in a way.
WiFi has become one of the deciding factors for whether people will visit your business or not. In order for people to work from coffee shops, the shops need to provide WiFi.
You'll gain a competitive advantage over your competitors and also with free WiFi, your customers will stay in your store longer. Google can also track visits through cellphones that use the business' WiFi.
9. Encourage Check-ins and referrals
As a business, our aim is to always provide the best experience to our customers. If that's what you're doing, great.
Feel free to ask your customers to check in and refer your business to a friend. I'm sure they'll be happy to do so if you provide a great experience for your customers. To increase the chances of people saying yes, you may offer incentives such as discounts or a freebie.
Check-ins and referrals will increase your visibility both online and offline. As mentioned above, one of the factors Google considers for ranking local businesses is popularity.
Using Tools
Tools were created to make things simpler for us. There are a number of tools that can help you with your Local SEO. I've found an article that introduces the Top 19 Local SEO tools which I think is pretty good and complete. Here's one of them from that article and I have also added one of my own, which is Google's Structured Data Testing Tool.
1. BiQ Rank Tracking
BiQ's Rank Tracking also supports geo-specific rankings for any location, which allows you to track rankings based on specific location and language.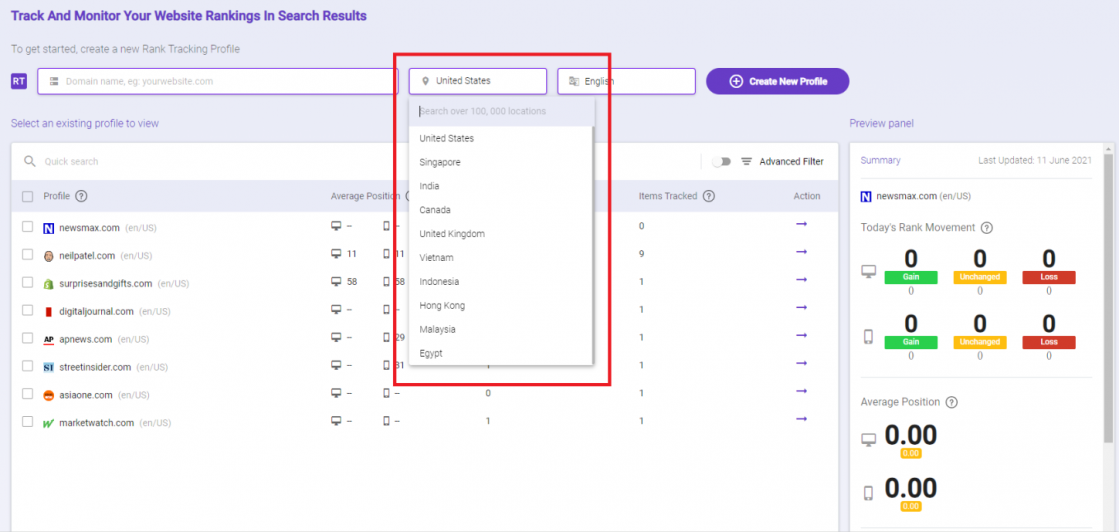 Looking to track keyword rankings for a location different than your own? Or, perhaps you are looking for a view of your search engine rankings from multiple locations?
You can do all this with BiQ's Rank Tracking. All you need to do is to set your location and language upon creating a profile, and you can choose from over 100 countries and 35 languages.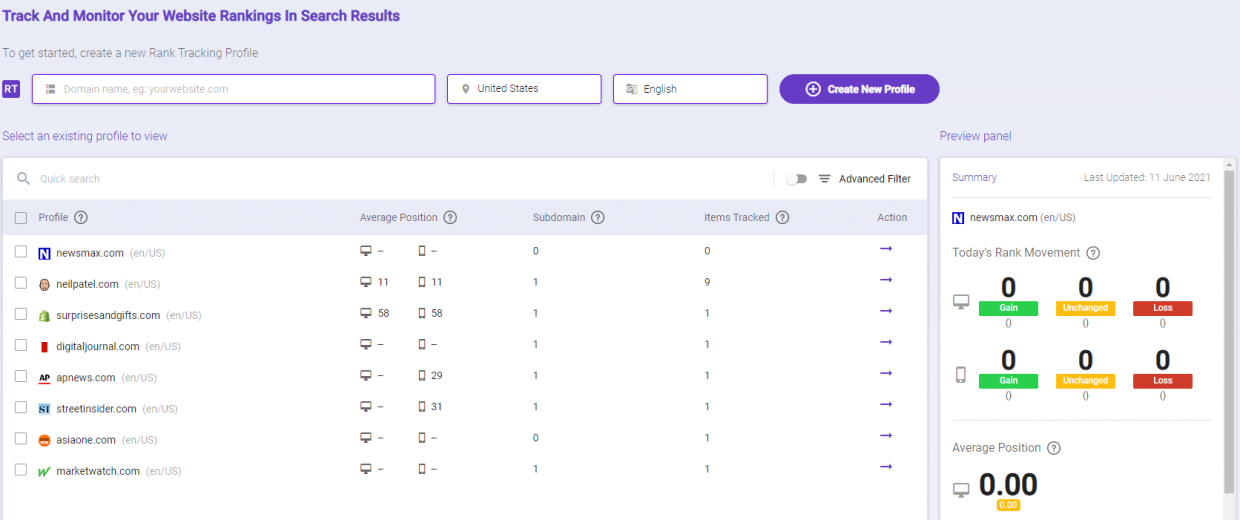 Set up multiple profiles to get a better understanding of your main target audiences across different countries. This will give you a better understanding of how your website performs across different countries, and inform your content and marketing strategy.
Using BiQ's Rank Tracking, you can easily have them monitor right here on the dashboard.
2. Grid My Business
Another tool you can use for local rank tracking is Grid My Business.
Grid My Business is a grid-based local rank tracking tool that is specially designed to track and compare your Google My Business ranking performance against the top 20s in the local SERP through a specific search query. It allows you to identify your local search rank for a specific query. It also lets you monitor your Google My Business ranking in your local surrounding area.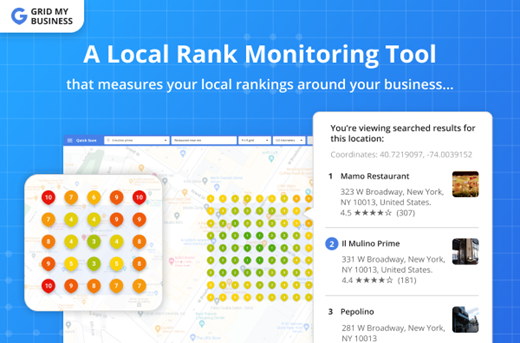 Besides that, you can use it to identify local competitors and "steal" the high ranking search queries they rank for in order to compete with them.

3. SEOPressor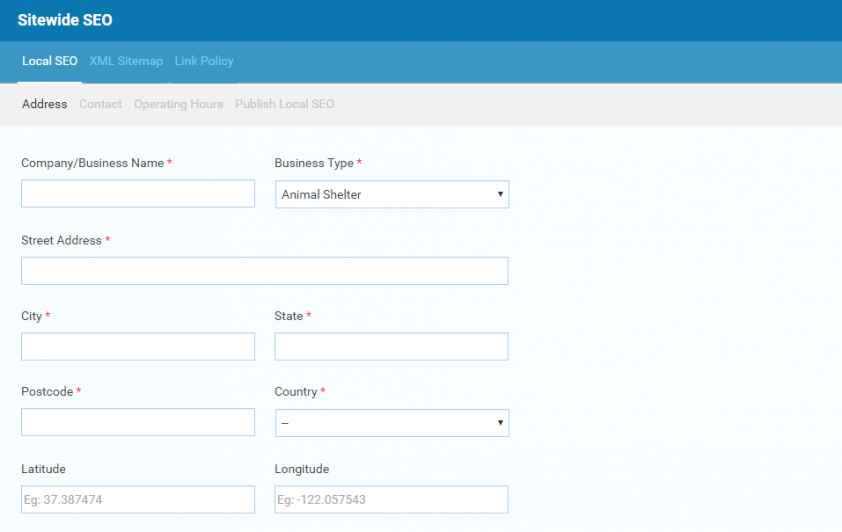 SEOPressor is a WordPress SEO Plugin which calculates your content's SEO Score in real-time. It provides guidance and suggestions on how you can improve your content in terms of SEO.
Besides your content, it also takes care of your site's overall SEO. It allows you to set Local SEO so that visitors can find you online much easier.
Here's how the Local SEO widget will be displayed: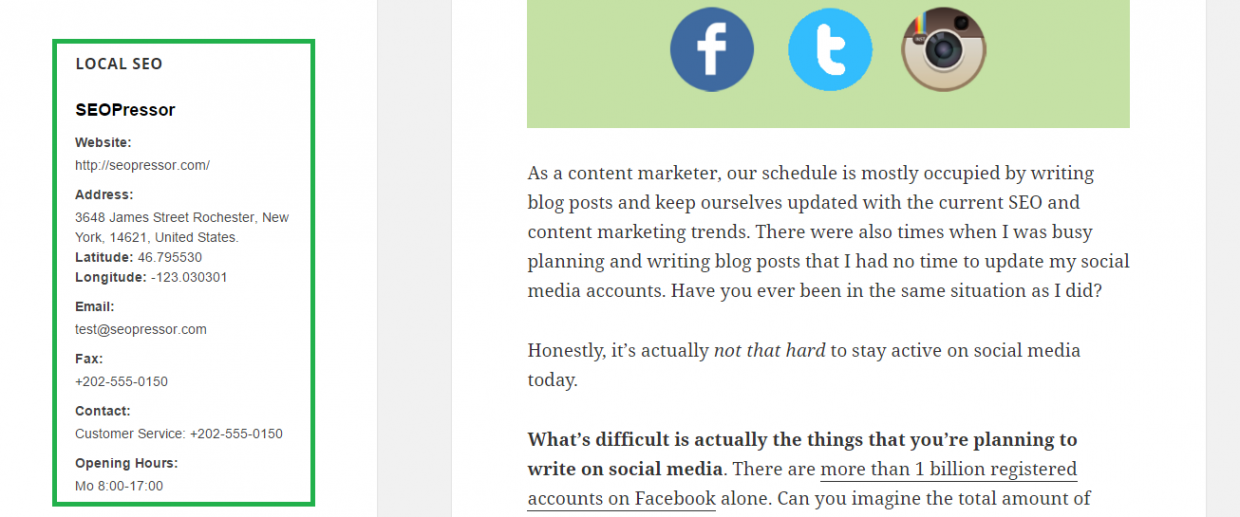 4. Google's Structured Data Testing Tool
Early on, I mentioned that in order to dominate the local search, you will need to markup your content. Why?
To let search engines understand your page better and allow it to show users more relevant content to their search.
You may add a markup using the tool I shared above which is SEOPressor Connect.
It doesn't matter what tool you're using or if you markup your content manually, you will need to check if Google is seeing what you've set.
It's pretty simple. All you need to do is enter your website in the 'Enter a URL' field and it will tell you if there are any errors or warnings such as 'missing information'.
Check your schema markup here: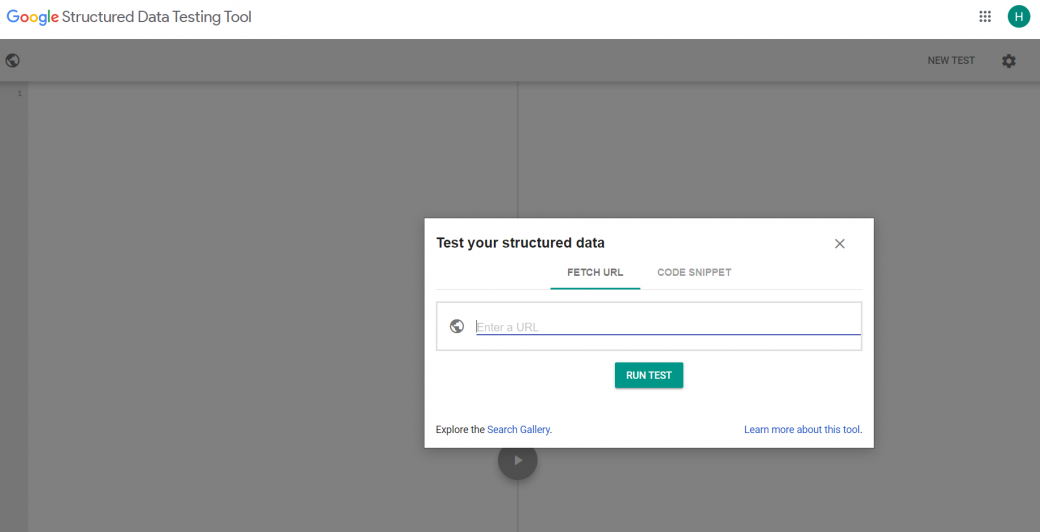 For more tools, read: Top 19 Local SEO Tools To Improve Your Ranking in 2019
Conclusion
That's all the 9 best practices I have for you. Does the process of dominating the local search seem simpler now?
To simplify, Local SEO is not just focusing on standard SEO and adding business information.
So, remember this, do SEO, get a Google My Business account, list your business in local directories and focus on providing good experiences to your customers in the real world.
I hope that you've found this article helpful and if you have some tips and tricks under your sleeves to dominate the local search, feel free to share them down in the comment section below!