This is a list of 14 free and freemium keyword research tools. With this article, you'll understand the main features of each of them and how they compare with one another.
Keyword research forms the foundation of a well-informed SEO strategy. If you want to better understand your audience, generate more conversions, and reach more people who will be your customers, you can use a free keyword research tool to pave the way.

When users are searching for information on the search engine, what they type in the search bar is called a "keyword" or a "keyphrase".
Do you know that 0.16% of the most popular keywords are responsible for 60.67% of all searches? People may key in different search terms and it may lead them all to the same search result. Being able to know their trends, competitiveness and, the volume of the different terms would be beneficial.
We believe all of us, content writers, can agree on this. And what most of us do is determine the "right" keyword before working on the article.
Q: How can we find the "right" keywords?
A: By using keyword research tools.
In this article, we will be providing you with a list of free keyword research tools that you can start using today.
Here is a list of 14 free and freemium keyword research tools. You'll understand the main features of each of them and how they compare with one another. The tools will be divided into two parts; "Completely FREE" and "FREEmium".
Let us begin with tools that are completely free.
Free Keyword Research Tools
Of course, the first one on this list had to be related to Google. Most of us are optimizing for Google after all.
Google Trends is a website created by Google that shows users the popularity of search queries. It also allows users to compare the popularity of different queries over time.
It is very easy to use as well. Simply type in a term or topic in the search bar.

After the search, you'll be able to see the trends, breakdown by subregion and, related queries. Not only that, Google Trends allows you to add a comparison, filter the results by regions, time, categories, and the type of search (web/image/news/shopping/YouTube).
Here is an example of a result produced by Google Trends: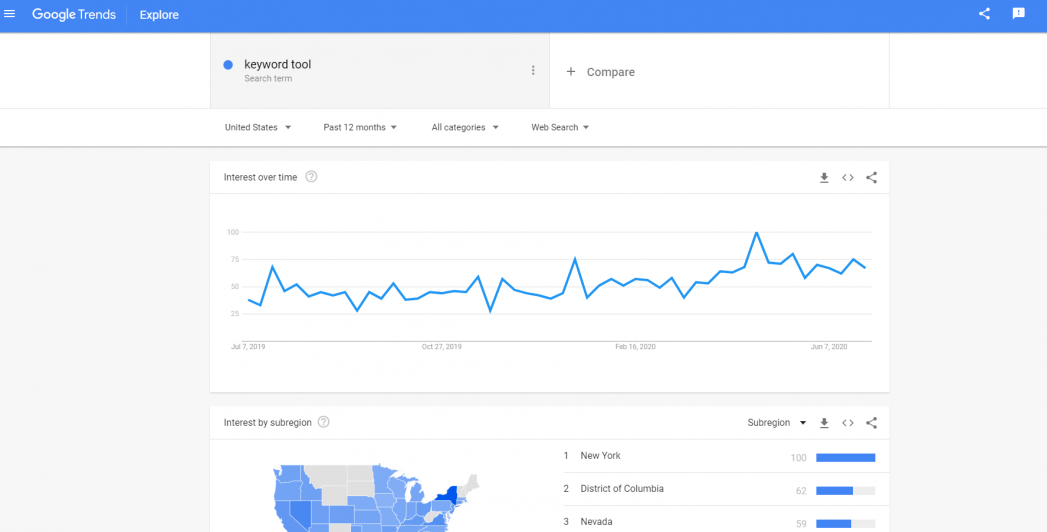 This is an extremely useful tool if you want to see your keyword's trend, whether there are more or lesser people are searching the keywords in the search engine. In other words, we can call it the demand for content.
The Google Search Console is a unique one compared to all other keyword tools you'll see on this list.
While you use the rest of the keyword research tool to discover new keywords to target, the Google Search Console will let you know old keywords that you're already performing.
Here's how you can find this section in Google Search Console:
Click on the 'Main Menu' button on the top left side, and then under 'Performance", click on 'Search results'.


The keywords you see under 'QUERIES' are the keywords that lead people to your pages. You can then focus on them for your content and even create internal links to pages that are close to ranking high.
Another favorite of mine is the search engine itself. While it is not exactly a Google keyword tool, it does help a lot in keyword research. Let me show you the many ways it helps.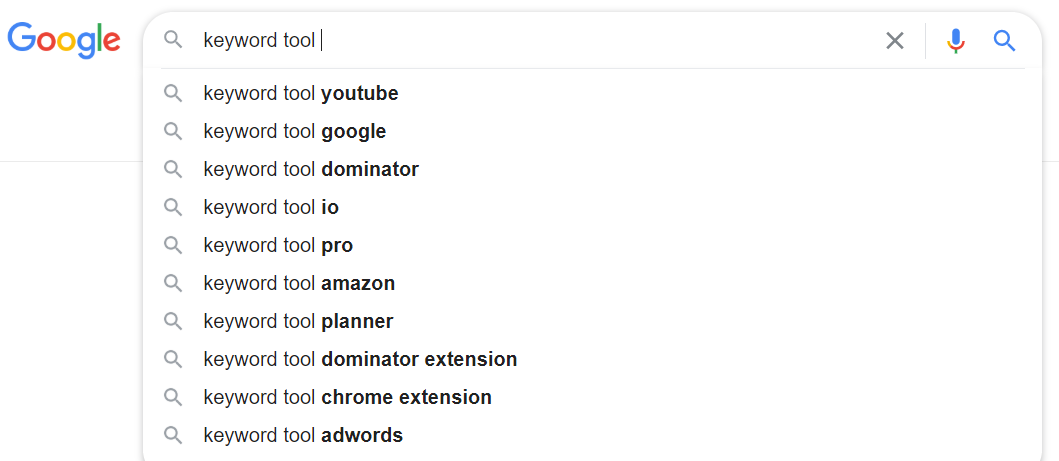 The bolded words you see in the image are called "Autocomplete". The search engine predicts that they are relevant to what you're looking for and also shows you what people have already searched for.
In short, they are popular searches, search queries that have been searched by many before.
So with this search prediction, you can see what people are really into, and perhaps you can write about them.
Related searches are similar to autocomplete. It shows you the most popular keywords, keywords that are frequently searched.
They usually appear in the middle of the search result page or at the bottom. Here's how it looks like:

With these, you get more ideas on keywords you can target. You can even explore and discover more related searches by clicking on them.
UberSuggest is a free keyword tool that was acquired by Neil Patel in 2017. If you're a marketer, chances are you know who he is. UberSuggest is also featured on his website's homepage.
It is simple to use. It has something that only some keyword research tools have, which is the option to key in a domain or a keyword. It allows you to search by country as well.

Below is a result I've obtained from my search: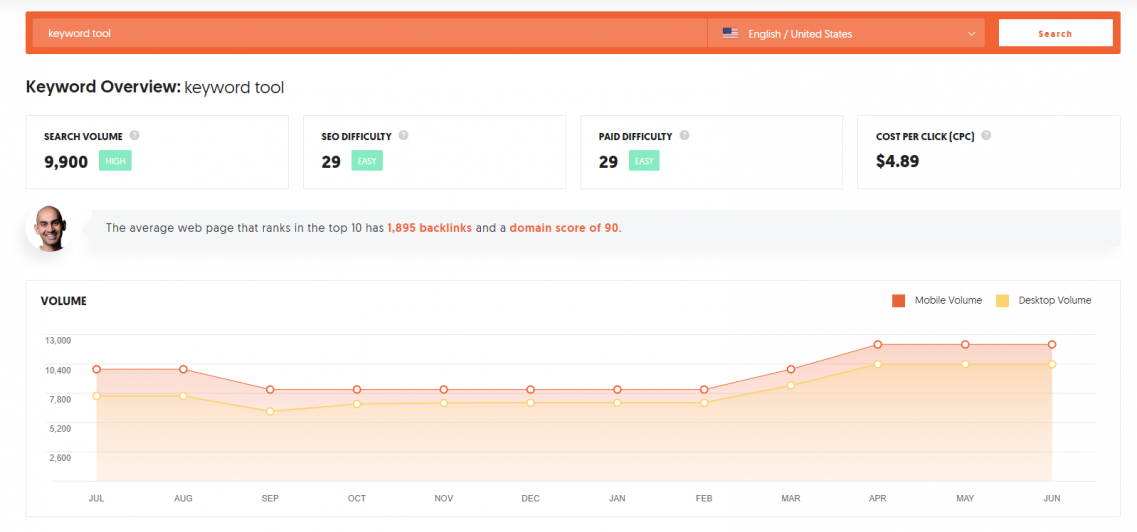 The result provides you with the following keyword overview:
Seach Volume: The number of searches this particular keyword has during a month.
SEO Difficulty: Estimated competition in organic search. The higher the number, the more competitive.
Paid Difficulty: Estimated competition in paid search. The higher the number, the more competitive.
Cost Per Click: Average cost per click if you wanted to pay Google to be seen as an ad. If someone is paying a high CPC, the keyword is usually more valuable.
Volume Graph: Searches per month
Besides the keyword overview, the result page also provides its users with keyword ideas with their respective keyword overview. Lastly, users get to see a list of web pages that have lots of social shares for the keywords entered. They are called content ideas.
Soovle is a keyword research website that gives you a list of top keywords from multiple platforms [shows up to 11 platforms on one page]. The platform includes search engines and e-commerce sites.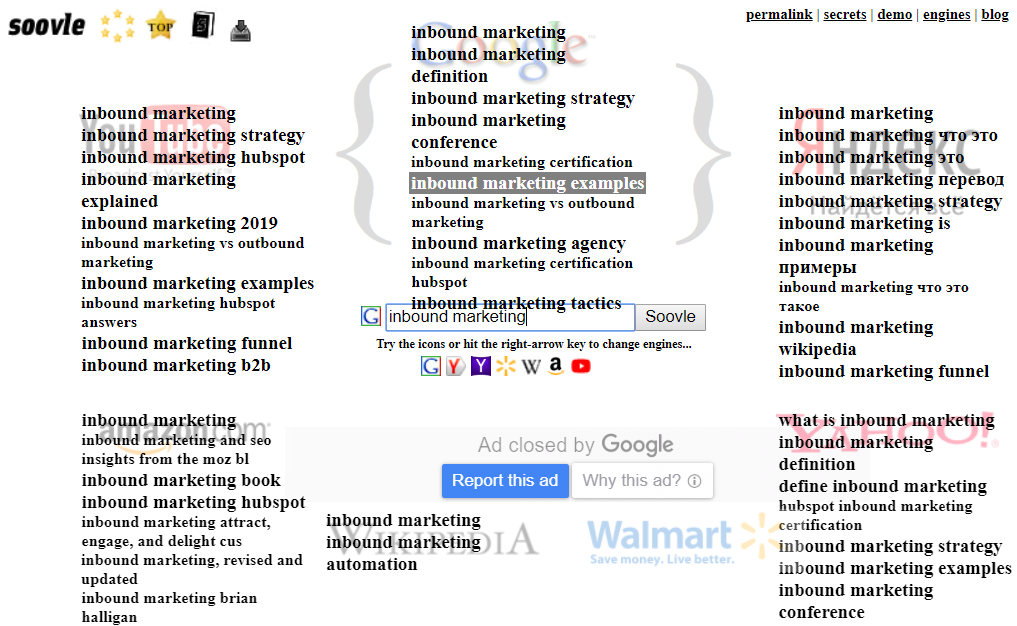 Pressing the right arrow key will move another search engine's result to the bracket. Users can save suggestions they want by dragging them to the 'Saved Suggestions' window. That way, users will not have to jot them down or forget them. Users can even download keywords they want in a CSV file.

QuestionDB is a unique one. Type in a keyword and it'll give you questions that users are really asking online. Where do these questions come from?
As of now, they're all sourced from Reddit, an American social news aggregation, web content rating, and discussion website. I believe that the questions generated by this tool give content writers original ideas.
LiveKeyword is a great free Keywords Everywhere alternative.
Just like Keywords Everywhere, it is a free browser extension that allows you to see related keywords and searches right inside Google's search page.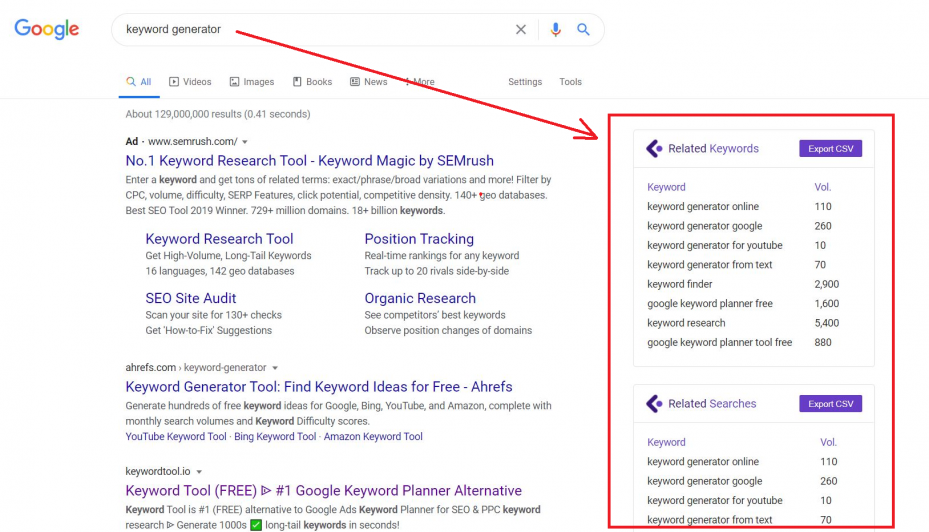 All the keywords come with their important metrics, including volume, CPC, and competition.
You can also select your preferred country and language at the settings page.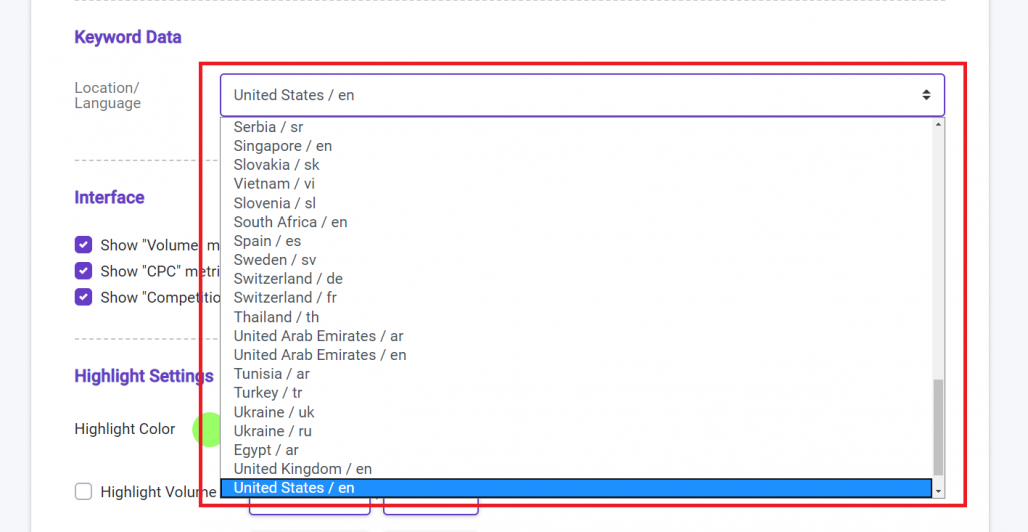 Give LiveKeyword a try and let me know what do you think of the keyword extension in the comments below.
8. Keyworddit
Keyworddit is a free keyword research tool built for Reddit, offers another opportunity to optimize your keyword research in terms of connecting with your target audience. This keyword research tool can help you find more niche keywords like what people n Reddit often care about. From that, you can understand the topics your audience is most interested in.
Keyworddit will return a results list of keywords, with each keyword's monthly search volume. The search volume Keyworddit shown is based on Google search data, not Reddit search data.
To see the specific instances of Reddit users using a particular keyword, just click context and you'll be taken to a Google results page showing just that.
Because of the specific database, this tool is best use for who want to develop the business channel on Reddit.
The above are keywords research tools that are completely free you can use today! Now, let's go into freemiums!
Freemium Keyword Tools
How can we forget about this great keyword tool that will help you gather relevant keywords?
The BiQ Keyword Intelligence stands out from the rest of the keyword research tools on the market is the keyword analyzer feature. The keyword analyzer feature, it helps you see why someone might be searching for the keyword in the search engine. With this data, you will be able to plan your content in such a way that meets your users' needs.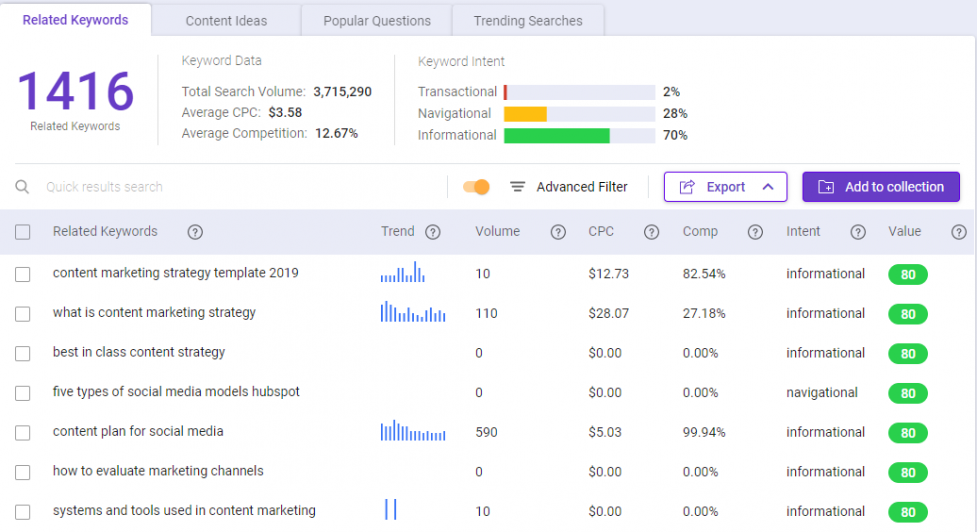 Our Keyword Intelligence module is very simple to use. All you need to do is just insert your target keyword and you'll get lots of good information and data.
BiQ's Keyword Intelligence has what other keyword tools have such as the metrics, languages, and location filters, as well as the collection report. But…
Here's what's unique:
Long-tail and short-tail keyword filter
Keyword Intent Analysis
Popular Questions Your Customer Ask
Trending Topics & Keywords For Your Content
Research in more than 35+ Languages
Content Ideas, straight from the top SERP results
So don't wait and sign up for a free BiQ account today!
LSIGraph is a powerful keyword research and content SEO tool to help you easily find semantic keywords and optimize your content.
Semantic keywords are contextually-related keywords like synonyms, co-occurring terms, or implied words that you can use to increase your keyword density without being penalized for keyword stuffing.
LSIGraph shows you important metrics for each of the keywords including its search volume, difficulty, cost-per-click, and competition.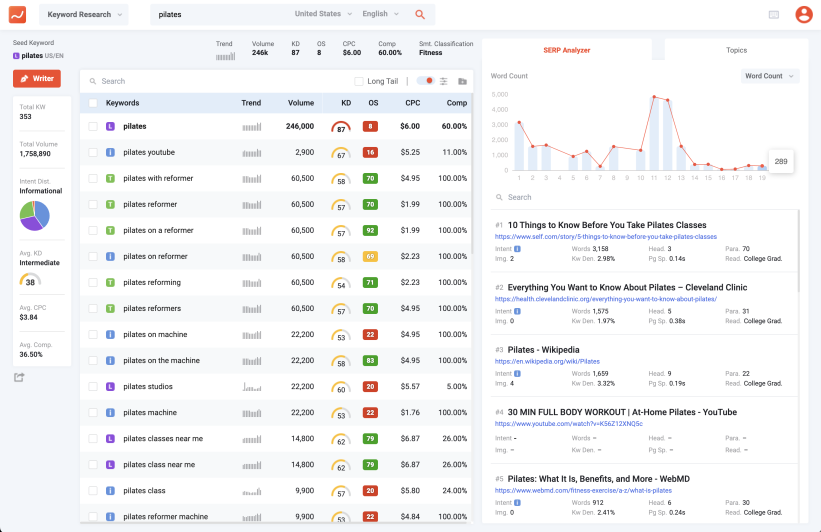 LSIGraph's proprietary Opportunity Score evaluates the keywords and tells you which keywords you can rank for with the least amount of effort. It is a useful way for those who are new to SEO to find low-hanging keywords they could target to easily rank.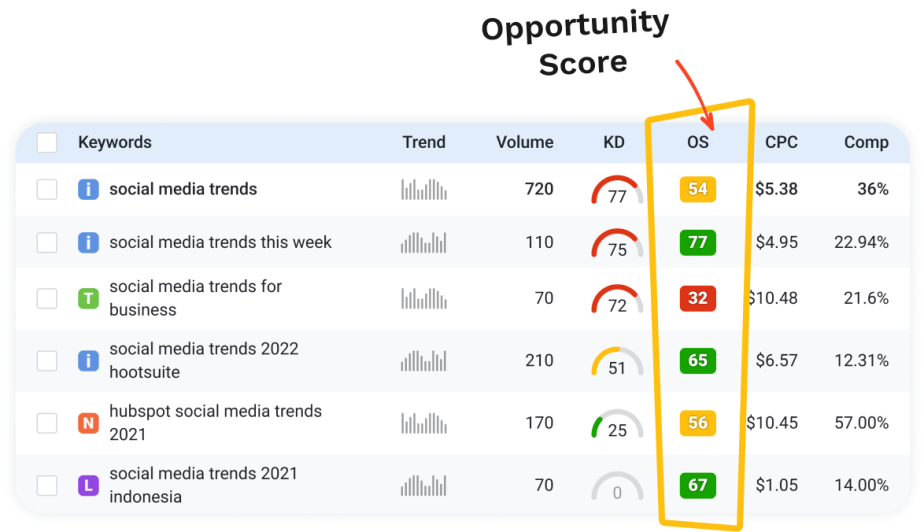 The first thing you'll notice is that AnswerThePublic has creative and cool web design.
Well, the design is one thing and the functionality is another.
For the free version, the tool allows you to enter your search queries in 15 languages. The languages include French and Russian. You'll get 3 free searches a day.
Upon typing in your search queries, you will be shown plenty of content ideas related to your keywords. They come in the form of questions, prepositions, and alphabetical orders. The free version also allows you to download images of your result.
Here is an example in the form of questions:
So, if you like the results you're getting and decide to go 'PRO', here's what you'll get for $99 per month.
Unlimited searches.
Compare data + see new suggestions
Language + Location-based results
High-res images
Priority customer support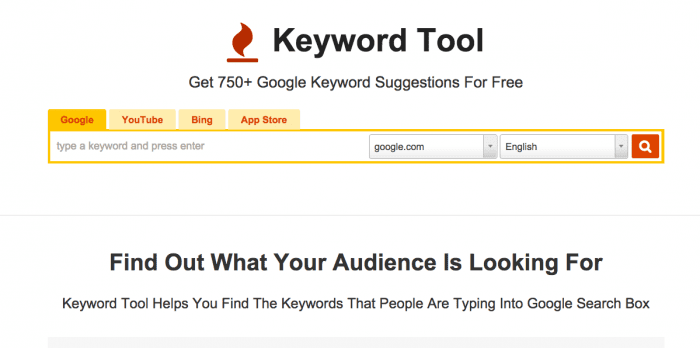 KeywordTool.io is a freemium keyword research tool that uses Google Autocomplete to generate hundreds of long-tail keywords. The free version provides users with related keywords, related questions, and prepositions.
As for the data of the long-tail keywords generated, they provide search volume, trend, CPC, and competition. However, they are very limited. At times, they provide data for one keyword, at times four keywords.
For its "Pro" version, you'll get twice as many keywords compared to the free version of the Keyword Tool, 100% accurate search engine volume data, and Google search volume that can be localized to 192 countries, 47,035 individual locations, and 46 languages. It also allows you to find keywords competitors are targeting.
Two very special and helpful features I noticed in this tool are it allows users to filter results by keywords they want. Another feature is the ability to remove keywords users do not want on their list.
To use the free version of Moz Keyword Explorer, you will need to sign up for an account. A free Moz account will allow up to 10 free queries per month. It is relatively lower compared to other tools.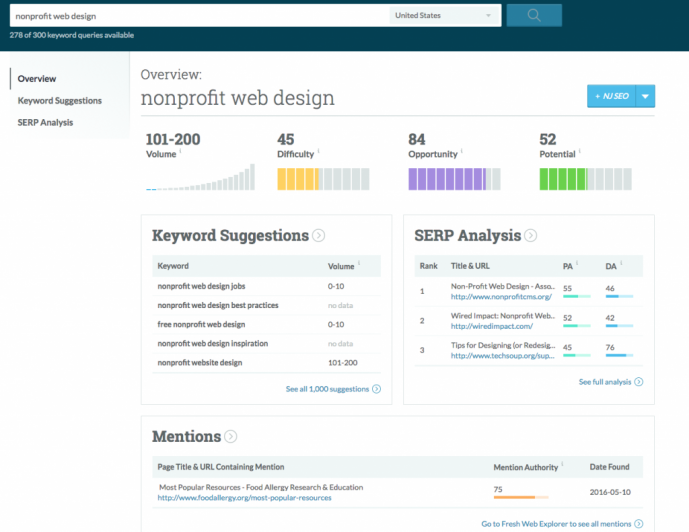 So, here's what it looks like after entering your search:
As compared to other keyword research tools, here are some differences:
1. Organic CTR: It calculates what percent of searchers are likely to click on the organic, web results.
2. Priority: Aggregation of metrics to determine which keywords to target first.
3. SERP Analysis: Some tools do have SERP Analysis, but the analysis provided by Moz is accompanied by Domain Authority and Page Authority score.
To use other features that are locked, you will need to get Moz Pro, which is their all-in-one suite of SEO tools.
A pretty neat keyword research tool that I would say, is much more centralized in keyword gap analysis. You can try to open a free trial account which allows you to create 3 projects.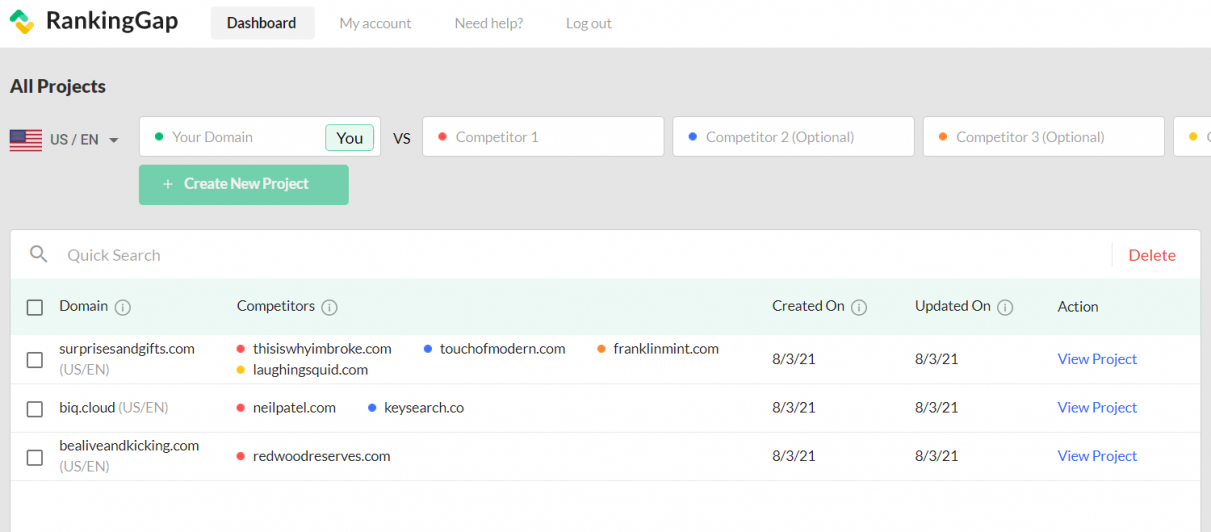 RankingGap is slightly different from other keyword research tools listed above as it actually helps you to uncover ranked keywords among you and your competitors website. Simply said, you can skip the keyword brainstorming process!
All you need to do is just fnd out who your competitors are and compare their domain with yours. After you've created a project for those domains, you'll see four keyword views that makes the core of the tool:
Common keyword view – Keywords that you and your competitors have but rank differently.
Missing keyword view – Keywords that you don't have but your competitors are ranking for.
Gap keyword view – Keywords that you and some of your competitors don't have that makes it less competitive on the SERP.
Unique keyword view – Keywords that only you have and is ranking for.
Although for free account you'll only be able to see your Common keywords, it is still gives great insight for you to figure out how your ranking fare among your competitors.
Conclusion
I hope you enjoyed this list of free and freemium keyword research tools you can start using today. Both free and freemium tools here work well. For the freemium tools, they do have limited features.
Let this be the article that allows you to compare both free and freemium tools as well as the features each of them has. You must decide which tool works best for you based on your purpose, your business, and also preferences.
In my opinion, if you want to get the best list of keywords, with detailed metrics and recommendations, BiQ is one best choice. If you want to get a lot of semantic valued keywords, LSIGraph is what you should try.