Understanding rank trackers for local SEO is essential for you before doing business. Learn more about the tool and ways to improve local SEO now.
What will you learn?
Understand the effect of local SEO on your business
Get-to-know rank trackers and their importance
Learn more about Grid My Business – one incredible rank trackers for local SEO
Ranking high on the Search Engine Result Page can lead to more organic traffic, businesses should make sure they are in the top 10. Optimizing local SEO is a great way to help businesses rank higher; however, this is not always easy to achieve especially when you can't measure your work.
There is one excellent solution for you to understand where you rank in the first place: a rank tracker for local SEO. You need a local rank tracker to show you how websites rank in specific locations, not just on a national level.
In this guide, you'll learn how to choose the suitable rank tracker for your business and how to use it to improve SEO. One thing for sure is that you don't have to acquire any specialized training for using a rank tracker, especially for the tool that we recommend to you: Grid My Business.
Understand the effect of local SEO and ranking on your business
So firstly, you might be wondering, "Why should my business improve its local SEO?"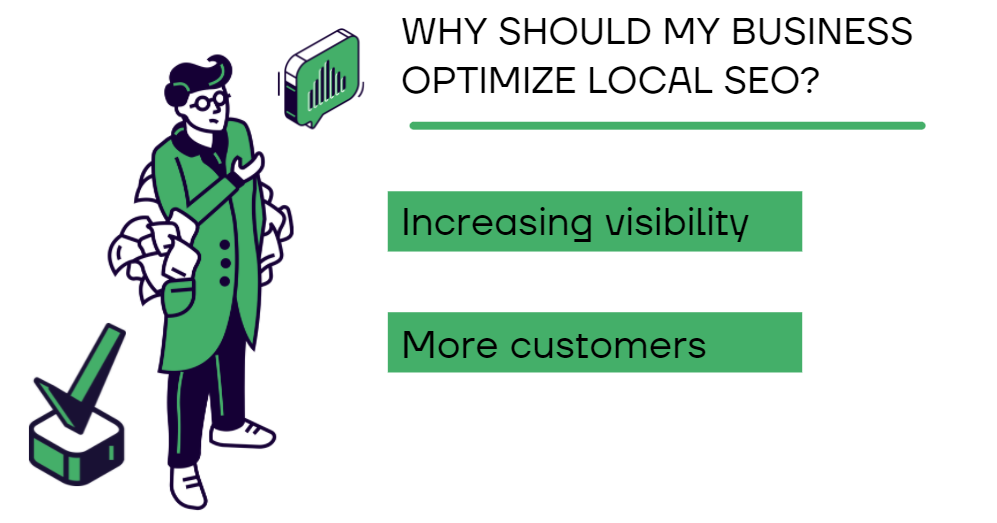 Local SEO can help your business in many ways, such as increasing visibility, attracting more customers both online and offline, etc.
According to Think with Google, 4 in 5 consumers use search engines to find local information these days. To top this off, local searches result in purchases 28% of the time.
If your business is not already listed online, you might be losing many potential customers.
How does ranking influence your business?
The higher you rank, the more your customers can see you. By making it easy for users to find you online, you can expect increased website traffic. And of course, you can also expect higher sales.
There are different "rules" and different search results for "local search queries," so knowing how to optimize for Local SEO should be a massive part of a local type business's SEO strategy. Using a local SEO rank tracker can bring you many benefits during the process.
What is a rank tracker for local SEO, and how does it help you?
A rank tracker for local SEO is a tool that helps you track local search rankings at a country, state, city, zip/postal code, or address level.
You can use this tracking tool to monitor your keywords, search intent landing pages, domains, and competitors.
Thus, you can use a rank tracker to spot and take advantage to guarantee more nearby traffic. You can get the information to focus on the keywords that matter and filter the correct optimizations.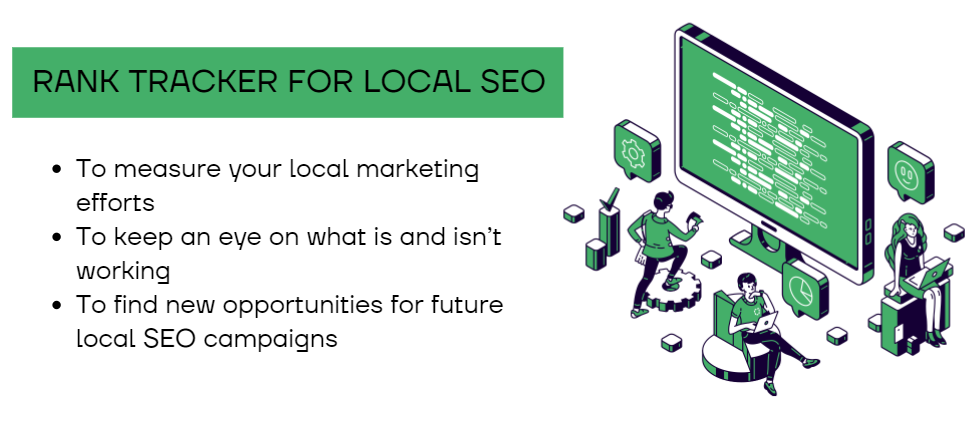 How does a rank tracker for local SEO benefit your work?
A local SEO rank tracker can have a massive impact on your business. There are good reasons to use these tools to track your local SEO performance. For example:
To measure your local marketing efforts
To keep an eye on what is and isn't working
To find new opportunities for future local SEO campaigns
A local rank tracker gives you the complete picture of your site's performance and progress in terms of local SEO. Thus, working with local search rankings is now simple and convenient for your business.
Rank tracking helps you understand which keywords and pages need your attention most. But that's not the only reason a rank checker is vital. It can even give you insights into whether your SEO efforts are paying off.
Rank trackers save time by automating the rank tracking process. But if you only have a few keywords to track, why not just type them into Google and check ranking positions manually? Doing it manually can take a lot of time. Why don't you use a tool to collect accurate data or let the tool automate the process for you with a scheduled scanning?
What factors influence a great rank tracker for local SEO?
Some factors can influence a rank tracker's results to give you the most accurate statistics. These 6 factors below are also what you might need to pay attention to when choosing a suitable rank tracker for your business.
#1. Google Business Profile:
According to Google Business Profile, Google decides local ranking based on 3 main factors. They are:
Relevance: the similarity between the local listing and the users' search.
Distance: the proximity of the potential search result with the location searched.
Prominence: the popularity of a business.
If you have not created or updated your Google Business Profile, a local SEO rank tracking can help you.
When you opt for local SEO and confirm your Google Business Profile information, you'll have the opportunity to win a position in the local SEO 3-pack, earning you additional SERP real estate besides your organic ranking.
Remember that you need to keep active on Google Business Profile. Google seemingly implements many suggested changes without notifying the business owner or validating the information. So it's worth giving this a quick check once every couple of weeks to make sure everything is still accurate.
#2. Reviews:
Great reviews can capture more attention from customers, especially when you have a lot of positive comments and recommendations.
Google says that "high-quality, positive reviews from your customers can improve your business visibility," and they're the second most crucial map pack ranking factor, according to BrightLocal's 2020 study.
#3. Choosing the right keyword:
People use search engines to identify local businesses that provide the items or services they require. To rank in these search results, you'll need to incorporate local keywords into your website.
The relevant keyword helps you rank for terms that mean the most to your company, which allows you to get more customers to your store. To find keywords for your local search, you must conduct local SEO keyword research.
#4. Location:
Rankings vary from location to location. If your website or business primarily serves the US market, you'll want to track rankings in the US. If it primarily serves the Canadian market, you'll want to track the Canada rankings.
You might even want to track rankings across multiple countries if you're working for a multinational corporation.
#5. Device support (desktop/mobile):
Desktop and mobile ranking signals aren't identical, so it's not uncommon for rankings to vary between desktop and mobile.
Desktop users typically have faster internet connections than mobile users, which might be an essential ranking factor testing on mobile than desktop. In other words, if you have a slow site, it might negatively impact mobile rankings more than desktop rankings.
#6. Daily ranking updates:
Let's not forget that local SEO software can also help you with your local business listings online and track your progress. With this tool, you can monitor the performance of your local SEO efforts by tracking the clicks, page visits, and conversions that come from the channels in your local SEO strategy.
The frequency of ranking updates is vital for identifying potential issues as soon as they arise. In some tools, the update frequency depends on your plan.
An incredible rank tracker for local SEO – Grid My Business
There might be a lot of free SEO tools for online businesses; however, you need to choose the most suitable for your preferences.
Grid My Business is a local rank monitoring tool that measures your local rankings around your business in a creative and specific way, drawing a GRID on Google Maps.
Tool information:
Local SEO rank tracking tool like Grid My Business keeps you updated on how you rank among your competitors, allowing you to respond quickly to these changes and remain visible in relevant searches. These are some of the features that Grid My Business supports. You can either use several essential features for free or access all features at a meager price.
Maximize your ranking discoveries with up to a 15 x 15 grid size for each scan.
Uncover local search ranking results in real-time.
Discover ranking opportunities among your pool of competitors.
Identify local rankings of multiple search queries by performing a quick and easy bulk scan of up to 5 keywords per scan.
Get precise and on-time weekly updates of all your rankings.
Schedule an automated rank monitoring for any of your local businesses.
How to use Grid My Business:
You only need to go through 3 simple steps to run a ranking scan on Grid My Business.
Step 1 – Insert Your Business Location & Search Query
You choose your business name/location at the first field given. A list of relevant results will appear as suggestions. Select the one that best matches your business.

After that, add the search query that you want to track.
Step 2 – Select Your Grid Parameters
The grid is one of the most essential and unique features in Grid My Business. The grid determines the scope and coverage you want to view your results.
The first one you need to choose is grid size. Grid My Business has seven grid sizes available from 3×3 to 15×15. For this time example, we will select 9×9.

Next, select a grid radius. The grid radius is the radius between each grid point. You can choose between the imperial (miles) or the metrics system (kilometers).

The scanning radius between each grid point increases at an interval of 0.1. The maximum radius you can select in Grid My Business is 100 (both miles and kilometers).

After choosing all the fields, you can see that Grid My Business has already shown you the scanning range on the map.
Step 3 – View Your Scan Results
Click on the "Scan Now" button to run your scan. It may take some time for the results to load to wait for the results. Or you can run a new scan with a different search query and location.
Once your scan result has loaded, you will see a grid that looks like this.
When you click on any grid point, you will see all the maximum of 20 business listings on the right. The listings are organized based on their current local rankings on Google 3-pack.

Three simple steps for you to know your ranking. But what if you want to track other locations or businesses? Grid My Business can run multiple scans with one click.
With Grid My Business, you can perform a bulk scan of search queries to get numerous results in an instant.
Enter all search queries you want to scan for a location, with up to 5 different search queries at once. Be sure to select the appropriate grid parameters on which you want to run your scan. Select the "Bulk Scan" feature and fill out all the fields needed.
You can check whether your details are correct before clicking "Confirm Run Scan."
After you run your scan, you can view or export the reports at the "My Reports" page when it is ready.

To view more details, you can click "View Report."
TL;DR
Identifying your actual local competitors, monitoring their local search rankings, and learning their strengths and weaknesses can enable you to stay ahead of the regional ranking competition. Thus, you will be able to increase your business' search visibility for local SERP effectively.
With a rank tracker for local SEO, you can do all the work easier and faster. Grid My Business is an incredible tool that you need to try out. Start optimizing your local SEO now.