Learn the 5 local SEO tips you can use to rank for Google Near Me Searches.
If you are looking for ways to rank your website for "near me" searches, you have come to the right place!
During my first visit to Kyoto, Japan, Google "near me" has helped me a lot.
There's this one morning where I had already planned to visit one of their famous temples, but since it's raining, the plan had to be canceled.
Not knowing where to go for breakfast, I took out my phone and started typing "breakfast near me".
Immediately, Google responded by returning a list of nice places for me to have breakfast.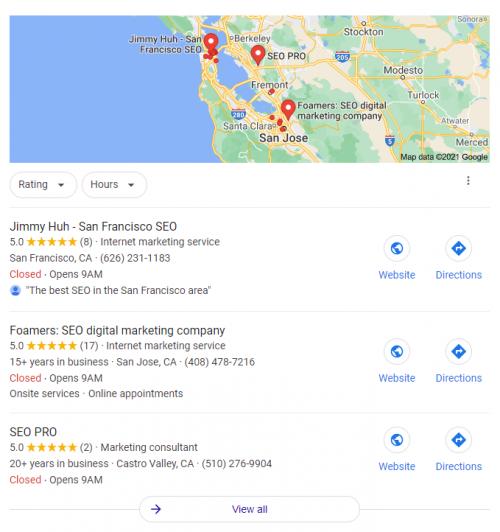 This is just an example of situations where "near me" searches are done. It helps searchers to easily locate products or services that are close to where they are at that point in time.
In fact, looking for something nearby is one of the most common searches we do.
"Near me" searches trend
Head over to Google Trend and try a couple of searches with "near me" right now. You will notice the rapid evolution over the past few years. From almost zero interest to hundreds!
Of course, it is not limited to just eateries but almost everything else such as looking for attractions, banks, grocery stores, and the list goes on.
Imagine this: "things to do near me", "places near me", "stores near me" and "gas near me".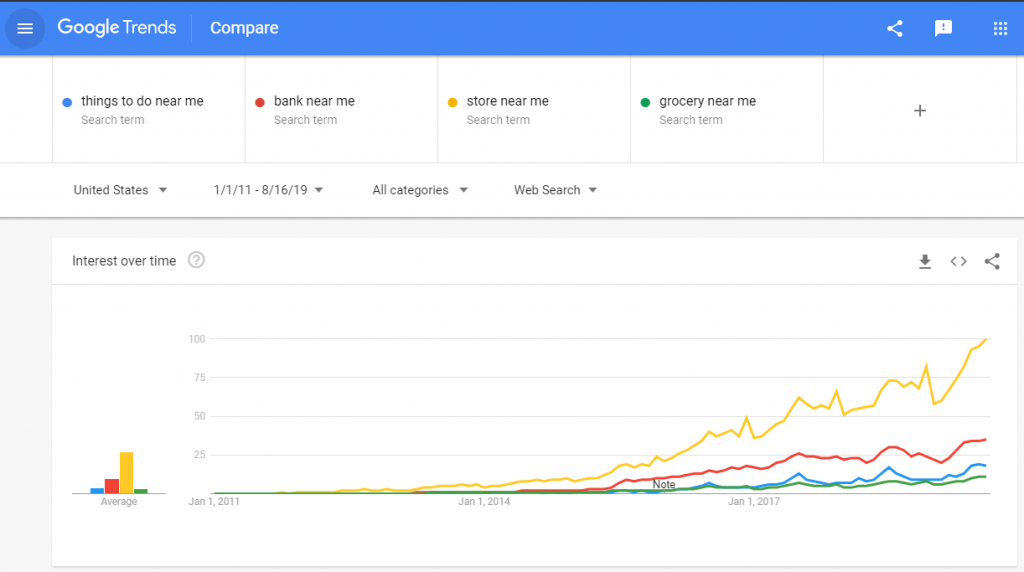 All of which can be summarized that the trend of people searching online for local services is now more prevalent than ever before. And that brings us to the next question: What is local SEO?
What is Local SEO
Local search optimization is all about optimizing your online properties to increase search visibility locally.
For example, if you have a bakery shop in Chicago, you want the nearby people to easily locate your shop when they search for "bakery shop".
Optimizing for local search is powerful for businesses. According to statistics, 4 out of 5 consumers use search engines to find local information. If you have not started optimizing your website for local SEO, maybe you should start after done reading this article.
What do "near me" searches mean for your business?
One in two people who conduct a local search typically visits a store on the same, and 76% of people who search for something nearby on their smartphone visit a related business within a day.
What does this mean for your business?
Opportunity!
Usually, when people conduct "near me" searches, it signifies a high intent to perform a certain action. For example, when someone searches "gas station near me" they are most probably looking for the nearest gas station to fill up their gas tank.
According to research done by Google, "near me" mobile searches that contain a variant of "can I buy" or "to buy" have grown over 500% over the last two years. These include things like "where can I buy stamps near me," "places to buy scrubs near me," or "where to buy vinyl records near me."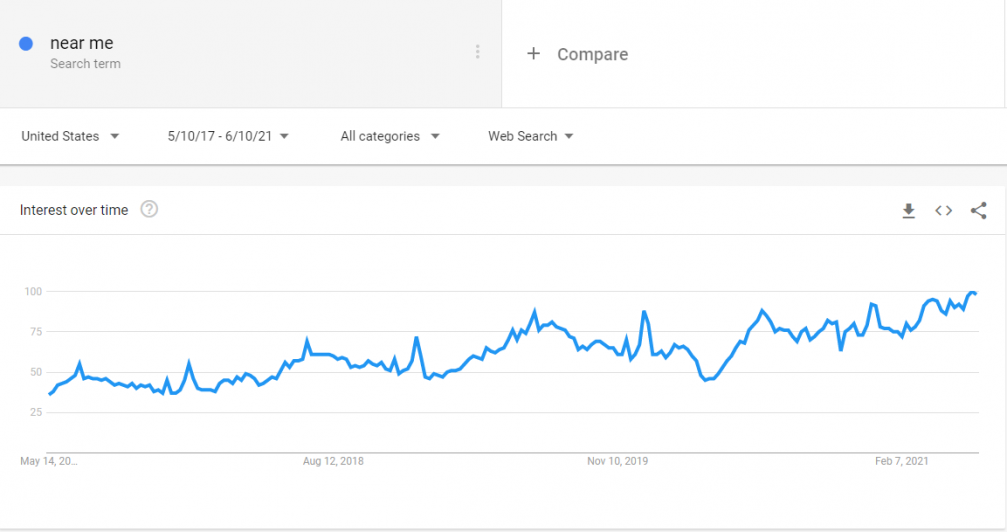 This is indeed a great opportunity for your business to reach your potential customers at the exact moment when they need you.
The best part is that it isn't that hard to optimize for "near me" searches. Here are some of the best local SEO tips you can use to work your near me SEO.
How to rank for 'near me' searches in local SEO strategy
1. List your business on Google My Business
Google My Business (GMB) is a free tool that lets you create a business profile on Google. You can use GMB to manage how your business would appear on Google Knowledge Graph and Google Maps. If you're just getting started with local SEO, GMB listing is a great place for you to explore.
First things first, you must have a Google account before you can create Google My Business profile for your business.
Once you are done and have signed in, you can start creating your profile by doing the following.
How To Create a Google My Business Listing
Step 1: Go to Google My Business and select "Manage Now".
Step 2: Enter your business name. Note that your business may pre-populate from public records data, so you can select it from the drop-down menu if it appears. If you don't see it, "Add your business to Google".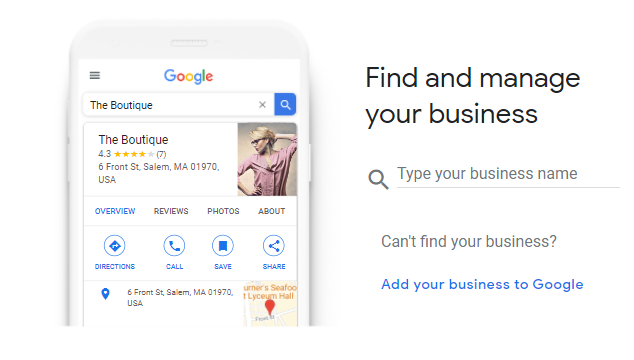 Step 3: Choose your business name and category.
Step 4: Choose whether you want to add a location that customers can visit.
Step 5: Enter your business address.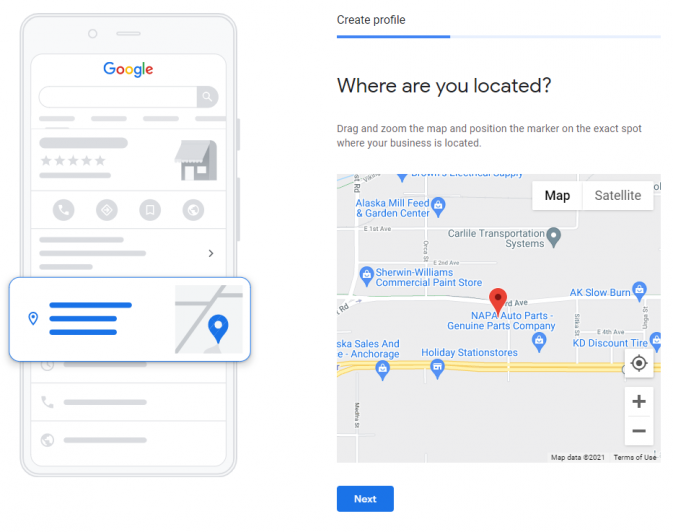 Step 5: Choose your business category. Try to choose the most accurate category that represents your business because it will influence the kind of search terms you appear in Google.
Step 6: Add your business phone number or website. Adding a business phone number is not compulsory but I would recommend you to include them if you want to take advantage of GMB functionalities.
Step 7: Complete your business verification through a postcard, phone, or email.
You must verify your business in order to use Google My Business to its fullest. You may not be able to update your business information, post status updates, or view analytics if you have yet to verify your business.
2. Optimize Your Google My Business Page
Once you have verified your business listing, it's time for you to start optimizing them.
Your business profile is the first thing people see when they search for your business on Google. So, you may want to start optimizing your business profile before anything else.
Here are some tips you can follow:
Tip 1: Add accurate and appealing photos to your profile
A picture is worth a thousand words, and I can't agree more.
According to Google My Business, businesses with photos get 40% more direction requests.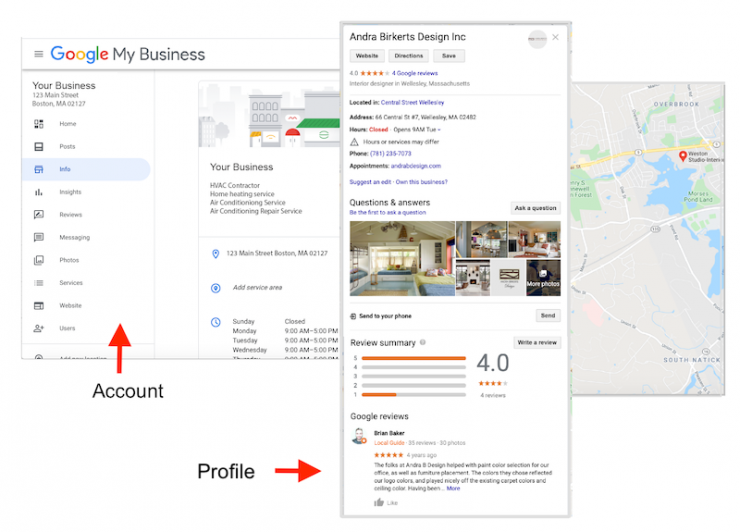 The first thing a user notices when they make a search is photos. Upload photos that can help you tell the story of your business. Be it a profile photo, cover photo, or your business's photo to give them an idea of what you are offering, and most importantly is what they can expect from you.
I would strongly recommend you add as many photos as you can to your Google My Business listing. This will give your potential customers a better look at what your business has to offer, in turn, they will be more likely to visit your business.
Tip 2: Write a complete business description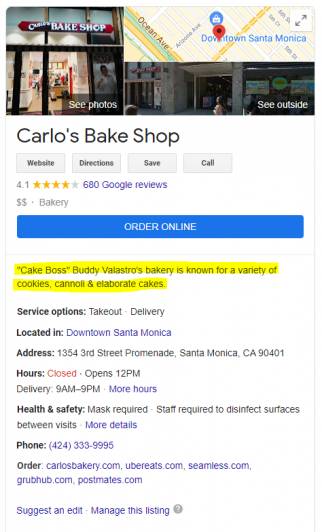 Businesses with complete and accurate information are easier to match with relevant searches. Write a description that tells what your business does, and what the users can benefit from.
Make sure to include your opening hours. This is to let your potential customers know when you're available.
You can also consider including your target keywords in the description to optimize your ranking.
Tip 3: Check your coordinates on Google Maps
Checking your coordinates may sound trivial, but it does make a difference when users turn on their GPS and search for the nearest businesses.
So, how to rank for near me searches is by pinning your business location accurately on Google My Business.
Tip 4: Create Google My Business Posts
Posts are tiny blog posts which you can use to give a short news update, share an offer, or publish details of any upcoming event.
Use the Google My Business Post to write news, offer, or upcoming event.
Keep the post short and simple but enticing to the user.
Tip 5: Use Questions and Answers feature
According to GetFiveStar, roughly 25% of listings have been asked at least one question. This means you are forced to use this feature.
Q&A helps to establish trust and remove obstacles to conversions. It shows customers you are invested in helping them find the right solutions. Providing comprehensive answers to their common questions show your sincerity and authority. This makes customers more confident about doing business with you.
Like reviews, Google Q&A if left unmonitored can become a huge brand liability. The example below shows how a customer can leave feedback using the Google Q&A feature.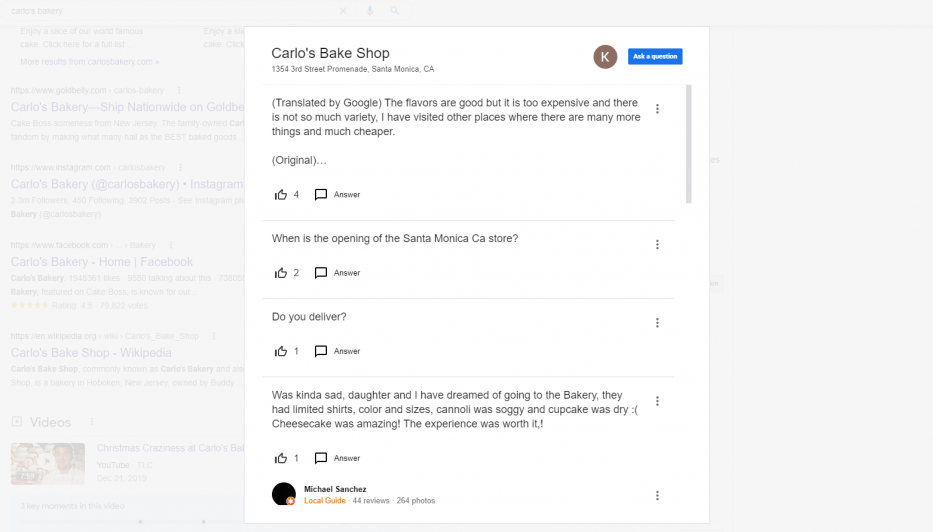 Negative reviews are not necessarily a bad sign for your business. Replying to those reviews can help identify points on how to improve the experience for customers. Respond in a timely manner to show that you pay attention to their experience.
Download and install Google My Business App to receive instant notifications on questions in your listing.
3. Collect customer reviews
When is the last time you checked on customer reviews before booking a hotel?
96% of TripAdvisor users consider reading reviews important when planning trips and booking hotels.
And it's not just a hotel. 97% of consumers read online reviews for local businesses in 2017, with 12% looking for a local business online every day.
Customers want to know if they can trust your business to provide a positive experience before deciding to make any transaction with you. That's why 90% of customers say their buying decisions are influenced by online reviews.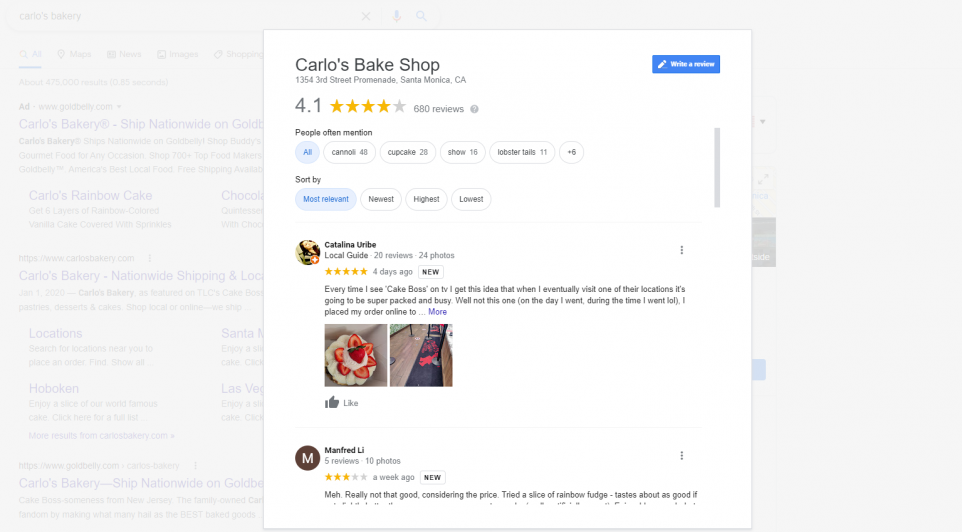 Brian Solis puts it very well when he says:
As a business owner, the best thing you can do is to get more reviews from your customers.
But how do you get reviews from your customers?
You ask them.
Don't be afraid to ask customers to give your business a review. At the same time, do a favor for your customers by making it easy to leave reviews.
Go to your listing, and click the 'Write a review' button.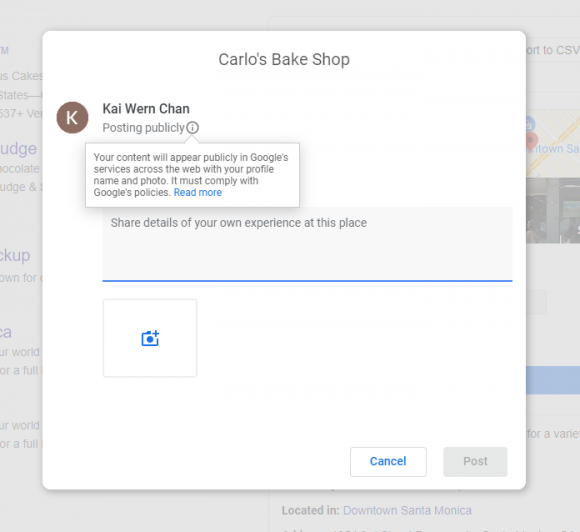 You'll see a Google review box popup, then copy the URL of the address bar.
Copy the URL and send it to your customers. This will send them directly to leave a review for your Google My Business listing.
Google My Business encourages business owners to get reviews from their customers. Google has also shared some best practices in getting customers review:
Remind your customers to leave reviews. Let them know that it's quick and easy to leave business reviews on mobile devices or desktop computers.
Reply to your customer's reviews and build trust. Your customers will notice that your business values their input, and possibly leave more reviews in the future. You can also create and share a link that customers can click to leave a review.
Responding to reviews is more important than ever, with 30% naming this as the key when judging local businesses.
Make time to interact with your customers by responding to their reviews. Whether it is a positive or negative review, it is always a good idea to respond to your customer reviews.
4. Make your site mobile friendly
How often do you make "near me" searches using a desktop? Probably once in a blue moon?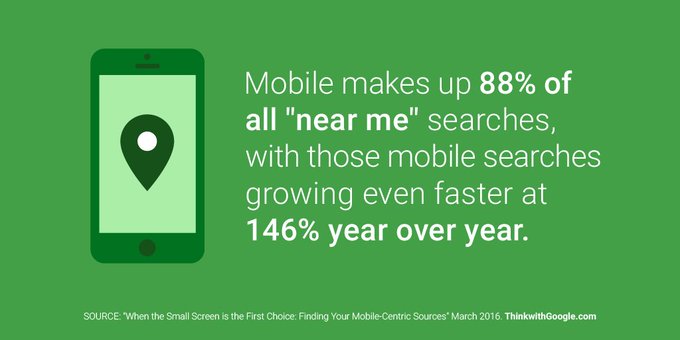 88% of all "near me" searches were performed on a mobile device, and these searches grew at 146% year over year!
If you want to optimize for "near me" searches, you'll definitely want to make your site mobile-friendly.
How will mobile optimization get your website to rank for "near me" keywords?
Mobile-first indexing is enabled by default for all new, previously unknown to Google Search, websites starting July 1, 2019. It means that the mobile version of your website becomes the starting point for what Google includes in its index.
If your site is not optimized for mobile, your content can still be indexed but you may not rank as well in comparison to mobile-friendly websites.
A good starting point to optimizing your mobile would be applying responsive design and AMP to your website.
Responsive design – make your site responsive so that the same content and experience are delivered to all the visitors. Learn how you can turn your basic structure into a beautiful page that is responsive across a large number of screen sizes using Google's fundamentals.
Accelerated Mobile Pages (AMP) – a very accessible framework for creating fast-loading mobile pages. The initiative can potentially increase your mobile ranking. Check if your page is AMP valid using AMP test.
5. Create localized content and use relevant keywords
When it comes to keywords, the solution is not stuffing your site with near me keywords. Here is how to optimize for near me searches.
First, you can begin by writing a list of keywords you want to target. For example, let's say you run a cafe in Kansas. You can use the keyword "Cafe near me" as one of your page titles.
Other places you can add are on the title tags of your location pages, anchor texts, and alt tags to help your business show up more for local searches.
Does adding "near me" keyword really help?
A study made by CDK Global found that the businesses that added "near me" content increased their click-throughs by 81%, compared with those that didn't.
So the answer is yes!
The formula is quite straightforward:
"Keyword + near me"
But you don't want to spam your content with "near me" keywords. What you can do is use LSI keywords in your content. LSI keywords are keywords that are semantically related to your main keyword. It helps Google to better understand your content. In return, users can get relevant results when they make a search.
If you want to write content that is targeting the query "cafe near me", these are the LSI keywords surrounding the near me keyword: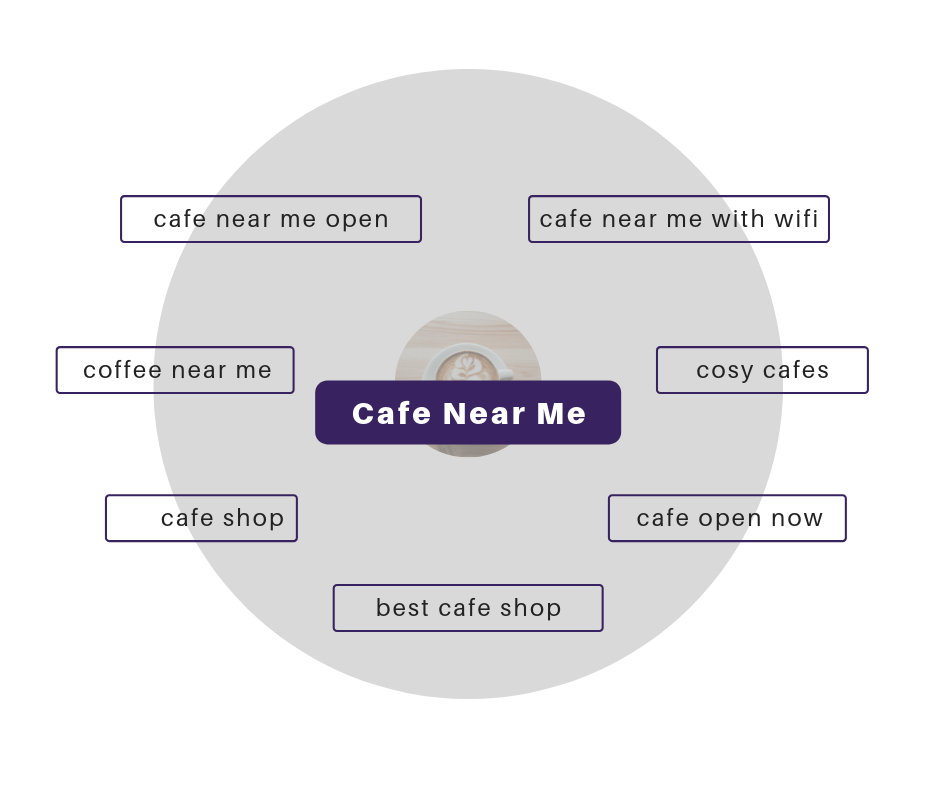 When search engines see the LSI keywords in your content, it gives a confidence boost that your page is about a cafe shop. That confidence will give you an extra advantage to your site ranking when someone searches for a cafe in Kansas.
With that, here's how you can find LSI keywords:
Use BiQ's Keyword Intelligence.
Insert your main keyword into the search box and you will see a list of related keywords with their respective metrics.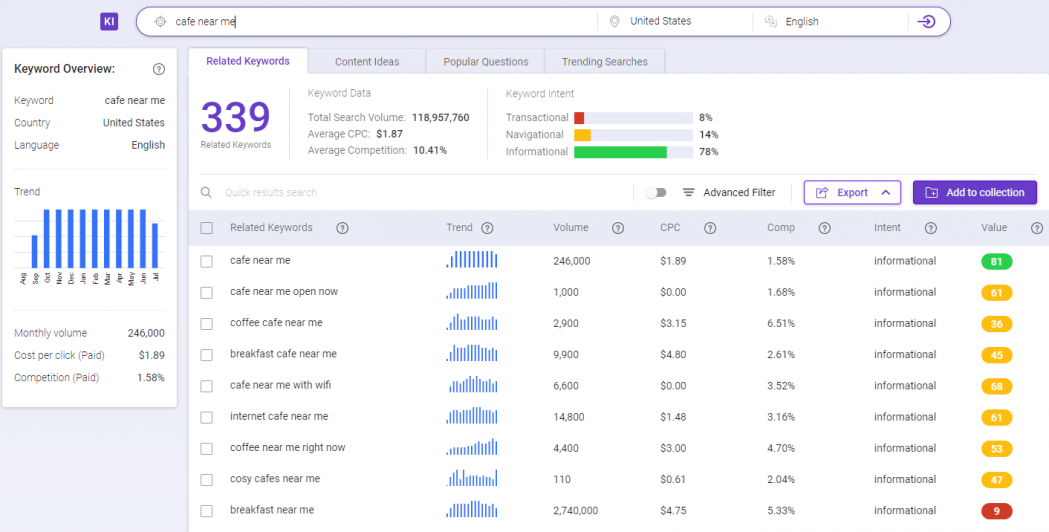 Remember to write content that matches what people are searching for in your local area. Try to talk more about local stuff on your website. If your business is located in Montenegro, you can list down local landmarks like Kotor Old City or Njegos Mausoleum. Better still, include driving directions to your place on your site.
When doing SEO for local businesses, you can select the specific location in the BiQ's Keyword Intelligence. This will narrow down your research to the local keywords.

Sometimes, it is not just the people in your local area looking for your business. Create a localized content that can establish your site as the local authority in your niche.
This will increase your site's credibility. Thus, helps in your ranking.
Grid My Business is another great tool to use for discovering LSI keywords.
Just insert the search query into the search box along with the business of location you want to scan.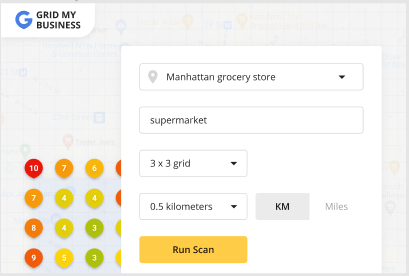 You will see a grid-based report showing your local search ranking for that search query in every point in the grid. You can also see the local search rankings of local competitors.
You will then know what search queries you're ranking for or not so you can reoptimize your website to include them. Soon, your business will start ranking for 'near me' searches.

Use LSIGraph
LSIGraph is another tool you can use to discover LSI keywords.
Just type in the keyword that you want to rank for and you will see a list of LSI keywords.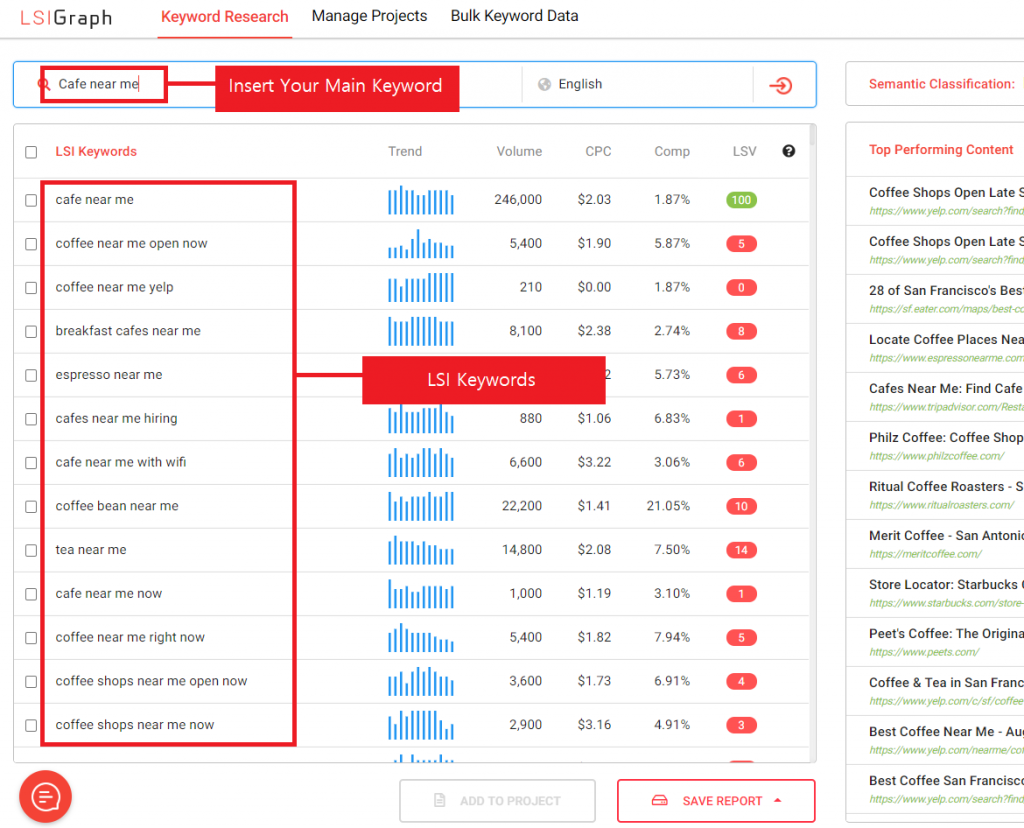 Use LSI keywords in your content provided that it is relevant to your topic.
Conclusion
I hope this was a helpful guide on how you can rank for "near me" searches.
If you haven't started optimizing your business for "near me" searches, now is the best time.
Just commit to getting started today and you are already one step ahead of the rest.
Instead of trying to think like Google, start thinking like you. After all, search engine algorithms are built to think like us humans.
Put yourself in your customer's shoes. Understand the real buyer journey and strive to give the right thing at the right time to the customer. Check out this article on mapping keywords to the buyer's journey to enhance your keyword strategies.
Remember, local SEO marketing certainly isn't easy, but it is worth it!
Do you happen to know any other ways to rank for "near me" searches? If you do, feel free to share with me and other readers below!