What is a web push notification? How can you create and use web push notifications to increase your customer engagement? Check out this article.
Check out the 7 tips you can use to write the best web push notifications.
If you want to engage and retain users and effectively promote updates and increase sales, push notifications would be your best tool to achieve all these goals.
Before you get to understand what is push notification, you need to have an idea of how it has transformed marketing. Push notifications have successfully etched their niche in the digital marketing field.
We have seen much information on web notifications on the internet, but everything regarding this subject matter boils down to engaging the consumers with push messages. After all, personalization is the primary key to a higher customer engagement rate.
Sending push notifications is the best option if you want to reach customers and prospects in any online spectrum. With that in mind, it is time to look into how you can create the most outstanding web push notifications copy that converts easily.
What are Web Push Notifications?
Definition: Web push notifications refer to clickable messages sent from your website to the browsers belonging to your subscribers.
These messages work in the same way as mobile application push notifications, only that they work best on websites.
Your subscribers can access them through their tablets, mobile phones, laptops, and desktops. Website push notifications are critical to eCommerce players. If you are one of them, you can't afford to ignore these notifications and how they work.
As a matter of fact, you can optimize them to deliver the best results for all your online stores. This begs why use web push notifications to take your eCommerce business to the next level.
Most online businesses use different ways to generate enough traffic from new subscribers while engaging the existing ones. They do so by exploring and utilizing various communication channels such as social media platforms, email, short messages (SMS), and push notifications on both apps and websites.
The same online businesses use these channels in different online companies to reach out to as many users as possible to engage them in real-time. Here are the channels used by eCommerce players and how you can apply them too:
Social Media Platforms
Social media comprises Facebook, Twitter, Instagram, Pinterest, LinkedIn, and many others. These platforms work better than email marketing as far as delivering short-time offers is concerned.
They are also ideal for sending push notifications. This is because many people spend a lot of time on these social media websites, making them ideal for web notifications. Most importantly, social media provides the best platform to build relationships with your target audience while establishing your brand.
Push Notifications for Mobile Apps
Push notifications for apps are a default means by which mobile applications can communicate with your subscribers. This option has the edge over emails for promotional content because it delivers information in real-time. Also, it boasts higher response rates than emails in many ways.

Push Notifications for Websites
Unlike push notifications for mobile apps, push notifications for websites work best with desktops, tablets, and mobile devices. The number of people using desktops is still high, so sending push notifications through the web reaches a wide audience.
Similarly, this option allows the target audience to enjoy real-time notifications since they spend more time on their desktops while working or surfing the internet. The cost factor is also the reason web push notifications are popular among eCommerce players.
How Do Push Notifications Work?
Now let's see how push notifications actually work. This process takes three major stages, which include:
Seeking permission before sending the push message.
Sending push messages
The arrival of push notification to your browser
Stage 1:Permission to Send the Web Push Notification
Seeking permission to send push notifications to the web is the first thing you should do. You need to seek permission from the user or subscriber before sending them the message. Also, you should get a push subscription from your browser before taking any further action. 
All these permissions need to go through the opt-in box or a push subscription box. The push subscription is applied using the application programming interface (API) to give the web apps the ability to receive notifications from a specific server.
After receiving a push subscription, the details are preserved at the back-end. Later, they are used to resend push notifications to the same user.
Stage 2: Sending Push Messages
To send a push message, you may use a PushEngage dashboard or make an API call to any respective browser managers such as Access Point Name (APN), Google Cloud Messaging (GCM), and many others. Once you call the cloud managers, they will validate and deliver the notifications to relevant browsers.
The Push Subscription's endpoint value will help you access the appropriate URL to trigger the push message. In other words, the push message is relayed from your server to the website notification service to make the message arrive at the appropriate browser.
Stage 3: The Arrival of Push Notification on Your Browser
The push service will deliver the message as soon as the browser gets online. After receiving the message, the browser will decrypt the data before sending the push event to your service provider.
What Are The Benefits of Using Push Notifications?
Apart from getting a higher CTR, push notification is great for various purposes. Here are some of the notable advantages:
Insight Into Customer Behavior
Push notifications provide valuable information on user behavior by tracking messages and interaction times and situations that generate the most engagement. With these crucial insights, it translates into effective marketing strategies for you.
Higher Engagement
Unlike email or SMS, web push notifications require just one tap to bring users to the specified content. Push notifications are suitable for regular interactions between a user and a brand, such as onboarding campaigns, reminders about an abandoned cart, tractional notifications, and so on.
Increase Website Traffic
Push notification is a great way to boost your website traffic. It especially works best if the message contains something worth the user's attention. If you are running a limited-time sale, web push notifications can bring high real-time traffic to your website.
Increase Conversions
Through the web push notifications, you can prompt users about the latest promotion or any new products. You can also notify them about a fall in the product price or the product back-in-stock. This will create excitement, thus higher chances of conversion.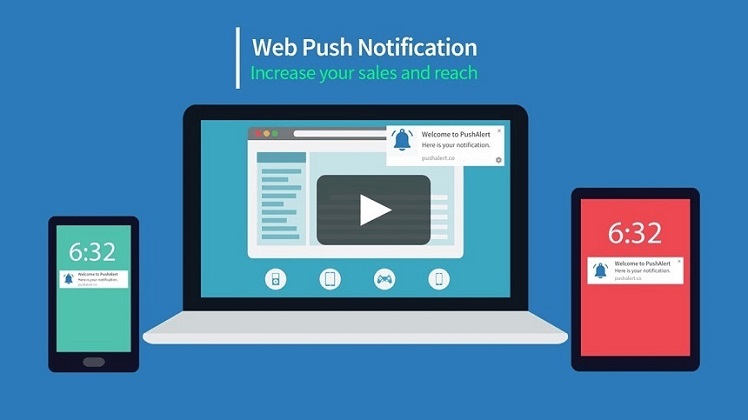 Ease Of Use
Compared to traditional emails, push notifications are quick to deal with and manage. They are simple and straightforward in nature, thus making them user friendly and effective. Furthermore, they are simpler to produce and cheaper.
How To Create The Best Web Push Notifications Copy
Push notifications are effective, yet there are many obstacles for marketers to consider.
One of the obvious is it is not easy to make a person enable web push notifications on the devices and engage with them. The reason is pretty straightforward: push notifications can be annoying. Therefore, it is important to personalize your approach to enhance open rates and keep your users engaged.
Here are 6 tips you can use to make your push notifications more effective and efficient:
1. Understand Your Customer
You need to know and understand the needs of your audience before writing them web push notifications.
Do you know what the topics that customers love hearing from you are? Or what are the keywords or phrases they used to find your website?
Your answer will help you better understand what your potential and existing customers are actually looking for from you.
You may use BiQ's Rank Intelligence to discover the answers to those questions.
First, enter your website URL into Rank Intelligence. Then, select the country where the audience is based.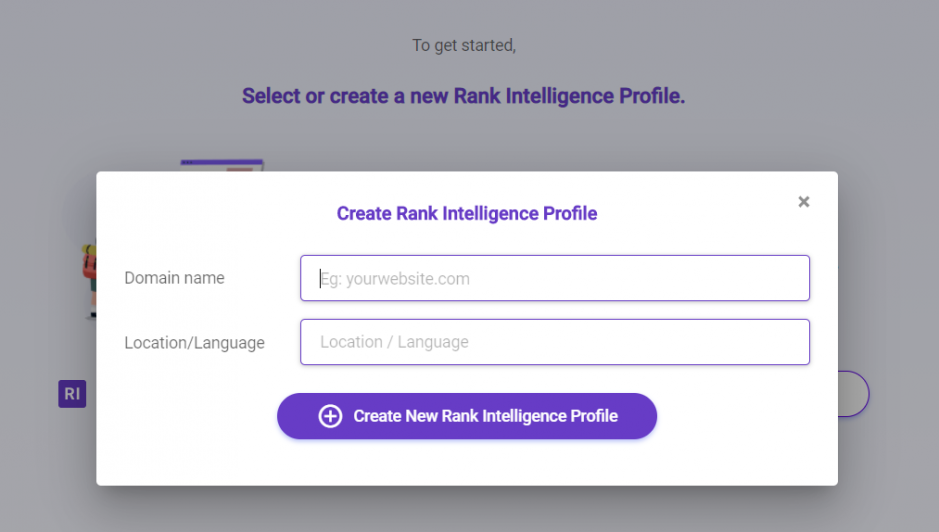 You will get to see all the keywords your website is ranking for together with the important insights such as search volume, cost-per-click, and competition, and so on.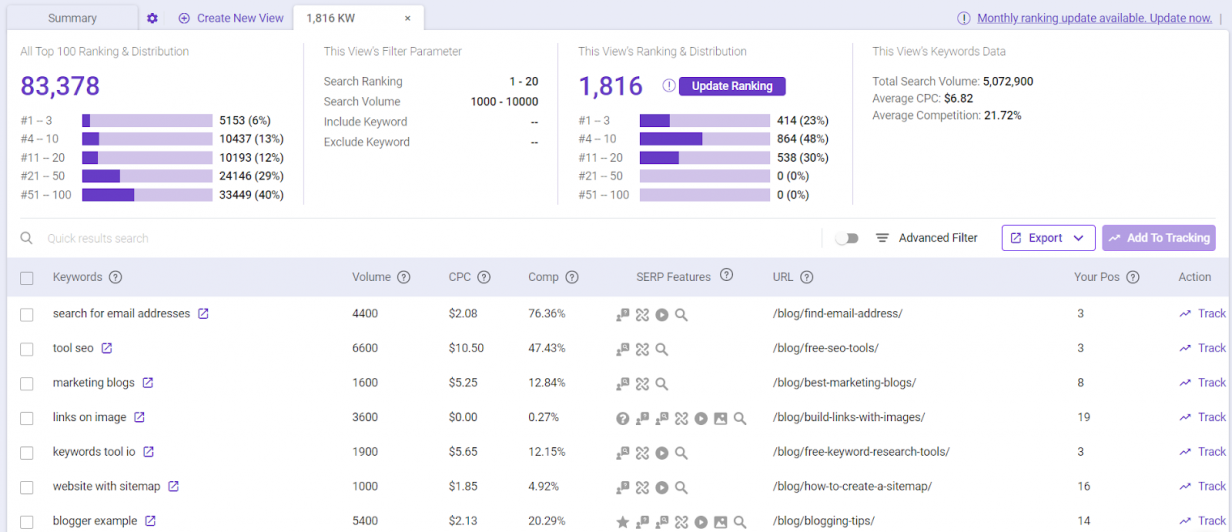 These insights let you know the search terms that searchers are searching for to reach your website. You may then send relevant content to view in the form of blog articles, video updates, and trending articles. The user will stay engaged if the notification sent is relevant and interesting to them.

Also, by understanding your customers better, you can add a human touch to the message as if you are reaching out to a friend and encouraging him or her to act.
2. Create a Copy Which is Relevant to Your Audience
Anytime you sit down to generate an idea, think of its relevance to your audience. This is one thing you cannot afford to ignore if you truly want your copy to convert. You need to come up with push notifications that appeal to all types of people.
Users don't care what you want. They simply want your push notifications to be worth it. So give them exactly what they want and provide information that they can act on.
For example, if you want to send push notifications to say "Happy Mother's Day," make sure that there's relevant information outside of just sending season greetings. The notifications could be reminding them about a reservation they made, or the cake they ordered is something that they would appreciate.
Remember this: A push notification gets sent directly to their browser or phones, which means that it can be extremely annoying to receive a disruptive message with no value.
3. Write with Clarity
Make your audience understand your message by writing clearly. Let them get every word and phrase to make them understand you better.
If not, they are likely to act negatively and even turn off their notifications. Worse still, they may leave without converting. Before all this happens, make sure that your writing is reasonable, sounds great, is clear and straight to the point.
4. Be Concise Since there's Character Limit
It is advisable to be concise in what you write. This is because different platforms have character limits for web push notifications. Regardless, all of them have a range of 40-120 characters. You must always identify the most important information to include in your notification copy with these character limits.
5. Use Scarcity to Create Urgency
You need to know that human beings get motivated by scarcity rather than abundance. That is why they are likely to pursue the idea of losing something rather than going for a potential gain.
This phenomenon is also known as the fear of missing out (FOMO). Having said that, you can take advantage of this psychological principle to write a push notification copy that converts.
For example, you may have seen "While stock last" written on the product page, which creates a sense of urgency. It drives the customer to make the purchase immediately. So use a similar technique for your push notification.
6. Use Social Proof
Social proof is when people tend to prefer an already established route. This tendency promotes click rates in push notifications. For example, you may include a statement such as "2000 people have already subscribed to this site" to make newcomers interested in your website.
The only caution you need is not to go overboard with this kind of information because it might work against you. Just write what is credible to maintain your integrity among your subscribers.
7.Personalize the notifications
71% of marketers said personalization is highly crucial. The reality is that customers now not only prefer content personalized to their wants or needs, but they expect it.

While it's relatively easy to set up a blast campaign to send to all users, push notifications that include personalized content can significantly boost open rates. Including a user's name or past behavior can make them feel an individual approach and one-to-one conversation. Such notifications will give a much higher open rate.

For example, Netflix uses this technique to keep people updated with the latest movies or series. If you prefer watching romance based movies or series, they will send push notifications around romance content.

Bonus Tip: Create Great Content That Attracts
Push notifications may help you bring traffic to your content. This will eventually help build brand trust and authority if you can provide content that might interest them.

Understand what your users like and dislike using data tags, then segment them based on those interests. That way, you can share content that is more relevant and useful to them.

Now how do you create such content? Easy: use Content Intelligence.

BiQ Content Intelligence provides you with the best content-driven strategies, which are SEO-friendly. While you write in the block editor, you will also be getting interactive writing tips to help you.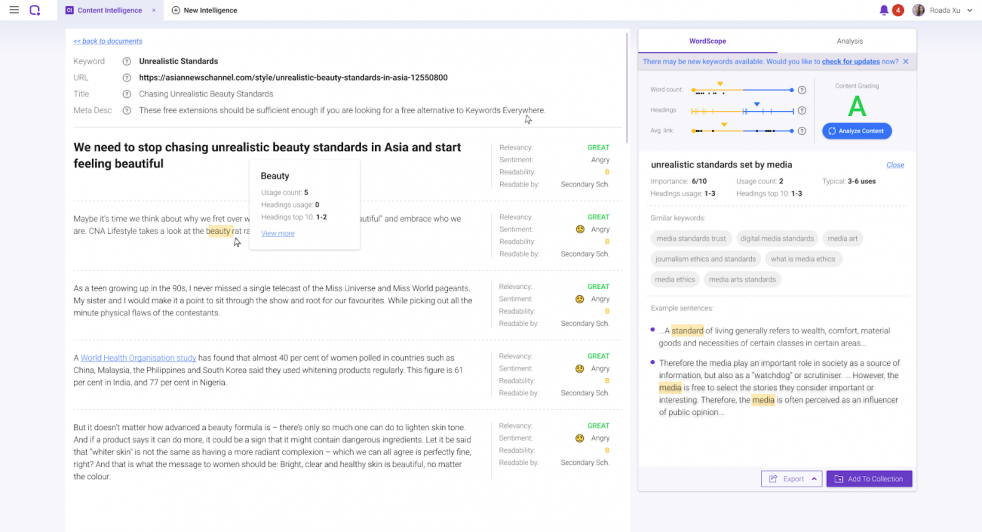 Better still, it gives you a breakdown of your keyword in terms of usage, similar keywords, and example sentences.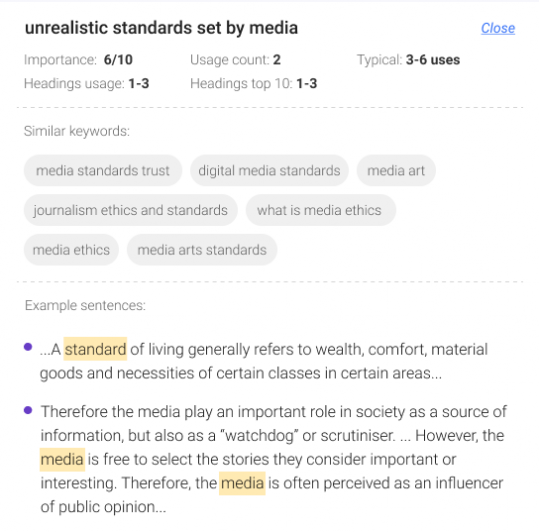 They should be the go-to-source that shapes your article as you write. For example, if you're writing about "unrealistic standards," the Wordscope analysis can get you similar keywords like media standards trust, what is media ethics, and so on.

In other words, you can't hope to satisfy searchers who are looking for unrealistic standards without writing about these similar keywords.

You can also make use of the keywords to craft your outline! That's an example of killing two birds with one stone effectively.
Final Thought
Overall, push notifications are highly effective. Compared to email marketing, sending push notifications is 100% visibility to users. It can pop up on the desktop or mobile screen, so it's almost impossible to ignore or overlook it.
When used correctly, it can help you increase user engagement and build a fruitful relationship. At the end of the day, it will lead to a conversion.
Have you started web push notifications on your website? Or are there any other tips you want to add to the post? Either way, let me know in the comments.