Looking to create content to grow your business, but not sure where to begin? Learn this step-by-step guide on the content creation process.
Use the six simple steps in this article for a successful and effective content creation process.
Content creation is just part of the big picture in content marketing.
A statistic shows that businesses that have adopted content marketing enjoy up to 6X higher website conversion rates than those yet to embrace it.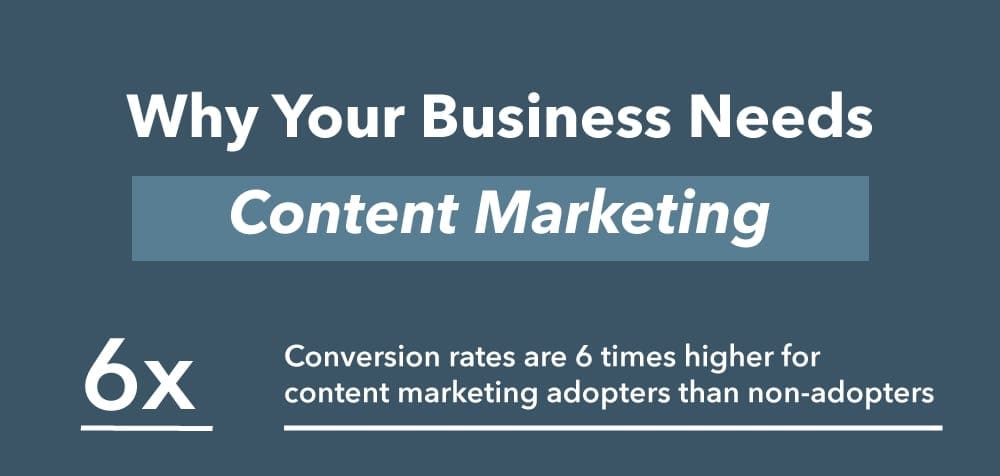 That means you can quickly achieve your business goals, whether for sales or conversion, using content marketing.
Sure, anyone can create content – whether it is for your blog website or social media post. But it takes thorough planning to arrive at quality, relevant, and valuable content.
You need to create such content to successfully reach out and let the world know about your product or service. And in this guide, you'll learn the formula for how to create content that delivers real results.
What Is Content Creation?
Content creation definition:
Content creation is a process of identifying what your audience wants, producing content that appeals to them while delivering the results you want.
Why Is Content Creation Important
Here's a breakdown of the most effective online tactics used in a digital marketing strategy, according to a survey from Ascend2.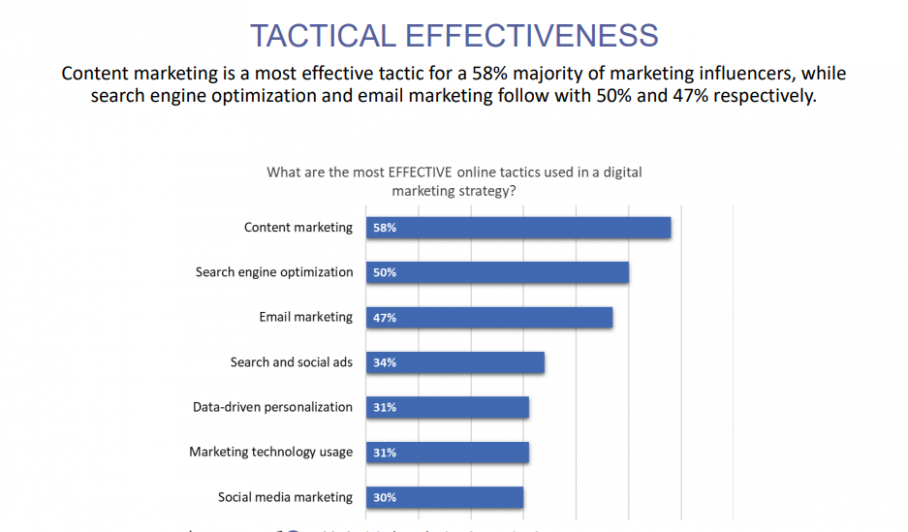 Content marketing is ranked as the most effective strategy than search engine optimization, email marketing, and search and social ads.
And content creation plays a vital role in the success of your content marketing strategy. Without great content, your content distribution effort will be worthless.
In the content creation process, you learn how to identify the topics your audience wants. It helps you in creating content that matters, rather than blindly producing just another content.
When you have content that matches your audience's wants, they will have reasons to visit your website or respond to your content.
Content creation also helps you to reach out to a potentially more expansive range of audiences through SEO.
How?
Create content around the keyword that drives traffic and optimize it for search engines.
You can then include a call to action in the content itself that will convert your audience into new leads or customers.
Next, we break down the content creation process to help you make quality content with ease!
Content Creation Process
You may see many content creators have a different way of coming up with content, but the basic ingredients remain the same.

Let's get started.
1. Know The Purpose Of Content
Stop wasting your time on producing content just for the sake of doing so. Creating content without a clear goal is doing little value to your brand.
That said, your content creation process should start with identifying your real purpose. Ask yourself: why do you produce content?
Every content you produce must have a purpose, which will act as your map to guide you to your destination.
Here are some common content purposes:
To educate your audience.
To gain more subscribers.
To generate more leads.
To get more traffic to your website.
To build more engagement.
Every marketer creates content with a particular purpose in mind. Take the time to identify your real purposes for creating content. So you do not waste your time or resources on content that does not bring any value to you.
2. Identify And Understand Your Audience
Your content creation process should start with identifying your target audience. It will help you focus not only on creating great content but also on creating the right content.
Creating the right content means you can create content that matches your audience's interests and is relevant to their wants and needs.
Here is a list of questions you want to ask yourself when it comes to identifying your audience:
What problems does your company want to solve?
Who are your current audiences?
Who are your competitors' audiences?
These questions should help you to build a clearer picture of what your business is offering and who might be interested in it. With the changing content marketing trends and customers' tastes and preferences, personalization is a crucial aspect of success that you should embrace.
If you focus on content that your audience will find interesting, you should know what type of content and topics they would like to see and read more often. Therefore, to understand their content likes, you have to know who they are specifically.
It would sometimes help to create an imaginary audience persona with a name, occupation, and face. However, you should base this information on real scenarios. 
Additionally, such personalization will come in handy when deciding what promotional channels to use to get your audience content.
3. Carry Out Keyword Research
After identifying your target audience's persona, you will get some ideas on what topics they may want to write about. Next, you need to confirm where those ideas are suitable for your larger audience.
One way to do it is by doing keyword research. Keyword research allows you to see if there are actually demands for a specific keyword or phrase. Most importantly, it will tell you whether the keyword is worth your time and effort in creating the content.
You may start by listing out possible queries that your target audience may be searching for when looking for your product or service. You may be familiar with queries that are made by your existing customers. But with new targets, you may need some help. A great tool that can help you in this process is Rank Intelligence.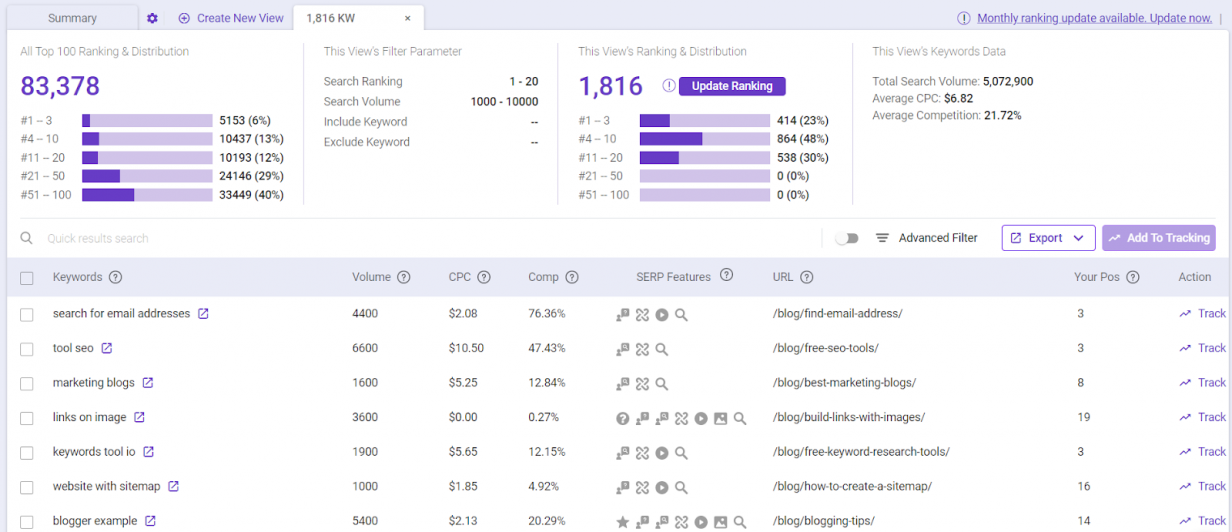 You will get to see all the keywords your website is ranking for together with the essential insights such as search volume, cost-per-click, and competition, and so on.

These insights let you know the search terms that searchers are searching for to reach your website.

The best part?

You can also use Rank Intelligence to identify your competitors' best keywords. Just enter their URL in the rank checker tool, and you will be able to see the keywords they are ranking for. This step may allow you to explore more keywords opportunities that you may not have known before.

Here is another crucial tip…

Most SEOs look at their target keyword's search volume to determine the potential traffic they'll be getting.

That's the problem because a page may rank for more than one keyword. So how do you know the potential 'total search volume' for your target keyword?

Easy. Use BiQ's Keyword Intelligence to check the total search volume of all related keywords.

Here is the total search volume for 'content marketing': 


And here is how it looks like for 'social media marketing': 
You notice that the total search volume for 'content marketing' is less than 'social media marketing' from the two different insights. It means if you have to choose between them, you may want to choose the latter since it has more search volume than the former. 

Here is another helpful tip for you; aim for long-tail keywords.

Why?

A long-tail keyword has lower competition than a short-tail keyword. Furthermore, the search intent is highly targeted and often leads to conversion.

Continuing from the keyword research tool above, you can click the 'Advanced Filter' to filter only long-tail keywords. You may also choose the level of your long-tail keywords relatedness to your main keywords.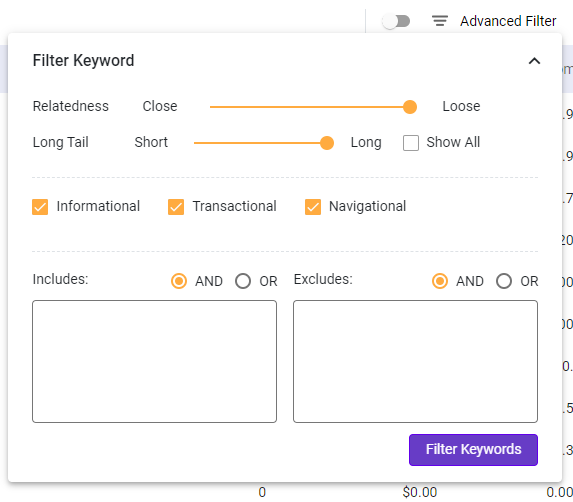 If you are unsure which keyword to use, you can sort the keywords based on its value. The higher valued keyword means it can potentially bring more traffic to your website at a lower competition.

As one of the most significant steps in the content creation process, keyword research helps you develop better content ideas at a go. It also allows you to understand the trending topics and gives you a platform for search engine optimization.
Keep in mind that your research should revolve around your audience and niche. Such an approach will assist you in learning the content once published can guarantee you maximum results. As such, your content should align with the niche trends, the needs, questions, and interests of your audience.
4. Generate Content Ideas
The next content creation process would be to generate content ideas.
The ideation stage is one of the most straightforward steps of the content creation process. However, coming up with ideas will be easy only if you have exhausted the previous steps.
With the target keywords, it becomes relatively easy to generate content ideas.
For instance, if one of your keyword phrases was content creation, perhaps you could develop topics such as "What Is Content Creation?" or "How to Develop a Better Content Creation Process."
You could also focus on content creation and create a comprehensive guide with a topic such as "Content creation process: Everything you need for successful content marketing in 2020."
From these examples, it is evident you can come up with numerous content ideas from your keywords. Use your keyword research to generate content ideas around trending topics and aspects that interest your specific audience.
If you like more content ideas, you may also use the Content Ideas feature in Keyword Intelligence to quickly find ideas that will make great blog posts, which will keep your readers coming back for more.
Enter your keywords or phrases, and this tool will come up with a list of content ideas that you can use to prove a hit with your readers.


5. Come up with a Content Creation Plan
You can do an excellent job identifying your audience personas, researching keywords, and generating content ideas, but you will fail without an appropriate plan.
At this phase of your content creation process, you should ask yourself the following questions:
What content types – videos, webinars, e-books, how-to guides, or blog posts – should I focus more on?
Which platforms will you use to showcase your content?
Are there different content forms you will need, such as featured images?
Content Types: In what types of content to go with, your options are limitless. Apart from blog posts, videos, e-books, and webinars, you can consider other content types like social media content, infographics, podcasts, email marketing campaigns, whitepapers, and guides.
Platforms: now that you know the content you will be creating, the next step should be to establish your publishing medium.
Use your Google Analytics, and at the Acquisition section, go to All Traffic, then Channels. Here, you will see the primary sources of your traffic.
The detailed breakdown of the various platform that directed traffic to your blog or site should guide you in determining what platforms would be best suited to publish your content.
Additional materials: mostly, you will require extra materials to accompany your content. Create a list of the materials you would need and create them beforehand. These could include social media images, feature images, worksheets or checklists for webinars, and videos.
With all these things ready, you can move to the next phase of your content creation process – creating the actual content.
6. Content Creation and Editing
This stage forms the bulk of the content creation process. Here is where you do everything; write, film, record, or anything that suits your content type.
To remain on the right track, focus on the following:
Your research: everything you learned about your niche and audience becomes useful at this step of the content creation process.
Target keywords: your content creation should be in line with the established keywords. Use the identified keywords extensively in your content.
Content structure: the best content is based on a robust structure. Having a definite structure, especially for long-form content, will help you capture everything needed for seamless content flow.
The editing part is a bit tricky. In most cases, you may find it challenging to edit your content. Somehow, you won't notice any errors in it.
You can edit your content successfully in two ways.
First, don't edit the content immediately after writing. Leave it untouched for some time – a day or two, then start editing. This strategy is significant as it allows you to have a fresh perspective of your content and makes it easy to notice any mistakes.
Another option is to consider using online tools. Such tools help you spot and correct any mistakes quickly.
BiQ's Content Intelligence provides you with the best content-driven strategies, which are SEO-friendly. While you write in the block editor, you will also be getting interactive writing tips to help you.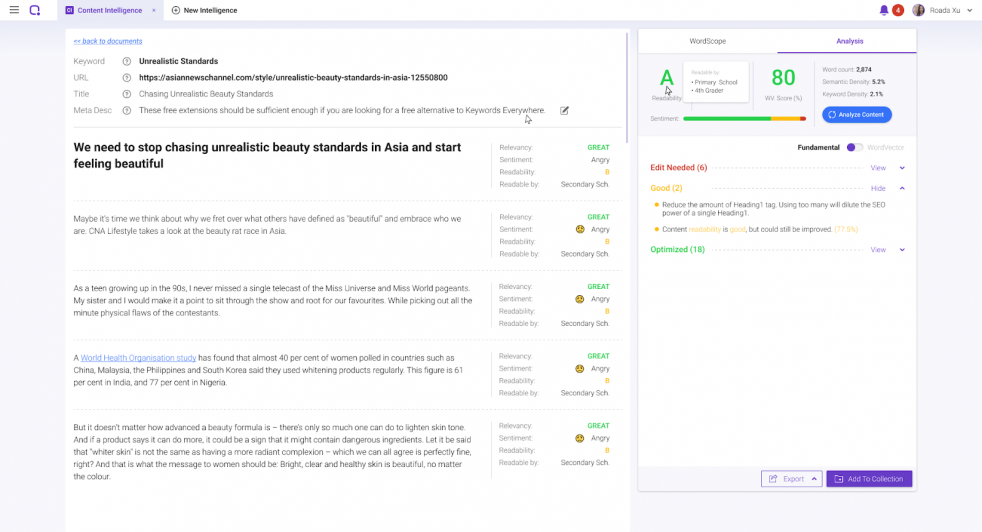 You will be able to use BiQ's Content Intelligence real-time text editor to see your "content grade" and keywords count that tells how relevant your article is. You'll also quickly know if you've included enough keyword density.

When you insert a word or phrase that's included in the terms suggested by BiQ, you'll notice that it will be highlighted in yellow.

If your content isn't optimized yet, you can make the necessary edits to take it there. But it's important to note that an A content grade does not represent that your article "will rank number one on Google."
Other than that, Grammarly will help you identify writing mistakes in your content, such as poor vocabulary choice, spelling, and grammatical errors. On the other hand, the Hemingway app makes your content clear and bold, ensuring your content is easy to read.
Advanced Step: Track and Monitor Your Keyword Ranking
If you are publishing content on your website, you should track and monitor your keyword ranking.

BiQ offers a rank tracking feature that can help fill in the time lag or missing data you would otherwise see in your Google Search Console.

With Rank Tracking, all it takes is to create a rank tracking profile for your website and you can keep track of your keyword's daily rankings and its historical data since the day it's added.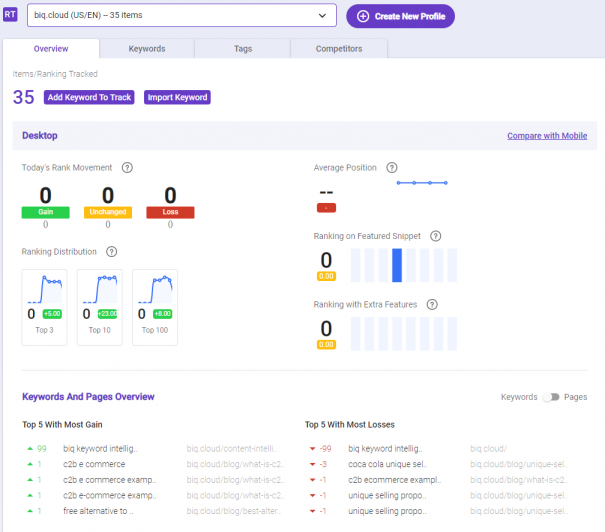 Quickly identify your keywords' gains or losses so you can act in response to secure your keyword rankings from being stolen by a competitor or take the chance to further boost your keyword rankings while it's in trend.
In addition to the multiple keyword rankings movement for the page, be the first to know when something critical happens.
You may read more about how to track keyword rankings here: https://biq.cloud/blog/how-to-track-keyword-ranking-improve-your-seo-strategy/
Final Thoughts on Content Creation Process
Creating useful content has never been this easy. With the above tips on the content creation process, you will not only create highly-targeted and better content, but you will also save time and get more organized.
With proper research on your audience and industry, extensive use of insights into your target keywords, excellent content creation plan, and the right approach to content creation and editing, you will never find the content creation process tiring anymore. However, make sure that you publish and promote your content extensively!
What is your content creation process? Or are there any tips you want to share with me? Let me know in the comments!