SEO competitor analysis helps you to outrank your competitors. Check out our quick and effective 5-step SEO competitor analysis.
Learn strategies and tips on how to do an SEO competitor analysis in order to formulate a clear and informed decision.
SEO competitor analysis is always a key aspect when it comes to search engine optimization. It does not impact directly on the search engine result page but it helps you to understand how you can beat your competitor and increase your position on top of them.

In today's post, we'll explore how you can perform an SEO competitor analysis and what can be made to keep you stay ahead of the competition. The best part is: I'm going to share with you the free resources that I am using to perform this competitive analysis.

First, let's look at what is an SEO competitor analysis and why should you look into this crucial SEO strategy!
SEO competitor analysis is the process of collecting and evaluating your competitor's SEO strategies. It helps you learn the ins and outs of how your competitors win the ranking – this makes all the difference in the battle for ranking your website on top.

What Is SEO Competitor Analysis?
The questions that you're trying to answer with SEO competitor analysis start with who your competitors are and follows by:
What are their ranking keywords?
What are their performing contents?
What are the contents they are offering?
What should I do to win the rankings?
With an SEO competitor analysis, you're not taking shots in the dark because you are able to make a strategy from the data that you have. In fact, it gives you deep insights into the areas that you may have been overlooked all along.
Why Is SEO Competitor Analysis Important?
SEO competitor analysis helps businesses in various factors. It gives data about which strategies are working in the industry you are working on and what you need to do.

Treat SEO competitor analysis as your opportunity to put yourself in your competitors' shoes and look at what contributes to their success.
Here are some reasons why you should doing SEO competitor analysis:
It helps you to learn new strategies
There are many things you can learn from your competitors. One of them is how they execute their SEO strategies. By looking at their site as a whole, you will certainly learn what they did best that makes them rank high. It is easier to capitalize on the ideas that have been proven working than to invent the new ones from scratch.
It helps you to avoid your competitors' mistakes
By taking a look at what your competitors are up to, it also helps you to uncover their mistakes. For example, you may notice the word vector is low or the content readability can be improved. This will put you in a stronger position than your competitors.
It helps you to better understand your target audiences
SEO competitor analysis helps you to look into the types of content that audiences are looking for the most. This gives you a better understanding of what type of content you may consider to create or improve upon.
It helps you to find new audiences
When doing the competitive analysis, you will find terms that you have never thought of before. This is your best opportunity to rank for the same keywords and get new audiences to your website.

If you put your effort into SEO competitor analysis and take the necessary steps, you'll see a boost in traffic and rise in your search presence.

Next, we will walk through the most important elements of SEO competitor analysis.

Paying close attention to these five steps will help improve your SEO strategy. Thus, increase your rankings, traffic, and conversions.
How To Conduct An SEO Competitor Analysis
I will share with you simple, easy-to-use steps to help you complete an SEO competitor analysis.
Step 1: Identify your potential competitors
Your competitors are definitely out there and they are likely just as hungry as you are. You'll need to figure out who your competitors really are so you can compare the data accurately.

The rule of thumb is: you want to collect data from those who are already performing better than you.

There are many ways you can find who your competitors are, but today we will start with the easiest way; using Google. Google is a helpful and free resource. By simply typing your targeted keywords, you can immediately see the list of your competitors.

Let's start by doing a simple search for your target keywords Google's search box.

The search results will reveal your top competitors on the first page.

List out the top websites on a sheet and consider adding them to your competitor analysis. Choose your top 3 to 5 competitors from the result.

Be realistic when choosing your competitors. For example, you may not want to choose local government sites or Wikipedia to compete with. Also, not every site that outranks you on the search results is a competitor.

Pick those competitors you come up against on a regular basis and where you have similar capabilities.

Therefore, you may want to search for a few other keywords on the search engines and observe if there are any repetitive names that come up. That could be the competitors that you are looking for.

Write down your findings on a sheet to make it easy for you to identify the repetitive names.
Step 2: Spy on competitors' ranking keywords
Now that you have a list of competitors on your hand, you want to dig a little deeper to gain a better understanding of what you're up against.

First, let's check what are the keywords your competitor's website is ranking for. This helps you to identify their strongest, and even weakest, keywords.

It'll be time-consuming to do this step manually by typing each of the keywords into the search engine and check if they are ranking.

Fortunately, you don't have to do so. I will show you how to use BiQ's Rank Intelligence to discover all the keywords your competitor is ranking for.

First, click on the 'Create New Intelligence Profile' button to analyze a new website's ranking. Type in the domain's name.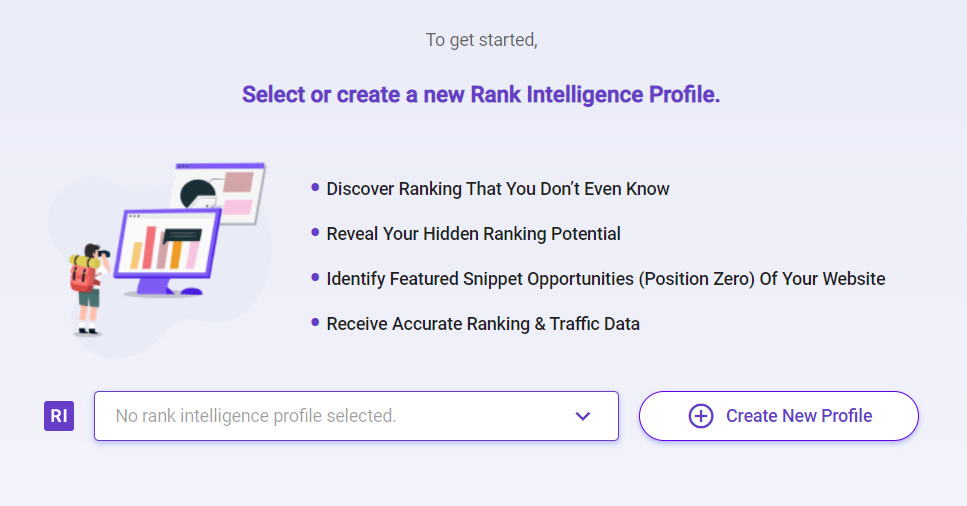 Once you are done, you will be able to see a summary of the website's ranking performance and its details.

You must be asking: what are you supposed to do with those valuable data, isn't it?

Go through the list of keywords your competitors rank for that you don't. Filter the SERP positions to show only positions one to ten to view keywords that your competitor ranks.

Create a new profile with your domain in it and identify your own ranking keywords. Export your ranking keywords together with your competitors' and identify keywords that both you and your competitor are ranking, and then check which keywords aren't performing.

With this practice, you will be able to identify which keywords you're not yet targeting and might want to go for it. For the underperforming keywords, you might want to consider improving your existing content.

For the 'new' keyword that you don't rank for, you may consider creating new content. Before that, you can further analyze them whether it is worth your time and effort by inserting them into the BiQ's Keyword Intelligence.

For example, let's take this keyword 'create a Facebook business page' that has 9,900 search volumes to Keyword Intelligence.


BiQ will analyze the keyword and show you some important metrics for your keyword research. Other than the keyword's volume, CPC, and competition, you can also pay some attention to the type of intent. It gives you an idea of what type of content you should be creating. These data can help you in determining whether those keywords are worth fighting for.


Based on the example above, the keyword's intent for 'create a Facebook business page' is 'informational'. It means people are looking for more information about creating the Facebook business page. In this case, you may want to create a blog post full of tips, how-to guide, or even a detailed step-by-step guide on creating a Facebook page.

To get your content seen nowadays, you have to create content that accurately addresses the searchers' intent.

I have previously written an article about the keyword gap, this may help you in better understanding the gaps between your keyword strategy and your competitors: Keyword Gap Analysis – Tips for greater content
Step 3: Spy on competitors' SERP features
Any website ranking for a SERP feature has an opportunity to get more clicks from organic search results. Of course, the more people you bring in to your website, the higher are your chances of converting more of those visitors into your actual clients.

We are going to use the same Ranking Intelligence tool to find your competitor's featured snippets.

Previously, we were looking at the 'Top 100' to identify all the keywords that are ranking at the top 100 positions on SERP.

Since we want to check if the site has any SERP features, simply head to the section in the table.


BiQ will reveal any and all keywords that your competitor currently rank for and have any SERP features.

For example, the keyword below has a featured snippet and your competitor doesn't own them but they are already ranking at the first position. Yes, that's an opportunity for you!

If you click the purple icon next to the keyword, it will lead you to the search results page and you will see which site owns the snippet.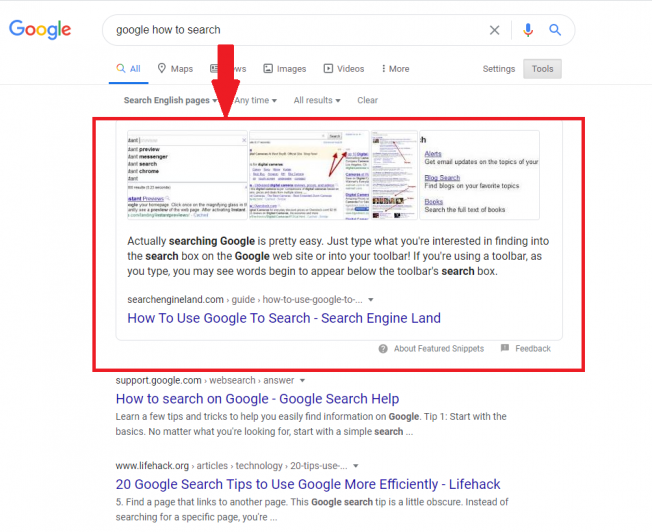 Analyze the content of that particular site and what is lacking in yours and your competitor's site. Since there are four different types of featured snippets, and other SERP features, check which your competitor is using that gain Google's favors and you may want to mimic them.

But first things first, if your page is not ranking on the first page of SERPs yet, it will be almost impossible to grab the featured snippet.

Thus, make sure to optimize your page to rank on the first page of SERPs beforehand so that you can win over the snippet.
Step 4: Analyze competitors' content performance
Understanding your competitors' content strategies will give you insight into the type of content their audience responds to. Most importantly, you will also be able to identify what is missing from your own content strategy.

Let's use the previous example; 'create a Facebook business page'. Enter the same URL and keyword on BiQ's Content Intelligence.


You will see a comprehensive analysis of your competitor's content performance.

Does the content have a high Word Vector score? Or is their keyword density high? Or is their fundamental SEO performing well?

These are some of the questions to answer if you want to understand why their page is ranking.
When you are able to answer those questions, eventually, you will know how to improve the performance of your pages too.

You may want to look further than just your competitor's page. Go to the search results and input the same keyword in the search box. Analyze the rest of the pages that are ranking on the first page too.

Repeat the same content analysis process to get further insights into how you can improve your existing content.
Step 5: Identify areas for improvement and opportunities
Once you have finished collecting the data, it's time to put them into action. You want to look for a few things.
Create your keyword list
From step 2 above, you must now have a list of keywords you want to rank for. This list will be the foundation for your content strategy. Put the information to good use and start to take action.
Featured snippet opportunities
A featured snippet gets a 2X higher click-through rate than the rest on the search results. Hence, you may want to export the featured snippet opportunities list from the Rank Intelligence and go get it for your website.
Content Optimization
The content analysis from Content Intelligence should be able to guide you on how to strengthen your optimization efforts. Learn what your competitor did well and implement them in your strategy. Above all, always keep your audience in mind when writing and optimizing your content.

Remember this: SEO is not a one-and-done deal. For SEO competitor analysis to be truly successful, it must be done continuously.

All the data you have collected may only be good for a year, month, or even day. This is because of your competitors, too, who won't stop to improve their SEO strategy. Again, it's a challenging competition, but it will be worth the effort that you have put on at the end of the day.

Make use of the BiQ's Rank Tracking reporting to stay informed of how your competitors are performing.

It's easy to track yours and your competitors' performance over time using the Rank Tracking. Simply create a profile and you will see the performance overview at a quick glance.
Any changes to the ranking performance will tell you a lot of information. A massive increase in the ranking may indicate your competitors are working on improving their strategy.

Other than tracking your competitors' ranking, you should also track your own performance. This important action gives insight into how your hard work and effort are performing.

You should be able to see positive results on your BiQ's dashboard once you have done your optimization accordingly. But if your first strategy doesn't work, why stop? Do A/B testing and run qualitative and quantitative research to find out why they don't work in the first place.

Set new goals according to insights coming in, and track and adjust as you go.
Takeaway
It is clear that an SEO competitor analysis is a must if you have a website and want to rank higher. Also, it should be done at regular intervals.
Here is a recap of the 5-step SEO competitor analysis:
Step 1: Identify your potential competitors
Step 2: Spy on competitors' ranking keywords
Step 3: Spy on competitors' featured snippets
Step 4: Analyze competitors' content performance
Step 5: Identify areas for improvement and opportunities

By following the steps above, you should be able to discover lots of opportunities to improve your site rankings.
The data that you acquire from the competitive analysis will form the backbone of your SEO strategy, and it will help greatly in making the next move. Of course, it is best to speed up the process with the help of advanced tools that can simplify the process.
If you wanted to continue to learn more about how you can use Rank Intelligence to spy on your competitors' ranking, you could check out the blog post and take a more detailed look at the Top 100 position and Position Zero.
I hope that this article helps you conduct an SEO competitor analysis effectively. If you have any questions about the SEO competitive analysis or have any tips you would like to share with me, please do not hesitate to leave a comment below!