What are advanced SEO techniques? Here are 15 advanced SEO techniques you can use to improve your search rankings.
We have compiled a list of advanced SEO techniques that we used in BiQ and are proven to work. Check it out below.
Once you've mastered beginner SEO tips and strategies, it's time to try some advanced SEO techniques.
If you're new to SEO, it's worth noting that there are 3 SEO types you can use to improve your search engine rankings: on-page SEO, off-page SEO, and technical SEO.
Advanced SEO techniques fall anywhere within these three SEO methods but require a certain degree of expert knowledge.
SEO experts use advanced SEO techniques to rank before their competitors. These techniques are a bit demanding and somewhat complicated for the average blogger or marketer.
However, this isn't to say advanced SEO strategies are difficult, only that you'll need to practice regularly to get everything right.
Below are the 15 advanced SEO techniques for bloggers, digital marketers, and business owners.
15 Actionable Advanced SEO Techniques
1. Discover untapped keyword opportunities
Keywords are an integral part of SEO, and every top site out there is ranking for a specific set of keywords. In fact, SEO stats show 40% of website traffic starts with a search query.
However, most people don't conduct proper keyword research, so they just pick a couple of phrases, add to their content, and expect to rank on the first Google pages. Sadly, it doesn't always work out this way.
Tip: Use BiQ's rank intelligence to find low hanging fruit among your keywords
You first need to check the keywords that your site already ranks for, using the Rank Intelligence.

Once you've entered the domain name and the country your audience is based, you'll get valuable insights such as your ranking keywords and pages.

You might notice some are performing quite well but have not reached their visibility potential yet. In other words, their ranks can still be improved.
The easiest way to spot the untapped keyword opportunities is to filter the result to see the keywords ranging from 4th to 10th position, with a minimum of 1,000 searches.
Once you are done going through the first page, it is also worthwhile to check out the keywords ranking on the second page. With some optimization, you might see them moving to the first page, thus significantly improving their visibility.
2. Steal the best keywords from competitors
Analyzing your competitors' keywords is one of the advanced keyword techniques you should use to stay competitive in your niche.
Using our ranking tool, you can comfortably scan your competitors' sites, sort their ranking keywords and proceed to analyze them for valuable ranking metrics.
Tip: Use BiQ's Rank Intelligence to monitor competitor's ranking keywords
You'll start by mapping out your closest competitors in your niche. Copy their domain name and paste it on the Rank Intelligence.
You'll then create a new profile and set the ranking parameters based on what you want. For example, steal your competitor's keywords ranking in the top 10 and with a search volume of at least 100.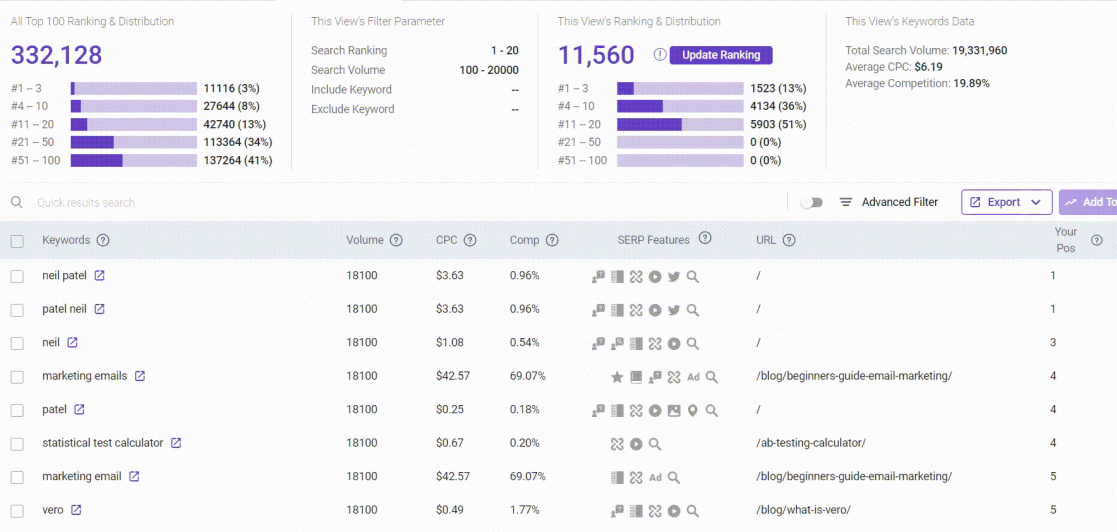 Once you click "create view," you'll have valuable insights that you can export as a CSV file.
You can also do the same for your own site, then compare and contrast the two data. Now you can choose the high volume, low competition keywords to steal from your competitors.
As one of the advanced SEO techniques, stealing keywords from your competitors will help you rank better for your niche's most searched keywords. This boosts your online visibility, traffic, and, potentially, the conversion rates.
3. Build a keyword map using competitors' data
Keyword mapping is an advanced SEO technique to determine keywords to assign to specific pages on your site.
To make sure your keyword mapping is extensive, choose a competitor ranking on top of the search engines and use it as a guide.
Tip: Use BiQ's Rank Intelligence to build a keyword map with competitor's data
Once you've identified your competitor, copy the website URL, and then create a new profile in the Rank Intelligence.
With the results you get, filter the keywords based on the URL. You'll then see the keywords clumped together by Google, which means they belong to one keyword map and are related.
The more extensive your keyword map is, the stronger Google will associate your website with the keyword map's main keyword.
Of all the advanced SEO techniques, keyword mapping gives you an insight into what keywords your competitor is ranking for on a particular page. This way, you can quickly build your keyword relevancy and outrank them over time.
NB: After sorting out the keywords, you can map the keywords to the buyer's journey.
This allows you to align your content to the audience's needs and offer more value through your content.
4. Rank for multiple keywords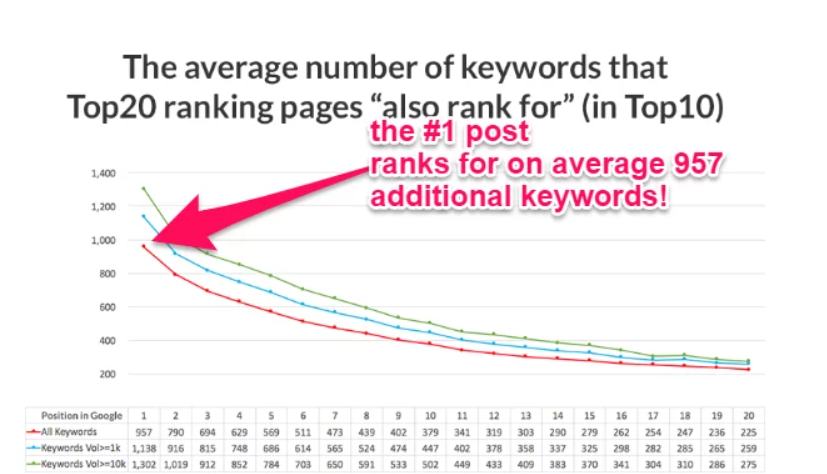 Optimizing your content for the search engines is crucial since 75% of users do not click past the first page on SERPs. Ranking for multiple keywords is one of the on-page SEO techniques you need to prioritize.
To avoid hurting your SEO efforts, always use the targeted keywords moderately. Keyword stuffing will make your content appear unnatural and irrelevant to the audience.
Like the other advanced SEO techniques, ranking for multiple keywords requires proper keyword research and a more in-depth analysis of what your competitors rank for.
Tip: Use BiQ's Keyword Intelligence to perform an extensive keyword research
Input any keywords into the BiQ's Keyword Intelligence. Then, it'll return with a list of related keywords you can use.
As you might see, all the keywords come with their essential metrics, including keyword volume, trends, competition, type of intent, and SEO value.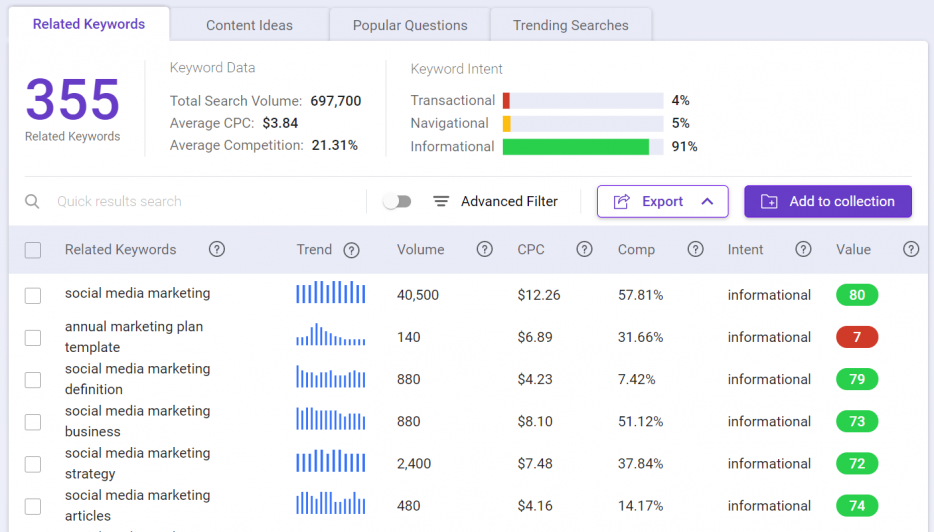 Like most keyword tools, it'll be overwhelming to see a large amount of data. Let alone the decision-making process.
Fortunately, in Keyword Intelligence, you can use the keyword value as a guide to choose which keywords to target.
A high-value keyword means it will bring more traffic to your website at a lower competition.
5. Find and fix keyword cannibalization issues.
Keyword cannibalization occurs when several pages in your site rank for the same keywords, so the search engines like Google cannot tell exactly which page to rank for a particular keyword(s).
And since confusing the search engines isn't good for your site's health, you want to organize the pages and make sure each one is ranking for a set of unique keywords.
To find and fix keyword cannibalization issues, use our BiQ's Rank Intelligence to check all the keywords you are ranking for, then filter the results to see which URLs rank for similar keywords.
If there are any issues, choose to merge one or more similar pages into one comprehensive page or update the pages while sprinkling in related keywords.
6. Build a content strategy based on SEO silos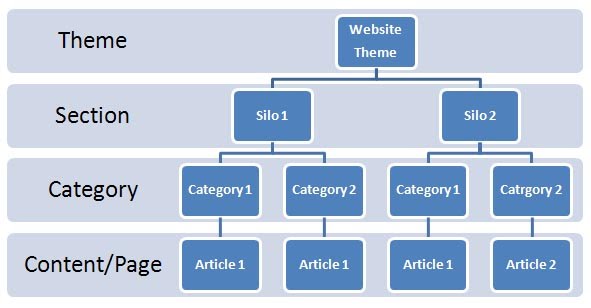 Siloing your SEO content is one of the advanced SEO techniques that most marketers and business owners aren't using yet.
The idea behind SEO silos is to organize your content, so it's easy for your audience to read and extract valuable information. It also clarifies the search engines to understand the site better, hence giving it a better ranking.
To create SEO silos, you need to wisely choose your SEO topics before systematically organizing them, so every piece of content falls under its rightful place.
We've covered other advanced SEO techniques on structuring your content and pages in our SEO silo guide.
7. Create share-worthy content
Most people assume that with advanced SEO techniques, content isn't that important. Well, this is a big lie. Google pays keen attention to the value and relevancy of every content.
In short, quality content won't lose its significance in the foreseeable future. And if you were to neglect content in your search for advanced SEO techniques, then you were probably doing it wrong.
A share-worthy piece of content is fun, engaging, and informative. Research shows that 43% of site visitors skim blog posts to see if they meet their expectations – before deciding whether to read or move to the next site.
The best SEO techniques prioritize content over everything else, which is true whether you're browsing some advanced SEO techniques or some beginner tips.
Tip: Use BiQ's Content Intelligence to understand what's essential to cover
The AI-powered content tool will give you a breakdown of your keyword in terms of usage, similar keywords, and example sentences.

They should be the go-to-source that shapes your article as you write. For example, if you're writing about "unrealistic standards," you can get similar keywords like media standards trust, what is media ethics, etc.

In other words, you can't hope to satisfy searchers who are looking for unrealistic standards without writing about these similar keywords.
8. Improve content relevancy based on top ranking content
Content optimization is one of the advanced SEO techniques where you go back to your published content and gauge the performance based on some indicators: such as readability, keyword density, word count, and semantic density.
Tip: Use BiQ's Content Intelligence to improve your content relevancy
BiQ proprietary feature, WordVector, tells you the performance of your content against the Top 10 SERP content.
The best part about this feature is that it can tell you exactly which paragraph has lesser relevance to the overall content.
Under the "Edit Needed" tab are critical errors that need to be corrected. The suggestion given will also guide you as you optimize your content.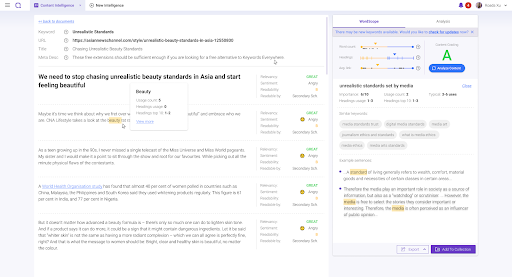 You can then dive deeper into the paragraph and better understand how to improve your target keyword's relevancy.
9. Set a schedule to do content optimization regularly
Your content should be optimized periodically – i.e., checking for potential loopholes and taking the necessary actions.
You can also use this opportunity to incorporate the latest SEO trends and monitor your advanced SEO techniques to see what's working and not.
Tip: Use BiQ's Rank Tracking to monitor your site performance
BiQ's Rank Tracking allows you to create a rank tracking profile for your site. This way, you can monitor the keyword's daily rankings.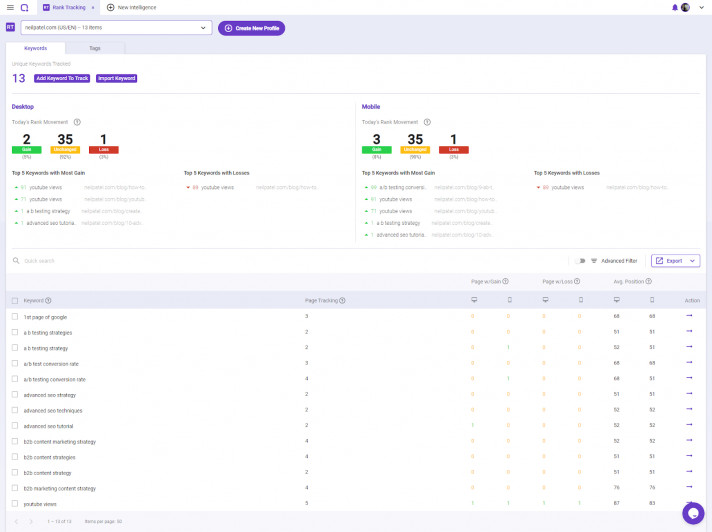 10. Use advanced internal deep linking.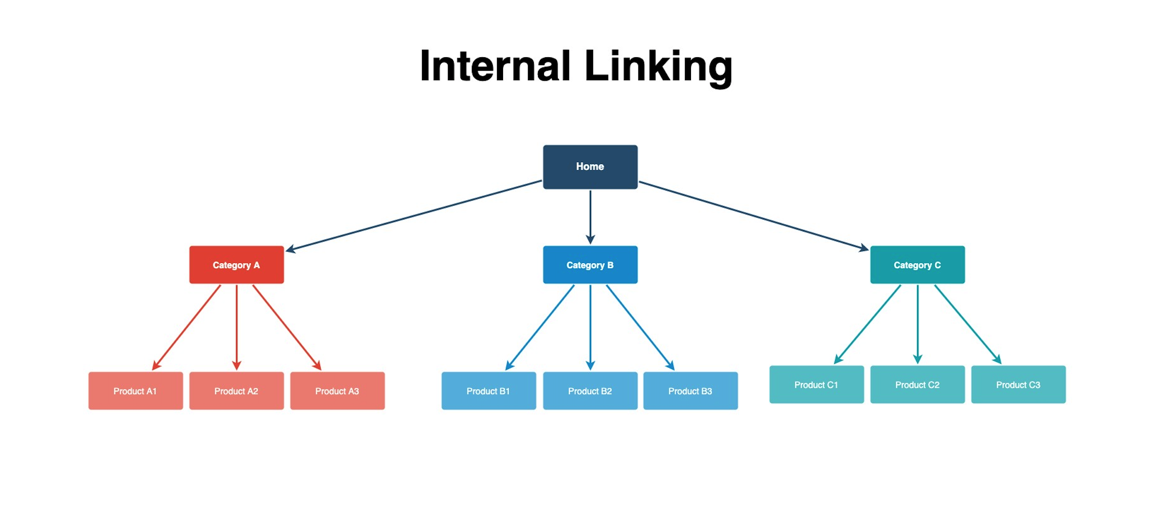 Before advancing to Off-page SEO techniques, such as link building, you want to maximize the power of internal links.
The idea behind the internal linking is to offer more value to your readers by redirecting them to pages with more resources or relevant content within your site.
Compared to the other advanced SEO techniques in the market, internal linking is less utilized as most people prioritize backlinks. We've covered more about this search engine optimization technique in our internal linking guide.
It's worth noting that your advanced SEO techniques, such as internal deep-linking, will work best if paired with other strategies such as quality content, use of multiple keywords, and keyword mapping.
11. Send link juice to lower-ranked pages.
If you want to move one of your pages from page two or three to page one of the search engine results pages, these are a couple of advanced SEO techniques you can use.
Update your post – add new links, statistics, and content.
Share it across your social media channels – Once again, share your content to drive new traffic.
Link to the post from newer posts – This works well if your recent posts are relevant to the content you are linking to.
While executing these advanced SEO techniques, it's essential always to have your readers in mind. Try as much as possible to offer more value and optimize your pages to meet the highest quality standards.
12. Make sure your website is responsive.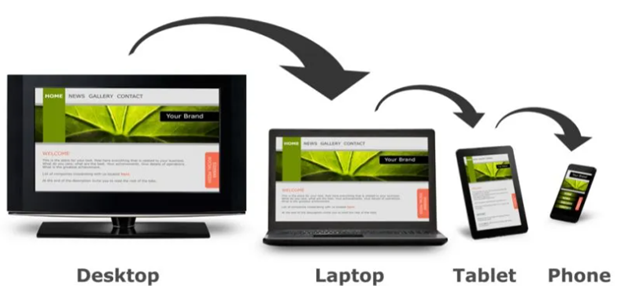 Website responsiveness is among the advanced SEO techniques that determine the user experience.
A responsive web design comprises of three key elements:
Fluid-grid layout: Here, the design features a flexible grid that resizes automatically according to the device's screen size.
Flexible image sizes and texts: The texts should be scalable, and the media should change to fit the display screen.
CSS media queries: What media queries do, is allow content rendering to comfortably adapt to different conditions such as browser viewport width and screen resolution. This is one of the advanced SEO techniques that are a bit technical for the average site owner.
All the techniques above are key technologies of a responsive website design.
Remember, your advanced SEO techniques will make no impact if your site is poorly designed. In fact, 94% of your site visitors will not trust your site if it's difficult to navigate.
13. Optimize for mobile
Now that your site is responsive, the next step is to optimize it for mobile users.
Research shows 60% of daily searches are done on mobile, and 77% of adults in the United States own smartphones.
Optimizing your mobile site is one of the advanced SEO techniques you should prioritize to boost your site's user experience and rank on the search engines. But how do you achieve this?
Optimize titles and meta descriptions: since your site visitors will be using smaller screens, try to be as concise as possible without compromising the content quality.
Optimize for local search: Include your business name, state, location, phone number, and address in the Metadata.
Use HTML5 to create special effects instead of flash: Some phones might not have the flash plugin, which will hurt the user experience.
A majority of the advanced SEO techniques above might seem complicated at first, but with constant practice, you'll have a better understanding of each. You can also choose to work with an SEO expert if you don't have the time to learn all the tactics on your own.
That said, mobile SEO is a broad discipline with many critical optimization tactics. We've covered the other advanced SEO techniques in our mobile SEO optimization guide.
14. Optimize for speed, both website, and mobile
Slow loading speeds result in a high bounce rate, which hurts the user experience and your ultimate search engine rankings.
For a long time, SEO experts have found ways to boost site speed without compromising the content's type and quality.
As one of the advanced SEO techniques, we are going to discuss site speed optimization with four critical tactics in mind:
Compress images – You can do this by resizing your images (anything below 350 KB is excellent) and picking the right format, i.e., png and jpg.
Minify code – a process of removing redundant data in your code without affecting the code's integrity. This is one of the advanced SEO techniques best executed with the help of a web developer.
Decrease HTTP requests – You can do this by combining CSS and JavaScript, removing unneeded images, disabling unnecessary plugins, and reducing external scripts.
Lower the server response time – This can be achieved by optimizing your database, choosing the right web server, reducing bloat, and optimizing your web servers.
While most of these advanced SEO techniques can be done by anyone who understands web design and SEO, it's advisable to seek help from an expert. But if you wish to try it yourself, you may check out our guide on making your mobile site load faster.
15. Bonus: Get more SERP space
Besides ranking for specific keywords, you can also optimize your content to rank for a featured snippet. This is one of the advanced SEO techniques that will put you on top of the page and triples your SERP Real Estate for that specific keyword.
SERP Real Estate means the number of pixels you control on Google's first page. The screenshot below shows a common 100px SERP space vs. a 300px SERP space (if you rank for a featured snippet).
These are a few advanced SEO techniques you can use to rank for featured snippets:
Find featured snippets opportunities – Such as the "People Also Ask" questions.
Optimize for a specific featured snippet – stay within the optimal word count, use headers, use high-quality images and videos, use numbered lists if relevant, etc.
Improve your Google rankings
Optimize your page for long-tail keywords
Tip: Use BiQ's Rank Intelligence to discover SERP feature opportunities
Rather than checking for SERP feature opportunities manually, you can easily use Rank Intelligence to see if your ranking keywords have any SERP feature opportunities.
For more advanced SEO techniques on ranking for featured snippets, refer to our Google Featured snippet guide.
Conclusion
I hope you find these advanced SEO techniques interesting and useful.
All the advanced SEO techniques discussed above aren't an overnight success. You should be ready to put in the work and have the patience to see your page rise the search engine results pages.
And now I'd like to hear from you.
Which technique are you going to try first? Or do you have any questions?
Feel free to leave a comment below.