SEO silos or siloing your content have been gaining traction slowly in recent years. You might have come across the term for the first time, but what exactly is an SEO silo?
Should you also be siloing your content? Why create an SEO silo? These are the common questions that many website owners have as they explore search engine optimization.
First, you must understand this.
Google is essentially an information system that helps us find the most relevant answer to our questions, and how it decides is by awarding the top keyword rankings to the website that provides the most relevant thematic fit and the page that matches the search intent.
More often than not, websites lack planning and end up just publishing content and information from a wide array of unrelated topics. These websites often suffer from lower rankings.
After all, we wouldn't see a food blog featured in the search results for a query like "SEO". even if it does have a detailed post about how it used search engine optimization to improve its food blog.
So how can we avoid this? Siloing a website will help provide more clarity to search engines regarding a website's subject relevance.
Besides, it helps build a strong thematic foundation for the website, which allows it to not only answer specific keyword phrases but keyword groups under the same theme which is the answer to higher search rankings.
Especially now when it becomes necessary to have a great website content strategy, and there is no better way to do it than with an SEO silo.
So, what is SEO silo, and how is it essential in building a great website and content strategy? Read on to get a comprehensive overview of the SEO silo and how you can use this advanced SEO method to develop your website architecture or build a successful content strategy!
What is an SEO silo?
SEO silo is the idea of organizing your website and content in a hierarchical structure. It is an effective way of grouping your content to help search engines and your web visitors understand your content better.
Here's a quick visual display of an SEO silo:
Each color will represent content groupings that are thematically related and interlinked. By siloing your website, it ensures that you are grouping related pages and content within your website which dramatically helps both users and search engines interact with your site.
An SEO silo is not a category
Then again, many often mistake an SEO silo as creating categories for your website or content but that's not the case. Content siloing, for example, is based on creating a repository of content that can only be grouped under one specific silo, and not across multiple categories.
As an example, let's say you owned a vegan food website, and you regularly post content on organic food recipes. You could set up your navigation in such a way that your recipes are based on their main ingredient or the time of the day.
Let's say you decide to base it on breakfast, lunch, and dinner ideas, all the recipes related to breakfast will be in one silo while all pages related to lunch will be in yet another silo.
Why are Silo Structures Important?
A silo structure ensures that your website's content is logically organized. It comprises a hierarchy of content divided into various topics and subtopics.
You can interpret this as a website that contains one 10X content targeting the main short tail keyword like "vegan breakfast recipes" and furthermore supported by relevant content targeting related long-tail keywords like "vegan breakfast recipes for weight loss".
So, why are silo structures important for your website SEO?
1. Good User Experience
User experience can break or make your content marketing efforts. By adopting an SEO silo architecture, you are building a website that will give users easier navigation across your pages and content.
Besides, siloing your content directs your visitor access to related content, keeping your visitors longer on the site that is a good signal to search engines.
2. Makes Your Website More Relevant
Search engines determine the most relevant result by examining indexed web pages and the overall website structure. By creating a content silo, it ensures that your content creation stays aligned with your website's theme.
Using an SEO silo will require strategic content planning and you will know in advance what content you need to create. This focus on keyword relevancy and context will in turn better position your website to rank high for keywords.
Are you convinced? If yes, now it's time to get into action.
3 Types of SEO Silos
There are three types of SEO silos, namely organizational, physical, and virtual silos.
1. Physical silos
Physical silos are built through planning the directory structure of your website. For example, using appropriate target keywords for creating your URL address.
Using our vegan website example again, we can create a physical URL directory of "www.example.com/vegan-recipes-for -breakfast" targeting our silo for the search term  "vegan recipes for breakfast. This creates the theme of the site and becomes the thematic content for the group of pages or content that will be linked to it. 
2. Virtual silos
Virtual silos are related to the search engine process of indexing content. This structure involves using internal linking to build the structure of the site and lets search engines know how related different pages of your website are.
This helps separate different silos, as well as strengthen specific landing pages. Such a structure hints to search engine bots that given keywords are related to particular pages and that they should be connected.
3. Organizational silos
Organizational silos help search engines understand the context of each page. When appropriately used, organizational silos ensure your site ranks for different topics and subtopics. Given their ability to place website pages where it is easy to find them, organizational silos are more useful for eCommerce content strategy.
How to Start Building Your SEO Silo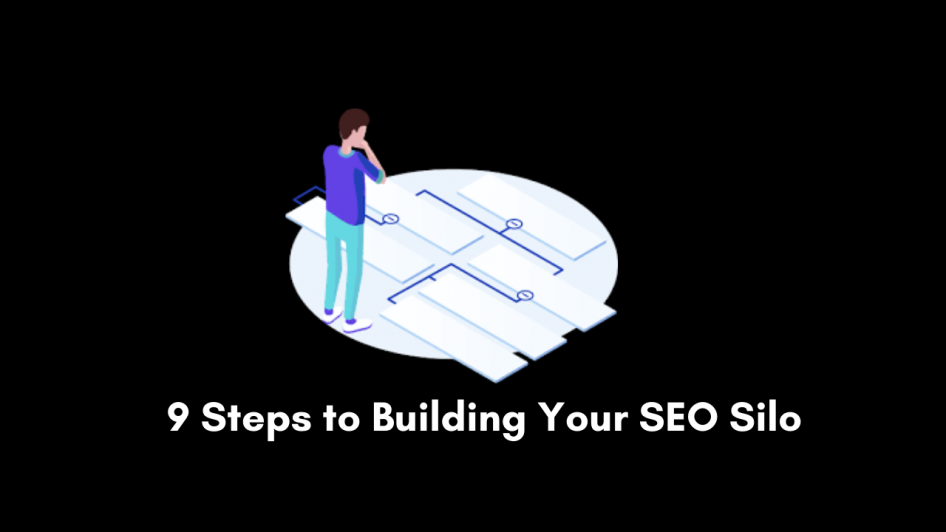 1. Determine the Core Focus of your Website
The focus of your website should inform your content strategy. Even before you worry about SEO silos, establishing your website theme should be your main priority.
So, how do you determine the theme?
Explore your website for subject themes that are ranking extremely well and any that are closely related to your business. Also, try positioning yourself in your customers' shoes and determine what search queries you would probably use. This approach helps you develop a theme that you can relate to your business and the target audience.
2. Choose Your Silo Strategy
Now that you have an idea about your theme, the next step should be choosing the most appropriate silo strategy. Decide how to implement your website structure that helps organizes the themes of your website,
You can opt to go for physical and virtual siloing, or just physical siloing. However, the choice of the silo strategy you choose should align with your line of business. For content creation, we generally advise using both physical and virtual siloing.
3. Organize Your Navigation to Reflect Your Topics
One of the critical aspects of content marketing success is ensuring that your website has an improved user experience. Organizing your website such that web visitors have an easy time finding what they want increases your probability of making a sale.
Focus on your navigation to ensure a clear reflection of your primary topics. This helps web visitors to engage with your content easily. When creating this, always target short-tail keywords, for example, if you are in digital marketing, your folders could look like this:
www.example.com/web-design/
www.example.com/seo/
www.example.com/content-marketing/
After you have created your folders this way, the next step is to match each folder with the appropriate page.
4. Do Deep Keyword Research in Your Niche
Creating top-quality content is the cornerstone of compelling content and SEO marketing. While creating great content is vital in your marketing, you must ensure that your content is based on the right keywords for each silo.
With in-depth keyword research, you gain insights into creating great content around terms that your audience uses more often when defining their problems and identifying solutions for various issues affecting them.
To find the right keywords to target, you can use our tool BiQ!. Sign up for a free account with us, then head over to BiQ's Keyword Research.
Just type in your topic keywords like "web design", and the tool will let you uncover related keywords. Next, filter to only show keywords with informational intent and sort them by keyword volume.

Targeting these keywords in your content will help strengthen your silo.
By organizing your keywords based on a particular theme, building individual hierarchical pages, and structuring the content logically, this will help your website rank high for the keyword groups under web design.
5. Create Quality Content
But of course, every business owner wishes to rank their website high on search engines, and this can only be achieved if you create high-quality, winning content.
For this, you will need to use a keyword research tool to understand more about your target keyword, as well as a content analyzer which we both have in BiQ.
Let's say we decided to target the keyword "how to learn web designing". Search the term in BiQ's Keyword Intelligence and toggle to "Popular Questions", these are the questions your post should answer and serve as the headings of your content.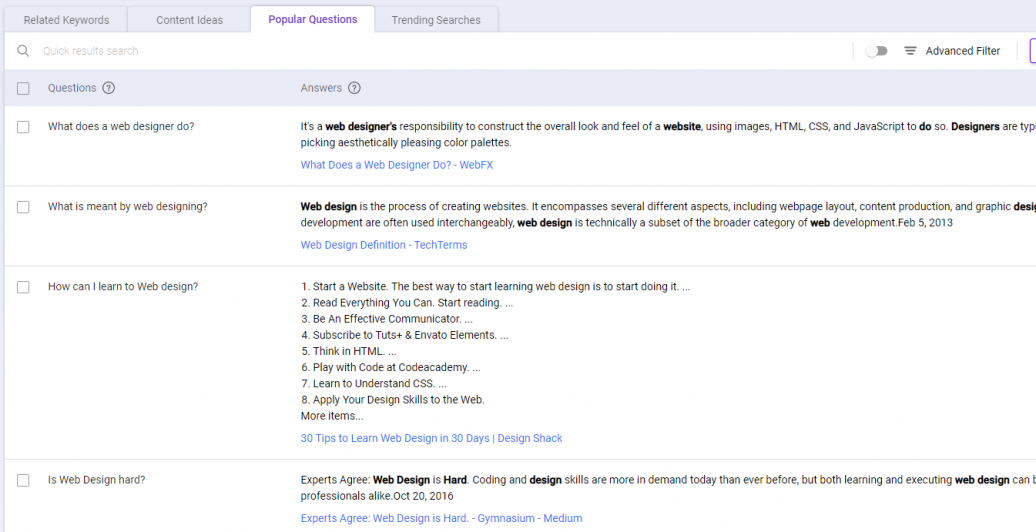 Write the post with the aim to answer these questions, and optimize it using related keywords which you can find back in the related keyword tabs or bolded in the popular questions.
While we want to keep our post keyword-rich, make sure to avoid keyword spamming and provide more direct answers. Also, make sure that the post speaks about your brands and services to build loyal customers.
To learn more about creating winning content and optimizing your content SEO, you can read our more detailed post here: How to Optimize for Content SEO.
Once you publish your content, you can also check if your content is optimized for your keyword by using BiQ's Content Intelligence.
All you need is to paste your URL and target keyword, and our Content Intelligence will help you analyze your full content and identify parts you should further optimize.

Just so you know, BiQ's Content Intelligence is pretty neat. It compares your content to the Top ranking SERP results for your keyword and you will know exactly how your content stands and where to improve.
6. Create a Robust Internal Linking Structure
A high percentage of content marketers put a lot of effort into gaining external links since they are a sign of authority.
This does not mean that you neglect internal links. Such links assist search engine crawlers in establishing how your pages are connected and are the reason why SEO silos work wonders.
Where relevant, make sure that all the silos have links between pages as this provides the search engines with critical information to index and rank your pages. Having a strong linking structure reduces your website's bounce rate because web visitors find value in your content.
A quick tip for internal linking is to always make sure you anchor your link on related target keywords. Once again, you can refer to the related keywords in BiQ and add these keywords to your post.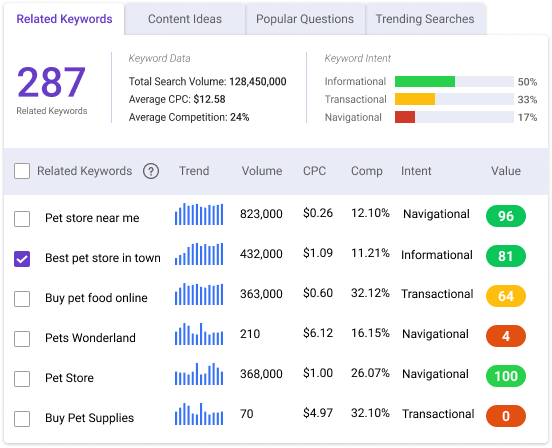 7. Go Beyond Just Creating SEO Silos
Building useful SEO silos forms a significant point to start and grow your marketing efforts. If you get the right structure from the start, you will find it easy to implement other marketing strategy aspects.
If your content strategy is to succeed, then you need to look past SEO silos.
For instance, are you considerate about your customers' interests, or have you considered other ways of boosting your website's rank? The success of your SEO siloing process depends entirely on your input and the additional strategies you put in place.
Always promote your content and get it out there as well.
8. Optimize Your Content and Continue Adding Relevant Content
Reorganizing your site's pages isn't the end of creating better silos for search engine optimization.
Your focus should be on ensuring that your silo topics are covered comprehensively. Go over all the pages, establish any missing information, and use such gaps to build new pages.
Even with the new page ideas, you will need to carry out further keyword research to create content that ranks high, attracts quality traffic, and converts prospects into loyal customers.
For evergreen content, always make sure that they are updated regularly and remains relevant.
9. Draw out your SEO Silos
SEO siloing can be a tedious task. Given the numerous steps involved, you should document all your siloing information.
It helps you keep track of what you have done so far while acting as a point of reference for gaps and new ideas. And that's it!
Implement SEO Silo Structures for Better SEO
Improved user experience is an essential element of a strong content strategy.
Organizing your website's content not only enhances this experience but also boosts the efficiency of your site. When implemented well, SEO siloing adds clarity to your content marketing strategy, making it easy to create relevant content.
So what's your experience with SEO silos? Are there any tips we missed, share your thoughts down in the comment section below!