There are specific ways you should take if you want to advertise on Facebook effectively. Here are 12 Facebook Ads Best Practices to reach out to the right audience.
These Facebook Ads Best Practices will help you advertise with maximum reach.
Did you know that over 65% of United States adults use Facebook? Not only does this provide content marketers an excellent opportunity to reach readers and target audiences swiftly, but it also allows them to track and monitor their Ads' success.
Not to mention the range of Facebook ad types you can use to promote your brand and products/services. You can reach a hundred thousand leads through Facebook Ads best practices to boost your overall marketing campaign.
As of writing this, Facebook boasts 2.7+ billion monthly active users. It's the largest social network worldwide, and with a huge margin at that.
With so many monthly active users, it makes sense to use Facebook Ads to cast an expansively wide net and reach new audiences with the tap of a button. Your target audience is already spending several hours on Facebook, ripe, and waiting for you to pitch your brand and products/services to them.
Types of Facebook Ads
Since its inception, Facebook's business platform has grown immensely to become more sophisticated than anyone could have visualized. Marketers have more Facebook Ads options they can use to reach new audiences every day. It's also the perfect platform to retarget your previous site visitors to revisit your brand.
In this post, you'll learn more about the best practices Facebook Ads to consider and their significance for your brand.
With that, here are the top Facebook Ads types to get the most engagement from your target audience:
1. Photo Ad
Photo Ads formats have been on Facebook for the longest time. It's also one of the most common and successful Facebook Ad formats on the platform. The best thing about photo Ads is that they appear seamlessly on your target audiences' news feeds. They also resemble other content posts, making them easier to relate to.
One of Facebook Ads creative best practices when using photo Ads is in links to your landing page or article and the call-to-action.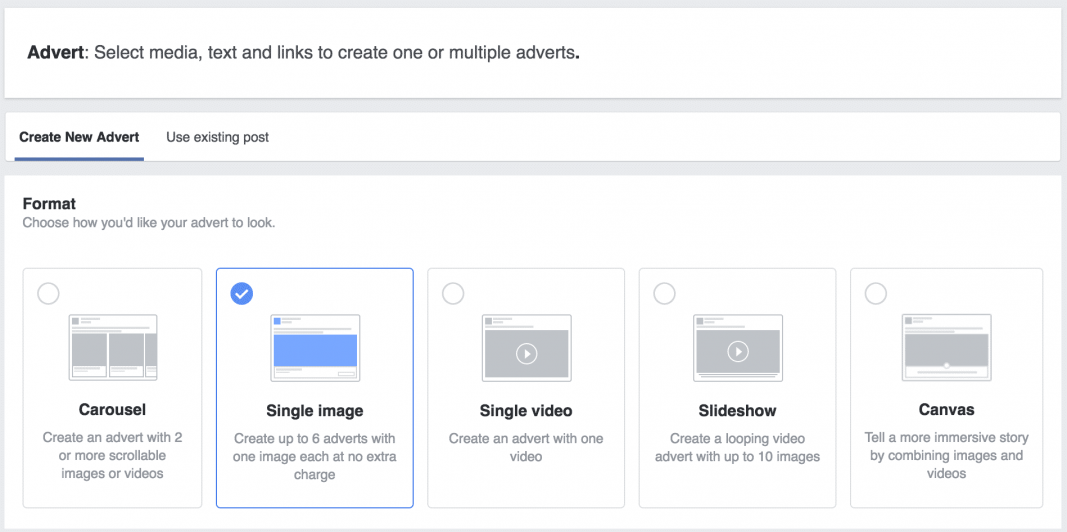 Photo Ads are usually very versatile, making them an excellent option for brands and content creators who're just starting out with Facebook Ads. These Ads are also very easy to create, thereby allowing you to drive more valuable traffic to your website.
2. Video Ad
Video Ads are also very popular on Facebook and have proved to be very efficient at driving user engagement and conversions.
When you picture that brand associations increase by over 139% with engaging video Ads, and 90% of online users claim that videos determine their purchasing decisions, it makes Facebook video Ads even more enticing.
There are six video Ad types you can invest in on this platform. They include:
Short Videos and GIFs
Video Collections
Instagram Stories
In-stream Videos
Vertical Videos
Video Carousels
The video Ad format also works perfectly for engagement since videos auto-play on the platform when users scroll down your page. When you play the right video to the right target audience, you'll definitely grab their attention. Ideally, you want to stop them scrolling and at least linger on your video, encouraging them to watch it till the end.
Utilizing Facebook's video ad is an excellent strategy to draw your audience to your business. Maximize its use.
3. Stories Ad
If you're an avid Facebook user, then you've probably stumbled across the Stories Ads. While it's one of the newest content types rolled out by Facebook, it has gained a lot of traction among users. This makes it yet another excellent advertising tool for marketers looking to boost their social and online presence.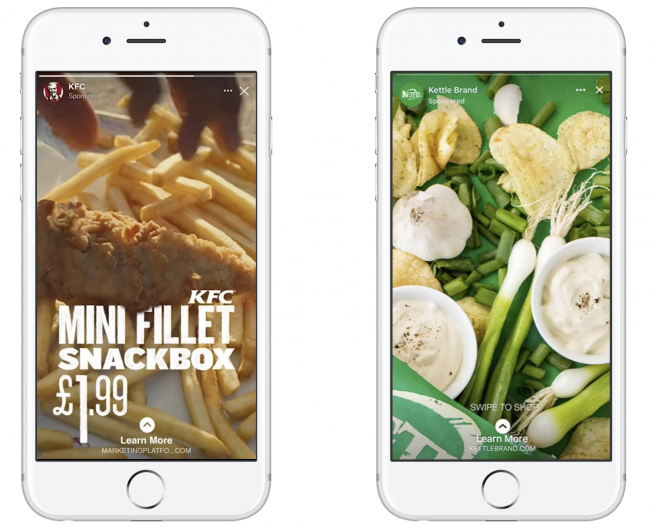 Stories Ads allows users and marketers to post temporary images and clips that last for 24hours for their friends and target audience, respectively, to see. The Stories Ad is also fitted to the dimension of different mobile devices, allowing users to view them from any device.
The best part; you can also view them on your desktop.
Stories Ads can appear as users browse through their friends' Stories clips and images. They appear in the same format inside the stream of stories, making the advertising process seamless.
For this reason, you always want to create Stories Ads that reflect your audiences' candid and entertaining feel. Besides Facebook, you can also place your Stories Ads on Messenger, and Instagram. Over 300 million users visit and use Facebook Stories, making it a dependable platform to reach more people.
4. Carousel Ad
Carousel Ads allow marketers to incorporate more visuals into their advertisement campaigns than other Ad types. These Ads allow marketers to use two to ten cards to display photos and/or videos.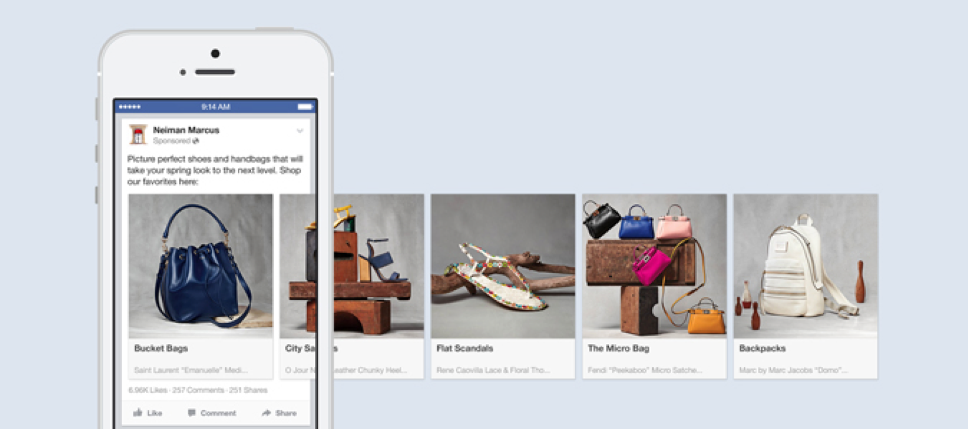 The best part about using Carousel Ads is that each card can serve as an independent advertisement. Therefore, you could show up to 10 different products/services if you wanted. It's as simple as putting each product/service on a card using individualized photos or videos.
Or better yet, you could create one image then break it up across different card sections to form one amazing ad. With each card you use, you can add individual links and CTAs. It's an excellent fit for brands looking to showcase unique products/services in one ad.
12 Facebook Ads Best Practices for Maximum Effect
Despite all the Facebook Ads types mentioned above, enjoying success on Facebook ultimately depends on how you strategize and implement it. But then, this is what you must do if you want your Ads to perform best:
1. Pick an Objective for Your Facebook Ad Campaign
Before you even start typing the words you want to advertise, you'll want to identify the right objective to help maximize your ad engagement. What action are you looking for from your audience once they see your ad?
Facebook provides these three major categories:
Awareness
Consideration
Conversion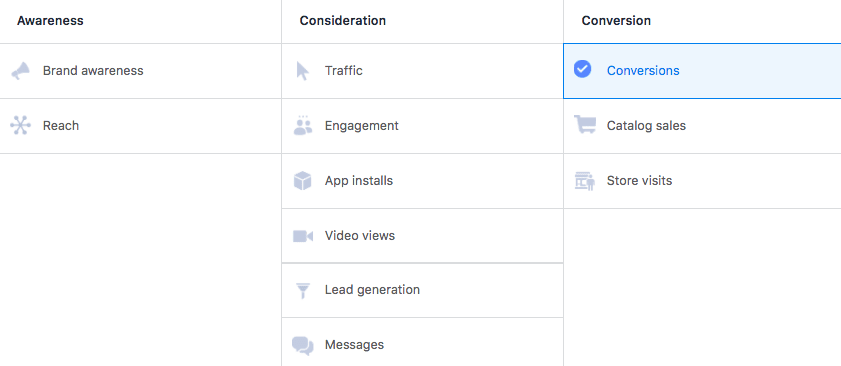 Therefore, if your primary objective is to get your audience to learn about your brand, you'll want to choose an objective in the awareness category. These include reach and brand awareness. With this data, Facebook will show your ads to users who are more likely to recall your ad later (brand awareness). You can also choose to have your brand reach as many different people as possible (reach).
It's vital that you get this step right since Facebook is always changing how it optimizes and delivers ad campaigns based on different objectives.
Different types of creativity also work best when you provide for some objectives. For instance, video Ads are excellent for reaching more people, promoting video views, and engaging your audience.
On the other hand, Carousel Ads offer marketers the ability to show up to 10 photos and videos in one ad, all linking back to their respective landing pages. This makes carousel Ads great for driving even more traffic to your e-commerce site.
2. Leverage Mobile-First Creative
As of writing this, the average daily mobile internet consumption is 155 minutes, well over two hours. That's just incredible. To think that some people may be spending more than 2, 3 or even 4 hours on their handsets daily. Of course, a good portion of that time goes to social media platforms, Facebook being the main culprit.
With statistics like these, you would be hard-pressed not to take advantage of social media right now. There are over 2.7+ billion reasons to optimize your Ads for mobile.
The user experience is crucial for driving more conversions from mobile users.
Take Shutterfly, for instance. The brand uses carousel Ads with three unique links, all directed to promoting the individual categories. This reduces the searching that potential buyers do on their mobile devices.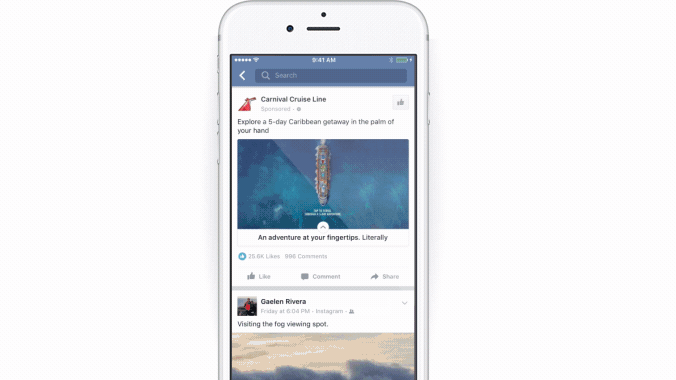 One of the best Facebook Ads best practices is to think through your landing page experience when launching your campaign. Ensure that your landing page is a recognized extension of the Facebook ad. It must also provide the user with the info it promised in the ad. Get these two aspects right, and you'll have even more conversions and engagement with your brand.
Focusing on mobile-first creativity allows you to activate even more users into your marketing funnel.
The secret: make your Facebook Ads look awesome on mobile.
3. Targeted to Your Ideal Audience
When selling your products/services online, it can be tempting to write like you are on stage addressing a conference. However, when creating content, it's always best to write as if you're addressing one person.
This person is your target. Your job is to woo and persuade this person into purchasing your content. Think of yourself as an in-person salesperson. Therefore, you'll want to invest much of your attention in this one person and his/her needs.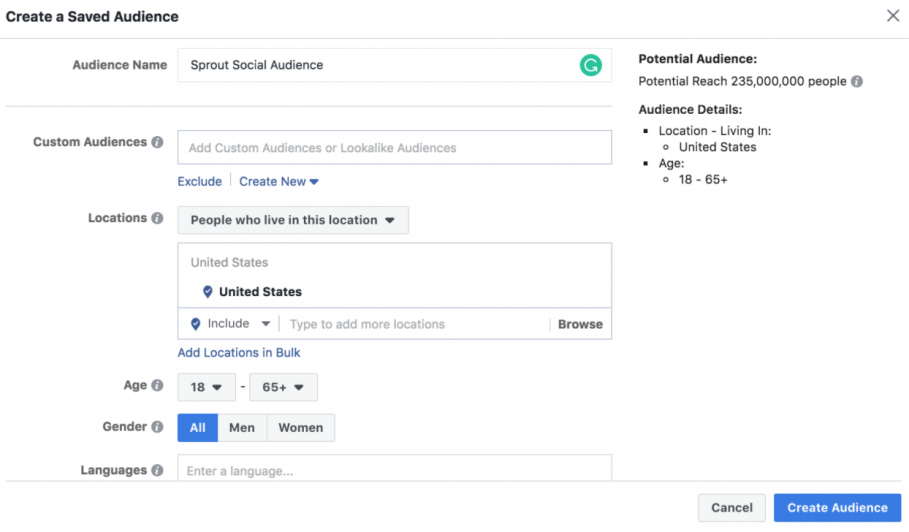 It's vital that you write a copy that speaks volumes to all your potential clients. You can even add a few personas to make your Ads more interesting. You can also narrowly target your audience on Facebook, allowing you to address only people you want to view and interact with your ad.
Write Ads that speak volumes to that specific audience, and he/she will be enticed by them.
4. The Ad is Relevant to the Audience
Your Facebook Ad relevancy is also vital for your advertising success. Remember, you'll be forking out cash whenever an online user views or clicks your ad. Therefore, you cannot afford to show Ads that aren't relevant to your audience. If that's the case, you'll end up wasting time and resources on a campaign strategy that'll not yield any success.
The more relevant your Facebook ad is to your target audience, the higher their engagement, and interaction with your ad will be. Facebook will also treat your Ads more favorably.
5. Plan Your Budget
As much as you'll want to get the right ad content to your target audience, you also want to be mindful of your Facebook Campaign Budget Optimization process. It's always important that you optimize how your campaign uses your budget across different Facebook ad sets.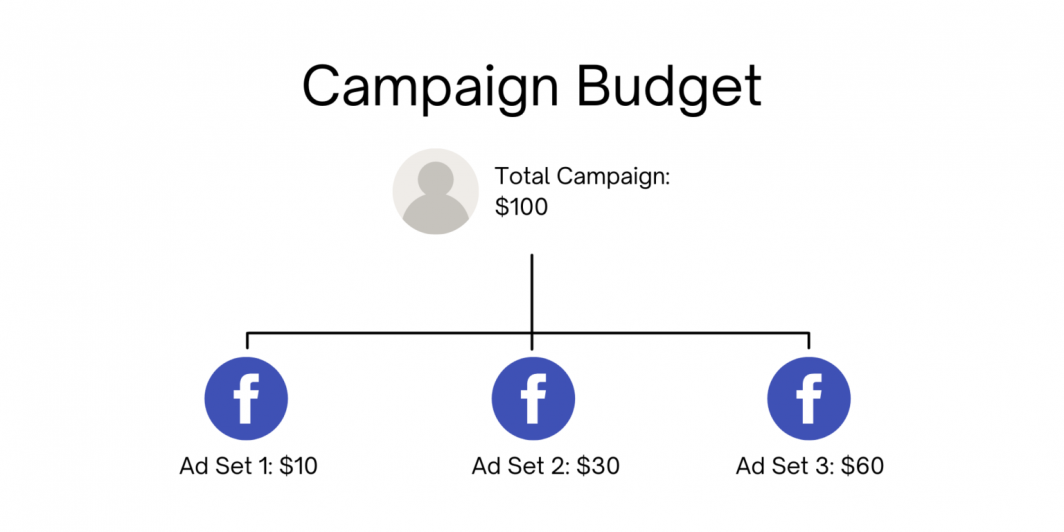 Typically, content marketers set budgets at specific ad set levels. On the other hand, the Campaign Budget Optimization feature in Facebook allows the online platform to continuously and automatically find perfect opportunities to achieve the designated objective across different ad sets.
Basically, you want to tell Facebook how long you want your ads to run on the platform and how much you'd like to spend on each ad.
6. Find Your Best Keywords
Your focus keywords are what potential clients will use to find your Ads. Keywords found in the interests section are based more on things people have put in their profiles. You always want to do keyword research to determine the best keywords your audience may be interested in and use to reach and learn about.
Come BiQ's Keyword Intelligence.
This Keyword Intelligence tool allows you to test your keywords the right way using the Keyword Analyzer. With BiQ Keyword Intelligence, you can gather critical data on keyword volume, competition, trends, related keywords, and more.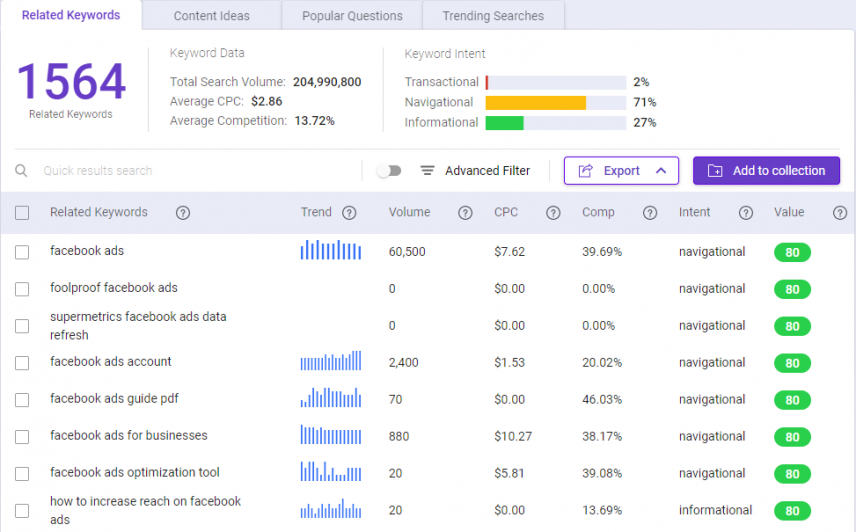 BiQ Keyword Intelligence feature stands out from the rest by helping users determine why their target audiences might search for specific keywords in Google. This allows you to plan your advertisement content in such a way that it meets all your user's needs and preferences.
7. It's Visually Eye-Catching
As earlier mentioned, visual content isn't just treated more favorably on the social platform. It also tends to get more shares and is likely to be remembered more than written content. Therefore, no matter what ad type you plan to create, your image must be more visually appealing.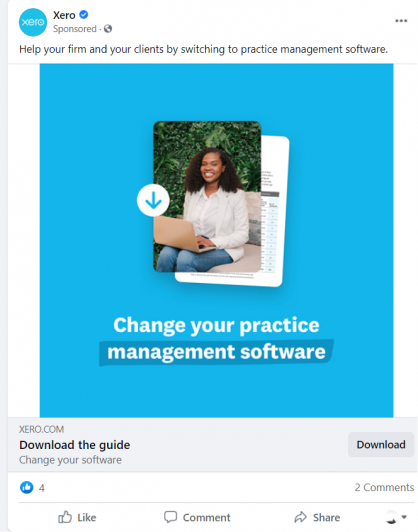 8. Create Great Copies
Most small businesses don't always have a ton of visuals to use in their ad campaigns. Such businesses always scramble to get the right image for their Facebook Ads. Amidst all the confusion, you can easily end up using an ad that doesn't go together with your copy.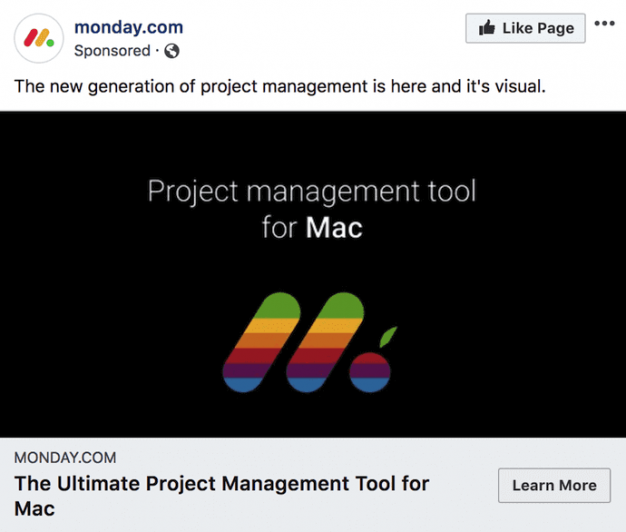 This can present a jarring experience and possibly confuse your target audience even more. They'll wonder what your ad copy is actually advertising and will be less likely to click it.
In other words, your ad will have been wasted.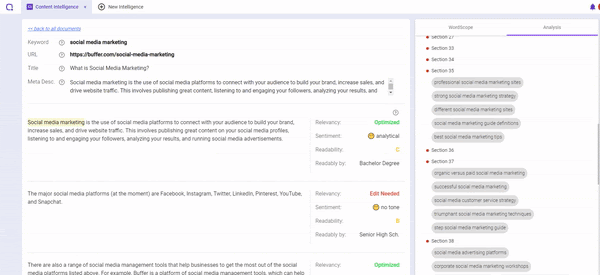 BiQ Content Intelligence is an excellent tool that will help you create, edit, and optimize great content copies specifically for your Facebook ad. Content Intelligence allows you to establish SEO-friendly content-driven strategies that allow you to create and edit the copy of your ads in real-time.
9. Include an Enticing Value Proposition
As with all content types, you want to keep your Ads short and lead with value. Remember, you're paying to have your ad as enticing as possible on your client's Facebook feed. Therefore, it must have an enticing value proposition that answers your users' questions and solves their pain points.
You must also remember to use a call-to-action to lead your audience to engage with your product/service landing page.
10. Make It Timely
Facebook ad campaigns that run 24/7 can be quite costly. However, these ad types reach the target audience regardless of the time or day, making them even more effective. Like most online posts, there are always some days and hours where your content performs better than others.
Facebook allows advertisers to schedule their ad campaigns to determine the best times to advertise their brand or products/services. Using Facebook's custom schedule feature also decreases your Ad frequency, so users don't get bored seeing your ad after every few scrolls.
11. Review Your Checkout Flow
While it's always ideal to fit everything in your ad onto one page, several conversion studies show that the fewer clicks you have to checkout, the higher the conversion rate will be.
But if you want to spread things across several pages, you'd want to give your audience an indicator of the level they've reached with your ad. However, whatever you do, it's always important that you don't violate any Facebook ad policies. Or else you might end up paying a hefty price.
12. Monitor and Optimize Your Ads
Now that you've followed all the steps mentioned above, the final steps require that you monitor and optimize your Ads, respectively. Frequently go on Facebook Ads Manager to monitor your ad features for your queries.
Check on your ad effectiveness by monitoring the performance for each ad set that you publish. If you realize it doesn't work, keep split testing until you reach a satisfied CTR and conversion rate.
Conclusion
By going beyond the basic Facebook Ads best practices and heading straight for the deep end, you'll find the real potential for high-quality leads. With the right formula, you can convert a lot of your leads into customers.
However, this process isn't easy. It takes time to work and even more testing. But it'll be worth it.