Market research is at the forefront of any marketing campaign. With that, here are the 9 top market research tools that will help you identify and tap your target audience and to get them to convert.
To identify your competitive advantage, you must do comprehensive research on your competition and industry.
Today's market research is a vital aspect of transforming, enhancing, and designing products and services that customers need and want.
It is also crucial to know what consumers are seeking and provide the right information using phrases that they understand.
For instance, Google's primary goal is to give users high quality and valuable information in search results.
So, if you want to enhance your rank on the search engine, you must give it the correct data when crawling your site's content.
And one of the best ways to achieve that is through marketing research.
Research is like a compass for your marketing efforts.
It tells you what to do to make an impact.
It helps you identify the desires, fears, and thoughts of your target audience.
That's why market research is at the core of any noble marketing campaign today.
Fortunately, there are many tools, both premium and free, that help streamline market research efforts by providing key insights about consumers and the industry in general.
Here are the 9 top market research tools that will allow you to determine how to tap your target audience and get them to convert.
9 Best Market Research Tools
1. Pew Research Center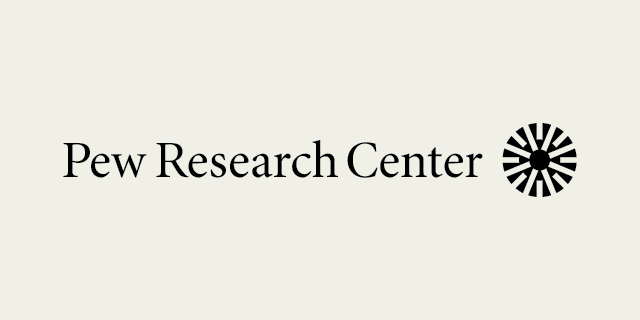 Pew Research Center (PRC) is a non-profit organization institution that researches in several areas with interactive and Smooth UI charts.
Transparent, rigorous, and insightful data, is what you get from the organization.
The areas that the center covers include:
Science
News and Media
Public opinion polling
US politics and policy
Religion
Global interest
Technology and the internet
Hispanic interest
Social Media
IoT(the Internet of Things)
Online privacy
Broadband access
2. US Census Business Data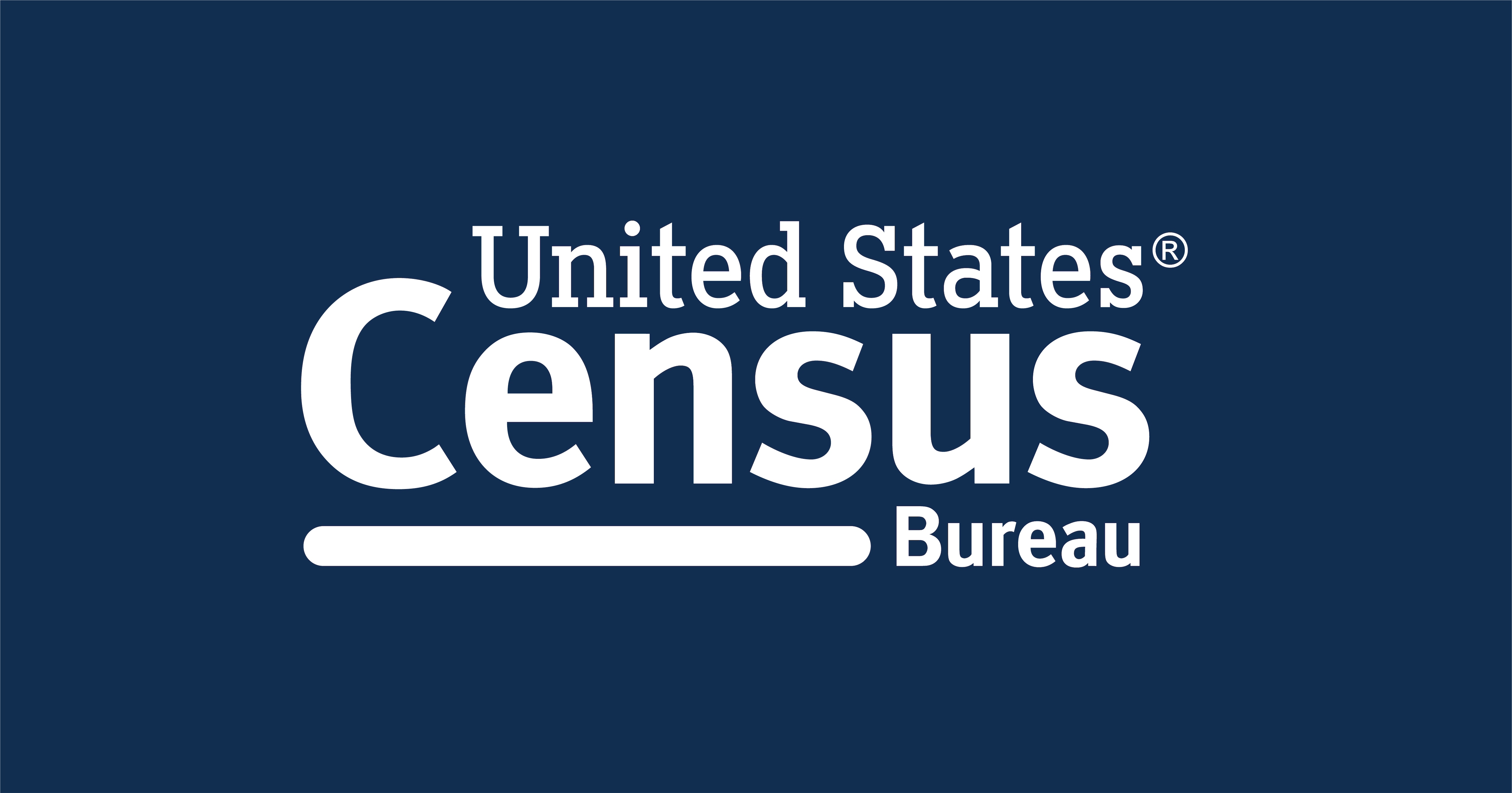 This market research tool offers free market research information from the United States government.
Actually, there is nothing you won't find in the US Business Data regarding issues free market research.
You can start with Data Gems to find videos that show how to access important census information to inform various decisions.
You will find the following data:
Money data – the Federal Reserve Banks
Industries – NVAIC or the North American Industry Classification System
Economics – the Bureau of Economic Analysis and Consumer Price Index
The labor market – Employment and Unemployment Statistics
Income – Income Statistics, and Earnings by Occupation and Education
3. Survey Monkey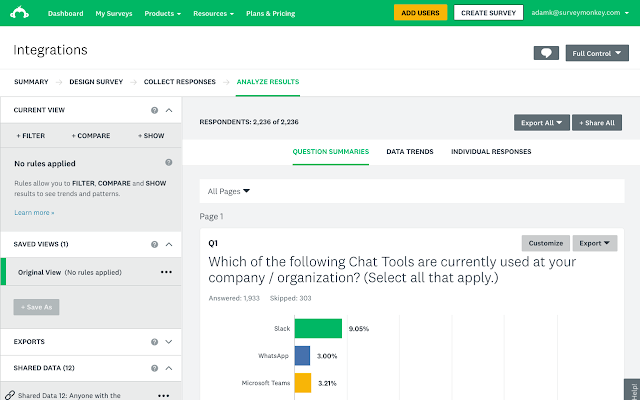 Is there anything you can add or adjust to the services or products you offer your customers?
Are your clients satisfied?
Answers to such queries offer important consumer information if you want to enhance your bottom line, increase conversion rates, lead generation, customer retention rate, and so on.
This brings us to Survey Monkey, a trusted questionnaire and survey channel that might be what is missing in your existing marketing research campaigns.
The market research tool gives you a platform where your consumers' answers question about your products or services.
Features:
It is very easy to use. You can develop surveys in a few clicks.
Pretty straightforward for consumers to answer queries both on their mobile devices and PC
Integrates well with a wide array of products and tools
Designed with tools that analyze results and measure engagements
It comes with reporting features.
There is a free plan that offers a good way for new users to get used to the tool and begin surveying their customers. Then you can upgrade for more features starting from $25 per month.
That said, if you do not survey your prospects, you are losing a lot to your competition.
You need to get into your consumers' minds and identify what they really what from your brand.
So, find your way to Survey Monkey, sign up, and get started today.
You will be glad you did!
4. Think With Google
This market research tool is awash with data that covers consumer habits and market trends.
It contains tools such as Google Trends, Find My Audience, and Grow My Store that will help your web performance and marketing analysis.
Essentially, the platform gives users all the information they need for understanding consumer behavior, gain market insights and discover market trends.
You will find almost everything from deck-ready data and handy marketing tools to high-level insights to ready your service or product launch.
How does it work?
Utilizing useful and fascinating content mainly from Google, Think with Google will inform your marketing efforts by:
Showing what other brands in your industry are doing to succeed
Analyzing data with guides that explain the impacts
Highlighting marketing trends on the fly
5. Nielsen's MyBestSegments
From the comfort of your office, it is almost impossible to determine who your prospects are and what makes them purchase what they purchase, why they watch what they watch and why they do what they do.
The best way is to get on the ground and see things for yourself.
That brings us to Nielsen's MyBestSegments market research tool.
It evaluates millions of databases from a wide array of sources and then shows everything you need about your target consumers.
Whether you want clear cut segments on a map or spreadsheet rather than opaque lines.
It creates custom points to help you reach clients that live across or between different demographic segments.
Regardless of your industry, you can utilize these insights.
For instance, if you want to know if your cafe will perform well across town or you would be better offer in a nearby shopping mall, the market research tool will help you figure that out.
It will tell you who your competition is for the target audience, the gaps in the market, and the type of marketing or ads that consumers in the area react to best.
The robust platform answers your questions as comprehensively as possible.
It will give you customized and aggregated demographic information depending on the block by block, neighborhood, state region, or any level in between.
6. Social Mention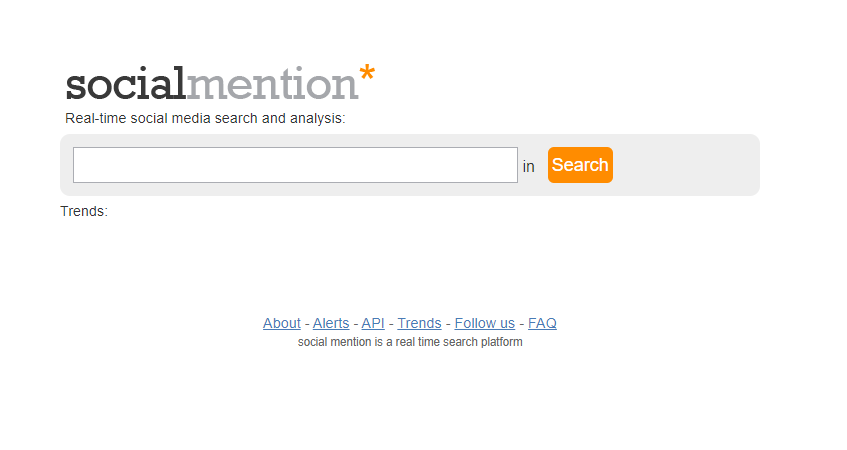 This is a social media search engine that essentially analyses social media platforms such as Twitter, Facebook, Instagram, and LinkedIn for mentions of your product/service or images, keywords, and videos that you are looking for.
Today, social media is more vital than ever and is a marketing tactic that can make or break your marketing efforts if not handled carefully.
This means that staying up to date with everything that is taking place in your sector on social media channels is very important.
Fortunately, Social Mention makes it easier than ever.
It provides a central place to search for various phrases that are relevant to your business.
It gives analysis in 4 main metrics; Reach, Passion, Sentiment, and Strength.
It also allows users to see what is trending at any particular time.
7. Facebook Audience Insights
On Social Media, Facebook Audience Insights is a platform within Facebook, crafted to give users data about two groups; People on Facebook in general and People who connect to your page.
Now, with over 2 billion active users per month, you will be doing your marketing efforts more harm than good if you do not monitor what happens on Facebook.
The insights Facebook Audience provides will help develop and target content and find users who match your target consumers.
You will be able to get a good idea about:
Lifestyles – Relationship status and location to figure out people who are interacting with your brand
What people like – pastimes, interests, hobbies
Demographic information – Job titles and education, gender, age
Though the market research tool was designed to allow marketers to target their adverts more precisely, you can also use it to learn about your followers and fans even if you are not targeting them.
This information can help enhance your general Facebook marketing approach by including more insightful competitive research, more compelling content, and stronger purchasing personas.
The information normally comes from these sources:
Self-reported data – This is the data given by people when filling in their profile data, including job title, relationship status, gender, and age.
Third-party data partners – Data like purchasing habits, household income, and home value via firms that match information to Facebook's User ID. However, keep in mind that this data is only available for United Stated audiences.
To access this market research tool, just navigate your way to Facebook Ads Manager and then click on "Audience Insights."

8. BiQ Keyword Intelligence
BiQ's Keyword Intelligence is a multi-purpose SEO marketing and keyword research tool.
The market research tool is designed with unique features that can help marketers optimize their content and get ahead of the competition.
Unlike other keyword research tools, BiQ Keyword Intelligence is a content-oriented channel for in-depth competitive research.
You can find competitors who are ranking for certain keywords and what they are doing to rank for that keyword.
It allows you to research your target keyword and gather data on related keywords, keyword competition, keyword volume, trends, and so on.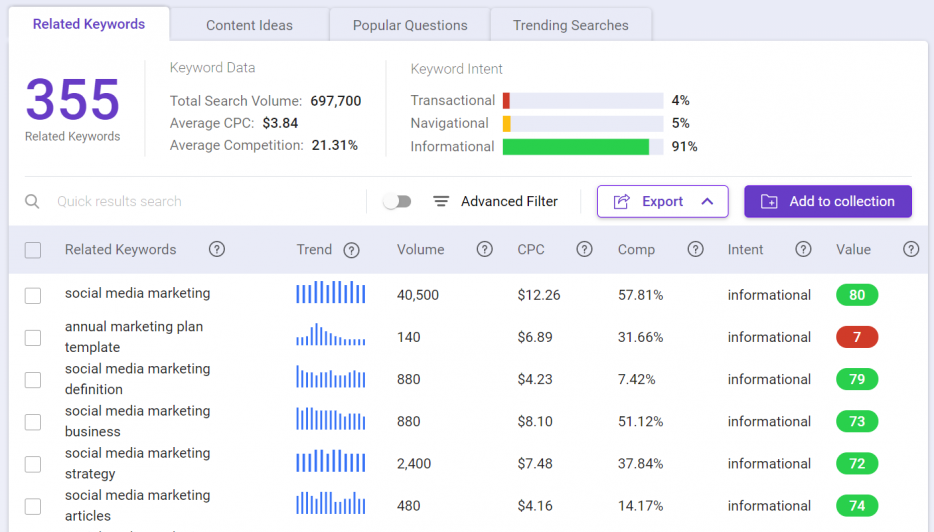 What makes this tool unique is its keyword evaluation feature.
It helps users identify why somebody is searching for a certain phrase in search engines.
With this information, you can design your content in a way that meets your readers' needs.
If you are confused with the many keywords that pop up after a search, you can filter the keywords depending on value.
The high valued keywords mean they can potentially drive more people to your website at a lower competition.
And that's not all.
You can also look for trending and newer keywords using the "Trending Searchers Feature" in BiQ's Keyword Intelligence.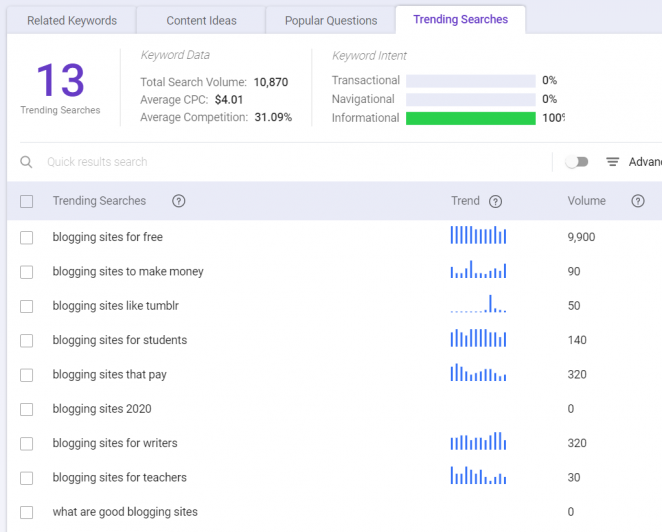 It shows the latest topics and keywords around your selected term that people are searching for on the internet.
Also, there is an option for you to search for popular questions.
The information comes from reach search engines, meaning you use it to come up with suggestions or questions for designing traffic drawing content that people are searching for online.
As you can see, it is a very handy option for people who want to analyze information about a certain phrase or evaluate changes over time based on trends and other aspects.
It features in-depth sorting options that help users set their own parameters and get what they are searching for, making it a solid all-rounder marketing research tool.
9. Live Keyword By BiQ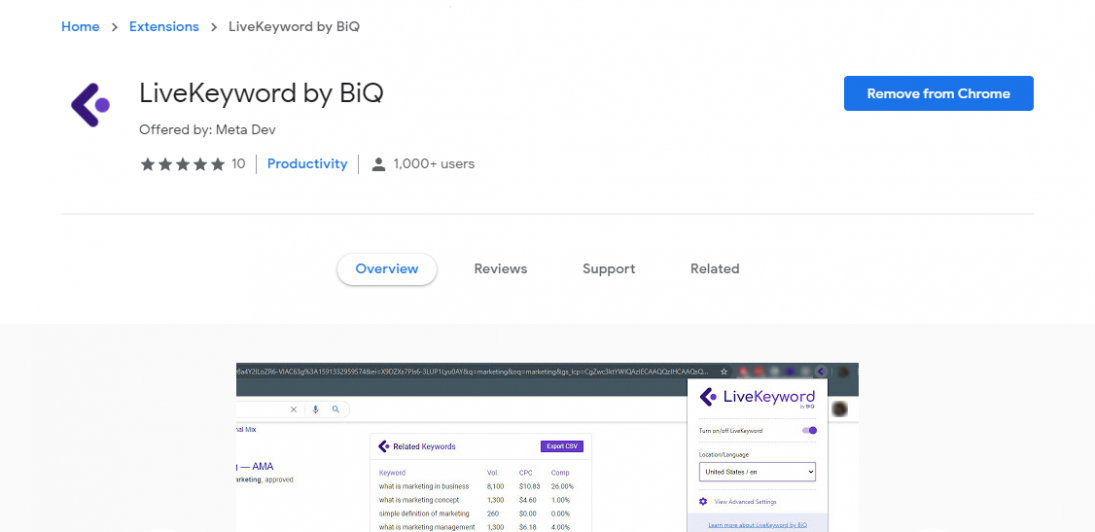 Developed by BIQ, the developer of the revolutionary BiQ SEO Suite, LiveKeyword is a browser extension that gives relevant and important keyword metrics for digital marketing professionals like you.
LiveKeyword helps marketers who are seeking to succeed in their keyword research efforts.
BiQ is one of the first SEO suite developers that standardize pricing and puts cost control in the hands of advertisers.
The robust extension has two main sections: "Related Searches" and "Relevant Keywords."
Each part provides accurate estimates on your search query.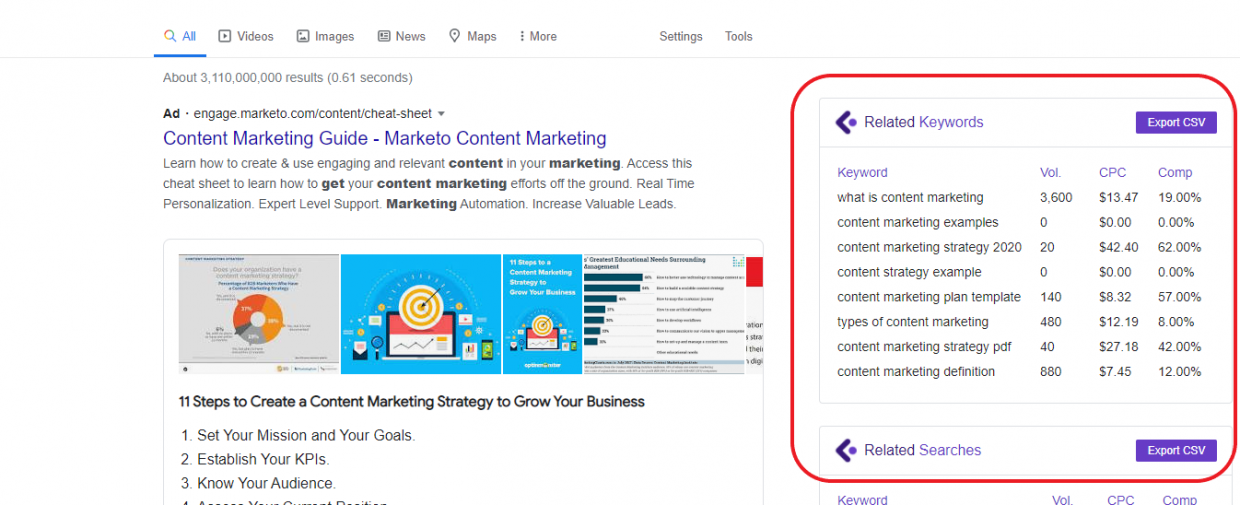 The related keywords section shows terms that people usually search for alongside your main keyword, while Related searches show search queries that are closely connected to your main target keyword.
Other parts of the extension include:
Keyword Data – Provides better keyword research data with search volume, CPC, and competition.
Export as CSV – Allows users to download a large list of keywords in one go.
Live Keyword will give you research results depending on the keyword you give it.
Install, sign up and start using LiveKeyword today.
Conclusion
There are many stories of companies flopping because of ignoring market research out there.
For example, there was a company known as Orbitz that launched a soft drink with small, floating balls of gelatin in 1997!
Sounds yummy right?
Well, it wasn't.
The drink reportedly tasted awful too.
It was introduced haphazardly.
With an inconsistent marketing slogan that claimed it "came from another planet."
In a nutshell, it ended badly.
Today the name of the product is better known as a travel website.
Savvy marketers analyze such stories and learn from them.
The key takeaway here is that if only the brand had done some research, maybe the product could have still been around today.
Market research reduces the risk of failure and positions companies in a better position to use resources wisely.
Choosing the right market research tool, particularly when it comes to keyword research, will go a long way in saving your money, time, and unnecessary headaches.
It will make it easy to collect important data that inform various brand decisions such as market size, product/ service pricing, brand name to use, what to avoid, and the advertising content that resonates well with prospects.
My personal favorite to use is BiQ Keyword Intelligence because it gives detailed and extensive insights.
On top of that, BiQ also offers a wide range of SEO tools that's applicable.