Voice of the customer is used to collect data-driven insights that are useful for your business. With these, you can also strengthen your relationship with customers.
Want to provide customers with services and products that are best in class? You'll need the voice of the customer.
Being successful online comes down to understanding your customers.

You must be able to know what they desire, what are their problems you can solve, and how to best connect with them.

However, it's not that simple, in fact, it's one of the biggest marketing challenges.

Fortunately, today we'll change it with the voice of the customer (VOC).

Before that, allow me to define voice of the customer. VOC is a method used for researching the audience and finding out about their needs, desires, and problems.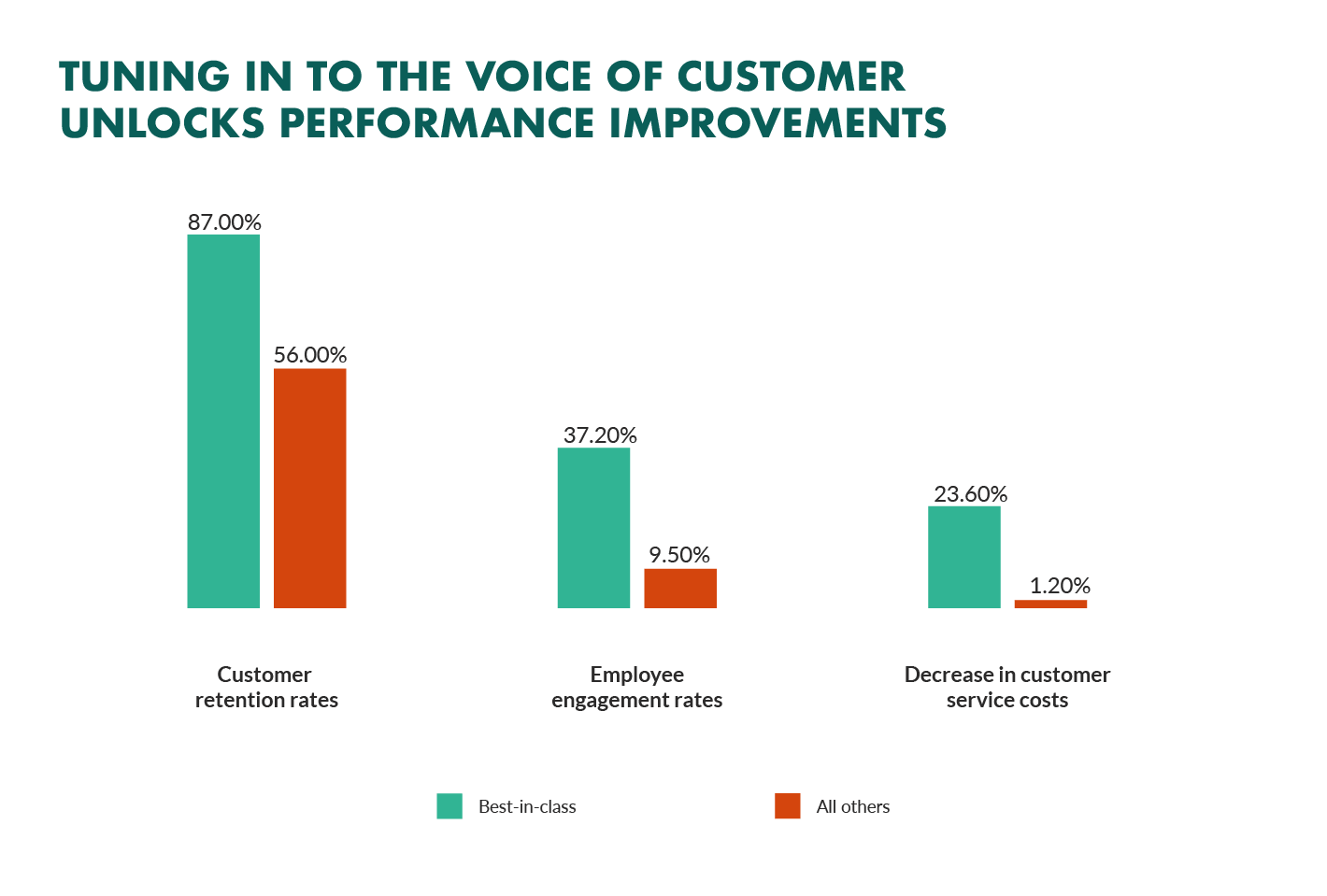 Let's look at three steps you can use to implement it in your strategy.
Benefits Of Implementing Voice of the Customer Program
Before we jump to the actual steps, let's look at a few benefits.
They can help you increase your understanding of why VOC is important and give you a higher motivation to use it in your strategy.
1. Improve Customer Experience
Improving user experience should be your #1 priority if you're looking to build a successful business and increase your sales. 
Unfortunately, what's the opposite is also true…
If you fail to provide a near-perfect user experience you'll fall short behind your competitors and lose customers.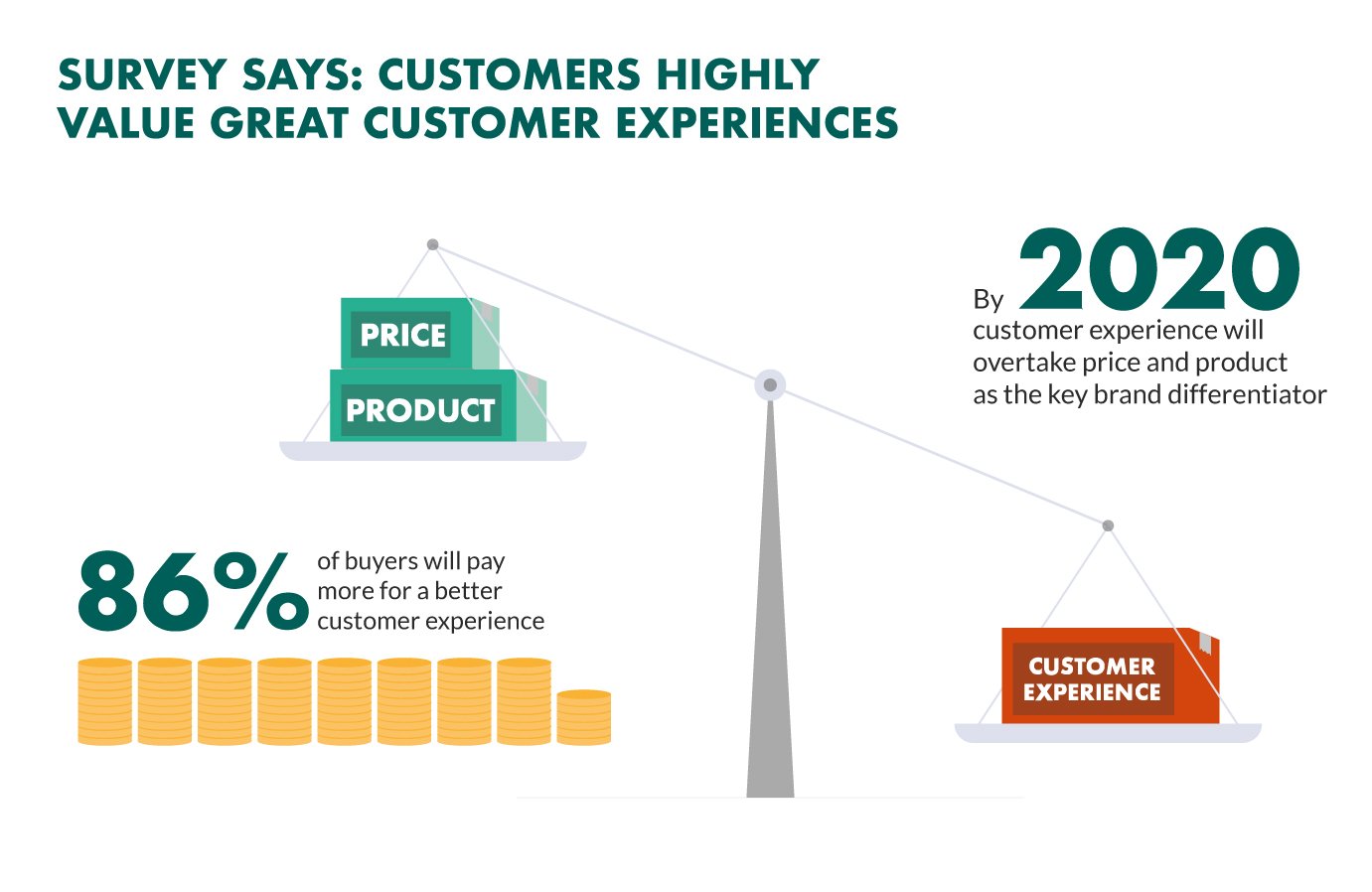 So be sure to make the user experience flawless for your customers. Don't be worried to invest in it. In fact, it's worth every penny with its whopping 9900% return on investment.

2. Be At Least 10 Steps Ahead of Competitors
Yep, that's right.
Voice of the customers can get you that far ahead of your competitors and help you become people's go-to. It'll also help you with personalizing the whole experience.
It's one of the easiest strategies to stay ahead and smash your competitors.
3. Managing the Reputation of Your Business
If you're selling potatoes instead of carrots, what kind of reputation do you have?
Probably not good.
If you look at leading companies, they have hyper-personalized content that serves their customers well. That helps them satisfy their customers' needs, increase sales and get a lot of positive reviews.
It also prevents negative reviews that can be devastating to your business.
Voice of the customers will help you increase your reputation and make you the customers' preferred choice.
4. Reduces Churn & Increases Revenue
Don't you just hate when you put all your effort into capturing customers and then when you eventually got them, they leave?
VOC can help you with that problem too, especially because of a better user experience.
That will allow you to retain more customers which leads to more repeated purchases.
It can completely supercharger your sales and increase revenue.
3 Steps In Building An Effective Customer VOC Program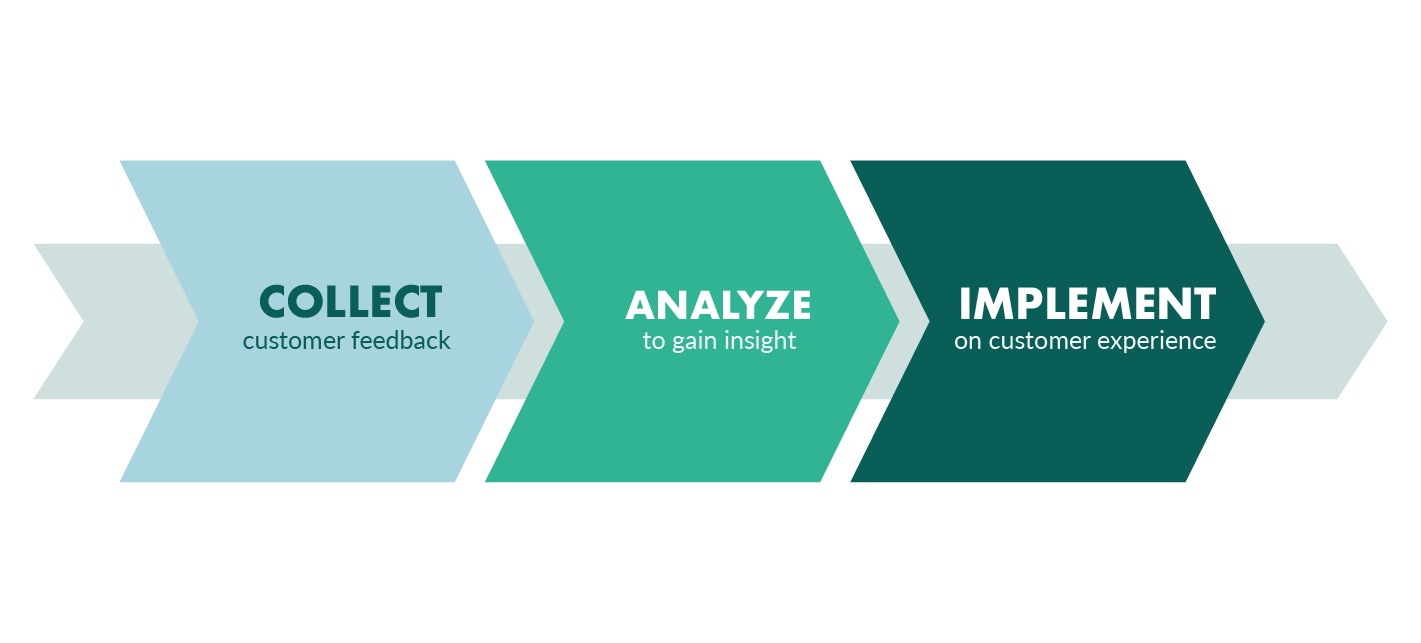 Customer VOC comes down to three simple steps.
You should put all your efforts into perfecting each of them because they will allow you to get the most out of the VOC and help you maximize your revenues.
1. Collection
This step is probably the most important.
It's the baseline of the VOC and you with gathering data from your customers through polls, surveys, etc.
The more data you have, the better the VOC.

2. Analysis
After you get the data, it's time to analyze it.
You should especially look for customers' biggest problems, desires, and wants to meet their expectations.
Be sure to organize them into charts to better visualize the data.
3. Implementation
This is the last, but the most overlooked step of VOC.
Many businesses gather data but never use them. They have tons of data that are useless and never got implemented.
Make sure to avoid that at any cost because it's only wasted effort.
After we got the VOC stages covered, let's look at the exact strategies to perform them.
We'll be looking closely at the Collection & Implementation stages. We skip Analysis because it's pretty self-explanatory and you can easily do that in Excel.
Let's start with the Collection – how do you gather the data?
How To Collect Voice Of The Customer Data?
There are many ways you can conduct voice of the customer research.
We'll be covering the 7 best ways to gather the voice of the customer data and get to know your audience better. They are super easy to implement and suitable for all businesses.
1. Surveys
Surveys are among the easiest ways to collect the voice of the customer data.
They are super flexible and take literally just a few minutes to create. The best thing about it is that it's universal and scalable. You create a survey that can show the same survey to all your customers.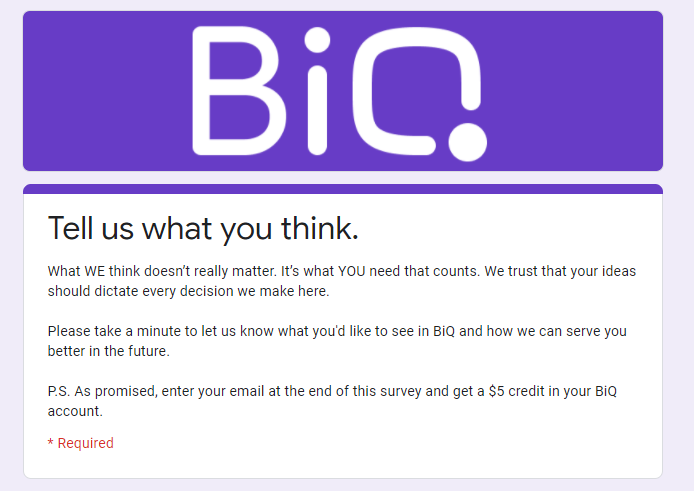 The key thing here is the placement of the survey.
If you send a random email to your customers to fill in some survey, most of them probably won't do a thing. That's why you should place it strategically.
The two best places to put a survey are right after signing up and as feedback. 
Surveys are very valuable and can give you an insight into what your customer wants and expects from you.
2. Customer Interviews
If you have enough resources and time, you'll love customer interviews.
They are very time-consuming, but the rewards are incredible. They can give you one of the most accurate voice of customer data.
This is mostly because they can help you obtain more specific data other techniques can't.
Plus, it can also help you build a stronger connection with your customers and increase customer retention.
3. Focus Groups
Focus groups are very similar to interviews.
But the main difference is that you conduct research on a small group of people, instead of talking one-to-one.
The group usually contains a moderator that is managing the free flow of the conversation.
Focus groups are great because they allow participants to better form opinions, engage with others and give you more accurate data. They are especially great when you need general feedback on something – i.e. launching a new product.
4. Social Listening
If you're looking for an easy, free and reliable way to collect VOC, look no further.
Social listening is monitoring how your customers talk about your brand on social media when they aren't directly talking to you. This could be talking in groups, comments, etc.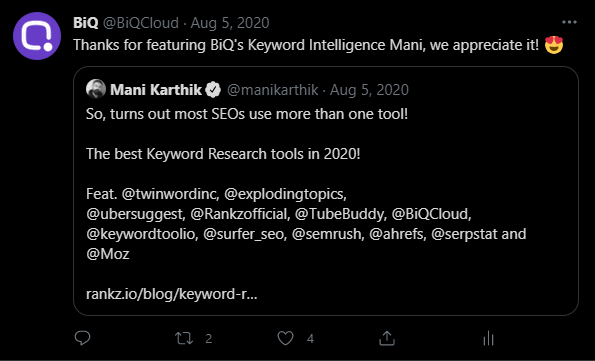 This is important because when they talk behind your back, they are brutally honest. 
Simply look for the brand mentions or your hashtags and discover what opinion your customers hold of you.
5. Customer Reviews
Customer reviews can either help you gain new customers or scare them away.
Aside from this, it's also a good option for gathering the voice of the customer data. The best thing about them is that they allow you to look at both sides – positive and negative.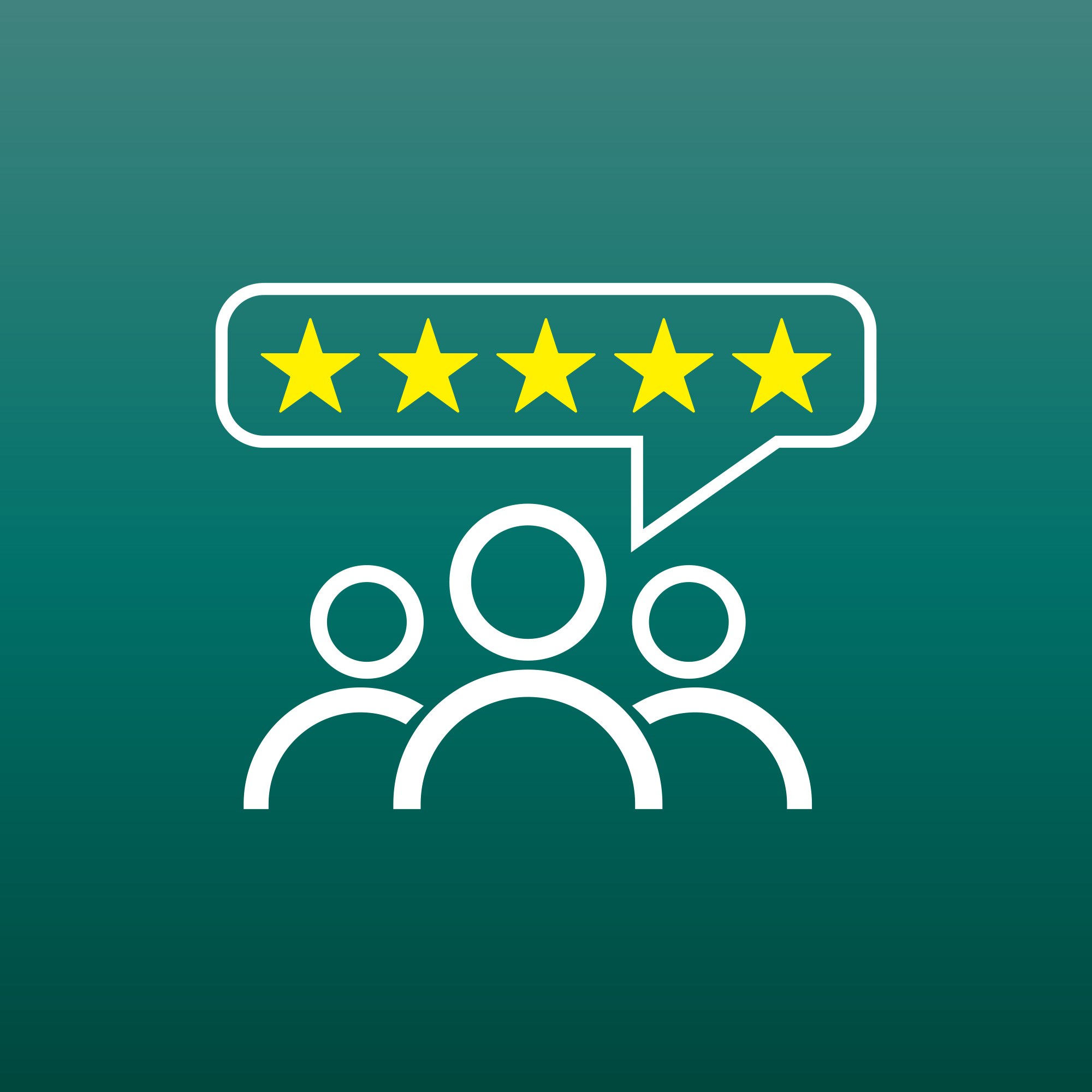 On one hand, you can look at the things you do right to see what works.
On the other hand, you can discover problem areas and what frustrates your customers. You can then work on eliminating those things and improving the user experience.
6. Net Promoter Score
In essence, the net promoter score is asking your customers how likely they are to recommend your brand or product to others.
It may not work as well as surveys or interviews, nor give you detailed data like focus groups, but it can definitely help you with:
Understanding the engagement of customers with your brand
Find unsatisfied customers that can share negative feedback
Identify happy customers that are superb for the referrals program
A great example of a net promoter score comes from CloudApp.
Customers under 6 are seen as negative, while those who chose 9+ are seen as positive or promoters of your brand.
7. Talk to customer-facing employees
If you're like most people, you're looking for external sources – i.e. customers.
The first thing that comes to mind is probably surveys, interviews, or focus groups. But in reality, you don't need to look far.
You can get the same valuable information from within your business – from employees.
Be sure to ask your customer-facing employees about the voice of the customer data. They can provide you with in-depth insights into customer-centric challenges they face on a day-to-day basis. 
Reach out to your Customer Support or Sales team and gather VOC data.
How To Use Voice Of The Customer Data
Now that you know how to gather data, it's time to analyze them.
This is pretty straightforward, you can use software like Excel to create graphs or see the results directly while gathering like with Google Forms.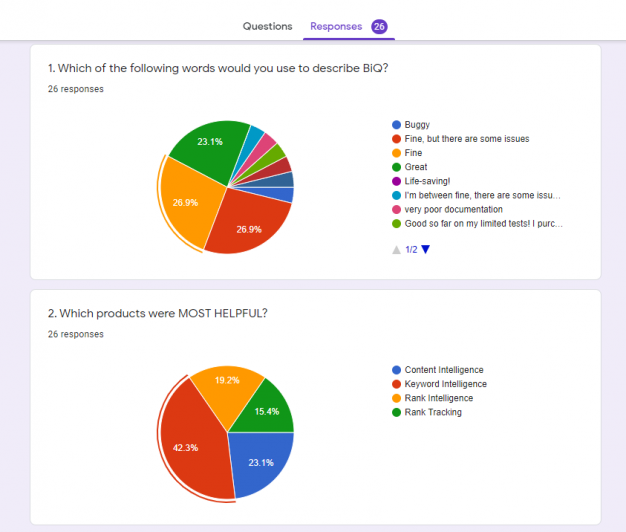 After that is time for the most impactful stage of VOC – implementing the data.
We'll take a look at the three best ways to implement the voice of the customer data that will have the biggest impact on your brand.
1. Marketing Copy
Being friendly and speaking the same language as your customers will go a long way.
It's also one of the best ways to stand out from others and make customers choose you instead of your competitors.
This is mostly because only 42% of businesses research their customers.
Unfortunately, that means that most businesses rely on luck and guesswork when trying to perfect the sales copy. 
Lucky for you, you already got the data and are way ahead of them.
Let's now implement it and use it in your sales copy. To do that, you should focus on evoking the right emotions, readability level, and vocabulary choice. You can easily work on all of these things with BiQ Cloud.
Go to BiQ's Content Intelligence, press enter, and paste your content into the editor.

You'll need to wait for the content analysis and then you'll get in-depth insights about it.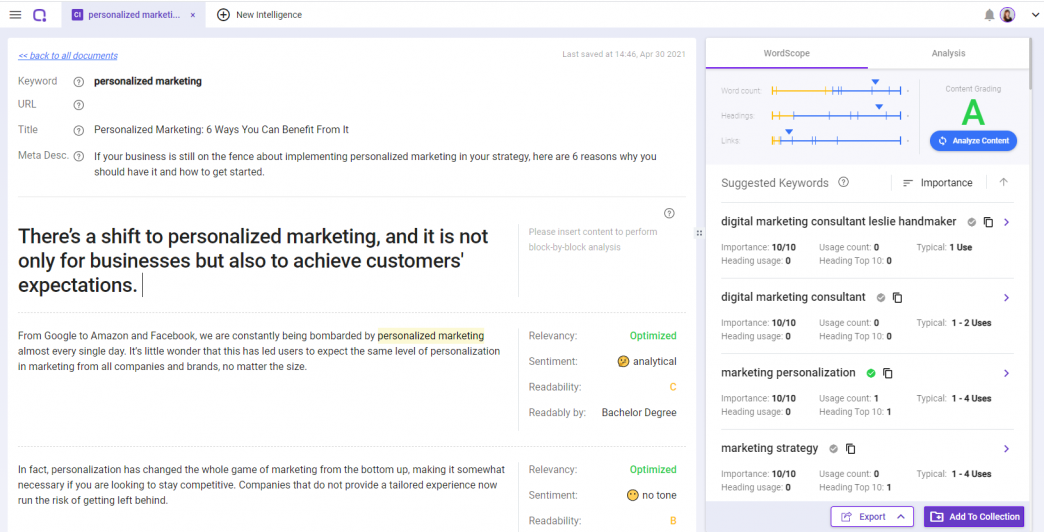 Focus on the Readability scores and try to match it to the level of your customers using the tool.
If you look next to the text, you also get the emotions each section evokes. Make sure they are aligned with the way your customers feel. Remember, emotions are one of the most important things because they influence our buying decisions.
Once you have all that figured out, you'll have a high-converting copy that sells like crazy.
2. Product Development
By asking the right questions and analyzing the voice of the customers' data you can learn more not only about your customers but also about your products.
For instance, you can discover valuable insights such as:
Shortcomings of your product that could be improved
Suggestions that can help you make your product unique on the market
Ideas for similar or complementary products
If you weren't listening to your customers, you'd miss out on these golden opportunities.
It can help you create better, more functional products that will separate you from the competitors and make your business successful.
Be sure to hear out all the feedback, analyze it, and use it to develop better products.
3. Customer Experience
The better the customer experience, the more successful you'll become.
Customer experience is by far the most important thing in making your business more successful. Unfortunately, a bad user experience can completely tear down your business.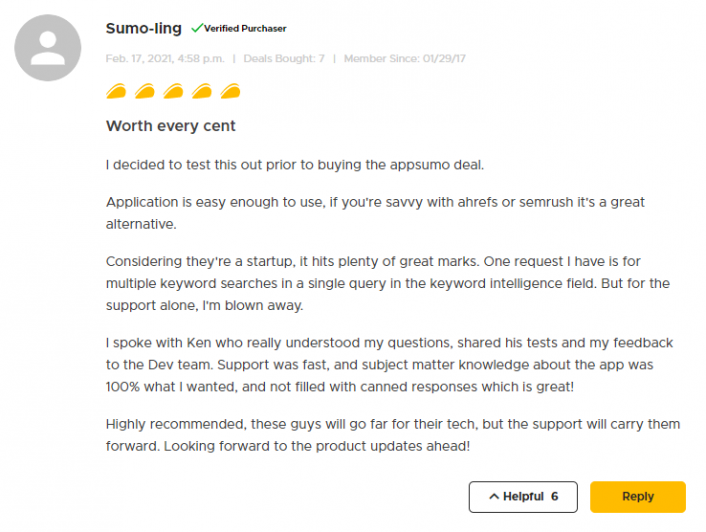 In fact, it's the main cause of customers leaving the brand for competitors.
Knowing the voice of the customer helps you discover areas you need to work on, improve customer satisfaction and reduce the number of detractors.
It's the best way to generate more revenue and make your business people's go-to.
Ready to Implement Voice of the Customers to Your Business?
Today you've discovered everything there is about the voice of the customers.
We've talked about the three stages, tips, and tactics for gathering data and implementing them in your marketing strategy. Follow the advice above, understand your customers better and satisfy their needs.
It'll allow you to boost sales and be more successful. 
Now it's your turn…let me know if you will start implementing the voice of the customer program in your business?
Let me know in the comment section below!