If you are able to master all the data derived from Facebook Audience Insights, you will be targeting the right audience and people are more likely to connect with you.
When used wisely, Facebook audience insights can help you connect your company directly to your target customers.
Facebook is the one channel that can significantly boost your online interaction and engagement. This social media giant will also increase your brand's visibility a hundredfold by helping you reach the right people through your social channel.
However, to get the most out of your Facebook business page, you must know how to use Facebook audience insights first. You'll need to dig deeper than just understanding your target audience's age and gender.
The Facebook audience insights tool will provide you with more detailed insights like your fans' hobbies, relationship status, and job titles.
This way, you'll have all the relevant data to show and share the right content with your target audience at the right time, always.
What is Facebook Audience Insights?
From its name alone, you would gather that Facebook audience insights is an analytical tool used by Facebook businesses to monitor and analyze their advertisements' progress.
It's a powerful analytical tool you can use to optimize your social media advertisements – that's if you know how to use it.
You can access this analytical tool through Facebook's Ads Manager. It provides brands with a huge amount of behavioral and demographic data about their target audiences and their competitors.
The social media giant created Facebook audience insights tool to enable brands to target their ads more effectively. However, you can use this tool to gain more insight into your audience even if you're not advertising to them.
It's the tool you use to improve your overall Facebook marketing strategies, including more compelling content, a stronger buyer persona, and more insightful competitive research.
Hopefully, this impresses upon you all the reasons to use this incredibly useful too.
Filters Derived from Facebook Audience Insights
Here are some critical data you must learn to use with Facebook audience insights:
1. From the Main Menu
You can access Facebook audience insights from the main menu found on the top left corner of your Facebook page. You will find the tool inside the Facebook Ads Manager. Under the "Plan" column, you will find "Audience Insights."
2. Choose Your Audience
Once you've successfully logged in, you will be prompted to choose the audience you would like to see. This can be anyone on Facebook or just specific people who're connected to your Page: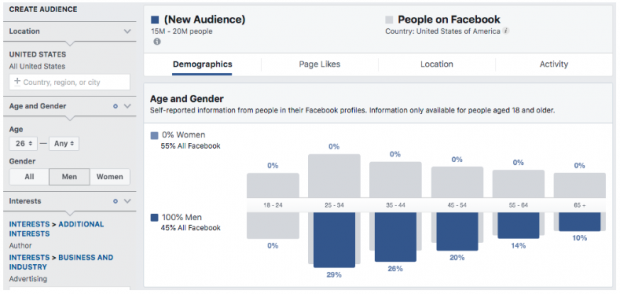 However, how do you decide whether to select Everyone on Facebook or just the People Connected to your Page?
Simple.
When you're trying to better understand your existing target audience, you should select People Connected to your Page.
However, suppose you would like to understand your audience's interests better or want to pull useful insights about your competitors' Pages. In that case, you should select Everyone on Facebook.
3. Location
Facebook audience insights also allows you to narrow down your target audience by including or excluding specific locations to the analytics tool. You will find the United States as the default location on the analytics tool.
Facebook audience insights tool allows you to exclude specific states by hovering over the dropdown arrow and clicking "Exclude Locations." It will be something like this: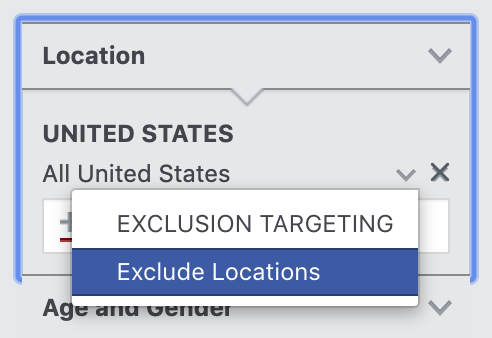 You can also look at locations outside of the United States by clicking on the "X" to remove the United States as the selected location. Afterward, you can key in any new country, city, or region you want to target.
Facebook audience insights also allow you to add multiple locations and analyze several locations at a time.
Or, if you prefer to check insights into the entire audience of Facebook users, you could just leave the location field blank. It's more of your preference, really.
4. Age & Gender
Under this selection on the Facebook audience insights tool, you can narrow down your target audience by a minimum or maximum age group or gender.
The interface is also quite simple and straightforward. It looks something like this:
It's vital that you have all the relevant data to help you narrow down your target audience by age & gender. And Facebook's audience insights allow you to do just that.
5. Interests
Under the "interest" section, you can analyze and find audiences with similar interests to target for your Facebook Ads campaigns. So, if you would want to focus more on people who are interested in your brand.
The best part about the "Interests" section is that you can apply multiple interests to target a specific audience, but you cannot exclude interests.
This section of Facebook audience insights plays a huge part in helping your brand find gold mines and use Facebook's algorithm attributes to determine your audience's interests based on their behaviors and real activity. This can be the pages your target audience likes the ads they click on, and the content they engage more with.
6. Connections
Although you had already selected your seed audience when loading the Audience Insights tool, you can still modify it under the "Connections" section if you wish.
Here, you will be able to select individual pages if you have multiple pages and even exclude other pages if you wish.
The "Connections" section provides you more control over audiences you wish to target and which ones to avoid. The preference is yours.
Analyzing Facebook Audience Insights Tool
Like with all analytical tools, Facebook audience insights tools will provide you with critical data aimed at providing you with a more targeted approach to reach the right audience.
Here's a more in-depth resource into how you can use Facebook audience insights:
1. Demographics
The Facebook audience demographics include vital information about your audience's age, gender, relationship status, lifestyle, job, title, and education.
For example, if you take the eBay.co.uk audience insights, you'll notice that its monthly active audience ranges between 1-1.5 million users. This means that the content marketing team is always analyzing a significant pool of data.
Consequently, if your Facebook business post records less than 1,000 people, then no data will appear on the demographics section.
From the above image, you'll notice that over 61% of the eBay audience is female. You'll also notice that most of the users range in the 25-34 and 35-44 age bracket. As a content analyzer, you'll know how valuable this data is, especially when it comes to creating personas and planning for improved content engagement.
Throughout this process, content analyzers can segment further by focusing on specific segments of data. For instance, you could select only the female segment to find more relevant data that fits your marketing campaigns on the social media platform.
You will also see some of the most likely industries that fans can work with. These are sorted by default for brands that over-index compared to average Facebook audiences. For instance, you can sort this by your audience's size. This information is invaluable for brands that are creating content marketing personas.
2. Page Likes
Page Likes is perhaps one of the most interesting factors used by brands. Facebook audience insights will provide you with the most relevant pages based on the number of likes they receive from a targeted audience.
Under the Affinity column, the analytics tool will tell you how likely it is for your target audience to like your Page compared to your competitors on the social platform. This data is more useful for smaller audiences and provides you with more insight into using the audience insights tool.
One key metric you must use here is Relevance. Facebook also affirms that pages considered the most likely to be relevant are ranked based on page size, affinity, and the number of users in your audience who liked your Page.
It's also worth mentioning that not every target audience interest is always available for targeting. You can check its eligibility on the Interests field.
3. Location
Location is the third tab on the Facebook audience insights tool. In this tab, you will find data of Top Countries, Top Cities, and Top Languages.
Due to the high population, you would obviously expect a majority of your target audience, in the above illustration, to come from London. This analysis will allow you to better understand your audience and determine where you're getting the most engagement and/or likes.
4. Activity
This is the final tab in the Facebook audience analytics tool. All information collected in this section should help you better understand your audience's behavior and Facebook activity. Activity is split into two sections:
Device Users – refers to the device types used by your audience to access Facebook. They can be split between desktop and mobile, then drilled further down into specific devices
Frequency of Activities – refers to the data showing user activity within the last 30 days of using Facebook. You'll be able to determine the average number of engagements, pages liked, ad clicks, shares, etc., within the last 30 days
By analyzing the frequency of your users' Facebook activity, you can determine how active your target audience is on the social platform. This helps you to make more targeted and engaging content for your audience.
As such, Page content must also stand out to boost client interaction with your website.
After you've cross-checked everything, you'll be set to start and run an effective ad for your target audience.
Learning How to Use Facebook Audience Insights the Right Way
Not many people would admit to knowing how to use this awesome analytical tool. But then again, not many people even know about it.
However, if you've got a business set up on Facebook, then you'll want to know how to use this tool.
Here's how:
1. Create a Conversion with the Conversion Objective
Whenever you create an ad on Facebook, you have an advertising objective for that particular ad. The conversion objective helps you to drive valuable data actions to your website, in Messenger, or in your app.
However, this requires the Conversations API or Facebook Pixel for sites or App Events for applications.
Whenever you use Conversations Objective to create an ad, you can:
Show the ad to people who previously installed your application
Select where you want conversions to occur. This can be your Messenger, App, WhatsApp, or Website
Therefore, you can use the conversions objective on these platforms:
Facebook
Messenger
Instagram
Audience network
Using the conversion objective, you can create a campaign that encourages potential customers to interact more with your website and possibly make purchases.
2. Discover What Your Target Audience Likes
You'll have more in-depth insight into your audience's interests. These can be books, eats, charity, magazines, live music, organic groceries, art, etc. Basically, Facebook audience insights provide you with critical data into your audience's online movement on the social platform.
You can use this information to inspire even more ideas to test your Facebook marketing strategies.
BiQ Content Intelligence will provide you with newer and trending news for your industry that will boost your social engagement and interactions. With BiQ Content Intelligence, you can analyze your reader's sentiment, allowing users to determine which sections of ads need optimizing.
You can also use the Content intelligence tool to analyze your ads and content in a block-by-block analysis form, thereby allowing you to identify and correct any issues in real-time.
3. Use Dynamic Creatives (Ad+Copy)
Dynamic creative utilizes multiple ad components like images, videos, descriptions, titles, and CTAs, then optimizes this data to deliver the most efficient results for every impression served.
With Facebook's Dynamic Creatives, you can create more personalized variations of your audience data. For instance, you'll be able to analyze the data of each person viewing your ad. You will be more knowledgeable about what creatives resonate best with different audiences.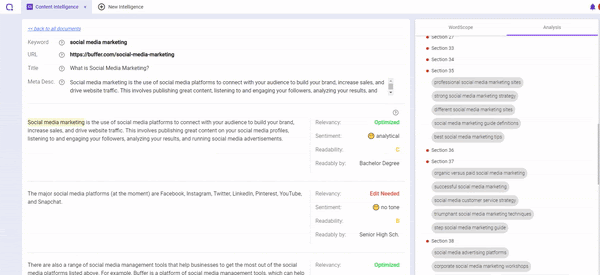 BiQ Content Intelligence also plays a critical role in helping users to draft, edit, and optimize content to suit their target audience. You will have more relevant data to determine your user's intent and critical information to provide them with what they want.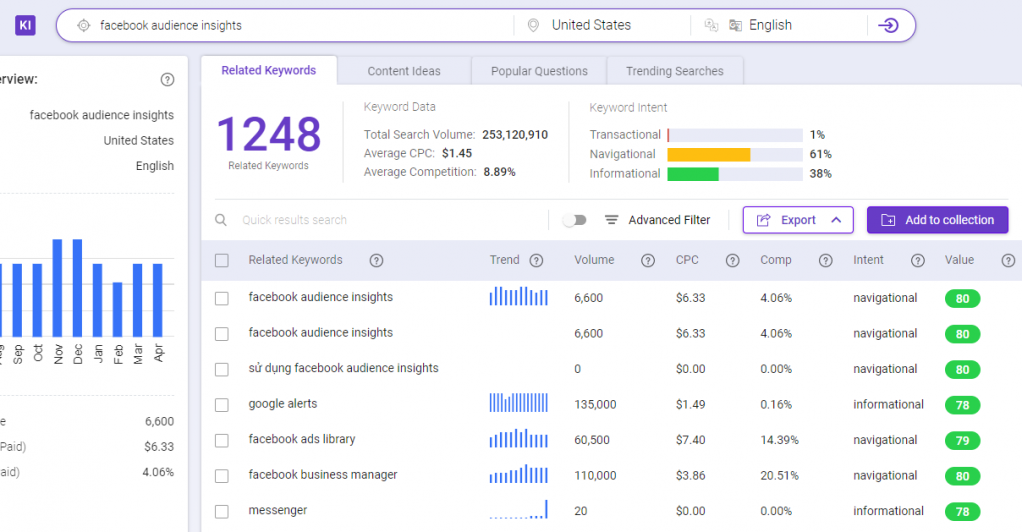 BiQ's Keyword Intelligence tool also plays a key role in helping you to find topics relevant to your industry. With BiQ's Keyword Intelligence feature, you will find trending searches on the social platform and its relevance to your industry. This will enable you to discover trending searches that your target audience is searching for online.
4. Split Test Audiences and Track Your Performance to See Which Yields Better ROI
Facebook audience insights play a key role in optimizing your ad campaigns based on your target audiences' device usage and other data.
You can also run split tests on your audiences to determine which ad campaign strategies are the most effective. The best thing about these tests is that they are very cost-effective. You can use Facebook ad automation to control your ads costs or decide to post them as organic posts on your Facebook page.
The goal is to analyze how each ad performs and use the data to determine the best ad campaign strategy for your brand.
Conclusion
Facebook audience insights simply rank as one of the best analytical tools provided by Facebook itself. It will provide you access to highly valuable behavioral and demographic data, enabling you to gain more insight into your customers and potential customers.
Using this information, you can draft more targeted advertising campaigns that are more effective and promise more engagement and product sales.
Generally, knowing who you are talking to and how you'll reach out to them is vital for successful advertising. Try Facebook audience insights today and you should really start to advertise on Facebook!