These SEO Writing Assistants are proven to help content creators align their content in a unique and SEO-friendly manner in the eyes of the search engines and readers.
Whether you have a small business or growing a brand, making your way to the top is no easy feat.
Have you ever spent hours thinking of interesting topics to share with your audience? Going all out in doing research and gathering pieces of valuable information for the sake of content marketing, only to discover your post had zero impact?
If your answer is yes, then you're probably missing out on some of the much-needed SEO Writing Assistants.
Content optimization – in terms of posts, articles, and other written pieces – is a crucial piece in every brand's marketing strategy. Being able to answer the questions that your readers ask in your write-up is important, but this won't bring much impact unless you're properly helping it reach your audience.
Getting the right message to the right audience at the right time is the way to go.
In order to do that, you'll need to create SEO-friendly content. This is where SEO writing assistants come in to help. They are the perfect tools that'll assist you in producing high-quality SEO content that really gives something valuable to your readers, while it helps search engines position your content correctly.
Here are the benefits of getting your content optimized for both human and search engine:
It gives a greater user experience
It helps to generate new customers
It increases customer retention
It magnifies a website's authority and relevance
It improves a website's ranking in search engines
With that in mind, I've picked 5 tools that'll provide insights and enhance your written content. Be it correcting SEO advice, grammatical errors, or at least, offer relevant resources to inform the writer.
5 Powerful SEO Writing Assistants For Compelling Content
If you're serious about:

– Increasing blog traffic
– Getting more website views
– Creating higher ranking content
– Bumping up your existing ranks

….and keen to achieve quick wins without spending loads of time and money…

Here are the top 5 powerful SEO writing assistants to create SEO-optimized content that your audience can easily find on the search engines.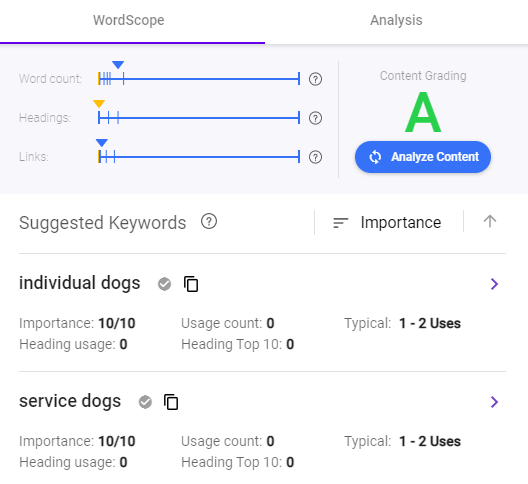 The first spot on my list had to go to the groundbreaking BiQ SEO Suite. It's the first of its kind to give you the freedom to control the price.
More often than not, we are faced with having to commit a huge sum when we subscribe to SEO tools. I'm sure you've come across such situations before:
Some of you only need to use the keyword feature but the tool forces you to pay for an entire package that consists of features you don't even use.
Perhaps some of you thought of subscribing to an SEO tool but the pricing plan could have given you a heart attack.
The cost of a monthly subscription is unbearable
Well, you might have thought of this because I certainly did, "Wouldn't it be great if I am able to reduce my cost for features I don't use?" And here's an exact tool that does exactly that!
BiQ, the saving grace for all marketers, SEOs, and agencies. This SEO suite is the first platform to be doing so, giving cost control back to users.
The tool shows you how you can take the guesswork out of marketing by making recommendations for a content strategy based on the integration and advanced analysis of multiple intelligence sources.
Some of BiQ's Content Intelligence most noticeable features include:
(i) Content Editor – There are two ways to go about it, depending on your situation. You may choose to do your writing and pre-publishing preparations in the tool. On the other hand, if you already have a published content and are looking to optimize for better results, you may make use of the tool too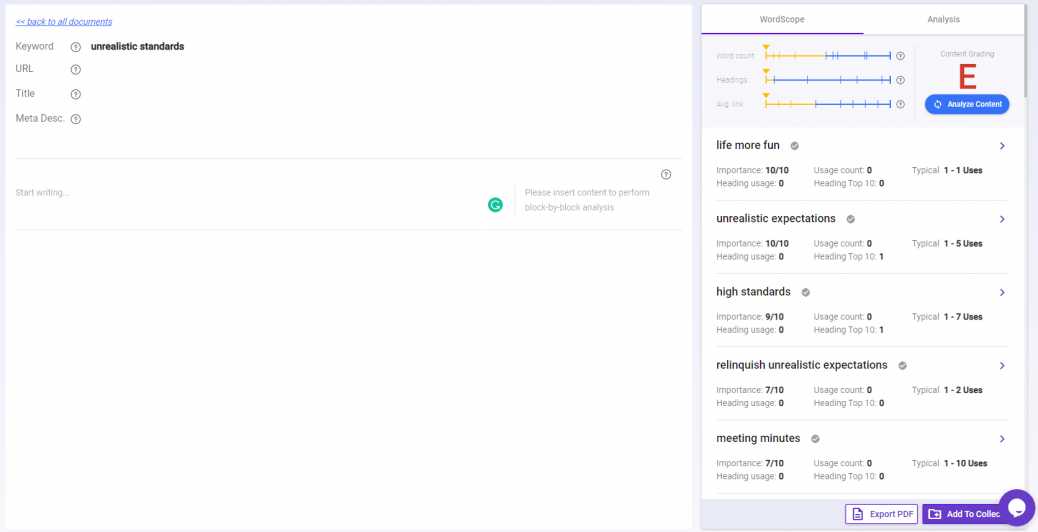 (ii) AI-guided optimization – ensures consistency in brand, message, and shows you ways to make further improvements.

(iii) Relevancy – shows how relevant this section is to the targeted keyword

(iv) Sentiment analysis – have your content graded into 9 categories: Analytical, Joy, Fear, Tentative, Angry, Sadness, Confident, and No tone

(v) Readability rater – tells you how easy it is to read the section
(vi) Word Vector – analyze and improve your content relevance against the top 10 rankings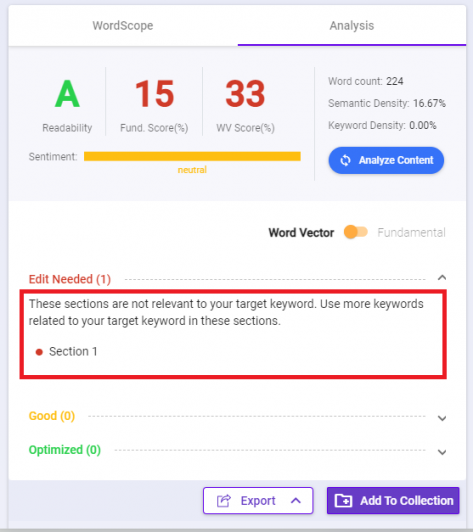 (vii) Fundamental – looks into on-page optimization

…all to better understand your customer's intent and behaviors.
Make sure to give the Content Intelligence a try for free here.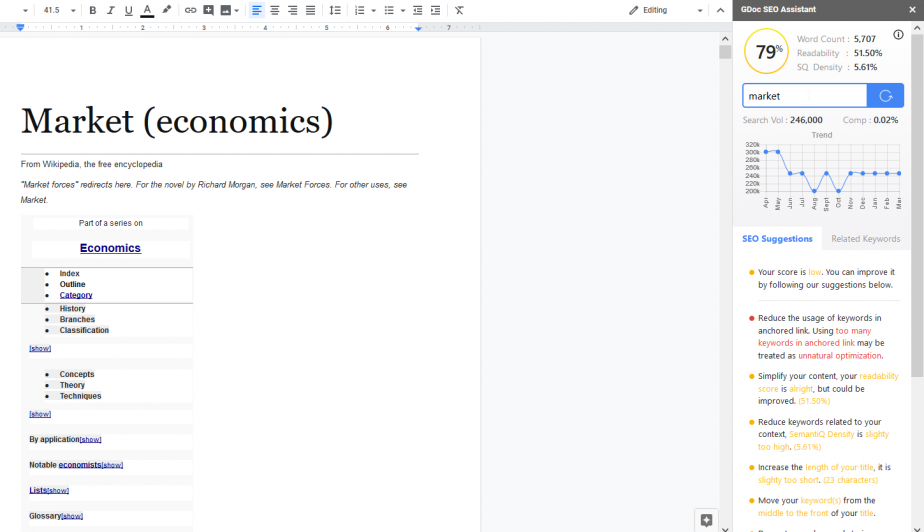 If you're a content writer like me, you're most likely using Google Docs to write drafts and complete your work like how I'm doing it now. The reason we're so used to it is because of its accessibility and makes the writing process easier. (at least for me)
But do you know there are Google Doc add-ons that can make SEO work much easier for you?
GDoc SEO Assistant is designed to help bloggers, content writers, and even marketing experts to improve their SEO content. The best part about this tool is that it is really simple to get started! All you have to do is install the add-on in the Google Web Store and install it for FREE.

You will be taken to a new Google document. Once there, don't forget to run the add-on on your Google Docs and select "show" to begin.

With that, you are one big step ahead of getting your content seen by both search engines and your audiences.
Some of the most noticeable features found in GDoc SEO Assistant are:
(i) SEO Score analysis – this score is based on the use of titles, descriptions, keywords, content format, and flow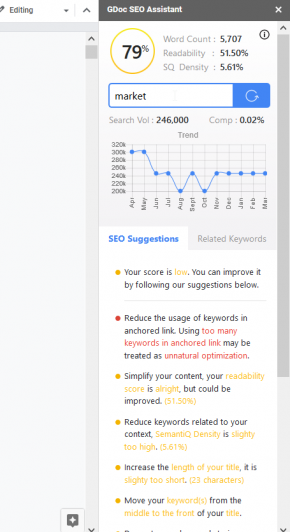 (ii) Real-time SEO suggestions for content optimization – get a list of systemized, prioritized, and actionable SEO suggestions for your content
(iii) Shows related keywords – the tool will generate a list of related keywords based on your target keywords with semantic relevance
(iv) Detailed Keyword data – includes important data on search volume, trends, and competition ranks

(v) Readability – Achieve optimal reliability score by not using extremely lengthy and complex sentences

(vi) SQ Density – this helps you keep your content and SEO score in check to prevent over-optimization
Generally, getting an overall score of 80% is considered good and anything below 50% means more optimization is needed. According to your marks, make improvement wherever relevant to achieve at least 65% before publishing your content/
Here's the link for you to install the GDoc SEO Assistant: https://gsuite.google.com/marketplace/app/gdoc_seo_assistant/655840236660

If you have a WordPress site, this tool is for you.
If you wish to have better control over your search engine visibility, then this is one plugin you certainly shouldn't miss.
SEOPressor Connect provides the best features to search, create and optimize your SEO content, all under the same roof. It improves your site's SEO health thanks to its on-page analysis, SEO intelligence tool, semantic builder, crawler control, and link management.
Better still, it keeps you aware of all the common mistakes while optimizing your content for SEO. Before we dive into the long list of features list, let's first look at what benefits could be gained from using this plugin.
It saves time. Optimizing your content with SEOPressor is quick. All you have to do is just paste your content into the plugin and optimize accordingly.
It's very user-friendly. It won't take you long to master the ins and outs of the plugin as far as the interface goes.
Well-assisted. SEOPressor Connect provides optimization tips and suggestions for each post so you're not left in the dark about how or what to optimize.
Drive more traffic. You're given the chance to optimize for at least 3 keywords for each post. That means you have the potential to drive more search engine traffic to your content.
And now, let's look at some of the useful features that SEOPressor comes packed with.
(i) LSI keywords suggestions – presents you with keywords or phrases related to your target keywords for you to add them to your content.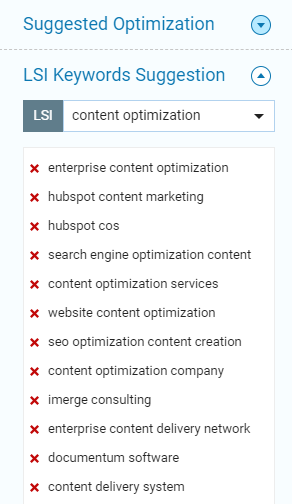 (ii) On-page analysis – analyzes the title, meta description, URL, word count, readability, keyword density, and LSI keywords, among other aspects of your content
(iii) SEO intelligence – shows a warning message when you've over or under-optimized your page
(iv) SemantiQ builder – helps you enhance search relevancy for your content
(v) Meta options and social – create XML sitemaps, 301-page redirections, create canonical URLs and customizes Facebook and Twitter cards
(vi) Link management – identify broken links, builds, and manages a flawless link structure to help you create a more user-friendly website.
For those of you who are interested to get this plugin, install the SEOPressor Connect here: https://seopressor.com/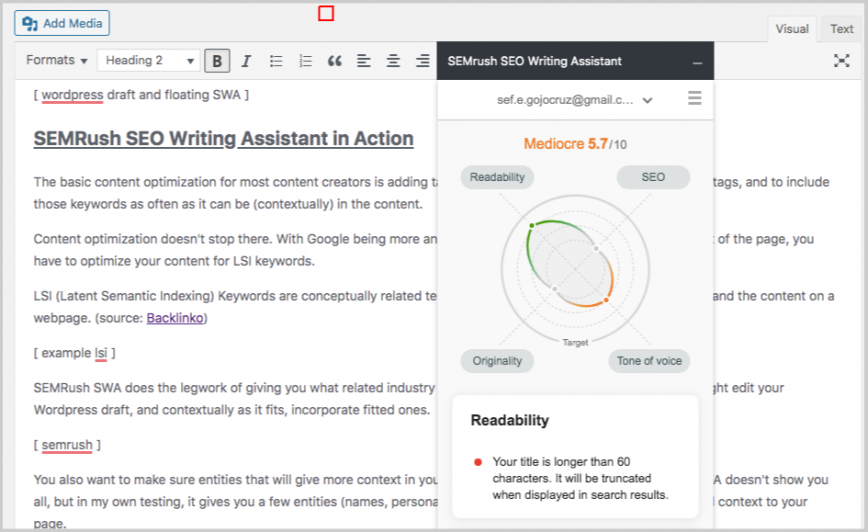 SEMRush is already a popular brand name in the eyes of many online marketers. I'm sure you've heard of them before you even stumbled upon this blog. So, when they announced their SEMRush SEO Writing Assistant in 2018, it surely became a huge hit.
It mainly gives you the chance to check all of your content's originality and SEO potential. With just a few clicks you can find this tool on the Chrome Web Store and start analyzing your content wherever you are.
The interface of the SEMRUSH writing assistant docks on the right side of the document, which seems to be pretty typical for a Google Doc add-on. Once you've downloaded the plugin, just enable the plugin from a document's add ons menu (very much like GDoc SEO Assistant in #2)
The features are broken down into a few clear sections:
(i) Overall score – gives you a bird's eye view of the content quality (total score marked out of 10)
(ii) Readability – the ease with which a reader can understand a written text. (total score marked out of 100) SEMRush uses the Flesch reading-ease score formula
(iii) Target keywords – shows recommendations related to your keywords, and shows volume and difficulty of each one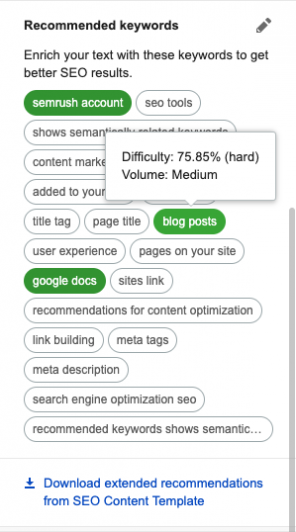 (iv) Recommended keywords – shows semantically related keywords that help in ranking. The keyword will change from grey to green once they are included in your content (However, I usually use LSIGraph to generate a set of related keywords)
(v) Tone of voice – make sure your writing is consistent with the desired level of formality
(vi) Originality – validates and looks for signs of plagiarism in the content
For more information on the SEMRush SEO Writing Assistant click here: https://www.semrush.com/news/seo-writing-assistant/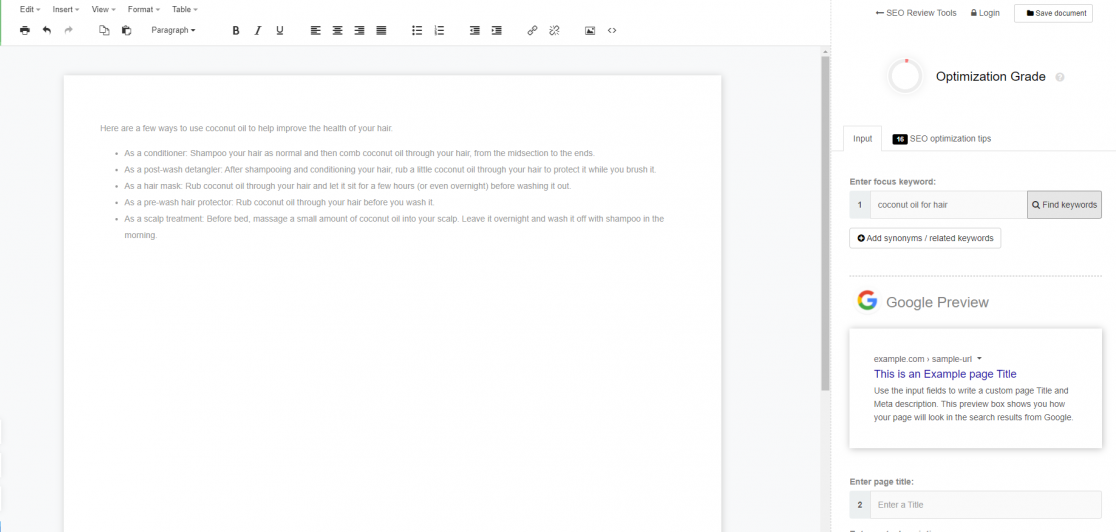 The SEO Content Editor is a writing assistant designed to help you optimize content for the web. This tool allows you to focus on writing GREAT content while it will automatically calculate your SEO score and provide you with real valuable feedback for you to improve your content.
With the SEO Content Editor, you don't have to worry about writing then inputting the information to check for its quality. This tool is designed to help you optimize content, analyze the most valuable keyword suggestions and discover new opportunities that might work better with your audiences.
Give your content a chance to reach higher ranks on search engines with the SEO Content Editor.
Most noticeable features:
(i) Keyword research – select a primary and secondary focused keyword from multiple sources; Web keyword search suggestions, commercial/shopping keyword suggestions, Youtube keyword suggestions, News keyword suggestions
(ii) Keyword tool functionality – Quickly analyze the keyword suggestions and generate/discover new keyword opportunities

(iii) SEO Content Checklist – measures content keyword focus, word count, content link count, page title and meta description
(iv) Search popularity – the tool will render a graph for the selected keyword
To try out the SEO Content Editor, head over to this site: https://www.seoreviewtools.com/content-analysis/
Conclusion
As you can see, each one of these content writing assistants is designed specifically to help writers, bloggers, and marketing analysts optimize their content.
You can either;
Manually optimize your on-page SEO (by following online advice and personal intuition) which will take you half a day on each blog post
OR
You can automate the entire process of writing, editing and publishing to take your site to the next level with these SEO writing tools
If you also wish to have a more enjoyable experience and start making content that really speaks to your audiences, give one of the tools mentioned above a shot. Start doing proper research, ranking, improved optimization, and measurement on each and every one of your content.
I hope this article helped you create compelling content that ranks on top of the search engines just like I did, with the help of these SEO Writing Assistants.
Personally, I like BiQ's Content Intelligence the best. It gives great insights into my content performance and also actionable recommendations on how to optimize them, all-in-one place! The best part? You may start analyzing your content for free here.
If you have other tools that you think should be listed in this article, please let me know by dropping a comment below. I'll be happy to explore and learn more from you.