This article talks about 10 ultimate SEO checks for your website. Doing all of these will ensure a healthy website that pleases the search engine and your visitors.
When's the last time SEO checks were done on your website?
The likely answer, if you are like many people, is either "never" or "many years back."
SEO is perplexing and continually transforming; it tends to be challenging to stay up with the latest Google algorithm changes. Regardless of what your business offers, you want to reach out to your target audience who are searching for products and services that you offer.
And if you want to get those traffic and qualified leads to your site, you need search engine optimization. This blog shows 10 ways of how you can perform an SEO check for a website.
Why Do You Need Regular SEO Checks?
The optimization SEO check for a website can be critical because they help to:
Identify opportunities to increase ranking and conversion
Move your site above your competitors
Realize whether you're on target to hit your objectives
Get your site in front of your target audience
Boosts credibility and authority
Provide the best possible user experience
The Ultimate SEO Check for Website in 10 Ways
1. URL Structure – Are your URLs unique, clean, and simple?
Use intelligible and meaningful URLs to elevate the authority of your website.
When clients can't understand your URL, at that point, web crawlers might be confused as well.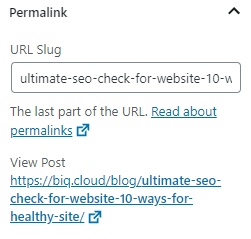 Your URL should be descriptive without being cluttered. It should be precise and optimized with power keywords.
The Google search bot is like a baby that needs to be coddled, and the URL is your treat guide to your site the right way.
The best practice is to use a minimum of 2 words and a maximum of 4 words to make the URL understandable to both humans and search engine bots. Below are further ways to strategize:
Avoid using all caps
Use hyphens not underscore
Insert mobile URLs to sitemap
Add target keywords
2. Meta Descriptions – Are they unique on each page and have the right length?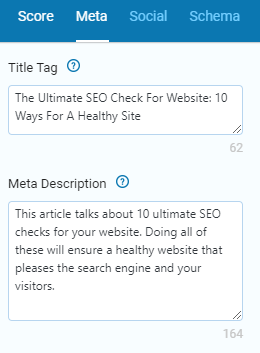 Meta descriptions are the fields that web crawlers use when understanding what a page is—and where it should rank.
They are one of the first things web crawlers read when ordering your URL. Ensure that the description includes your target keyword and brand name.
Taking this opportunity, we'd like to recommend BiQ Keyword Intelligence, a keyword research tool that helps you find the best semantic keywords. 

This is a perfect tool for you to use when it comes to identifying the keywords to optimize your meta description. With a click of a button, you can get access to the much-needed keyword data such as the related keywords, search trend, volume, search intent, and other important metrics.
These important metrics will help you better understand which related keywords to use to add to your meta description.
Go ahead and try Keyword Intelligence for free now!
Now, meta descriptions may not directly affect rankings; however, they influence various components such as click-through rates, which are profoundly respected by Google.
Find out whether you have a unique meta-description on each page. The right length should be 155 to 166 characters to get searchers to click and Google to rank you higher.
You should be mindful when pre-filling your meta-descriptions. Google hates copy content since it makes them uncertain of which page is generally applicable to a user's query.
3. Content – Is your copy well-written, informative, and fresh?

Creating unique and engaging content is a challenge that many marketers face.
The commercial viability of content in SEO is often short-lived. One has to keep things fresh and informative to win new leads hence the need for this diagnosis.
New content is considerably more useful than you may imagine because of something many refer to as the "wow factor" or the "aha moment." You can only achieve these and keep audiences captivated if you feed them fresh and impactful information.
A content optimization SEO check for the website should be done every now and then. It gives you a second chance to make your content attractive to search engines and users.
Let me share with you how we usually do our content optimization using BiQ's Content Intelligence.
First, enter your page URL and target keyword.

Then, it will return with a full analysis of your content. You can see there are three important parts of the analysis.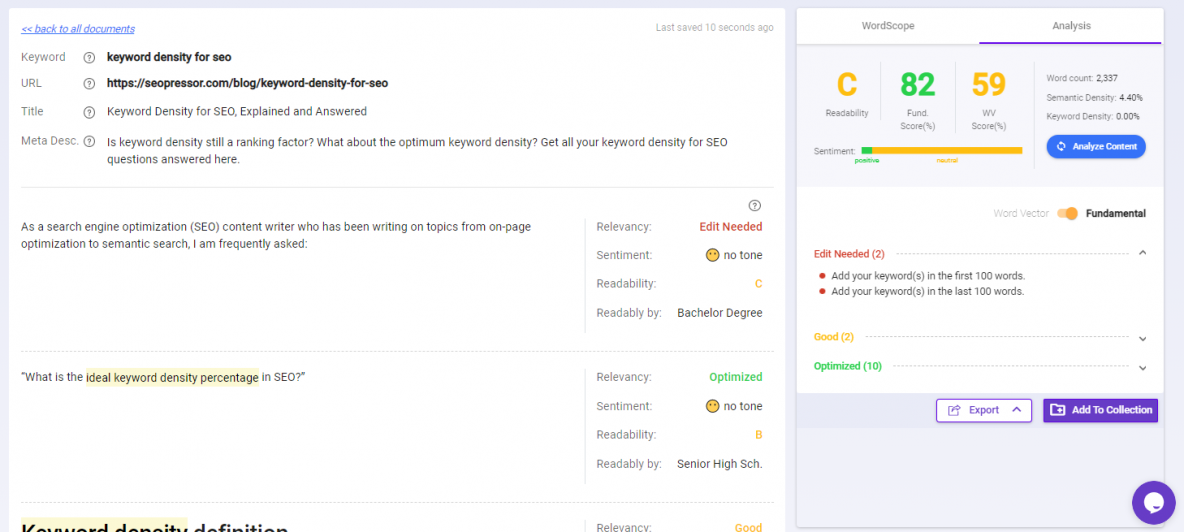 The first section would be the paragraph by paragraph analysis. The paragraph is divided into sections, and you can see its relevancy, sentiment, and readability.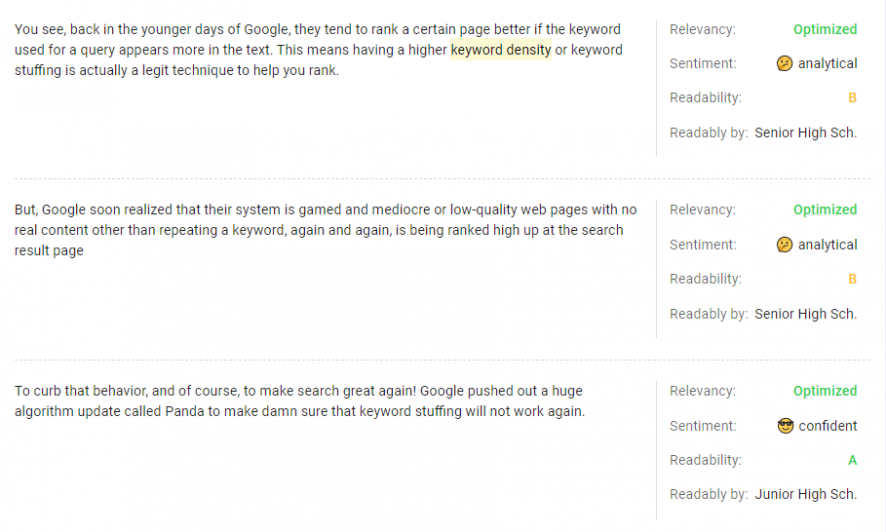 Next, you will see an overview of your content performance, including readability, sentiment distribution, word count, semantic density, and keyword density.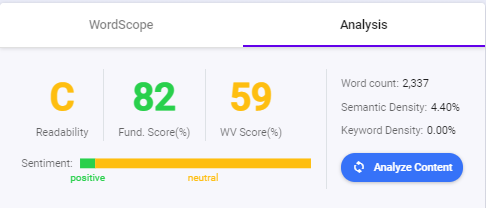 Lastly, the bottom right box shows an analysis of the WordVector SEO, Keyword SEO, and Fundamental SEO.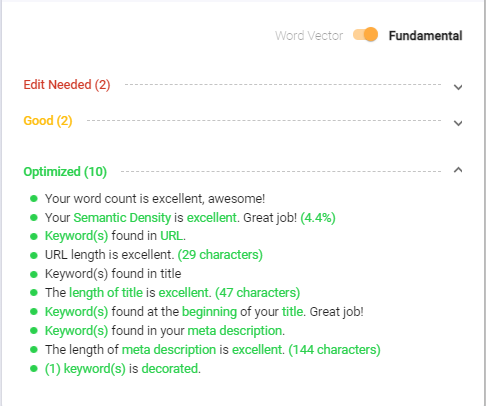 You can use all the insight to guide you in optimizing your content. If you are not sure where to start, you can check out the optimization suggestions at the 'Important' tab. These are usually critical errors that hinder your content from ranking higher.
Try Content Intelligence for free now!
4. Title Tags – Is your title tag describing your content accurately?
A title tag is an HTML component that determines the title of a website page. Title tags are shown on web index results pages (SERPs) as the headline for a given result and are significant for ease of use, SEO, and social sharing.

The title tag of a website page is intended to be an exact and concise portrayal of a page's content. It is what a user clicks on in SERPs to land on your page.
You'll be flying blind if you don't regularly analyze the quality and performance of your title tags. This can be the Achilles' heel of your entire SEO strategy.
The title tag should broadly and accurately describe your page content. If your title is excessively long, search engines may cut it off by adding an ellipsis ("…"). That isn't good for SEO checks.
One more thing, keep it under 60 characters in length!
Avoid using ALL CAPS titles. They might be hard for users to read and may seriously restrict the number of characters that Google shows.
Add in target keywords, but don't stuff them. Google doesn't penalize you for a title tag cluttered with keywords, but it leads to a powerful user experience.
5. Links- Do all of your links work?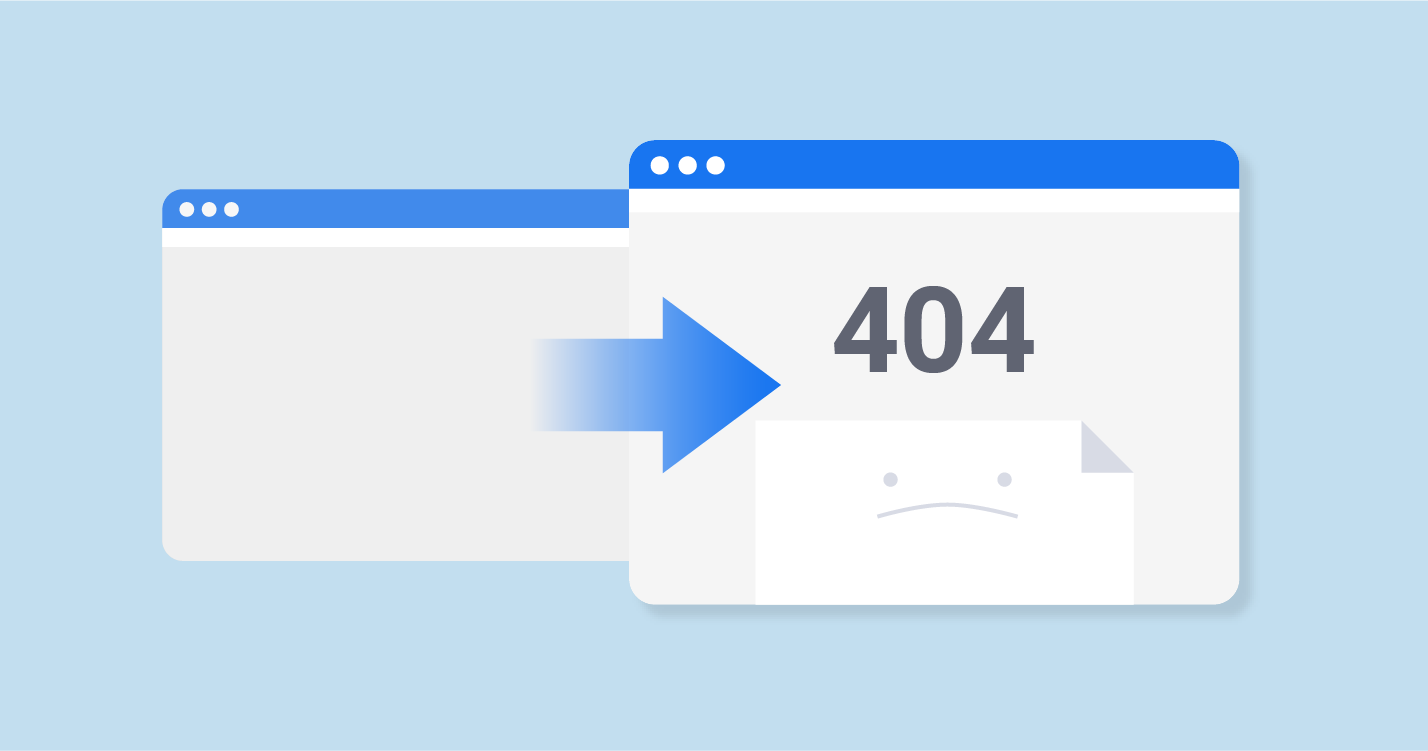 A good number of sites, even those that appear on the first page, contain dead links. In a short time, dead links will drive you to the very bottom of search engine results pages.
This is why you should be conducting regular SEO checks on your links to ensure that this doesn't happen.
Here are some website SEO tips. Broken links on your site can be hurtful in two different ways:
They make for a terrible user experience – When clients click on connections and get 404 errors, they get angry and may blacklist your domain forever.
They derail your SEO efforts – Dead links limit the value of all links through your site, which impacts rankings in many ways.
In case you're wondering how to find and fix broken links, don't stress about it. A good number of SEO audit tools today enable link checks and fixes. A few plugins may also automatically alert you whenever a live link goes kaput, so you can know what to do about it.
6. Images – Do you have enough images? Are the descriptions on point?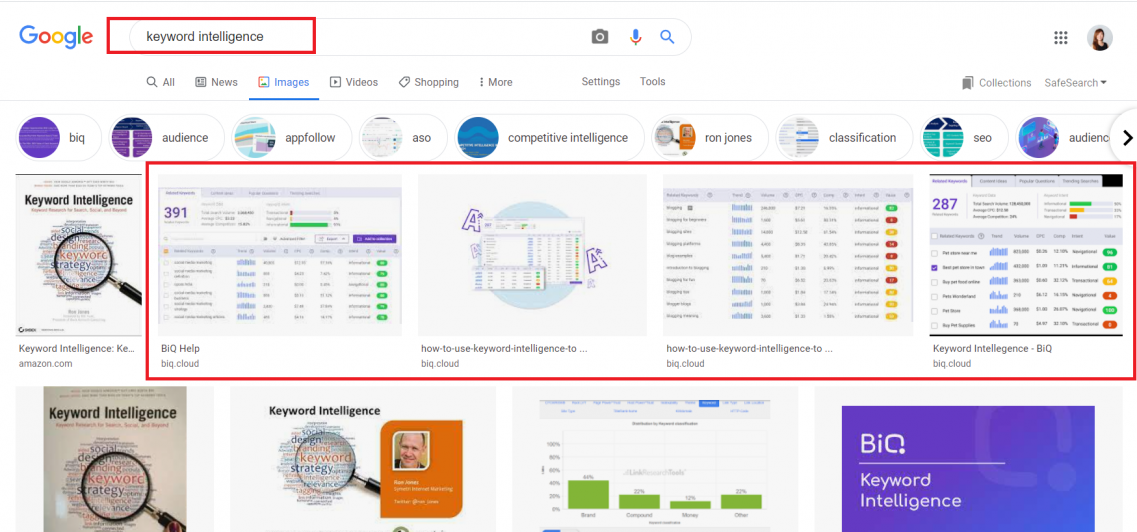 Images, when utilized accurately, will help people to understand your article better. Google probably doesn't mind a 10,000 block of text with no single image, but your users will click back first. The high bounce rate will alert the search engine and cause them to revise your rankings lower.
So you should never miss out on conducting SEO checks of your images.
Each article should have at least four images per article for long-form content. Don't forget to describe them with keyword-optimized alt text.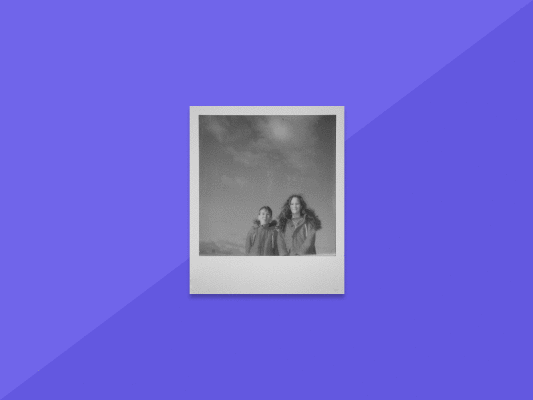 Alt-text is used inside an HTML code to describe an image on a page in a way that search engines and humans can understand.
7. Website Structure – is it clear and easy to navigate?
Better navigation equals ease of use.
The biggest irritating component of a site is an ill-advised design that impacts navigations. A person will be gone once they land on your page with no ability to find what they are looking for.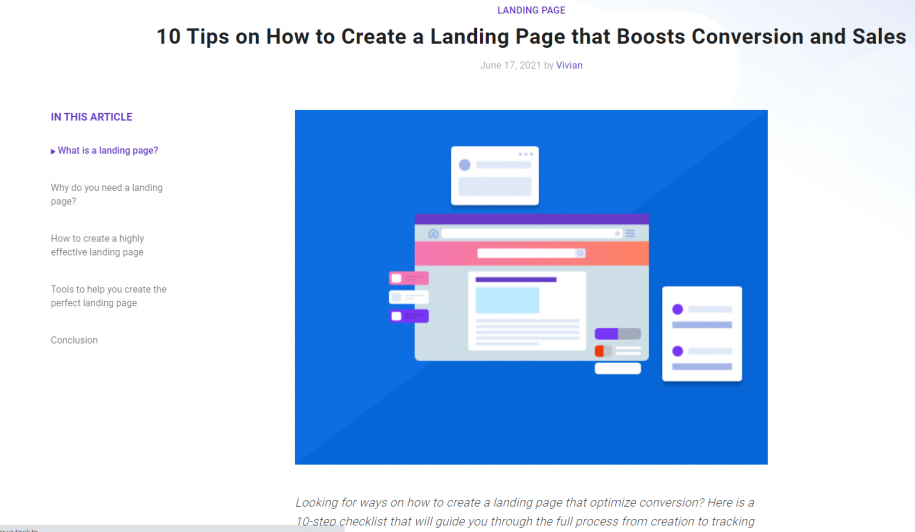 Your SEO checks for websites should include an investigation of the navigational components of your site because they matter too in ranking and conversions.
When a site has poor navigation, most clients practically jump out and add more numbers to the site bounce rate.
Check for navigational predictability to ensure that the design doesn't confuse users. Also, test for simplicity to ensure that your site doesn't come off with jumbled menus.
8. Page Speed – How fast is your page load time?
Another website SEO tip you should consider in SERPs ranking is website speed.
Google's primary need is to show the best and relevant results to users in the shortest time possible.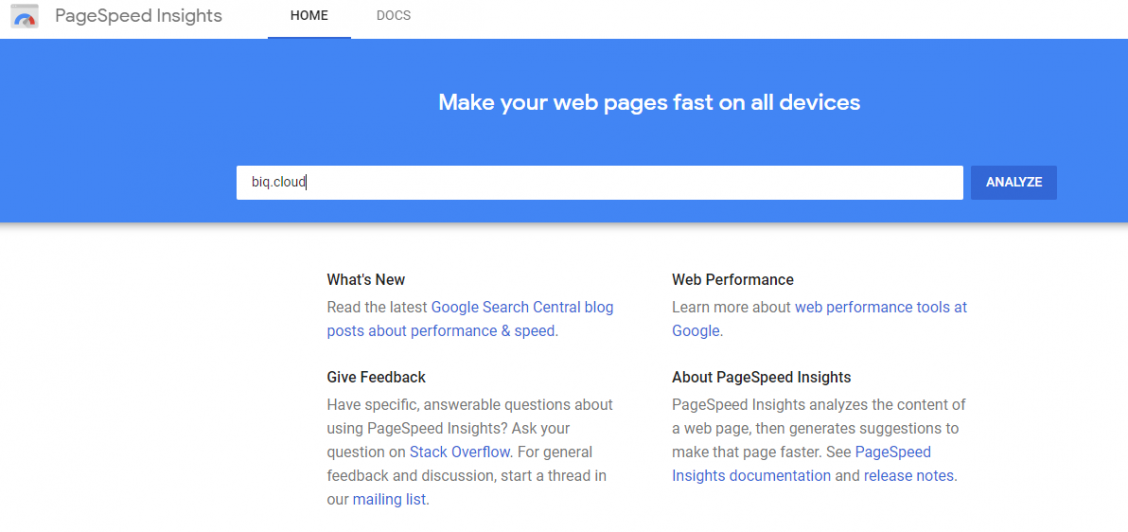 These days, a site that takes more than 1 minute to load doesn't meet the cut.
Page speed is a basic factor when it comes to SEO checks, and you should, therefore, never tire of regularly checking how fast your site loads.
In our world today, no one has the patience to sit and wait 5 seconds for a site to load. Not when there are probably thousands of other sites with the same information that they are looking for.
You need to test for speed regularly. Otherwise, you can lose thousands of sales with every second of the delayed load time.
Ten years back, on April 9, 2010, Google included site speed as one of their ranking factors. It still is. You may use Google SEO checker: Google PageSpeed Insights to perform your SEO checks.
If your pages are slow, you may never see first-page rankings with SEO. If you are already there, pretty soon you might get relegated to the bottom.
9. Backlinks – Are the backlinks in your site of high quality?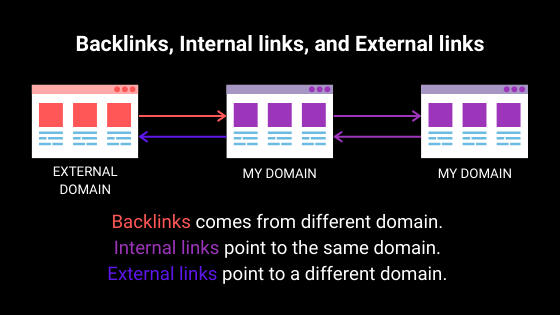 Evaluate incoming links properly. They should be of high quality to help with the authenticity of your site. Authority is a ranking factor, remember.
Urge credible and reputable sites to link to you.
Consolidate do-follow and no-follow joins to get an excellent backlink profile that even Google can't hesitate to reward.
When you run the analysis, find out whether:
Your links are relevant.
They are authority websites.
They are from websites with real traffic.
They use relevant and optimized anchor texts.
10. SEO Audit Tools – Are you using tools out there that can perform effective SEO checks?
SEO Audit tools automate the SEO performance analysis and can help you fix existing issues fast before they cost you your ranks and traffic. The top tools for SEO check for a website that you can try include:
1. BiQ Cloud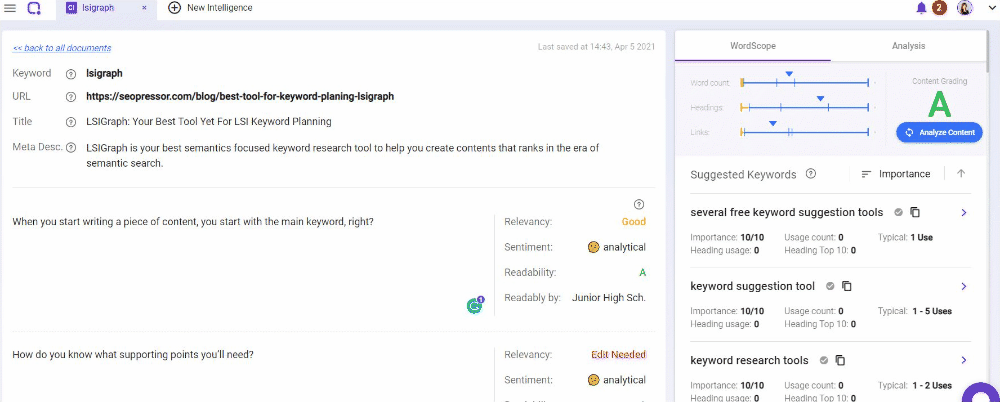 BiQ Cloud is a comprehensive SEO solution for keywords and content optimization, rank checking, and rank tracking. (Pretty sure you've seen enough of the screenshots above).
This is better known as a personalized, AI-Guided SEO Suite that gets you the rank and traffic.
What's even better is it allows you to pay only for the features you use. So you won't' have to worry about exceeding your budget or getting tied monthly to a plan!
Sign up here today: https://app.biq.cloud/sign-up
2. Google Search Console
Google Search Console is the leading solution for those that are just starting in SEO. This is a free Google website checker tool that gives a decent amount of insights plus an outline of things that may need urgent attention, including broken links and lagging page speed.
3. SEO Site Checkup
SEO Site Checkup is a free auditing device that will dissect the whole site performance into categories such as mobility, security, content issues, and more. It returns all the information from search engines that relate to the SEO of your site. These include the engagement levels of your content and the health of your backlinks.
Time To Work On Your SEO!
Doing SEO checks for any website reveals the successes or failures of what you are doing. The analyses reveal areas that need improvement and can help you get the most value from your strategy.
Get the right SEO Audit tools and create a comprehensive analysis framework for success in this endeavor. I hope these website SEO tips prove to be of good use when you're ready to do so!