Twitter allows you to increase your visibility and awareness. You can also use Twitter to boost your SEO. Here are 7 tips on using Twitter for SEO.
Twitter has a huge audience, making it one of the best channels for advertising and boosting businesses or sharing content.
Actually, according to Statista, Twitter has more than 330 million active monthly users worldwide!
That essentially means that you are missing out big if you are not using it to promote your company.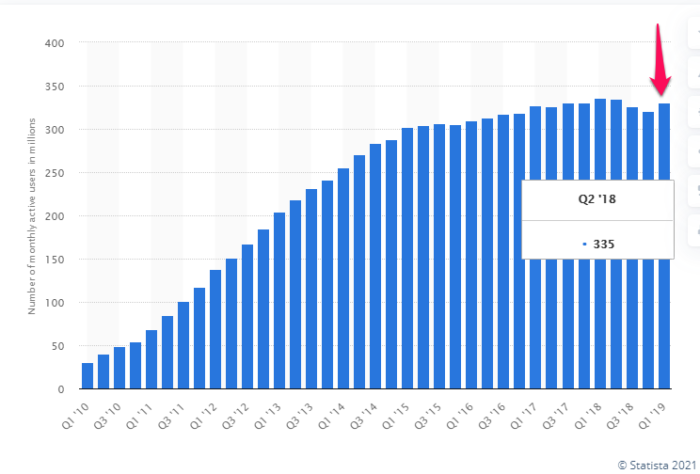 Apart from the ability to reach a larger audience, search engines also use social signals from different social media platforms such as Twitter to rank your site.
Elements such as comments, shares, and likes have a big effect on SEO.
According to a study by cognitive SEO, the more the average number of likes, comments, and shares a company has, the higher their site rank is on search engines.
If you use Twitter properly, you can boost your search rankings just by posting on the channel.
The channel allows you to build a bigger and wider following and draw the attention you require to boost your visibility and awareness.
Keep in mind that Twitter is not a direct ranking factor.
However, widening your reach and building your brand on Twitter is a vital aspect of your general marketing campaign and beneficial to SEO indirectly.
And Twitter does a little bit more, holding a special place in Google's algorithmic heart.
The channel was given an essential role in SEO in 2015 when it collaborated with Google.
The search engine giant now has access to the Twitter stream, making it seamless to index tweets in search results.
This makes Twitter an invaluable social media channel to pair with your site or use to boost your SEO.
That said, where do you start?
Exposure is key here.
For instance, you must promote your tweets, account, and Twitter trends to get noticed out there.
Here is more.
How to use Twitter to boost your SEO
1. Create an ad campaign
For more than ten years, Twitter has been one of the best social media platforms, consistently growing over the years.
It is also a great channel for connecting with customers, getting leads, getting engagement, and managing customer service.
Also, Twitter advertising is fairly inexpensive and faster.
There are four main types of Twitter Ads, which I'll further elaborate on.
Promoted ads
There are some scenarios where you need to quickly and seamlessly promote a tweet.
Perhaps you have a deal that ends soon, or you have published a blog post and want to get more traffic.
Or you are attending an event and want to get engagement on live-tweeting quickly.
Whatever the issue, you can use promoted ads to set it up within minutes.
All you have to do is head to your timeline, click on promote this tweet and then select the region you want to target the budget.
And you are good to go.
Note that advertised tweets are usually labeled as "Promoted."
Promoted only Tweets
These are regular tweets that popup for users who are not your followers.
The only difference is that they will have a tag that reads "Promoted by (your brand's name)."

People can retweet or like the tweet, but you must pay for it to show up in your target audience's timeline.
They are only shown to users that are targeted in your campaigns.
Follower Ads
Setting up a follower ads campaign is an excellent way to attract targeted followers. To do this, follow the following steps:
Log into your account.
Click on Twitter Ads.
If this is your first time running a campaign, it will ask you to choose a campaign. If you are running other campaigns, click on "Create a new campaign."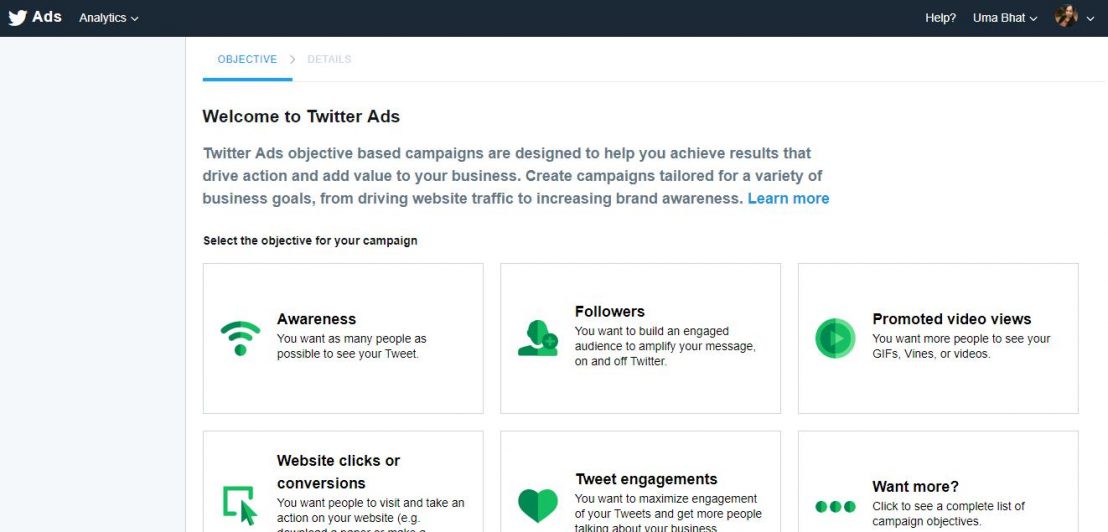 From the campaign section, choose "Followers."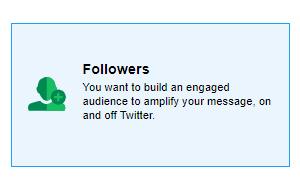 Name your campaign as you see fit.

When setting a date, you can either set a later date or start immediately.
After setting your date, you can also allocate your daily budget.

Choose your target audience based on interest, gender, location, and so on.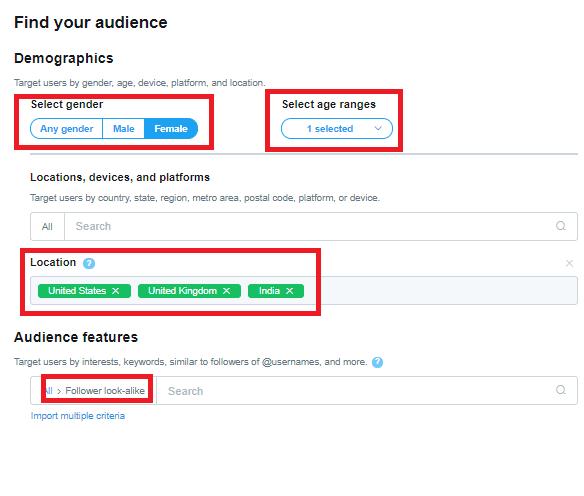 Compose tweets that you want to promote.

And bam, you're done!
Your followers' campaign will start running.
Promoted Trend
Viral or trending topics usually appear on the right side of the page and on the app's Discover tab.
So, when you promote a certain trend, it will pop up in those areas.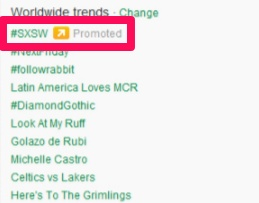 The more people that use the tag, the more visibility and exposure you will get.
It is a special ad, known as "Trend Takeover."
It runs for 24 hours whereby it stays at the top of the trends.
It is a good way to increase awareness of an event or topic.
2. Use targeted keywords
Try to communicate consistently and include targeted keywords you usually use on your site.
Keep in mind that hashtags act as keywords on Twitter.
They enhance searchability and help users discover your content.
As such, transform your vital keywords into your hashtags if you want your tweets to appear in the Twitter search for a particular topic or in the Trends feed.
This doesn't mean that you overuse hashtags on a single update.
They might appear spammy and discourage potential followers.
You can use 2 to 3 hashtags for a tweet at the end of a link to a post explaining its category or field.
Once in a while, take time to evaluate which hashtags bring more likes, retweets, and clicks.
Then fine-tune your strategy by concentrating on the effective ones.
You can check how you are performing using Twitter analytics and identify what hashtags are the best for your brand.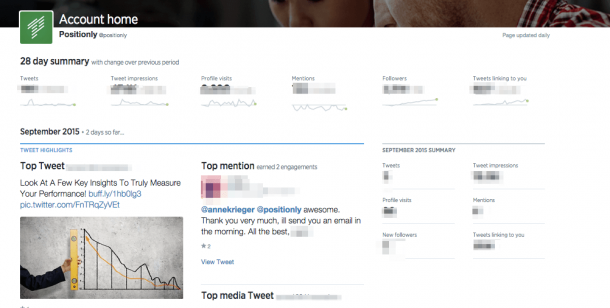 Do not forget to include different media types such as videos, links, and images in your tweets to attract more engagement.
Before you start any campaign, it is always good to first prepare a list of hashtags.
Ensure the tags are branded and only use them when you tweet about the event or campaign.
If you are unsure which keywords to use, there are many keyword research tools online, such as BiQ's Keyword Intelligence, that can help.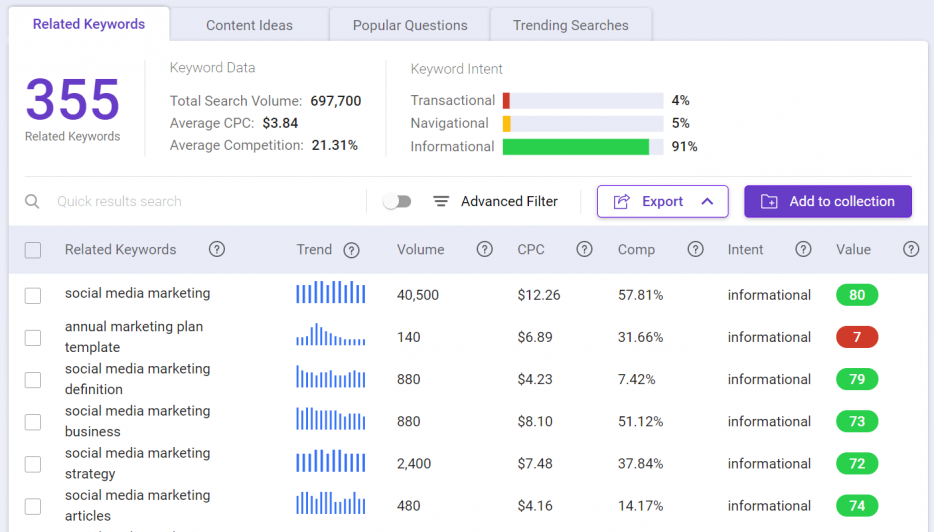 It allows you to gather data on keyword volume, trends, keyword competition, related keywords, and more.
3. Tweet regularly and strategically
"The more, the merrier" approach does not work with Twitter.
First, search engines will start to see your tweets as spam and may penalize you.
Similarly, hundreds of posts per day may irritate your target audience into hitting the "unfollow" button.
Therefore, post regularly but strategically.
Create a social media schedule, list your tweets in advance and choose when to post them.
There are many social media management apps that can help you schedule posts on Twitter.
According to SproutSocial, one of the best days to publish on Twitter is Friday and the best time is between 10 am to 12 noon daily.
Also, try to check at what time your target audience is online and then customize your publishing approach accordingly.
4. Use popular and trending hashtags
Hashtags are not only excellent for marketing campaigns but also for Twitter SEO.
This is because hashtags make specific tweets searchable not just on Twitter but on search engines as well.
Here are important tips to help you optimize the effectiveness of your hashtags on your ranking:
Keep it simple that people can easily search for.
Use niche-specific keywords and hashtags. There are many tools that can help you identify the right ones.
Run a hashtag marketing campaign as a part of your wider advertising efforts.
Include at least two hashtags for each tweet to keep them precise and focused.
Do not use the same hashtags on all your posts. Try and switch them a bit to widen your reach or increase engagements.
That said, there are many ways to incorporate hashtags in your posts.
For example, you can create branded tags that promote your marketing efforts.
A good example is what Coca-Cola did with the #ShareaCoke hashtag.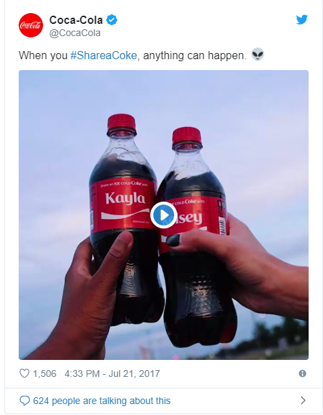 The campaign marketed customized Coca-cola cans and bottles sold on their site and in-store.
The company allowed customers to order personalized bottles with any name.
The campaign was a success because the hashtag included both the brand name and the campaign slogan making it easy for customers to recognize it worldwide.
Another great way to include hashtags is to research trending hashtags and use them to engage more users.
Head to the "trends for you" section on Twitter and identify recent tags that are popular and pick the trending ones in your region or globally.
Just make sure you research those you chose to understand what they really mean and how they relate to your business.
5. Include images and videos
According to WordStream, social media posts with videos and images get 18% more clicks than those without them.
And as you already know, more clicks lead to better ranking in search engines.
Nonetheless, makes sure that you include media files that are engaging, good quality, and relevant.
Here is a good example by Mr. Peanut.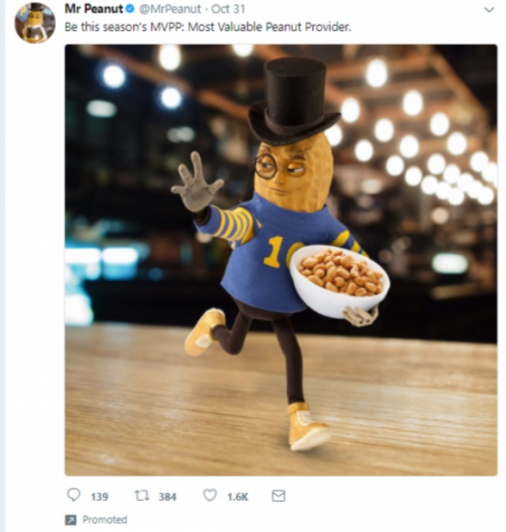 Videos, too, are great for marketing.
According to a study by Insivia, 82% of users on Twitter watch videos.
So, try to include a short clip in your next tweet to promote your service, brand, and product.
Polls and giveaways are another good way to engage with followers, gain attention and find new followers on Twitter.
6. Share your links
Just tweeting your post links once in a while is not enough to create social signals towards your site and eventually rank well in search results.
You must continuously and strategically create more shares, likes, and comments for your pages and blog posts.
You can achieve this by scheduling posts to be published daily throughout the year or month.
There is no need to pay a social media manager for that; there are many tools online that can help.
They will schedule your posts or links to be published on the platform at the time that you set.
You can pick peak times to share evergreen content on your blog or schedule the links to be shared throughout the week.
Similarly, you can connect your blog to a Twitter account using different WordPress tools and plugins to consistently share tweets when you publish a new article.
Also, let search engines know that you have a useful and active blog or site by tweeting links to your site regularly and eventually improving social signals.

7. Interact with your followers
A Twitter user is unlikely to engage with a brand that has not tweeted in months.
So make sure that your audience does not get bored by posting regularly (at least once or twice a day) and developing concise and interesting tweets that users want to engage with.
Also, keep in mind that any tweet you publish is a chance for search engines such as Google to index you.
When Twitter users engage with your posts by retweeting with a comment or asking questions, be sure to address the concerns or questions to keep the conversation going.
Another excellent way to increase your following on Twitter and to rank well on search results is to connect your Twitter account with other social media platforms such as Facebook, Instagram, and LinkedIn.
Platforms like Instagram and Facebook, in particular, have automatic publishing buttons that allow users to share content easily between them.
Nonetheless, be careful, as some people may notice this and choose to ignore both posts.
That notwithstanding, crosslinking between different social media channels enhances your visibility and attracts new followers to your page.
Conclusion
Finally, do not forget to promote and advertise your Twitter profile.
Though it is less about enhancing SEO rankings and more about promoting your brand, it is vital.
Provide a simple link to your Twitter handle on your website or blog.
If it is a guest post, put it in the author byline.
This will help you enhance the account's authority and relevancy in Google's eyes.
The main concept here is that your site and Twitter account are designed to complement each other, benefiting from each other.
Remember that Twitter is a social media platform, and the information you publish there must be engaging and easily digestible.
So, create entertaining and unique tweets that grab your target audience's attention.
Include images, videos, and GIFs where appropriate to spice up your tweets.
Hopefully, this guide was helpful and will help you boost SEO rankings with Twitter.
Use these tips to maximize your SEO potential with Twitter!