Affiliate marketing is the process of earning money by promoting a brand's producs/services. There are many affiliate marketing strategies you can use to increase your sales. Here are the 7 top ideas
Affiliate marketing has certainly earned a spot on the high table as having the potential to boost sales and generate more revenue.
But affiliate marketing does more than that.
It's a highly cost-effective and lead generation strategy where you pay solely based on performance.
When utilized properly, you can leverage multiple affiliate marketing strategies to boost your performance-based marketing tactics to skyrocket your sales.
That's one of the primary reasons why more and more brands are adopting its use.
If you're looking for affiliate marketing strategies to boost your sales and generate substantial ROI, you've come to the right place.
What is Affiliate Marketing?
From its name alone, you know that it's a form of marketing.
However, affiliate marketing is the process of earning revenue by promoting other brand's products/services.
Your work is to build an engaged audience and look for products/services that resonate with your online image.
After finding a product you can promote, you can popularize it to your audience.
Then, for every sale you make, you earn a commission of that product.
Sounds pretty simple right?
Well, affiliate marketing requires a lot of hard work and dedication.
It typically involves three parties.
Retailer
This is usually the owner or creator of the product.
A retailer can be a big brand, a small startup, or a solo entrepreneur.
The key to becoming a successful merchant is to have a sellable product.
Retailers are also known by other names like the seller, vendor, brand, merchant, etc.
Affiliate partner
This will be the actual person who will promote/sell the retailer's products/services in exchange for a commission.
To become a successful affiliate, you must first build a loyal and devoted audience who are associated with the product/service you intend to promote/sell.
Afterward, you can start promoting the product/service to them.
You must also establish authority and promote only products relevant to your niche.
You can be a single advertiser or a full-fledged company.
Consumer
This is the buyer of the product/service you're promoting.
Without actual paying customers, even the best affiliate ideas and strategies won't be fruitful.
Therefore, you must have a good rapport with potential customers.
Otherwise, you won't be able to convince them to purchase the product/service you're promoting.
That's affiliate marketing made simple.
Fortunately, you can use several affiliate marketing strategies to increase the chances of the products you're promoting being purchased.
Affiliate Marketing Strategies
When you set up affiliate marketing properly, you can have one of the most successful affiliate marketing campaigns in your niche.
You just need to know which tactics work best for the particular niche you're promoting/selling.
Most successful brands work with multiple affiliates to boost their sales further.
However, not all affiliates utilize the same affiliate ideas or techniques to increase product/service visibility and demand.
Admittedly, there are several affiliate marketing strategies you can leverage to increase your chances of making a sale.
Here are the top affiliate ideas that can help you grow your affiliate brand!
Customize Your Products for Your Audience
Every successful affiliate marketer knows this. It's crucial that you promote only the products/services that are important to your audience.
While this might sound simple enough, it can get complicated really fast.
Choosing great products to promote or sell is about more than picking categories aligned with your website.
It's about understanding your clients' needs and psychology.
What do they want?
For instance, promoting products that are out of your customers' price range won't do your affiliate marketing efforts any good.
They simply won't buy.
And no sales means no commission.
But perhaps more importantly, you may end up sounding inauthentic or too sale-sy, which may turn most people off, thereby hurting your brand.
Affiliate marketing stems down to how well you understand your audience.
Data and analytics tools are your friends here.
Use them wisely.
It's important that you know who's reading your blog at all times.
This way, you'll get actionable data using analytics tools like Google Analytics to determine your audiences' demographics and interest features.
Social media is another excellent data source with built-in analytics features you can use.
Ultimately, your primary objective should be to understand your audience well enough to promote products/services that are in line with their wants and needs.
Choose the Right Brands to Work With
If you want to influence your readers' buying decisions, it's important that you work with a brand or business that most people already engage with and trust.
This way, you won't have to work overtime trying to convince them to try a product/service from some brand they've never even heard of.
When choosing a brand to offer your affiliate marketing services, check whether or not they:
Have a good rapport with their audiences.
Have a good following, views, engagement, site rankings, and authority.
Their audience will likely be interested in your products/services or brand.
All these are essential elements that ensure your efforts are not in vain.
For example, if you're an electronics company, choosing a coupon website that offers discounts on fast foods wouldn't make any sense.
Therefore, it's important that you choose your affiliate brands wisely if you're looking to gain maximum conversions and sales with minimum effort.
Working with brands that don't suit your niche or your audience's preferences may hurt your own reputation in the end.
Attract Customers with Coupons and Promotions
Everybody loves a great deal.
Therefore, leveraging coupons and other deals easily ranks as an effective affiliate marketing strategy to boost your sales.
People just love the savings power coupons have.
It's not uncommon to find a customer looking for a discount voucher or various coupons before shopping for a product.
Check out these amazing statistics about coupons and offers.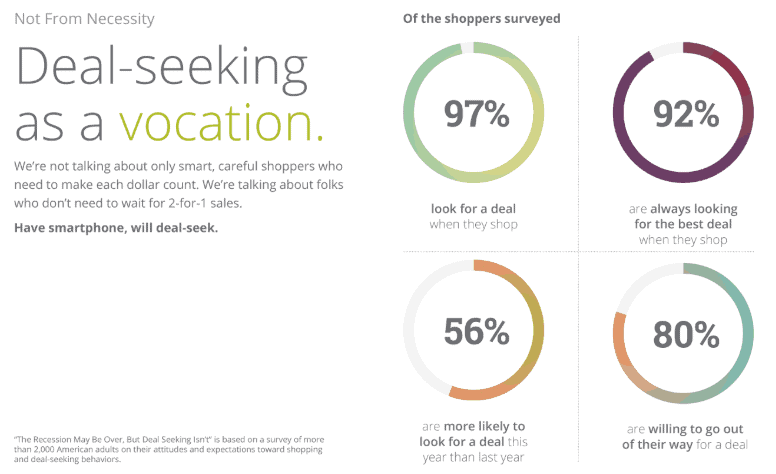 The internet is currently flooded with coupon and deal sites that allow affiliates to attract even more customers by offering them significant discounts.
Offers and Groupon are few such sites that are driving huge traffic and increased conversions through coupons and big discounts.

Coupons are particularly more effective when used in highly competitive markets such as food, travel, gadgets, and beauty.
However, you must manage those coupons well.
An extravagant discount offer may simply eat into your margins.
It's advisable that you start your affiliate marketing efforts by working with a few high-quality websites.
Then monitor and track where their visitors come from.
It's also crucial that you check the authenticity of the website whose products/services you're about to promote.
It's probably best that you try using the brand's coupon codes for some of its popular products.
If they don't work, then something somewhere isn't right.
Usually, brands or businesses will come up with deals and coupons to attract customers, new and old.
Choose Great Products That are Currently Trending
When starting as an affiliate marketer, it's only common sense that you'll want to venture into promoting a product/service that will make you money.
Because you're earning a commission, selling more high-value products will definitely make you more.
Low-value products/services that are super-desirable could also be an interesting option.
But then, you'll have to sell a lot of it too.
Another crucial tip we would recommend is to invest heavily in BiQ's Keyword Intelligence tool.
The BiQ Keyword Intelligence tool will help you identify keywords that are currently in trend, giving you crucial insights into possibly valuable products to promote.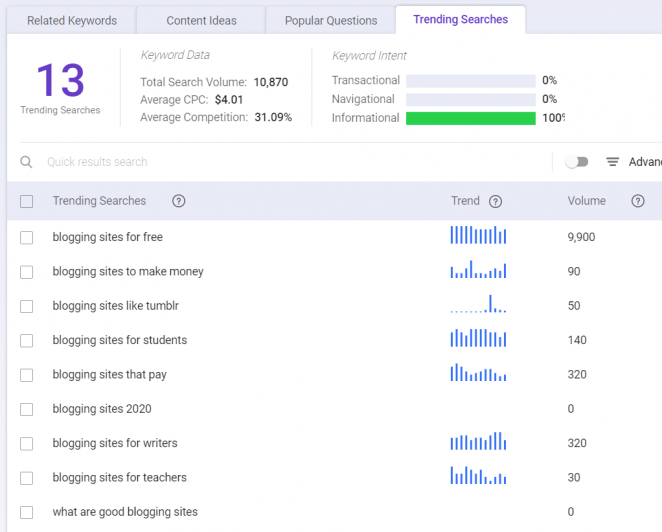 You will have critical insights into which products/services are worth spending your time, effort, and resources promoting.
You can find products/services that are worth marketing based on their keyword trends.
You'll have better insight into what your readers are searching for now.
You can also use Google Trends to check if a product/service is currently trending and write content on it to promote it if it is.
Hop on that train with the hopes of potentially selling more products by capitalizing on what's viral now.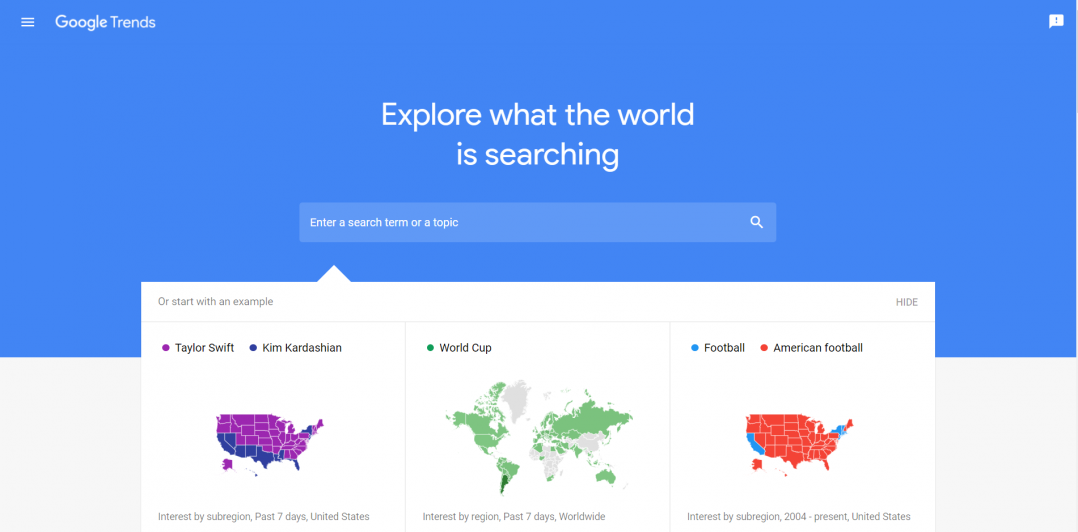 BiQ's Content Intelligence is another essential tool to provide you with SEO-friendly content-driven strategies to write great content.
You will have access to interactive writing tips to make your writing more engaging and authoritative.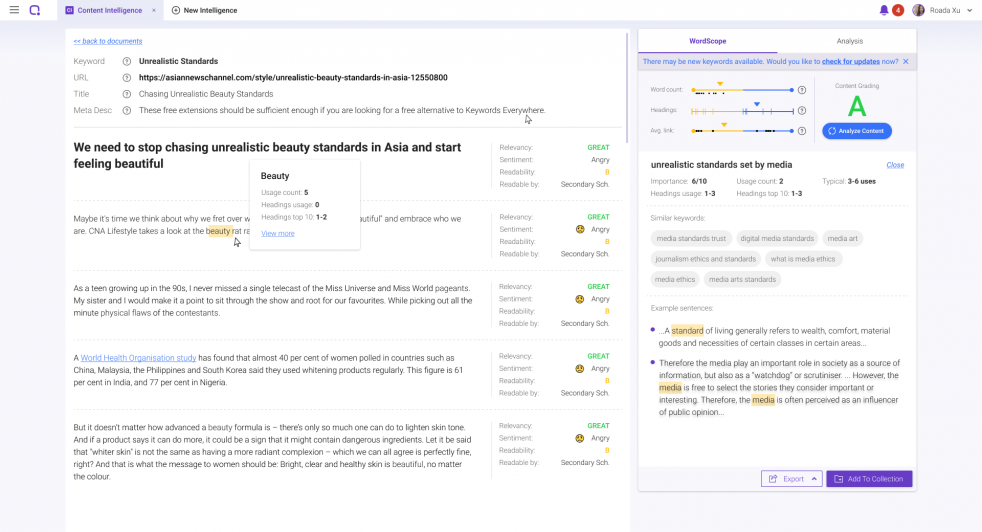 BiQ's Content Intelligence is the perfect blend of features you can use to provide you with real-time text editing to determine your content grade.
Therefore, you always know how relevant your content is to your readers.
It's one of the most effective affiliate marketing strategies you can apply.
Insert Affiliate Links in Your Pages That Drive High Traffic
When implemented perfectly, you can use affiliate links to find more affiliate marketing ideas that your audience can relate to.
You can also always go through your existing content to determine which of the products/services you're promoting are getting the most traffic.
Google Analytics is one of the best tools for this approach.
Once you've found the high-performing web pages on your website, add affiliate links to them to promote your affiliate products.
You can also promote individual web pages using Google Ads or social media ads.
Driving more traffic to your individual pages will automatically drive more clicks to your affiliate links.
It's the perfect strategy if you're looking to set up affiliate marketing fast.
However, you must be strategic about this and only use pages that are already doing reasonably well.
Otherwise, you might end up wasting considerable time and resources trying to promote your affiliate products from underperforming content.
Customize Your Links for Different Geographical Areas
There's nothing more irritating for an online user than clicking on a product/service they are really interested in, only to be slapped with a "This product/service isn't available in your country" pop-up.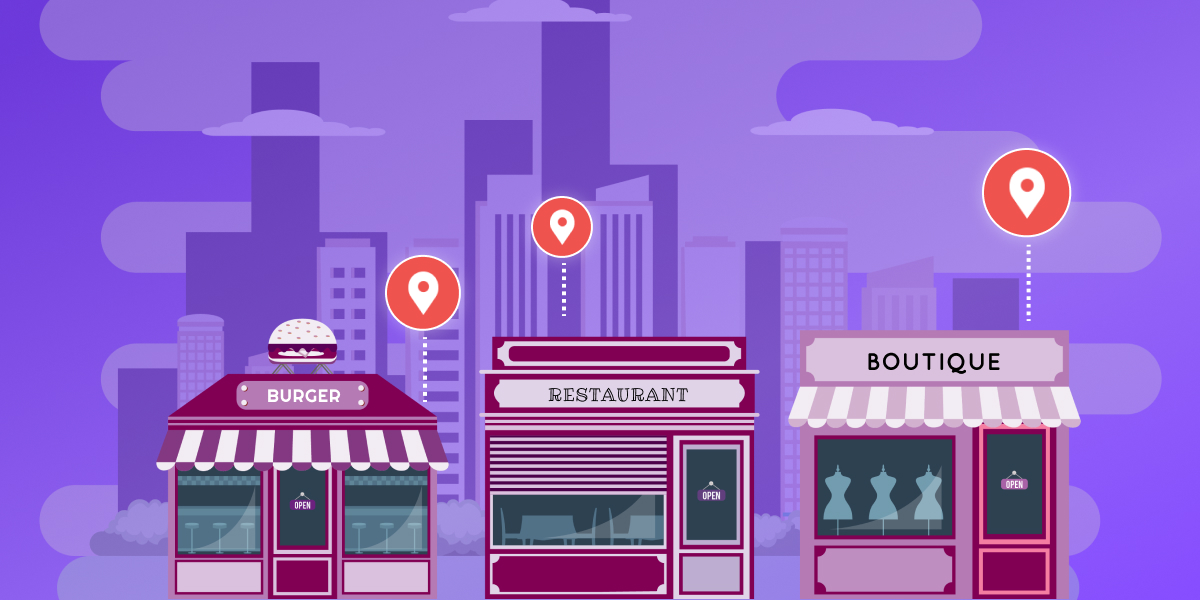 Or seeing shipping or customs fees that are just so high purchasing the product/service doesn't seem feasible.
After all, why would you purchase a product online when its shipping and customs fees cost way more than the product itself?
It doesn't get any worse than that.
Plus, it's the easiest way to lose prospects you worked really hard to join your team.
It's the exact sort of thing you'll want to avoid when using affiliate links.
For example, what's the point of linking only to Amazon stores in the U.S. when you also have non-U.S. readers on your list?
The non-U.S. readers will probably click out of your web page and search for those products/services in their local stores.
Think of how many affiliate sales you could lose.
However, you can now combat this by geo-tagging your affiliate links and using other advanced affiliate marketing strategies to make the purchasing experience easier for your international readers as well.
This way, you can redirect your international readers to their local websites and still get your commission.
A/B Test Your Affiliate Links & Banners
A/B testing is a critical technique for online marketers, affiliate marketing included.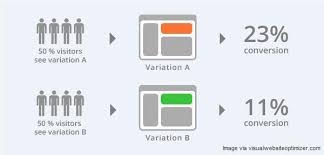 You don't need to be an expert to know you should be tracking and monitoring your affiliate marketing progress.
Moreover, A/B testing is quite simple.
You'll need two versions of a landing page, ad, or other marketing assets.
Monitor them to see which one performs better.
For instance, you can test your affiliate links to see how they perform on different positions on your website.
For instance, links near the top of your pages might perform much better because they're more visible.
Various ad positions and colors can also perform differently since color can surprisingly impact conversion rates.
If you have affiliate banners, ensure you A/B test them like any other ad to overcome banner blindness.
Conclusion
The above excerpt shows that affiliate marketing will help you attract more customers and convince them to purchase from you.
The affiliate marketing strategies mentioned above should help improve your customer acquisition efforts, meaning more sales and commissions.
However, as with all other things marketing, affiliate marketing isn't a one-time job.
Being an affiliate marketer doesn't happen overnight.
You'll need to choose the most fitting marketing channels, affiliates, and affiliate marketing strategies before you can get to work.
Try out the affiliate ideas above and see which one works best for you.
Let me know if there are any affiliate marketing ideas you've successfully run in the comments below!