SEO for small business works as it helps small business owners to create content that can rank higher in the search engine results page. This will bring more customers and increase conversion rates
Do you find SEO a handful?
Maybe you lack time to learn the intricacies of what SEO really is and what it can do for your business operations.
For any small business looking to stay afloat in the search engine space, versatility is a critical strategy.
Running paid ads has always been an excellent strategy for getting immediate highly-targeted traffic and visibility.
However, most of these strategies are short-term.
If you're looking for something more long-term that offers organic visibility, you should consider SEO for small business.
But be warned, it requires consistent effort and dedication.
Unfortunately, not many small businesses are making good use of SEO.
And it's dismal because SEO is one of the most effective and crucial marketing strategies.
If you don't have time to do local SEO or learn how does SEO works, you can always hire an SEO service agency for the job.
Integrating search engine marketing for small business into your content marketing strategies helps to get your content in front of the right audience and rank higher in the SERPs.
Benefits Of SEO For Small Business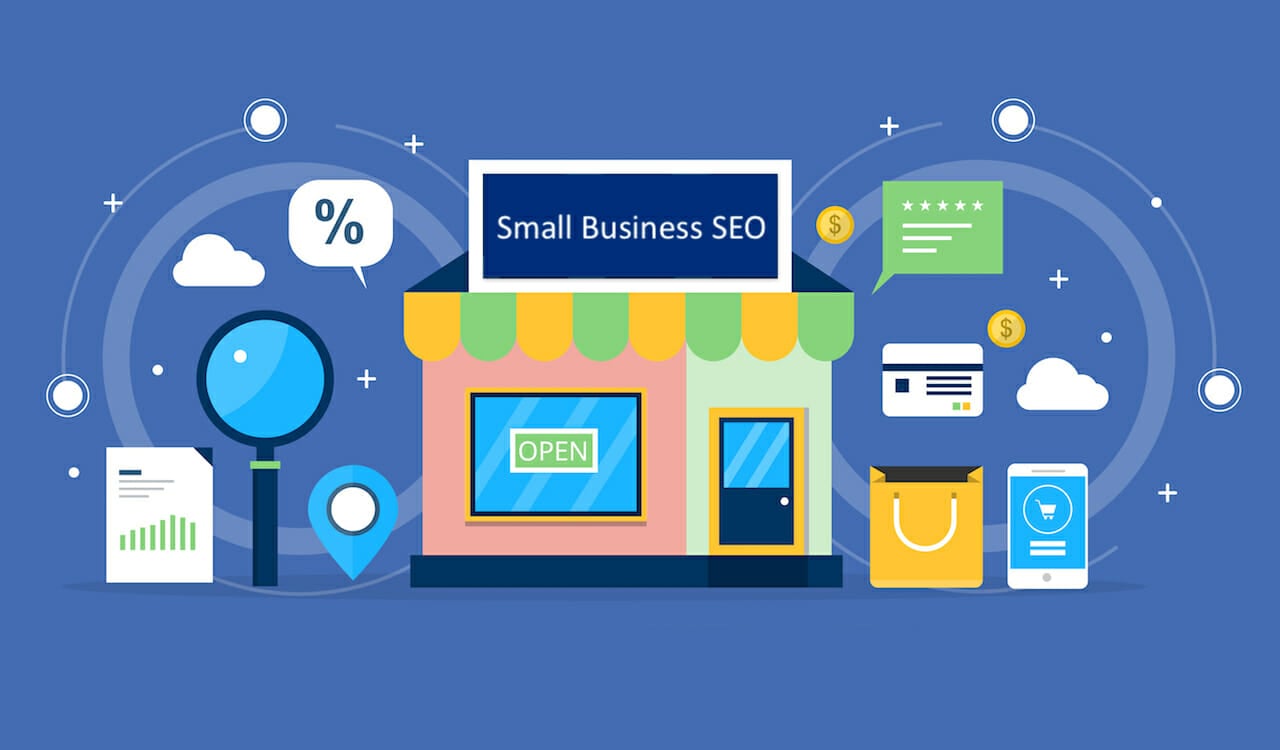 Does SEO work for small business?
YES!
SEO helps small business owners to create fast and user-friendly content that rank higher in the search engine results pages.
In turn, this will bring more potential customers to your website and eventually increase conversion rates.
Additionally, SEO helps build brand awareness.
Search engine users are often more inclined to trust websites that are on the first pages of the SERPs than brands that are not.
Therefore, you must utilize local SEO to build a strong online presence and surpass your competitors as a small business.
It's the surest way you'll get new traffic to your business and grow your brand.
That's why we compiled a list of the top 4 benefits of using SEO for small business.
Here's what I found!
Bring in More Customers from Web Traffic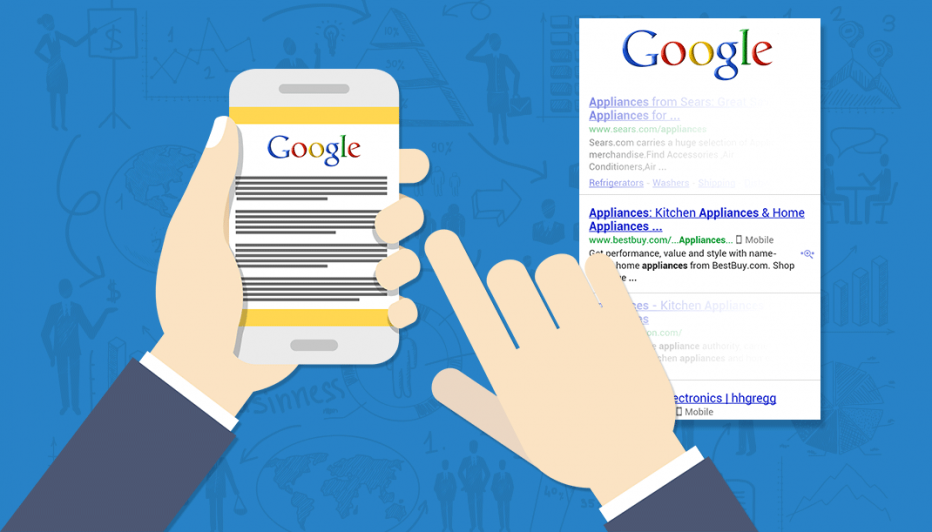 One of the main reasons for starting a website is to create more brand awareness and stand out from the competition.
And the best way of doing that is by actively working to increase your customer base.
Otherwise, it wouldn't make much sense to invest thousands of dollars in marketing without concrete results.
Brands that have SEO-optimized websites eventually reach more customers and grow twice faster than businesses that don't use local SEO.
This probably makes SEO the most critical tool to have in your arsenal for the most affordable and efficient marketing strategy to use.
Moreover, you'll only reach out to potential customers who're actively seeking your products/services.
SEO is one of the most efficient SEM strategies that will revolutionize your business when utilized properly.
We're not just talking about applying all the SEO strategies you can find.
You must know which marketing strategies work best for your brand and which ones don't.
Suppose you're willing to spend hours of your time, energy, and resources.
SEO will bring more targeted traffic to your site, and eventually, more prospects than any other marketing strategy you'll ever use.
Higher Conversion Rates
One of the main features you'll notice with SEO-optimized websites is that they load faster, display properly on most devices, including mobile and tablets, besides being easy to read and surf.
Basically, easy-to-read and navigate websites will likely grab and retain the attention of your readers and visitors
Consequently, you'll have more loyal subscribers and returning visitors to your brand, with the focal point being enhanced user experience.
Stay Ahead Of The Competition
Say you have two brands in the same industry competing to sell a similar product at a similar price.
But one business has an SEO-optimized site while the other has not optimized its site.
Everything else considered, which business do you think would attract more prospects to their website?
Which company will likely grow faster and be more successful?
Ultimately, SEO and search engines are very powerful tools that lead to increased search engine rankings and site visibility.
SERPs will favor the SEO-optimized website at the expense of the other.
This tactic will help you attract more potential customers.
If you see your competitors successfully incorporating SEO marketing into their website, why haven't you invested it into your own marketing strategies yet?
It won't be a fair fight.
Build Brand Awareness
Building brand awareness for your optimized website is one of the best ways to get higher rankings in the SERPs.
When your website appears on Google's first page or other major search engines' first pages, your potential customers will be more inclined to trust your brand when searching for a term you rank for.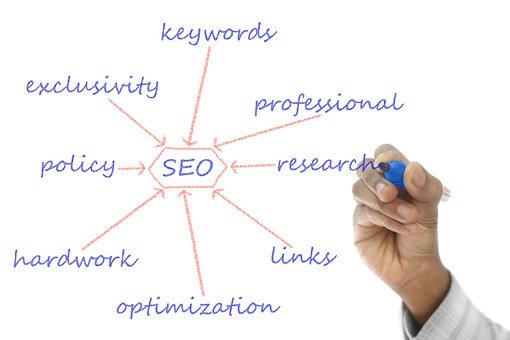 That's why search engine marketing for small business is critical to building better brand awareness.
So, invest in SEO now and start ranking for the keywords related to your business.
Search engines now play a key role in making or breaking your brand.
How to Improve Rankings
Unlike PPC and other marketing strategies, SEO doesn't happen overnight.
Great organic rankings demand a lot of energy and patience.
There are at least 11 rankings factors you should focus on to move the needle for your business.
Here are some SEO checklists to implement in your small business for the best results:
What to address
The tools to use
Why it's important
The time commitment involved
1. Optimize Your Page
SEO for small business is more than just patching keywords on your pages.
You must prioritize developing quality content that's properly stretched with natural characteristics for your targeted keywords.
Content optimization for SEO is critical for ensuring you're not missing important ranking signals.
Use every reasonable opportunity you've got to target keywords appropriately on your website.
That's to say that you must optimize your content for:
The content titles
Meta descriptions
Body content
BiQ's Content Intelligence is the best tool for creating relevant SEO-friendly content.
Writing well-optimized content depends on how well you understand important topics to cover.
Assuming you already have a great keyword in hand, BiQ's Content Intelligence will provide you with critical data to help you hop over to the top of the search engines.
The problem with organic ranking is that it takes so long.
Human observation is also prone to error.
But with Content Intelligence, you'll get a breakdown of all your keywords in terms of keyword usage and example sentences.
BiQ's Keyword Intelligence also allows you to find locally targeted keyword opportunities.
It's as simple as choosing your preferred locations and languages.
Keyword Intelligence allows you to decide the best keyword to use.
With BiQ's Keyword Intelligence, you can sort your keyword value and use it to measure keyword volume, keyword intent, trends, and related keywords.
A high-value keyword will definitely bring more traffic to your website.
Grid My Business allows you to identify and monitor your local search ranking for specific search queries.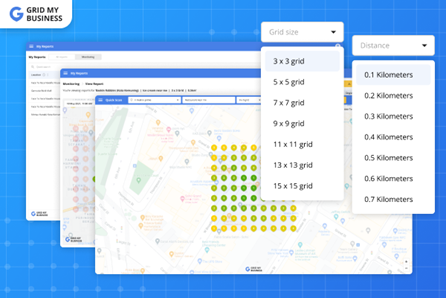 Once you've identified the ones that you rank lowly on or don't rank for at all, you can reoptimize your website.
You can then use the monitoring feature to see whether your optimization efforts are working by tracking your local search ranking. The tool will provide regular updates so you can make any changes if necessary.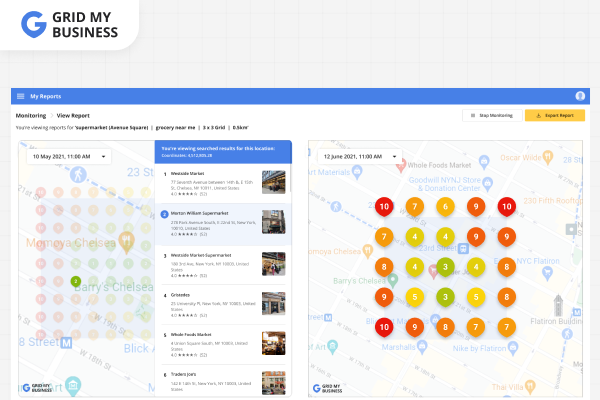 2. Find Out What Your Competitors Are Doing And Do It Better
In most instances, competitors online are different from those within your local area.
Most SEO experts are concerned with having their websites rank in the top 5 to 10 slots of the SERPs for targeted keywords.
These are the competitors to monitor and analyze.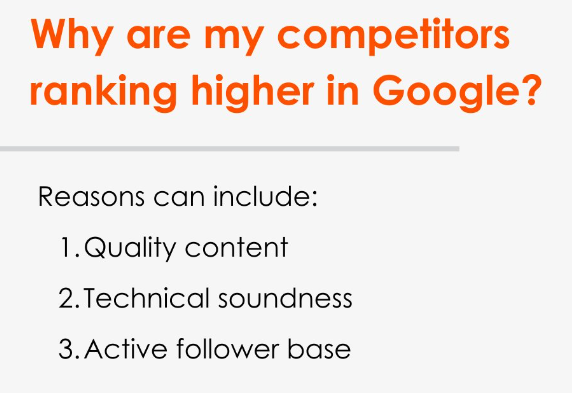 Whenever you're doing competitive research on your competitors, ensure you use this strategy:
Their website structures
What those websites are ranking for
The quality of their backlinks
How many web pages they've indexed
Page speed is also a critical ranking factor in Google's ranking rhythm.
As such, you must run your competitor's landing pages through Google's speed tools to check for any areas of weaknesses.
Are their pages running slowly?
Did they miss some keywords you can target and rank for?
These are critical points to note to perform a competitive analysis and determine what your competitors are ranking best for.
BiQ's Rank Intelligence plays a critical role in helping you to determine your competitor's keyword rankings.
With BiQ's Rank Intelligence, you can discover the content gap between your website and that of your competitors.
To start, create a new profile using your competitor's URL.
You will be shown the keyword ranking data from your competitor's webpage.
Set the parameters to your desire.
Once your parameters are set, you can export out the data as a CSV file.
BiQ's Rank Intelligence is one of the most impactful strategies to help you narrow down the content gap between your website and that of a well-performing competitor.
That's not to say that these sites aren't performing.
Still, knowing your opponent well is one of the biggest advantages you'll ever have over your competitors.
Grid My Business can also identify your local competitors and their rankings on the local search. Just input their business or location into the search bar along with the search query of your choice.

You can see which search queries your local competitors rank highly for and try to incorporate them more into your own website in order to compete with them.

3. Add Schema Markup
Schema markup sends SERPs signals about page components like:
Address
Ratings
Business name
Business hours
Phone number
Ideally, schema markup helps Google understand new websites better.
However, it's also capable of changing how your web pages appear in the search results.
Thanks to schema markup, you can Google recipes or reviews stars and find relevant results.
This can be particularly beneficial for small businesses that have a physical location.
Simply check out the LocalBusiness markup.
You can also check Product and Service markup if you have product and service pages.
4. Focus On Getting Reviews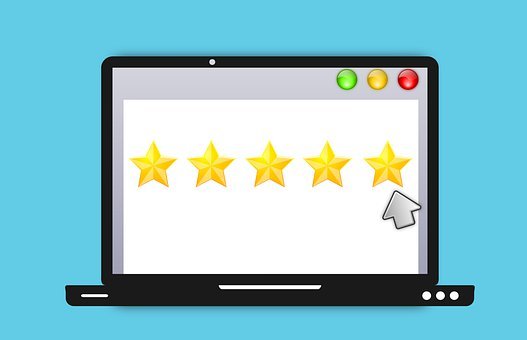 Businesses that claim to be SEO experts without having client reviews, data, or references to back them up should be avoided.
For instance, you would expect the top-performing SEO agency on the SERPs will have a plethora of service testimonials and reviews that speak for themselves.
These are the SEO companies to use.
It's amazing how the millennial generation is conditioned to look up reviews before they make any purchases.
Currently, reviews rank as one of the top local search ranking factors.
This makes it a critical component for your business.
You can actually boost your search ratings and conversions by investing effort into getting customer reviews for your products.
With the right platforms, you can organize and manage an efficient review campaign that actually gets results.
Even Google states that positive reviews from customers could significantly boost your customer visibility and increase the chances of new customers visiting the physical store.
5. Create Videos/Images
All websites need content, great content to rank at the top spots in the SERPs. To most people, the first thing they think about is "words."
Essentially, the use of words is critical in helping search engines understand what your website is about.
However, content goes beyond words.
Websites that embed videos and images in their pages are favored by search engines and online users.
Human beings are very visual.
Therefore, any form of visual descriptions or ads are always more likely to grab attention than written content.
Potential customers can also digest and remember visual content easily.
Videos are known to increase dwell time and the likelihood of conversions as well.
6. Mix Paid/Organic For More Website Traffic
For brands that are just starting out with SEO, it's critical to note that it can take a while before you start seeing tangible results.
It's one of the best long-term strategies for businesses that are in it for the long run.
However, there are also instances where you need immediate results.
You want to start generating leads immediately.
If this is you, then SEO might not be the right tool for you.
But that doesn't mean you stop using it altogether.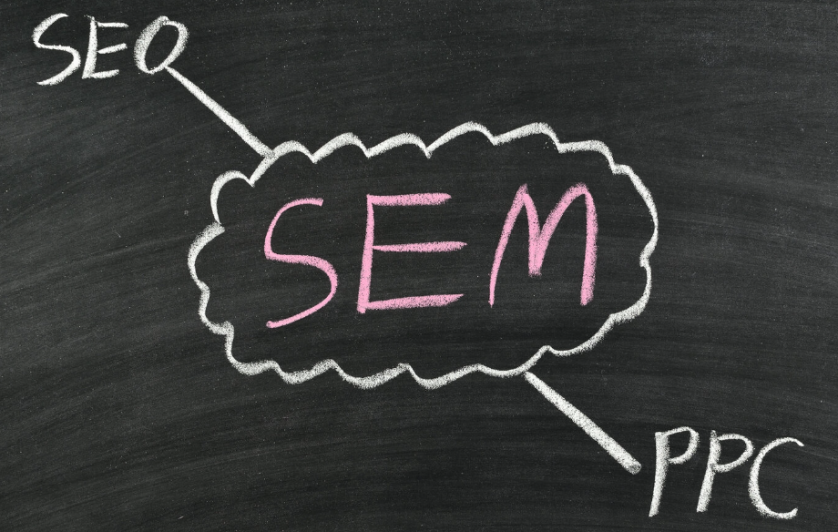 Here's where you can use a mix of paid and organic traffic to get more leads and other results coming in.
Running a Paid-Per-Click (PPC) campaign in conjunction with your SEO campaign is an excellent strategy that will start attracting visitors and potential customers to your website immediately and for the long term.
Final Thoughts
From the context above, it's evident that SEO isn't really that complicated.
It's especially beneficial for small businesses looking to establish themselves as an authority in this competitive industry.
As the world of online marketing grows, so too does the competitive landscape and desire to have websites and content ranking in the first pages of the SERPs.
SEO is now more important than ever for any business looking to remain competitive in their respective niche.
Ultimately, apart from the costs of starting and maintaining a website, SEO is pretty much free.
However, remember that there are no shortcuts with this marketing strategy.
It's a set of marketing tactics that collectively improve your site ranking and visibility over time.
We would recommend BiQ Cloud tools to boost your SEO for small business.
BiQ Cloud is the best all-in-one SEO tool you can find online that allows users to pay only for what they use.