What is schema markup? Learn how to use schema markup to get higher clickthrough rates and more website traffic.
What is schema markup? Learn how to use schema markup to get higher clickthrough rates and more website traffic.
Are you looking for ways to boost your traffic and improve CTR?
Ranking high in Google is difficult. Giant companies are ranking on the #1 page that seems unbeatable. How can you even compete with them?
There are many tactics to rank higher and get more traffic. Unfortunately, most of these websites perfected all of them. Or almost all…
Introducing schema markup.
A study by Searchmetrics found that websites with markup rank better by an average of four positions than pages without schema markup.
Although there is no direct correction to an increase in ranking, schema markup does allow your website to appear more attractive, which leads to increasing click-through rates.
The best part?
It's free and effective.
Furthermore, less than one-third of websites use schema markup.
Speaking about opportunities, this is your great chance to beat your competition.
Next, you will learn what schema markup is and how you can use schema markup in your website.
Let's dive in!
What Is Schema Markup?
Schema markup is a code on your website that helps the search engine understand your website.
You can see an example code of schema markup below. It tells the search engine that this isn't just a text. 
The search engine can use this information and display it next to your website in the search results.

Aside from this, there are many other schema markup types.
Schema Markup Types
Currently, there are 841 schema markup types.
Different categories suit websites in various industries. However, some schema markup types are suitable for everyone, such as:
Article
Author
Event
Local business
Products and offers
Use these types to make it easier for the search engine to understand your website. It'll then show your content to the right audience, and you'll have a higher chance of getting sales.

Why Is Schema Markup Important?
Here are the top reasons why you should implement schema markup for your website:
It helps you target the right audience – traffic to recipe pages increased 2.7X, and the session duration was 1.5X longer – Rakuten.
It helps you to get a better click-through rate – Brainly's VP of Growth reports that the average CTR on Q&A pages increased by 15-25%.
It helps boost your website traffic – retail firms can achieve up to a 30% increase in organic traffic by using schema markup – Ontarget.
Although schema markup isn't a ranking factor, it can still significantly impact your search engine optimization strategy. For instance, the search engine uses the schema markup to create rich snippets in search results. With that, it provides users with useful and informative results such as product ratings.
How to Use Schema Markup On Your Website?
You've learned about the importance of schema markup. But how do you use it on your website?
Here is a head-up – you don't need to be a technical geek to implement schema markup.
It's pretty easy to implement schema markup, especially when you found the right tool or strategy.
That said, here are the two approaches you can use:
Using Schema Markup On WordPress Sites
WordPress is the most popular website management system. It accounts for a third of all websites.
The good thing about WordPress is that it has a plugin for schema markup. You need to go to the Add Plugin page and install it.

When you install and activate it, it's time to set up schema markup types. You can do that by clicking on Add Schema Type in the plugin settings.

The wizard for the creation of the schema type will open. Select the schema type you want; these are the types we discussed earlier – review, article, etc.
Press the next button to continue.
You'll then need to configure what you want to mark up. You should leave it as it is most of the time.
Click the next button and continue.
The plugin will help you create your schema type automatically.
You can see all your schema types in the plugin settings. You'll also see where it will be shown or hidden in the Target location column.
Create all the types you need, and the plugin will do the rest. However, what if you want to markup something manually?
You'll go to the edit page or edit post where you'd like to make changes. You'll scroll down and edit it manually.
When you're done, you can scroll up and press the Update button.
Using Schema Markup With HTML Sites
The second approach is suitable for everyone, whether you're using WordPress or any other website provider. We'll be using a Google schema markup tool for this approach.
There are three easy steps to add schema markup to your website:
1. Go to Google Structured Data Markup Helper.
When you enter the website, you'll pick a schema type you wish to markup. After that, you'll fill in the URL to the website you want to markup and hit Start Tagging.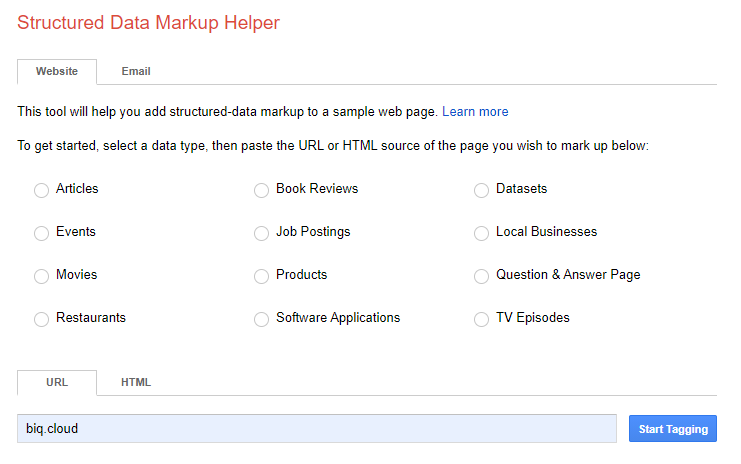 2. Select the data you want to markup.
You'll need to highlight a part of your website you want to markup. I've selected the title of the article, and a pop-up menu appeared.
You'll select the schema markup type, and it's marked.
You can see the data you've marked up on the right in My Data Items.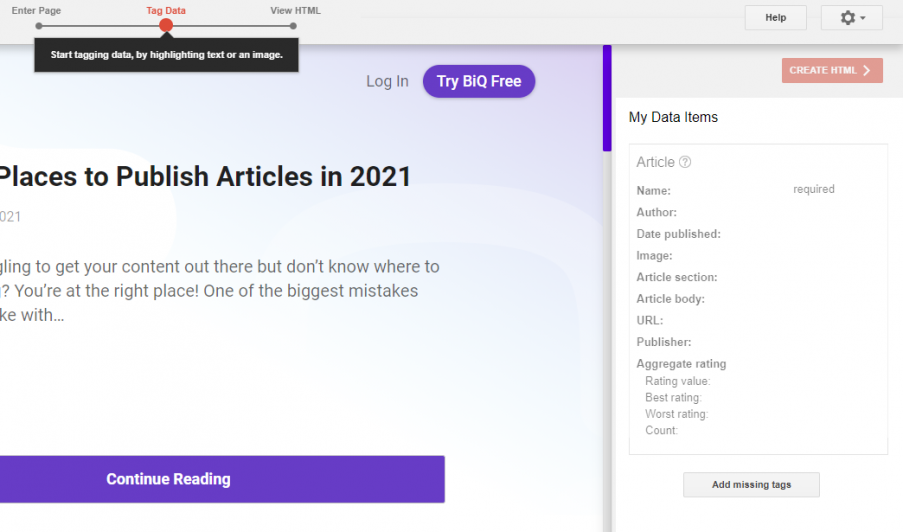 You should continue this process and markup as many items as you can. When you're finished, it's time to export the data.
3. Add markup to your website.
The last thing you must do is add the data you've marked up to your website. Press the Create HTML in the upper right corner.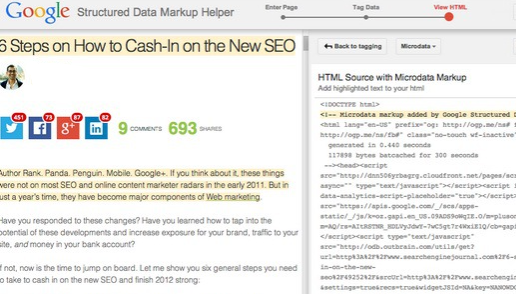 You'll see the markup code Google generated for you. You need to press the Download button and copy/paste it to your code.
Just like that, you've marked up your website and improved your SEO.
The Top Three Schema Markup Tips
As you can see, marking up data isn't difficult.
However, there are a few tips you can use to make it better. They'll allow you to maximize the benefits and get the most traffic and sales out of it.
Here are some schema markup tips to help you:
Mark as much as possible
The more search engine understands your website, the better. Mark up as much data as you can.
When you mark up something, you should fill in as many properties as you can. For example, when you mark up something as an article, you should also mark up the author, title, etc.
You can see all the properties on Schema.org.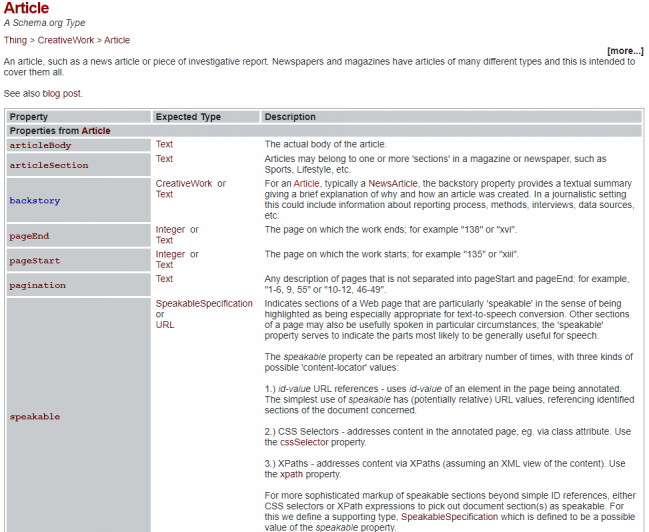 Check your markup code.
When you create a markup code, it's crucial to ensure that the search engine understands it correctly. You can use the schema testing tool by Google, Google schema markup tool.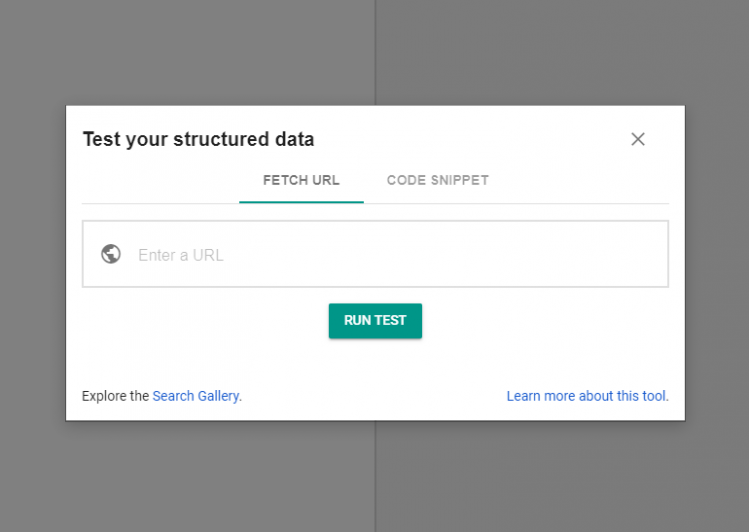 You'll enter the website, select the code snippet in the upper menu, and paste your code. You'll press the Run Test and wait for the results.

You can then go through errors and fix them.
Markup only data your visitors can see
You shouldn't markup every div and nav on your website. Markup only the data your visitors can see, such as title, sections, and images.
Remember, you're doing it for the search engine to understand your website better. Please don't confuse it.
Schema Markup & Keywords
You may be wondering, "How do keywords relate to the schema?"
Answer: They can be a complete gamechanger.
You've followed the schema markup best practices. They should allow you to rank higher and improve your SEO. Unfortunately, you didn't get the results you were expected…
The problem is that you could be targeting the wrong keywords, or your content is just not optimized enough.
You need to tackle the essentials first before you move on to schema markup. 
Why?
It is because Google understands your content to display it in rich snippets without structured data. But it's recommended that you use it.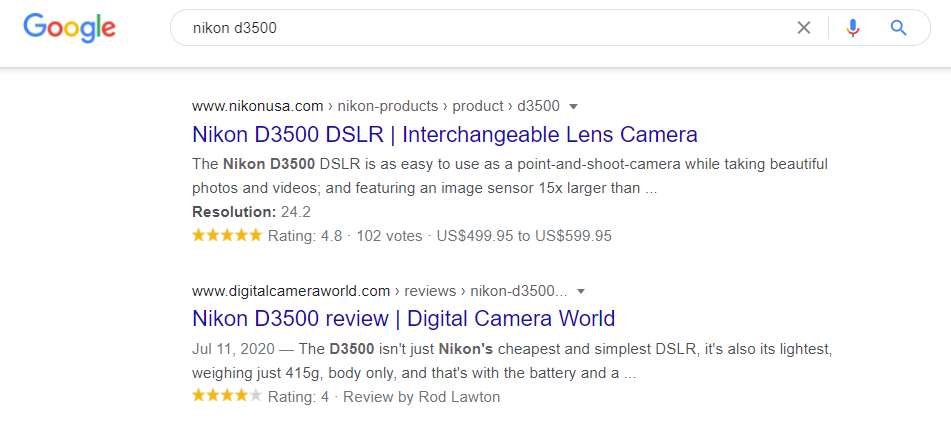 For example, if you have some HTML with the text "Rating: 4.9 – 5 Reviews", Google might figure out themselves and display a rich snippet. But, there is also a possibility that they won't do so.
So why risk losing the opportunity to get a rich snippet? Use schema markup to help Google understands your content.
Let's say you used schema markup, but you still did not see any increase in terms of traffic and sales. It could be due you are ranking for the keywords nobody searches for.
They lead to no sales and only waste your efforts.
Let's fix it. It's time to do keyword research.
The easiest way to do keyword research is by using an effective keyword tool, BiQ's Keyword Intelligence.
You can research your potential target keyword using BiQ's Keyword Intelligence. It allows you to gather data on keyword volume, trends, keyword competition, related keywords, and more.

Enter your preferred keyword, your country, and language. We'll be using content marketing as our example.

You will see all keywords come with vital insights such as how many people are searching for the keywords, the searcher's intent, and so on.

There are a few things you should look for:
Traffic – strive for keywords with the highest traffic. The higher the traffic, the better.
Competition – if you're a smaller website, you should pick keywords with low competition. If the competition is too high, you may not be able to rank for it.
Search intent – are your readers looking to learn something new or ready to buy?
What makes BiQ's Keyword Intelligence stand out from the rest of the keyword research tools on the market is the keyword analyzer feature. It helps you see why someone might be searching for the keyword in the search engine. 

With this data, you will be able to plan your content in such a way that meets your users' needs.

If you are unsure which keyword to use, you can sort the keywords based on their value. The higher valued keyword means it can potentially bring more traffic to your website at a lower competition. 

However, before you can start picking the right keywords, you should understand the keyword types.
What Are The Keyword Types?
There are two types of keywords – short-tail and long-tail.
Short tail keywords
Short tail keywords are search phrases with only one or two words. They're usually the general (unspecified) keywords. For example:
They have a high search volume, but they're almost impossible to rank due to the high competition.
Long-tail keywords are ideal for your business.
They have lower traffic, but they're a lot easier to rank for. They're usually more than two words long. For example:
SEO strategies for small businesses
Content marketing strategies
Are PPCs worth it?
"Long-tail keywords account for 70% of all web searches." – Neil Patel
People searching for them are at the bottom of the funnel. They're ready to buy if you give them a good reason to.
"The average conversion rate for long-tail keywords is 36%." – WBG
They'll help you get more traffic and drive sales.
You may use the Advanced Filters in BiQ's Keyword Intelligence to find your long-tail keywords.
Click the 'Advanced Filter' to filter only long-tail keywords. You may also choose the level of your long-tail keywords relatedness to your main keywords.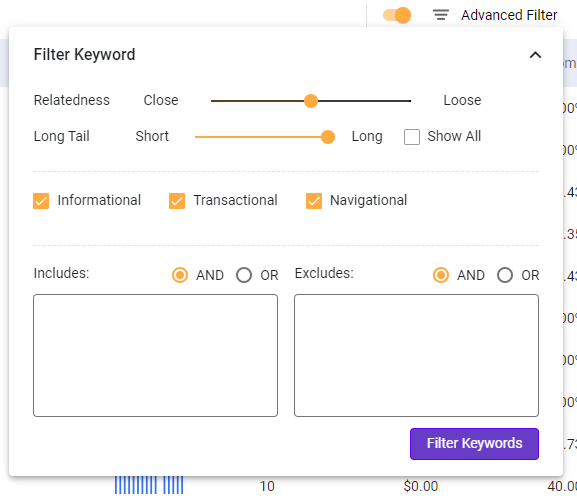 You'll then see the filtered results and can start choosing your target keywords.
Next, it's time to work on your content.
Use BiQ's Content Intelligence to help in creating your SEO-friendly content. BiQ Content Intelligence provides you with the best content-driven strategies, which are SEO-friendly.
While you write in the block editor, you will also be getting interactive writing tips to help you. 


You will be able to see BiQ's Content Intelligence real-time text editor see your "content grade" and keywords count that tells how relevant your article is. You'll also quickly know if you've included enough keyword density.

If your content isn't A yet, you can make the necessary edits to take it there. But it's important to note that an A content grade does not represent that your article "will rank number one on Google."

It would be best if you moved to schema markup only when you have got your keyword and content in place.
The Final Thoughts
Understanding what schema markup is and how to use it to your advantage is a crucial SEO skill to have now and in the future.
Especially since the search engines are recommending adding them, why waste the opportunity?
However, make sure to implement all the basics before you move on to adding structured data.