SEO content writing is about writing for both people and search engines while targeting specific search queries. If you are looking to become a
SEO content writing is the act of writing for both people and search engines while targeting specific search queries.
It's not just plain writing.
To be effective, you would need proper keyword research and important audience insights gathering before publishing your content. Afterward, you would need to constantly optimize your content to keep it updated and relevant.
However, the rewards can easily justify the amount of work. Because it's only by writing ranking SEO articles that you can drive targeted and qualified traffic towards your website.
According to Impactplus, the first five organic results on the first page alone actually account for 67.6% of all the clicks.
Another research by Hubspot said that content with a featured snippet actually gets a 2x higher click-through rate.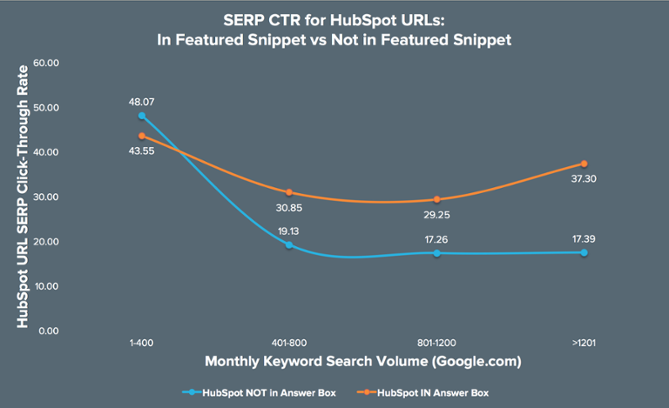 This result is huge. Especially if you get the much-coveted featured snippet or top ranking on the first page, it can make a whole lot of difference in your traffic results.
That's why it's important to practice SEO content writing because this is the way to bring organic traffic towards your website and your business.
People are already searching on Google and other search engines for answers to their problems; SEO writing is the tool to put your answer in front of them.
Understanding the Basics of SEO
First, let's understand how search engine optimization (SEO) works.
There are billions of searches that are made online every day. That means there is a lot of traffic to take advantage of.
When you search for something, the search engine uses its database of websites to give you the most relevant results to your search query.
Using a complex algorithm, the websites are displayed in an order that search engines consider it better suited for your needs.
There is a limit to how much organic traffic you get to your "money pages". That's why creating SEO content that focuses on keywords related to your product or service is a great way to bring potential clients to your website. Because most clients don't search for a product directly, they are searching for a solution to their problems.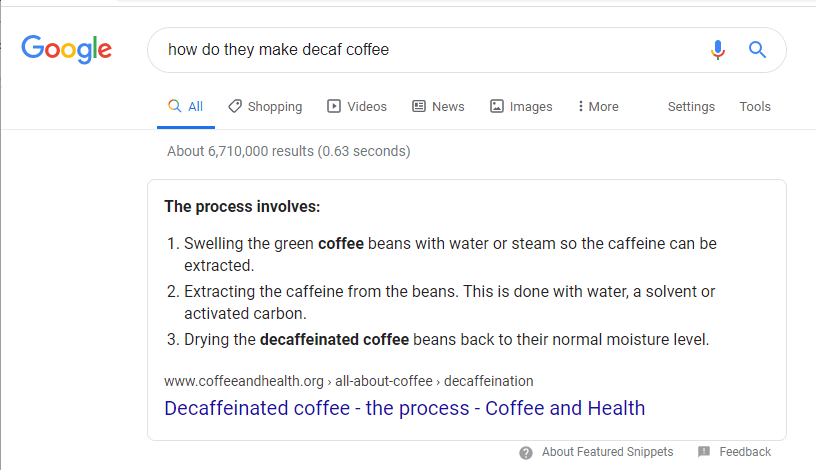 The purpose of the search engine is to identify users' needs and serve them the best results. Your goal is to put your website as high as possible on search results, so you can get the most organic traffic possible.
What about search engine optimization for your content?
This process involves identifying and using specific keywords that will help search engines "know" what your content is about and rank you higher when someone searches for those keywords.
Ok, this might sound complicated but the process is really straightforward. Here are the 10 important steps that will guide you on creating your SEO content.
How to Plan Your SEO Content?
1. Understand Your Topic/Niche
The process of SEO writing starts before writing the actual content.
That's because writing good content is not enough, you need to write content that your target audience cares about. And to find topics for your SEO content, there are a couple of free methods you could use.
Search for questions on sites like Reddit, Quora, or Yahoo Answers. When people have a problem, they tend to go to these sites and address the question to the public.
These websites are a great tool to research topics that might interest your target audience, and you can get suggestions you never thought about.
Another method is to use answerthepublic.com. Just type your seed keyword into the query, and the website will provide you with many related
This website is great at finding questions people have about your topic. Using this tool can give you a lot of ideas that you might never think about.
You can also find content ideas using our BiQ's Keyword Intelligence. Just navigate to the Content Ideas feature and you can quickly find ideas that will make great blog posts.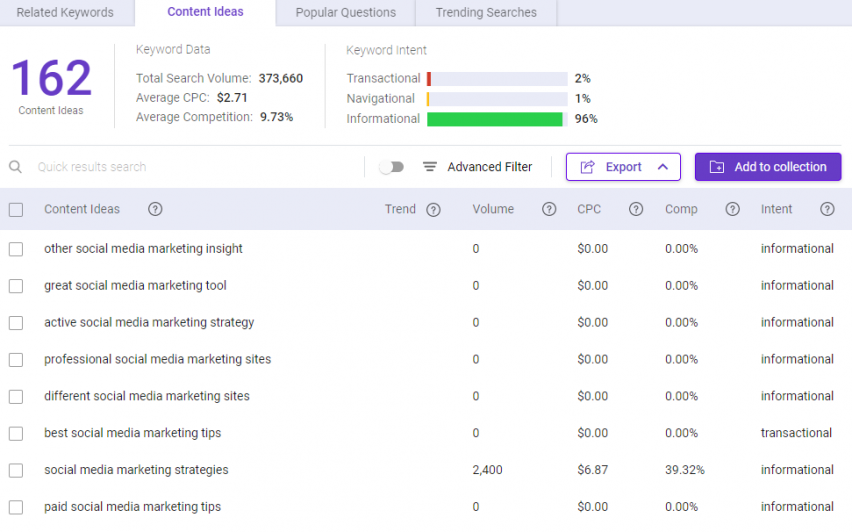 The best part is these are exact queries that people are already looking for, so you can use this tool to find out some topic ideas about the content your audience is interested in, on top of the keyword data.
First, use these tools to compile a list of topics to write about. We will use this list to generate a list of keywords that we are going to use to write the SEO content. But before that.
2. Know your target audience
Knowing your audience is essential if you want to write content that fulfills their needs. While there isn't a specific method to research your target audience, there are a couple of ways you can do it.
Find communities around your main topic. This includes forums, Facebook groups, but also sites like Quora and Reddit. Find the most common discussions about the topics you researched and see what people are looking for and what they care about most.
Look over your website's and Facebook page's analytics. Finding demographic information about your target audience is a great way to understand them better. Who they are, where they are from, and what they are interested in are important questions that can be answered in Analytics.
Conduct surveys. Social media has allowed us to get in touch with our fan base within seconds. If you have a community around your product or service, conduct surveys and see what they want to see more from you and what they would love to read. These surveys can also be conducted via your newsletter. Offer them a bonus for taking the time to complete it.
How old is your audience? Are they parents or still single? What platform are they at – is it Twitter, Instagram, or Facebook. Dig deep until you can answer these questions about your audience.
This stage of identifying your target audience and buyer persona is important to help shape your tone and write in a way that you are addressing them throughout your content.
3. Doing keyword research
Now that you have got an idea of your buyer persona, it's time to do some keyword research on topics we already established in the step above.
For beginners, you can use a free tool like Google Keyword Planner and there are a couple of metrics you need to look for.
Search volume. This metric will tell you how many times that specific keyword was searched each month in the location and language you chose. This is not the same with the amount of traffic you will get if you rank no. 1, but you'll understand how well searched is a topic or not.
Trend. Search volumes are based on annual averages, and therefore can be misleading for seasonal keywords. Make sure to check the trend of keywords to see if they are popular all year or they have a season when they rank best. If you want to pursue a seasonal keyword, make sure to synchronize your publishing date with the day it starts to become popular.
CPC (Cost Per Click). This value will indicate how much advertisers are usually paying for ads served on this keyword. You can learn a lot about the importance of a keyword and you can easily spot those that might get a lot of clicks on ads.
You can also use paid tools like SEMRush or Ahrefs to get more important keyword data. Better yet, sign up with us for a free tier account at BiQ and use our Keyword Intelligence to further improve your keyword strategy.
BiQ can easily allow you to identify the exact search volume, keyword's difficulty, and competitiveness, which will help you find keywords that are valuable but also easier to rank.
If you are just starting out, you can also use BiQ to filter out long-tail keywords with good search volume and create content targeting those keywords first.

Besides, writing good SEO content is not possible without knowing the search intent of your keywords. That means you need to identify WHY the search was made and WHAT the user wanted to find out.
Using BiQ, you can identify a keyword's search intent, if it is informational or transactional
By knowing the search intent, you can identify your keywords to target and deliver content that is more suitable for your visitors.
4. Analyze SERP results
Now that you know what keywords are you targeting, it's time to do a quick SERP analysis on the search engine.
You want to evaluate two factors here:
If the keywords you want to rank for are relevant and if there is a content gap that will give you a higher chance to outrank your competitors.
Content analysis to see what kind of content does Google prefers for each keyword. Is there a ranking video or featured snippet?
Analyzing the SERP results will help inform your content strategy and give you an idea to start creating your outline.
How to Write Your SEO Content?
5. Create your outline
An outline can help put thought and writing on paper more effectively and is a stage you can't miss as an SEO content writer.
The gist here is to come up with a list of essential ideas and subtopics that you will cover in your content. Let's say you want to write about content marketing, and have no idea where to start.
First, enter 'content marketing' on BiQ's Keyword Intelligence to get keyword ideas. Go to the Related Keywords tab and sort the list using the volume to show the ideas in most to least searched.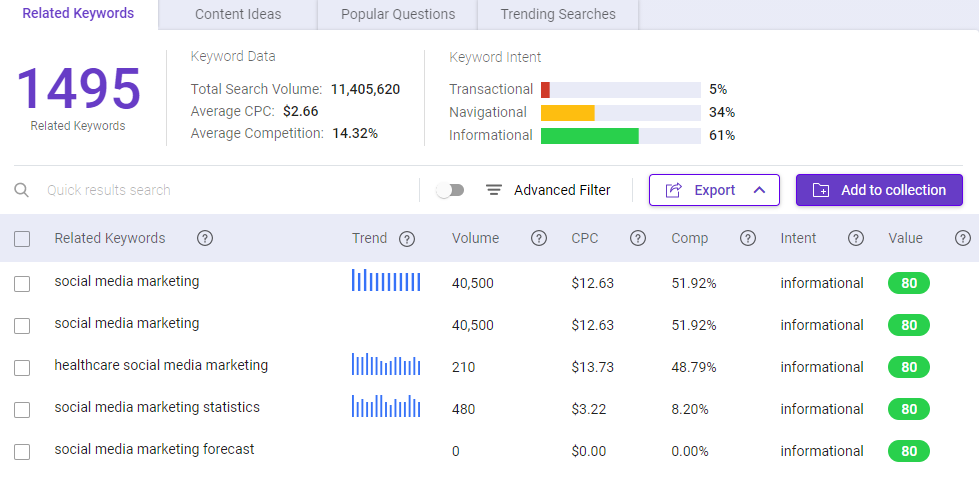 Go through the keyword list and see which keywords are relevant and suitable for your content's subheadings.
Next, select the keyword and add them to the Collection. It helps you in organizing your content outline and tells you what keywords you need to include in your content.
Besides, with Google's focus on passage indexing, it is also important to check out the Popular Questions feature in BiQ's Keyword Intelligence. You will see a list of questions and answers.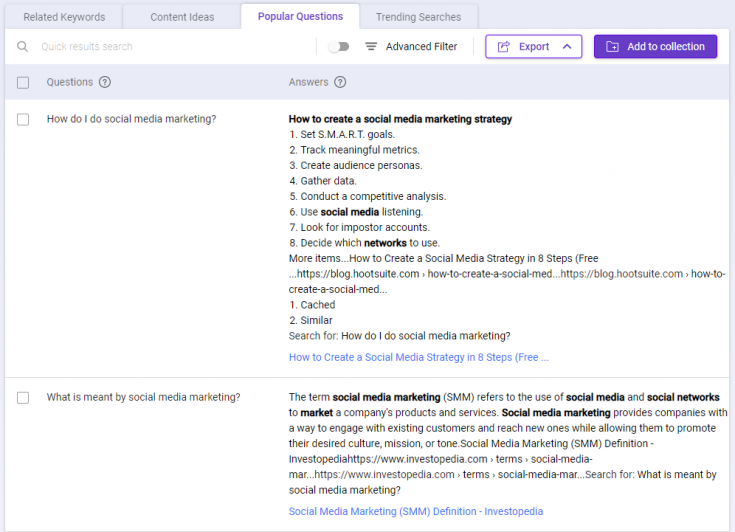 This is a compiled list of the frequently asked questions by searchers in the search engine. So make sure to include them as well in order to create comprehensive content.
The trick is to have them as your headings and answer them directly in your content, and you will stand a chance to win the featured snippet.
Also, a quick tip if you are working with a team of writers, build your style guideline into your content outline as well to make sure the team is creating consistent SEO quality articles.
6. Write SEO-friendly content
Google has become better and better at analyzing the quality of web pages.
It can quickly identify poor-quality content that was written with the sole purpose of ranking and throw it into the abyss of anonymity while promoting good content that makes visitors "stick".
Metrics such as time spent on page and bounce rate are very important for SEO nowadays, as they are a clear indicator if your visitors stay around to read the content or use the back button.
That's why writing SEO content means you should always create content for your READERS first, and then for Google.
The key is to keep your target audience and their search intent in mind. Always write to answer their search query and provide helpful related information.
When it comes to great SEO content, there are a few writing tips to keep in mind for SEO friendly blog posts:
Use a catchy title and headline: A catchy headline can make or break your content. Start writing better headlines to improve your click-through rates using these 12 headline best practices.
Create comprehensive long-form content: Many studies have shown that longer content often dominates the page one search rankings and is more likely to rank for multiple keywords. That's why always aim to create your content at over 1,500 words.
Build a clear content structure: Use headings, subheadings, and lists to structure your content clearly for both readers and search engines.
Use a conversational tone and transition words: Optimizing your content with all the right keywords will not work if your style turns people off. That's why always make sure your content connects and engages your audience to read further.
Include your target keyword in your URL: Your URL should contain the target keyword your page wants to rank for. Also, avoid creating URLs that are over 50 characters.
Add LSI and related keywords to your content to build context: Related keywords can help support your content and add more context to make it easier for both users and search engines to know what your content is about.
When it comes to discovering your LSI keywords, you can always use a free tool like LSIGraph to provide you semantically similar words that are commonly used together in a topic.
Similarly, you can also find related keywords using our BiQ's Content Intelligence, which you can then add directly to your content if you are using our text editor.
Besides, our formula is slightly different, running through a Wordscope analysis that will give you a breakdown of your keyword in terms of usage that is compared to the top 10 SERP rankings.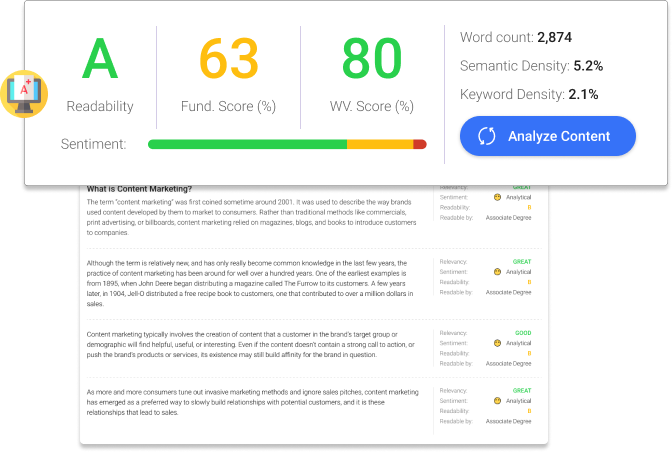 For example, the keyword "unrealistic standards set by media" should be paired with "digital media standards", "media ethics", "journalism ethics and standards", or "what is media ethics" in the same article.
The idea is that by using these related keywords, your content will be able to efficiently tell Google and other search engines the topic and context of your page.
Where to use your keywords in SEO writing?
There are a couple of places where you need to include your keywords to help your content rank higher.
Titles – Make sure your title will include your main keywords.
Headings – Use a lot of heading when you write the content and include your keywords.
Image alt – Include pictures in your article that will have the alt description with your keywords. This will help you get extra traffic from image searches.
Anchor text – Take advantage of internal linking and use anchor text with your keywords.
In the content – Sprinkle your keywords naturally all over the content to get as much SEO rank as possible.
Please don't use keyword stuffing (using your keywords in excess) as it can actually cause a penalty for your website.
The era when keyword stuffing worked is long gone, and nowadays you need SEO writing that is more natural and focused on the visitors.
While there is no specific number regarding keyword frequency, most SEO professionals say that one keyword shouldn't be used more often than once every 200 words.

7. Include visuals in your content
Once you have got the writing for your SEO article down, now it's time to pace it out with visual content. This could be anything from images to infographics or even videos and GIFs.
Visual content is important because it is easy for readers to digest, as well as reduces reading fatigue. Just imagine going through rows and rows of text with no end, that's just terrifying!
And in terms of SEO, studies have shown that visual content will help with higher dwell time which correlates with higher search rankings.
How to Optimize Your SEO Content?
8. Interlink your content
Before your content can rank, it needs links. Because Google finds your posts and pages best when they're linked to post that are already indexed and ranked on the web.
Besides, internal links are also powerful because they can help connect your content and give Google an idea of the structure of your website and how each content is related to each other.
So always interlink your new content to older existing posts, and anchor your links using your target keywords.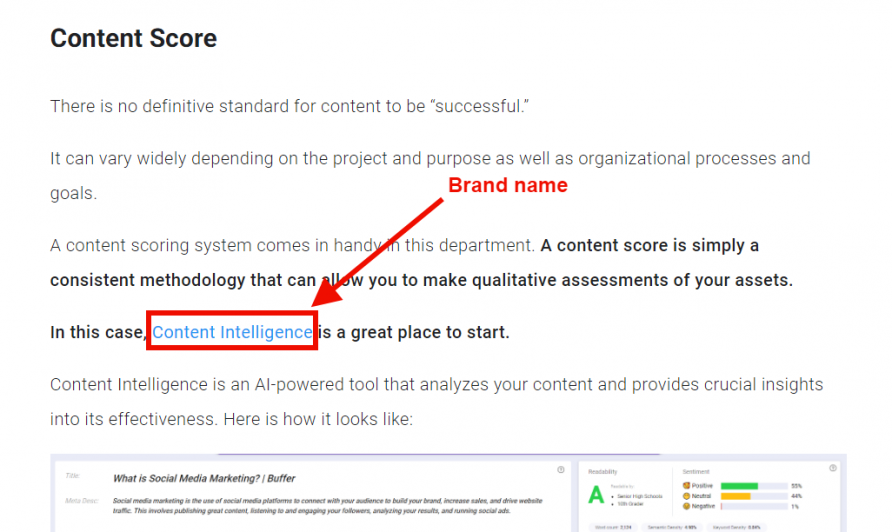 When there's an opportunity, also remember to anchor your brand names or products to boost conversions.
9. Promote your content strategically
SEO writing does not end after you publish. Because truth is, without promoting your content, people would less likely be able to discover it.
Especially if you are looking to rank your content high on Google, you need to promote and build up positive insights for search engines to understand if your post is helpful.
Here are two ways to go about it.
Broadcast an email to your list – Your email list is made up of the people who already know you and are most likely interested in what you have to say. So always make sure to reach out to them about your new content.
Share your post on social media – Promote your content using every channel and audience you have, no matter how small. Share them with your social media followers on Twitter, Facebook, or LinkedIn.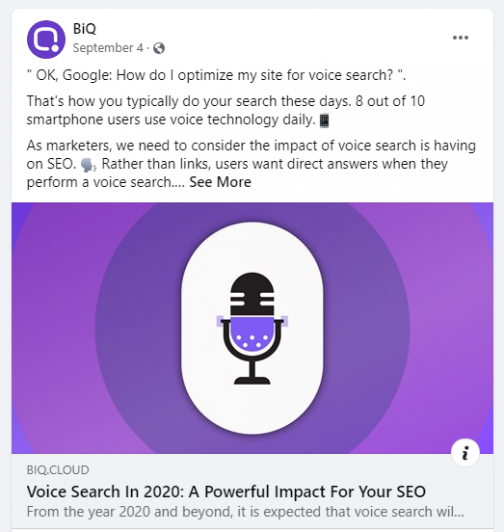 Again, the idea is to build up positive metrics like good time-on-page and avoid high bounce rates to give Google a good first impression.
10. Analyze and update your content
Last up, analyze your content to see what can be improved.
If you are seeing high impressions, but not many clicks, this means you need to update your meta title or create another content to help address the gap and answer the query in more detail.
We recommend you try optimizing using our BiQ's Content Intelligence to make sure your content is SEO-friendly.
Our tool is capable of measuring important metrics like semantic density, keyword density, readability, as well as your paragraph's sentiment to help make sure you create quality writing.
All you need to do is paste your content's URL link and target keyword, and BiQ will generate the changes you need to score high in search engines.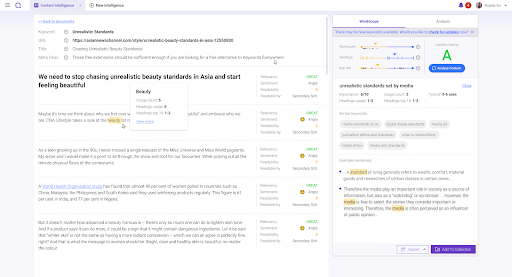 Our analysis follows Google's own Word2Vec technology and helps you compare your content against the current Top 10 ranking results and lets you know what revision is needed.
Also, we know it's always important to regularly create new content, but also make sure to carve out time and improve older SEO content and keep them fresh and updated.
Extra tip: Study your successful SEO content, and repeat
There you have it. The important guidelines and steps for writing SEO content that will rank, and if we were to add one more, that is to always look for patterns.
Study your successful SEO content and repeat those strategies. Maybe, your audience love listicles or infographics, then make an effort to adjust your content accordingly.
Most importantly, start writing and experimenting to build your SEO content. Do you have any tips that we have missed? Share them down in the comment section below!