Here are 10 of the best marketing blogs you NEED to follow and read their content. 1. Copyblogger 2. Backlinko 3. Neil Patel 4. HubSpot 5. Content Marketing Institute 6. Social Media Examiner
With several marketing blogs cropping up every minute, finding the right blog which provides value can get a little complicated.
There are several features that a marketing blog should have to turn it from a good marketing blog into one of the best marketing blogs.
Some of these features include; being informative, providing value, consistency, and staying up-to-date with the latest trends.
The marketing field is constantly changing, and one can't afford to stay uninformed or, worse, misinformed.
Marketing is all about reaching your customers and convincing them to purchase your products.
The more customers you reach, the more conversions you'll make, and the higher your company will profit.
To achieve this, marketers have to stay on top of the game and, at other times, devise new marketing strategies to accommodate advances in technology.
Technological advancements such as voice assistants, augmented reality, and new social media platforms constantly change users' search patterns.
To stay up to date with digital marketing strategies, you'll not only need to be aware of the latest trends but understand them and evaluate them for your brand.
For instance, if a new social media platform or content format begins trending, it wouldn't be wise to apply it to your brand.
You'll need to understand the trend and assess whether it would be the best marketing platform or strategy to use for your target customers.
Let's take a look at some of the best marketing blogs and what do they offer!
Best marketing blogs to follow
Copyblogger
If you're struggling with copywriting and content marketing, then you should head to this site straight away.
The blog is full of knowledge for marketers and content creators, and Brian Clark and Sonia Simone lead it.
Brian and Sonia provide the guides, strategies, and tips on copywriting to help you become a better blogger and copywriter.
The best and most recommended post from their blog is How to Create Cornerstone Content That Google Loves.
The post discusses how you can build cornerstone content, indispensable foundational content that's informative, and the strategies you could use to make it rank well in search engines.
Backlinko
Backlinko, led by Brian Dean, is all about marketing and SEO.
And its main focus is on providing traffic-related tips.
Brian Dean has gained lots of recognition from various magazine platforms such as Inc. magazine and Entrepreneur magazine, both of which call him an SEO genius.
Brian Dean doesn't publish as often.
However, when he does, he makes sure that he publishes high-quality posts that are informative, analytical, and actionable.
Take his post on link building: Link Building Case Study: How I Increased My Search Traffic by 110% in 14 Days as an example.
The post talks about his famous skyscraper technique, and it's brutally honest, analytical, and has actionable tips that content developers could use to increase their content's search traffic.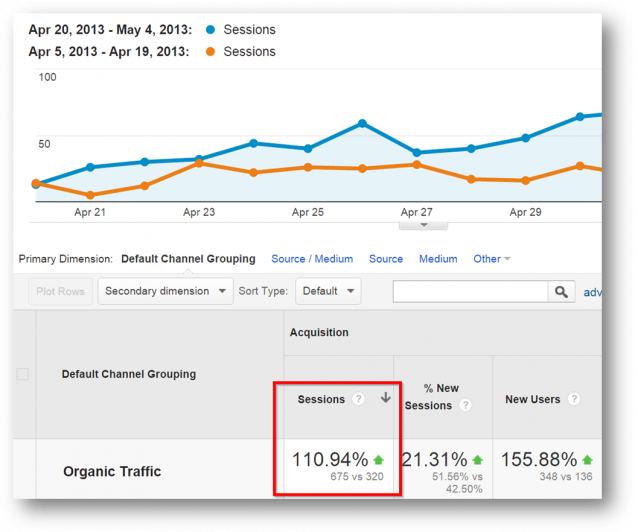 His technique increased traffic by 110% and the number of new users by 155%.
Neil Patel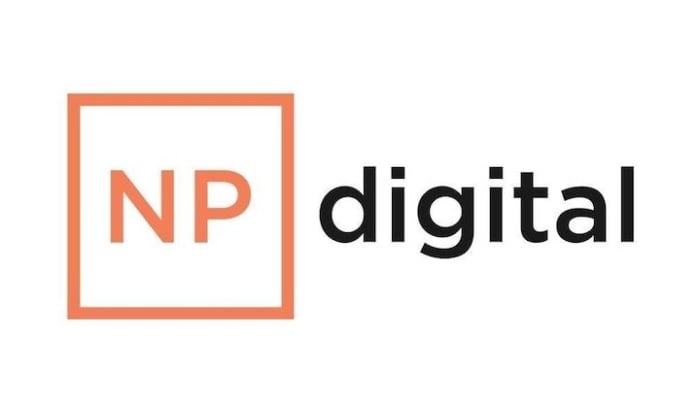 Neil Patel has been the raging SEO expert on steroids providing great, detailed content on various topics through several platforms such as YouTube, blog articles, podcasts, etc.
Neil Patel covers a wide area of topics that you are sure to find whatever you are looking for no matter your expertise, topic of interest, or preferred way of consuming content.
There is something for everyone.
Neil Patel's blog is quite comprehensive, gets frequently updated, with new actionable info and tips, and even non-content marketing-related information that's generally helpful.
The best thing about this blog is that Neil Patel is quite helpful and willing to engage his audience in the comment section.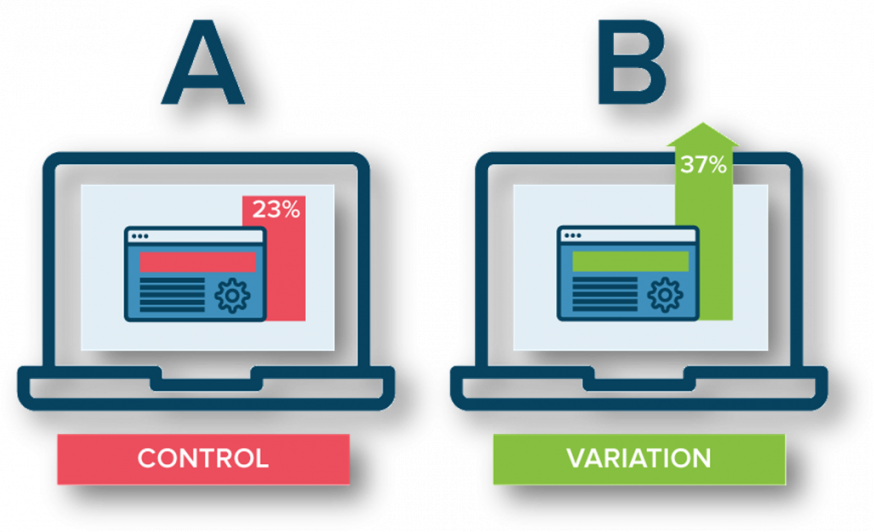 My favorite blog post on his blog is his A/B split testing campaign: How To Master A/B Split Testing Quickly (And Increase Conversion Rate).
A/B testing helped Kyle Rush, VP of engineering at Casper, increase donations by 49%.
Neil Patel discusses how you could perform a proper A/B split testing campaign to optimize your PPC campaigns, improve conversions in detail, and avails actionable tips.
You could follow these and many other tips to improve your SEO and get more traffic, higher rankings, and more conversions.
HubSpot
HubSpot was founded by Dharmesh Shah and Brian Halligan.
It's a goldmine full of best learning resources, best practices, and industry trends for content marketers.
Their content is valuable and actionable.
The content is repurposed into various formats for easy consumption and approached from various angles providing their audience with various strategic ways to apply the information gained.
HubSpot receives 4.8 million visitors a month, making it one of the best marketing blogs.
Their article on Everything You Need to Write a Marketing Plan (+ Examples) discusses various marketing plans and outlines steps you need to take when writing a marketing plan.
It also provides you with six marketing plan examples that you could use as a guide when creating your marketing plan.
Content Marketing Institute
Content marketing institute, or CMI, is a marketing blog that posts a new article each day.
They have a "This week in content marketing" series that discusses recent news and trending events relating to content marketing.
They have a variety of writers that offer tips and expert analysis regarding content marketing.
The main aim of CMI is to educate marketers on content marketing which is why the marketing blog has lots of research documents, white papers, eBooks, etc.
Their post on Editorial Calendar Tips, Tools, and Templates discusses the importance of using tools to help you become more productive and efficient to produce more results.
They discuss this topic in an insightful and engaging manner that is also quite informative.
Social Media Examiner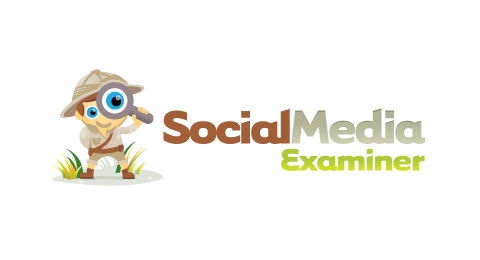 The best thing about Social Media Examiner is the current tips and trends it provides to keep you updated.
These posts cover the most relevant social media platforms, i.e., Facebook and Instagram.
They are designed to increase traffic, drive conversions, and help users get the most out of these platforms.
The marketing blog also provides lots of news, research, statistics, and credible marketing recommendations that are genuinely meant to help users.
The marketing blog covers a range of topics related to social media marketing and has readers ready to help.
Social Media Examiner's post on 8 Ways to Optimize Facebook Ad Targeting is meant to help readers fine-tune their social media marketing strategies for better conversions.
The article is exhaustive, insightful, and provides practical tips.
Marketo
Marketo, a company blog for Adobe, regularly shares tips and ideas on digital marketing.
Marketo provides essential insights on many things, including leadership, data analysis, and even content marketing.
Because of its link with Adobe, Marketo often provides helpful advice, having worked at the digital marketing industry's heart with some of the most successful and advanced digital marketing technologies.
Their post, 'Digital Marketing In 2020 | 7 Reasons Why Small Businesses Need It,' talks about some of the reasons why small businesses should opt for digital marketing as a way of improving their sales.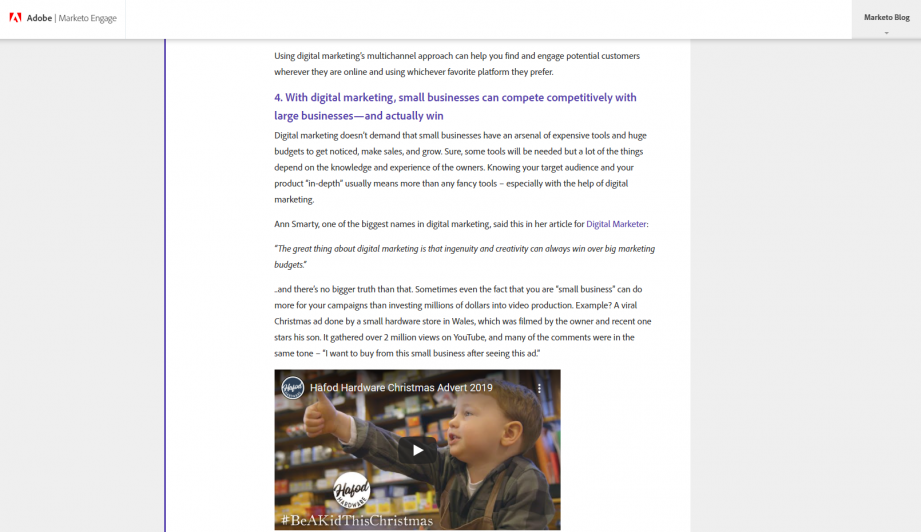 One of the significant reasons you should move to digital marketing is that 87% of retailers research their products online before deciding to make a purchase.
Which are a vast number and a very valid reason why improving your content marketing skills will give you an edge over your competitors.
Moz
If you want to stay on top of the game regarding SEO-related news, then you'll love the Moz Blog.
Moz blog covers all the details regarding SEO in the right amount of detail, making the content understandable without becoming too overwhelming.
For this reason, the blog could be a great source of information for beginners and pros alike.
All posts published by Moz provide real value and have relevant actionable insights.
Their "Whiteboard Friday" videos dive into different SEO umbrella topics and are good sources for marketers looking to deepen their SEO knowledge.
My favorite article, How Do I Improve My Domain Authority (DA)? provides some insights into why domain authority is necessary and the steps you need to improve your domain authority.
Buffer
Buffer is all about social media publishing.
Their blog is full of big images that are easy to share on social networks, and they keep their content witty and straightforward.
However, when it comes down to business, they ensure that they analyze their data quite well.
The fact that Buffer has a social media management tool makes them one of the best social media marketing information sources.
Their blog offers data-backed marketing strategies.
They also cover industry trends using marketing tools and step-by-step guides to encourage audience growth.
Their post How to Use Facebook to Market Your Business is quite informative.
It discusses why Facebook should be your number one go-to social media platform if you want to have and grow your presence as a brand on social media and how you could go about it.
BiQ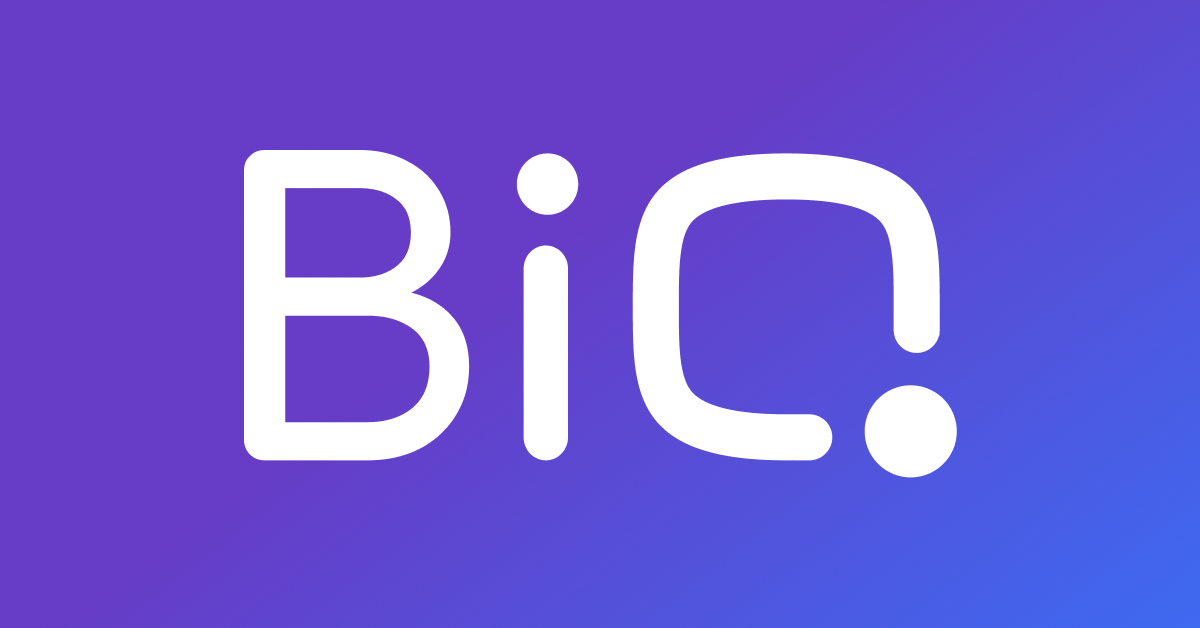 BiQ is an up-and-coming marketing blog focused on inbound marketing and SEO-related content in the industry.
All posts published on BiQ are research-driven and provide thoughtful and applicable advice on several topics such as SEO, PPC, SEM, etc.
BiQ's SEO suite has four different features, such as keyword analysis, content and rank intelligence, and rank tracking that content creators could use.
Content creators could use this tool to create engaging content that ranks higher on search engine results pages to reach more people.
Their article on Inbound Vs. Outbound Marketing: The Difference In Sales & Leads marketing discusses the two marketing strategies and how content marketers could use them to generate leads.
It provides insightful data on how one could apply either of the two marketing strategies to generate leads successfully.
How to establish your marketing blog
To get more traffic to your website, you'll have to use relevant keywords targeted to your audience.
To get these types of keywords, you have to use reliable keyword analysis tools that provide you with detailed information regarding researched keywords.
BiQ's Keyword Intelligence is meant to do precisely that and more!
Our tool provides you with insights such as how many people are searching for the keyword, the searcher's intent, keyword trends, and keywords value.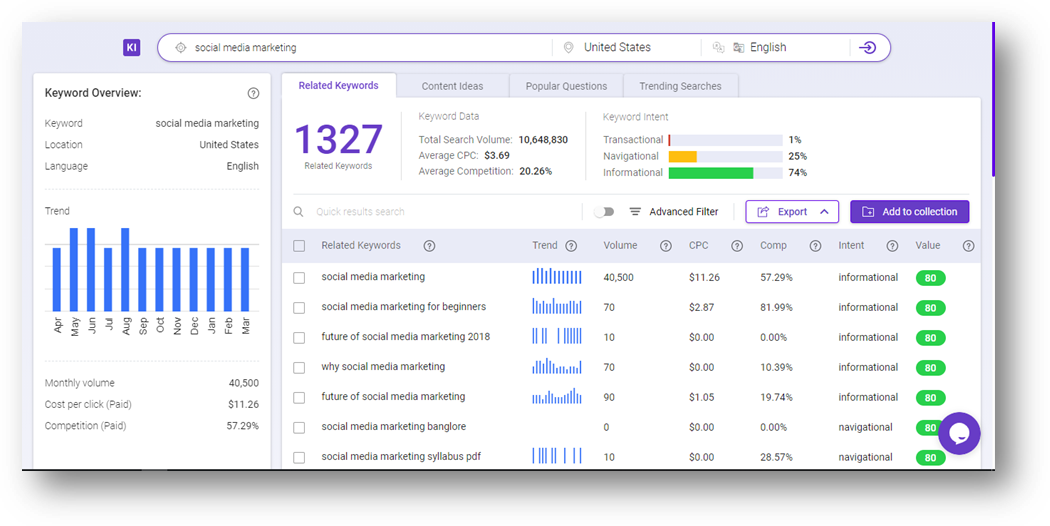 You could go ahead and search for marketing terms, i.e., social media marketing.
And you'll get results with related social media keywords and keyword phrases you could use to create more social media content.
When you've got all relevant keywords, the next step would be to use BiQ's Content Intelligence to get more insight on topics you need to cover to rank above your competitors in SERPs.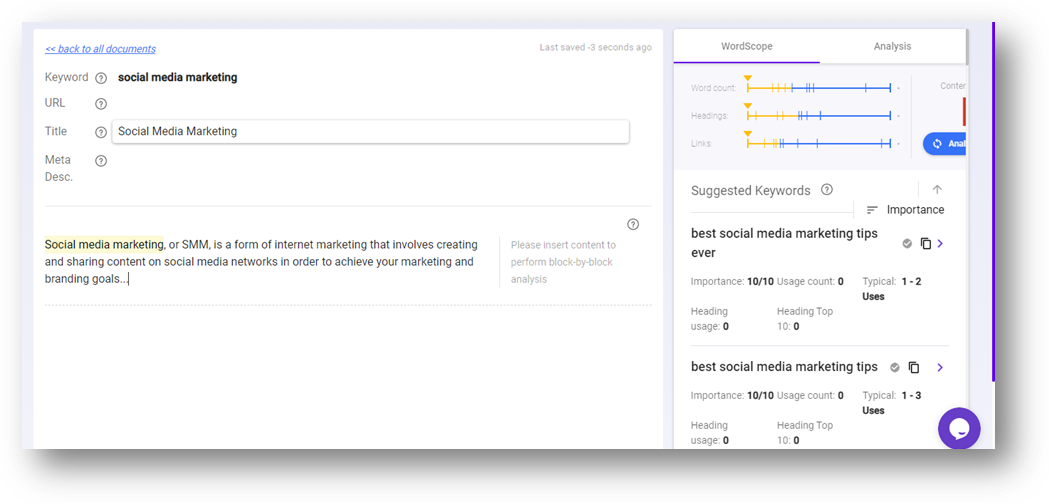 Initially, content creators had to go over to Google, search for websites with the information they need, open several tabs, and begin writing.
Content Intelligence makes this process much simpler.
You'll get a breakdown of your keywords in terms of usage, get related keywords, and even get examples in sentences.
For any keyword used to create content, Content Intelligence will analyze it with other top-performing content to help you rank higher.
Lastly, you might need a tool that could help you track your keywords.
This way, you'll know which keyword and content you can optimize further to rank higher in SERPs.
BiQ's Rank Tracking could help you keep track of your keyword since the first day you added them.
You could use this tool to identify your keyword's gains and losses and find a way to improve or counter them.
You can also sort out your keyword rankings by page.
You could use these results to see how your page rankings have changed over time.
In addition to all that, you have the chance of being the first to know whenever something critical happens.
Conclusion
It's clear that these are some of the best marketing blogs out there.
However, there could be other blogs that you feel were left out.
You could help us out by leaving your favorite blog in the comments section if you don't see it in the list.
We'll be sure to have a look at it!