Improve your SEO by doing keyword research and getting content ideas with Google Autocomplete.
In my past blog posts, I have shared with you some of Google's elements, tools, and features. They include Google's Featured Snippet, Google Trends, and Google Autocomplete.
Today, we will go deeper into details about Google Autocomplete.
What Is Google Autocomplete?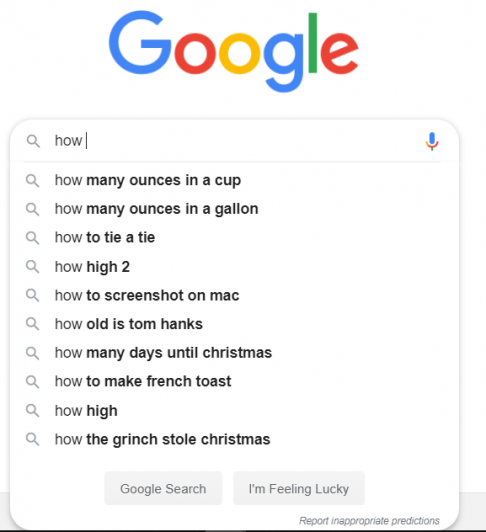 Do you see the words in bold? They're called autocomplete.
Google Autocomplete is a feature you experience within Google Search on both desktop and mobile. It allows users to perform very quick searches.
How?
As the name suggests, it tries to complete your intended search query automatically, as you write.
Are Autocompletes predictions or suggestions?
Google calls these autocomplete as "predictions" rather than "suggestions".
Yes, there's a difference.
A prediction is a forecast; something that is likely to happen. On the other hand, a suggestion is just a recommendation, something that users' may not intend to look into but will consider.
As soon as users type in something in the search bar, they usually have something in mind already. That is why it is more appropriate to call them predictions rather than suggestions.
The Google Search predictions change whenever a new character is being entered in Search. For instance, the image above shows autocompletes for "how". When I type in "d" after "how", the predictions change.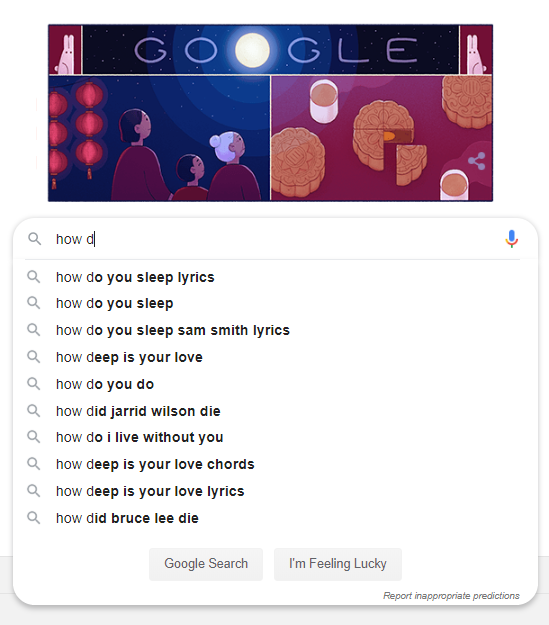 This feature is so helpful that it has been introduced in various other platforms. To name a few, they are Quora, YouTube, and Wikipedia.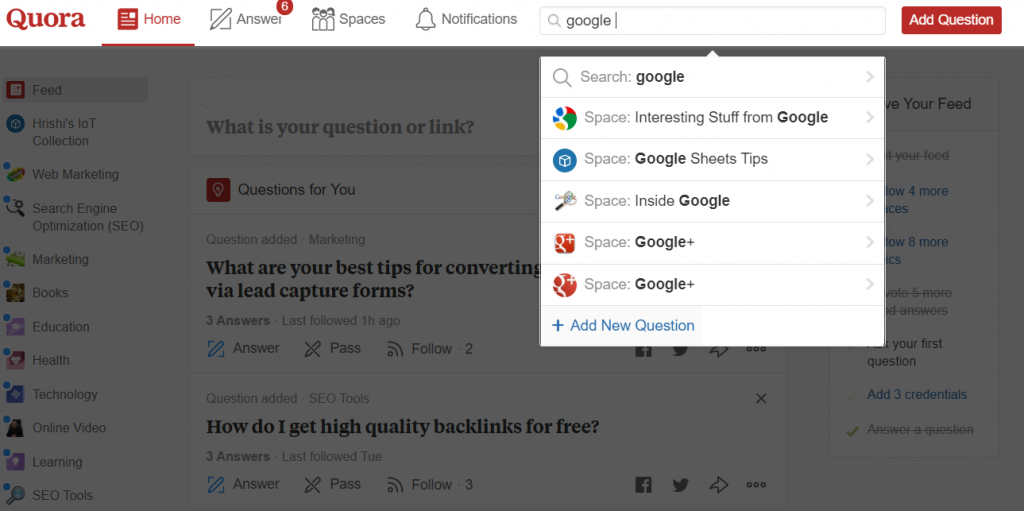 How does Google determine these predictions?
Let us all hear from Google on this;
We look at the real searches that happen on Google and show common and trending ones relevant to the characters that are entered and also related to your location and previous searches.

Danny Sullivan, 2018
How Autocomplete Improves Your SEO
Not many webmasters utilize the autocomplete feature. Well, not effectively. Believe it or not, Autocomplete can actually improve your SEO.
Improving your SEO means putting more effort into making your website better so that it is ranked higher in the search engine.
SEO activities include optimizing your site for mobile, creating helpful content, and getting backlinks.
Today, I will share with you 3 things you can do with Google Autocomplete that will help you rank.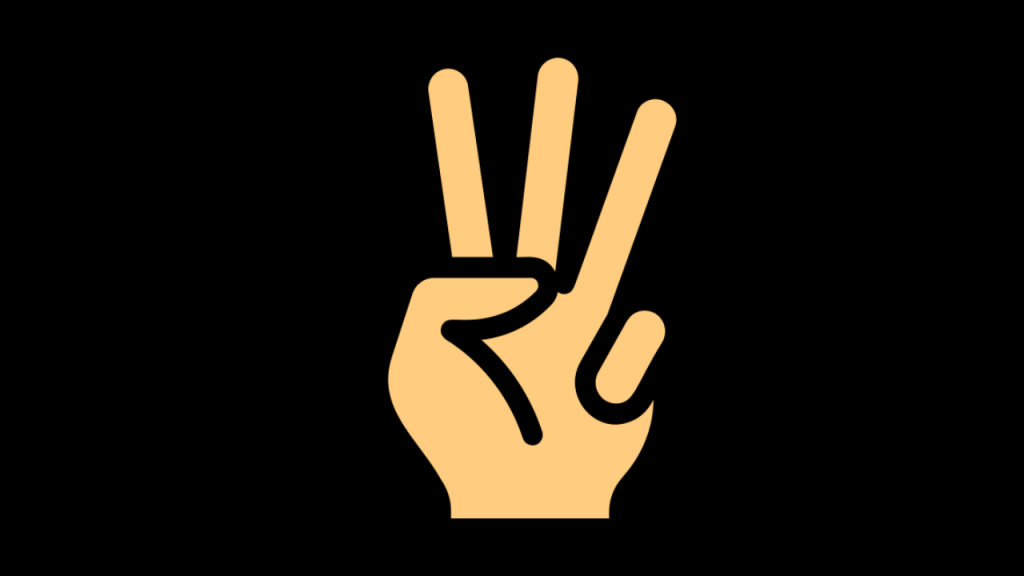 1. Keyword Research
Keyword research is part of SEO. Keyword research is done to find out what topics people really care about now.
It is important to rank for the "right" keyword. The one that will help you increase the quality and quantity of website traffic.
How you can use Autocomplete to perform keyword research is simply type in a short-tail keyword in the search bar and you will see long-tail keywords in the dropdown list.
Long-tail keywords are keywords that are specific. They gain lesser traffic because they're more targeted.
However, most webmasters go for long-tail keywords because users who look it up are very likely to take action. They are relatively easier to rank too.
Let me share with you a simple trick you can use for keyword research when using Autocomplete.
1.1 Long-Tail Keyword Research Trick using Autocomplete.
Some of you may know about this already. But I believe this will be helpful for those who do not know it.
Unconsciously, we're only using autocomplete to complete the end of a search query. For instance, "chocolate cake" then you'll see predictions such as "chocolate cake recipe", "chocolate cake shot", "chocolate cake shake".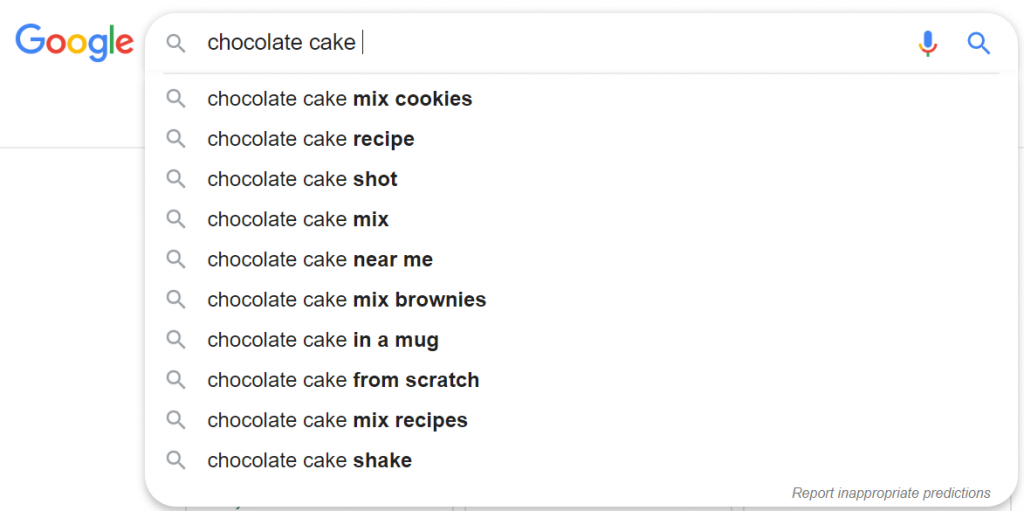 Now, those predictions are long-tail keywords but you can get more out of it. Now, click in between the two words and hit 'space bar'. You will then see predictions of words in between the two words.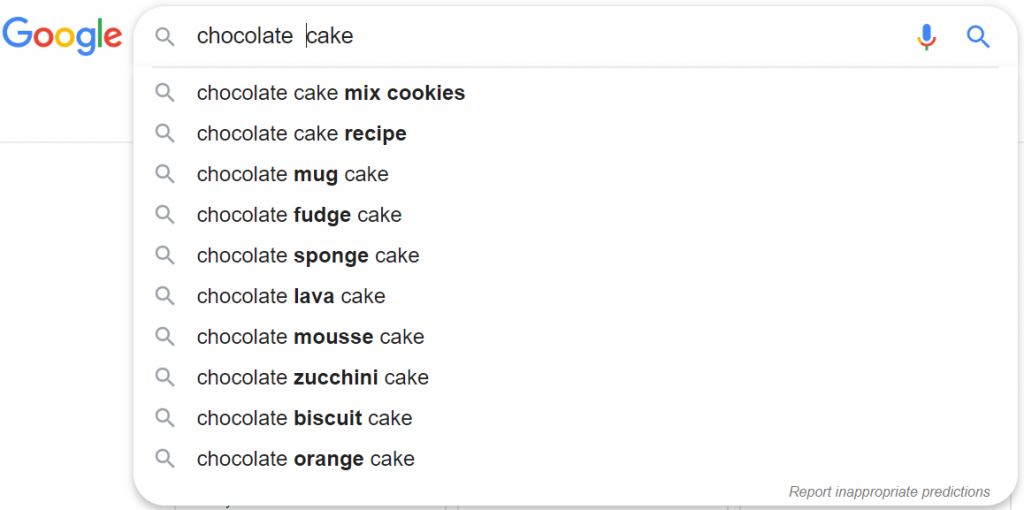 And last but not least, you can also do the same at the very front. Put your cursor on the first letter, click it, and hit 'space bar'. You will be given predictions of words in front of your search term.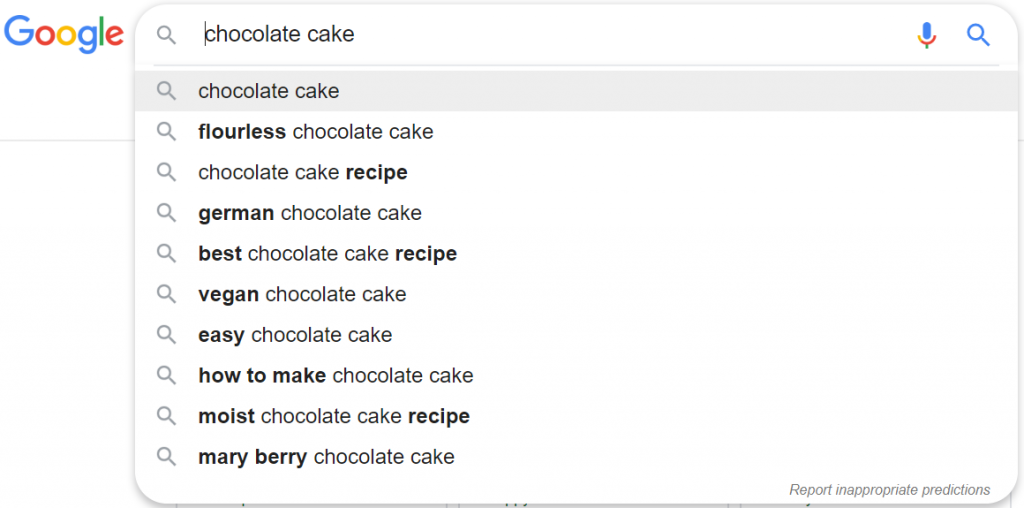 Look at the amount of good long-tail keywords you can get from Google Autocomplete! Instead of a blog titled "How to make a chocolate cake", you can go for "How to make vegan chocolate fudge cake".
From Google Autocomplete, you're getting loads of keywords you can use for your content. Although not many, people who actually search that long-tail keyword of yours will very likely stay on your page and read.
Advanced Tips:
Use Keyword Intelligence to check the trends, monthly search volume, cost per click, and competition of the keyword.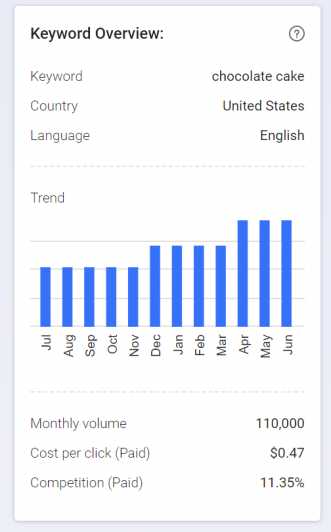 You can also get a long-tail keyword using the Keyword Intelligence by filtering only 'long tail' results.

Here are some of the long-tail keywords that you will get from the tool.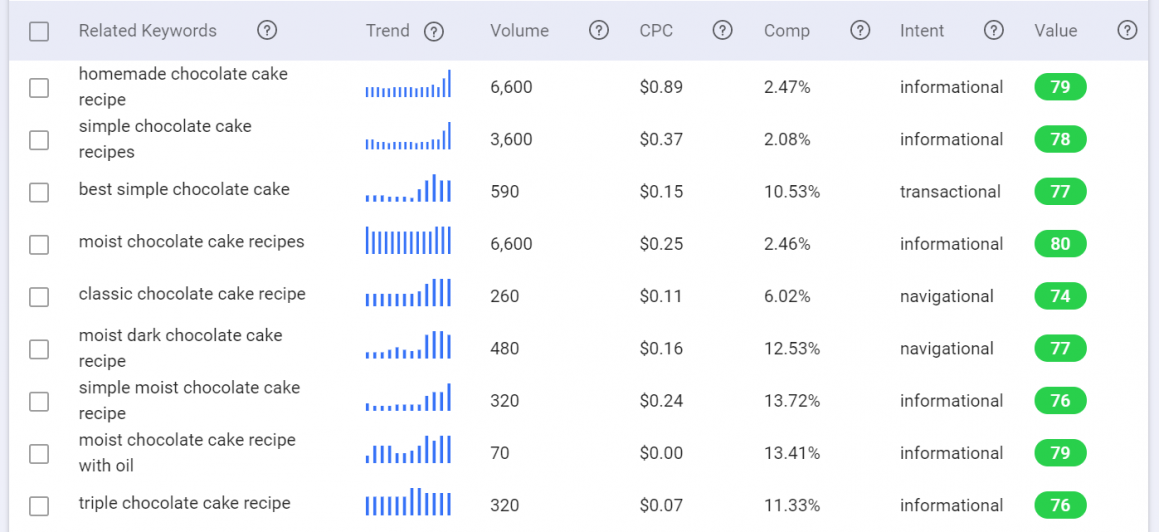 2. Content Idea
Now that you've got the right keyword, it is time to create helpful and relevant content for the users. The keyword research you've done has given you a list of keywords you can use to create content.
Make a search on the keyword you want to write about. You will then be returned with a list of websites ranking for that keyword. Click on pages that entice you and learn a thing or two from them.
Take note of the way they present information, the length of the article, and who they link to.
It's always good to get ideas and broaden your perspectives in order to craft a better article.
Advanced Tips:
Once you published your content, go to Content Intelligence to check your content's SEO score.
You will get to see if your content needs further optimization together with suggestions on how to improve them.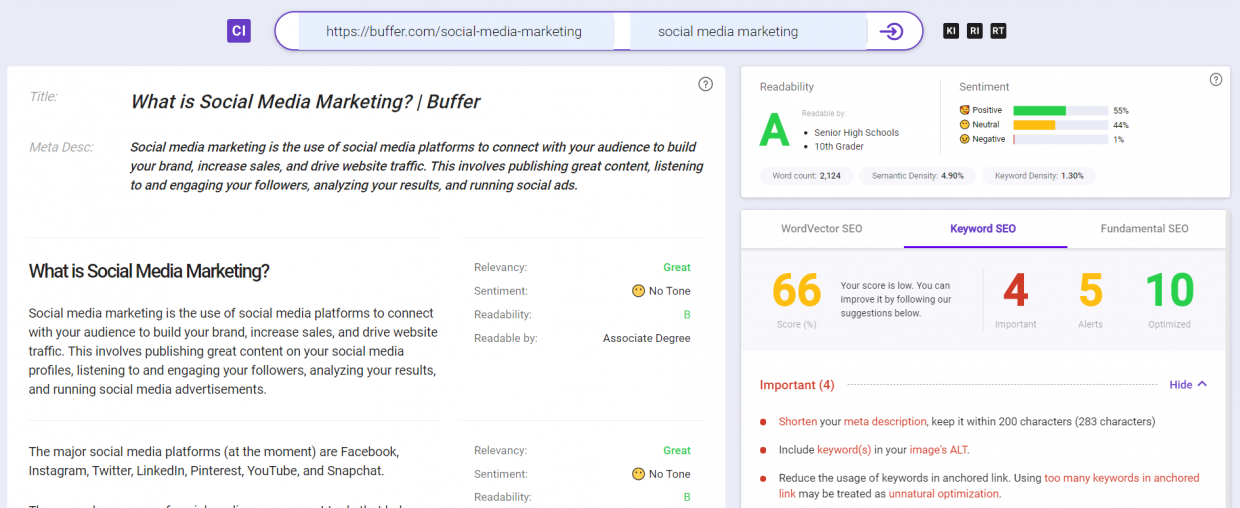 The autocomplete feature has given you many new long-tail keyword ideas. Keywords that are relevant to your initial keyword. Now, you can see all kinds of potential keywords you can rank for.
Take a look at the websites that are ranking for all of them. Take note of the keywords they use.
Enter the keyword you have chosen on the search bar and compare your page with the top 10 results.
Then, analyze and identify common keywords all 10 of your competitors are using.
Advanced Tips:
Alternatively, you can use Rank Intelligence to check all the keywords your competitors are ranking for.
Simply enter your competitor's domain and you will see their ranking distribution summary together with all the ranking keywords.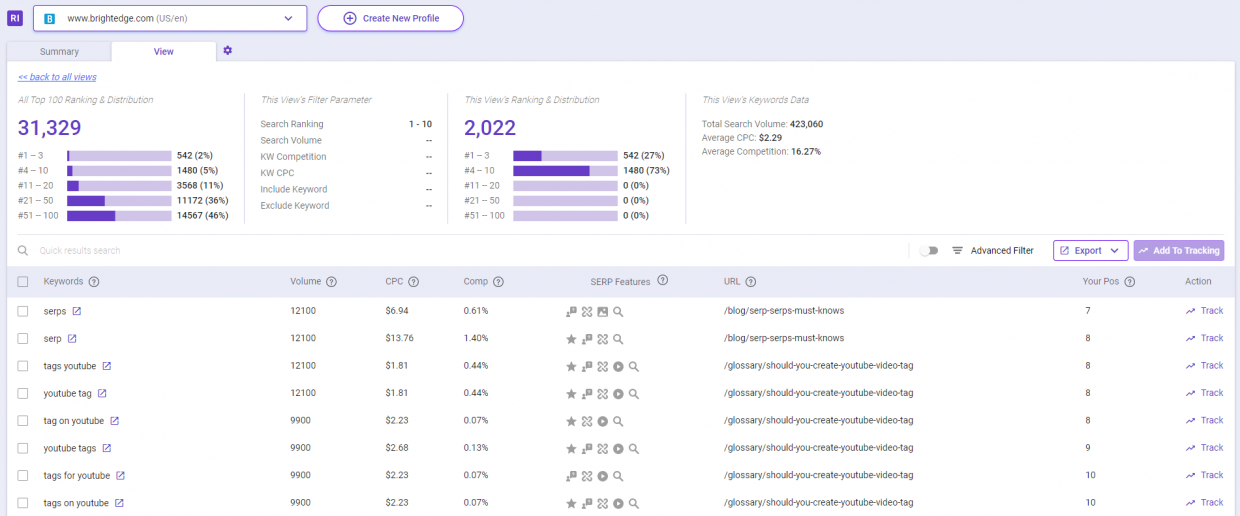 Learn the FIVE steps to do SEO competitor analysis.
Showing up for Google Autocomplete
Wouldn't it be great if your business showed up in Autocomplete as people type in a keyword?
For instance, an amateur chef has just discovered "XO sauce". He went to look for more information about it on the search engine.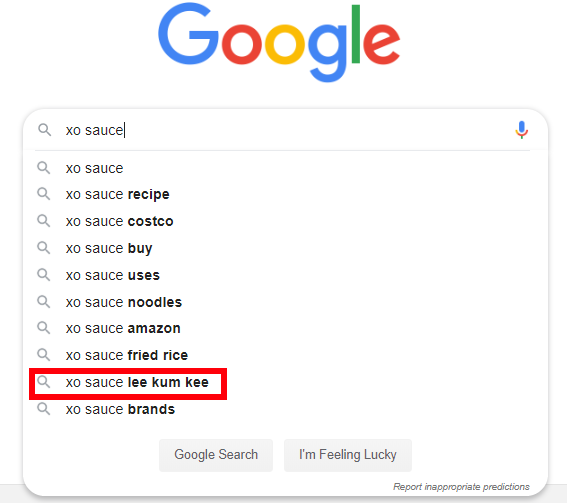 Now, I want you to see the differences and the impact of having your brand in autocomplete.
Result for "XO Sauce":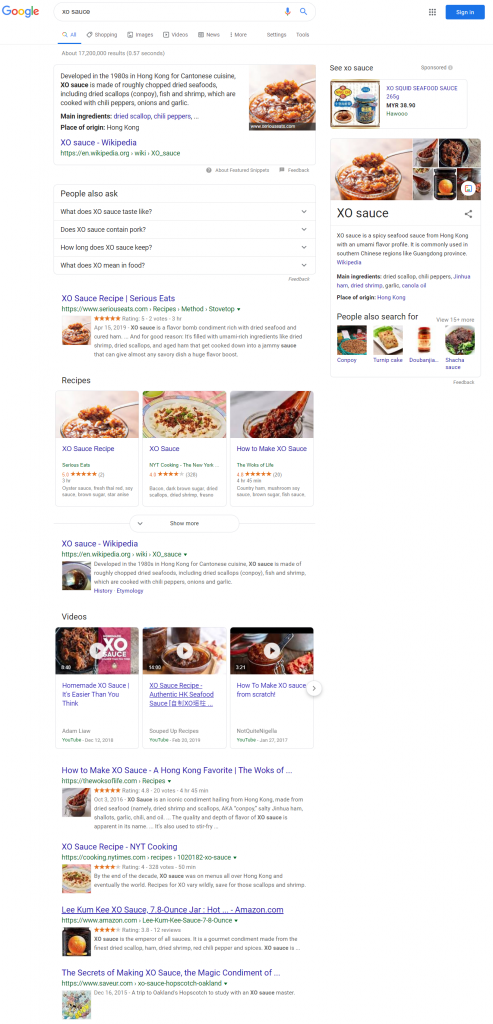 Now, if the users decide to click on the autocomplete, here's the result for "XO Sauce Lee Kum Kee":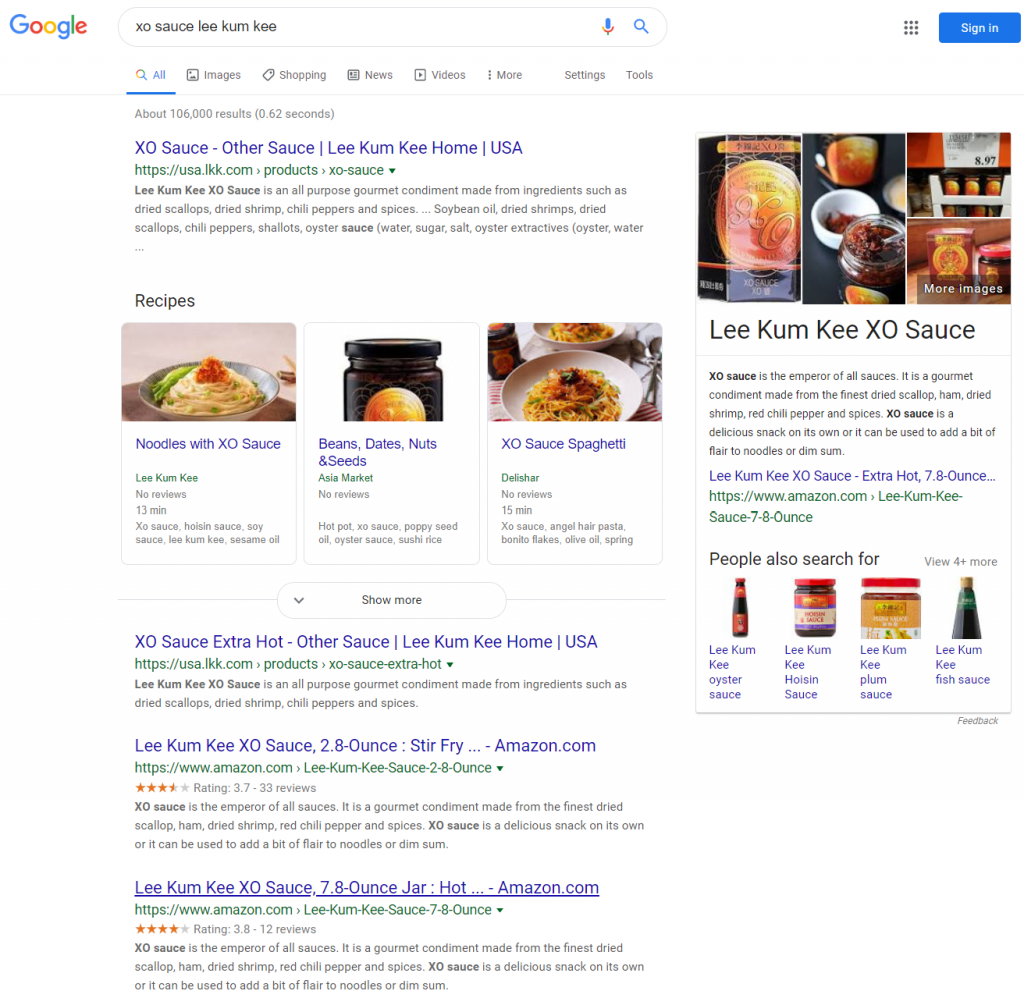 See? The chef may not have heard of Lee Kum Kee before or maybe heard of it but never had the time to look it up. Now, the chef knows a lot about Lee Kum Kee.
To sum up, having your name in the autocomplete helps you to stand out from the rest and increases traffic, just like how Lee Kum Kee stands out from other brands that sell XO sauces.
How to Influence Google Autocomplete
As mentioned above, how Google determines what to show in autocomplete is based on a few factors. To keep you refreshed, I will put them in a list form. Search predictions come from:
The characters you type in the search bar
Relevant searches you've done in the past
Searches that are trending and popular in your area
So, it seems like there is actually a way to influence Google Autocomplete. The ultimate goal here is to have your brand show up in autocomplete.
The Big Question: HOW?
Let's focus on #3. What we can derive from this is "the higher the popularity or search volume, the higher the possibility of appearing in autocomplete."
It does not necessarily need to be keywords that have long-term popularity. Google algorithm also considers keywords that have a sudden spike in terms of popularity.
Do we agree on this?
So, here's the real question you need to ask yourself.
How can you increase the popularity and search volume of your name?
There are many many ways you can work this out. I'll share with you some of the general methods most businesses are using now.
Providing good customer service goes a long way. When your customer is satisfied and content, they will talk about you to all their friends. What will probably happen next is that their friends look you up on the search engine.
Next, invest some time in building a social media presence as well as promotion. With social media, you'll be able to reach a huge number of people. There isn't really a limit to it.
As people discover your presence on social media, if they like you, they may look you up on the search engine to get more information. Again, you're getting users to type in your name in the search engine.
Now, here's one method I've observed that's becoming popular among businesses. Using press release distribution services.
The number of press release services continues to rise over time. These services help distribute their clients' press releases to thousands of end-points which include media outlets, newsdesk, and authoritative sites.
These end-points have a large viewership each. Once again, people who come across your press release on these endpoints will search you up on the search engine.
All in all, if your keyword is appropriate and as long as you're making people type in your name in the search bar, it will likely appear in the autocomplete.
Important Note: More Accurate Results
In order to get the most accurate result, you need to either:
Sign out of your account
Use Incognito mode
Turn Web & App Activity off
Here's a little guidance on #3.
Visit Google Search Help.
Click on 'See & control your Web & App Activity'.
Click on Anchor link "Activity controls".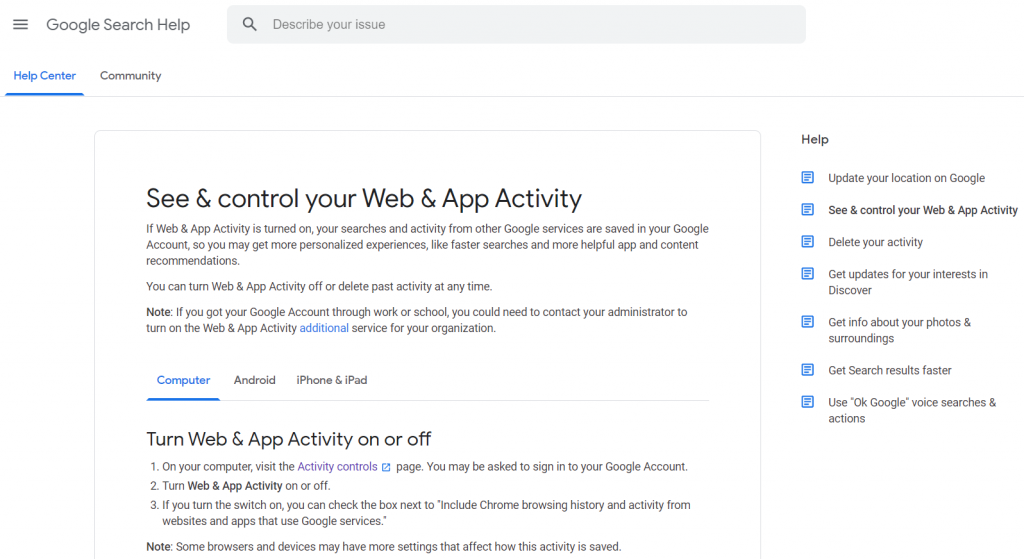 Lastly, pause Web & App Activity.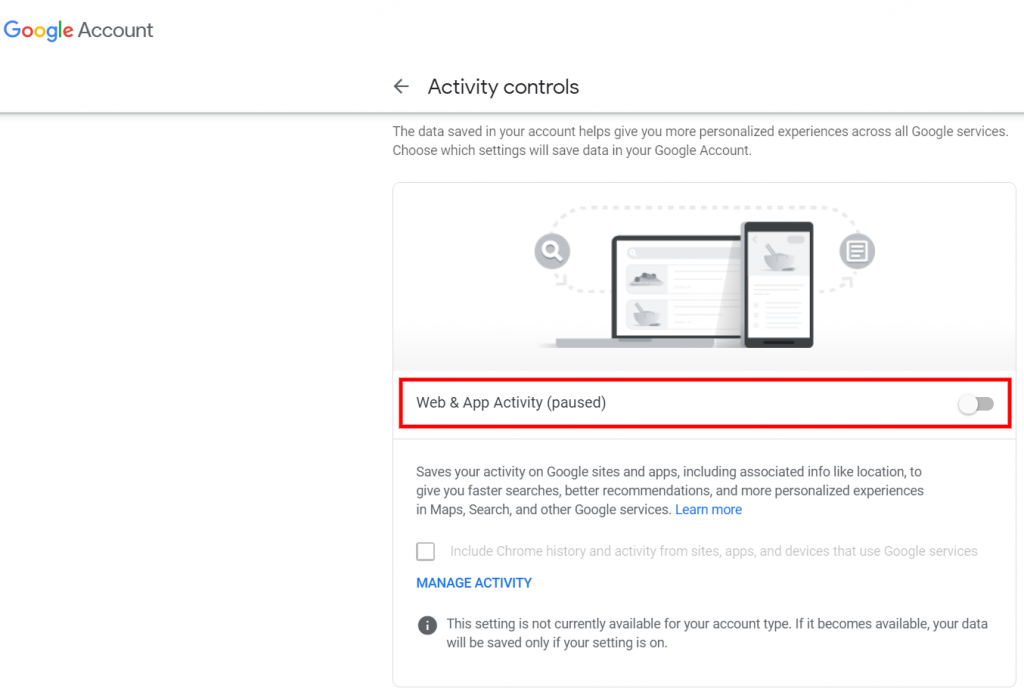 That's it!
You're probably wondering why you need to turn this off. Well, if you leave it on, it will save your activity on Google sites and apps.
Then, it will give you faster searches and better recommendations based on your activity and not the users.
Conclusion
All in all, Google Autocomplete benefits both users and webmasters.
From the users' standpoint, users save their time when autocomplete predicts correctly the users' intended search query. Besides that, users are also able to broaden their horizons with the feature.
From the webmasters' standpoint, webmasters get long-tail keyword ideas, content ideas as well as the ability to perform competitor analysis.
Me, personally, I use it to reap the benefits of both users and webmasters. I also use it for entertainment purposes.
How?
I would type in a few characters and words, and then Google will return me with some hilarious queries searched by other users. Here's an example:
I searched "Sometimes I like to cover myself" and look at what's in the dropdown. Apparently, "blanket" is not in the dropdown.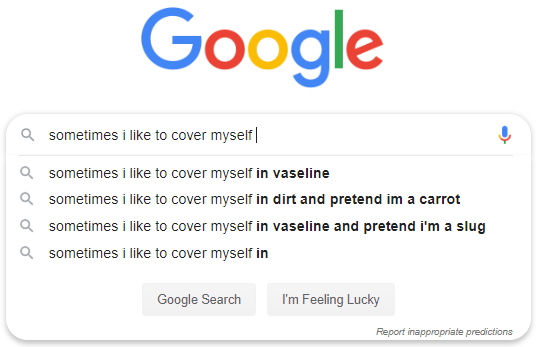 It is pretty interesting that people actually look these up in the search engine. My favorite for this query has got to be "Sometimes I like to cover myself in dirt and pretend I'm a carrot."
We've reached the end of this article. I hope you've learned a few things here today. Have you ever come across a hilarious Google autocomplete? If you have, feel free to share some laughs at the comment section down below.