Looking to improve your SEO on your WordPress? Here are 8 WordPress tips you can implement for your website to boost your ranking and visibility.
Years down the line, the platform has revolutionized website and blogs creation, becoming one of the most preferred all over.
Now based on a W3Techs 2020 report, WordPress powers over 60 million websites worldwide. That translates to more than 38% of all the sites on the internet.
What is WordPress?
WordPress is an open-source content management system (CMS) that allows one to use and makes changes in a site at no cost.
The role of any CMS is to simplify the process of any procedure. As a result, WordPress makes websites and blog building less complicated even to non-developers.
Is WordPress good for SEO?
Thanks to a revolution of WordPress core code, themes, and plugins, the business world enjoys an enhanced online presence resulting in more leads.
Similarly, its flexibility as a CMS also enabled it to offer an ideal platform for SEO optimization and website owners can tweak their WordPress site to rank well on Google.
Besides, it alerts Google every time a user updates their sites resulting in new rankings. The only downside is that WordPress itself gives limited SEO optimization.
You need to gear up your WordPress site on your own. As a solution, website owners must embrace various WordPress SEO tips geared to augment their site through the competitive eCommerce journey.
Below are fantastic guidelines and tips on how to get started on WordPress SEO.
WordPress SEO Tips
1. Choose a Reliable Hosting Provider
The success of any website lies in the web hosting used.
To increase SEO ranking and increase sales leads, you need to settle on an effective hosting platform. Some of the popular hosting options include VPS, Free, Dedicated, Managed and Shared WordPress hosting.
There are various SEO guidelines to help you get the best hosting for your website. Speed is one significant factor you need to consider. Before paying for any site hosting services, ensure that the speed should be less than 300ms.
A dependable hosting service should also have an uptime availability of not less than 99%. Confirm the company's customer service as well. Do they offer WordPress-related solutions, and how fast do they respond to an issue?
Finally, check their past experiences working with similar business types and sizes. The best way to find out is through referrals and customer reviews on their sites.
Keep in mind that a reliable hosting company should focus on creating your site within a short time. This enhances user experience and encourages higher rankings leading to more conversions.
2. Install an SEO-friendly WordPress Theme
A WordPress theme is a database of files that work together to develop your site's design.
For a functional theme, one has to include images, template files, and style sheets. In some cases, you can incorporate JavaScript files as well. These files' primary purpose is to restructure your site's display, making them more SEO-friendly.
While WordPress allows you to make changes to your theme, it does not alter the blog pages, content, or database information. Instead, it only modifies how your visitors view your content on your site.
There are several premium classified and free Word themes available in the market. For free themes, one can download from an official WordPress directory.
If you want the more advanced premium ones, you can get them from third-party developers.
Conversely, you can develop your themes through WordPress drag & drop page builders like the beaver. There are three common ways of installing WordPress themes on a site. You can upload (premium/custom), select from the theme directory, or install one using the FTP feature.
To detect the theme that another site has used, you can use the WordPress theme detector tool.
3. Set your Preferred Domain
A preferred domain, also known as a canonical URL, is the option you choose for search engines and users to find you.
This is one of the most straightforward WordPress SEO-friendly strategies that site owners should practice.
Before creating a new blog or website, you need to consider whether to use www or not in your domain. This is a lifetime decision that you have to make before the site installation. The main difference between these two domains is that you can restrict cookies and change to the DNS with a www URL.
A non-www domain comes without such technical advantages. Most businesses prefer using the www URLs due to the market entity attached to them. To get your preferred domain in WordPress, you need to log in to the WordPress dashboard and click general.
Choose settings from the menu and select your preference from Site Address (URL) or WordPress Address (ULR).
One of the best WordPress tutorials is to set a preferred domain for every page on your site. Confirm if your theme has installed the canonical domain well by clicking the view source tab on the home page.
4. Check your Site's Visibility Settings
This refers to a metric compiled on various factors that describes site presence in the search engine.
Basically, it focuses on the keywords used and their search engine rankings. Online visibility revolves around the entire brand presence in the consumer environment.
For instance, an organization may have a great website, but without good SEO, traffic visitors may never have a chance to view it. That's why you need to confirm your website's visibility and find solutions to attract visitors to it.
There are various ways you can increase your online visibility. Some of them include using hashtags, posting your content at the right time, sharing other people's content, engaging our visitors amongst others.
5. Add XML Sitemaps in WordPress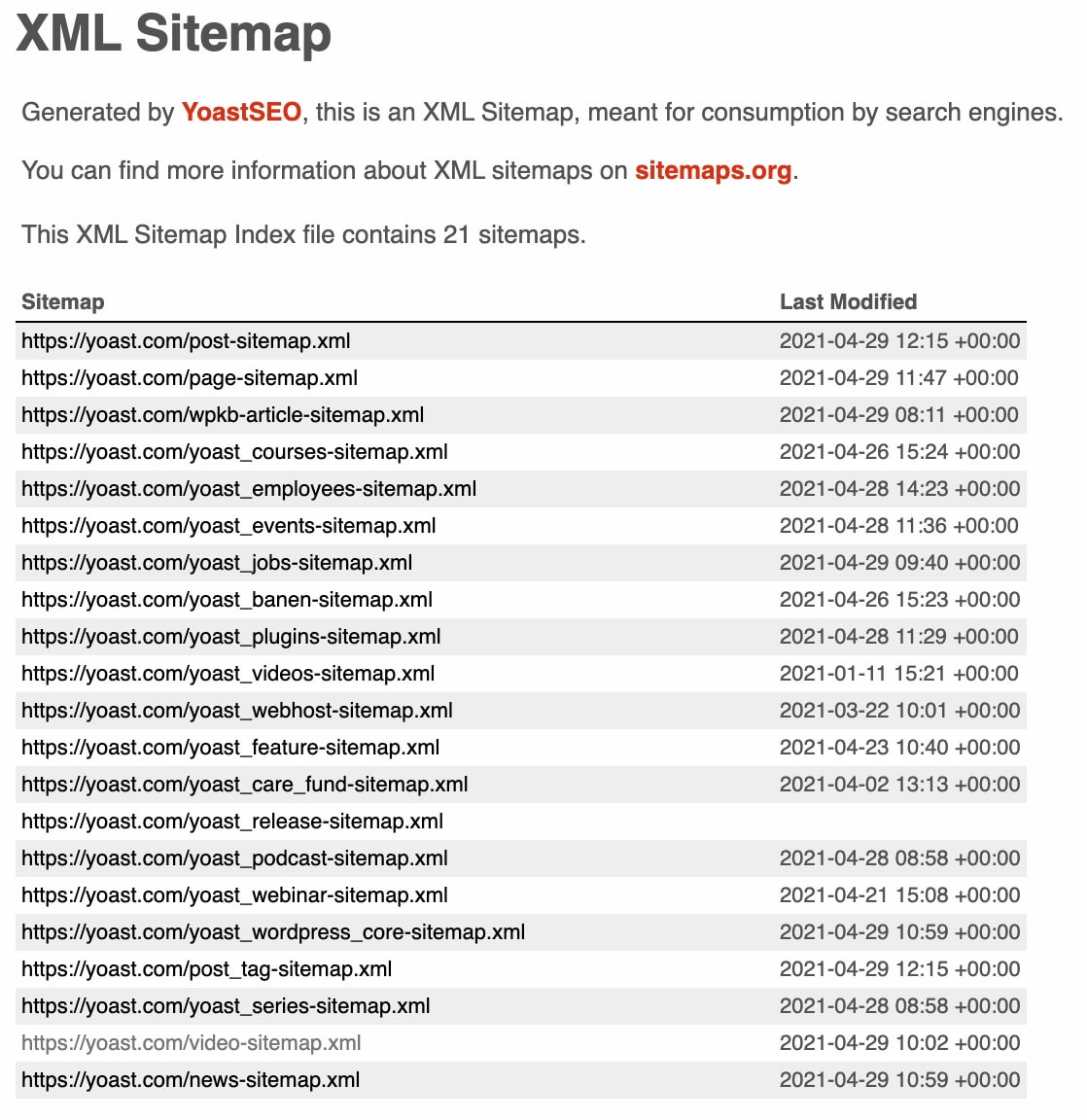 XML sitemaps make it easier for search engines to navigate a website. It consists of a file that contains your site's content in an XML format. Compared to a regular HTML sitemap made for users, an XML one is not visible to visitors.
In comparison to some years back, companies are now more focused on search engine rankings.
As a result, some of the previously used methods that do not support that are slowly getting phased out. A good example is the current preference of XML sitemaps over HTML sitemaps.
An XML sitemap in your website is a convenient way to communicate to the search engines about your pages. Also, it conveys to the search engines the links that are more significant compared to others. As a result, it boosts your ranking while allowing visitors to flock to your site.
There are different ways to install an XML sitemap in your WordPress. One of the easiest methods is through the Google XML plugin, which offers a wide range of tools to create your posts for the SEO audience.
6. Enable SEO-friendly URL structures
One of the most significant factors of a WordPress SEO-friendly URL is easy readability.
That means that the search engine and visitors should comprehend the content on your site. Also, it should have influential keywords that target the right audience.
An URL without credible keywords does not play a significant role in search engine ranking.
Thus, you should include effective keywords in your URL to create an impact. There is no SEO advantage of using www or non-www URLs. It is all a matter of personal preference as they play the same role in search engine ranking.
Enabling your preferred URL structure is a simple process through the Google Webmaster Tools on your site. Note that when you settle on one, it is technically impossible to change it in the future.
7. Verify your Site with Search Console
Google Search Console offers a free service that helps the user manage its presence in Google search engines.
Through the platform, one can request Google to index the site. This means that after you make changes to your site, the modification can be detected more rapidly in the search results.
Also, it allows users to confirm the common keywords that visitors use to access your site. Google Console verifies sites through the primary domain. This can either be an inbuilt or a custom-made domain.
The primary purpose of verification is to guard the browser and website owners against security risks. Google has streamlined the process through Google analytics.
For a successful process, set your Google Analytics account and add your site. You do not have to include a new code each time you wish to verify your site.
Instead, follow the instructions given to get the pre-formed Google analytics code. Once you have the code, you can use it to verify any site you wish. Remember that this process works for all Google services as long as Google Analytics code is available.
8. Install a WordPress SEO Plugin like SEOPressor
WordPress SEO plugins are an upgrade investment that allows your site to do some tasks that were not previously possible.
The downfall is that the more plugins you have, the riskier it is for your site. Either way, plugins have an essential role in the competitive eCommerce SEO world.
SEOPressor Connect is one of the dominant plugins in the market. You can easily use the tool to optimize your pages with a productive time-saving aspect while giving suggestions on how to improve them.
It is also user-friendly and offers optimization tips for those not conversant with the process.
Furthermore, it drives more organic traffic by allowing multiple keyword uses for each page or post.
Some SEOPressor key features include keyword optimization, crawler control, link management, semantic builder, and on-page analysis.
There are markups that make it easier for search engines to understand a site's content through the optimization process.
Schema Markup achieves this by classifying specific words or phrases in the content. That way, it is easier for the search engines to read and understand the content for better ranking.
How to further Boost SEO for your WordPress Site?
1. Detailed Keyword Research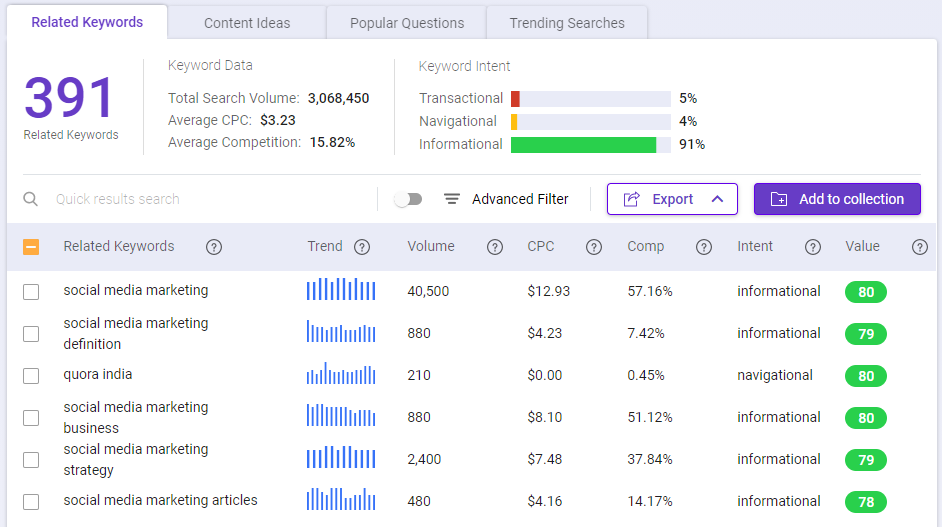 Keyword research is a vital SEO task that categorizes popular phrases and words that individuals use on the search engine. Ideally, the purpose of keyword research is to figure out how to rank a site.
It helps companies to create pages that meet the needs of the audience. As a result, the organization becomes empowered to give informative content and solve issues to their clients.
BiQ Keyword Intelligence has simplified the process of getting functional keywords for organizations. Through entering your chosen phrase or word in the search bar, it will provide critical information about the keyword you wish to target.
This makes it easier for website owners to make a wise decision on choosing the best keywords for their brands. It also allows users to determine what consumers are probing and the competitor's presence in the market.
2. Optimizing Pages and Posts
Optimizing your page ensures that you improve your website readability and rank better in search engines too.
One effective way of enhancing your SEO rating is by adding alt text to your images. A typical alt text should be accurate and comparable by giving the same content as depicted on the image.
Besides that, you can also use BiQ Content Intelligence to ensure that you use your terms well when optimizing your content for clear understanding and higher readability.
The tool analyzes your content's WordVector against the Top 10 ranking results in SERPs and will let you know where to place your keywords in an effective way of enhancing your SEO results.
Additionally, you need to make sure you include your keyword in both your headline and heading tag. For instance, your headlines on one of your pages read, 'Best Realtors Association,' you should not repeat it as an H1 on another page within the site.
With eCommerce striving to find viable SEO enhancing strategies, BiQ Ranking Intelligence can also make it convenient.
Here, you can use the tool to help the optimal key searching giant helps users get their ranking information on their pages and keywords.
They also give in-depth metrics that help website owners make critical decisions destined to improve the market's brand presence.
3. Internal Link to Lead your Prospects
Internal linking is a handy WordPress SEO strategy that guides Google on your site's structure while sharing your content. They create hierarchies in a website by giving more emphasis to the essential pages.
This approach exposes your best part to the search engines for better optimization.
For top-notch SEO performance, there are various ways that you can improve your internal linking. Successful linking requires you to come up with lots of internal lines.
You can only achieve that by creating more content on your site. Ensure that you share informative content with your visitors in the process. Do not forget to use anchor text and other relevant links. Strive to makes your links as natural as possible.
4. Take your Site Performance to the Next Level
With higher traffic coming from phone users, it is vital to make your website more mobile-friendly.
Most mobile phone users do not have the time to peruse through loads of information. Ensure that your website content answers their questions right away.
Quick loading and easy-to-navigate pages keep your clients captivated. Google recommends that page loading should take less than two seconds. Embrace this concept, especially on the customer service page where users expect prompt responses.
There are various ways you can use to increase the speed of your site. The most popular ones include using JavaScript, Minify CSS, allow compression, optimize images, and improve server response duration, amongst others. For any website owner, security is a critical aspect to probe about.
Daily, Google blacklists more than 10,000 websites for phishing and malware. Protecting websites may differ from one organization to the other, but it is a worthy and essential investment for the benefit of website owners and users.
Some of the reasonable WordPress measures to use are running regular backups, updating, installing an SSL certificate, anti-malware software, creating an untraceable password, and many others.
Moreover, the site should take actions like purchasing, leaving contacts, or searching for an item.
5. Improve your Core Web Vitals and Get Ready for 2021
Core Web Vitals are a new initiative from Google designed to improve the user experience on the web. Google previously confirmed that they will be ranking signals for search results in May 2021 update.
So instead of focusing on generic metrics like how long does it take for your entire website to load, Google now uses these metrics to look into your site performance and how it performs in terms of user experience. Specifically, there are 3 core metrics:
Largest Contentful Paint (LCP) – how much time it takes to load your largest, and meaningful content, for example, your site's featured image or header section since Google only takes the content above the page's fold into consideration, meaning everything that appears without any scrolling.
Cumulative Layout Shift (CLS) – how much of your site's content shifts as it loads, which is considered bad for user experience. So the goal here is to minimize late-loading ads that push your content down after your content has already loaded.
First Input Delay (FID) – how much time does it take for your user to interact with something on your page and when the browser is able to process the event.
Now that you understand what each metric represents, test your Core Web Vitals via Google PageSpeed Insights. Remember to do this for both your mobile and desktop sites, and improve your website according to the suggestions provided.
Work on Your WordPress SEO
For close to twenty years, WordPress has gone through an impressive transformation process.
Now, it comes out as a useful tool in creating and managing blogs, websites, business stores, and individual sites through various transformation stages. Since the program runs online, it requires no downloading and monthly payments apart from the web hosting charges.
Despite facing challenges with limited SEO optimization, when incorporated with an assortment of WordPress SEO tools and tutorials, it ranks well above the competitors.
Through a straightforward process, you can introduce the BiQ SEO Suite, create internal links, add XML sitemaps, and many others, all to increase your site ranking higher and getting promising business leads.