Content upgrades are a lead magnet that you can use to generate more qualified leads through your website.
Content upgrades are a great way of giving your visitors value while you get their email addresses in the process. In short, it's a win-win situation.
What if there was a way to bring more value to your blog readers while growing your email list at the same time?
Something actionable, simple, and straightforward.
You'd jump on it, right?
Say hello to content upgrades.
See, you have to offer them something valuable in return for people to give you their email addresses. The more relevant your offer is, the higher your chances are of converting them. This is where content upgrade comes into the mix.
In this post, we share tips and examples to help you create simple, high-converting content upgrades. It's a lot easier than you think!
Let's dive in, shall we?
What Are Content Upgrades?
Let's start with the content upgrade meaning.
Simply put, a content upgrade is a piece of information that helps a reader put what they've learned in your blog into action.
Content upgrades are bonus blogs—simple as that!
It 'upgrades' your blog by giving it more relevance, more value.
A content upgrade could be a checklist, an article summary, or a cheat sheet. Just any bonus content you offer your readers in exchange for their email addresses.
Other types of content upgrades include:
White papers
Worksheets
Video
Case Study
And a lot more!
Think of a content upgrade as patching holes in a leaky faucet—it prevents water (in this case, your readers) from running away forever!
Why Do You Need To Use Content Upgrades?
Content upgrades continue to take the email-building world by storm.
It is important in email marketing that it has now become a "no brainer" for most bloggers, marketers, and businesses alike.
You, too, can be part of this bandwagon.
We know you might be asking, "Why should I incorporate content upgrades into my bogs?"
Here's why:
They generate shares, emails, and more traffic.
They lead to higher conversion rates.
They are relevant and highly-specific to your blog.
More than 70% of the people who visit your blog or website will never come back by statistics.
That's why when people stop by to read your blogs, you must make it your mission to capture their email addresses. And content upgrades can help you achieve just that.
In a nutshell, a content upgrade is email marketing the way it's supposed to be: effective, targeted, relevant.
Content Upgrades Strategies
Are you ready to build your first content upgrade? Then you are in the good hand. Below are strategies that can help you put your best foot forward:
1. Segment your content by category and target audience
When it comes to creating engaging content, if you're trying to speak to everyone, you will have a hard time reaching anyone.
Generic and vague content upgrades are far less likely to resonate with audiences than targeted, specific communication—which is why segmentation is so important.
Start by dividing your market into categories. For example, if you are a business that offers products for men, women, and kids, you wouldn't just create content for them as a general audience. Rather, you'd create content for each category- men, women, and kids.
If you divide your content into categories, it becomes easier to formulate content upgrades that fit with each category's ideal client profile instead of each blog.
Yet this is only the tip of the iceberg.
Once you understand how to segment your content by category, you need to identify their specific goals and pain points.
Why? Because it is only by solving the KEY problems that you're likely to entice them to engage with your brand after they're done reading your posts.

If you are interested to learn more, check out our previous post on how to create buyer persona.
2. Solve a specific problem
When it comes to content marketing—using tools like content upgrades—you need to ask yourself: "Am I solving my audience's problems or simply creating noise?"
With so many blogs out there (FYI, there are more than 570 million active blogs today), how does yours stand out and drive conversions? You are unique. There is no business like yours out there. The content upgrades you write should reflect this, and not more jargon or sales speak.
Take your expertise and knowledge and apply it to your content upgrade.
More importantly, you need to be concise about the unique value your bonus content offers concerning the website content your reader is actively consuming. Offer an exceptional content upgrade, something evergreen, relevant, and problem-specific.
When you're speaking directly with your target audience, what makes them say, "thank you very much, that's a huge help!"? That's the sort of content upgrade you need to use on your blogs.
In case you want help with identifying your top-performing content, BiQ Rank Intelligence can help.
First, enter your website URL into Rank Intelligence. Then, select the country where the audience is based.

You will get to see all the keywords your website is ranking for together with the important insights such as search volume, cost-per-click, and competition, and so on.
These insights let you know the search terms that searchers are searching for to reach your website.

With this tool, you can filter and sort your keywords based on search volume. Keywords with higher search volume are valuable keywords that can drive in a lot of traffic, and you definitely want to keep an eye on them.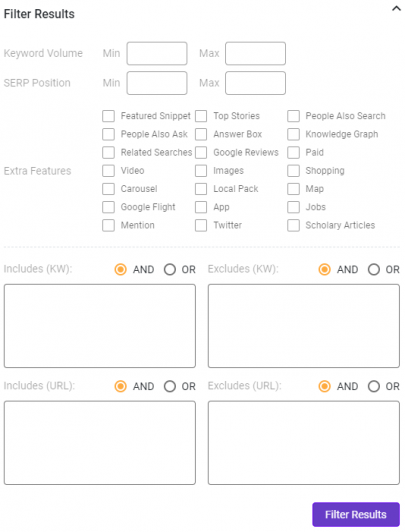 Once you know your top-performing keywords in SERPs, it becomes easier to trace them back to individual blogs. Then you can make these high-ranking blogs even more valuable by adding content upgrade.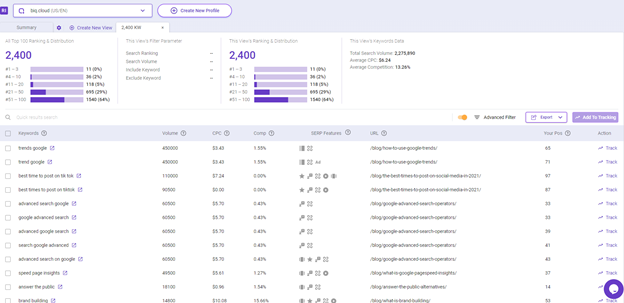 At the end of the day, make sure that the content upgrades you create a relevant to the blog post you're adding them to. You want to essentially create additional content that complements the top-performing content you have written.
3. Include call-to-action
Now you know more about your target audiences and how to solve their pain points, what's next?
The next round of your content upgrade strategy occurs when you include CTAs (call-to-action) in your top-performing blogs. And the best way to do this is with a pop-up.
Listen.
Irrespective of your opinion about pop-ups, you can't ignore the numbers. Pop-ups do convert. A recent Sumo study showed that businesses see conversion rates of up to 50% when they use pop-ups accurately.
That said, don't let pop-ups be the only CTA on the page. According to research from Chartbeat, every visitor doesn't view all parts of a blog. Besides, many visitors spend no more than 2 seconds at the bottom of the blog where most CTAs usually appear.
That's why it's best to adopt a multiple CTA strategy for your content upgrade. A standard blog should include at least three CTAs to download the content upgrade—at the end of the article, halfway down (slide-in pop up), and at the top of the page (just below the byline).
The text of the CTA and button should be descriptive and attention-grabbing. This prompts the
4. Promise a quick-win that's easy to digest
What's the hardest thing about content upgrade? It's not adding CTAs. It's not researching target audiences. It's not even solving a specific pain point.
The hardest bit about content upgrades is making them as consumable and accessible as possible.
Your readers shouldn't have to cross rivers and climb mountains to get your content upgrade. It should only be two or three clicks away.
Also, consider making your content upgrade bite-sized, lightweight, and unique. You know, a piece of information that relates to what readers are actively consuming on the go. Think of an actionable ebook, cheat-sheet, or checklist.
Most importantly, your bonus content should promise (and deliver) a quick win for your content readers. In simple terms, it should help them solve, achieve, or accomplish something on the spot.
5. Research on your competitors
What's the first step to creating uniquely outstanding content upgrades?
That's right—analyzing the content that's already existing in your specific niche/market.
You need to know what works for others and what doesn't. You need to know what your friends, neighbors, and competitors are publishing to ensure you're creating the most engaging, optimized, and differentiated content upgrade.
To perform a comprehensive analysis of the market, use a tool like BiQ's Rank Intelligence.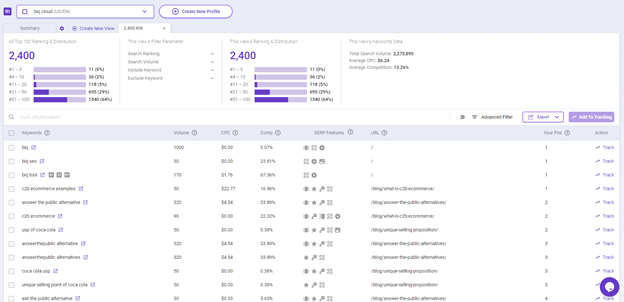 All you need to do is create a new profile on the dashboard using your best-performing competitor's website URL.
You will then be presented with all keywords ranking data from your rival's website. Proceed to set your preferred parameters. Maybe you're only looking to 'steal' their keywords that are ranking in the top 20 and with a search volume of at least 1,000. So go on and set that up and formulate a view.
Once you have this data, you can easily export it as CSV to further sift through the keywords using your tool of choice.
With knowledge on which keywords your rivals are ranking for, you'll find it easy to craft content, and by extension, content upgrades targeting those same keywords.
This helps you to go further up the search rankings, and in turn, increase your conversion rates. Talk about an SEO magic wand!
Analyzing your market is a critical step in creating distinct content upgrades that truly stand out. Rather than blindly churning out content, take the time to understand where the valuable opportunity lies. And it all starts with using the correct rank intelligence tool.
6. Schedule time to regularly update your content upgrades
This applies to every piece of content on your website, not just content upgrades.
When people troop to your site to consume content—be it testimonials, landing pages, or blogs—it should portray your expertise and unique value-add.
If your content is dated, inconsistent, or otherwise false, it will erode the confidence and trust you need to turn mere leads into paying customers.
To make sure this never happens, you need to pay a visit to your content upgrades every once in a while. Review each of them to see which ones are working and which ones need to be refreshed.
Every turn of the year is an ideal time to update your content and your content upgrades by extension.
Ensuring that your bonus content is evergreen and up-to-date paves the way for more site visits. This means you'll keep attracting traffic, getting more email subscribers, and converting sales well into the future.
Content Upgrade Examples
Example #1: A recording of written content
Everyone is busy these days. If you can make it easy for visitors to learn from your content, they'll love you for it. They'll be itching to join your email list.
Like a podcast, a recording of your content allows readers to download and listen to the nuggets whenever they are—at home, on the road while driving, at their desk while doing their work.
Below is a recording of a blog from Facebook Ad icon Jon Loomer titled "Don't Freak Out: How To Approach Facebook Advertising Changes Inspired By iOS 14."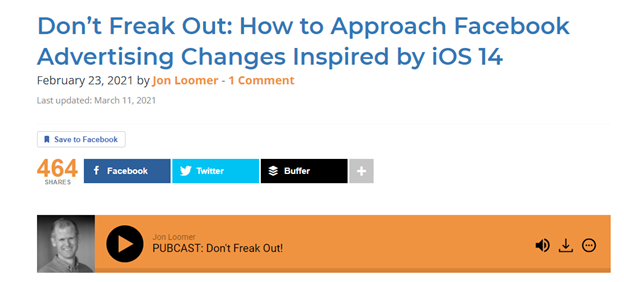 Mind you, the blog was published on 23rd Feb 2021, and it has already amassed 464 shares! Impressive, right?
This means that blog recording can work for you, too, especially if your content is less visual or example-focused. You can find services that will scan and record your blog for you for a couple of bucks. Hit that Google button!
Example #2: Video Tutorial
If you realize that your how-to guides are doing pretty well and your target audience is going gaga about them, it's time to take them a notch higher.
This is where video tutorials come in handy. Not only are they attractively visual, but they make the whole blog more comprehensive and straightforward.
Just so you know, a video tutorial isn't difficult to make, yet it's the perfect bonus content for your how-to blogs.
Keep in mind that most readers are visual learners, and video tutorials can help them deconstruct complex subjects quite easily.
For instance, this video tutorial on "How to Build a Dog House" by Lowe's, is a content upgrade for the blog on the same page.
It's simple, actionable, and straight to the point. The better results their readers get, the more likely they are to trust Lowe's Shop and buy from it.
Example #3: Checklist
Who doesn't love checklists?
This is something that you should definitely employ as it creates utmost value for the reader. Why? Because it shortens whatever is written in the blogpost and saves visitors a ton of time.
Instead of giving your readers more content to read through, like a typical PDF guide, a checklist provides a shortcut to executing all the main blog insights. It's outright valuable.
For example, Miranda Nahmias upgrades her blog that focuses on hiring a team with an actionable New Hire checklist.
With both the checklist and the main blogpost, her site visitors are well-equipped to make better hiring decisions down the road.
And if these readers get tangible results from the checklist, they might just trust her enough to hire her team in the future!
Wrapping Up
Building email subscribers has never been this easy! Thanks to content upgrades, you can provide additional value that your readers will love, all while getting their email lists—talk about killing two birds with one stone!
Better yet, content upgrades take less time to build than conventional lead gen tactics, and they will drive conversions at much higher rates.
Now, the ball is in your court.
As you craft that irresistible content upgrade, always think of your business goals and audience. Then everything else will fall into place.
Ready to discover other growth opportunities that your blog is missing? Try BiQ today, an all-in-one tool that does all the SEO heavy lifting for you!