As a new business, you can only grow if there is a constant flow of traffic to your site. This article aims to show you 14 ways on how to get your first customer fast.
Customers are at the core of any business. That is why it is vital that you not only acquire new customers but also retain them. However, most companies do not have an elaborate plan on how they are going to do it.
Having a robust client acquisition approach is a vital aspect of any enterprise. Without one, it can be very challenging to grow your business in any meaningful way.
Another complicated component of scaling any venture is identifying which channel is sustainable for acquiring new clients. Keep in mind that an acquisition tactic that works for one business may not work for another.
To help you navigate the murky waters of customer acquisition, this guide will be sharing smart ways on how to get customers seamlessly.
Identifying the right acquisition channel
Though there are thousands of articles published online on identifying the right customer acquisition channel, it all boils down to trial and error. This would happen mainly if you are new in the game or do not have any historical data to refer to on how to get paying customers.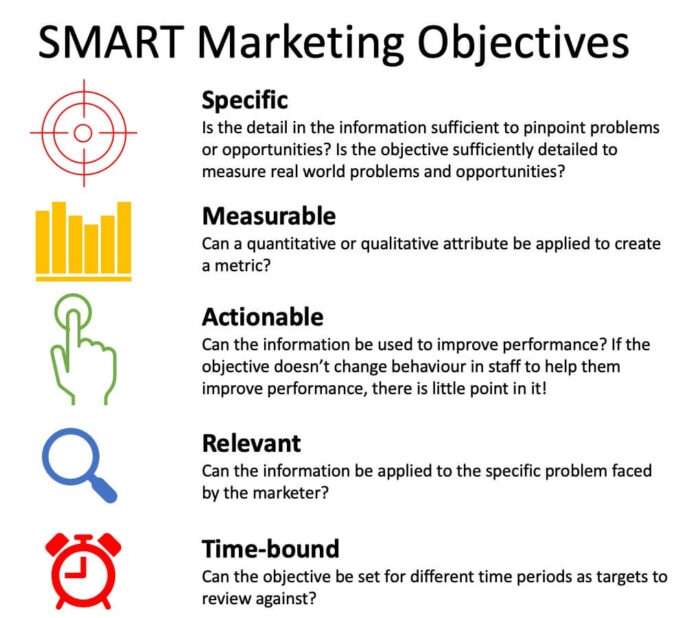 This guide will not go into the details of how to identify the correct channel. Instead, it will show you several techniques to acquire new customers and how they work to help you get an idea of which tactics have the potential to deliver.
So, before you experiment with any of them, ensure you have clear objectives on how to get customers – even if you do not have any data to rely on.
Setting the goals only will help you understand whether an approach is working or not. That said, here are some tactics that will help you get your services or products more effectively in front of prospective clients.
Effective Ways on How to Get Your First Customer
1. Put effort into SEO
Your site will be of no use if no one can locate it online. As such, to create more traffic and eventually get customers, you must rank well on Google and other search engines. And to achieve that, you must work on your SEO often, fine-tune your features appropriately and monitor your efforts.
One of the main things to do is to perform keyword research using the BiQ Keyword Intelligence tool. The tool will help you discover phrases that your prospects are using to search for your products or service, their search intent, and any questions that they have in mind.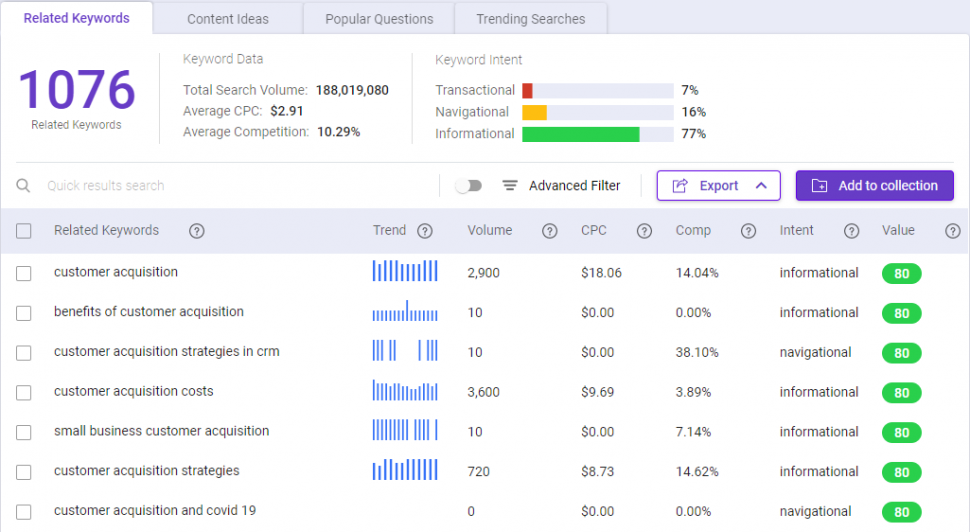 2. Write away
Unlike Ads that follow people, useful content sparks a feeling of authenticity and trust. Great content generates need, and need creates demand. What is the first thing that you do before you buy a product or service? Educate yourself and know all your options, right?
The same applies to prospects. Most of them read first about a product or service before deciding whether to purchase it or not. This means you must create content that educates your target audience on what you offer.
The content can be in the form of a blog post, product review, home page, tutorials, or about us pages. Great content should concentrate on teaching your audience more about your brand and offers.
Focus on their concerns or questions and the solutions you can provide. The BiQ Content Intelligence tool can help you write, edit and optimize your content for search engines and your target audience.
You will discover the best content strategies that are SEO-friendly and interactive writing tips to guide you as you write in the tool's block editor.

3. Network in your niche
Though networking is one of the oldest marketing techniques, it is still very effective even in today's digital marketing world. People trust people they have met or interacted with either in person or online. It makes them know that they are engaging with real people and not robots.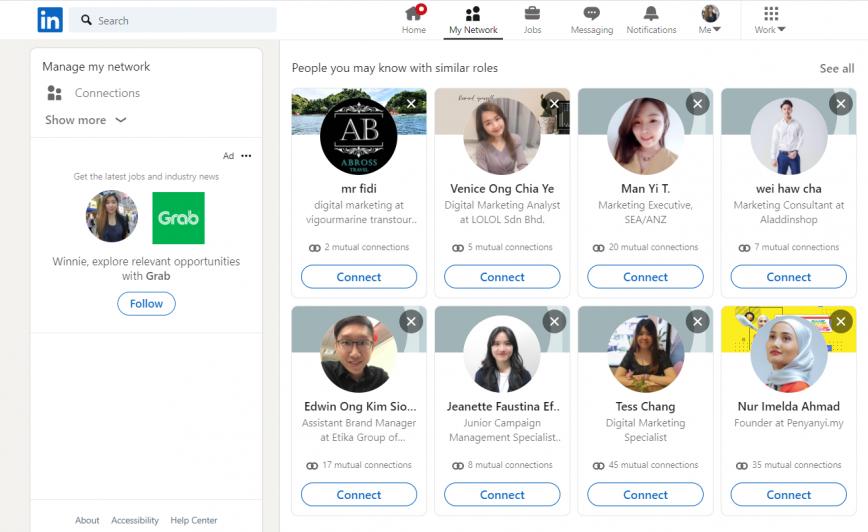 So, when you go to industry-related events, talk to industry leaders and exchange cards. You can even offer to buy them coffee to pick their brain. Besides, most people like to share their experiences and expertise after all. Also, go to where your target audience gathers; it can be on Facebook groups, Reddit or Quora and ask them about their wants and needs.
Another great way to engage more people is to partner with influencers to reach their communities or followers indirectly. They will help you reach a bigger audience than you could on your own. What's more, influencers tend to have loyal and engaged audiences who can be converted into clients easily if an influencer promotes your product or service.
4. Try Facebook ads
Paid ads are suitable in the initial stages because they allow you to test various aspects instantly. Whether it is economical or not at the start, it is worth the hassle because you are trying to validate assumptions and drive revenue-not bring profit.
Try Facebook in particular. The platform has one of the largest user bases worldwide. According to Statista, it had over 2.6 billion users as of July 2020!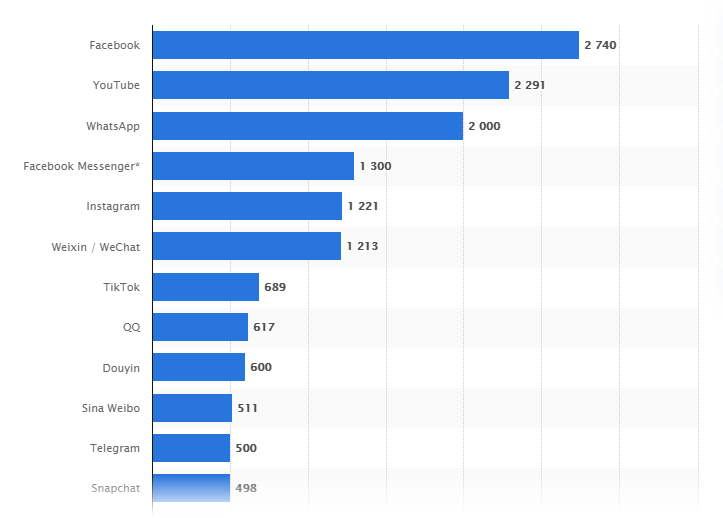 So regardless of your target audience, you will certainly find your preferred audience profile on the channel. You can start small; you do not need to hire digital marketing agencies or do big media buys. Even a budget of $500 can set you off as you learn to DIY.
Here's an example of how Facebook Ads will look like:
I've also written a guide on Facebook Ads practices that you can follow here. It should help you understand better how to get customers on Facebook.
5. Understand your customer's problem
Before you create a service or a product, do some customer development and research. This is where you interact with the people who have the problem you are trying to solve through a product or service.
You can find meaningful threads on social media groups or sites such as Reddit. Also, offering a product or some monetary incentive might help you acquire new customers.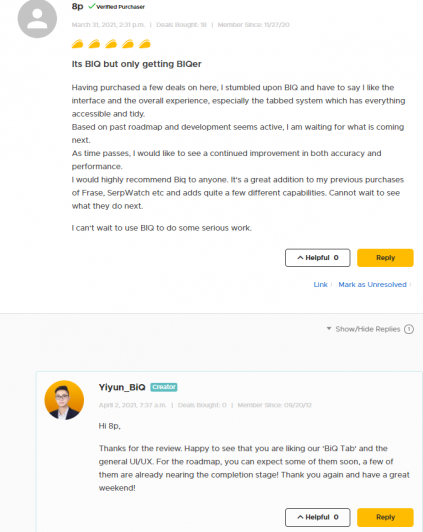 This process's main objective is to learn more about the prospects, how they are currently managing the problem, and eyeing an alternative. Then look for opportunities to share your answer.
Show how it works and how it will help them. Use a question such as "is that something you will spend on?" If they answer no, ask them why and then learn more about solving the problem better.
6. Make use of social media
Though social media is a bit difficult to master completely, it is important. Start by creating accounts on Twitter, Facebook, Linked In, Instagram, and other channels. Then know your target audience- If most of them are on Twitter, spend more time there.
You can share your content on the platform as well as use it to engage with clients and other brands in your industry to develop a following further and put a mark on the sector.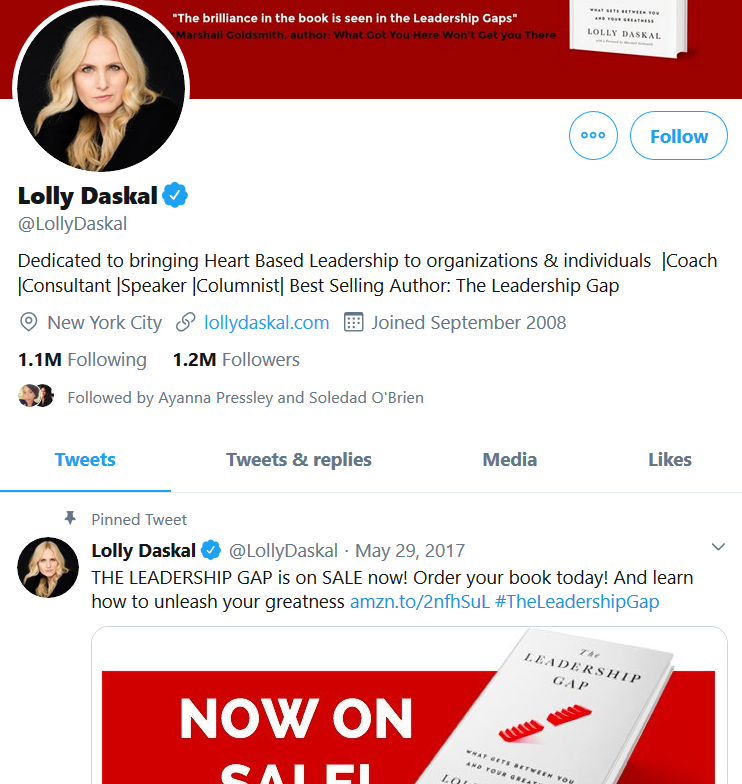 Here are some tips on how to get started on social media;
Come up with a schedule on how often to post useful content on your channels.
Engage with your followers and influencers in your niche by answering or asking questions regularly.
Include a link on your profile that sends people directly to your site's landing page
Use social media analytics tools to determine which one works best for you and then spend more time on it,
7. Provide valuable product
Your product must offer value or have a unique selling point. This essentially refers to the component that makes it different from others as well as desirable. Show how different your service or product is. Most brands focus on the end results; however, most consumers are usually jittery as they are not sure how the process works.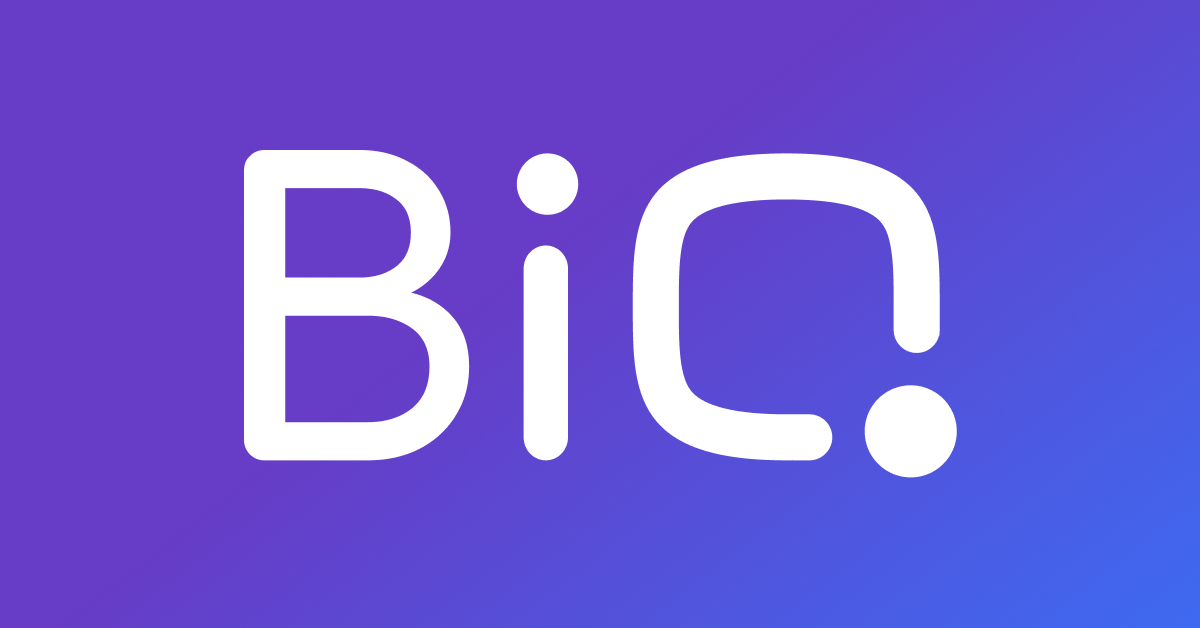 If you can link your company the product with a tangible and actionable plan to success, consumers will definitely use you. You can use a well-designed brochure or a video to bring it all together and share with them information in a way that they want to receive it.
8. Be good at customer support

Every business that values customers should take customer support and service very seriously. Though the process involves extra resources such as money and time, when you do it right, it will help you stand out from the competition positively and encourage current clients to do business with you again. Strategies include;
Understand your audience's wants and needs
Acting on any promises made to customers
Exceeding client expectations
Handling returns and complaints well
9. Send cold emails
Only people who do not know how to craft great emails with CTAs that claim cold emails do not work. So, what is a great email? After slowly building your email list, ask yourself these questions before you start writing or send one;
If you were a consumer, would you open it or trash it immediately?
Would you read it to the end?
Would you reply?
Most bad emails have these features in common;
Generic wording
Salesy
Do not trigger replies
Great emails, on the other hand, are;
Straight to the point
Conversational
Contextual
Have a clear call to action
10. Collaborate with other brands
Link and collaborate with other brands in the same industry to offer special deals to customers. The goal here is to attract clients and make a profit by providing products or services that benefit both firms' customers.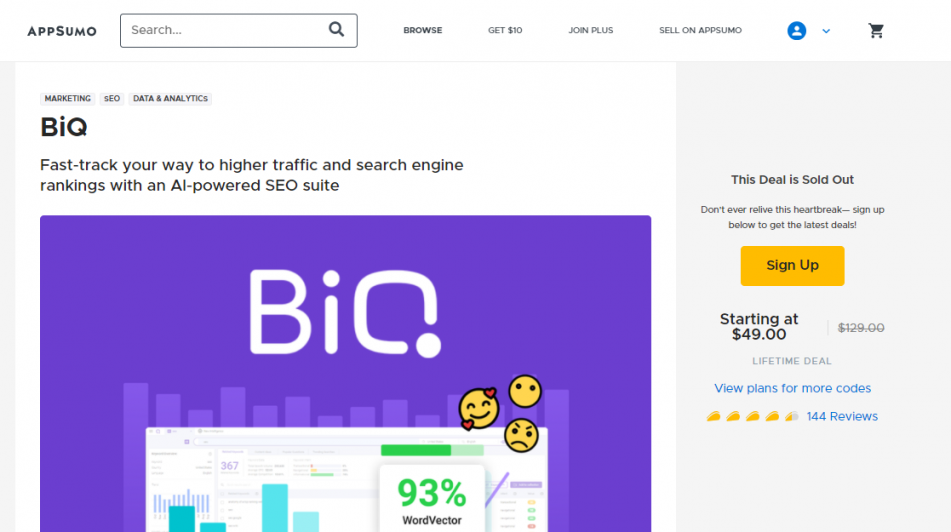 The offer should encourage clients to purchase both products, so make sure your business offers complementing products. The collaboration between BiQ and Appsumo is a good example.
11. Provide free stuff
There is no doubt that consumers love freebies. And that is a good thing now if you are a startup and trying to invest in anything possible to get as many customers as possible behind your brand. You can provide stuff like Beta testers; if you sell SaaS (Software as a Service), you can allow prospects to test it for free.
It will develop a user base and help you define your market fit. Another advantage of putting up your product for testing is that it might create a buzz around the app, which is a great way to acquiring your first customers.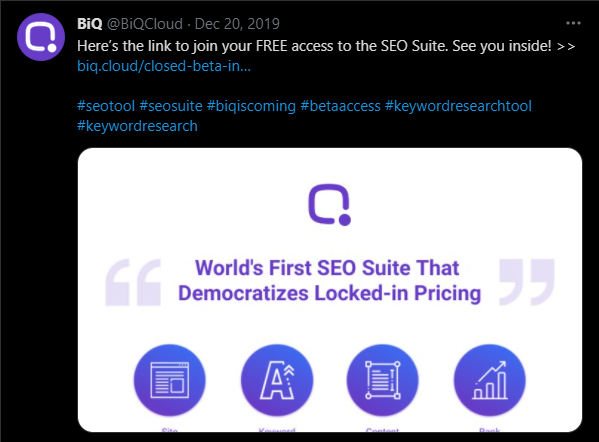 Before BiQ went live, the team offered free beta access to our advocates and it helped to spread the word! You can also offer incentives such as infographics, eBooks after readers sign up and leave emails.
This is also how Slack managed to acquire new customers! The company took advantage of the initial media coverage it had by offering a beta version to select companies. Another option is to offer part of your product or service for free.
12. Affiliate marketing
Affiliate marketing is a powerful tactic for getting customers as quickly as possible. The risk is low, but the reward high; as a business, you only pay for conversions, not for traffic directed to your website.

Think of the approach as outsourced marketing. Other people bring in leads, and you only pay if the leads convert. What's more, it is great for SEO, as you get backlinks and content from affiliates driving traffic to your site.
How it works:
The affiliate gets a personal link to track traffic
The affiliate promotes your product; they can make a podcast or YouTube video, write blog posts, send cold emails, or use paid traffic such as AdWords.
Visitor converts; Visitors become paying customers
The affiliate gets commission; You pay the commission for directing the client to you
13. Send press releases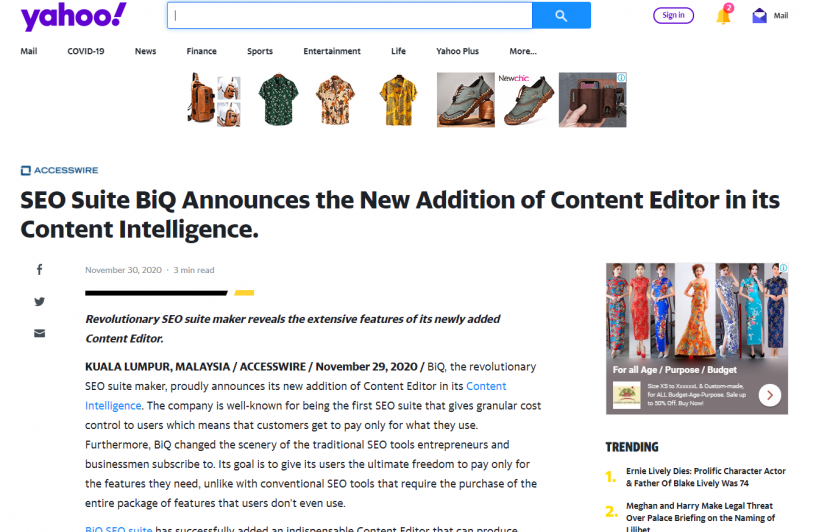 Through online news channels and social media, consumers can access your press releases directly. Distributing well-written and designed press releases gives you an opportunity to rank high and draw both existing and potential customers' attention to create engagement and shares on various social channels.
That said, you can also promote your press releases on social media with multimedia. People and the media are more likely to share videos, images, and infographics through social channels rather than text only.
14. Encourage word-of-mouth
According to research, 92% of consumers trust friends and family suggestions; which can be advantageous to you, especially in a local setting. When working with clients, keep in mind that you are also marketing to their circles indirectly. Go out of your way to help them, and they will more likely also tell friends and family about your brand.
Conclusion
Learning how to get your first customer is not rocket science, just simple art. Many routes can lead to the same destination. The right approach for your needs depends on your customer acquisition channel as well as your target audience. Get your business online with all the necessary steps and your first 100 users are just outside the door.
However, with the methods listed above, you should have no problem drafting a plan on how to get customers that work well for your business.
Keep in mind that there are no specific rules to acquire new customers. It is essentially about trying different tactics (integrated or non-integrated) to create a custom process or discover what works for you.