SEO forecasting is the process of predicting the results your SEO strategies can drive based on past collected data. Forecasting lets you make more accurate projections about your SEO traffic.
Do you want to know how an important update on your website affects the rest of your SEO efforts?
Try SEO forecasting!
Most SEOs are already too familiar with it and use it to get accurate predictions about their SEO strategies.
Forecasting organic traffic is one of the most effective methods to estimate your search traffic or page views over time.
This historical data will help you analyze your previous performances and make more accurate future predictions of your website or web page.
Is there a way you could use this data to forecast your organic traffic growth or decline?
Yes!
SEO is about the long haul.
You may have to wait weeks, months, and sometimes even years before you see the fruits of your SEO efforts.
But as unnerving as this can be, once you've done SEO enough, you'll start to gain confidence knowing that your efforts will make an impact later.
This post will provide you with crucial data to predict your future SEO performances and optimize it to drive more traffic to your website.
What is SEO Forecasting?
SEO forecasting is the process of analyzing and predicting what results your SEO strategies can drive based on previously collected data.
You can think of it as a detailed preview of your potential return on investment.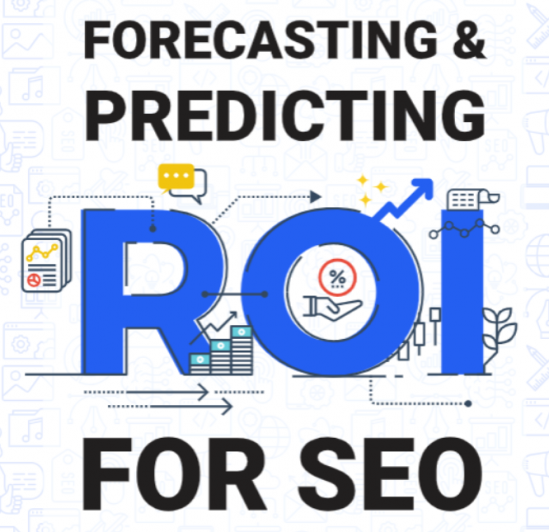 SEO forecasting is no minor task.
Not many people get it right.
And for the few that do, an even smaller number know how to analyze and interpret the data collected.
Being able to measure, collect, and analyze the data collected accurately to predict your SEO's financial value isn't a simple task.
Although it is a valuable one.
Therefore, being able to do so can boost your SEO marketing significantly and skyrocket your growth.
By analyzing site data, you'll be able to predict your website's visibility.
This allows you to forecast your site's conversion rates and organic traffic potential.
These are critical insights you'll want to know about your website.
Essentially, forecasting SEO traffic allows you to establish a strong business case around SEO.
This way, you'll have enough data for reasoning and justification for designing certain SEO strategies.
This is one of the primary reasons why SEO leaders prioritize SEO forecasting and implement it in their marketing strategies.
If you're already using SEO to boost your business's ROI and exposure, then it's instrumental that you should understand how to predict the value SEO will bring to the table.
And if you're not already analyzing SEO reports about your business's SEO values, this is the perfect time to get started.
So, how valuable is SEO?
Truthfully, even after deep SEO analysis, you couldn't be able to define its ROI precisely.
And that's one of the primary reasons why some people discredit SEO.
If misunderstood, the data might come off as "wishy-washy."
But SEO experts know better not to be fooled.
SEO forecasting is an incredible tool, one that you'll want to have on your side.
Importance of SEO Forecasting
Besides the numerous benefits we've already laid down in front of you, SEO forecasting lets you use the data collected to make more accurate projections about your SEO.
These can be your future traffic levels or the value of your organic traffic.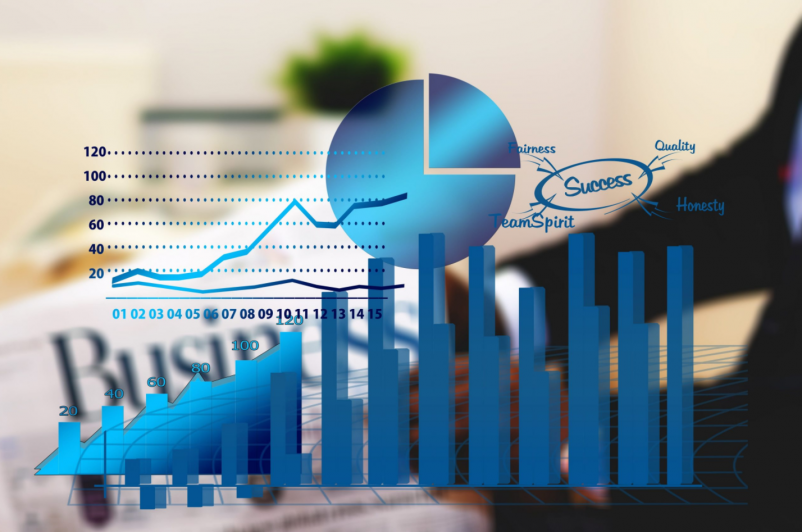 SEO forecasting basically assumes that your past patterns will likely continue.
Therefore, you can use this data to allocate resources in critical areas, prioritize some SEO efforts over others.
You can even make necessary adjustments before it's too late.
Therefore, if you manage an enterprise SEO, you'll be looking for predictions of how much you can grow SEO and increase your ROI.
The company can also use this data to set goals and objectives for the team to ensure it meets its initial SEO objectives.
If there's any discrepancy between the company's estimates and goals, you can either push for a lower target or appeal for more resources to meet its goal.
On the other hand, if you're an agency, you can use SEO forecasting to provide accurate sales projections.
You can also use it to predict your SEO's future impact for prospective clients.
Most agencies are always eager to know when they'll be a market leader or beat their direct competition.
Suppose an SEO forecast shows you lag behind your target at certain effort levels.
Then you might need a shift in strategy to overtake your competition.
Therefore, adding an SEO forecasting chart to your sales pitch is an effective strategy for elevating things above your competition.
Forecasting with SEO Data
As an online marketing company, there's no better feeling than having a positive SEO forecast about your company's goals.
You'll want to share this information with the board members, prospective clients, and other relevant parties.
However, before you start presenting this new forecast model, it will befit you to be honest with your prospects about your intentions.
For one, you should let your prospects know that the data being presented to them is merely a projection of potential results.
Remember, you're not providing accurate data.
The forecast could easily be so much more or less of what your projections suggest.
However, the idea behind SEO forecasting is to find data that closely projects your SEO efforts.
Otherwise, there won't be any need for the forecast.
Before you present the forecasted numbers, it's advisable that you mention a few critical factors that may hamper accurate forecasting.
These may include:
Algorithm updates
Competitive changes
Seasonality
Etc.
While presenting your SEO forecasted data, it's also advisable that you underline just how much impact even the smallest set of valuable keywords could mean for your projections.
As you've already gathered, it shouldn't come as a surprise that SEO forecasting involves creating and analyzing multiple graphs.
Of course, this requires some knowledge of modeling and coding libraries, which most businesses don't possess.
That's why many agencies don't do forecasting.
Without a knowledgeable data scientist or data analyst, you'll have a much difficult time forecasting website traffic.
There are different forecasting templates available
This model requires some work on your end.
Think of it as more of a research exercise.
You will extract this data from Google Sheets and present it in your Google Data Studio account.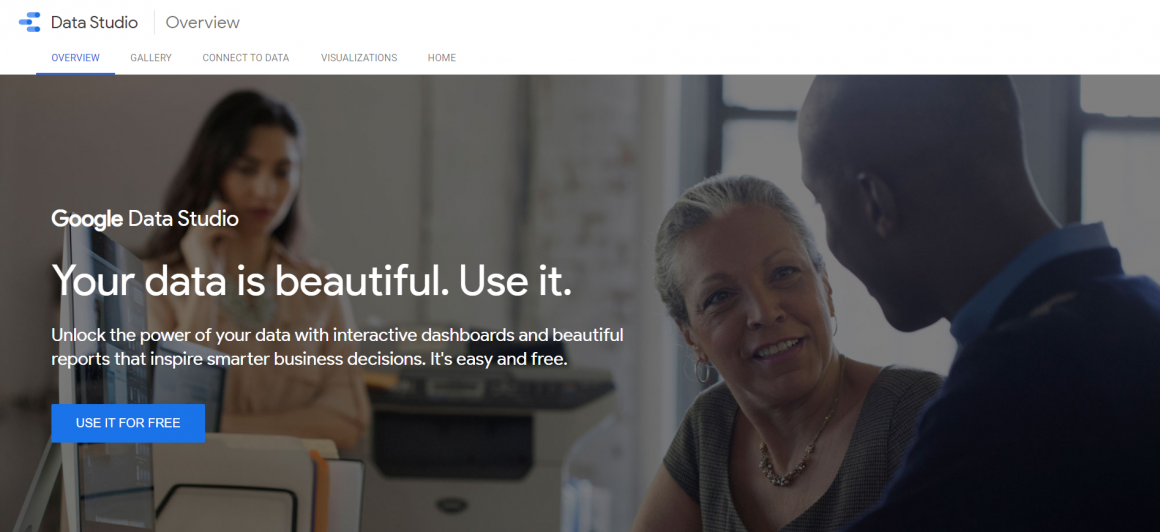 On the "My Data Studio" dashboard, you will be able to filter down by relevant keywords, search volume, and position increase scenarios.
It should look something like this.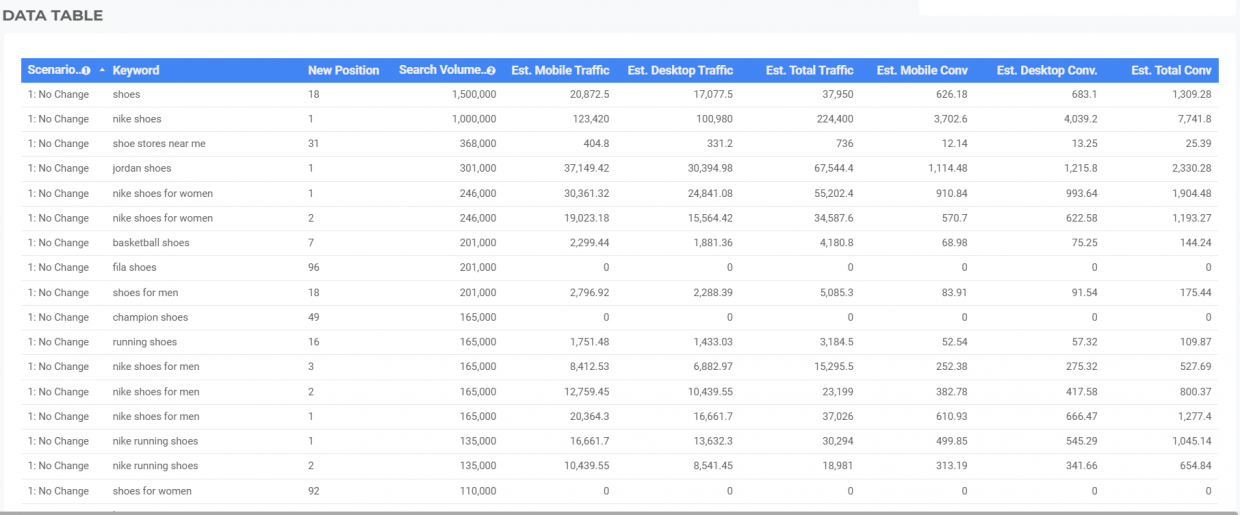 You'll need to source the data collected and plug it into your Google Sheets account.
1. Find Your Data
Before you begin, I'd suggest that you collect all your source data and key it into a spreadsheet.
Here's an example of what your SEO forecasting spreadsheet should look like.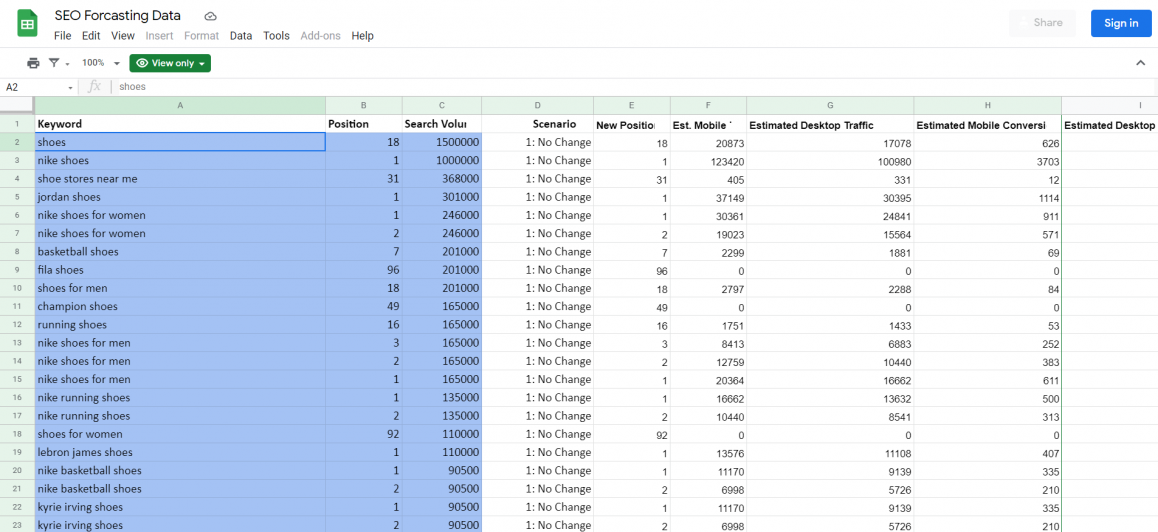 If your core data comes from keyword research, you can use any keyword research tool like BiQ Keyword Intelligence.
You simply need to include this data in your Google Sheets:
The top 150 keywords to target
Current position for domain
Average traffic percentage by device (mobile vs. desktop)
Average site conversion rate
Average monthly search volume
This SEO forecasting model is meant to demonstrate how impactful SEO can be, even on a small set of data.
You should notice how much of a difference any improvements you make using just 150 keywords can have.
Then compare it to what would happen if you expanded your optimization plan.
Another great feature of SEO forecasting is that you can focus solely on the impact of targeting specific keywords in your SEO efforts.
You don't have to go all-out and perform a forecast study on all your keywords or website.
BiQ Keyword Intelligence is the perfect SEO tool to help you find the right keywords to target.
The Keyword Intelligence feature will provide you with data on keyword volume, competition, trends, and keyword relatedness.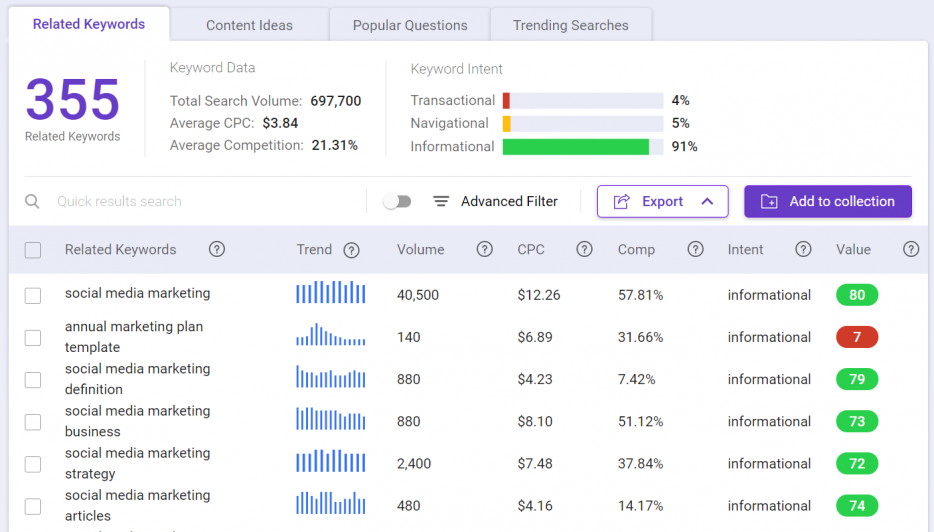 With this data from BiQ, you will have critical insight into why someone would use a specific search phrase to search for your content or web page based on their search intent.
This way, you'll be able to plan yourself better with content that meets your users' needs.
Your forecasting doesn't account for every potential miscellaneous search term that brings traffic to your website.
Like in the example, you'll be forecasting only the top 150 keywords you believe can impact your SEO's overall performance.
Once you've found your 150 top-ranking keywords, search volume, and current website position, paste the data into your Google Sheet.
After you've entered your top keywords, you'll also be required to enter Google Analytics data for your "Average CTR Data & Input" tab.
2. Insert the Template into Google Sheets
The next process requires you to connect your Google Sheets account to your Data Studio account.
Again, we'll elaborate using an SEO Impact Analysis Scenario Studio Template.
Click this link to find the SEO Data Studio template
On the top right corner of the page, you'll find a "make a copy image" icon
Click it. It will generate a popup asking you to choose a "New Data Source." You will find a dropdown prompting you to "Create New Data Source." Click it
As a data source, you'll need to find and select your Google Sheets account
Find a raw data sheet and select it as your new data source
If you follow all the steps above correctly, then the data in your Data Studio should look something like this.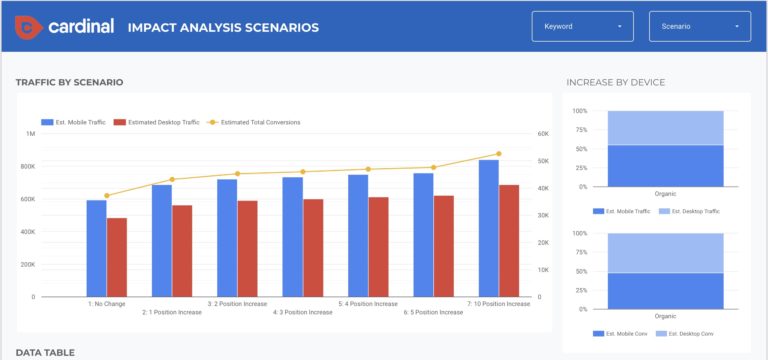 Remember, you must duplicate the template into your Google Sheets.
You may find the template here.
3. View the Forecasts on the SEO Dashboard
One of the main features of this SEO forecasting dashboard is its ability to display how much impact keyword position changes can affect your click-through rates and site traffic.
You can actually calculate this number by taking into account your average monthly search volume, average CTR per position, and your current position in the search engine results pages.
When moving your cursor to the bar graph, you'll notice new data populated by each position.
You can actually narrow this down by keyword to make the data easier to analyze.
There's a built-in feature that allows users to filter their forecast results using specified keywords of their choosing.
This allows you to see the changes more clearly and analyze the reflected forecasts on your SEO forecasting dashboard.
With this data, you'll know which keywords you need to optimize for and other critical features in your SEO strategy to add, edit, or remove.
With that said, ask yourself, did you test all the top keywords, publishing frequency, or topics?
How did this data chance your SEO growth?
Has the forecast changed your future projections for the better?
You'll also need to consider your backlink building strategy.
It's important to ensure your SEO forecast also ramps up your link building strategy.
Essentially, it should help you determine whether particular strategies will offer better projections than others or not.
Your dashboard should provide you with all this data and more.
Overall, if you see a positive impact from the changes you made using your SEO forecast, then you should continue pursuing the same campaign as you refine and scale your SEO efforts further.
Conclusion
Have you ever heard of the saying, "all models are wrong, but some are more useful?"
Well, this is what SEO forecasting is.
Basically, the limits of our knowledge in SEO affect our perceived performances in this massive field.
Our decision-making processes are limited to what big data and results from algorithms and programs give us.
Then again, we know that all models suffer certain limitations.
However, SEO forecasting opens the doorway for you to project (or at least determine) all the possible routes your SEO efforts could take.
By including some of these SEO forces that affect traffic, clicks, and sessions, you will become more aware of the impact simple changes could have on your SEO efforts.
Thus, you'll be able to present more relevant forecasts to clients and prospects.
Or, you could also use these SEO tips to boost your organic traffic and monitor how your SEO performs.
Going in-depth and forecasting organic traffic for your website should shorten the distance between what's real and perceived.