93% of all online experiences start with search engines. According to opinion master, 75% of users never scroll past the first page. This is where you need to be to redirect maximum targeted traffic to your website. It would be best if you captured target audiences as they made search queries.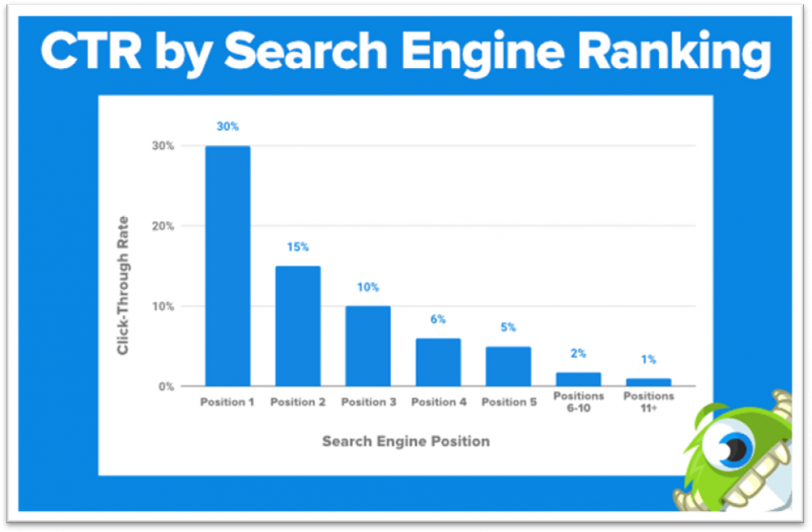 To do this, you'll need to use keywords and rank higher than your competitors, preferably on the first page.
Keywords are phrases used in web content to help people find your site when they make search queries in search engines. Websites that are well optimized 'communicate' in the same language as the potential customers searching for similar products, services, or information.
Keywords are one of the major SEO components responsible for making your site more visible and to the target audience by helping you rank higher than your competition in the same niche. This is the main reason why you need to practice keyword optimization for your content.
To achieve this goal, you'll need to understand how potential customers search for information, products, or services in your niche. The closer you will be to understanding their search criteria, the easier it will be for you to boost your website's traffic.
How do you do SEO keyword research?
To get the most relevant keywords in your niche, you'll have to consider various factors such as your niche, marketing goals, etc. These factors will be the basis through which you can get through to your target audience. For best results, you'll have to use SEO keyword research tools.
But first, what factors are we talking about?
Identify your niche/ industry.
Before you start a marketing campaign, you'll need to have a product or service. The next step should be identifying where that product lies in the market. Knowing your niche is your marketing campaign's baseline. It helps you come up with a marketing strategy that is more likely to bring in conversions.
For instance, if you've got an eCommerce website, you'll need to strategize your marketing campaign around the eCommerce niche. The keywords you use in your content, advertisements, and email campaigns should revolve around your online eCommerce store.
Define your marketing goals
After identifying your niche market, you'll need to create well-defined marketing goals. Having clearly defined marketing goals will help you develop a workable content strategy that you can use to market your products or services.
You'll need to set achievable goals and divide them into achievable milestones that can be used to gauge your progress. For instance, you may decide that you'll need to have gotten a certain amount of traffic or subscribers to your website after a predetermined period.
Doing this will help you gauge your progress and make any changes you'll make to achieve or surpass your goals.
Make a list of relevant topics.
While planning out your content marketing strategy, you need to create a list of relevant topics you'll need to cover over a certain period. You don't have to start with many topics; however, they must be enough to give you sufficient time to explore the niche fully.
Use SEO tools like BiQ SEO Suit or Answer the Public to develop some topic ideas for your content. These tools perform exhaustive research and analysis on current market trends, and they can provide you with the most relevant topic ideas for your content.
Compile a list of seed keywords
Seed keywords are short phrases, mostly one or two words, without modifiers. They may be as simple as the word bag, and they act as the basis for creating long-tail keywords that include modifiers. For instance, you could use the word bag to make a long-tail keyword: bags for sale.
Compile seed keywords from the highest-ranking website in your niche. You could use BiQ's Rank Intelligence to uncover the keyword phrases they rank for and extract the seed keywords. You may also use Answer the Public to extract seed keywords from search queries related to your niche.
Use the right SEO Keyword research tools.
It would be best to use an SEO keyword research tool to analyze for and discover relevant keywords. However, you shouldn't just use any SEO keyword research tool; you need to search for the best tools. How do you find the best tools?
The best SEO keyword research tool should provide you with a detailed analysis of the best and most relevant keywords factoring in things like search volume, keyword trend, and commercial value. Use this data to help you select the most relevant keywords for your content.
Here are some of our favorite SEO keyword research tools you can use for free
1. Google Ads Keyword planner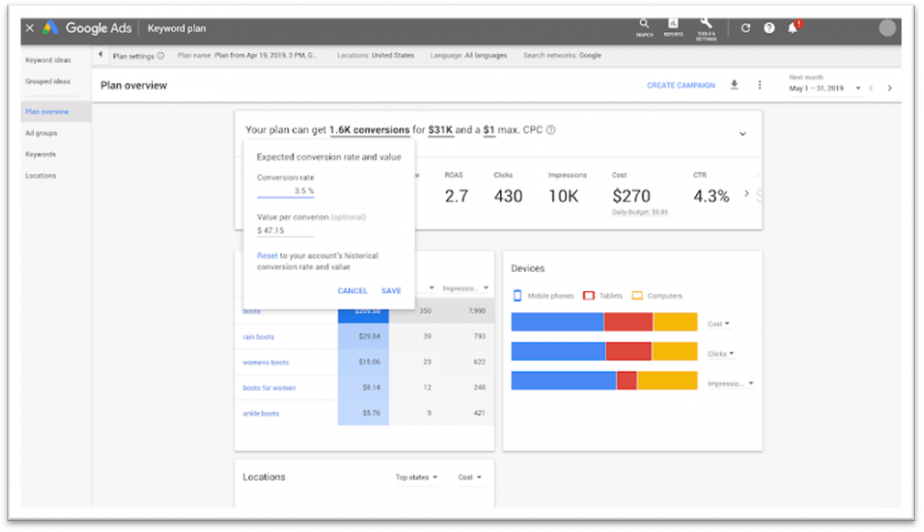 Google's free SEO keyword research tool has a search volume and forecast feature that you can click on, enter a keyword or a group of keywords separated by line breaks or commas. Google forecast helps you predict what may be trending in the future, a feature that can help you plan your content.
Google's keywords grouping helps you categorize your keywords into similar groups that you can use in similar PPC, pay-per-click campaigns, or creating content. Grouping your keywords can help you create better-optimized content by using related keywords in your posts or web pages.
Looking at Google's suggested bids can provide you with ideas on the most lucrative keywords. The highest and most competitive bids can translate to the keyword being highly valued. You could use these keywords in your content to boost your visibility and rank even higher.
2. Google search console
Use the tools on Google's search console to measure your site's performance, and search traffic. You can also fix any issues on your website and rank even higher on Google's SERPs.
Clicking on the analyze button could provide you with data on your top ranking keywords. By clicking on 'Ranking Keywords' on the left panel, you can see all the keywords that your website ranks for, along with Monthly search volume and difficulty.
Impressions refer to how many times your URL appeared on Google's search engine results pages as viewed by the user. Some of the keywords used may have a high search volume but low impressions. It would help if you didn't disregard these keywords since you may still use them to grow your traffic.
You may create and optimize new content specifically meant to satisfy the user's search intent to help you get more impressions and click-through rates.
3. Google trend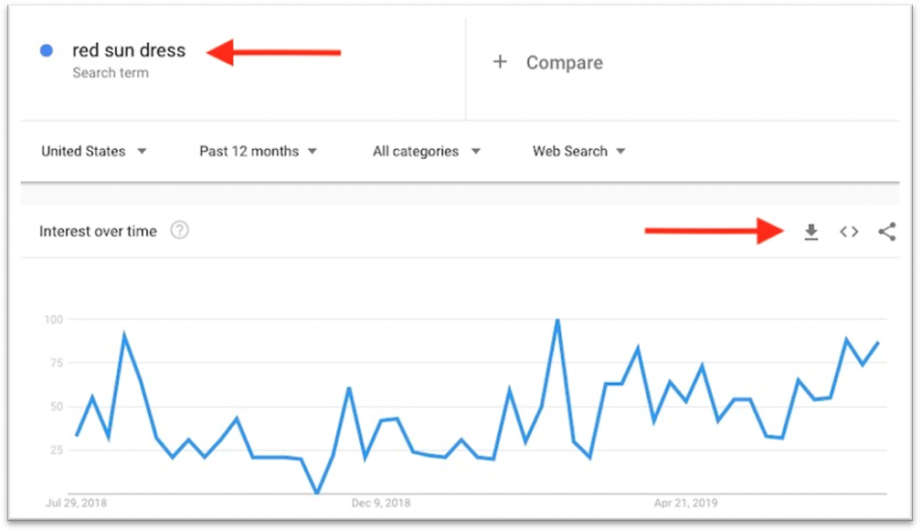 Google trend is a compilation of searches throughout Google's search history. The tool takes samples from historical and real-time searches and presents them in readable formats that you can easily interpret. You could use these search volume results to plan your content around these trends.
Discover trending keywords, which may provide you with opportunities for creating your content. Using the most relevant keywords in your content and posting it at the right time could help you get better visibility during these periods.
4. Google SERP
Google's search engine results pages are also an excellent source for keywords and content ideas. Google's auto-complete can provide you with a list of queries often asked by Google's users. You could extract your keywords from these search queries, do some research, and come up with relevant content.
Get some keyword ideas from the 'People Also Ask' section and the 'Related Searches' section to help you develop content ideas related to your niche.
To get featured on Google's featured snippet, you'll need to develop high-quality content that expressly and effectively answers your audience's questions. To do this, you'll have to get the most relevant keywords, and where better to get this than go Google's SERPs.
5. LSIGraph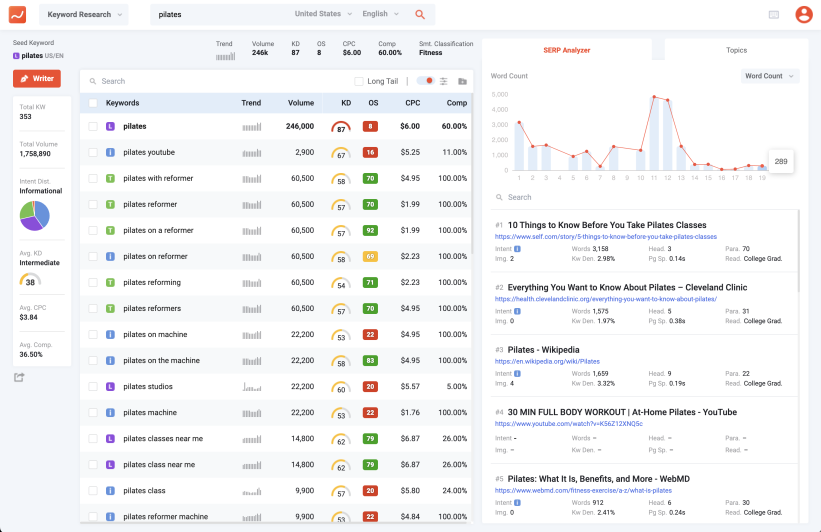 LSIGraph is a powerful suite of SEO tools for you to perform keyword research and content planning and optimization.
LSIGraph's Keyword Research allows you to quickly find keywords that are contextually related to your seed keyword. It shows you important keyword metrics like its search intent, search volume, keyword difficulty, cost-per-click, competition and Opportunity Score.
Opportunity Score (OS) is metric developed in-house by LSIGraph to help you discover low-hanging keywords, a.k.a. keywords you can rank for with minimal effort and investment.
LSIGraph also comes with features that streamlines and turbocharges your keyword research. Its SERP Analyzer breaks down the structure and intent of top-ranking pages in a single place, and Topics groups the returned keywords by their subject to automate the process of keyword clustering.
Besides keyword research, LSIGraph also comes with Keyword Mapper, which allows you to do keyword mapping visually as node trees instead of the traditional method of mapping your keywords and site structure on a spreadsheet.
6. BiQ's Keyword Intelligence and Live Keyword (Chrome extension)
BiQ SEO SUIT is a handy keyword research tool since it combines all the features mentioned above to help you create high-quality, relevant content targeted to your audience. Here are a few ideas why you need to consider this tool:
Find People also ask at Popular Questions and Content Ideas.
BiQ's Keyword Intelligence has a feature that helps you find a list of popular questions people ask and their answers. The feature displays inquiries related to your niche.
You could compile a list of related questions and answers that you may add to your content. Answering these questions effectively could see you featured in Google's People Also Ask section.
In this same section, you could also find content ideas that you may use to create relevant, high-ranking content for your website. The keywords provided come with valuable metrics that you can use to decide what topics you'll want to delve into.
Find the exact keyword volume, trend, CPC, and related keywords.
You can search for potential target keywords using BiQ's keyword intelligence. The good thing is that our tool allows you to gather data on keyword search volume, trends, CPC, keyword competition, other related keywords, and more.
You can sort these keywords according to value if you aren't sure of the best keywords to use. Our tool also provides you with insights that can help you plan your content better to get better results.
Discover search intent and also keyword value
BiQ's keyword intelligence also has a search intent section that helps you understand your potential audience's search intent. This can be informational, navigational, or transactional. Getting these insights could help you choose the type of keywords you may have to use and plan your content accordingly.
Keyword analysis also provides you with keyword values. This metric could help you determine the most valuable keywords you could use to divert the maximum traffic to your website with low competition.
Easily add it and start creating your content using BiQ's Content Intelligence.
If you want the best and most useful content marketing strategies, you could use BiQ's content intelligence. With this tool, you get interactive writing tips, a real-time text editor, and a keyword count that analyzes your keyword density.
Our tool will also provide you with other assistance like breaking down the keywords in terms of usage, similar keywords, and examples in sentences. The content is graded, and if you've not gotten an 'A' grade, you'll need to make some changes in your content to get it there.
With Rank Intelligence, you can reverse engineer and discover your competitor's ranking keywords.
With Rank intelligence, you could discover the keyword gap between you and your competitors. You can create a profile using your highest-ranking competitor's URL, and after analyzing their pages, BiQ will provide you with all their keyword ranking data, such as keyword value and search volume.
If you want to 'steal' their high ranking keywords, you'll need to set parameters to get a list of their top 10 or top 100 ranking keywords. Once you have their keywords, you can create your profile and make some comparisons.
Select keywords with the potential for first-page ranking, build a keyword map using your competitor's highest-ranking keywords, and develop your website to rank even higher.
7. Answer the Public
Answer the Public is another great tool you may use to get questions and content ideas related to your niche. There are about three billion Google searches daily. 20 % of those queries have never been searched before, and they are like a direct like to your target audience if you can manage to get them.

Answer the Public is a goldmine of ideas that you may use to create rich content. The great thing is that you could also get seed keywords from these questions to help you generate even more keywords that you can use to create more content. The possibilities are endless!
8. RankingGap
RankingGap is a keyword research tool that is more precisely, a keyword gap analysis tool.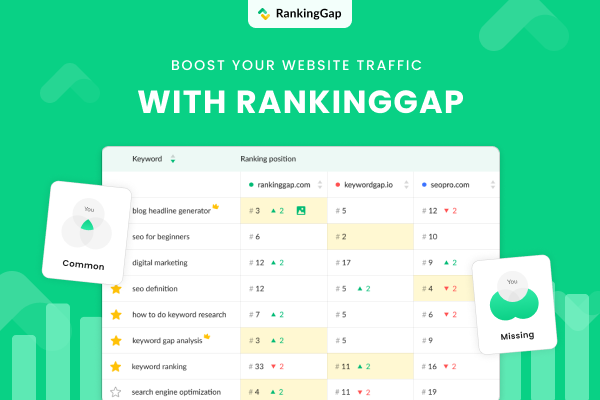 Keyword gap analysis is a form of keyword research that helps you discover the gap between you and your competitors' ranking keywords. So in a way, RankingGap compares the domains of you and your competitors, then uncover new and better opportunities for your website to rank.
The tool comprises 4 keyword views, which are Common, Missing, Gap, and Unique keywords. With these keyword views, you can simply sort out the keywords that you find the most valuable to include in your own content (Missing and Gap keywords) or optimize them (Common keywords).
Tools like RankingGap just make everything much more effective!
Where do you use keywords?
There are some designated spots that you'll need to use your keywords to get the best results. Usually, it would help if you placed keywords naturally throughout the content; however, some spots are strategic than others.
Imagine that your keywords are seeds: You'll need to place them in a fertile place where they can grow.
Keywords best practices to boost your SEO efforts:
The page title is a very influential spot you could choose to put your keywords. This is where google pays the most attention.
Placing your keyword in your page title will boost your ranking; however, you'll need to put them at the beginning of the title to be safe since google truncates the title to 65 characters.

This section does not influence your ranking; however, it does impact your marketing. The two short lines of text are the best chance you have to influence click-throughs. Therefore, it would be best to ensure that you have a killer marketing message that includes your keyword phrase for better click-through rates.
Headings help break your content's monotony making it easier for readers to go through your content. The easier it is, the better your website's user experience and the higher you'll rank on Google's SERPs.
The main header or H1 tag should appear only once at the top of your post. The heading will need to have a keyword that is placed at the very beginning.
The body content is the meat of your post, and it tells Google all about the page. Inserting your keyword and cramming it in every corner will make your content look spammy. Instead, you should use the keywords naturally with a 1% to 2%. Include the keyword phrase, different variations, and synonyms.
Anchor texts determine your page's ranking. Therefore, it's only proper and recommended that you add your keywords when creating your anchor texts to help search engines determine what your page is all about. This will help boost your page's ranking.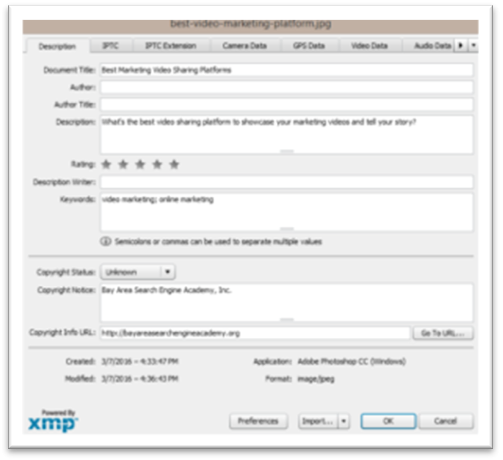 Adding keywords to your alt text can help improve your ranking. They help Google understand what the image is all about and are used for people with visual impairments. However, it would help if you were careful how you use them. Don't stuff your keywords, and ensure that the text is descriptive.
Although URLs are not major ranking factors, they provide substantial overall authority to the pages. Adding keywords to URLs could help Google connect the page's relevancy to search queries.
Domain/ subdomain/ category
Google treats domains, subdomains, and categories as separate domains, and as such, they always need to be re-indexed. Therefore, you'll need to optimize them for search engines by adding relevant keywords to improve visibility by boosting your rankings and click-through rates.
Conclusion
Want to up your keyword game? Then it would be best if you started exploring these SEO keyword research tools today to boost your SEO, visibility, click-through rates, traffic, and even conversions. Have fun!