Content Marketing Tools you need in 2020 for beginner to advanced marketers. Save your time and use them for successful content marketing campaigns.
Here are 16 content marketing tools to help you complete any big content project or small task with the utmost ease.

We have already discussed the top content marketing strategies for 2022. Now, it's time for me to share these best content marketing platforms that have helped us boost our content creation and distribution!
To make it easier for you to navigate through, I will separate the content marketing tool by its category:
Content management system
Editorial calendar planning
Writing and editing
Visual
Outreach
Distribution
Monitoring and tracking
Let's get started.
Awesome Content Marketing Tools
Content management system
A great content management system platform allows you to manage content and create a website easily.

When choosing which platform to use, one of the qualities you need to consider is its ease of use when creating and editing content. Here is our best choice:
The world's most popular content management system software.

WordPress is a free software. It means you can download, install, and use it at no cost.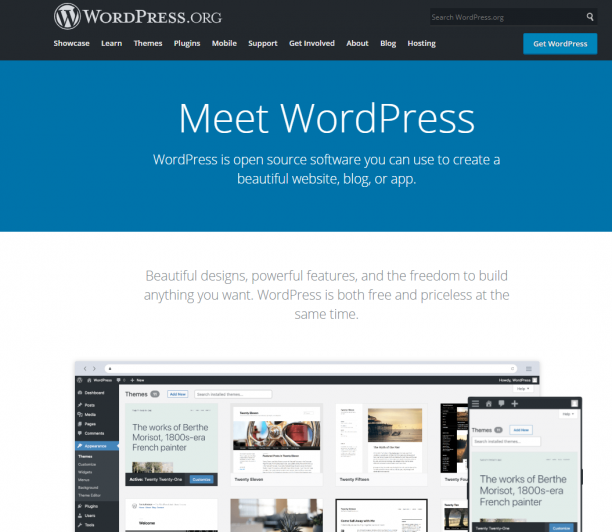 Despite that, it is search engine friendly. It is written using standard compliance, high-quality clean codes, and produces semantic markup.
In other words:

That feature makes Google and other search engines love WordPress. As a result, WordPress sites tend to rank higher than others in search engines.

My favorite feature would be the WordPress block editor.

Block editor makes it easy to create great-looking pages on your website.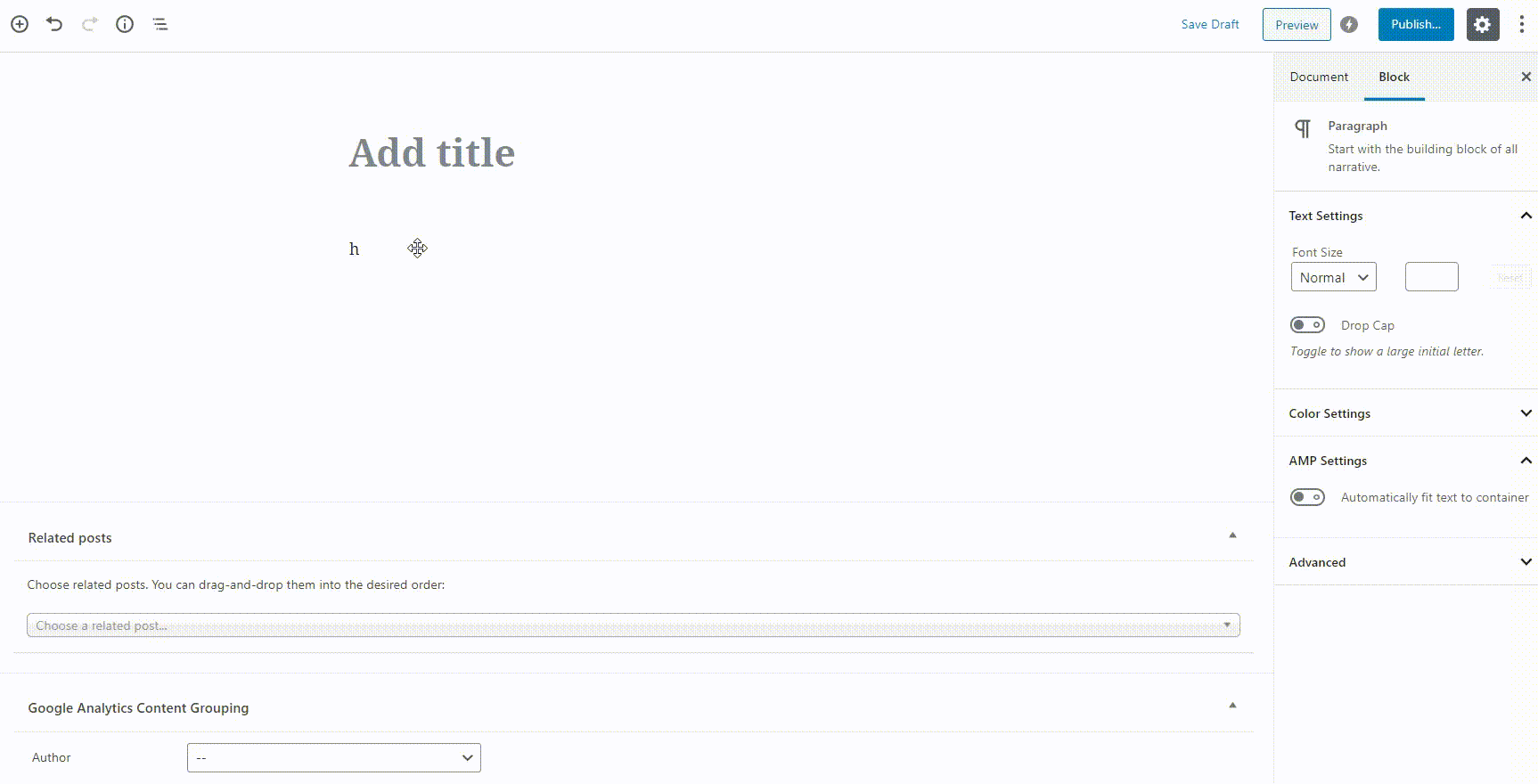 Here is an overview of what you can do with the block editor:
You can add a vast range of content types into your posts.
You can edit the content as individual blocks.
You can save and reuse your favorite block.
You can edit your pages or posts smoothly using mobile.
You can check the word count, the number of headings, paragraphs, and blocks.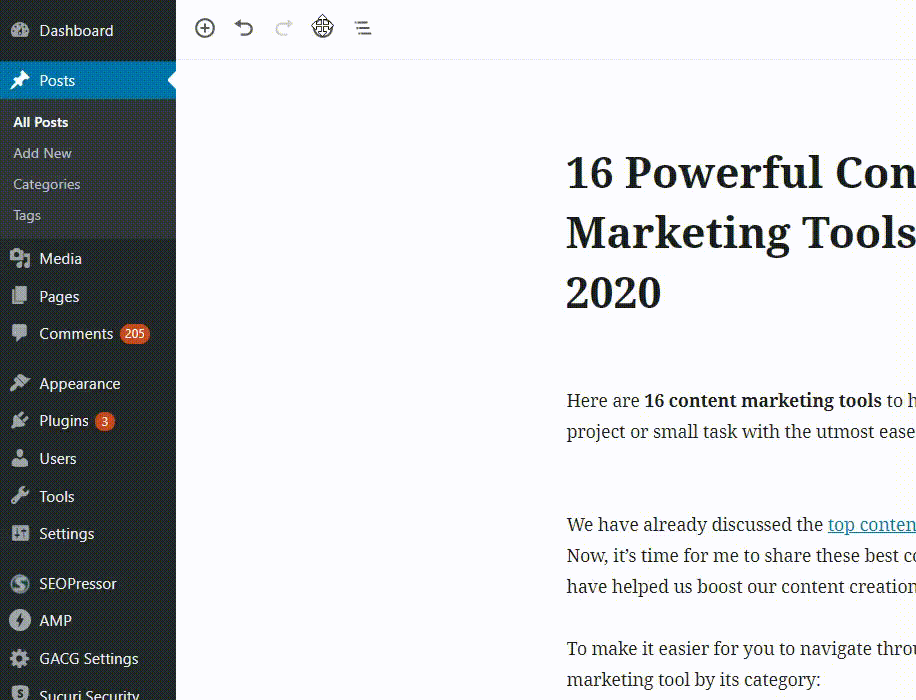 Overall, I am quite impressed with the new block editor. It is easy to use and beneficial. Go, try it!
Editorial calendar planning
You just can't skip the editorial calendar. It is a cornerstone of every content marketing planning.
It helps you stay on top by allowing you to run and track all of your publication-related tasks.
2. Google Sheet
Track the keyword, teammate tasks, content status, and publication dates.
Google Sheet is free, easy to use, and designed for collaborative editing.

See the overview of your content marketing progress at a glance. It helps check your overall progress and make sure you are on the right track.

Take note that the editorial calendar is a living document. So it can grow and change over the year.
Make a great editorial calendar view.

Airtable is more than just a spreadsheet. You can customize the way you organize information for different work styles and flows.
You start with a Base in Airtable. Start by adding all the information that you need to your editorial calendar.
For example, content title, writer, status, links to the content draft, links to the content, and anything else you want to track.
Airtable is a simple database that's flexible. You can easily organize and cross-reference all the information you have by linking records.

What I love the most about Airtable is View.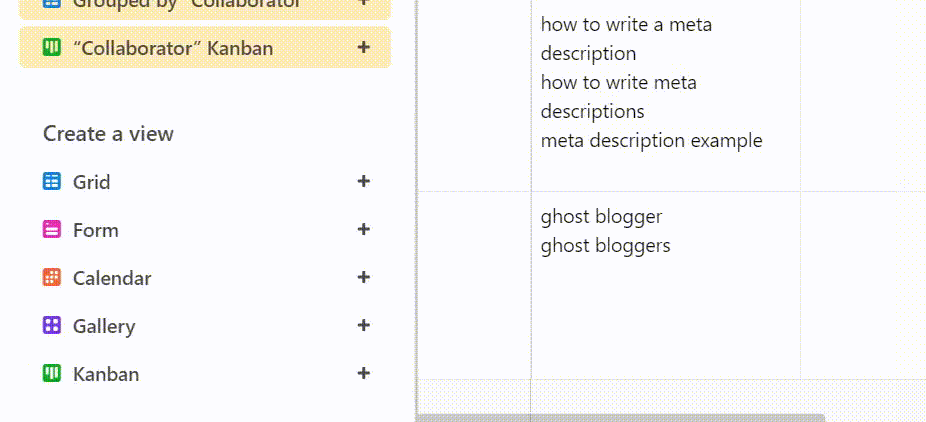 The View is what makes Airtable different from the traditional spreadsheet. You can view the information in the visual format that works best for you! Including a calendar, grid, and Kanban board.

On top of that, you can sort them by any variables you have defined and filtered to remove unnecessary information.

You can create unlimited boards in the Airtable free plan, but it is limited to 1,200 records per base. The paid plan starts from $10 per month.

A streamlined kanban-based project management tool.

Trello is simple to use and great for simplifying every aspect of your workflow.

Here is the blog editorial calendar template that you can use: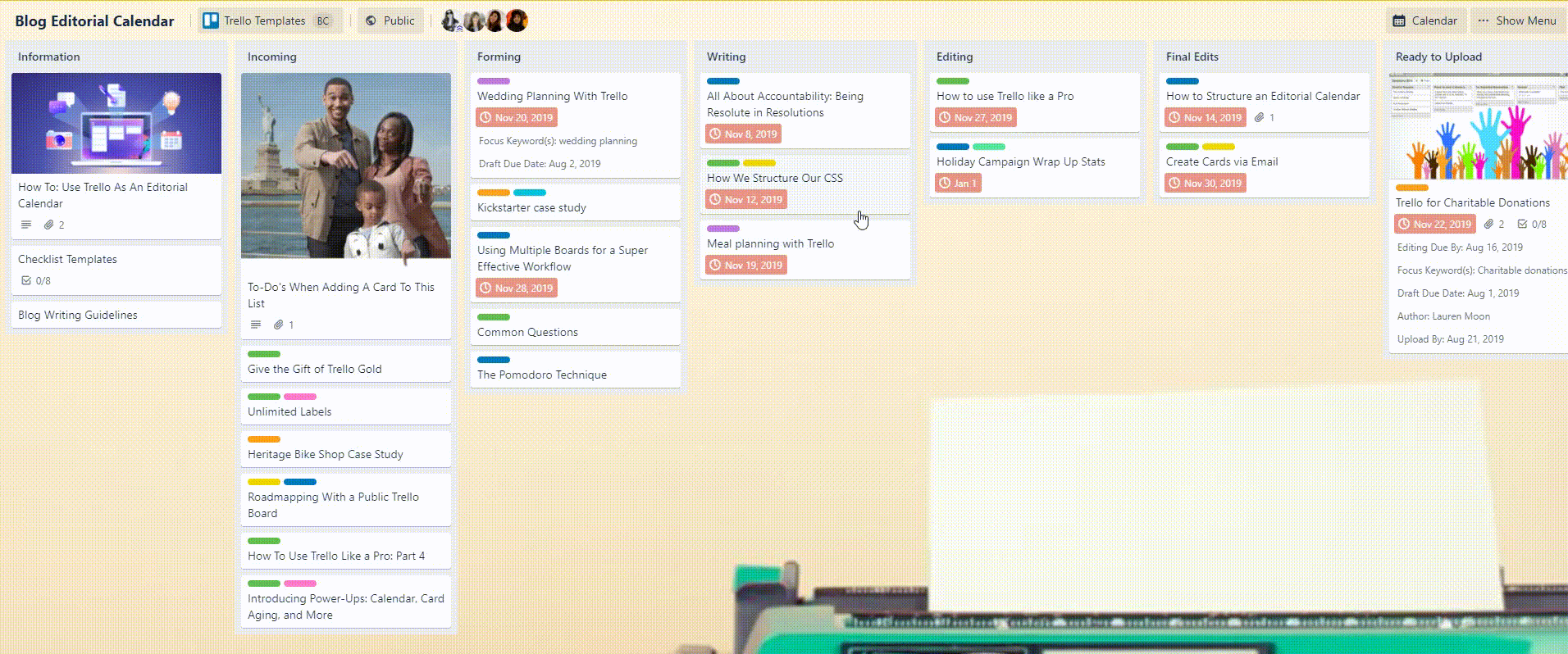 The task cards are simple to navigate and offer lots of functionality. It includes labeling, comment threads, sub-task checklists, and more.

What I love the most about Trello is its clutter-free design.

It is visually appealing as you can simply move cards around once you complete the task.

Just like Airtable's free plan, you can create unlimited boards in Trello too. It will only be an issue when your team grows, and you feel the need to protect your data.

Writing and editing
Writing and editing are equally important.
Editing helps to enhance your writing by catching the mistakes you miss.
5. Google Docs
Great for collaborative content writing and editing.

Write and edit your content all-in-one place.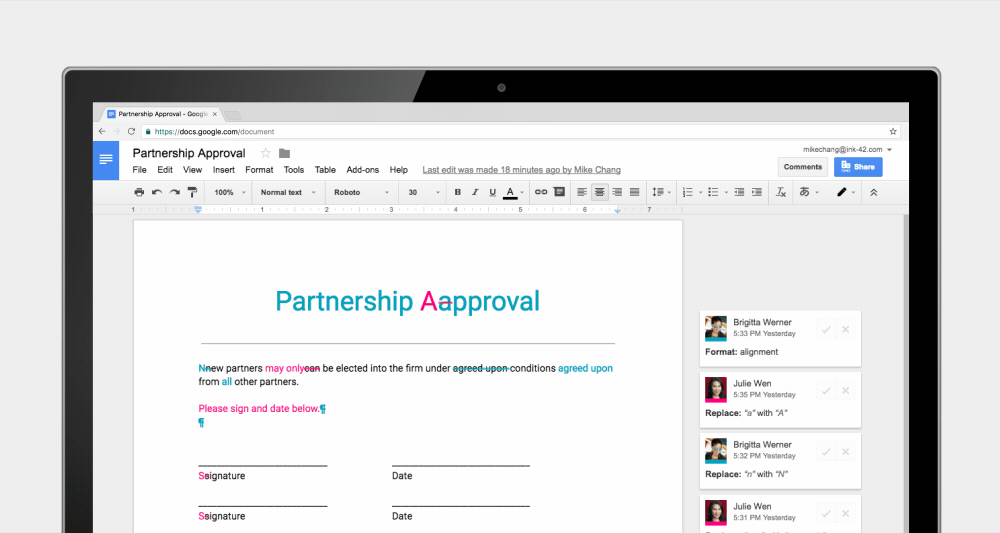 Once you have got your draft ready, your teammate can come in to comment and suggest edits. The access is limited based on the access you provide.

For example, you can give users 'suggesting' permissions. Any suggestions will need your final approval.

HubSpot has an excellent post that lists all the lesser-known Google Doc features, including revision history, voice typing, and creating your shortcuts. Read them here.

Find keyword and content ideas for blog posts.

Keyword Intelligence is a keyword research tool designed to help you choose the best keywords for your content.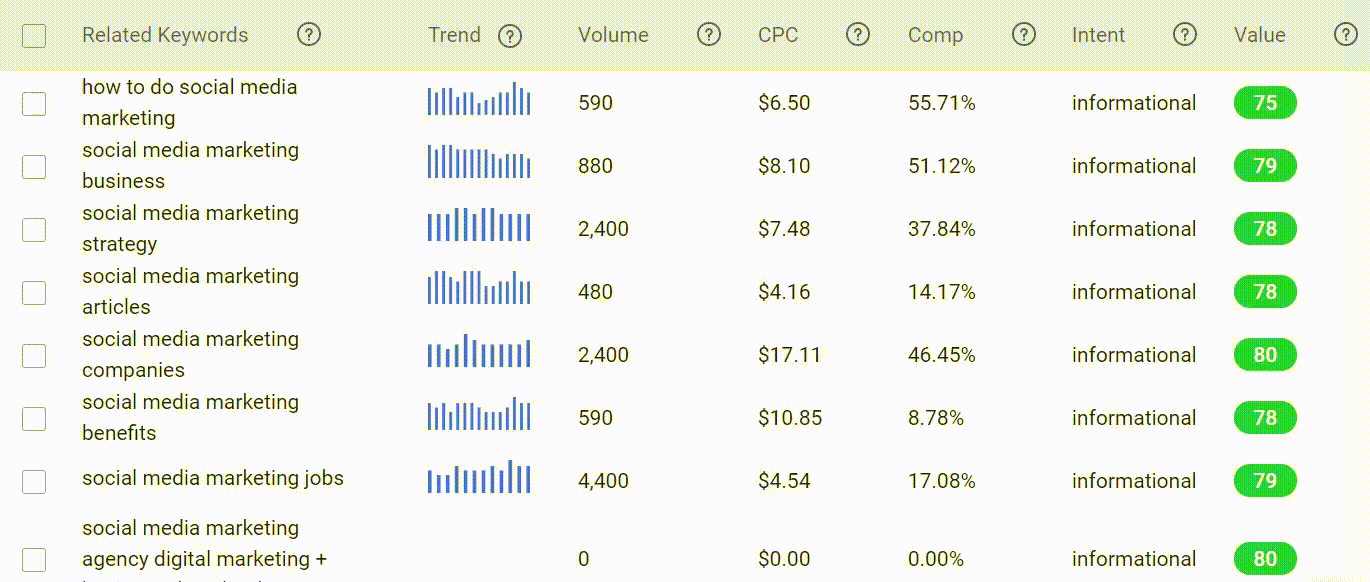 This tool covers everything you need from related keywords, content ideas, popular questions, and trending topics.

Like other keyword tools, it gives you important metrics such as trend, search volume, cost per click, and competition.

What I love the most is the keyword intent analyzer. It tells you the type of intent for each keyword.

For example, searchers are interested in looking for more information when searching for 'social media marketing.'

Change the keyword phrase to 'social media agency,' and you will see they are now showing some interest in spending their money.


Switch to the Content Ideas tab, and you can easily find ideas that will make great blog posts. Or if that is not enough, you can also switch to the other two tabs: Popular Questions and Trending Searches.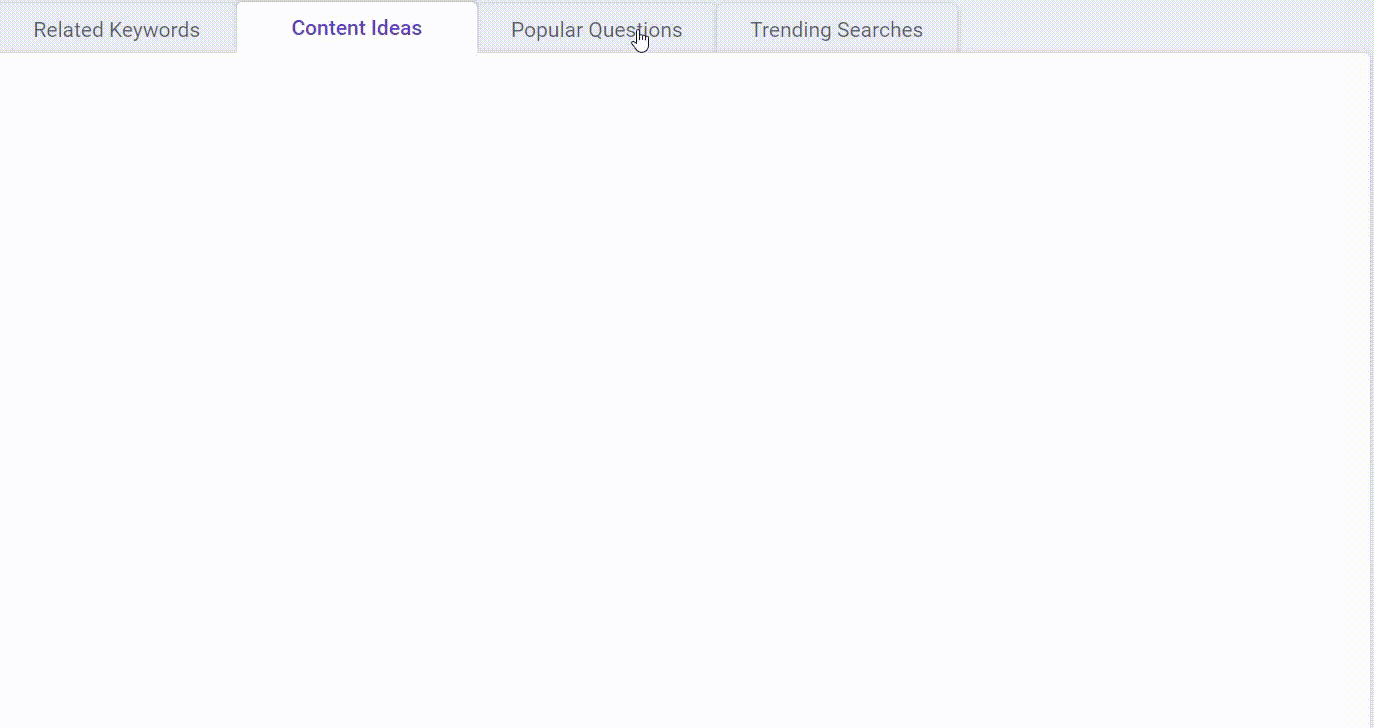 I'm pretty sure you will get tons of topic ideas for your next blog from there!

A handy browser extension for keyword research.

LiveKeyword is a free browser extension that enables you to see keyword metrics right inside Google.

Install the free browser extension, and you will see the related keywords and keywords metrics.

For example, if you want to learn more about social media marketing, you would enter "social media marketing" into the search box. And it will spit out the keyword's related keywords and searchers together with the crucial metrics: search volume, competition, and cost-per-click.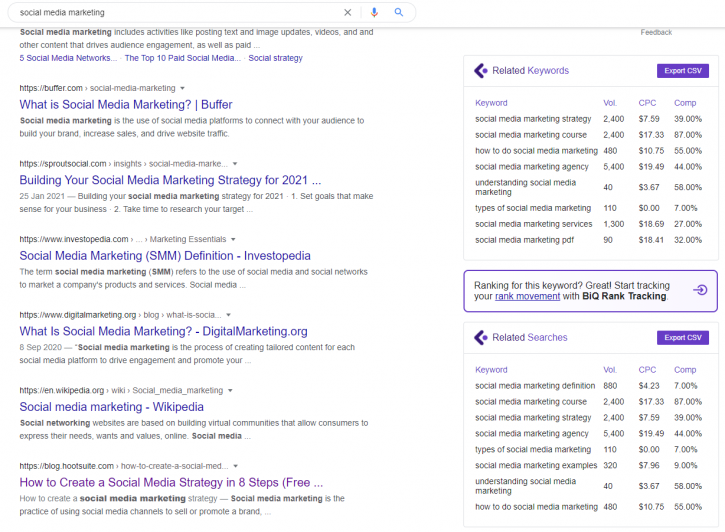 I love this keyword extension, especially when it comes to doing keyword research. It saves my precious time from going back and forth to the keyword tool because it gives instant keyword insight right in the search results.

If you are looking for a simple keyword extension with excellent deliverability, I highly recommend you check out LiveKeyword.
Help to build your SEO content.

How do you make sure your content is well-optimized for SEO… without spending a fortune on SEO tools?

GDoc SEO Assistant.

GDoc SEO Assistant is a free Google Doc add-ons that help you improve your SEO content and give readers a more enjoyable experience.

If you don't know where to start writing SEO content, this add-on will put you on the right track.

All you have to do is install the add-on in the Google Web Store. Then, you are ready to rock.

To use it, enter your target keyword. And GDoc SEO Assistant will give you an overview of your content performance, including SEO score, word count, readability, and semantic density.
What I love the most is the SEO suggestion. It gives you brief recommendations on the things that you can further improve.

For example, where to include your keywords and how to improve your title and readability score.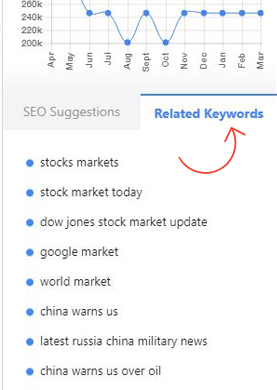 Not to forget, you can also get a list of related keyword suggestions based on your target keywords. Just switch to the 'Related Keywords' tab, and you will see helpful related keywords that you can add to your content.

You are generally getting all these features for free. If you want to start writing SEO content, GDoc SEO Assistant is a definitely good place.
BiQ's proprietary AI-guided optimization allows you to create great content that ranks.

Content Intelligence gives your recommendations for a content strategy based on the integration and advanced analysis of multiple intelligence sources.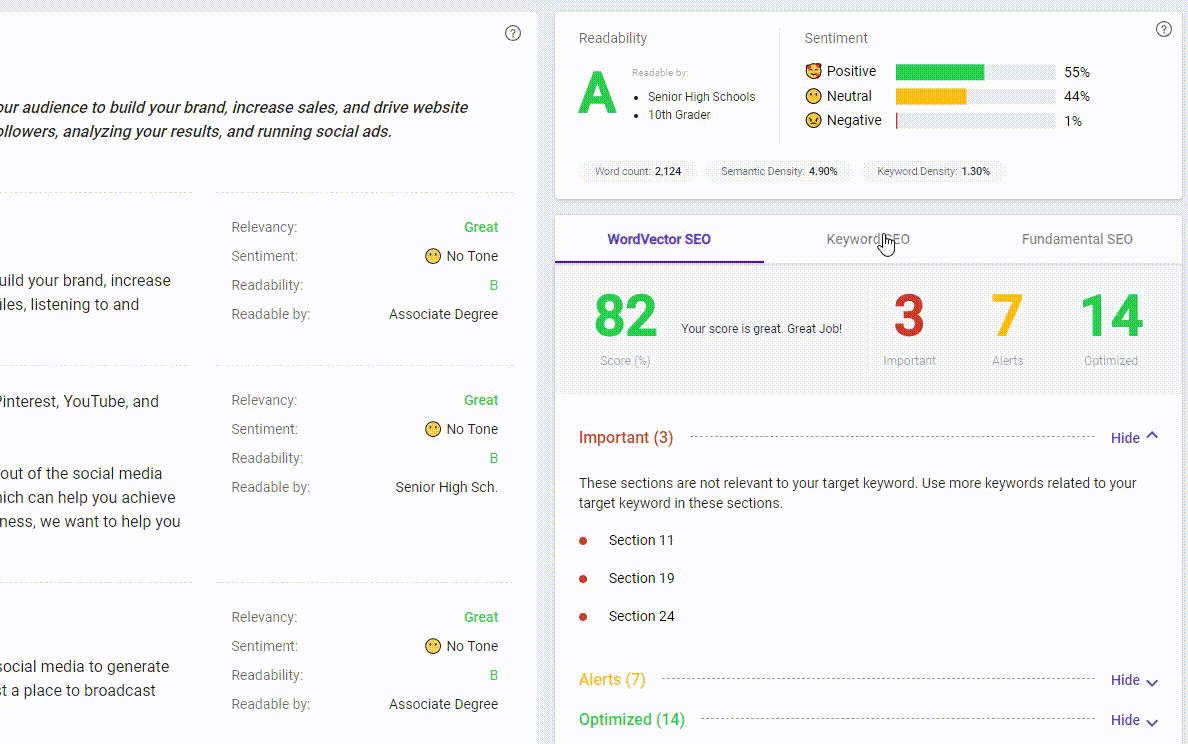 Here are some of the cool features that you can get:

AI-guided optimization ensures the consistency of your message and shows you suggestions on how to improve your content.
The advanced line-by-line analysis will show you how relevant the specific paragraph to your target keyword, together with the sentiment analysis and readability score.
Word Vector SEO analyzes and shows how you can improve your content relevance against the top 10 rankings.
Fundamental SEO focuses on guiding you to improve on-page optimization.
Keyword SEO tells you what you should do to improve your keyword relevancy.
The best part?

Content Intelligence comes with a free trial account where you can start optimizing your content for free! Try it for free here.

The next time you publish your content, run your content through this tool first. It will help you to make your content even better for both the search engine and readers.
Check spelling and grammar mistakes and proofread your content.

Of course, it's more than that; Grammarly also helps you to make sure your readers can better understand your content by suggesting the perfect word to express yourself.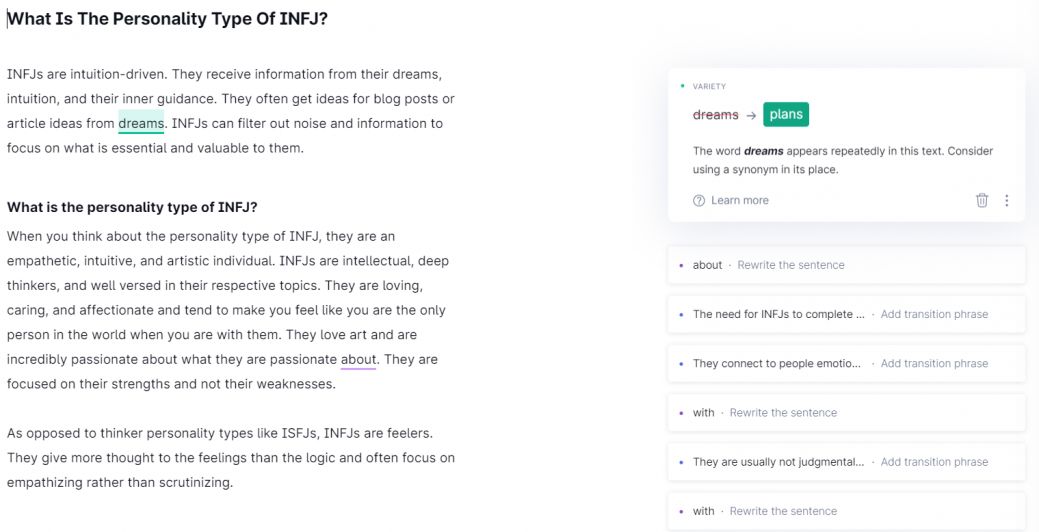 You can use the tool in many different ways. You can install a browser extension, download a native app, or simply use the web app.

Grammarly makes it easy for anyone to be a great writer.

Just write content like you usually would. Then, Grammarly will provide you with real-time improvement suggestions. It also gives you an explanation of why those changes matter.

You can choose to use Grammarly for free or upgrade to Grammarly Premium, starting from just $12 a month.
Visual
The human brain is the most efficient when it's dealing with visual content.

Adding visuals to your written content helps not just to make it attractive but also engaging and relatable.
To create beautiful visual content.

You can now create professional-quality designs with just a few clicks.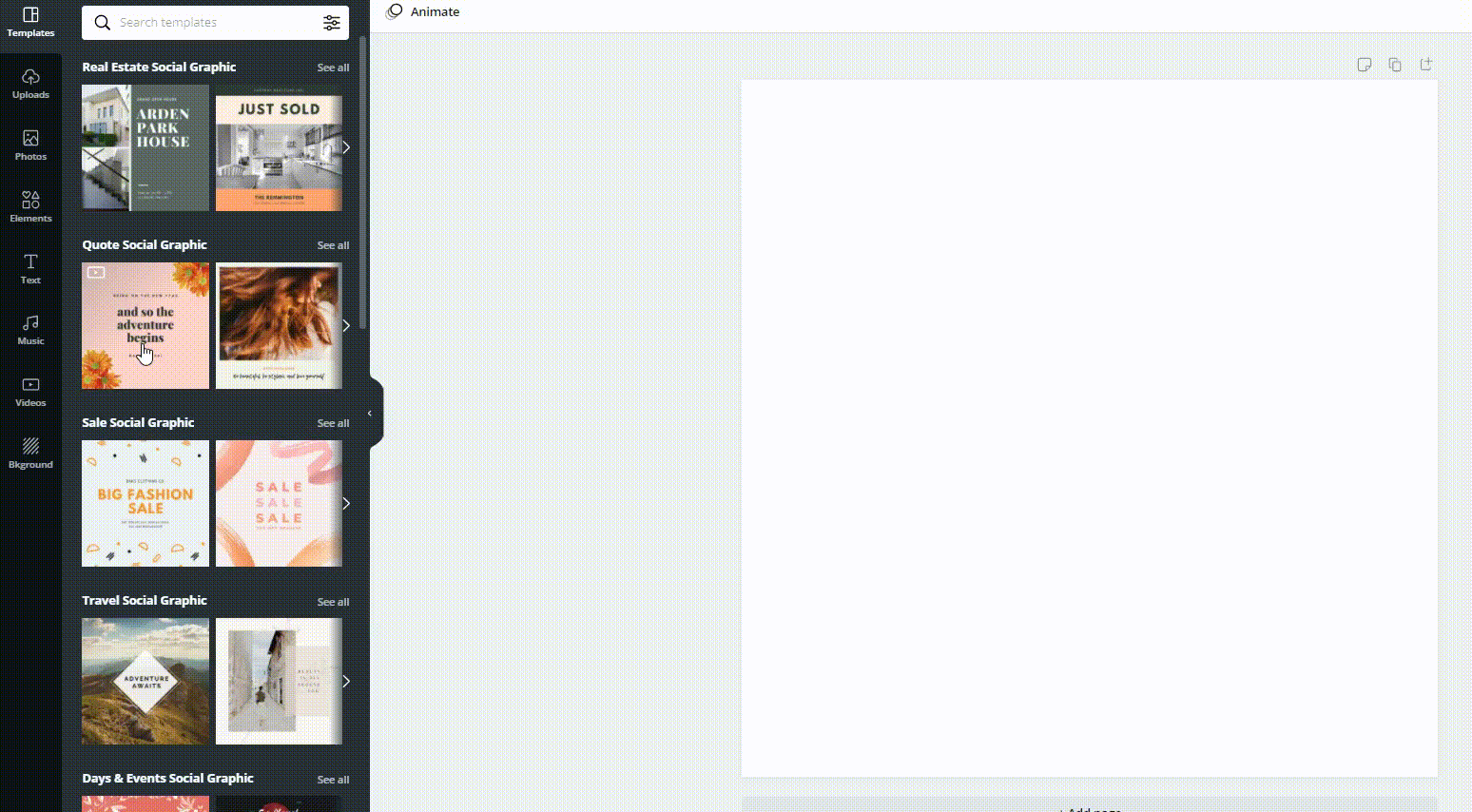 Want to create a Facebook cover? Or Youtube thumbnail? Canva got your back.

Canva has preset dimensions for all the popular image types. Or you can also create your custom dimensions.

What I love the most in Canva is the mountain load of templates ready to be used!
Just select the template and start adding the other animations you need.

The intuitive drag and drop interface makes design and video editing amazingly fun and straightforward.

Did I just mentioned 'video'? Yes, you can also create a video with Canva! Choose from various video templates for your next project or simply create your creative video with easy-to-use animation tools.
Outreach
Content outreach is the key to connecting with the right people. It helps you to focuses on targeting the exact audience that you want to reach.
Powerful outreach platform.

Back in the day, I used to find influencers manually.
I would have to search in the search engine and contact them one by one. Then, one day, I found this tool called Buzzsumo.

You just need to find top-performing content in a particular niche, then reach out.

Start with creating your outreach or influencer list. Then, add the influencers that fall within your relevant niche.

I bet you will love the feature in the tool that gives you quick access to the influencer's Twitter bio and the links they have shared.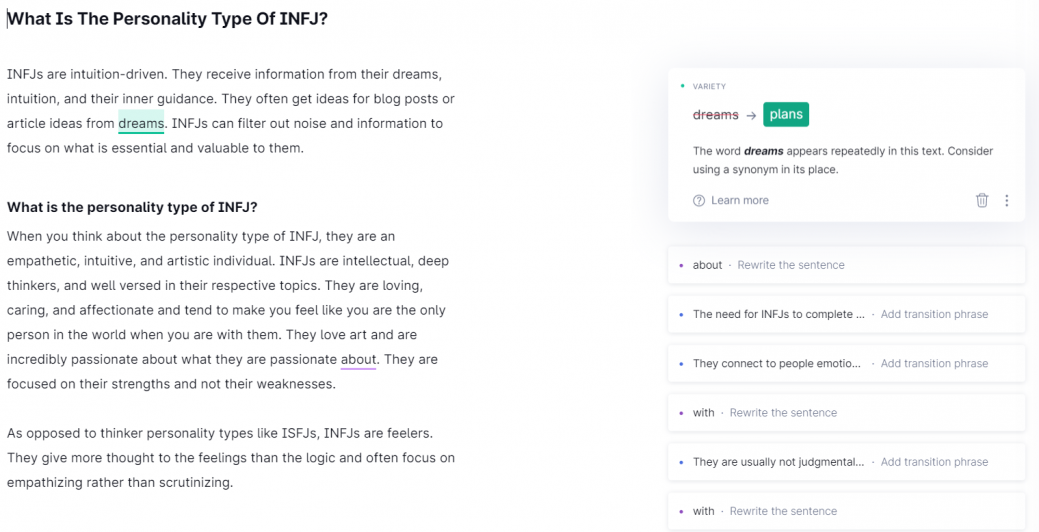 It allows you to do a quick review of whether the influencer is relevant to your niche.
Distribution
Content distribution helps to significantly increase your brand visibility or exposure. It allows you to reach existing and new audiences.
Manage and publish to all of the major social networks.

I have found HootSuite to be the simplest way to share content to your social media channels effortlessly.

You can either schedule your posts to publish at your own ideal times or let Hootsuite decide when is best.

What I love the most about this tool is you can get an instant overview of your published and scheduled content across all your networks.

You can use the free plan if you have less than 4 social profiles. Or subscribe to their paid plans which start from just $19 per month.
Monitor and tracking
Monitoring and tracking your content performance is essential. It allows you to see how effective is your content and what you need to do to improve them.
Discover your ranking keywords in seconds.

Rank Intelligence is a tool that tells you more than just your ranking keywords.

It tells you the ranking keywords' search volume, cost per click, competition, SERP features opportunity, ranking pages, and ranking position.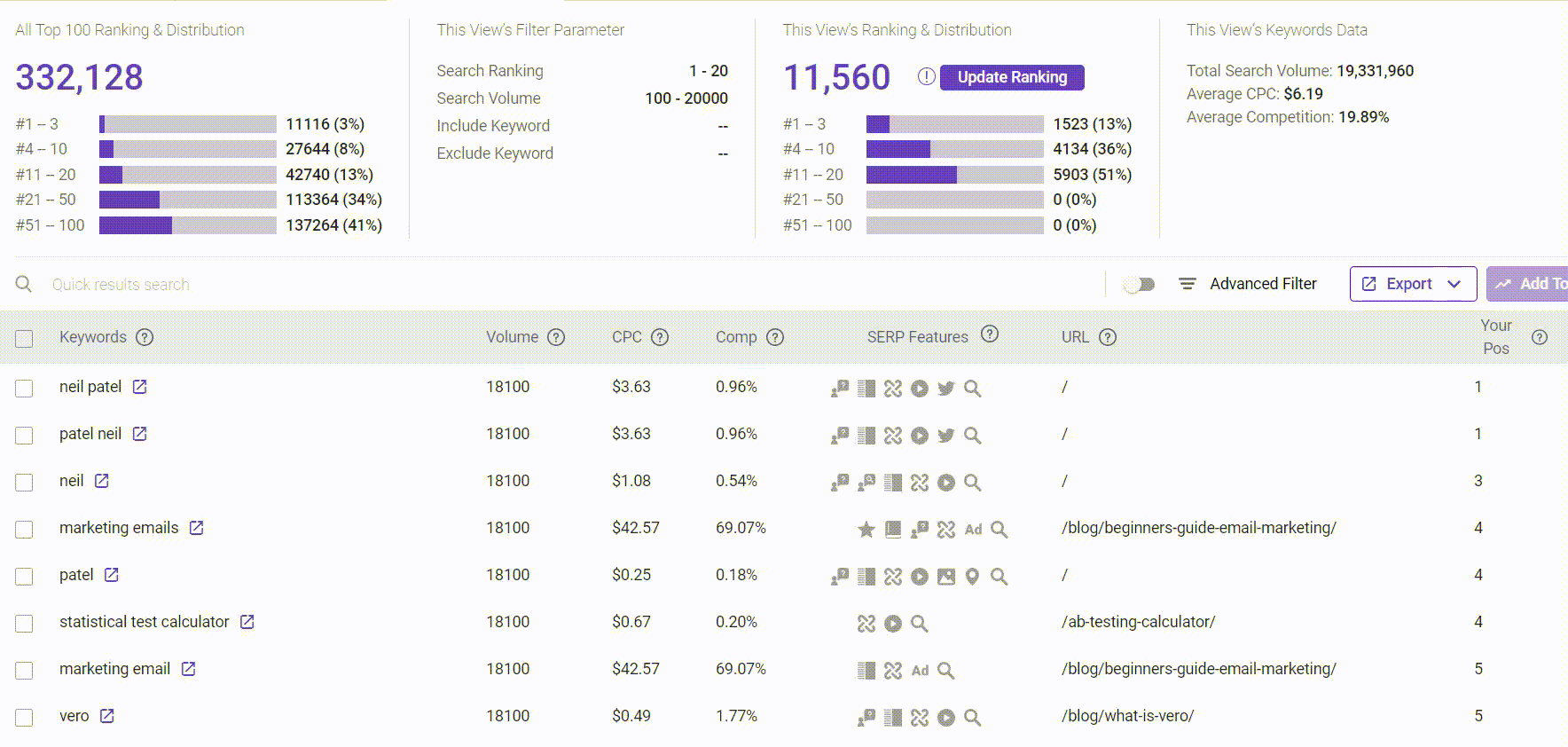 That's a lot of information, isn't it?

You can use the information to plan your next strategy. For example, you can prioritize improving those keywords ranking in between 5 to 10th position before moving to optimize those ranking beyond the second page of search results.

I also love the ranking distribution features. You can immediately see your overall ranking distribution.

You can also use the same strategy to view your competitors' ranking and gain a more competitive advantage.
Monitor and track your ranking keywords, all in one place.

Rank Tracking is a feature-rich tool designed to help you keep track of your content performance over time.

That said, Rank Tracking focuses on helping you to monitor and track your website rankings in real-time.

Once you get your ranking keywords from Rank Intelligence, you can add them to your Rank Tracking profile and start measuring your SEO performance.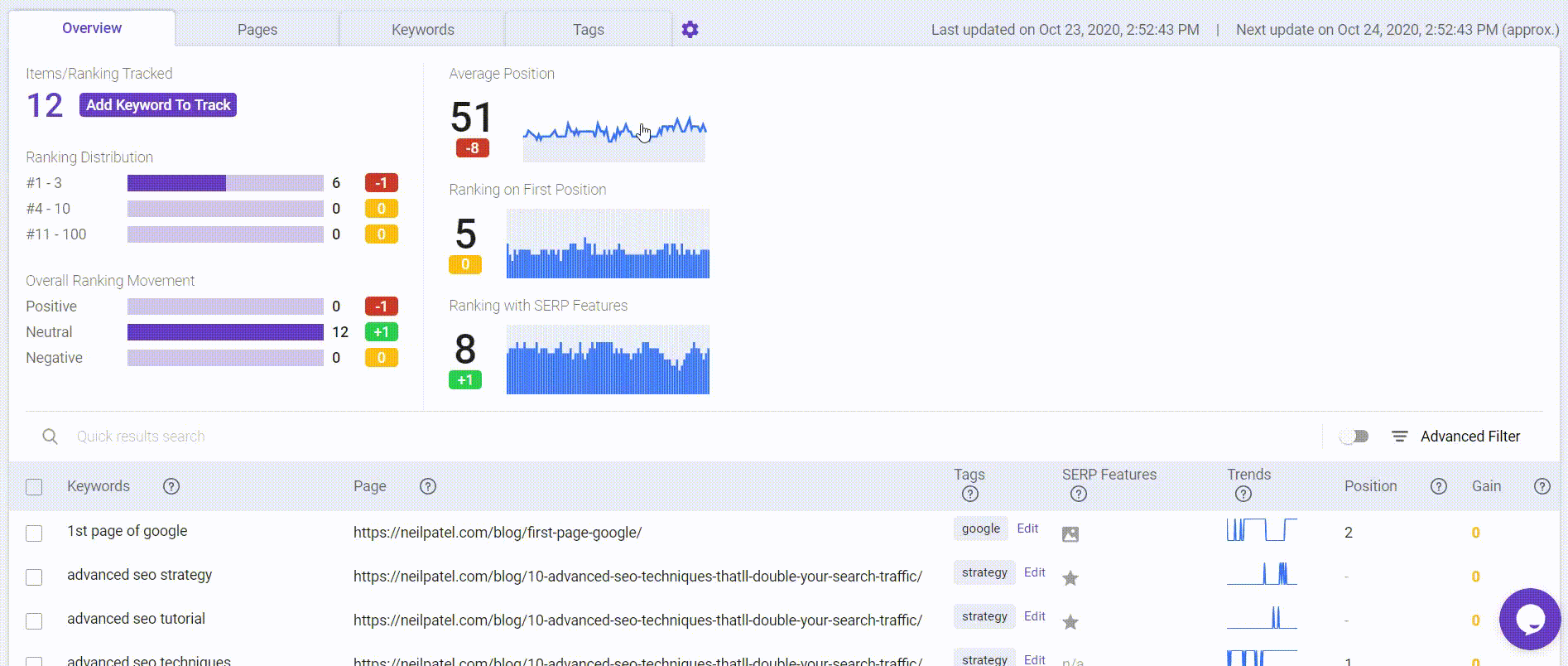 Instead of guessing how your content really performs, you can now see its performance at a glance.

That way you can quickly identify if there are any opportunities or changes needed.
16. Google Analytics
Easily track your content marketing campaigns.

Google Analytics may be the most popular website analytics for any content marketer.

Why?

Because it tells you precisely what you need to know about your content marketing campaigns. This including traffic source, popular landing pages, page views, bounce rate, and so on.

The more data you have on your content marketing campaigns, the more likely you can make an informed decision.

For example, you can check which content is the most popular on your website and what's not performing.

Based on the information, you can better allocate your time and resources to focus on creating a better blog offer on the most popular content.
What Other Content Marketing Tools Do You Use Daily?
So that's all the best content marketing platforms that I have found.
Is there any other content marketing tool that you think is helpful in developing a successful content marketing campaign? Or any other content marketing resources that you would love to share?

Let me know in the comments. I would really love to hear from you.