This article shows you how to write better blog posts that your readers will stop to read. Along with the right format, you'll be shown 10 blog post examples too.
What are some best blog post examples to aid me in writing better blogs?
Every blogger will tell you that blogging should be fun and educational. This is true. But there's more to creating an engaging post that will make the readers yearn for more.
Writing a blog shouldn't be a problem if you have the right message to pass. Better yet, you want to communicate effectively and get your readers nodding in approval.
The 8 blogging tips below will guide you from the start to the end: structuring your content to getting your readers to subscribe to your newsletters and blog post notifications.
Then the blog post examples will give you a clear roadmap on how you're going to put the eight techniques into practice. Let's begin.
Starting Off With the Right Blog Post Format
1. Maintain short sentences and paragraphs
Long sentences are not only difficult to comprehend but also boring to read. Scanning through a block of text is quite challenging, and your readers who can't keep up will instantly leave your site.
Getting your readers hooked means writing shorter, sweeter sentences that drive the point home. Make your paragraphs shorter, i.e., at most 3 sentences each – but you still want each paragraph to pass a message.
Regardless of the word count, always target shorter sentences that are structured systematically.
Proper formatting can also help your site visitors to quickly skim through the piece of content that piques their interest. This is something you'll notice a lot with our compiled lists of blog post examples.
Note:
Use our BiQ Content Intelligence tool to check on your post's readability. This will give you an idea of tweaking the structuring to attain a better score and get your readers to spend more time on the site.
After entering your target keyword and URL, you will see the readability grade at a glance.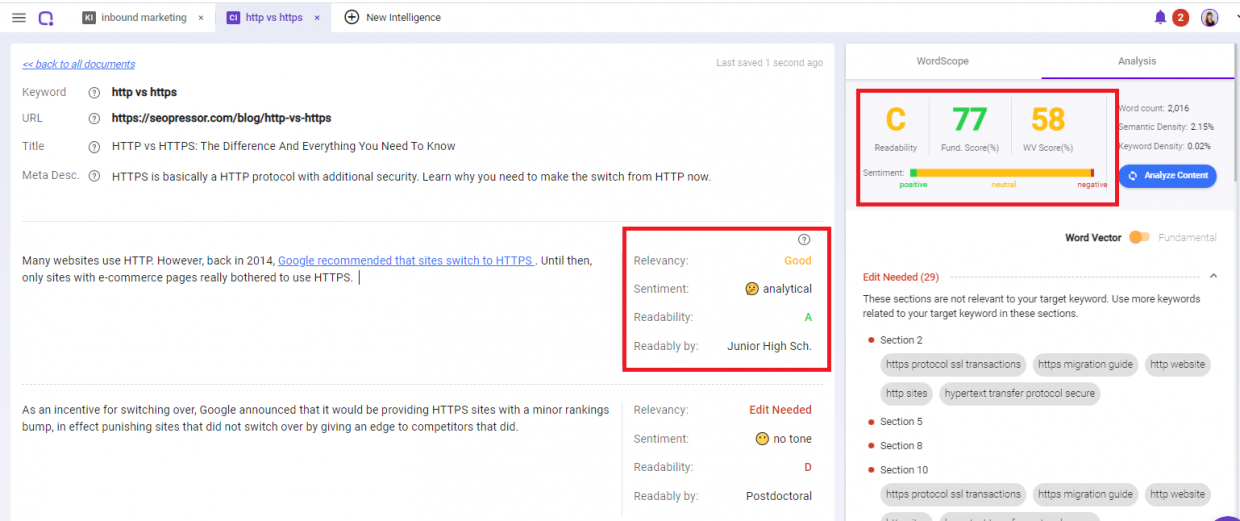 Other than that, the tool will also analyze your content line-by-line and show their individual relevancy, sentiment, and readability grade.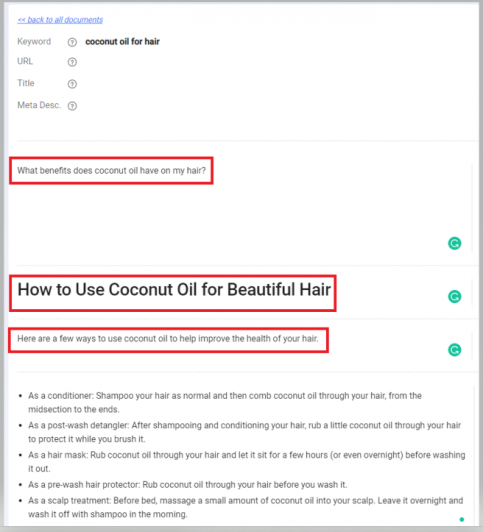 Use these insights to improve your readability grade and help readers to understand your content better.
Try Content Intelligence for free here!
2. Niche Keyword placements: Check Relevant Blog Post Examples for Competition
Keyword placement is more than just finding a couple of word phrases that your competitors use. It's more of a process – understanding the keyword volume, intent, value, and more.
Before you can rank for specific keywords, you want to check the competition around those phrases. Find some top-ranking blog post examples within your niche and check the keywords they are using.
Can you use the same keywords or their alternatives?
And what are the local keyword opportunities that are relevant to your business?
Note:
Use our BiQ Keyword Intelligence to learn more about a set of keywords before using them on your site. It allows you to gather data on keyword volume, trends, keyword competition, related keywords, and more.
What makes BiQ's Keyword Intelligence stand out from the rest of the keyword research tools on the market is the keyword analyzer feature. It helps you see why someone might be searching for the keyword in the search engine. With this data, you will be able to plan your content in such a way that meets your users' needs.
If you are unsure which keyword to use, you can sort the keywords based on their value. The higher valued keyword means it can potentially bring more traffic to your website at a lower competition.
3. Use visuals: (Graphs, Images, Videos) and captions
Having quality and engaging images on your website can boost user experience. Research shows that articles with visuals get 94% more views than those without – according to OptimiMind Marketing Statistics.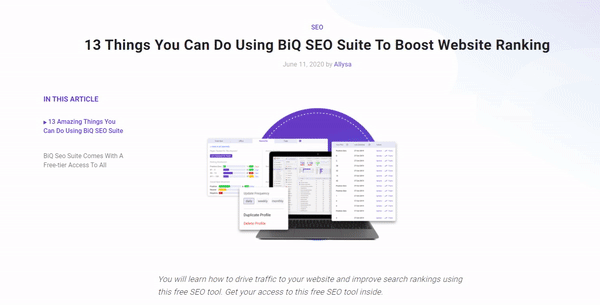 Blog posts without images, graphs, and even videos come out as dull and boring. This means readers will find no reason to hang around.
If you sample and analyze a couple of blog post examples in each industry, especially those ranking high on the search engines: chances are, they have lots of visuals.
Incorporating visuals into your posts is a brilliant idea; however, make sure you're not overdoing it. Too many videos and sophisticated graphics could easily hurt the site's loading speed.
All the blog post examples we've identified use well-optimized images and graphics.
4. Link Building: Backlinks and Outbound Links Best Practices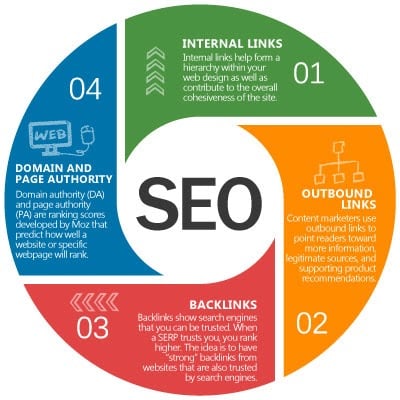 The use of backlinks and outbound links are common blogging best practices, but there's more to this than just placing hyperlinks on some random anchor texts.
Backlinks are links placed on other websites but pointing to your blog. Outbound links are links you place on your blog but point to other websites. Links that you place on your blog, pointing to other pages on your website are called internal links.
Outbound links should help your readers navigate to another site: learn more about a topic or take a specific action outside your blog. A look at some of the best blog post examples, and you can quickly tell that their linking is clean, natural, and value-driven.
When running a guest posting campaign to build your backlinks, make sure the links are well placed, and connect naturally with your niche.
5. Word Count: The Longer the Content, the Better
Search engines prefer long-form, comprehensive content to their short-form counterparts. Not only does long content provide more value to the reader, but it also sets you as an expert on the topic.
According to a Google Search Results analysis by Backlinko, Google ranks long and engaging content better than the short and summarized posts. The study found that the average Google's first-page results contain 1,447 words.
The majority of the blog post examples you'll interact with follow the long-form content format. This style is a win-win for everyone. Your audience will find the post helpful, stays for long on the site, and even shares your post with friends – and Google gives your site a better ranking.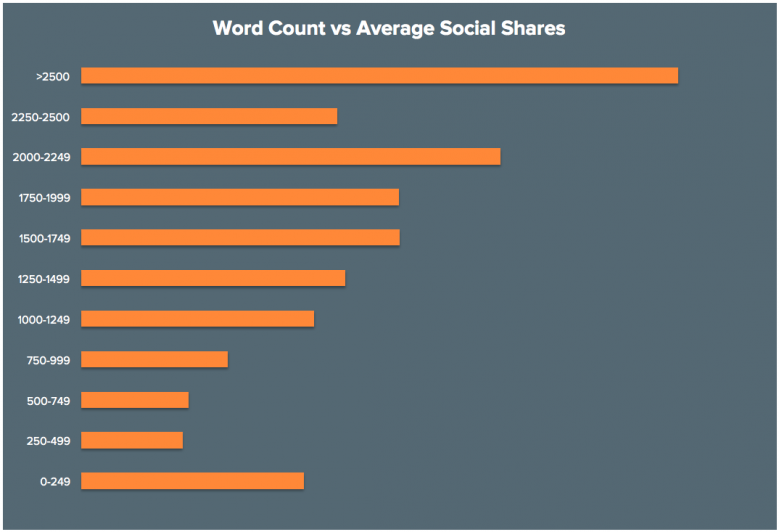 6. Use Header Tags (H1, H2, H3): Improve Accessibility and Site Ranking
How you organize your blog post: from the title, headings to the conclusion should grab the reader's attention and get them reading from the start through to the end.
Most people don't read through the entire content. A majority will quickly scan through the larger and bolder texts that catch the eye. If your site is missing these visually appealing characters, your readers will assume you don't have what they are looking for.
When ranking your site, Google will use the Header tags to understand the contents of that particular page better. Seeing the importance of including headings in your content, BiQ Content Intelligence shows you the headings usage of keywords in your content as you analyze your content.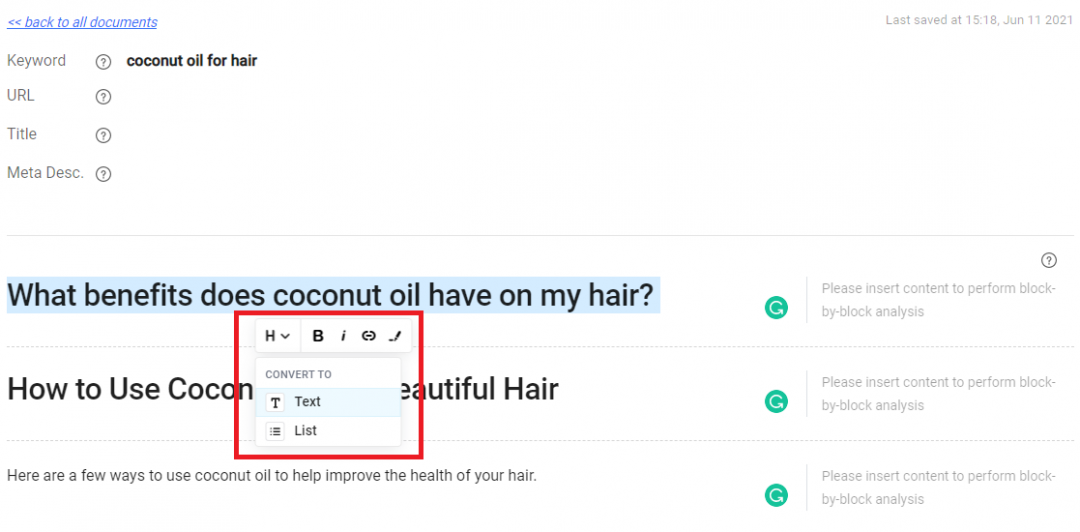 You also get to see the usage of that particular keyword from the headings taken from the Top 10 results of the SERP. The more it's being used in the headings, it's an indication that you must not miss out on adding the keyword in your content.
7. Information Flow: Order and Structuring are key
Not many blogs out there have a good flow. While it's hard to define how your blog article should be structured to attain that desired flow, you definitely can tell when the flow is missing.
Many people will recommend you outline your article and find a coherent way of passing the message. Both of these make sense.
But what if you could focus more on structuring, i.e., mixing and matching the stylistic components:
Short and concise paragraphs
Using catchy headings
Using the right blend of images
Using bullet points and numbering
We've covered some blog post examples with excellent flow below.
8. Ensure Opt-in forms are placed: Ask Your Readers to Take Action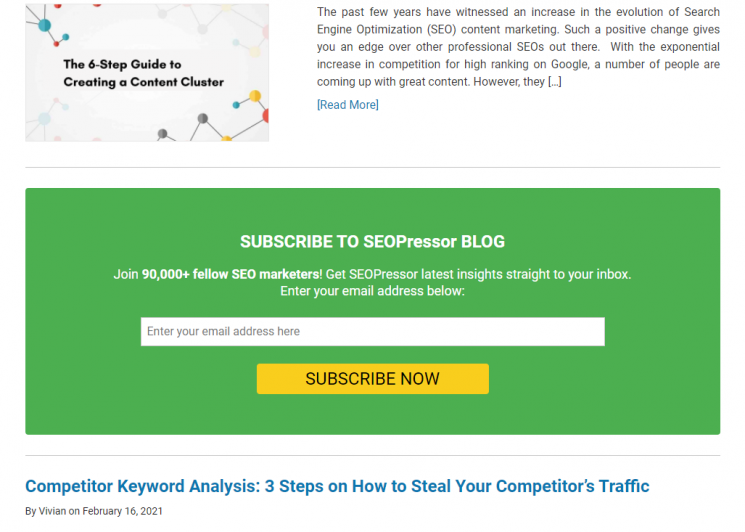 At the end of the day, you want your readers to engage with your post; ask questions, share comments, react to some topics, etc. For marketers, taking action means more, and this is where opt-in forms come in.
An opt-in form asks the site visitor or customers to leave their contacts (mostly email), so they can receive updates about your next post, product, or service. Here the prospects permit you to send them marketing materials.
Nearly all the blog post examples we've picked employ this type of "permission marketing." Not only is it ethical, but also very effective since both you and prospects are reading from the same page.
Choosing a Niche With 10 Blog Post Examples
Below are some blog post examples we've selected to familiarize yourself with the blogging styles and even borrow a few blogging tips. The blog post examples have been listed under the categories below.
1. Product and services
Example website: BiQ Blog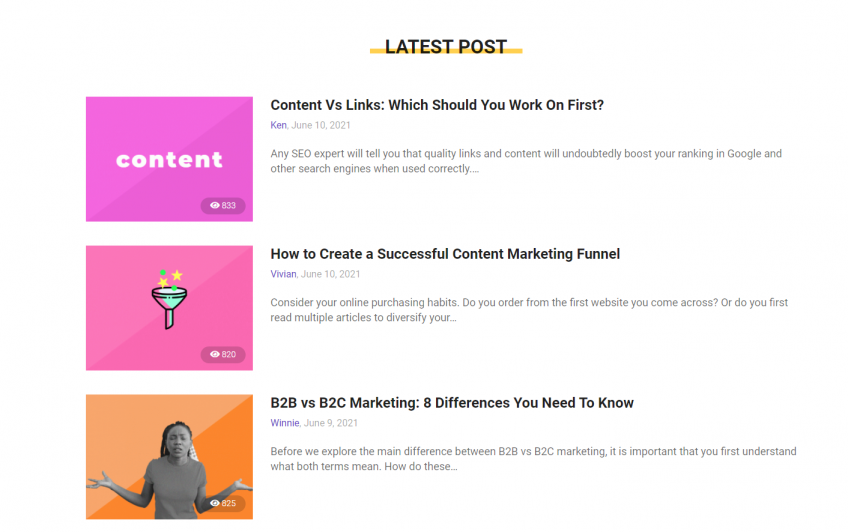 Our BiQ blog is one of the best blog post examples in this category, thanks to the dedicated and expert team working to create value-driven content for our readers.
Our approach to creating engaging content follows the blogging format we've discussed above.
2. How TOs and Tutorials
Example Website: WikiHow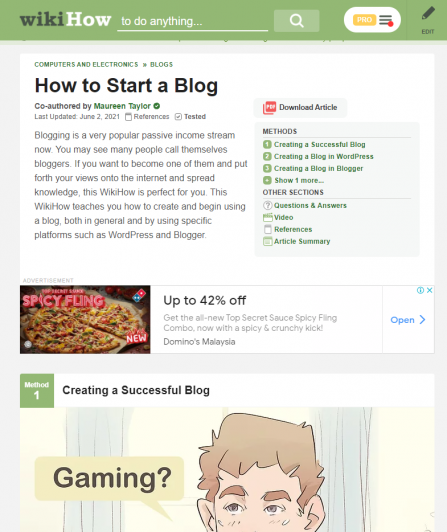 Wikihow is a comprehensive how-to website that creates reliable and authoritative content. This is one of the blog post examples in our list that produces high-quality, valuable, and well-structured content for a broader niche.
3. Thought leadership post
Example Website: Forbes Insights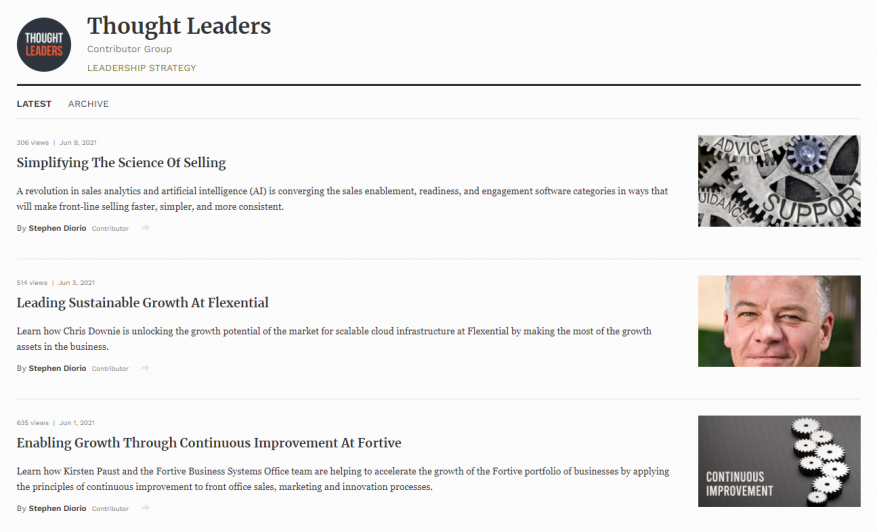 Forbes has a thought leadership section that presents research, expert opinions, and original content from industry leaders in different markets.
Unlike the other blog post examples that we've covered where you create your content, here, you have different industry experts sharing their articles as contributors. If you're an industry expert, this means you need to network with the other thought leaders.
4. Guest posts
Example Websites: HubSpot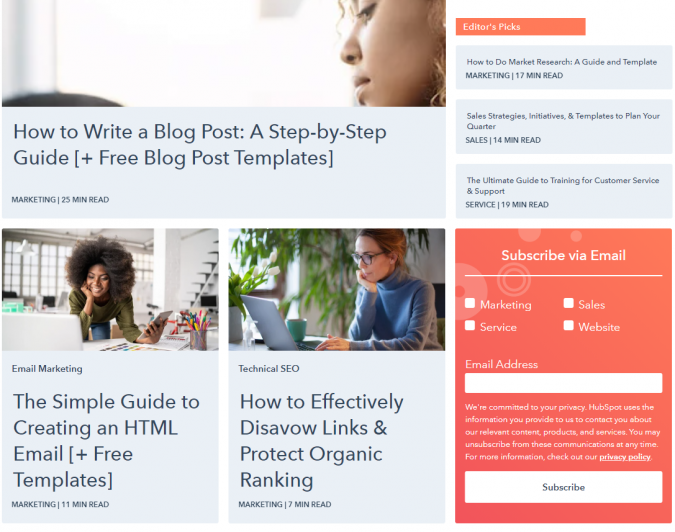 HubSpot is a popular marketing website where you can guest post, and millions of readers will read your content.
HubSpot has its guest posting guidelines to make sure quality and consistency aren't compromised. There are several other blog post examples in this category. You just have to find one that serves your niche, and you'll learn a lot from the blogging style.
5. Infographic showcases
Example Website: Graphs.net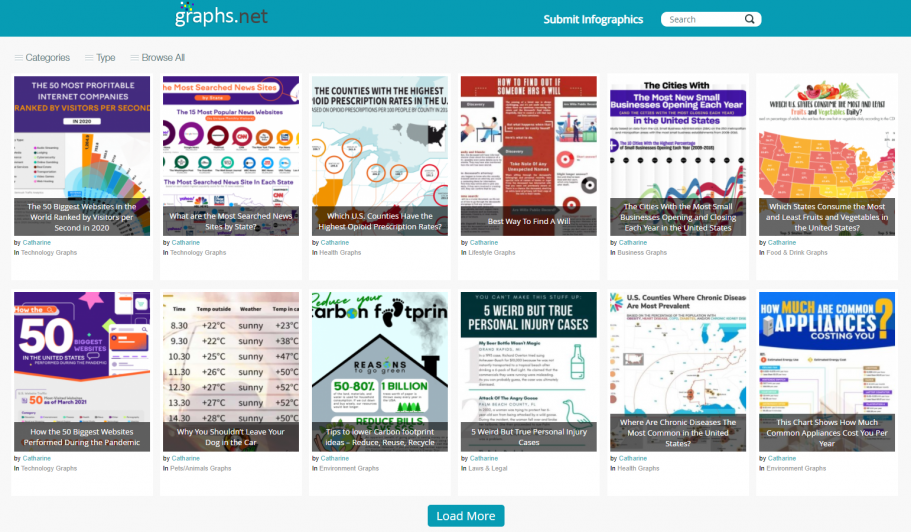 Graphs.net is one of the best websites for creating creative infographics and data visualization. If you're looking to create high-quality infographics for any niche/market, this is one of the best blog post examples you should check.
6. "Comparison" blog post
Example Website: SEOPressor Blog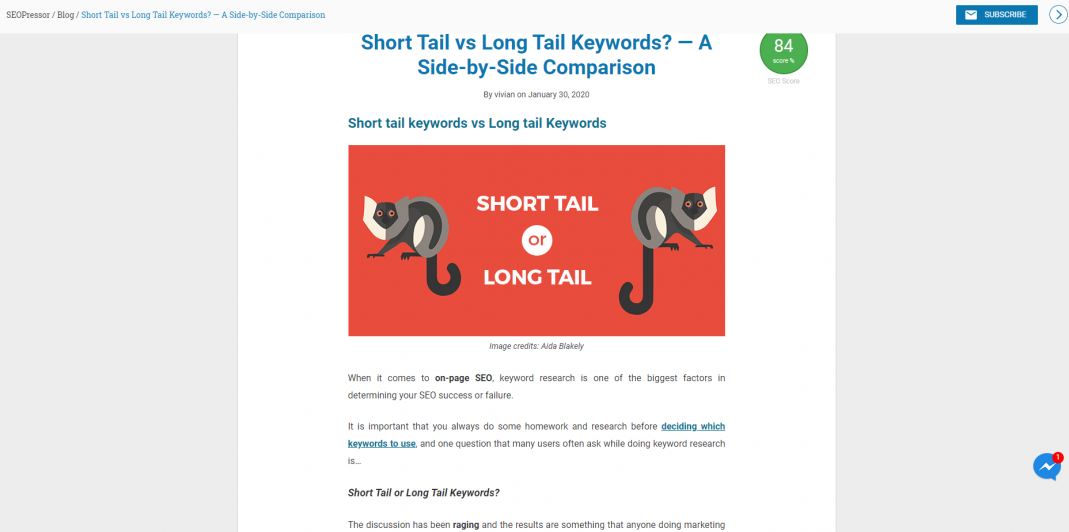 A comparison blog post should be comprehensive, easy to read, and straight to the point. The comparison blog above has excellent structuring that delivers the message concisely.
There are several comparison blog post examples you can pick to inspire your writing. Where possible, look for one that covers products or services in your niche.
7. Reviews
Example Website: ConsumerReports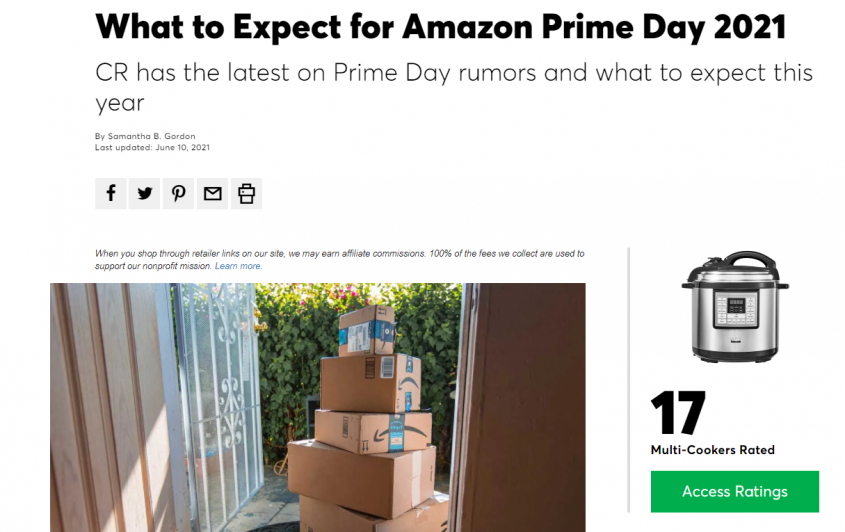 Consumer Reports hold reviews of different products and services in the marketplace. It's designed to be user-friendly and comprehensive. Some niche-specific blog post examples (review-type) can also work best for your case.
8. Case Studies
Example Website: BusinessCaseStudies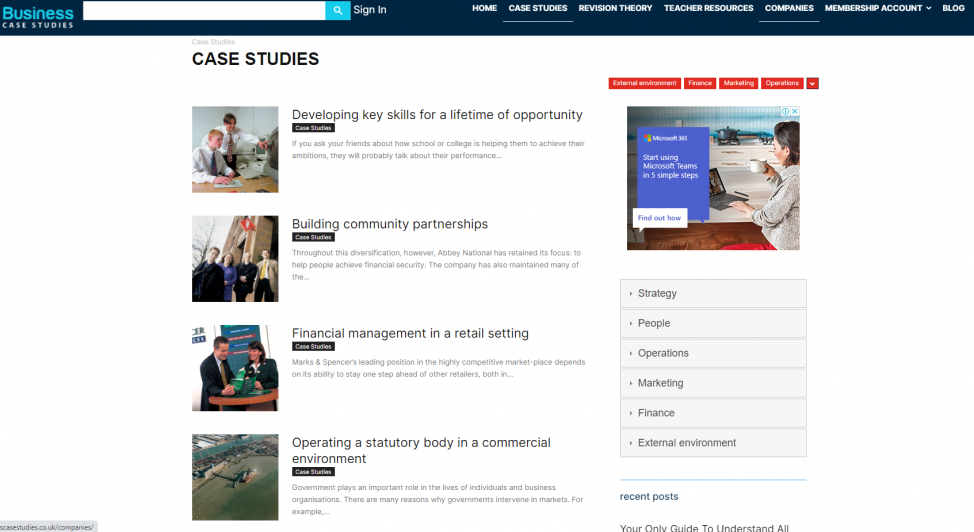 This is one of the best case study websites that compiles a ton of learning resources relevant to the business world. If you're to build a case study blog, this website is a good place to start.
9. Weekly/ Daily Roundups
Example Website: SEOPressor Blog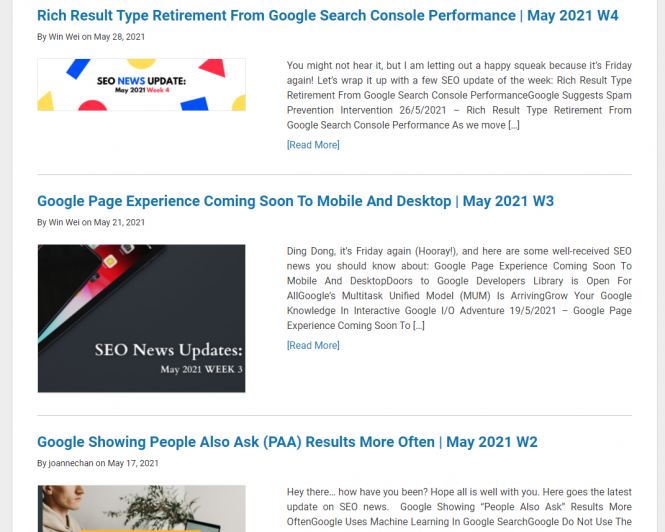 The team from SEOPressor blog offers weekly roundups on matters of SEO news.
This is one of the best weekly roundup blog post examples if you're into SEO, marketing, and the likes. A new post will be updated each week so you can stay up to date with the latest news that's happening in the vast SEO world.
10. Personal Stories
Example Website: StoryCorps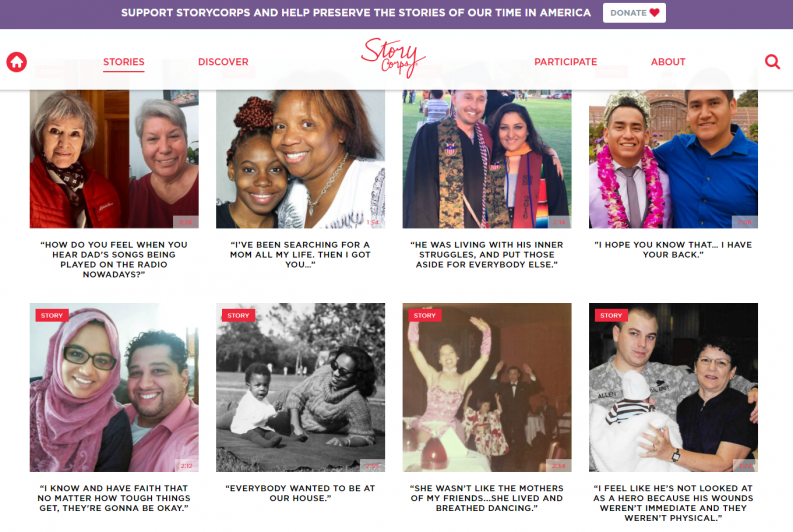 StoryCorps is a story website that seeks to preserve and share experiences from different people across the globe.
There are several other blog post examples in this category that you can use to model your blog. Just make sure what you are covering creates a connection with your readers.
Blogging Secrets: Extra Tips from our Blog Post Examples
Besides the obvious content structuring lessons you can borrow from the above sites, here are some success tips used by blogging experts that you'll find in nearly all the blog post examples we've listed above:
High-quality posts – all the blog post examples we've highlighted are of high quality. If you can't write your blog posts, hire the right team of content writers.


Blog Monetization – If you're looking to turn your blog into a business, you need to figure out how you can monetize it first. This is particularly true for reviews and comparison blogs.


Building an Email List – The blog post examples above have built a backlog of readers, thanks to their email marketing campaigns. Maximizing your opt-in forms could help you achieve this.


Consistency – Blogging can be tedious. You need to develop smart habits that will help you publish quality articles consistently. Some of the blog post examples we've listed above, e.g., the Weekly fashion roundup, require consistency.
Conclusion
Once you've understood the key aspects of the blog post examples we've listed above, it becomes easier to organize your writing to create unique and valuable content.
Not all these blog post examples will work for you. Be sure to test a few and see what suits you the most.
And as a rule of thumb, always focus on giving your readers value, and you'll grow an audience with time. The blog post examples we've covered will guide you as you make steady progress in your blogging journey.