Here are the 11 best competitor analysis tools you can use to spy on your competitor to boost your traffic.
Choosing the right competitor analysis tools for your marketing strategy will help you achieve better results.
Knowing more about your competitors is part of the duty of a marketer. It is essential to reassess your position in the market compared to your competitors if you want to succeed in your next marketing campaign.
So, how do you go about it?
Conduct a competitor analysis. It involves researching, analyzing, and categorizing companies you find to be a threat. You look through their strengths and weaknesses to gather data you can use to create successful campaigns.
As a result, you can create content that outranks your competitors, increases your website visitors, and increases your client conversions.
Competitor analysis is an essential step for every successful brand. The insights can help you enact only the best practices in your businesses and avoid others' mistakes. When you don't know the market you operate in, your business foundation will be unsteady.
The market research industry is massive. Relying on a company to provide you with market data can get costly. But what should you do if you don't want to break the bank? You may want to consider using a competitor analysis tool.
Why Is It Important To Do Competitor Analysis?
There are several benefits that you can gain from having an insight into your competition. They include;
1. Ability to Fine Tune and Develop your Unique Selling Proposition
The most important question when dealing with clients is, "why your brand?" You can tell the answers of various competitors after a careful analysis. By comparing their USP with your own, you can distinguish yourself from the competition.
Some places you can look to identify your USP are the mission statements, product description, services products, and partnerships.
2. Improve your Products and Services
Your brand should always stand out by delivering customers' needs your competitors are not offering. Competitor monitoring helps you learn more about your customers' needs and expectations from your customer's reviews and your own.
3. Create a Brand Benchmark
Benchmarking can be quite useful in evaluating the success of your brand. It involves looking back at your history to build a point of reference for your growth. A competitive analysis tool allows you to access any historical data on customers for your brand and competitors.
Once you clearly understand your brand's past, you can make significant improvements that can affect how your clients view your business in the future.
4. Identifying Any Gaps in Research and Development
You need to do more than just offering customer-centric content or listening to your customers' needs through feedback.
Competitor analysis can help you identify who your competitors are working for and help you predict your competitor's future expectations and trends. You can then draw information on how to improve your brand from the data you collect.
5. Discover and Potential Threats
One of the biggest threats you can face in the market is having your competitors provide a similar product or service at a much lower cost with extra features.
It can happen when a new competitor comes into play or when an old competitor gains new findings.
Failure to resolve such an issue may lead to your competitor siphoning away your customer pool. Reacting to the threat on time helps you stay ahead of your competitors by identifying.
12 Best Competitor Analysis Tools You Should Be Using
Here are a few competitive analysis tools you can use to monitor competitors to your business today.
BiQ is an all-in-one SEO suite in the market. It helps you from keyword research, content optimization to tracking your rankings on the search engine. There are a few products in BiQ that will help you understand the best way to defeat your competitors and rank better than them on Google.
You can use BIQ's Rank Intelligence to figure out your competitors' performing keywords and content.
Create a new intelligence profile to analyze the ranking of your competitor's site. From the summary of performance, identify the ranking keyword and any untapped opportunities.
The easiest way to spot any untapped opportunities is to filter the result to see the keywords ranging from 4th to 10th position, with a minimum of 1,000 searches.
These keywords have a decent number of searches and which you can steal from your competitors.
Now that you know what keywords your competitors are ranking for, you can create content targeting those same keywords to steal it from them.
Or, if you are both ranking similarly for the same keyword, now you know where you should work on to keep or boost your ranking.
You can also analyze your competitor's content's performance with the help of BIQ's Content Intelligence. It will help you identify the strategy that led to their ranking and discover which areas you have to improve your content. Let's check them out below.
The AI-powered content tool is designed to help you create optimized content. That said, you can also use the tool to identify any gap in your content strategy.
You can easily see your content performance against the top 10 content on the search results.
The best part about this feature is that it can tell you exactly which paragraph has lesser relevance to the overall content.
You can then dive deeper into the paragraph and better understand how to improve your target keyword's relevancy.
Other than that, you may also use Content Intelligence to discover your competitors' content strategies.
Enter their content URL, and you will get to discover what your competitors have done the best and which areas you can do better.
By visiting the word vector and Fundamental SEO tabs, you can learn what your competitor has done well to increase their ranking. Employing the same on your content will only spell positive results.
Check each of the best practices and list any relevant strategies to your content strategy.
Start using BiQ for free by signing up for your free account.
When spying on your competition, consider the top keywords, backlinks, and top-ranking pages.
With UberSuggest, you can quickly gain information on your competitors, allowing you to adjust your competitor marketing strategy to improve your ranking.
The first step is searching for your competitor's website from the UberSuggest search bar. The site provides you with a list of Keywords showing their traffic origin and where they are re-targeting.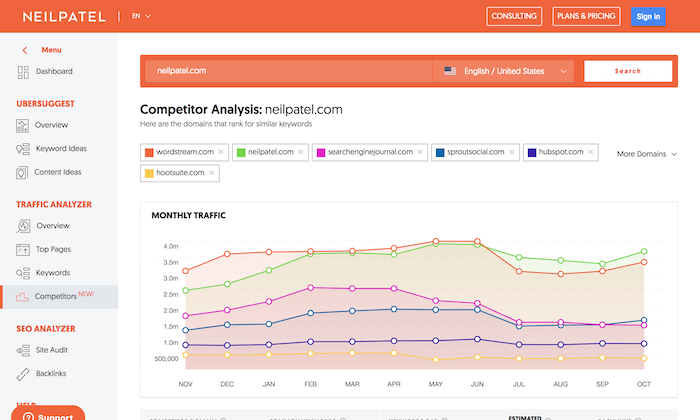 It also allows you to know the URL's rank on Google search, the keywords' monthly search volume, and the amount of traffic for each keyword.
You can learn much more information on the keyword. For example, the estimated amount of traffic a competitor website gets and the number of backlinks it receives from other sites.
It also highlights the website's overall strength, ranging from 1 to 100, with one being the lowest.
There is also a section that provides you with a list of your competitor's top pages. Such information makes it easy to determine your competitor's SEO strategy. It may not be feature-rich as other paid accounts, but it helps you figure out what content is working for your competitor and what is not.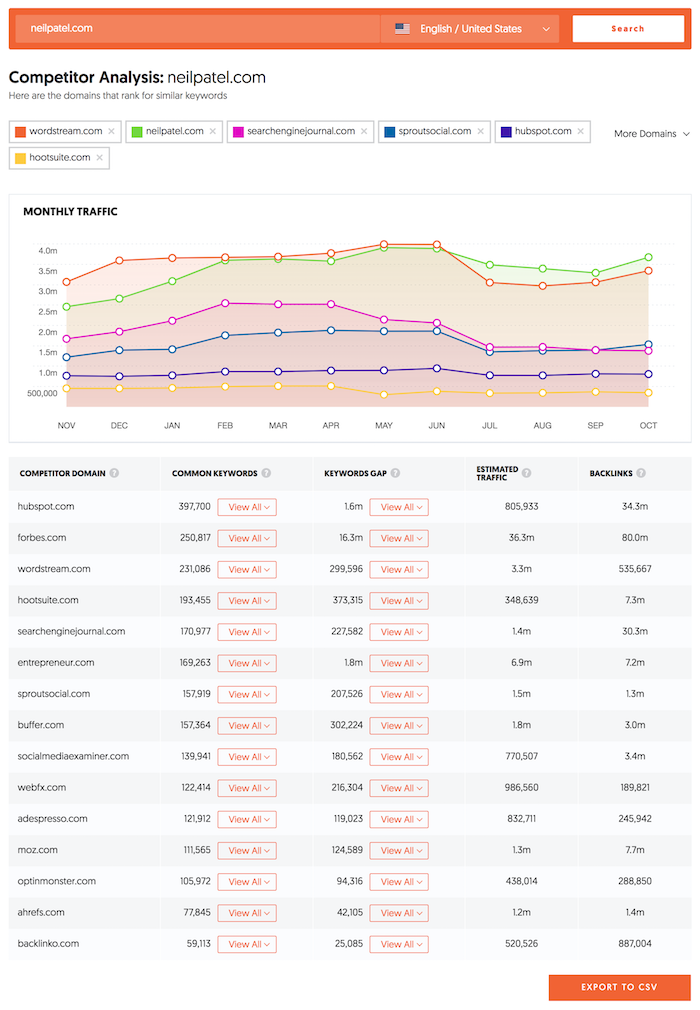 You can use the UberSuggest keyword feature to generate new keywords for a content campaign. Unfortunately, it may be hard to know if you may rank with the selections provided.
However, the SEO difficulty score by UberSuggest can be quite helpful. Still, it is only based on backlinks and does not consider Page Speed, on-page SEO, and other ranking factors.
Instead, it is best to find your well-ranking competitor pages and use them to create a blueprint of what works.
Before reverse-engineering any site, it is essential to ensure that it has a similar link profile as yours. Only then can you find competitor keywords giving you a better chance of ranking well.
For example, if Search Engine Journal is your highest-ranking competitor, their Domain Sore is 90.
You can gain a similar ranking only if your Domain Score is also 90.
You may use Ubersuggest for free but with limited features. Or you can also subscribe to their monthly plan, which starts from $12 per month.
It is the best pay-per-click channel to use when growing your website. SpyFu provides you with a complete rundown on your competitor's marketing campaigns. It helps you research and download all the profitable keywords that your competitors use.
It shows you both the paid and organic keywords that your competitors target to improve your SEO performance. As a result, you get to maximize your return on investment in time and money by targeting the right keywords.
You do not need any extra skill to use the SEO analytic tool. The first step is to find competitor keywords by entering your competitor's URL into the search box. You will discover well-detailed information about your competitor's keywords.
Clicking on the paid keywords will reveal keywords your competitor is running ads for, while organic keywords will show those keywords through organic search results. You can export the information in a spreadsheet format (CSV) or as a PDF.
SpyFu offers three plans that cost between $39 per month to $299 per month. Choose appropriately according to your needs.
SEMrush is another best competitor analysis software in the market, and for a good reason. It is highly effective at converting data to actionable insights that you can use to improve your content strategy.
Using SEMrush, you can easily see the ratio of branded to non-branded traffic, the Amount of lookup queries, and the amount of traffic branded lookup brings together with how it's been trending over time.
SEMrush also shows you what category one domain belongs to based on the keywords it ranks in Google.
All the search engine results and keywords that appear on the page are in real-time. It is an invaluable tool in understanding how your competition gets to rank well on Google. You can use the keywords they use to also to influence your content strategy.
SEMrush offers three standard plans. They include:
Pro – $199.95 per month
Guru- $229.95 per month
Business- $449.95 per month
All have various advanced tools and features. Choose the best that meets your business objectives.
Another competitor mapping tool to keep your eyes on is Ahrefs. It features a site explorer that allows you to track your competitor's website's top organic keywords.
It is also useful in comparing web traffic and figuring out how much traffic your competitor receives from individual keywords.
The tool allows you to check how well a site is performing based on the backlinks. Backlinks are an essential part of any SEO strategy.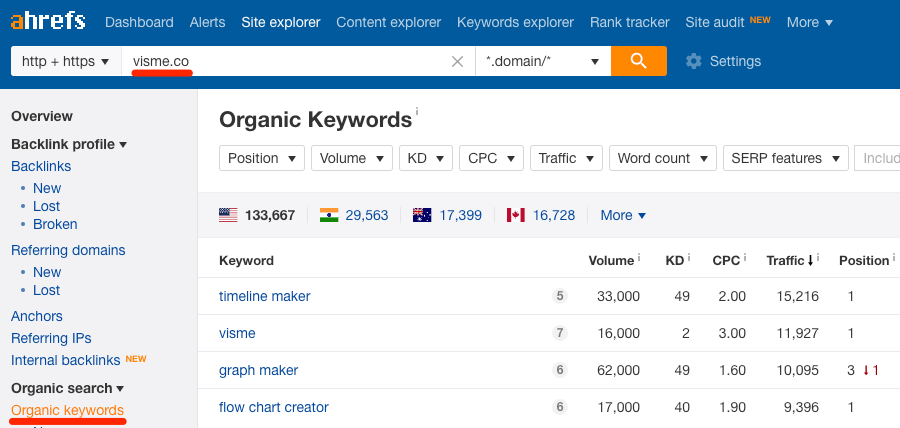 They influence the strength of your website's domain authority. Therefore, understanding your competitor's backlink profile is crucial if you want to steal their site traffic. Ahrefs backlink checker is one of the most active web crawlers on the net, second only to Google.
Ahrefs helps you determine why your competitors rank so high and what you can do to outrank them. The SEO analytic tool shows you all of your competitor's organic search results, giving you a clear picture of how much traffic they get from the keywords.
Ahrefs offers several subscription packages that start from $99 to $999 monthly. You can pick the plan that meets your needs. There are some other Ahrefs alternatives if you are looking for a cheaper option.
6. Alexa
Alexa is a valuable tool by Amazon that has been around for over 20 years ago. It provides deep analytical insights on websites that you can use to compare and optimize your pages' content.
As a business owner, you need only to present valuable content to your customers on your website. Only then can you maintain and grow your audience, preventing them from visiting your competitor sites.
To get this, you need a tool that can provide you with the right traffic metrics, strategic insight, and competitive advantage to make smart decisions for your web visitors' benefit. An analysis tool that can deliver such results is Alexa.
Its SEO recommendations can ensure that your content is not only engaging by discoverable. The site allows you to collect your competitor's website's audience demographic to tell you the people who visit such a page.
Since you share a similarity, you can then curate content that falls in line with a similar demographic.
Alexa comes with a two-week free trial. After that, you may have to pay about $149 per month.
SimilarWeb is an incredibly competitive analysis tool that helps you dig deep into your competitor's content and traffic origin. It is trendy because of its versatility and accurate insight from any website.
The tool allows you to compare the web traffic of two competitor sites. It also monitors the market share that each competitor has and their sources of traffic. The various sources include: paid, social, search and direct traffic.
Do you want to learn more about your competitor's content? SimilarWeb also identifies and lists the best topics with the most traffic till the last. Such information can become helpful when creating your marketing campaign.
SimilarWeb is free to use. However, you can get one customized according to your business needs at a cost tailored only for you.
8. Majestic
Majestic is one of the best website competitor analysis tools that surveys and maps out the internet to create the world's largest link intelligence database. The software provides you with a well-detailed analysis of your competitor's external links and anchor text.
It helps you track the performance of your competitors by analyzing the backlinks and domain link count. As a result, you can better understand search engine rankings and ensure that your site is above your competitors.
The software is robust. Instead of using metadata to perform searches, it scraps off your competitors' data from the internet by acting as a search engine on its own. You can start using Majestic today by paying $49.99 per month.
Buzzsumo is a top-rated competitor analysis tool that helps you look for top-performing content by specific competitors and those relevant to your brand. It identifies the engagement of your competitor's pages on social sites and across the web.
It helps you identify the competitor making the most noise in the market and the hot topics you can explore on your site. The tool is free to use. It allows you to search for content by either a keyword or entering your competitor's URL.
You can get more advanced tools from the paid account that starts at $99 per month. Whether you are looking for a new content idea or the movers and shakers in the industry, Buzzsumo will work for you.
10. Google Search Operator
Everyone uses the Google search engine when looking for content online. However, with so many websites sharing similar content, you need to improve the chances of finding the most relevant and accurate result.
You can use google search operators. It involves tweaking some words or using some symbols to trigger particular actions and deliver the best search results.
For example, you can use "Site:" to find your competitor's best content.
You can use the search operator to see what your competitor has written already on that topic without having to dig through their website.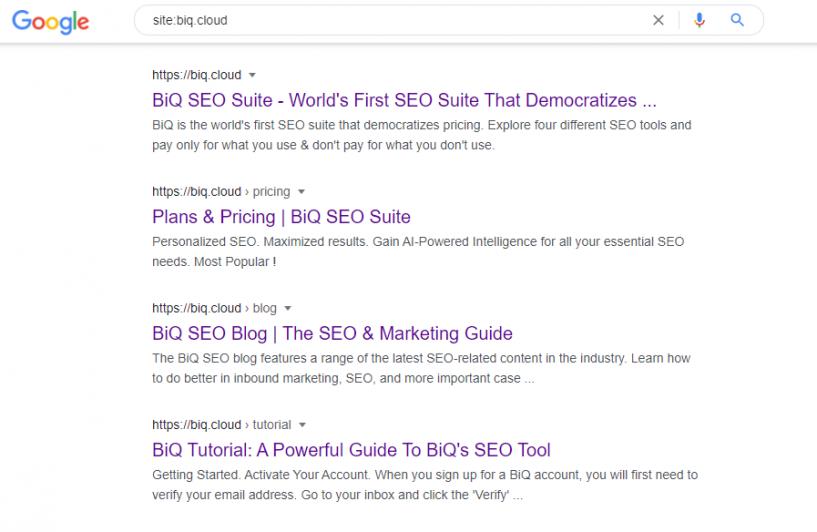 Using a google search operator is free.
11. RankingGap
RankingGap is an advanced keyword gap analysis tool that discovers keywords that are already proven to be ranking. You can perform a keyword gap analysis on 5 websites simultaneously.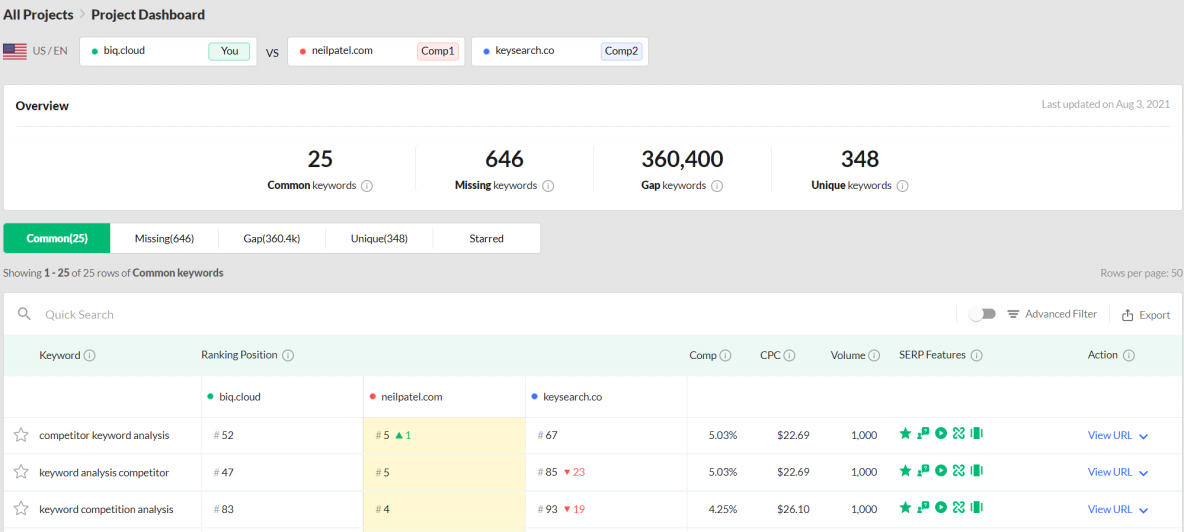 These are the 4 keyword views that are present in RankingGap.
Common – Helps you identify keywords that both you and your competitors are ranking for.
Missing – Discover keywords all your competitors are ranking for, except you!
Gap – Uncover keywords some of your competitors are ranking for, but you are not.
Unique – See keywords that only you are ranking for amongst your competitors.
12. BacklinkGap
BacklinkGap is a free backlink checker and monitoring tool. You can view your competitors' total backlinks, total referring domains, and the friendship score of your domain.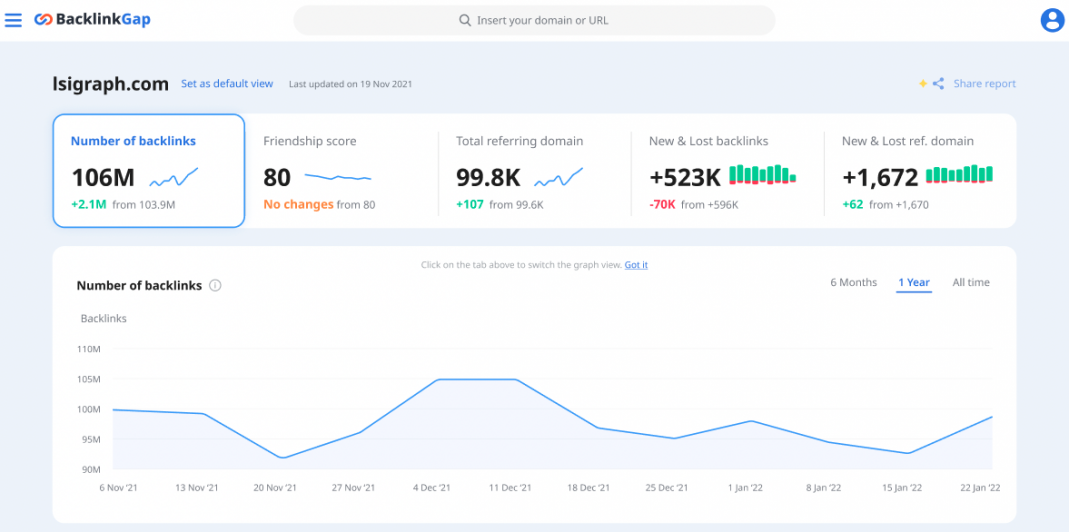 You can also get all-time data of your competitors' domain's backlinks and referring domains.
When you take a peek at your competitors' backlinks, you can identify which is valuable to them by looking at their referring domains. When you've narrowed down these backlinks, create content that's better than your competitors, and ask those websites to link to you instead of them.
The best part is, you do not need to pay a single cent for this backlink competitor analysis tool as it's free to use!
Summing Up
Monitoring your competition is vital if you want to stay ahead of the game. The process may appear to be intimidating if you don't know how to go about it. However, having the right competitor analysis tool can streamline the process.
With so many options to choose from, our top pick is the BIQ all-in-one SEO tool. It is the only tool that features several comprehensive features and gives you price democratization. In other words, you pay only for what use.
Remember, while the above website may be necessary competitive analysis tools in marketing, the tools alone will not improve your content marketing strategy and grow your online business. It also takes time and consistent effort to increase your market share.
Try out the competitor analysis tools and let me know what do you think.