Looking for a cheaper Ahrefs alternative but works like a charm? Check out this post on the 10 best alternatives to Ahrefs.
Here are the 12 best Ahrefs alternatives that you should consider in 2022.
As internet marketers, we are always looking for that one SEO tool that can make a difference in our marketing efforts: one tool that will set us apart and an edge over the competition.
I will be honest with you: Ahrefs is one of those tools. In fact, it's one of the best SEO tools you can find out there.
Ahrefs comes with dozens of great features, including site audits, keyword research, backlink analysis, and more. But it may not be suitable for everyone.
Why?
I believe you may have your reason, which explained why you are here and looking for an alternative to Ahrefs.
But like most, it is because of its pricing. Paying $99 per month or $1,188 yearly for SEO tools and resources can soon start to cut into your profits.
So in today's post, I will share some alternatives to Ahrefs that are as good as (if not better than) Ahrefs.
Let's dive in!
11 Best Ahrefs Alternatives That You Should Consider
1. BiQ
BiQ is a comprehensive AI-driven SEO suite with price democratization, the first of its kind. It comes with keyword research, content optimization, SERP and competitor analysis, keyword rank checking, plus loads more.
Here are the prominent tools that you can find in BiQ:
Keyword Intelligence
BiQ's Keyword Intelligence allows you to measure a keyword's SEO value and check whether you should target it. This can save you tons of time and resources on writing great content.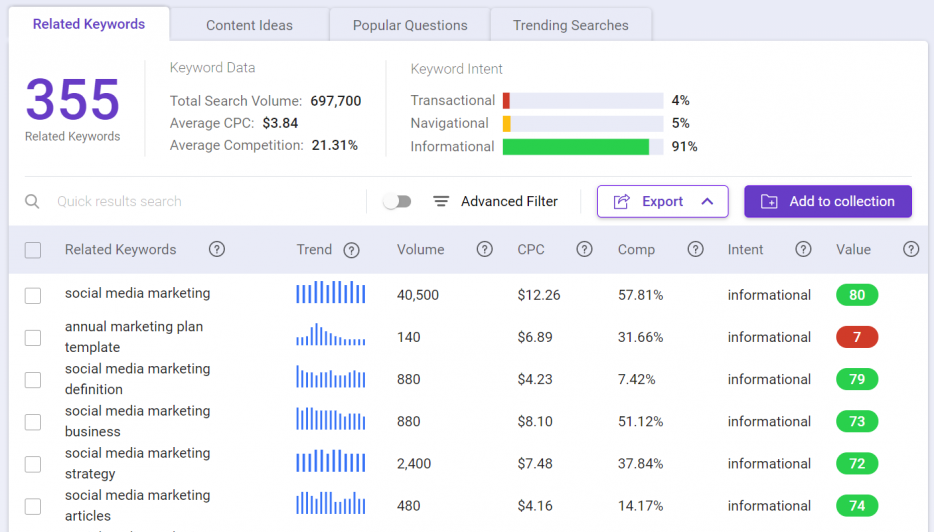 If you are unsure which keyword to use, you can sort the keywords based on their value. The higher valued keyword means it can potentially bring more traffic to your website at a lower competition.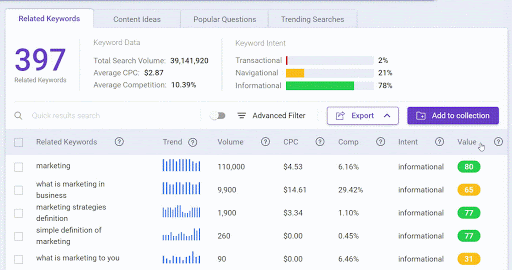 What makes this keyword research tool different from others is the keyword intent analyzer feature. It lets you see each keyword's search intent and tells you why someone might be interested in searching for the search results' keyword.
Scroll down, and you'll be able to identify each keyword intent so that you can understand your target audience better.

With this crucial data, you will be able to plan your content in such a way that meets your users' needs.
Content Intelligence
BiQ's Content Intelligence empowers users to create consistent messaging across all content online. The intuitive solution works with you straight from the first draft.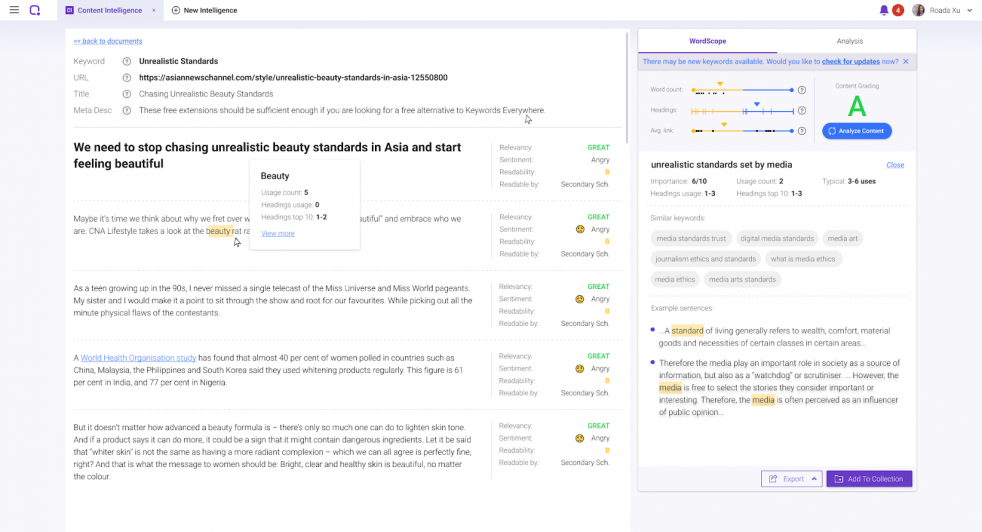 The text editor makes real-time suggestions about keywords and writing style to achieve your SEO objectives.
Another reason why you should consider BiQ as your Ahrefs alternative is the WordVector analysis. It tells you your content's performance against the Top 10 SERP content in relation to your target keyword.
The best part about this feature is that it can tell you exactly which paragraph has lesser relevance to the overall content.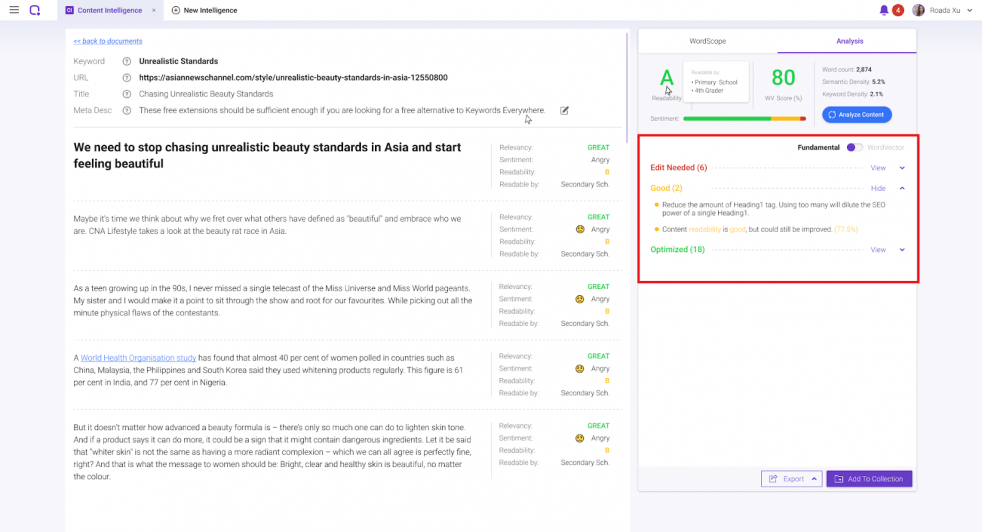 You can then dive deeper into the paragraph and better understand how to improve your target keyword's relevancy.
Rank Intelligence
BiQ's Rank Intelligence lets you discover all your keyword rankings on the search engine. By doing so, you can efficiently allocate your time and resources towards optimizing the keywords that have the best potential to achieve first-page ranking.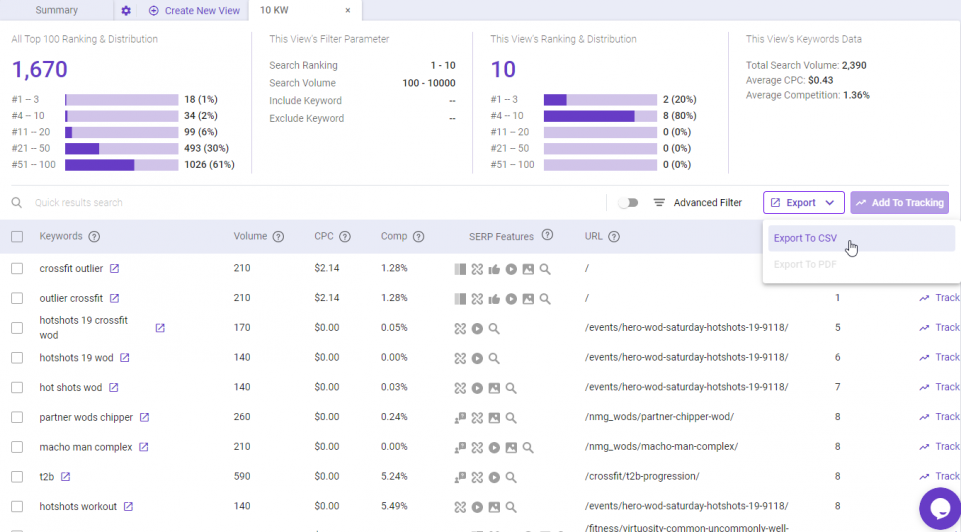 You may also use this tool to do a competitor analysis. With just a few clicks, you will know all the winning keywords used by your competitors and understand how they manage to generate more traffic than you.
Rank Tracking
BiQ's Rank Tracking lets you track and monitor your website rankings in search results.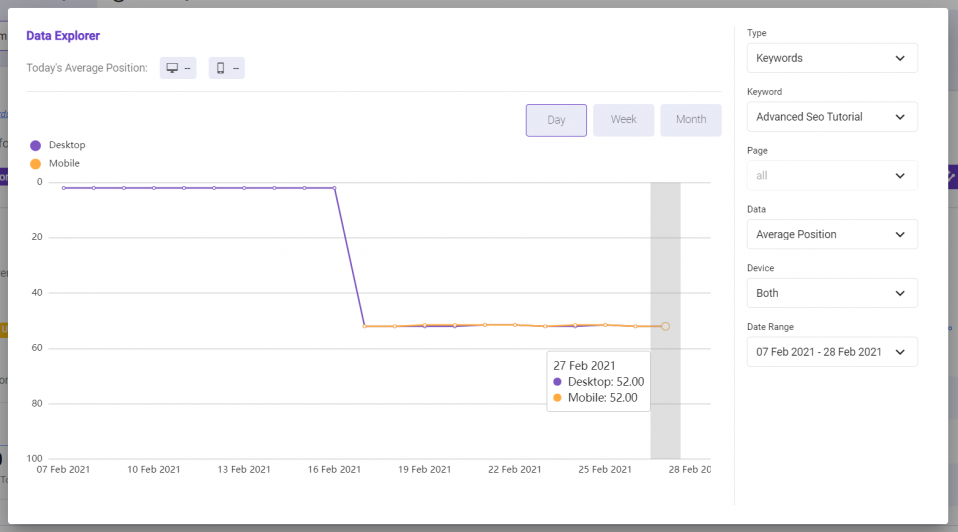 This tool allows you to quickly identify your keywords' gains or losses so you can act in response to secure your keyword rankings from being stolen by a competitor or take the chance to boost your keyword rankings further while it's in trend.
Unlike Ahrefs' paid trial, you may start using all the features above for free. Sign up to BiQ, and you will instantly get a generous free-tier account. What are you waiting for? Try BiQ for free now!
2. SEMrush
SEMrush is one of the most popular Ahrefs alternatives. Just like Ahrefs, it offers an extensive array of tools for researching keywords and analyzing other websites.
SEMrush can help you:
create original web content to attract traffic
identify link-building opportunities
update and upgrade technical aspects of your site content to achieve a higher search ranking.
Let's look at some of the exciting features that you can get in SEMrush:
Keyword Research
The Keyword Research tool will show you keyword ranks, search counts, and CPC data. Also, you can analyze your competitors' keywords and get more keyword opportunities.
Backlinks
SEMrush has two backlink features. With Backlink Analysis, you can enter a domain name, and the system will generate a list of the backlinks available on it. With Backlink Audit, you can identify spammy backlinks and block them.
Site Audit
You may use the site audit tool to improve your site's performance. It will analyze your website for any errors that are hindering your website from ranking high.
Pricing wise, the basic subscription cost almost the same as Ahref; $199.95 per month. Or you may also try them for free by checking out their pricing page.
3. Serpstat
Serpstat was started in 2013 primarily as a keyword research tool. However, the solution has evolved into a comprehensive SEO & PPC analysis product.
Today Serpstat's database contains north of 6 billion keywords and 3.9 billion keyword suggestions. This database rivals the expansive keywords database of major SEO giants like Ahrefs and SEMrush.
Keyword research
Using Serpstat, you can generate countless keyword ideas, trace their metrics, and uncover the keywords your competitors are using. Once you enter your seed word, the tool provides a comprehensive overview report on related keywords.
Backlink analysis
You can analyze your website's link profile and spy on your competitor's backlink vis-à-vis Ahrefs backlink checker. This capability empowers you to copy and perfect your competition's best link building strategies and reveals new opportunities for link-building.
Rank tracking
Serpstat has a rank tracking function that you can use to track your website's change of position in SERPs for keywords you are targeting. The rank tracking data encompasses SERPs raking and change in status, history, and competitor performance.
Site audit
You can run a comprehensive evaluation of your website's SEO score, including strengths and the critical weaknesses that must be addressed for the best ranking. Serpstat provides site audit data on Meta Tags, Headings, Redirects, Indexation, Links, Server Parameters, and much more.
This Ahrefs alternative offers a better pricing plan starting from $69 per month.
4. Mangools
Mangools delivers common and a few newer approaches to keyword research. You can expect solid keyword research, backlink research, rank performance monitoring, and website traffic analysis features.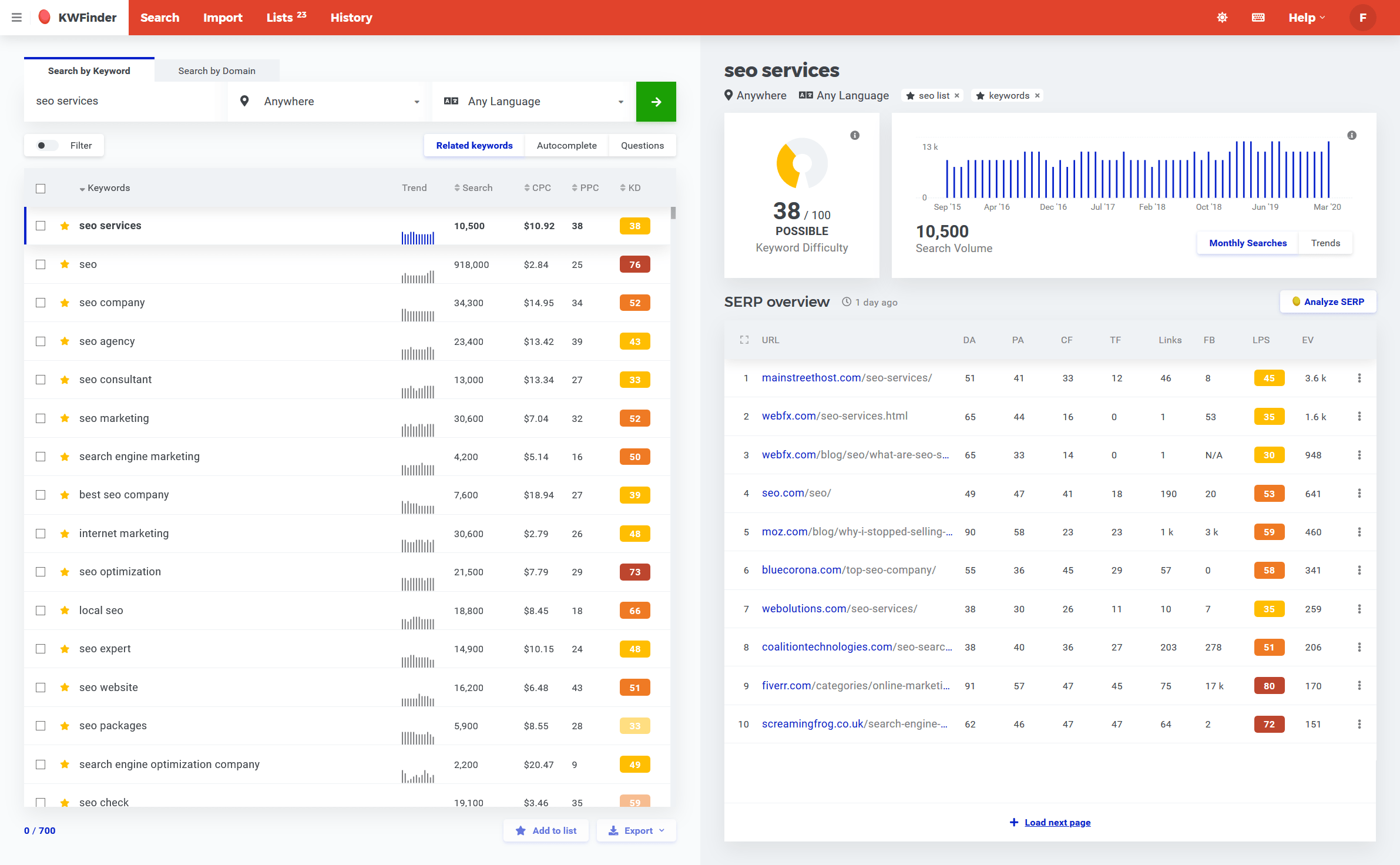 Competitor analysis
This Ahrefs alternative lets you find competitive links and backlink opportunities for your SEO. The most outstanding aspect of Mangools is the ability to preview the target link in the same window, so you don't have to exit the search tool to check the context.
Keyword research
You will be able to generate the volume of common keywords, CPCs, etc. With the click of a button, you can switch to 'Questions' that take your keyword and get all the related search phrases. The "Auto-Complete" gives you details on the most related terms for top ranking. The combination of Questions and Auto-Complete data makes it very easy to find ideas for your content.
SiteProfiler
This is a Mangools traffic measurement tool. Like the same tools in Ahrefs and SEMrush, you can expect a high accuracy with the Mangools SiteProfiler traffic data.
5. Ubersuggest
Ubersuggest delivers insight into the strategies that work for other brands in your market so you can embrace them, improve on them, and use them to outperform these same brands.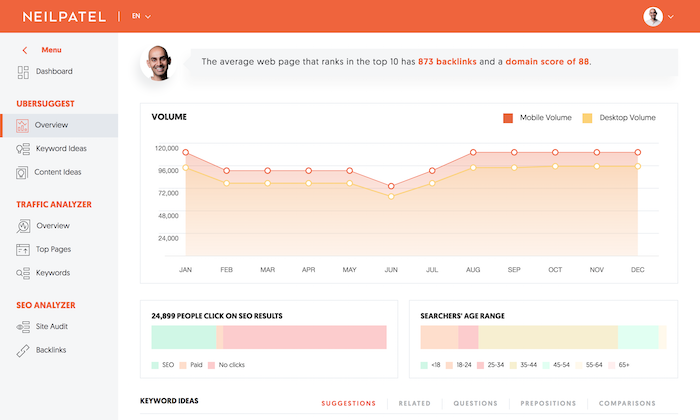 Keyword Suggestions
If you need more content ideas, your search starts here. From headlines to long-tail search phrases, you will get thousands of suggestions from this free keyword tool. One can estimate and measure the volume, competition, and seasonal trends for each target keyword. Even better, Ubersuggest can create for you a list of keywords using data from your competitors and Google searches.
Backlink Data
If you find it hard to build backlinks, Ubersuggest helps you see which type of content people are linking to or can link to your site. You can then approach each of these sites and ask them to give you a backlink. The solution provides a surefire way to build a strategy for improving your link profile and evaluating each backlink's SEO value.
Traffic Analysis
You can analyze which of your pages are moving the most traffic to your website. The same function enables one to find countries of origin for the traffic and if the links are coming from social media.
6. Moz Pro
Moz Pro is an end-to-end internet marketing solution for keyword management, crawling, and on-page optimization. Many markers leverage Moz Pro for its accurate metrics, even when using other SEO tools.
Keyword Search
Moz Pro is at the forefront of solving the complexities of SEO using creative way keyword research solutions. The Moz Keyword Explorer makes keyword research a speedy and straightforward process.
Link Explorer
The Moz Explorer packs thousands of links, which guarantee you an in-depth review of your site's backlink profile here. This feature is excellent for tracking new backlinks and positive mentions. It helps you understand your site's overall SEO performance level.
Site Crawling
Technical SEO is perhaps the most challenging aspect of search engine optimization. But you have to get it right. If Google doesn't successfully crawl and index your site, it will not retrieve your pages in response to user queries.

7. SE Ranking
SE Ranking is an all-in-one SEO software that provides all the SEO capabilities required to accomplish online marketing goals. SE Ranking is ideal for small business owners, corporates, and agencies.
Keyword Rank Tracker
The rank tracker displays the historical SERPs position of keywords that are vital to your ranking. You can use this data to evaluate whether your keyword strategy has impacted your SERPs ranking overtime. The tool pulls all the ranking data from all major search engines. It also displays performance data by the device to give you an idea of how good your site is on mobile platforms.
Website Testing
SE Ranking provides a seamless audit feature for o your website and identifies issues that could damage its ranking ability. This tool allows you to use multiple sources to measure the overall SEO of your website. You can expect data on metrics such as Meta tags and headers, user experience, and image optimization.
Backlink Checker
In any search engine optimization campaign, you cannot afford to miss a backlinks optimization strategy. SE Ranking makes it quick and easy to check the backlink profile of your website. The tool will scan all your backlinks using parameters such as Backlink URL, Alexa Rank for each link, External Link Number, and Google index status for each link, to mention a few.
Social Media Management
The SE level will also help you improve your visibility on social media. Other than that, it determines the best times to engage with your target audience. Also, it will highlight the types of content that get you the best results.
8. BuzzSumo
BuzzSumo is one of the best software for content advertising and social media analysis because it is designed with all that one could ask for. It is a comprehensive platform for all content research, website audits, and social media analysis.
Brand Monitoring
BuzzSumo's analytics and marketing software provide a feature to monitor your product's reputation and reputation online. What you need to do is enter this information: Role, Website, and Company Name.
Content Research
BuzzSumo content research function can help you create content that improves your ranking and adds value to users.
Content Analysis
When you type in your website's name, you are provided with all the content on our web pages and insight into your articles' performance levels from engagement to ranking and other metrics.
Backlinks
To use the backlink feature, type in the URL, and search. The solution will display all your backlinks organized by metrics such as external links and domain links.
Find Influencers
BuzzSumo helps you search for influencers with the same audience as your target audience. It also enables you to find content creators who have written the highest quality content related to your field.
9. Majestic
Majestic is another great alternative to Ahrefs that are focusing only on backlinks.
Here are some of its cool features:
Backlink Profiles
Majestic backlink building functionality resides in Site Explorer, displaying your full backlinks profile using proprietary information. It uses a qualitative dimension dubbed Trust Flow and a quantitative dimension dubbed Citation Flow. The two allow for creating all backlinks according to their qualitative and qualitative values from 0 to 100.
URL site crawl
When you analyze your site with Majestic, page view shows you the pages found on your site and their backlinks profile. When a page indicates a crawl error, you can correct it. Then the URL will be redirected to a Majestic backlink checker to help you update its index.
10. Screaming Frog
Screaming Frog is a software that you must download and install on your PC. The tool works on Windows, Ubuntu, and macOS. Suppose you are accustomed to using cloud-based tools; you may be disappointed that you have to install something to check for errors on your website. Fortunately, it easy to install and use the software.
Screaming Frog is primarily a crawling SEO checking solution. Once you have installed it, you will use it to visit the pages on your website and evaluate ranking performance,
Once you enter the URL of your site, the solution will start there and crawl all the pages it finds. If you have organized your site well, it should reach all pages.
Screaming Frog crawls in the same way that Google bots crawl your site. It follows links. It will find links to your menu and within your content. Once the Screaming Frog has finished crawling your site, you will be able to access user data on your site's technical SEO performance.
11. BacklinkGap
BacklinkGap is a backlink checker tool that lets you view your backlink profile strength.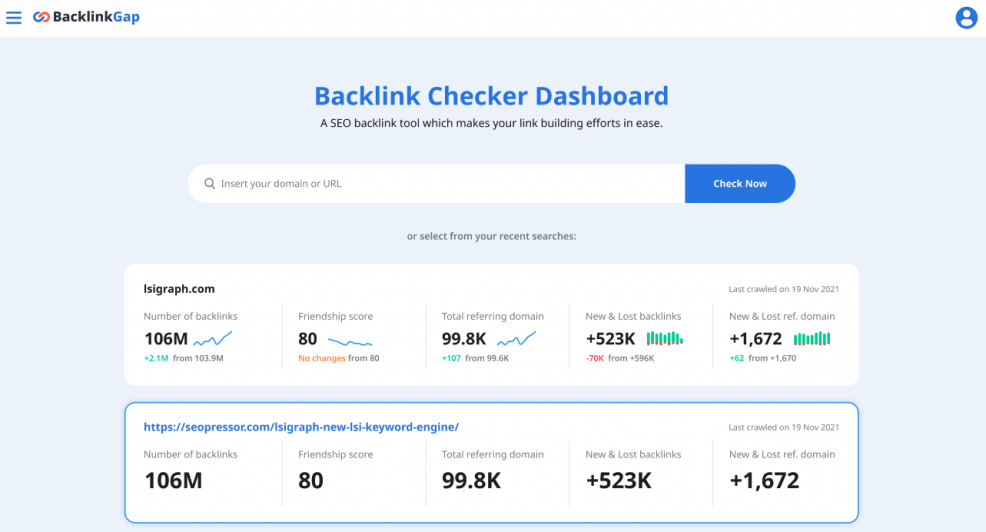 Apart from viewing the total number of backlinks and referring domains in your backlink profile, BacklinkGap also presents their very own unique scoring metric for the quality of both your backlinks and your domains. This scoring metric is dubbed "Friendship Score".
You can also view the anchor texts of your backlinks from each referral domain. To ease your efforts of removing low-quality links, there is also a disavow list where you can add the links inside and export the list out in a CSV format.
BacklinkGap also plans to launch a backlink monitoring feature in the near future to allow users to keep an eye on their backlinks' statuses. This way, users don't have to constantly observe their backlinks.
12. LSIGraph
LSIGraph is the leading semantic SEO tool to help you easily find semantic keywords to use for your content. Semantic keywords are contextually-related keywords like synonyms, co-occurring terms, or implied words that you can use to increase your keyword density without falling into the trap of keyword stuffing.
LSIGraph is one of our favorite keyword research tools due to how simple and intuitive it is to use, even for users with little SEO knowledge.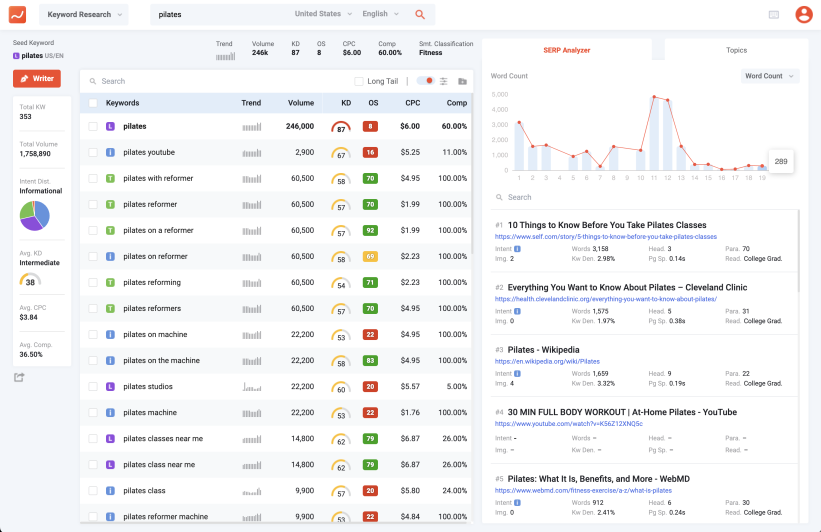 What's unique about LSIGraph is their proprietary Opportunity Score which evaluates the keywords and tells you which ones you can rank for with the least amount of effort. It saves you time from having to sieve through all the keyword metrics yourself.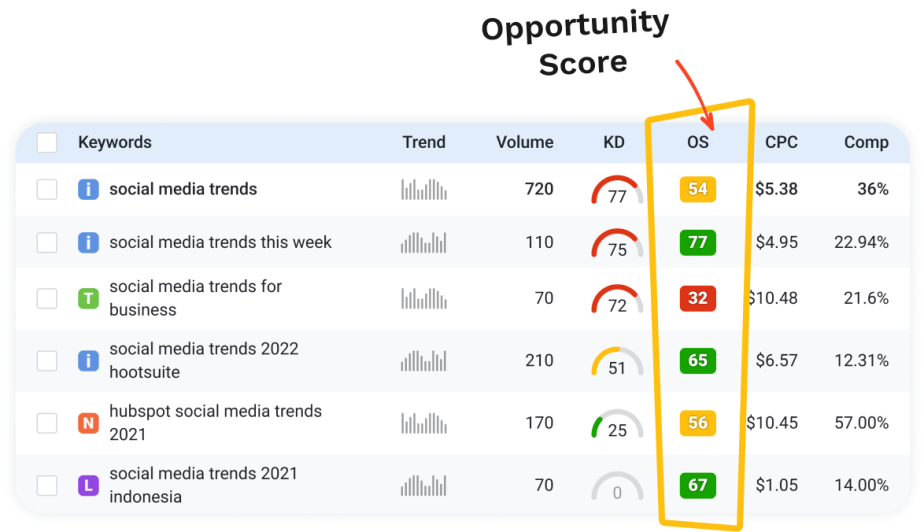 Final thoughts
If you are not a super SEO guru with hundreds of clients and websites to optimize daily or weekly, the value for money is probably your top priority when choosing SEO tools.
Likewise, if you are a beginner in SEO, you do not want to get lost in tons of features that you are probably not going to use at all.
Therefore, BiQ may be the best Ahrefs alternative for you and you can try it for free.
What truly differentiates BiQ from the rest of the Ahrefs alternative above is the pricing democratization. It aims at giving you the ultimate flexibility and freedom to pay only for the features you need.
When you start paying only for what you use, you directly reduce your total spending cost. So if you are looking for a cheaper alternative to Ahrefs, try BiQ now!