This blog post shows how I've used BiQ Cloud to perform an SEO analysis of websites. The 4 main modules are here to help you go through your entire SEO journey with ease.
This blog post shows how BiQ Cloud enables users to perform an SEO analysis of your websites.
Many of us claim to implement all necessary marketing techniques but have failed to connect with the right audience. Little do we know that the main source of misunderstanding comes from the fact that your marketing strategy depends entirely on how users interact with your website.

What to do if you have lots of things that need fixing and you don't know where to begin? Clearly, you'll need to be doing website analysis to reap all the rewards like getting more visitors to your site, higher ranks, and better website performance as a whole.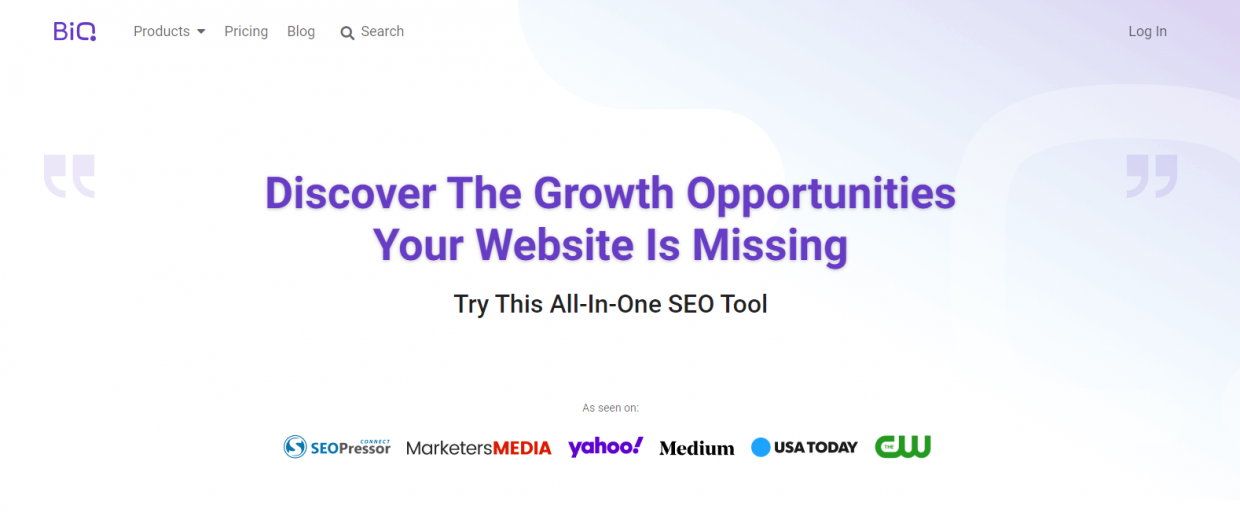 Performing an SEO analysis of your website can be done with the help of the revolutionary SEO suite, BiQ Cloud. It's a no-brainer when it comes to getting every aspect of your website in check.

Use Case 1: Creating Content Brief For Your New Blog With Keyword Intelligence

If you play the role of a content writer in your family, you've probably come across this feeling of having to create a great content brief but have a sinking feeling of not knowing where to start.

Taking the time to create a thorough but concise brief is probably one of your main tasks. I'm pretty sure you often struggle to write quality content based on certain specifications and needs.

Rather than continue your uphill battle, it's time to learn how to write an effective content brief all with the help of BiQ's Keyword Intelligence. Once you understand the basics, you can create a content brief that serves you well in the coming days.

Here's what a good brief does:
It clearly and concisely sets out your expectations
It results in delivering a fully optimized piece of content
It saves you unnecessary labor and stress in the editing process
To avoid blindly writing you'll need to be doing some research beforehand and the 4 tabs in BiQ's Keyword Intelligence will help you come up with a solid content brief.

In this section, I'll be showing you how to amplify your briefs to ensure that each time you are asked to write a content brief, the piece will be well-received by both Google and your readers. Now, it's time to kick your content creation into gear.

Like anything else, you'll need to start somewhere. Writers usually create a headline before they start writing the rest of the piece. That's because a good headline will set the tone and direction of what you write.

Say today I want to write a blog about inbound marketing, I'll be wondering "What would be the best title that is engaging to readers and does well in search engines?"

Stick with me and I'll show you how.

I'll first head to Keyword Intelligence and insert the targeted keyword (in this case: inbound marketing) alongside your location and language.
Instead of going right to the related keywords tab like we always do, try setting out for the trending searches tab. The trending searches tab shows results that people do on search engines.
I'll sort it according to the highest volume to see what are the popular keywords people tend to type in Google.

Here I'm seeing that the first keyword returned upon sorting it and that would be the keyword "inbound marketing vs outbound". Let's try doing a Google search to verify it's popularity.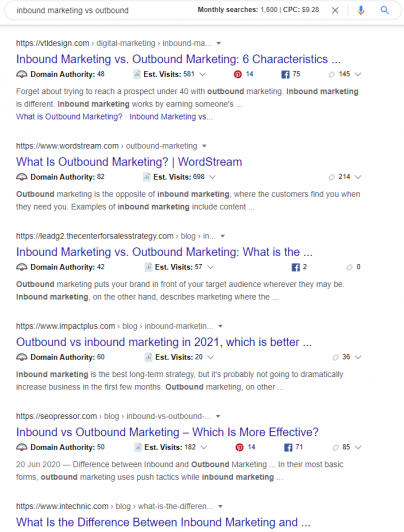 Once I've set the main idea or direction of my blog, I'll be needing an outline for the rest of my content, right? An outline means I'll need to have subheadings in various sections of my blog post to complete my writing.

This time, simply head to the Popular Questions section and type in the target keyword "inbound marketing vs outbound" in the search bar.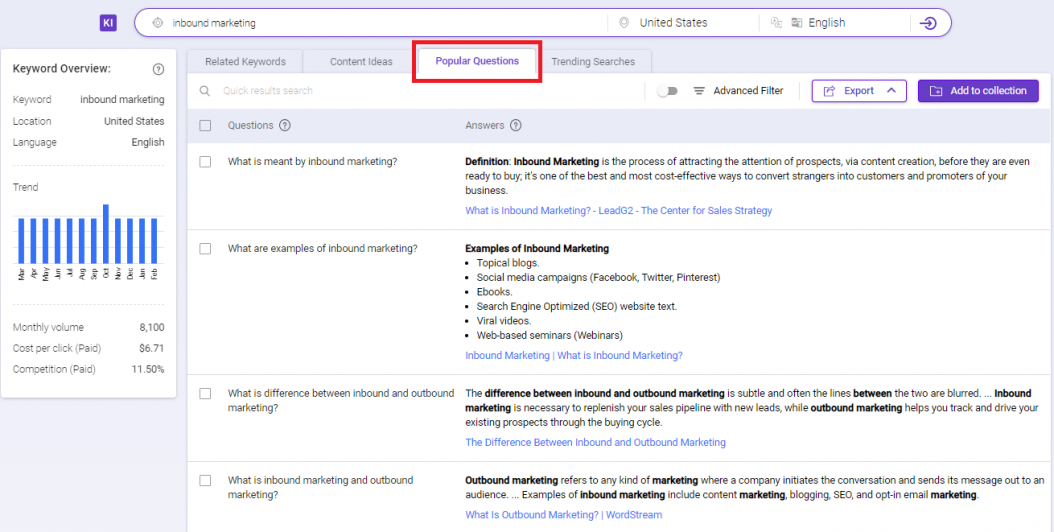 In a matter of seconds, I'll be presented with real questions that are actually being searched on the search engine. It accurately tells me what popular questions are being asked in relation to my main keyword.

On a side note, if "webinars" is something I think isn't going to be relevant to my content, I can just exclude the keyword by using the "advanced filter".

Then proceed to go through the list and pick out some points for my subheadings. Of course, I can choose to list them down manually in the doc or better still, add them to the collection module to save all the hassle!


To save these questions in my collection for easier access, select a few questions, and hit the add to collection button.


As this will be a new collection for me, it would be better to have them properly described. For example, my collection name could be: "Inbound vs outbound marketing" (or whichever suits you) and my description could be: "Titles and Subheadings for a new content brief".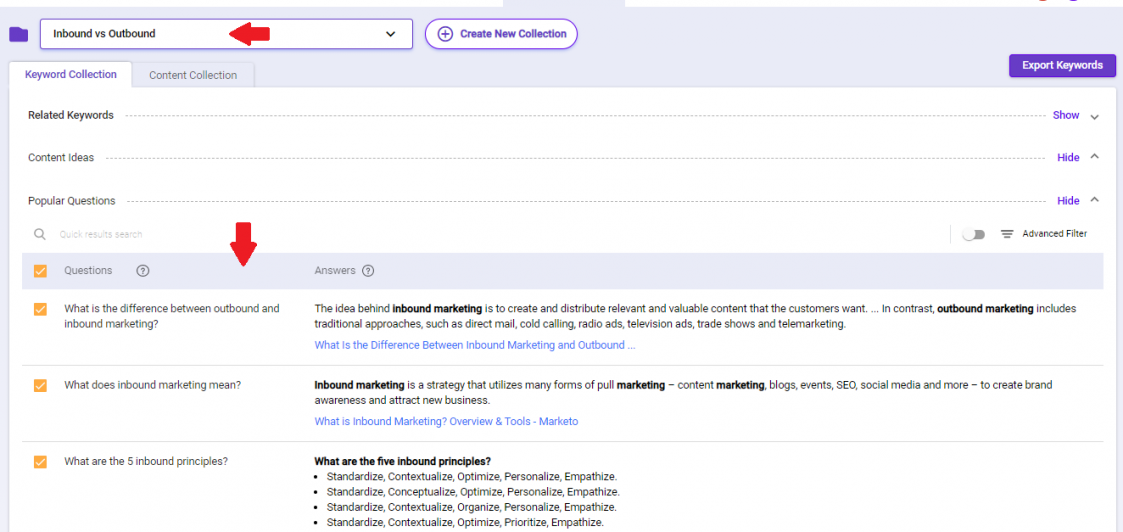 To check if it's added to my collection, select the collection I've created and head to the Popular Questions tab. I'll see the list of questions that I've saved there.

Having clear subheadings like this will enable search engines to understand the structure of my content better. With that, I can have my title as "Inbound vs Outbound marketing strategy revealed" and your subheadings in place.
Moving on, to see what are the keywords that the Top 10 ranking posts are aiming for, I will use the content ideas tab to give it a look and consider adding them to my posts because this tab contains keywords extracted from top-ranking blogs of the SERP.

By referring to it, who knows I might be able to find a gem to work on and win over!
Before I finally proceed to write my content, it will be wise to include various related keywords instead of stuffing the "inbound marketing vs outbound" keyword all over my content right?


This is where the related keywords tab comes in. If you can, remember to select long-tail keywords with high volume and low competition to be added in.

And with that, everyone can have a complete content brief and hopefully remove instances of writer's block all done for you using the Keyword Intelligence module.

Use Case 2: Wanting To Push Your 10th Ranking Page To The 1st With Content Intelligence
Countless hours spent writing your blog and you finally hit publish! But what do you get after all?

Your content typically gets indexed by Google the same day you publish the content and within a week it will get ranked. Unfortunately, high rankings rarely happen by chance. Even the most skilled and knowledgeable marketers with years of content marketing skills struggle with getting the top-ranking spot.

As we were always told, to get a number 1 ranking in Google you will need:

High-quality and relevant content
Prominent natural links from other websites
Achieving a good technical SEO
Adhering to the on-page SEO rules
A Content Intelligence platform!
Well, the requirements above are true and there could be many other factors why other sites are ranking better than you. Are you aware that there are actually lesser-known ranking factors that could lead to the loss of your ranks and can be discovered with Content Intelligence?

Allow me to show you around Content Intelligence. But first, let's come up with a situation to make things easier to understand.

Let's pick the keyword "best time to post on social media" and give it a search on Google.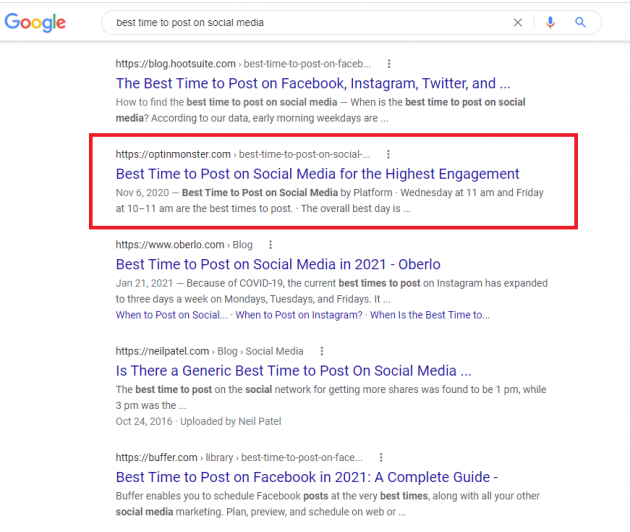 Now, imagine that I'm from the team Impactbnd and as you can see the blog still needs a little push to get it to the top. So what I'll do next is to take the blog and analyze it in Content Intelligence.

Factors such as readability – this is one of the factors that can greatly increase your site's SEO level. The easier it is to digest your content, the more favorable it will be towards your search engines and your readers.

Like an article SEO checker, BiQ performs SEO analysis of your website by looking into the relevancy of your paragraphs, and if your images have alt text. Semantic density plays a huge role too because having too many of the same keywords will indicate keyword stuffing.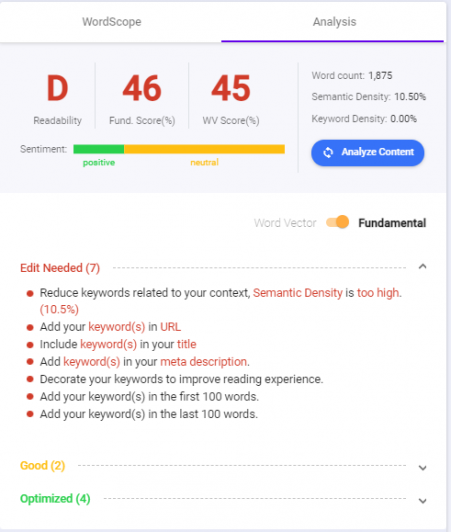 There are also factors that many of us might deem not important: having keywords in your title, meta description, header tags, URL, and so on.
By following these guidelines, I'd get to have better-optimized content and don't have to rely on guesswork. Better still, just dump in all the left-out content that I've published and start optimizing to give them life again.

Again I can choose to add this to the collection or export it for future use. Perhaps I can save a copy now and do a comparison case study before and after optimizing to see if your hard work paid off.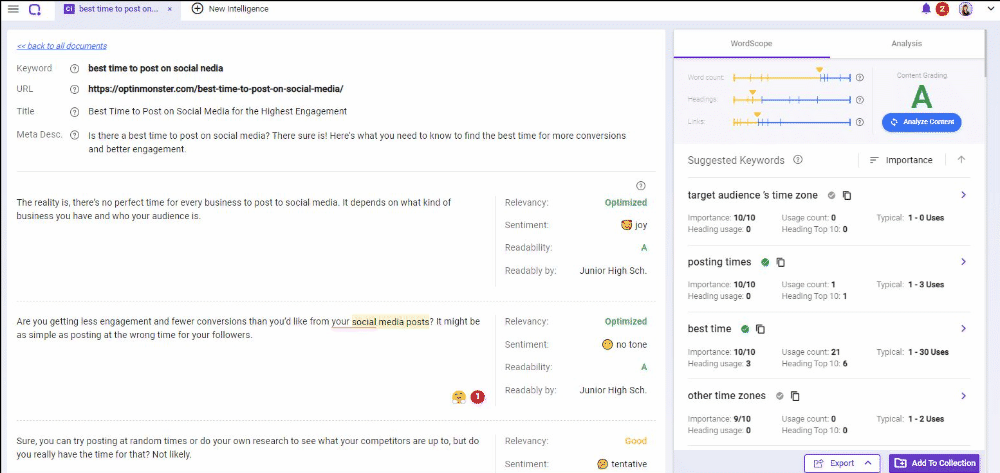 And of course, if I want to see how my competitors are doing and how I can win them over, just easily open another Content Intelligence tab like how we usually do on our search engine browser.

Use case 3: Wondering which position your site is being ranked on Google and for what specific keywords? Use Rank Intelligence.

With millions of content on Google, you don't simply google search your targeted keyword and scroll to find where your posts are being ranked. If you have hundreds of keywords then good luck with that.

So to make things easier, use Rank Intelligence. It'll bring up all the keywords, positions, keyword metrics, SERP features, and URL in a click of a button or two. Alright, this time around imagine that I'm a marketing specialist of the Kanuka Digital team and I want to know how my site is doing.


Go ahead and open a Rank Intelligence tab and hit create a new profile if you've not created one before.

Upon creating a new profile, I will insert the location and language of my choice before hitting the create button. Notice that I'll be brought to this page, a summary of what the Rank Intelligence tool managed to find based on your domain.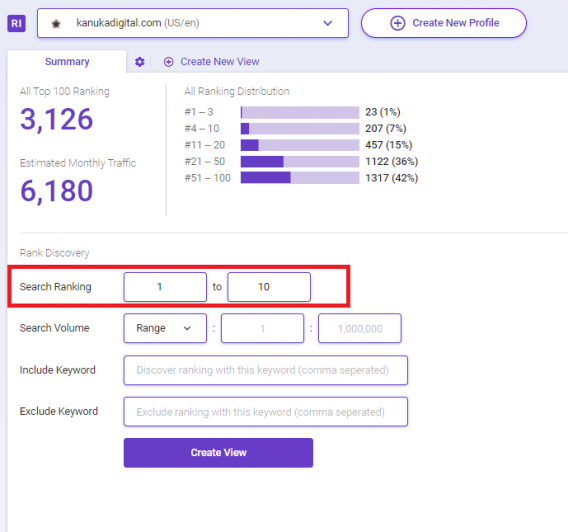 If I decided to view all my ranking keywords, I would click on the create view button right away. If not, I can decide to filter them according to the search ranking. Since I believe most of us would be more interested to know their sites that are ranking from 1-10, let's try it.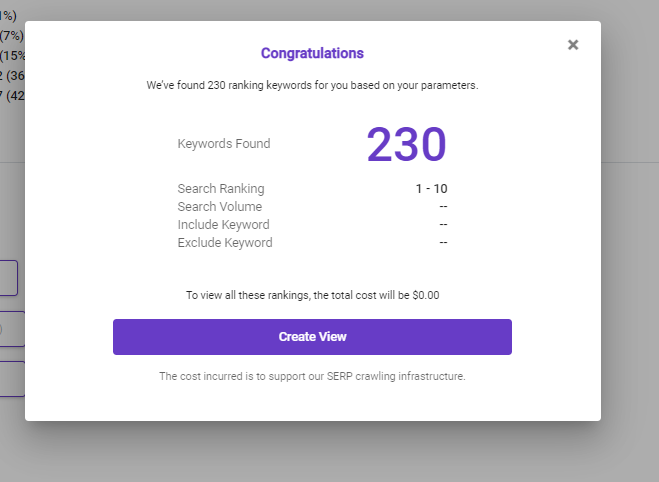 PS: Don't worry about not being able to see ranks that are below 10. You can create another view with other search rankings as you wish by going back to the "summary tab". If this time you'd like to see search rankings of 15 to 25, go ahead and create it. It will be in the "view" tab once you've created them.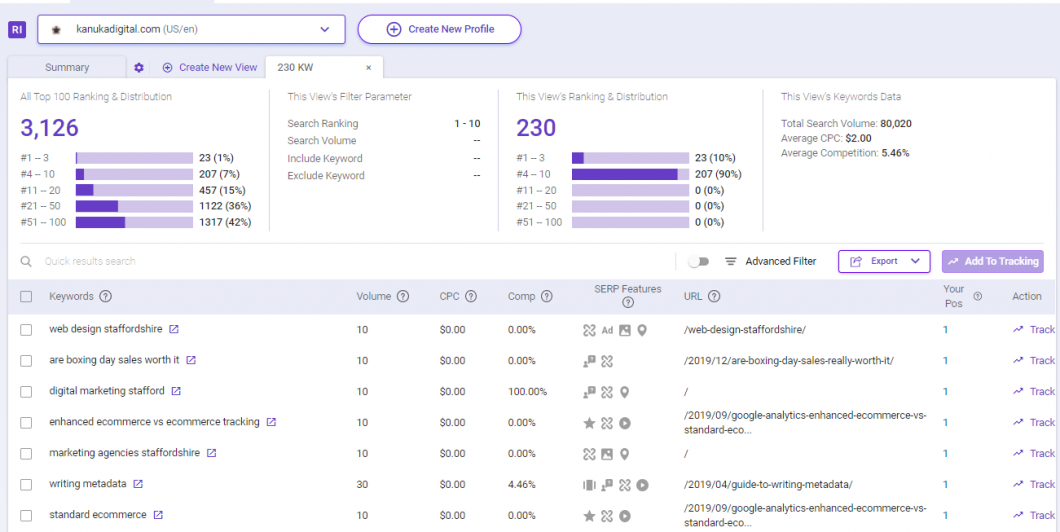 Click the access button and you're looking at the overview of Rank Intelligence. On the top you'll see the ranking overview:
All top 100 ranking and distribution – shows all keywords and Google website ranking distribution found in your domain
This views filter parameter – shows the view's filters you've specified in the summary tab
This views ranking and distribution – shows only the views search ranking that you've specified previously
The last column is important metrics of the keywords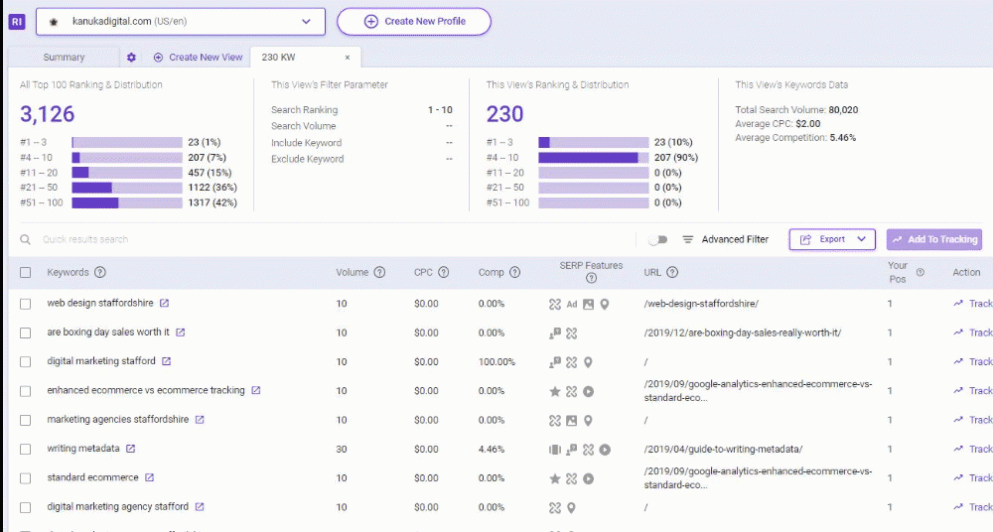 Shift your focus a little lower, the table below lies the ranking keywords together with their metrics. These are the keywords ranking for your domain. Without these lists, I bet you've forgotten 90% of its existence which is why you need Rank Intelligence.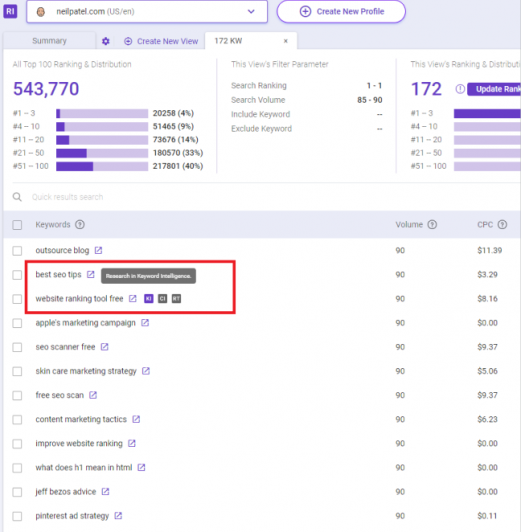 Hover to the side of the keyword if you want to further analyze them in other modules.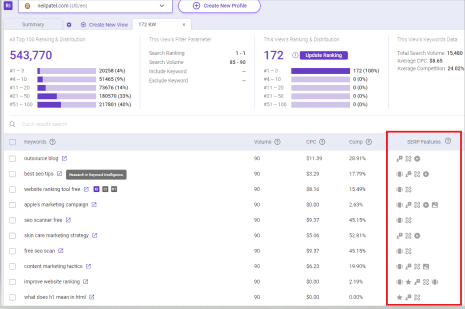 Here comes another use case: If I wish to uncover my competitors' winning keywords. Clicking on this icon should lead me to the live SERP results and show who are my competitors for that particular keyword. With this, I can check on the formats and types of content they've used.

Because change is permanent when it comes to ranking positions, I will choose to quickly add them to the Rank Tracking module to track my keyword ranking movement. Just select the keywords that you want to monitor and click track or add to track.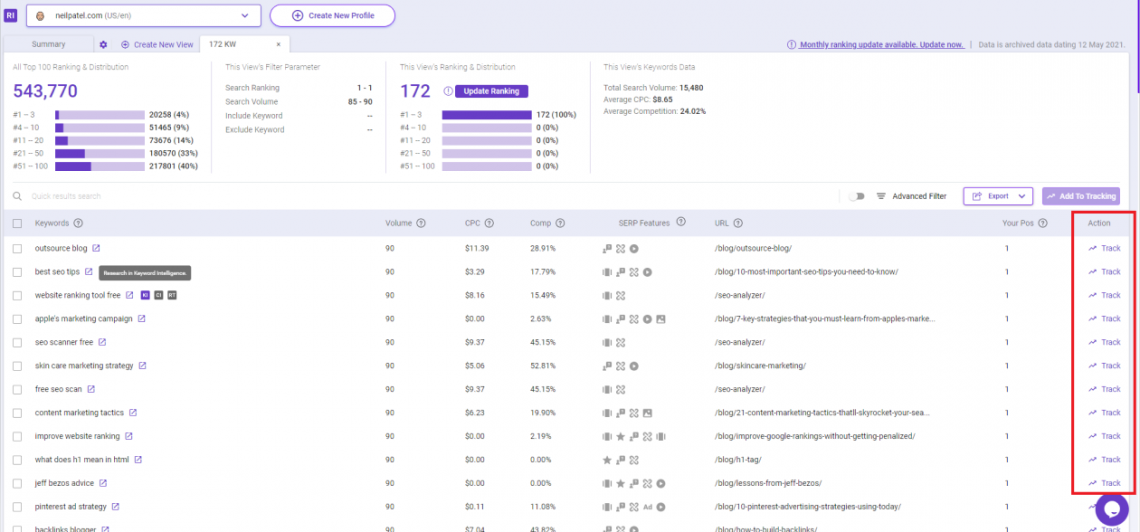 Use Case 4: If you suddenly notice that your traffic dropped out of a sudden, use Rank Tracking to observe your website's performance over time.

If you notice a significant drop in traffic every now and then, then you'll need to get them tracked properly. These drops could be as simple as an incorrect preferred landing page ranking for a keyword for a day or two. Your site could also lose rankings completely due to a Google penalty (or any other reason).

Besides creating a profile from Rank Intelligence as I've previously shown you, you can manually do it straight from the Rank Tracking module as well.

Since I've not created any profile before, I'd go ahead and do so. I'll take Serpstat.com as an example of this once.
I'm presented with an empty profile. For the tracking to work, I'll need to add keywords from Rank Intelligence to Rank Tracking (see use case #3).
Fast forward to adding some keywords to the Serpstat Rank Tracking profile, this is what I'll see – a rank tracking tool that monitors your rankings in terms of desktop and mobile!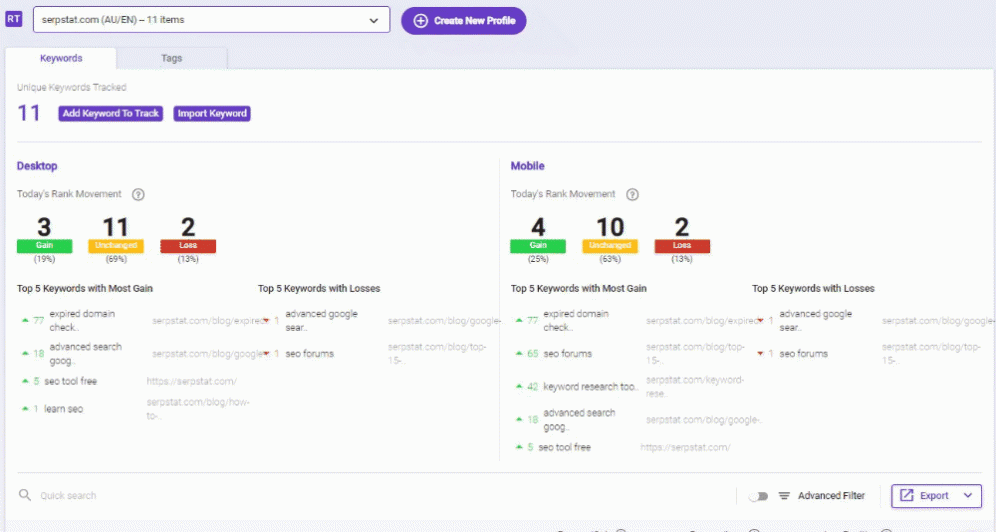 Here I can always manually add more keywords to track if I wish to. This area below is if I want to track my keywords in bulk.

And the table below is the breakdown of the keywords being tracked, together with its pages, tags, SERP features, trend position, and gain.


Keywords – the list of keywords you are tracking
Page – list of pages I am tracking
Tags – tagging applied to the tracked keyword
SERP features – shows if I am also ranking for any SERP features
Trends – ranking movement
Position – ranking position
Gain – ranking progression compared to the last update
(i) On the Keywords tab,

I can see all the keywords I am currently tracking, together with the SERP snapshot and Data Explorer.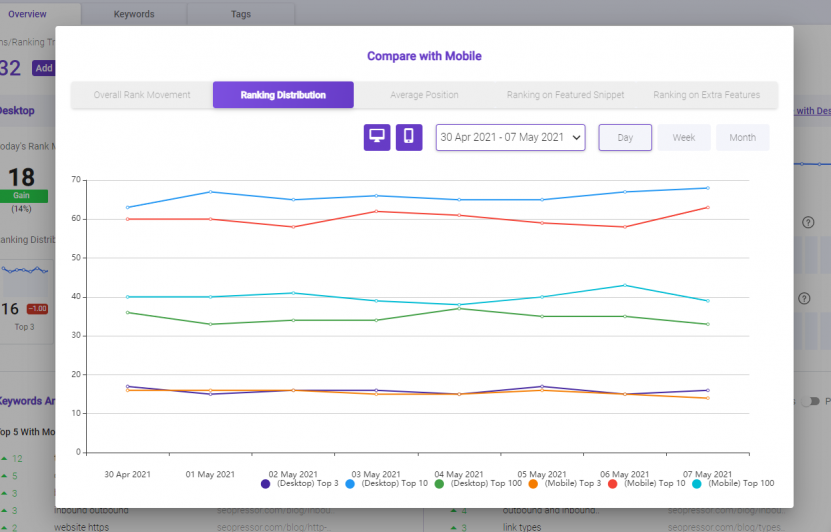 It's really useful for me if I want to see the traffic drop on a specific day and want to know why. Thankfully, Rank Tracking easily solves the problem for me!. It could be a sign that there is an algorithm change and I can report it to your boss or your clients if I'm asked to share the traffic report.
(iii) On the Tags tab,

It consists of tags that I've created on the overview page earlier.
And that's all from me, I hope you've learned a thing or two about how to perform an SEO analysis of your website with BiQ Cloud.
Best of them all, I'm only paying for the features I use and don't have to pay for features that I don't use. Life's better when you start promoting zero wastage!