In this article, you're going to learn exactly how to use BiQ's Keyword Intelligence to beat your competitors in the game of SEO.
In this article, you're going to learn exactly how to use BiQ's Keyword Intelligence to beat your competitors in the game of SEO.
What is an SEO strategy?
An SEO strategy plays an important role in generating organic traffic to your website.
It involves the process of setting your search engine optimization goals, determining actions to achieve the goals, and executing them.
Why do you need an SEO strategy?
While paid advertising and social media can generate traffic to the website, the majority of online traffic is actually driven by search engines.
For example, if you're craving pizza, where do you search for more information on the nearest pizza joint? Google it!
In fact, 70-80% of search engine users are only focusing on the organic results. This means that people prefer to click the organic results that come after the ads than the paid results.
Here's what a great SEO strategy does for you:
Generates a continuous stream of organic traffic to your website
Helps to build trust and credibility for your audience
Good SEO means a better user experience
Impacts buying cycle, which in turn increases conversion rate
About Keyword Intelligence
In case you didn't know, BiQ Cloud is a complete SEO suite that lets you control the price.
Yes, you've heard it right! BiQ is a suite of advanced SEO tools that does your keyword research, tracks the keyword strategy used by your competition, runs an SEO audit of your blog, looks for new keyword opportunities, and lots more.
What makes BiQ stand out from other SEO suites is the unique pricing model that seems to hugely benefit small-to-medium-sized businesses as well as freelancers and entrepreneurs—you only pay for the features you actually use.
In this article, we are going to take a look at one of its core features – Keyword Intelligence, and how it can help you to develop an effective SEO strategy.
Let's start!
1. Strategic Keyword Research
You should most likely have this drilled into your heads by now: the first step of developing a successful SEO strategy for your website is keyword research.
A good keyword helps to get your targeted audience for your website through the search engine.
But what makes a good keyword "good"? Here are some criteria that make a good keyword:
Search intent: Search intent is the reason behind a search query. Simply put, we want to make sure the intent of the user matches the intent of the web page or piece of content we want them to find in search results. We will talk more about this next…
Search volume: There's no point in choosing keywords that no one is searching for on Google. The higher the search volume, the more organic traffic the keyword can generate for your website.
Competition: Competition refers to how competitive the first page of search results is for a given keyword. You should plan and target keywords with reasonable competition if you wish to get ranked on Google.
Now that you understand what makes a good keyword, it's time to see how our Keyword Intelligence can help you in this, step-by-step.
Step 1: Start with a list of seed keywords
The first step of every keyword research is to come up with a seed keyword (or main keyword).
Coming up with seed keywords is as easy as describing a product or service with your own words or think how other people might search for it.
Let's say that you're running an auto repair workshop. The seed keywords that appear in your mind are probably these:
Auto repair services
Mechanics
Car maintenance
Step 2: Generate keyword ideas
Once you're done, head over to BiQ's Keyword Intelligence and insert one of your seed keywords into the query.
For example, let's try "blogging".
Tip: You can choose which specific location and language you want to target for your seed keyword. This is a great way for optimizing keywords for local SEO.

For example, you can choose a location such as Los Angeles if you are running a local business and want to target the audience there.

You will be given a list of keywords semantically related to your seed keyword in a matter of seconds. Using semantically related keywords help search engines to understand your content better.
Here's the list of keywords generated based on our seed keyword "blogging":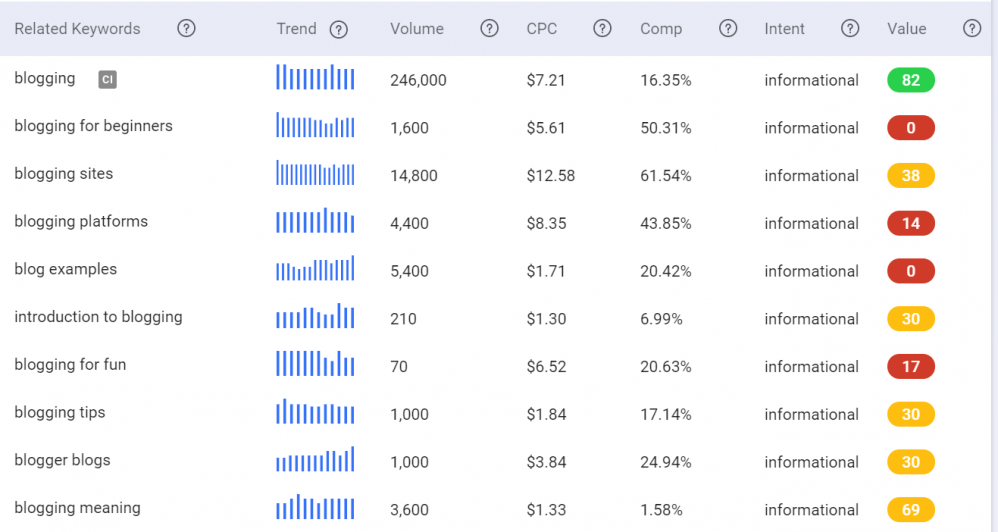 Step 3: Select and group your list of keywords
Once you got your list of keywords, it's time to select choose your best keywords.
Tip: For beginners, it's always a good idea to choose high search volume keywords with little competition to avoid competing with other big dogs on Google.
Not sure which keywords to select?
Check out the 'Value' column. Higher valued keywords give you more traffic at a lower competition.
Sort the keywords based on its value, and start selecting keywords that are more relevant to your content strategy.
Now, tick the keywords you want and export them as a CVS or PDF file. You can also add those keywords to your collections, which you can always go back to, anytime.

But, that's in the past. SEO has come a long way since then.
With the Keyword Intelligence, you can see the intent of each semantically related keyword that is generated from your seed keyword. Take a look at the highlighted column in the screenshot below.
Tip: A lot of SEO experts tend to include a few long-tail keywords into their content.

Using long-tail keywords will instantly filter out the right kind of audience you are targeting, thus resulting in a higher conversion rate and lower bounce rate.
2. Optimize For User Intent
In short, if you want to rank high in Google, you have to offer content that best matches the user intent.
Using Keyword Intelligence, you can easily identify the intent behind every keyword.
Before I go further, here are the three types of user intent:
Informational: Searching for information
Transactional: Searching for items to purchase
Navigational: Searching for a specific brand, website, or location.
Let's look at this example below.
When someone type "blog" on the search engine, they are highly likely looking for 'informational' content.

For informational search queries, users may not be ready to make any purchase yet. They are simply trying to gather more information about your product or services. This information gives you important insight into deciding which keyword to target a different buyer journey.
Now, let's change the query to "blogging sites". We can see that users are not looking just for information, but there are also moving towards 'navigational' content.

For the navigational search queries, users are looking into content that helps them to consider their options. While for transactional search queries, they are ready to buy.
Other than that, you can also identify the individual user intent by looking at the 'Intent' column.

Now that you know how to identify the intent, you should be able to see what keywords you should use for your content in order to match the user intent.
3. Effective Content Strategy
"Content is king".
You must have seen this quote over and over again on many sites and it's not wrong. Content marketing is still the heart of a good SEO strategy.
What else can you do to create an effective content strategy? Well, let's find out more!
Step 1: Question research
So, you've implemented keyword research as part of your SEO strategy. But have you considered doing niche question research?
Here are some powerful reasons why you should start doing it now:
Answering questions in your content may improve your search visibility
It lowers the bounce rate, which in turn results in a higher conversion rate
You'll be able to find out what are the daily problems your audience is facing in the industry
Question research gives you more content ideas
In the process of finding out which type of answer is ideal for your content, you need to find out what are the most popular questions being asked by people in your industry.
Well, there are a few ways that you can find these questions:
"People Also Ask" section
Google AutoSuggest
Social media

The only problem with these methods is that you need to enter each keyword into the search bar which makes it really time-consuming.
Fortunately, there's a faster way in doing so – with the Popular Questions section.
This section will generate a list of popular questions and also acts as a guide for your content structure.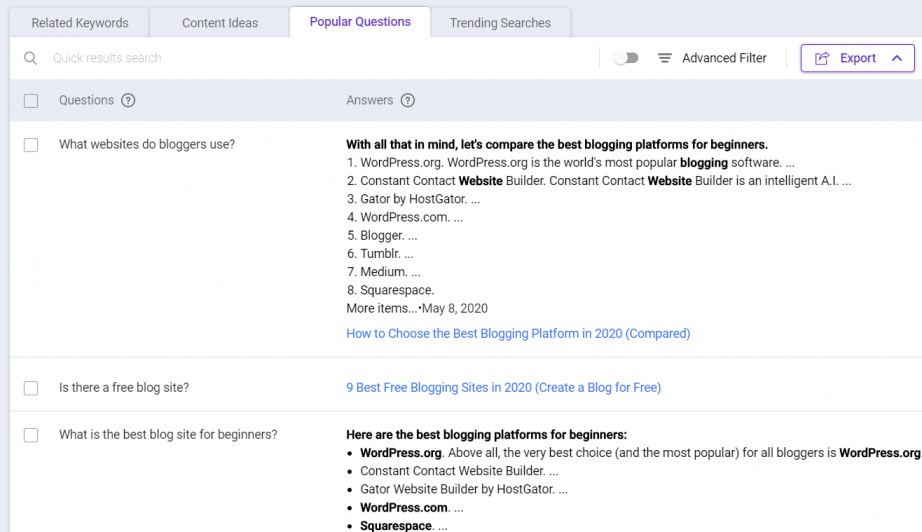 From the screenshot above, there are lots of questions we can use to create an outline for our content.
You can always create short content to answer one major question. But, a long, comprehensive content can help to answer up to three major questions, giving you a better chance to rank on Google's featured snippet.
To keep this simple, let's say we want to create content based on one question "What do you mean by blogging?"
Think about it in your customer's shoes. If someone wants to know what is blogging about, what informational keywords that you want to use in your content?
Based on the keyword research that we've done above, this will involve terms such as:
Blogging
Blogging for beginners
What is the point of blogging?
Blogging examples
….and more.
When it comes to questioning research, you need to have an idea of the users' knowledge prior to looking at the content, what answers they want, and what they should do after consuming the content.
Ultimately, this forms the basis of question research using Keyword Intelligence.
4. Fresh Keyword Targeting
Since you've read till here so far, here's a little 'thank you' gift from us at BiQ. Do you know that you can use Keyword Intelligence for the post-SEO strategy?
Now, if you've been doing content marketing for some time now, you're bound to have some old content lurking in the depths of your blog.
Here are some reasons that you should start updating your old content:
Google loves them: Google likes fresh content as it is more relevant to users.
Giving it new life: By updating your old content, you can extend the life of your best blog content as well as increase the results it continues to achieve over time.
Easier and faster: It's often much easier and quicker to update and republish an old post than it is to write a new post from scratch.
Sure, you can use the list of keywords that you've researched beforehand. But there's a better way of doing so – fresh keyword targeting.
You can look for newer and trending keywords with the "Trending Searches" section.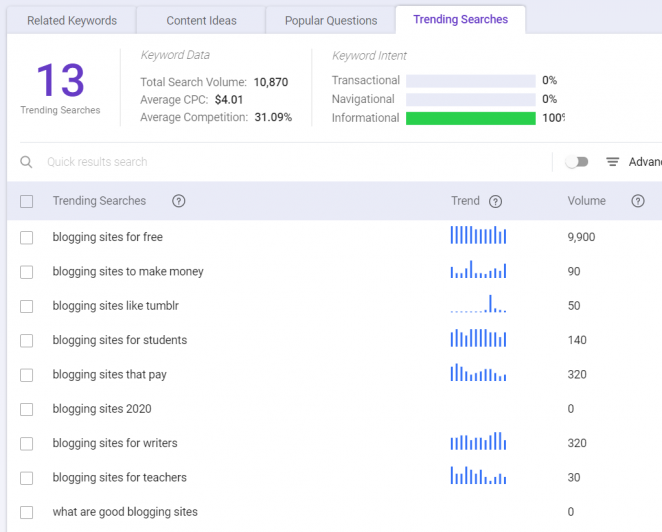 For instance, previously, we've created an article with the title "Blogging Tips for Beginners 2019". As you can see, the title is already outdated and it doesn't generate traffic as it used to.
So, what we need to do is pick out some of the trending keywords and update the article.
For example, the result below shows the trending searches for "blogging tips".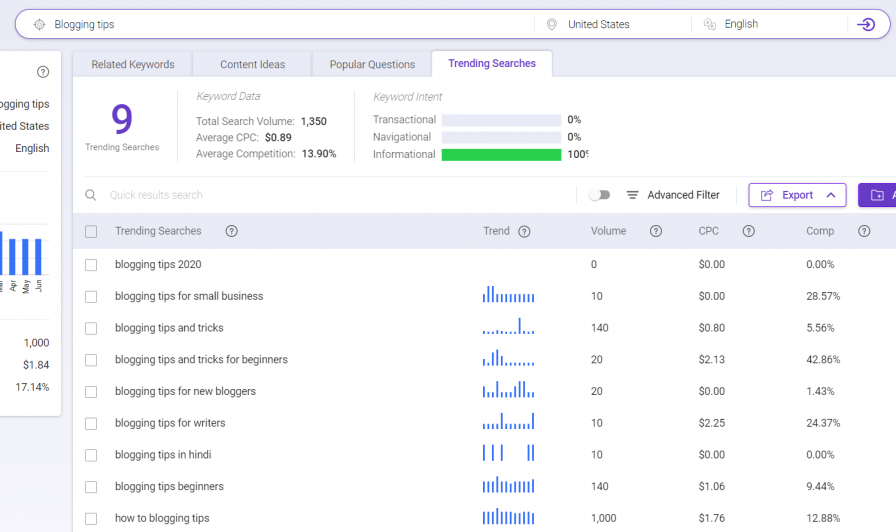 It is obvious that people are looking for the latest blogging tips which explain why the 'blogging tips 2020' is in the list above.
Free Access To Keyword Intelligence
There you have it – All the things you can do to develop an effective SEO strategy with BiQ's Keyword Intelligence.
Click the button below to get your free access now!
Get your free access to Keyword Intelligence here
See you inside.