LiveKeyword is my choice for Keywords Everywhere alternative. It is a free Chrome extension that gives you search volume, related keywords & searches.
Are you still looking for a free Keywords Everywhere alternative? Here is the best alternative that you don't want to miss out on.

Since Keywords Everywhere no longer free and became paid in October last year, we have seen a lot of people started looking for a free alternative.

I bet you are here because you are looking for them too. I just wanted to let you know that you have come to the right place!
Let me introduce you to the best alternative for Keywords Everywhere – LiveKeyword by BiQ.
Free Keywords Everywhere Alternative
There are many alternatives to Keywords Everywhere out there but most are not a browser extension.

So if you are looking for an extension that allows you to do your keyword research right on the search page, this is it!

LiveKeyword is a free browser extension for keyword research that enables you to see keyword metrics right inside Google's search page. (Yes, just exactly like Keywords Everywhere!)

You can easily get an overview of keywords that are related to your main keywords, together with their search volume, CPC, and competition. 
The data that you need for your keyword research available right within your browser! It helps you save your precious time on keyword research so that you can get the rankings you want quicker.

The best part is that just like Keywords Everywhere used to be, LiveKeyword is 100% free.

Next, I will share with you how to install and benefit from this keyword extension. Along with that, I will also share some advanced tips you can use to level up your keyword research and get more traffic to your website. 

Without further ado, let's start!
How To Install LiveKeyword
It is very easy to install LiveKeyword. It takes less than 2 minutes to get your hands to this awesome keyword extension.
Step 1: Install the LiveKeyword extension

LiveKeyword is a free keyword tool that you can easily download from the Chrome extension.

Go to Chrome Web Store and search for 'LiveKeyword', or you can just click this link: LiveKeyword by BiQ.

Click the "Add to Chrome" button. 

Step 2: Get your API key

Next, you will be redirected to a 'thank you' page. Click the "Get Free LiveKeyword API Key" button.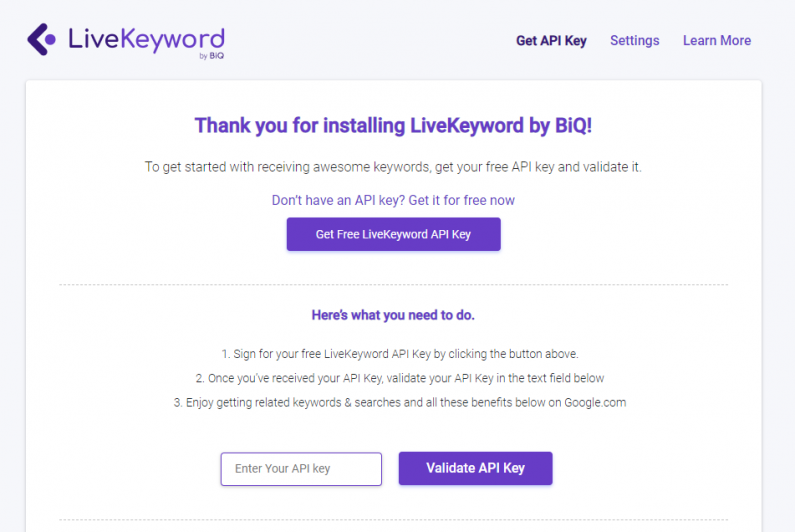 Just choose your preferred signup method; Facebook, Google, or email. You will need to signup to get your free API key to activate the LiveKeyword extension.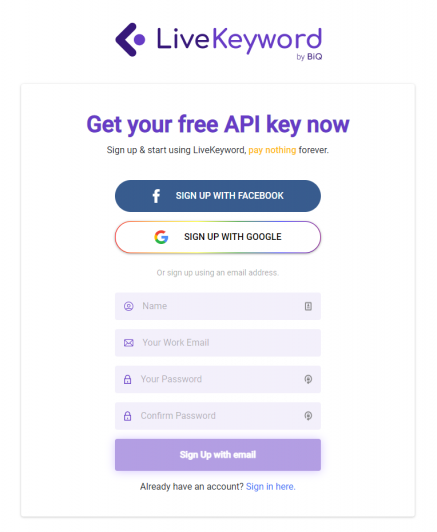 Once you sign up, you can get your API key at your "Account Settings".


Alternatively, you can also check your email for the API key.

Copy your API key and we will move to the last step.

Step 3: Add your LiveKeyword API Key

Go back to the 'thank you' page, and you will see a box where you can enter your API key.


Or you can also click the LiveKeyword extension icon in your browser, then click "View Advanced Settings" to enter your API key.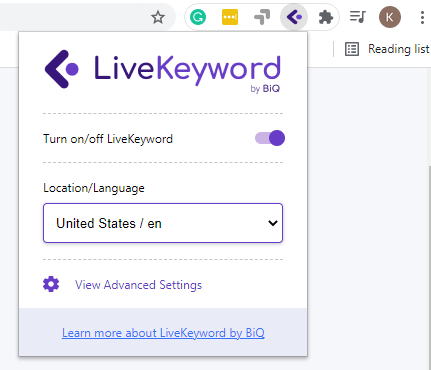 Once you add your API key, just click the "Validate API Key" button.

Now go ahead and run a Google search. You should be able to see two widgets appear at the right of the search results, including related keywords and searches.

Just in case if you see the widget is empty with just asterisks (*), do not panic.
This happens because you have yet entered your API key on the setting page.
Just click the 'Active Your Live Keyword For Free' button, and it will lead you to the setting page. Then, follow Step 2 to get your API key.
How To Use LiveKeywords
There are a few ways to use LiveKeywords for better keyword research. Let's see how this extension can do most of the hard work for you.
Local Keyword Research
LiveKeyword supports 62 countries and 74 languages. Simply choose your preferred country and language in the extension's setting.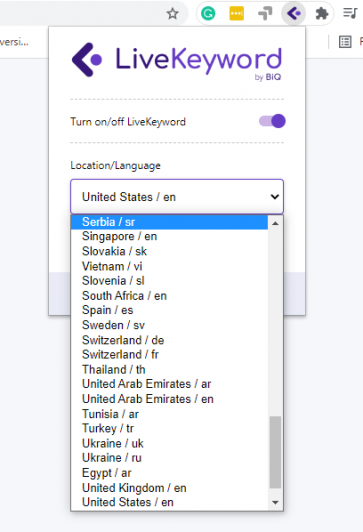 This is especially useful because it helps you to know exactly what your audiences are looking for in a specific country. Is your target audience in Australia, Denmark, or Brazil? No problem with that.

Select the country from the dropdown suggestions menu and LiveKeyword will show you local search volume including the CPC and competition data.

When you are doing local SEO, your objective is to identify the commonly used keywords that people enter into the local search engines.

With the information that you can get from the keyword extension, you can easily identify the right keywords for your local SEO that pertain to your geographic location.

Just look at the trend for 'near me' searches over the past 5 years – it is increasing and undoubtedly will continue to increase in the future. This shows just how important local SEO is.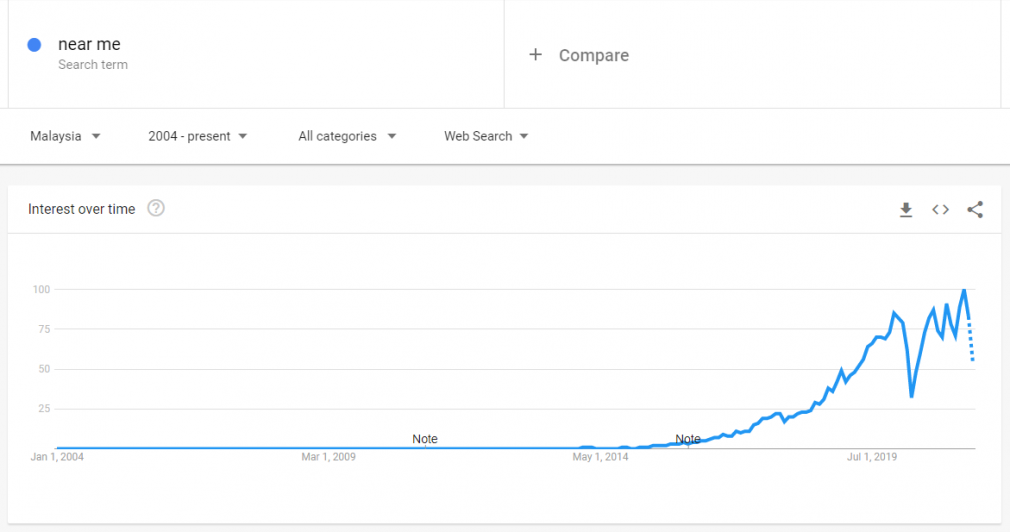 Local SEO is a great strategy when you are targeting a specific geographic area.
By using local keywords in creating locally focused content, you can reach your target audience better. This will help you to increase your organic visibility and rankings in local search results. 

Advanced Tip:

If you want to dive deeper than just the country, you can try the Keyword Intelligence by BiQ.

Signing up to the LiveKeyword will give you access to the free keyword research tool, so don't forget to check them out too!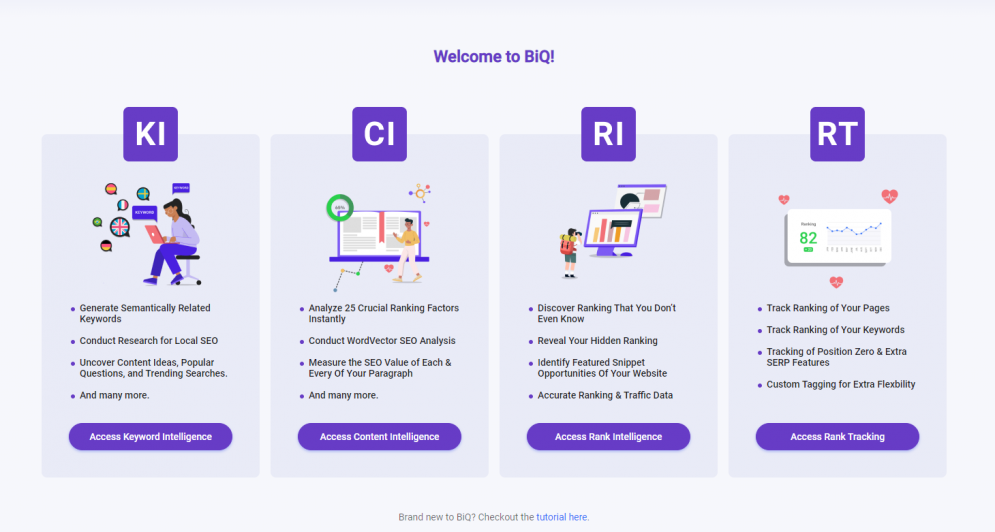 In the BiQ SEO suite, you can choose from more than 100,000 locations and 35 languages.

Other than that, you can also use Rank Intelligence in BiQ to uncover your local competitors' best keywords.

Let me show you a quick snippet of how it works. First, create a new Rank Intelligence profile by entering your competitor's domain name and your preferred location and language.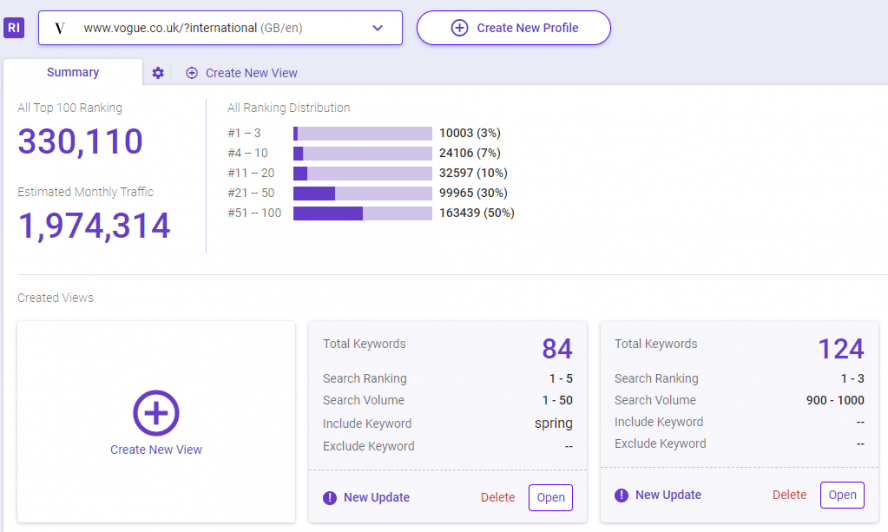 Once the results are out, you will see something like this:

Here you will be able to see a summary of your competitor's ranking performance and its details. This including the ranking keywords together with its volume, CPC, competition, SERP features, URL, and position on the search results page.

Don't forget to check them out and let me know if you have done so in the comment below!
View Keyword Metrics
Similar to what Keywords Everywhere did, you can view not just the volume data, but also CPC and competition right inside the search page.

The important metrics for your seed keyword will be shown at the top. 


While for the related keywords and searches, it can be found on the right side of the search results page.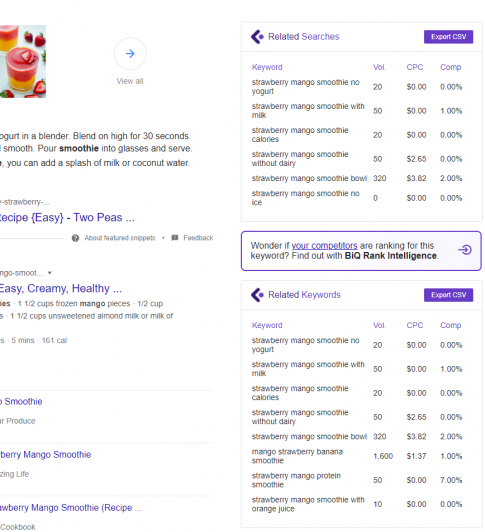 Vol. – Shows the average monthly search volume of the keyword.

If the search volume is the primary feature you're looking for from a Keywords Everywhere alternative, then LiveKeyword might be a good fit for you.

CPC – Cost Per Click (CPC) is the estimated sum of money that advertisers are paying to bid on this keyword on Google Ads.

Comp – Competition is the number of advertisers bidding on each keyword, relative to all keywords across Google. It helps you understand how competitive the keyword is.

In an ideal world, you can pick a high search volume keyword, write amazing content, and rank for it. But that does not usually happen unless you have a high authority website.

As you can see, the search results are saturated and flooded with competition, but you do not have to limit yourself there. Try to identify your low-hanging fruit by looking at the high inquiry and low competition relevant keywords.

Advanced Tip:

Get to know the intent of the keywords by analyzing them in the Keyword Intelligence. So you can write high-quality content that matches the searcher's intent.

Just enter your keyword in Keyword Intelligence, and you will be able to see the type of searcher's intent instantly.  


When you are able to accurately address the searcher's intent with this information, you can tailor your content to match up the intent.

Let's look at this example:

If the intent is 'informational', the searchers are most likely to find some specific information. When it comes to content creation, you can create relevant informational topics to educate your potential customers, and help lead them farther down the funnel.

On the other hand, if the intent of the keyword is 'transactional', you might have guessed the searchers are looking to make a purchase. Your content should be reinforcing what you are providing on your website is the solution the searchers are looking for.
Get Related Keyword Ideas
You can find both related keywords and searches on the right side of the search page. 

Related Keywords are phrases that people often search for in addition to your main keyword.
While the related Searches are searches that are closely related to your main keyword.

As you may have known, Google doesn't like keyword stuffing. Also, using the same keywords over and over again ruins the searchers' experience.

That is why using related keywords in your content is one of the most important strategies in your keyword ranking strategy. When you are using related keywords in your content to supplement your main keyword, it will be so much nicer to read and favor by the search engines.

For example, the related keywords for "keyword tool" as shown above are "youtube keyword tool" and "google adwords keyword tool". When those keywords are present in your content, it will help the search engine to understand your content better and take related concepts into account.

Advanced Tip:
Sometimes, it can be quite confusing to decide which related keywords to use.
When that happens, go to the Keyword Intelligence and sort the 'Value' of the keyword. 


The keyword value is a measurement of how valuable a keyword is. Higher valued keywords give you more traffic at a lower competition.
Get Content Ideas
Writer's block happens to all of us. Just ask any writer, and I believe they'll tell you the same thing.

When that happens to you, look at the phrases and keywords at the 'Related Searches'. These are the searches that are closely tied to keywords you just searched for. 


For example, for "keyword tool" a related topic is "search volume". So if you are already writing about keyword tools, you can further expand your content by providing more content on "search volume".
Advanced Tip:
Get more content ideas and advanced metrics such as keyword trends and intent in the Keyword Intelligence's Content Ideas.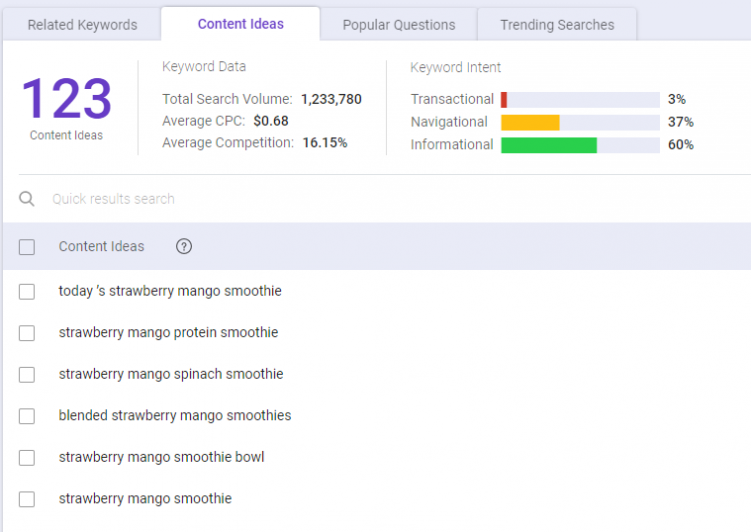 You can discover more content ideas by going through the 'Content Ideas' in Keyword Intelligence. Each phrase or keyword is equipped with its search trend and volume. This insight will help you to see the search term's popularity over time.

You can then put this insight to use by creating relevant content that is trending and has demand.
Customize View Settings
This Keywords Everywhere alternative gives you the flexibility to choose what metrics you want to see using the filter features.

The filter is a simple yet helpful feature that allows you to build your own customized view. It can come in handy when you do deep keyword research for SEO.

All you have to do is go to the settings and select the features you want to see on the search results page.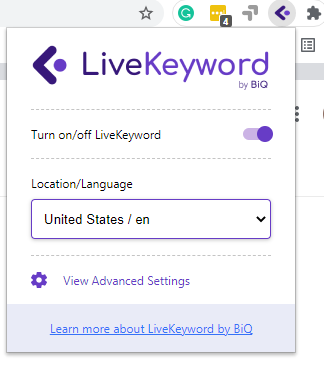 For example, if you are only interested in looking at the volume of the keywords and export feature,  tick the options as shown below.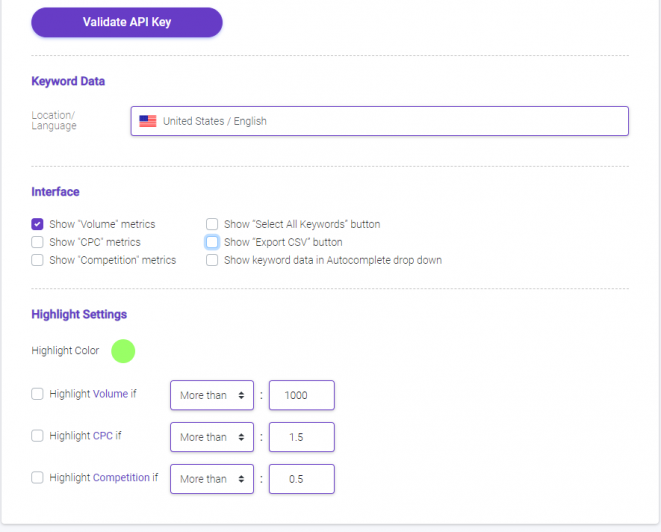 Now, let's go to the search results page. You will notice that it shows only the volume of the keywords and export features. 

That does not end there. You can step up your customization by specifying the highlight settings too! You may choose the highlight colors and volume as shown below. 


This is how it will look likes on the search results page after you specify the highlight settings: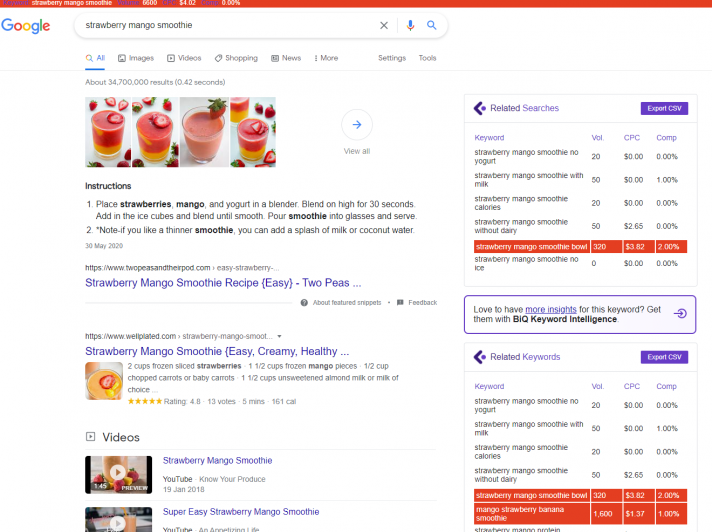 Advanced Tip:
If you want to do some advanced keyword research, you definitely have to use your free access to BiQ Keyword Intelligence that you will get when you sign up to LiveKeyword.

The Advanced Filters in the Keyword Intelligence allows you to filter the related keyword based on its relatedness, long-tail, and type of intent.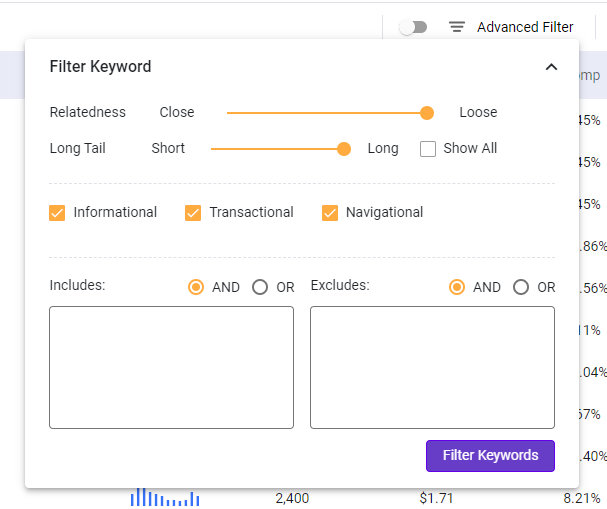 Choose 'Close' over 'Loose' when you want to see keywords that are more related to your target keyword.

You can learn more about how related keywords can help in your SEO in this article – What Are LSI Keywords (Do they help your SEO in 2020?)

With the Advanced Filter, you can also find long-tail keywords opportunities easily. Using long-tail keywords in your content is a great SEO strategy. It gets less search traffic, but it will usually have a higher conversion value, as they are more specific.
Export Keywords
Just like Keywords Everywhere, you can click the "Export CSV" button to download the keyword list to a CSV file format.

This feature is great for easy sharing or record keeping. Also, you can then use these keywords in BiQ Keyword Intelligence for further optimization.

Advanced Tip:

You can use the 'My Collections' feature in Keyword Intelligence to store all your keywords with their metrics.

Select the keywords that you want to get from Keyword Intelligence, and click 'Add to Collection'.

With this feature, you can have quick access to them anytime, anywhere.

Give LiveKeyword A Try Today
Keywords have always been a crucial part of SEO. Picking the right keywords is absolutely necessary, and you could deliberately increase your rankings for those specific keywords.

If you want to do your keyword research right from the browser, give LiveKeyword a try. It is the closest to Keywords Everywhere alternative. After all, it is a free extension.
There are other alternatives such as Ubersuggest, Keyword Finder, Keyword Surfer, SerpBar, and more…
But LiveKeyword might just be your new favorite Keywords Everywhere free alternative.
Let me know what do you think of LiveKeyword in the comment below!