As a content marketer, you should familiarize yourself with all the Google tools that are mostly free to use. Here are 14 free Google tools that you shouldn't miss.
How many out of the 14 free Google tools are you using?
You've probably heard of this thing called Google. You know, the search engine that makes 3.5 billion searches per day.
However, Google is more than just another search engine. In fact, it's so much more than meets the eye.
It's a suite of several powerful and useful free tools that are updated and released regularly. Most of Google's tools are free and easy to use. They're also widely documented and aimed at helping brands and companies to be more productive.
You can use these free Google tools to improve your brand's visibility, connect with your clients better, and improve your overall business website.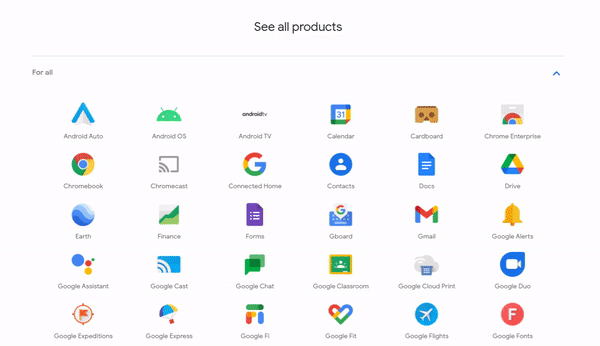 From what you've read so far, it's well worth investing some time to explore this Google tools list to see how they can benefit your business. They may become an integral part of your working process.
Top 14 Best Google Tools List for Content Marketers
The presence of Google in the online space has made every content marketer's life easier. You can no longer look at Google as a search engine only. Now's the time to explore more of these free Google tools and how to apply them to boost your traffic and ranks.
Google offers several free tools to use. And the convenience of being able to access these tools with one login was a smart move too.
Content marketers should take advantage of these free tools to milk everything out of this search engine giant.
In that regard, we rounded up a comprehensive list of essential Google marketing tools you should start embracing today:
1. Google Docs
There's every chance you're already familiar with this popular Google tool.
Not only is Google Docs free, but it's also extremely simple to use. It also comes with tons of plugins and features you can experiment with for the best user experience.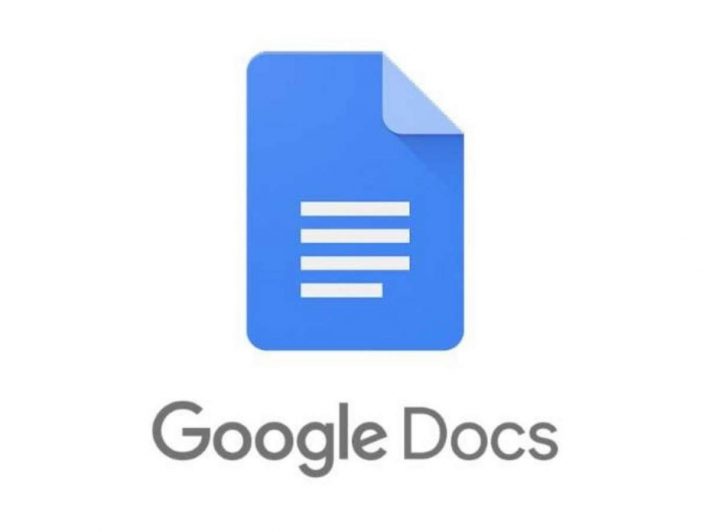 Think of it as an online Microsoft Word, which it probably is. Only that any document you draft and save on Google Docs goes to the cloud.
Here are other interesting features about Google Docs you might want to know:
Provides an accurate word count
Checks for spelling errors
Can easily share documents with the editing team
Allows you to insert images and screenshots easily
A big part of content marketing relies on content creation. Therefore, it's possible you'll be doing a lot of writing. As such, you always want to be as comfortable with your working tools as possible. Google Docs offers just that.
There are several options you can use to draft content. But Google Docs takes precedence when it comes to simplicity and reliability.
BiQ Keyword Intelligence is another excellent tool for drafting great content outlines. Say you want to write something about free Google tool lists.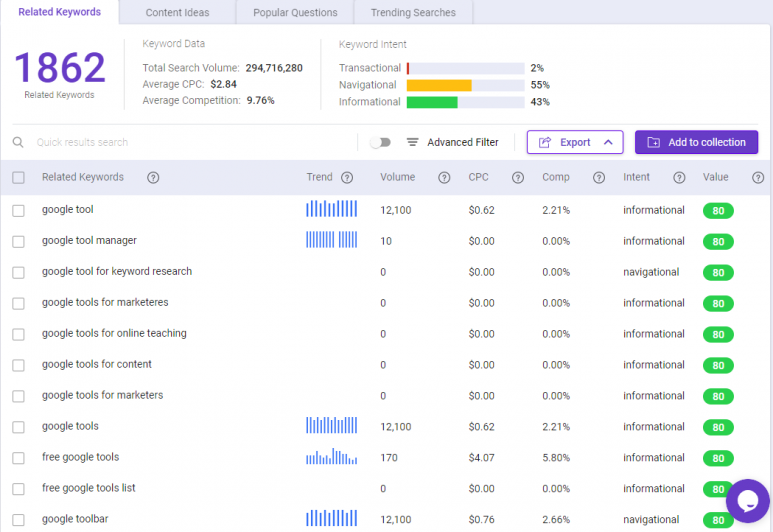 You'll start by entering the key phrase "Google tool" on BiQ's Keyword Intelligence. The tool will provide you with a list of relevant keyword ideas to choose from.
With this critical data, you can determine the best content subheadings to use and organize your content outline more effectively.
2. Google Trends
As good as you might be, you'll eventually find it tiresome to generate fresh ideas for your articles and other content marketing opportunities continually.
There's no denying that Google's Keyword Planner is an excellent tool that provides several hundred keywords related to your industry and business. But even so, this might not be good enough. Creating compelling content requires in-depth keyword research and content planning.
That's why you must get into the habit of checking Google Trends regularly. This free Google tool will always have some fresh trending story that's especially suited to your business.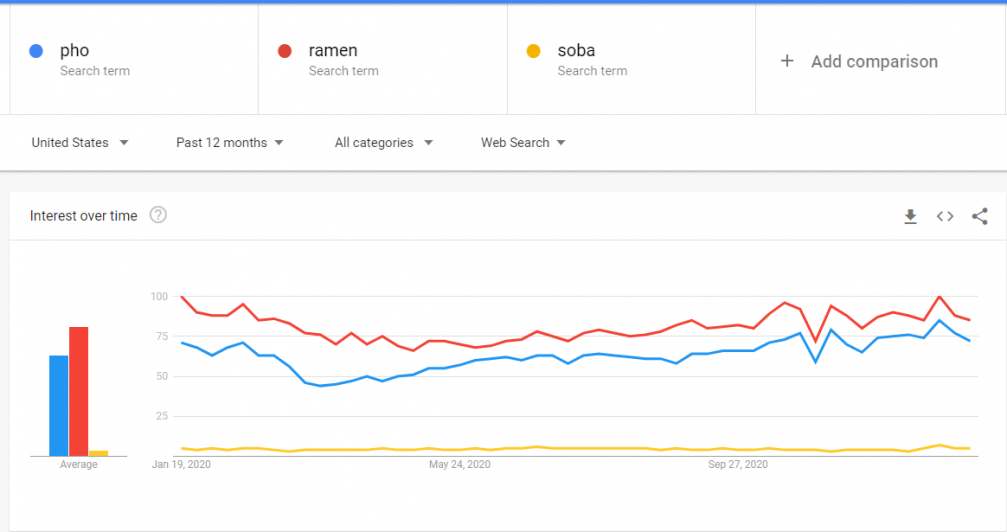 If you write about sports, there'll be plenty of trending information that will keep you busy on Google Trends. Ideally, Google Trends is one of the best Google tools to help you get creative, even if you're not looking to write about a specific industry.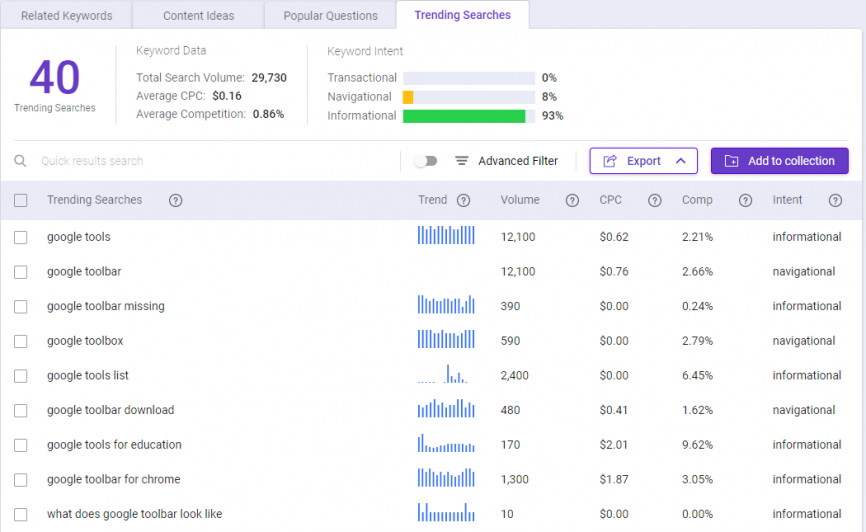 BiQ Keyword Intelligence plays a critical role in helping you determine the best content ideas for your industry. With the "Trending Search" feature in Keyword Intelligence, you can quickly find interesting and trendy topics to write about that will help you create timely blog posts.

3. Think with Google
Not many online users know of this tool. But that doesn't make it any less interesting.
On the contrary, Think with Google is one of the best places to get the best industry insights, research documents, case studies, useful articles, various infographics, and interviews related to your industry.
Think with Google is updated constantly, and never lacks fresh and useful content. Moreover, it has several creative Ad campaigns and other data you can draw inspiration from. When used effectively, you can learn a lot from this free Google platform.
4. Google AdWords: Keyword Planner
Almost every content marketer has heard of this amazing Google tool. It's the tool that will help you find and target the best focus keywords to use in your articles and blog posts.
While there are several Keyword Planner tools to choose from, Google AdWords has established itself as one of the best for conducting keyword analysis and research. It's also extremely simple to use and easy to navigate.
As a content marketer, you're always on the hunt for the best target keywords that will give your website a boost.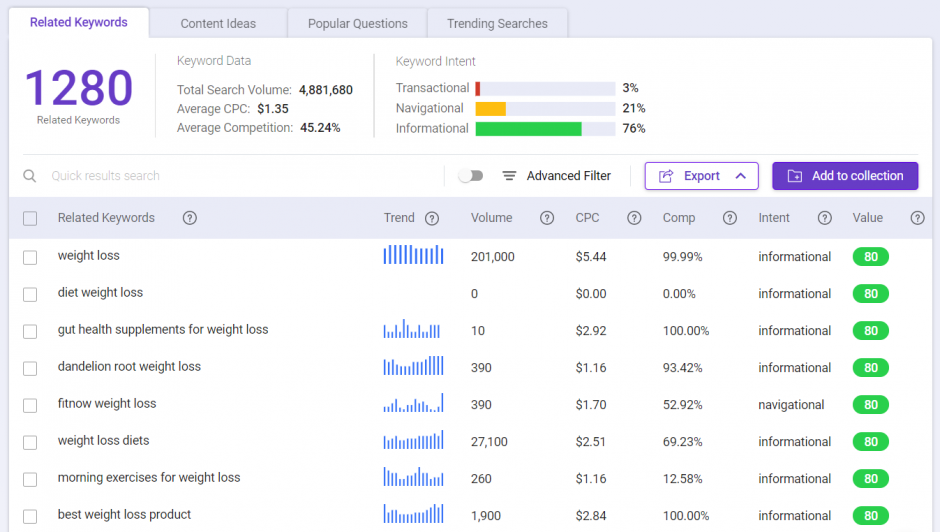 BiQ's Keyword Intelligence is the next best alternative to Google AdWords. Our top suggestion with BiQ Keyword Intelligence is to experiment, experiment, then experiment some more. You'll quickly learn that the more searches you run, the more you'll understand how it works.
5. Google Sheets
Google Sheets provides the perfect online working platform for content marketers to record and track data. This tool also allows you to share critical data with other team members seamlessly. Google Sheets ranks as one of the simplest and most efficient free Google tools to record data and record changes.
It's one of the best tools you can use to stay organized while still enjoying its other advanced features.
6. Google Analytics
Google Analytics allows you to set goals for your brand marketing strategies and enact them. If you don't have a content marketing strategy in place yet, this is the time to reassess your situation. However, if you've already got a few strategies and goals, now's a good chance to familiarize yourself with Google Analytics.
It acts as an instant snapshot of your content marketing performance over a specific period.
This alone should give you a clear perspective of whether your content marketing strategies are effective or not.
Introducing BiQ's Rank Tracking as one of the best alternatives to Google Analytics. Using BiQ's Rank Tracking, you can easily link your ranking positions to your SEO efforts and processes. Find out what are the actions that lead to your keyword rankings growth.
Whether you have just built some backlinks to your website or included target keywords in your post's title and meta description, BiQ's Rank Tracking can help you understand which are the actions that have led to your SEO success.

BiQ allows you to use an advanced tagging system that helps you group your ranking keywords and pages exactly how you want them, and not to be bound by the page URL.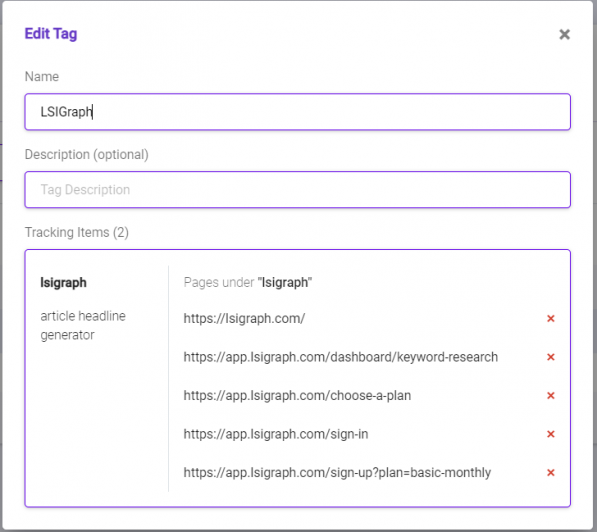 You can group them according to topics and categories or personally, we would suggest by your SEO actions and campaigns, you can add the tags like reoptimization – Nov 1, 2020, to pages or keywords that you have recently updated.
This would give you a bird's eye view of your ranking data easily, especially when you are looking for daily or weekly changes.
No need for Google sheets tracking or notes, just click on the tag to check your results, and it will show all the relevant pages and keywords we are tracking for the campaign.
This is important to understand what works for your website SEO, as well as actionable data on what to avoid so you can quickly recover your lost rankings.

7. Google Search Console
Like Google Analytics, Google Search Console is just as effective. The time you spend using this free Google tool is never wasted. You'll learn many things about your website's performance using this Google tool, too.
When used properly, you'll find yourself combing through data over a specific period. These will include your website's overall health, keyword performance, average keyword ranking position, and several other factors.
That's to say, you should familiarize yourself with everything on the Google Search Console and how you can benefit from it.
BiQ Rank Intelligence is another excellent tool to help you know which keywords on your website are ranking and are more effective on the SERPs. You'll have all the relevant data to identify keywords worth tracking and the best place to use them.
Apart from the obvious ones such as your brand name, or the root keyword for your niche, there can be a lot of different keywords that can drive visitors. Having an overview of all the keywords you're ranking for can help you identify them.
There are several ways to do that.
Sort your keywords according to search volume. Keywords with higher search volume are valuable keywords that can drive in a lot of traffic, and you definitely want to keep an eye on them.
Track the keywords that are also ranking for different SEP features such as knowledge graph or the local pack. When you're ranking for SERP features, it can definitely attract more clicks apart from having a more prominent spot on the SERP.
Sort your ranking keywords according to the competition. If you are ranking for a keyword with low competition but high search volume, you want to make sure to keep that keyword.
It's really simple! Sign up and try Rank Intelligence right away!
8. Google Page Speed
You'll find that today's web visitors hardly stay on one page for more than a few seconds, especially when they're forced to wait for the site to load. The trick here is to speed up your website speed to increase conversions and the time visitors spend on your website. Speeding up your website will also reduce your bounce rate.
Speed is also an effective ranking factor used by Google. Therefore, ensure your website is fast for search engine optimization purposes. Google Page Speed insight will provide you with a score for your site's desktop and mobile speed. It will also offer you several optimizations you can use to make your website faster.
You'll never go wrong with this tool in your arsenal!
9. Google Mobile-Friendly Test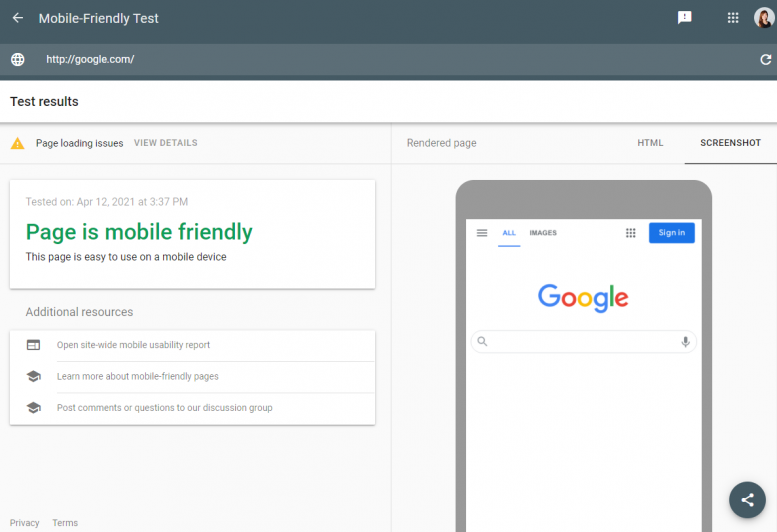 Mobile internet has overtaken desktop in the past few years. As we head further into 2021, we should expect more websites to optimize their web pages and become as mobile-friendly as possible. Mobile-friendliness is now also a ranking factor in Google. The search engine giant uses it to rank websites, pushing sites that are difficult to use on small screens further down the SERP.
Google Mobile-Friendly Test is a handy and easy-to-use tool that scans websites and test how well they work on mobile. It then provides you with a report of how your website looks on a mobile phone screen and if there are issues that need fixing.
10. Google My Business
Essentially, Google My Business isn't the ideal free Google tool option for most businesses. However, it's a must-have tool for other businesses. That's not something you'd want to overlook, especially if you want to maximize your Google experience.
With GMB, you can get a free business listing on the search engine giant. Or better yet, it allows you to share critical information, which may include your business category and phone number.
Other benefits of using GMB include:
Show customer reviews
Use images to show your brand's uniqueness
Allow visitors to learn more about your brand based on the information you provide
You'll get your business in front of online users who're genuinely interested in your products/services
Again, there's more to content marketing than just creating content masterpieces. This is the free Google tool you should use if you're looking to list your SEO locally.
11. Google Alerts
Here's another interesting Google tool most people don't know about. Some content marketers might already be using Google Alerts. But for everyone else who doesn't know what this tool does, keep reading.
Google Alerts makes it easier for content marketers to monitor the internet space for brand mentions, news, and interesting content. Then the tool sends you an email daily or weekly, according to your preference, if any keywords you flagged have been mentioned.
In other words, Google Alerts makes it easier for content marketers to stay on top of the news and create new content based on such data.
We suggest that you set alerts for:
Your personal name
Brand name
Major competitors
Key industry terms
These alerts will help you find the best trends and content to share on your channels and other content marketing platforms.
12. Google Forms
Google Forms is another great tool to help you knock up quick surveys and receive feedback from visitors. It's also an excellent tool to help you send invites and collect RSVPs for events.
Google Forms plays a critical role in creating a simple way to design an online form you can use to collect responses. You can choose from the platform's gallery of templates or start from a blank slate. Whatever you decide, Google Forms is the best tool to use.
13. Gmail
How you get in touch and stay in touch with your prospective clients and team is one of the most crucial aspects of content marketing.
Soon, you'll spend several hours sharing your blog posts with influencers and other prospective clients. Since email is the best strategy in doing so, you'll be more comfortable using the Gmail tool. Gmail has long been many people's favorite email clients, thanks largely to its built-in functionalities.
There's just more to Gmail than meets the eye. Gmail alone can save you a bit of time and resources.
14. Google Calendar
Google Calendar helps you to organize your day seamlessly, as it relates to your content marketing strategy.
It's one of the top free Google tools to help you organize your content marketing strategies and keep you on track. And while it might not have all the great features some paid calendar tools have, it gets the job done right.
It may improve how you operate.
Conclusion
From this excerpt, it's evident that the free Google tools mentioned above will effectively boost your content marketing strategies and productivity.
Personally, I enjoyed using these tools developed by Google. And while some might be more effective than others, it's still worth mentioning that you should check them out. Each of these Google tools deserves a second look.
Try them out today! Some, if not all, of them, will, in one way or another, help you grow your business.