If you are still wondering what are the differences when it comes to inbound vs outbound marketing in terms of sales and leads, this article helps you understand better.
Learn more about inbound vs outbound marketing in this article.
Are you about to choose between inbound and outbound marketing? You can choose inbound marketing because everyone is online these days, and more than 86% of people skip ads on TV. You can choose outbound marketing because TV ads are 86% effective in the long run. Here is a detailed comparison guide to help you make the right decision.
Comparison between Inbound Marketing and Outbound Marketing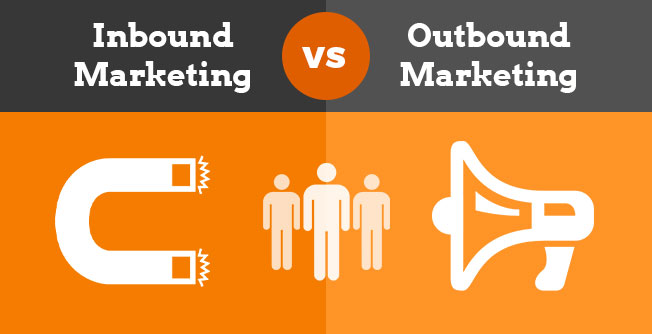 TV, radio, print, direct mail, and telephone advertising all fall under outbound marketing. This is a marketing technique that capitalizes on hard sales. You shout out the message over and over, aiming to convince the buyer eventually. Thinkbox states that TV ads are 86 % more effective.
Inbound marketing channels include blogs, online videos, infographics, and social media. The inbound marketing technique puts the customers in the driver's seat. The main objective here is to share content that empowers customers to make the best decisions.
Analysts believe that 86% of people skip TV ads. Inbound marketing is subtle marketing that allows the target audience space to investigate ideas, ask questions, and decide. It empowers audiences to feel in control of the whole process. By the time they realize it was an ad, they'd be sold.
Types of Inbound Marketing
In inbound marketing, you attract prospects to your site as opposed to outwardly marketing to them. Your success in this marketing endeavor depends on whether you make a good impression with the customer throughout the sales cycle. Inbound marketing strategies include:
1. SEO
2. PPC
3. Content Marketing
4. Social Media
5. Online Advertising
6. Email Marketing
Types of Outbound Marketing
Outbound marketing involves taking your offerings to your potential customers. You don't sit and wait for them to come to you. For time-bound offers, outbound marketing often delivers better results than inbound marketing. Outbound marketing involves strategies such as:
1. TV/Radio/Newspaper advertisements
2. Telemarketing/cold-calling
3. Press Releases
4. Direct mail
5. Events and Tradeshows
Inbound vs. Outbound Leads
Inbound lead generation focuses on creating content that attracts a large number of website visitors and turns them into customers.
Inbound lead generation strategies cab makes your business findable online. The increase in brand visibility can be directly leveraged to improve sales volumes. Lead nurturing is a process that relies on nothing but content.
In inbound lead generation, the customer is in control. They dictate where and when they get to hear your pitch. Your work as a marketer is to reach them where they are—by choosing the right marketing platform. Consistency in content here can help to build trust and improve brand visibility and loyalty.
One unique characteristic of inbound lead generation is that content is focused on providing solutions and helping customers. There are no direct sale pitches here. Brands determine to enable customers to solve their problems and make the right purchasing decision.
Outbound lead generation involves directly pushing a product onto buyers regardless of whether they are interested in it or not. The marketer decides the time and place for the interaction. When a consumer misses out on a commercial on the radio, there is no rewinding.
Lead generation approaches in outbound marketing include cold calling, direct mass mail, and digital signage.
Unlike inbound lead generation, most of the strategies in outbound marketing utilize a paid medium. This elevates the cost of all outbound advertisements. As a result, most outbound campaigns are focused on selling (to recover costs) instead of educating customers.
Difference between inbound and outbound lead generation
(i) Inbound lead generation
The customer controls critical aspects of the message, such as time and space.
More content is involved because the focus is on customer education.
The sales funnel is long and involves lead gathering, lead nurturing, and conversion.
Costs are low
(ii) Outbound lead generation
The marketer determines the time and space for the campaign.
Most outbound channels are paid mediums.
The focus is on selling and not customer education.
The sales funnel is short
Costs are high
Similarities between inbound and outbound lead generation
They share an objective to generate demand.
In both, targeting is a critical step of the process.
Inbound vs. Outbound Sales
In inbound marketing, the lead comes to you. This is the customer prospect, and they are looking for information on something. As an inbound marketer, you take that opportunity to educate them and nurture them into customers.
In outbound marketing, it is the other way round. The marketer reaches out to a customer with an offer. They then go on to build the customer's interest in the offering through diverse messaging tactics.
Difference between outbound vs. inbound sales process
(i) Inbound sales process
1. Identify potential customers
This inbound marketing funnel methodology prioritizes the specific needs of customers, and so it starts with customer analysis. Inbound sales professionals invest time in learning about their customers to meet them where they are and nudge them further along the sales funnel.
2. Connect with leads
Extra time is invested in connecting prospects with personalized and meaningful content. Once you make the buyer aware of your
offering, the next biggest task is winning their consideration and building trust.
3. Explore deeper
Once a customer shows interest in an offering, the next step is to explore their goals, wants, and challenges and identify ways to position your brand as the solution.
4. Advise on a solution
Make the customer see why your offering is better placed to meet their needs. Elaborate on the features versus benefits of your offerings. Answer all questions that they have on usability, budget, and timelines. Close the deal by emphasizing that they have nothing to lose and everything to gain.
(ii) Outbound sales process
1. Identify potential customers
The first step is identifying potential customers and their unique needs. How well can your product help them? How receptive will they be to your sales pitch? The audience analysis answers these critical questions.
2. Generate leads
There are diverse avenues to generate leads. It can be at events, via the traditional media, or door-to-door sales outreach. Word of mouth, through a referral program, can also be an excellent way to build awareness for your brand or offer.
3. Contact and qualify leads
Outbound salespersons reach out to customers at a time and place of their choosing. Initial contact is done through cold outreach by phone or other channels.
Once prospective customers are identified and contacted, the next step is building interest and classifying leads.
Qualify leads based on those that are ready and willing to buy (hot leads ) and those that are unlikely to buy (cold leads).
4. Show off your solution
Demonstrate the great potential of your solution in meeting your prospective customers' needs. Effective messaging must encompass testimonials and tests, features, benefits, and performance guarantees.
5. Close the deal
Answer all questions the customer has and overcome any objections they may have. Create a sense of urgency or offer a discount to get them to buy.
Outbound vs. inbound costs
$115,000 is the cost of a 20 seconds TV commercial (national TV) based on data by Adage. But inbound marketing is low cost and even free at times. Let's say you post a campaign on Facebook. You can post the ad for free on your page and share it in thousands of groups. You get to reach the masses for free. If you want to optimize leads and conversion, you can try paid ads, which cost just $0.27 on the social channel.
Production times: Inbound marketing campaigns take a short time to produce. Outbound marketing campaigns may take months and months to create.
Expertise: Anyone can create an inbound marketing ad for their website or social media. There are a dozen templates to leverage and have the campaign running in a short time. Outbound marketing requires directors of photography and extensive technical and copywriting teams.
Equipment: Let's say you want to create a blog post with an infographic or animated video. You don't need cameras or large editing suites for that. You must acquire special production gear with outbound marketing, from cameras to lights, printers, and everything in between.
Longevity: Outbound marketing, including direct mail and TV or newspaper ads, has a short lifespan. They are limited in time and space. Inbound marketing leverages the digital sphere unhindered by the constraints of time and space. Your blog post can be read any time of day or night, from now till forever.
ROI Outbound vs. inbound marketing
In marketing, every dollar spent matters, and it should lead to a return in the form of sales or brand visibility. As a marketer, you must find ways to monitor performance and track conversions or sales.
When it comes to outbound marketing, the primary critical challenge for businesses is that there is no way to measure the precise ROI from an advertising campaign. Estimates may be possible, but even obtaining that would take months.
With inbound marketing, you are spoilt for choice with metrics and analytics. You don't need to hire Info track or KPMG to track your customers to obtain insights or compute the ROI of your advertising campaign. You can run analytics and get the stats on your phone.
Inbound marketing offers ways to:
Measure response rates in real-time and edit your campaign as appropriate
Investigate brand visibility or customer love after the campaign
AB test several campaigns to choose the most potent ones
Inbound vs Outbound Engagement and Interactivity
You might achieve a significant impact on outbound marketing when the campaign runs for the first time. Customers can reach you after seeing these ads by calling you contacting you by email.
Inbound marketing puts the advertiser/brand and the purchaser on a similar platform. You are in control of the campaign at all times. You can choose to scale it, stop it, or pose it. The customer can rewind it, ask questions, leave a comment, and get real-time feedback from you.
If done correctly, inbound marketing can even transform the customer into an ambassador. This would be an excellent opportunity to win more leads because 80% of customers trust what their fellow customers say.
Inbound vs Outbound Marketing Targeting
Outbound marketing is generally targeted at an older audience. The style of marketing involved here is what the older generation is used to doing.
Baby boomers and older Gen Xers may be used to TV more than Facebook. Some even scan newspaper ads at the point of purchase before they buy.
Outbound marketing may also serve you incredibly well in business-to-business marketing. Corporate, commercial, and industrial marketing thrives on TV, and so does marketing for high-end products. The purchasing power of those targeted in outbound marketing is generally more than that of inbound audiences.
Inbound targeting is refined and technologized. It takes a few minutes to run analyses and get audience numbers, categories, and preferences. This then informs the direction of the inbound campaign.
Intelligent audience segmentation is one of the biggest advantages of inbound targeting. When marketing on Google or Facebook, you can narrow down audiences to people of a certain age, income, or past spending history.
How to use both inbound vs outbound marketing?
1. Create a website and social media accounts
A social media account or website brings you a universe of boundless potential, including continuous leads, reviews, and brand communication. You can do that as you run traditional marketing campaigns. Afterward, consider posting your TV or radio ads on your website or social media. This helps to merge audiences and optimize the potential of your campaigns.
2. Distribute flyers or direct mail with website links
Older people may shun technology stuff, but that doesn't mean that they are illiterate. They can search for something online too. Include a link to your site/social media in your flyers or TV ads. This will give your outbound audiences a chance to provide feedback or contact you for more information.
An ever-increasing number of clients search the web; there are 3.5 billion searches on Google each day. Your site can help you speak to these clients with realness and at a pace they like.
3. Live stream a marketing event
Events and tradeshows are some of the most potent forms of outbound marketing. But you can let your digital audiences share in that too by streaming the event live on your YouTube channel or website. You can also give your outbound audiences a chance to immerse themselves fully into your brand by sharing your web address and social media handles at these events so they can give feedback in real-time.
4. Publish press releases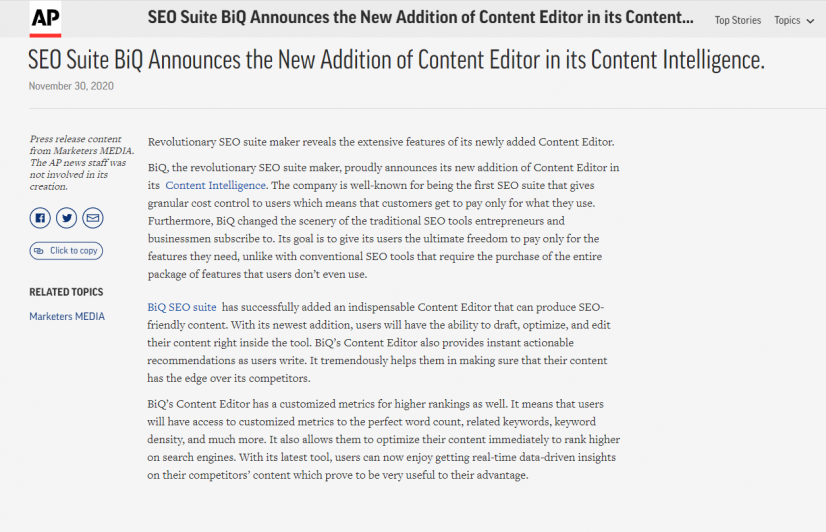 A press release is a communication that you send to news people over at Fox or NBC to convert into the news. But you can mine even more value from them by publishing them online. A large majority of inbound audiences don't watch the news, so publishing press releases online helps to ensure that they don't miss out on your big announcement.
5. Use analytical tools
There are endless free measurement apparatuses that can assist you in analyzing the effectiveness of your Omnichannel marketing (this is a marketing mix that targets both inbound and outbound audiences).
The solutions range from call tracking software to Google analytics and keyword research tools. The more you measure performance, the better you can improve your campaigns for optimal results.
BiQ offers a rank tracking feature that can help fill in the time lag or missing data you would otherwise see in your Google Search Console.
With BiQ's Rank Tracking, all it takes is to create a rank tracking profile for your website and you can keep track of your keyword's daily rankings and its historical data since the day it's added.

Quickly identify your keywords' gains or losses so you can act in response to secure your keyword rankings from being stolen by a competitor or take the chance to further boost your keyword rankings while it's in trend.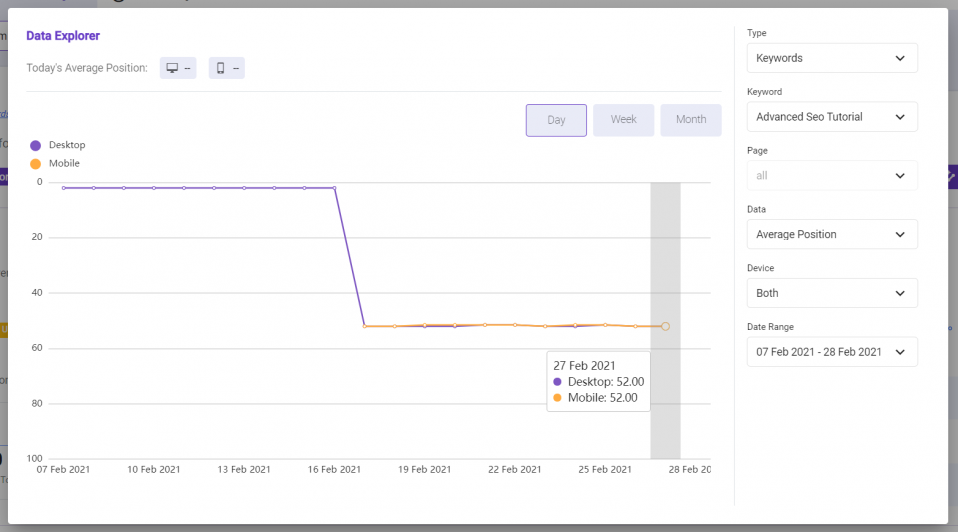 Be the first to know when something critical happens.
So Inbound vs Outbound Marketing, Which Is Better?
Here's my advice to you: Use a mixed approach.
The best marketing strategy for your business is one that delivers consistently optimal results. You will have to try different channels overtime to keep up with the changes in buyer preferences.