Every time you update post for SEO on your site, search engines take notice. If you do not update, search engines take note and may think the website is dead, which is not ideal for your SEO efforts
At most, site content, including blog posts, has a web shelf life of only 24 months.
Actually, that is why you will see traffic drop over time, even on important pages, as Google stops ranking pages that it considers too old.
Your site is like a living entity on the web.
Updating content on your site periodically once it goes online is important.
It plays an integral part in its engagement with search engines, customers, and visitors.
Nonetheless, a mark-timing website without any significant updates of any type may be regarded by search engines as a lifeless entity with nothing substantial to offer browsers.
On the other hand, search engines consider regularly updated posts for SEO as a haven for new, fresh, and useful content for search requests and rank them better.
This essentially means that if you update the site regularly with quality content, Google will definitely fall in love with it because its algorithm takes the site's freshness or content very seriously.
Every time you update post for SEO on your site, whether it is a new photo, updated information, or a new blog post, search engines take notice.
Similarly, if you do not update, search engines take note and may not show its browsers as it thinks the website is dead, which is not ideal for your SEO efforts.
Why You Should Update Old Content
Improve Your Click-Through Rate
Searches for your target keyword keep increasing, but CTR(click-through rates) on your site are dipping.
If you are experiencing that, it is most likely because:
Browsers are going for newer posts published recently.
The data on your pages is outdated.
Keep in mind that dropping CTRs may still happen even if the impressions are the same.
Now, when planning how to improve your site's CTR, think of how search results appear on your computer or phone.
Some results will be clicked on by more, while some won't receive even a single click depending on their SERPs position.
Also, 90% of browsers rarely go past page 1 of the Google search results when searching for something, so you must do everything you can to get on the 1st page.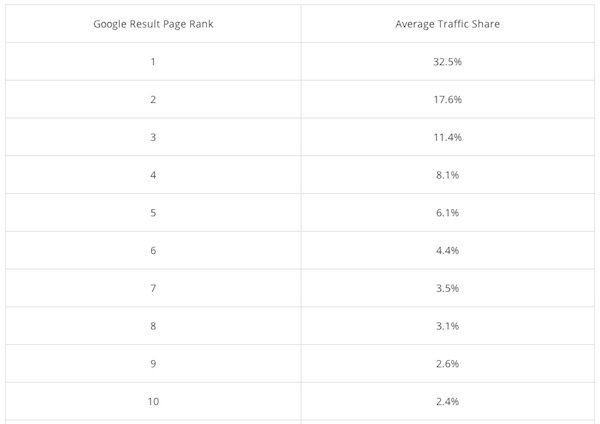 What can you do to get there?
Update posts for SEO regularly with new and useful information can help you appear in the first few pages of search results.
At the end of the day, Google is always looking for relevant information to show on the first page to make it easier for browsers to find answers without going up to the 7th or 10th page.
Your main goal should be to keep an eye on the top-ranking factors so that you appear on the top 3 pages.
And updating your posts can help you get there!
Google Loves Fresh Content

Blog posts and any other content online loses value over time.
Google is designed to favor content that is the most helpful and accurate for readers.
Fresh, relevant content is promoted while old and outed prices gradually start to dip in rankings.
And after a few months, this can have an irreversible negative impact on your SEO.
By adding new pieces or updating posts for SEO, you show Google that your content is accurate, relevant, and up to date.
Also, Google adjusts its algorithm regularly.
So updating your content will help you act accordingly depending on the on-page SEO changes.
And avoid any negative impact that could otherwise affect your SEO.
Get Google To Crawl Your Site Frequently
Google usually sets time aside to crawl different sites depending on how frequently they are updated.
The more Google bots crawl your website, the higher the odds your page will rank higher on search results.
Obliviously this doesn't mean unnecessary postings, additions, or changes every hour or day.
However, carefully thought-out updates at least once per day or three times every week are considered regular updates.
Google frequently crawls the web looking for updated or new pages and then adds the new or updated content to Google Index.
So, if you refresh your blog posts regularly with valuable and reliable information, you have a good chance of the search engine ranking your pages higher with each new post.
Optimize For The Right Keywords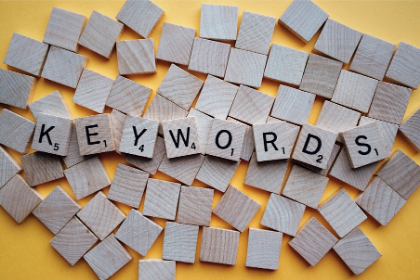 Regularly update posts for SEO or add new content like articles or blog posts.
You can optimize the content with relevant keywords that can drive traffic to your website.
For example, suppose you operate a digital marketing website and update it 2 to 3 times every week with new posts.
In that case, you can craft different posts for aspects of digital marketing, such as "affiliate marketing" or "content marketing."
Every time you add a new post, you include the right keywords to help Google recognize your site as a destination browsers can visit for their particular digital marketing needs.
Get More Backlinks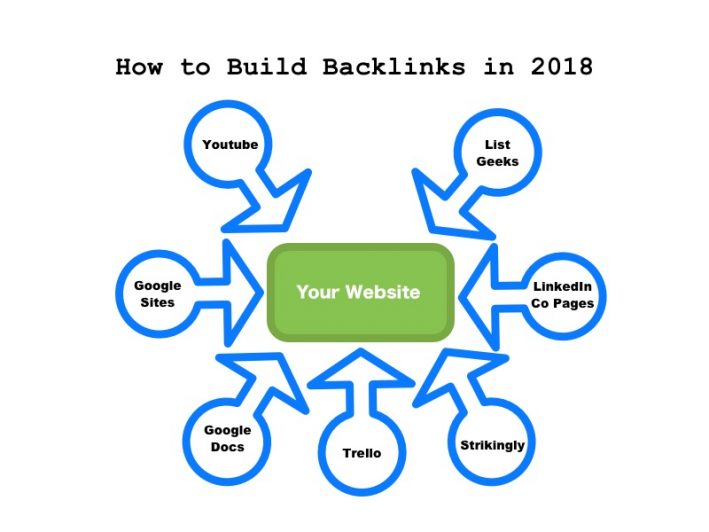 Update posts for SEO regularly to have an edge over your competitors.
Nobody wants to link to old or outdated pieces.
They want to connect to fresh and up-to-date content to help their readers get value.
Also, anybody who wants to link to other sites would go for links with accurate information that work.
And that can only happen with new content.
It can be very irritating to click on a link and discover a "404 page" or "Page can't be found" message.
Also, updating content allows you to link to other resources on the site that did not exist when you first published the old post.
Keep Up With Current SEO Best Practices
The digital world is evolving very fast, and it is commonplace not to have all the data when publishing an article or blog post.
This is particularly true for news, where being the first or fast is crucial.
As you continue to engage sources, stories evolve/change, and the facts may come out weeks or even months later.
Posting these types of blog posts, adding modifications, also known as editor's notes, updates, or a postscript, helps you share the correct information.
You can show this by adding a message at the end or at the beginning of the post.
How To Update Old Blog Posts For SEO
Look For Old Blog Posts That Still Perform Well Or Underperform
When you choose an article to republish, the idea here is to take a piece that is performing well or underperforming and help it become better.
Before you republish or re-purpose a post, consider the following:
How old is the post?
Is the post on the 1st or 2nd page of Google?
Was the post shared several times on social media channels?
Is the post related to the service or product you offer?
The time people spend on the post
Not sure of where to start?
Whether you start with the well-performing or underperforming posts, there are some handy tools online like BiQ's Rank Tracking that can help you find out which pages and keywords are still driving traffic to your site.
Blog posts with keywords that you rank for or with the most vital impressions are the ones you will want to republish.
The ones that don't have any keywords that you rank for or have the lowest impressions, consider double-checking them, and make sure they are not missing any critical SEO aspects.
Also, take note of the posts with a high number of click thorough but lack impressions or vice versa.
Are the articles ranking in Google or not showing up at all?
Are they getting any visitors?
How are they performing for the keywords you want to rank for?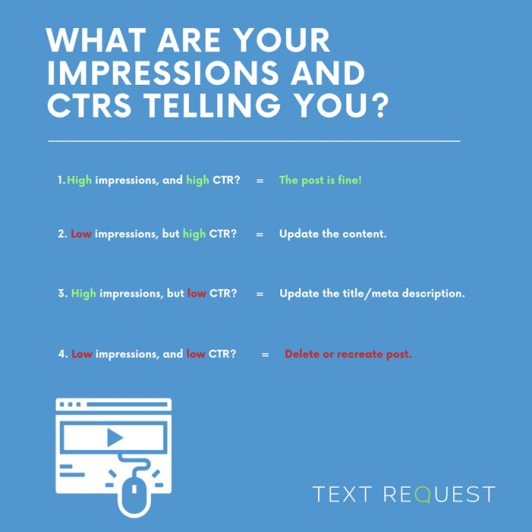 Keep these questions in mind before you update, re-purpose, or delete any post.
Update Blog Post Content As Needed
Broken links, incorrect information, low-quality images, and grammar mistakes hurt search engine optimization and will undoubtedly move your pages lower in search engines.
Luckily fixing such issues is easy with tools such as Check My Links, Broken Link Checker, Grammarly, or PowerMapper.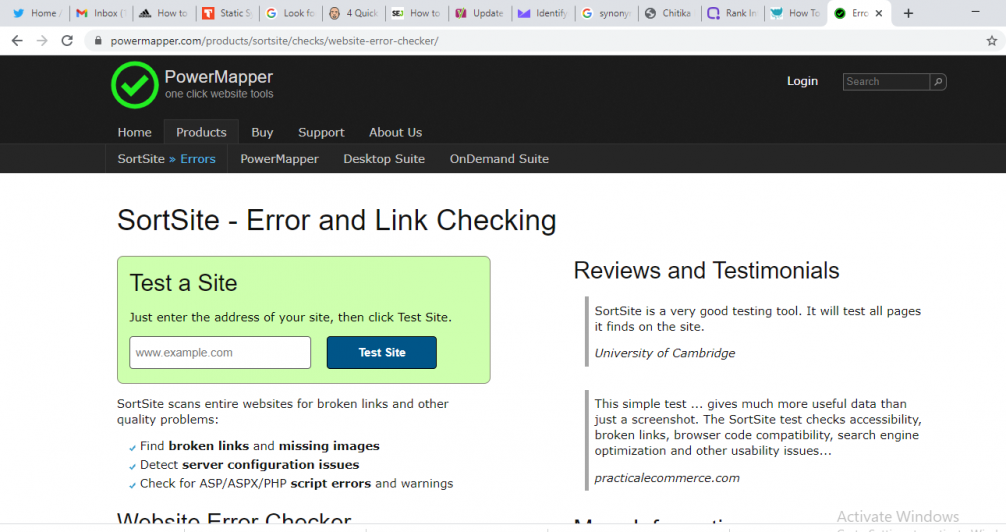 From the insights you get, you can correct grammar mistakes, add missing images, delete broken links, or even find replacements.
Also, check for any posts with outdated links and require more recent sources when you update the broken links.
Now, while you are at that, do not just update or delete content for the sake of it. Instead, concentrate on posts that have stale data or outdated.
The tools mentioned above will help you evaluate most of the content seamlessly for accuracy in ascertaining the areas that need to be replaced, changed, or eradicated.
Another good way to approach that is to evaluate how other similar sites are handling the same problem and how you can outdo them.
If you are sure whether to delete or update a post, check the content by keywords, topics, and trends using discovery tools such as BiQ Keyword Intelligence tool to find new and trending topics.
Also, make sure you check the word of the posts and the popular keyword tags for the selected topic or keyword to refresh your old pieces appropriately for maximal engagement.
If you are refreshing old posts published over 24 months ago, chances are they only have both external and internal links to pages that were published way before you published the posts.
So, when refreshing your posts, use this chance to add links to recently published posts to enhance your site's SEO performance.
Another great way to rejuvenate your old articles is by adding new images and videos to them.
Add videos, GIFs, screenshots that are related to the keyword or the topic of the post.
Actually, by incorporating media to the posts, you can quickly increase the time visitors stay on your site.
This will help enhance your site's SEO.
Creating a video model of one of your well-performing posts and uploading it on the site can also lead to higher engagement.
Republish Your Content
This is another smart and effective way to get more people to your site.
It has been a growth strategy for most blogs and sites for a while.
And I'm confident they are not planning to let go any time soon.
They do this to remind their audience of the excellent information that is still relevant and valid.
They get more mileage from such pieces with much less effort than drafting from scratch.
Another reason to republish content is that it enhances and maintains ranking results.
There are some cases where old posts rank well and, as such, drive a lot of traffic.
Before its CTRs start declining and experience high bounce rates that can affect your ranking position for a particular target keyword, create a new and better version of that article.
Update text as required and use the current date in the URL. You can also redirect the old post to the new one if it makes sense.
To do this, log into your website's CMS (if it is WordPress), then locate the old post and replace it with the new one.
Don't change anything in the URL except the OG tags, title, and publish date to reflect the current data.
Also, while Google will eventually re-index the post on its own, even if you don't ask for it to be re-indexed.
You can speed up the process by requesting a re-index in Google Search Console.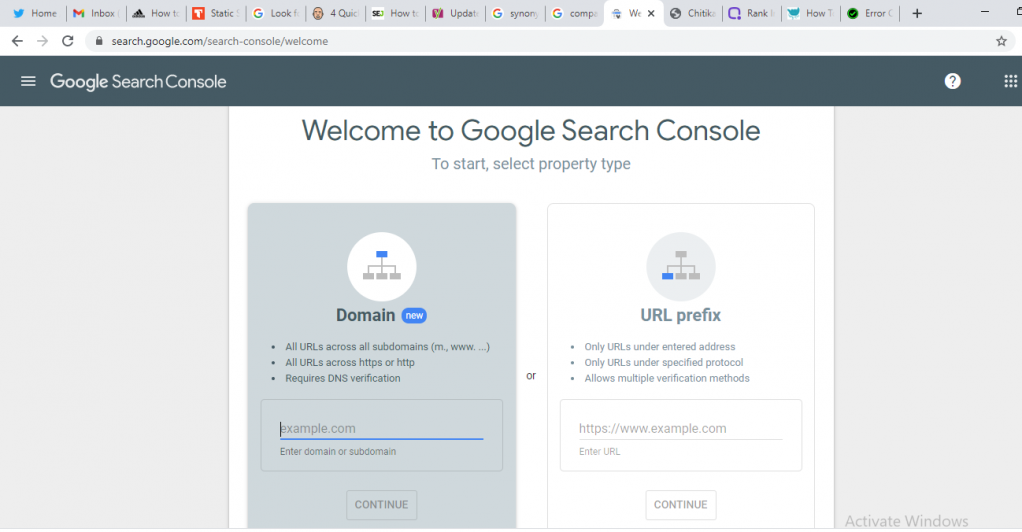 To do this:
Paste the URL of your updated post into the search bar
Click "Request Indexing"
Conclusion
All types of content, at some point, fade in value.
That is why you should keep refreshing and updating content for SEO.
You will notice invaluable benefits with reasonably minimal effort.
It can result in more links, better search rankings, social shares, more traffic, and new clients discovering your website.