What are the top search engines? That's right; there is more than one. Here are some of the top search engines you might want to consider: 1. Google 2. Bing 3. Yahoo! 4. Baidu 5. Yandex 6. DuckDuckGo
Are there any other search engines other than Google?
It wouldn't be a surprise to find some online users scratch their heads with these somehow disturbing questions.
Yet, they are genuine questions some online users would really ask.
Being as Google is the crème-de-la-crème of all search engines.
It's no secret that Google runs the online search world.
However, there are other available top search engines that you can use as well.
What's more, some of these alternative search engines are extremely popular in their own right.
Although not as popular as the colossal titan, Google.
To most people, some of these search engines may seem like ancient relics that were somehow left over many moons ago after the birth of the internet.
Others dominate specific regions like China, the Czech Republic, or South Korea.
For instance, take Yandex, which is dominant in Russia, or Baidu in China.
Search engines play a critical role in our everyday lives as searchers use them to get answers to their queries and solutions to their problems.
So, buckle up.
Here are some of the top search engines you might want to consider checking out the next time you get online.
Top Search Engines
1. Google
Ranked as the best search engine in the world for as long as the history of search engines go.
Google currently has a worldwide search engine market share of 88.14%.
That's an insane figure, considering that all the other search engines have to share the remaining 11.86%.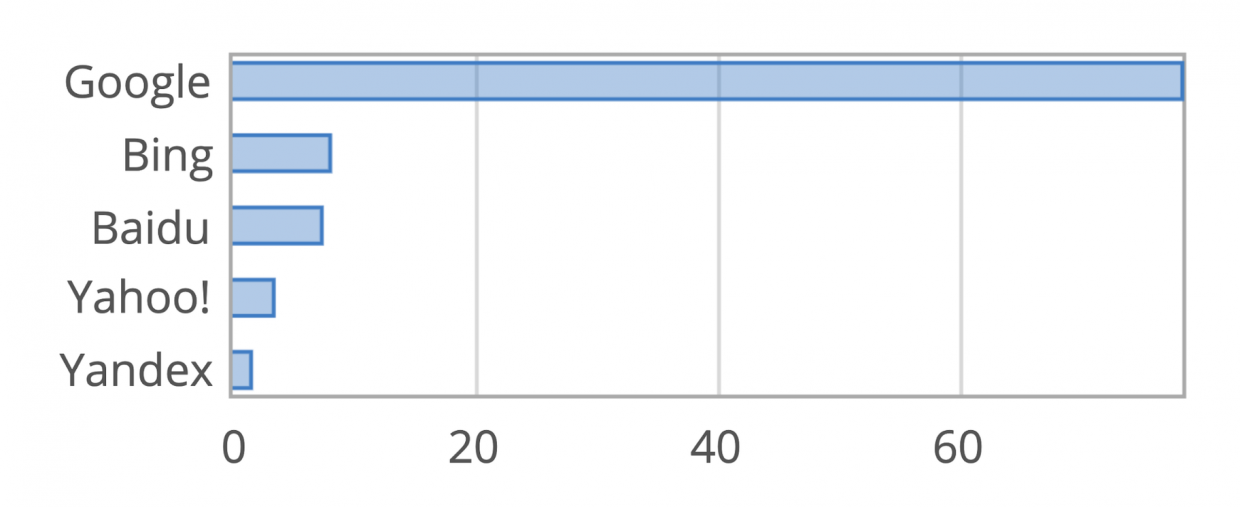 Google was launched in 1998 by Larry Page and Sergey Brin.
But the funny part is that the two partners actually wanted to sell Google in 1999 for just $750,000 to internet company Excite.
What's even funnier is that Excite rejected their offer.
The internet company has spent the last twenty years regretting their decision.
Today, Google is worth a staggering $750+ billion and counting.
As a result, Larry Page is the eighth-richest person with an estimated net worth of $76.6 billion.
Sergey Brin is the ninth-richest person with an estimated net worth of $74.4 billion.
Google has come a long way since its inception and is now more than just a search engine.
The giant search engine has ventured into other tech fields and is a leader in developing other software solutions like Google Drive.
Google owns YouTube, which is another wonder in its own right.
Google has also developed its own line of laptops and smartphones and has even ventured into creating self-driving cars.
It also powers other search engines, such as Ask, which we'll talk more about later in the post.
Google is constantly updating its search results page to provide online users with a range of helpful content formats.
Its search engine ranking factors are user-oriented and aimed at putting the user first.
It's possible that this is the main reason Google continues to be the number one people's choice.
All hail the mighty Google.
2. Bing
We can confidently say that many searchers who don't use Google prefer Bing as their second option.
Bing has a worldwide search engine market share of 6.18%.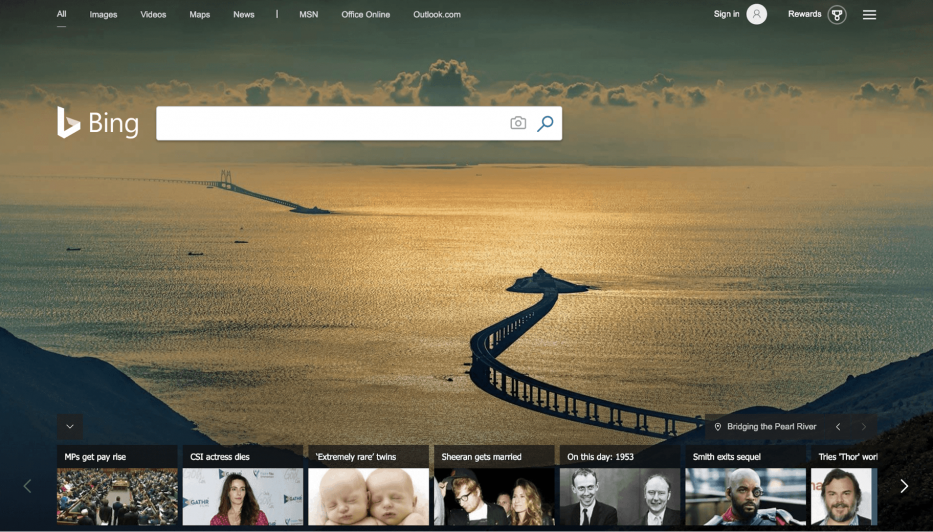 Bing is a measly comparison to Google if you compare the massive difference in worldwide market share (81.96%).
But it still maintains a reputable market share in some countries.
Bing is owned and operated by Microsoft.
It originated from the previous search engines, Windows Live Search and MSN Search.
Just like Google, Bing also filters search results into separate tabs like images, maps, videos, and news.
However, unlike Google, the search engine's homepage features a stunning image and news stories feature.
In July 2009, Microsoft and Yahoo! brokered a deal in which Bing would also power Yahoo!'s search engine.
It's evident that businesses shouldn't disregard this particular search engine.
Sure, it may not have as many users as Google, but Bing registers more than 1.3 billion monthly visits.
That's not an easy task.
Plus, with most experts and businesses focusing their attention on Google, there's much less competition on Bing, making its advertising and SEO worth considering.
3. Yahoo!
Third on the list is Yahoo! With a worldwide search engine market share of 2.51%, Yahoo!

Yahoo!'s story is another interesting one, just as it is embarrassing.
The company was founded by Jerry Yang and Davis Filo in 1994 and was originally called "Jerry and David's Guide to the World Wide Web."
The two partners quickly renamed it to Yahoo!
By 2000, Yahoo! Mail and some of its web services had helped propel it to a valuation of over $125 billion.
But then things started to go downhill.
Despite having a significantly huge head start and far more resources than its competition, Yahoo! Mail lost to Gmail.
Yahoo!'s Flickr also lost to Instagram, and Yahoo! Answers lost to Quora.
Ouch!
Today, the search engine is powered by Microsoft's Bing search engine.
That's why search results from both search engines are always similar.
4. Baidu
With a worldwide search engine market share of just 0.59%, Baidu is China's largest search engine.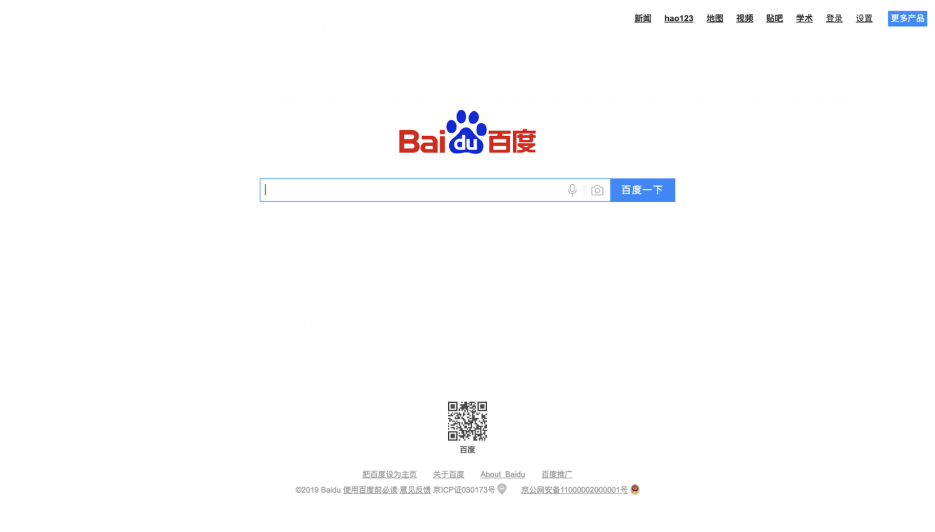 In fact, the search engine absolutely dominates the Chinese search market by 74.73% as of February 2019.
On the other hand, Google has managed to penetrate only 2% of China's search engine market.
Founded in 2000 with its headquarters in Beijing, China, Baidu has established itself as one of the best search engines.
It's one of the largest AI and internet service providers in the world.
But that's to say, it holds very little influence on searches outside of China.
It's also worth mentioning that China has one of the largest, most sophisticated online censorship operations in the world.
So, western search engines such as Google have no option but to comply with the strict and complex censorship laws to penetrate the Chinese market.
5. Yandex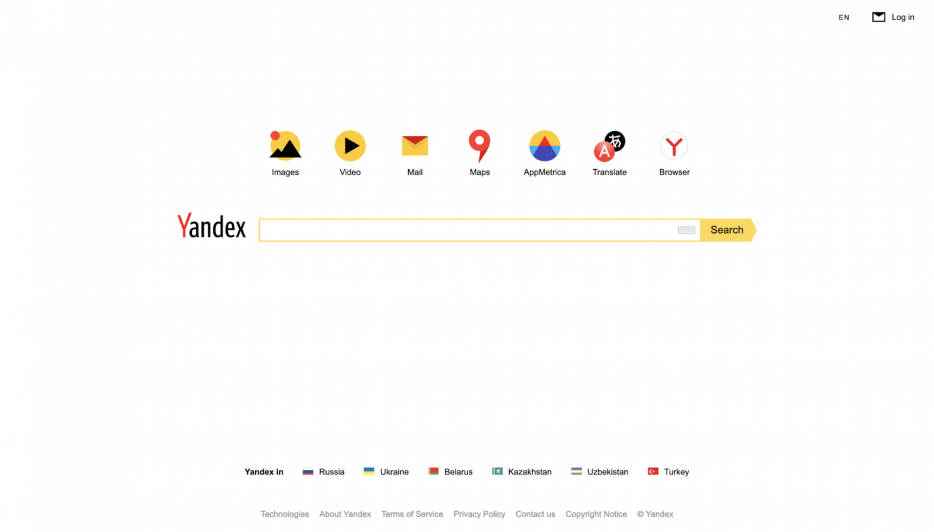 Yandex is currently the most popular search engine in Russia, where it holds over 55% of Russian search traffic.
It's also popular in Belarus, Uzbekistan, Turkey, Kazakhstan, and Ukraine.
Yandex provides over 70 different services, including tools like Yandex Disk, a leading cloud-based storage service like Google Drive.
One of this search engine's key benefits for Russian-language users is its ability to provide Russian inflection in their search queries.
6. DuckDuckGo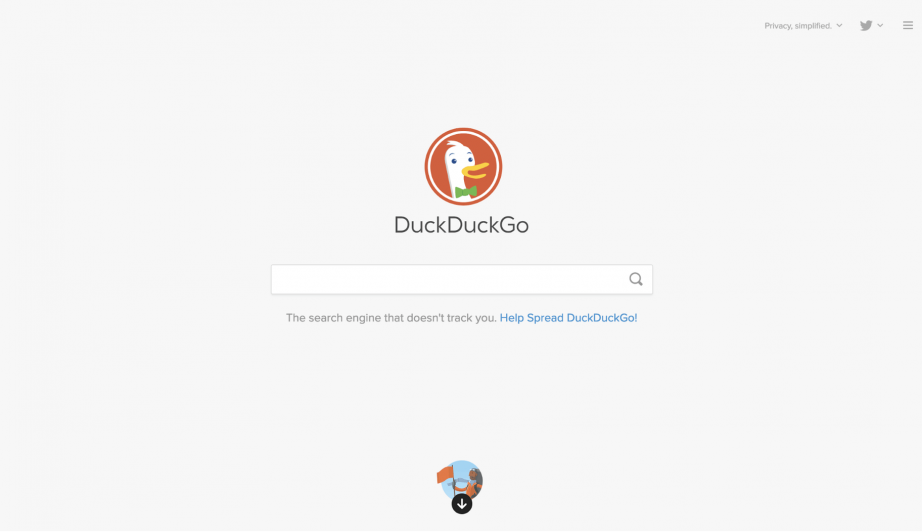 DuckDuckGo also makes the list of top nine search engines with a worldwide search engine market share of 0.39%.
The search engine's primary focus is on privacy.
Google is always in the spotlight for countless privacy issues like tracking, monitoring, and collecting reams of data about its users.
If you feel uneasy about your personal information and other data being harvested and stored by search engines or just don't like targeted advertising, DuckDuckGo is your best choice.
After all, DuckDuckGo's tagline is "Privacy Simplified."
There's no better way to describe this search engine as one of the best internet privacy companies in the world.
DuckDuckGo empowers online users to seamlessly take control of their personal information online without dealing with any tradeoffs.
That sounds pretty neat, right?
The search engine doesn't store any of your personal information or creep around with ads to blast you with.
This means that if you search for a certain pair of socks, you won't spend the next month or two being bombarded with sock advertisements.
It even has a handy Google Chrome extension to allow users to switch easily to the search engine.
Essentially, DuckDuckGo is the perfect solution for online users who're concerned about keeping their browsing activity and personal information private.
As of writing, DuckDuckGo currently receives 86.11 million daily search queries, and this number is consistently growing.
7. Ecosia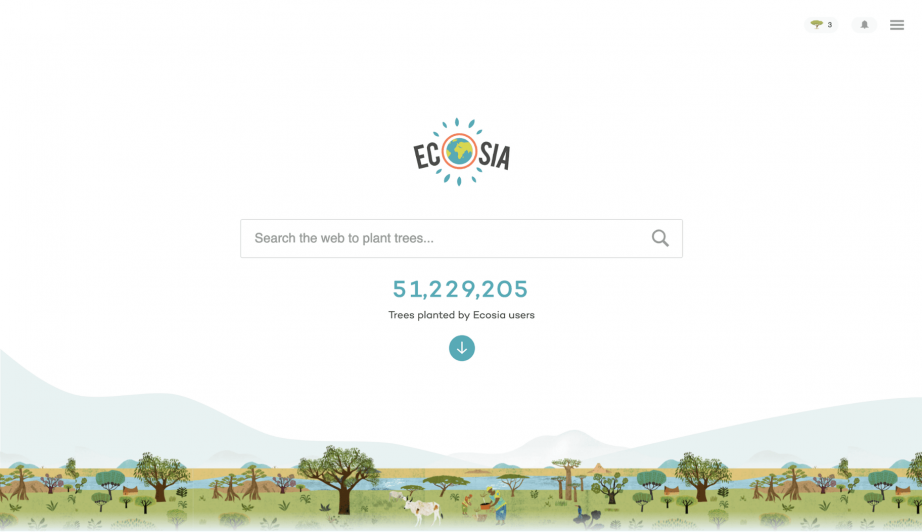 It's probably safe to say that almost everyone who's reading this post has never heard of the word "Ecosia," let alone imagine it to be a search engine.
But the fact that it's there and is ranking in this list means it has potential.
Sure, Ecosia might not be such a popular website, but we feel it deserves special attention.
Ecosia is based in Berlin, Germany, and dedicates the resources from its advertising to plant trees worldwide.
Its reason for doing this is to help people, local economies, and of course, the environment.
Just by using the search engine, you will be contributing to the environment.
That's some good news.
Ecosia's homepage also keeps tabs of the total number of trees it has planted thanks to its users – 116 million at the time of writing this and counting.
Plus, Ecosia also provides an individual counter, which tells users how many trees their searches have planted.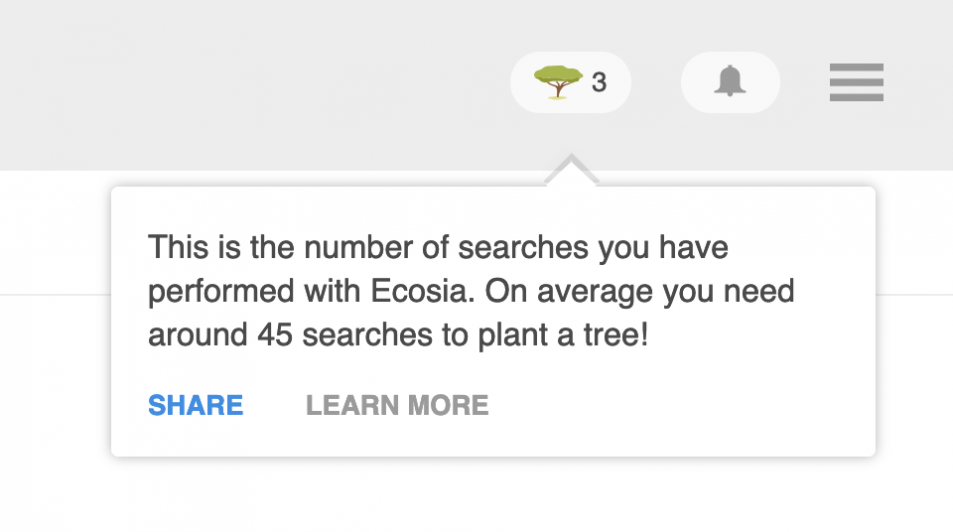 If you think this is awesome, you probably haven't used Ecosia's search engine.
Microsoft Bing powers its search results and advertisements, enhanced by its own algorithms.
Ecosia, like DuckDuckGO, also focuses on user privacy.
It doesn't store any of its users' searches permanently, sell user data to advertisers, or use external tracking tools.
Your searches are also encrypted.
So, you can easily fall off the search engine's tracking if you want.
Ecosia is extremely transparent about its spending, releasing regular financial reports about how it uses its money.
Like DuckDuckGo, Ecosia also has a Google Chrome extension that makes switching easy.
8. AOL
AOL is a pretty common name among most online users.
With a worldwide search engine market share of 0.06%, you might wonder what happened as AOL was once an online trailblazer.

Short for "America Online," AOL first came into existence in 1985.
Based in New York, the online service provider was one of the earliest pioneers of the internet.
It originally provided a web-portal service, dial-up service, and instant messaging to its users.
If you didn't experience dial-up internet, you literally had to dial-in with a phone line to connect.
Those were some interesting times.
Some people who can still remember dial-up can recall the glorious, unmistakable sound of a phone line connecting.
AOL was on top of the world at that time.
It had its own search engine called NetFind, which would later be renamed "AOL Search" in 1999.
However, AOL slowly started losing its dominance of the internet as more aggressive competitors like Google took over the market.
The search engine then turned its attention to acquiring online media companies like TechCrunch for $25 million in 2010 and The Huffington Post in 2011 for $315 million.
It later acquired Verizon Communications in 2015 for $4.4 billion.
Today, the once-revered search engine still lives on.
9. Ask.com
Finally, we have Ask, which falls in our list of top search engines to consider trying in 2021.
With a worldwide search engine market share of 0.72%, Ask is a hundred times smaller than Google.

Founded in 1996 by David Warthen and Garrett Gruener in California, the website was originally called "Ask Jeeves."
Its founders wanted to create a question-and-answer service for its users, much like a virtual concierge.
But the company would later drop "Jeeves" from its name in 2006 and rebrand to "Ask."
In 2010, it gave up on its search engine market after facing immense competition from more successful search engine providers like Google.
Now, Google powers Ask.com's search results.
Top Search Engines: What's Next?
People conduct searches every day.
Therefore, it's critical that websites optimize their websites to improve their search engine rankings.
We're not just talking about Google here.
A better search engine ranking throughout these search engines will help your business grow significantly and obtain even more leads.
Therefore, it's important that you monitor your website ranking on those search engines.
This is so you can make changes accordingly to ensure your website consistently ranks in the top results of those search engines.
To increase the time visitors spend on your site, your site's design must be user-friendly.
These content optimization tips for SEO should increase your overall rankings and site visibility.
BiQ's Rank Tracking allows content marketers to track their keywords and page rankings.
With Rank Tracking, you can fill in any missing data and time lag similar to Google Search Console.
BiQ's Rank Tracking allows users to identify keyword gains and losses, thereby allowing you to respond to keyword rankings in real-time to boost your content rankings and site visibility.
Understandably, ranking high on Google doesn't always mean you will rank high on other local search engines.
For instance, Yandex highly prioritizes geo-targeted searches.
As such, it's critical that you optimize your content to rank high in most if not all search engines mentioned above.
Similarly, you can use BiQ's Keyword Intelligence to find local keyword opportunities.
This keyword tool provides users with critical data of high-volume keywords with lower competition.
You simply enter your targeted keyword in BiQ's Keyword Intelligence filter and choose your preferred languages and locations.
Keyword Intelligence will then show you a list of relevant keywords that the local people are using.
Conclusion
From what we've learned so far, there are several good search engines besides Google that you can use to promote or boost your site rankings and page visibility.
You can actually capture the first page on other search engine results pages and generate even more traffic on your website.
Although one fact remains fairly certain: Google is set to have a long, fruitful reign.
If you are a Google user, would you consider using any other alternative search engines mentioned above? Let us know what you think!