Want to improve your landing pages but not sure where to start? Get the best landing page optimization tips, processes, and strategies to boost newsletter signups and improve ROI for your website.
A good landing page converts your visitors into leads (customers). A great landing page is one that constantly experiments to increase conversion rates and reach the highest potential return-on-investment (ROI).
Because no matter if your landing page is converting or not, it can always do better.
Landing pages are a key component that can make or break your online marketing campaigns. By taking a step back to analyze your landing pages and actively searching for ways to boost email sign-ups and drive sales can lead to exponential results for your business.
For today's post, we are going to share with you our best tips for landing page optimization so that you can attract more qualified prospects and convert them into paying customers.
Before we begin, let's clear up the meaning of landing page optimization.
What is Landing Page Optimization?
Landing page optimization is the process of improving or enhancing elements on your website landing page to boost conversion rates, and this counts for both opt-ins and sales.
However, note that optimizing your landing page does not mean redesigning the entire page but rather experimenting with one element at a time using A/B testing methods to statistically determine which design had a better performance.
Before we get to how you can optimize your landing page, here are some quick metrics and standards for a regular landing page performance that you should strive for.
What is a Good Conversion Rate for Landing Pages?
Keep in mind that conversion rates for landing pages can differ according to industry, purpose, and where your visitors are in their buyer's journey. Plus, your landing pages should also act as a qualifying channel, and not all visitors may be your potential audience.
However, as a rule of thumb based on Campaign Monitor, the average landing page conversion rate across all industries is 2.35%. Meanwhile, the top 10% of the study have a conversion rate of 11.45% and higher.
So if you are already achieving 3% or even 10% conversion rates, congratulations for meeting the mark! Yet, you can still optimize your landing page and continue improving your conversion rate because this will have a multiplier effect on your business.
Especially if you are using paid search marketing, the conversion rate will matter for every dollar you spend. So without further ado, here's how to go about optimizing your landing pages.
How do you Optimize your Landing Pages?
Have you ever wondered what makes one landing page convert like crazy and another page lose prospects that could have been perfect leads?
If you ever want to improve your landing page conversion rates, here are the key fundamentals to building your landing page that you should also consider.
1) Identify Potential Customer Pain Points
Your product exists to serve customer pain points. Your landing page should too.
Just like your products, your landing page should appeal to your target audience, meet their expectations, and compel them to act. Nothing will cause your audience to take action more quickly than when your landing page manages to address your user's pain points.
Your visitors are looking for an answer when they are making a search on Google or visiting your website. That's why it is important to ensure your landing page addresses their search intent and position your company or brand as a potential solution.
Then again, customer's pain points can be as diverse. Not all prospects are experiencing the same pain points, and some might not even be aware of the pain point they are expecting.
So when you are building your landing page, consider how your message can effectively help your prospects realize their problems and convince them how they need a solution and that your product or service will help them solve it.
Surveying your audience will also help you better understand what their expectations are.
2) Understand How Your Landing Page Works In Your Funnel
A landing page is specially designed to generate sales or capture leads.
However, that can't work without, first and foremost, understanding your landing page's traffic sources and target audience intent.
Ask yourself, where is your landing page traffic coming from? Are they directed from a content anchor text, your footer that mentions your product, or paid advertising? Analyze this and make sure your landing page fits the intent.
Pain points can vary between different buyer personas, and you need to manage your inbound segmentation to direct the right traffic to the right landing pages.
For instance, certain traffic might be more cost-conscious, so you would want to highlight the one-time pricing plan instead of the monthly subscription and emphasize the immense value your plan is providing.
Meanwhile, others might place more importance concerning the productivity of the solution and are actually willing to pay more if it saves their time efficiently. In that case, present them with the huge ROI your product offers on top of your customer satisfaction.
Generally, avoid using the same landing pages or plans for all your traffic sources. Instead, make sure your landing pages are personalized to fit each audience segment.
3) Target the Right Keywords
With online marketing, you can't escape from keyword research, and understanding the search intent behind your target keyword can go a long way.
For this, we recommend using BiQ Keyword Intelligence to conduct your keyword research. The tool provides a comprehensive outlook on your keyword details, including the search volume, trends, competitiveness, and most importantly, search intent.
Specifically, the tool lets you filter keywords according to their search intent, so you can quickly know which are the keywords you should create content for and which are the keywords you should build a landing page for.
You can even use the tool to filter a display of only keywords with transactional search intent to only look through buyer keywords and select the most suitable to bid.
Like content creation, you also want to make sure you incorporate your primary keyword and their related keywords into your headline, body text, image alt text, and headings of your landing pages to make sure it is optimized.
4) Be Clear On Your ONE THING
The more things you ask your users to do, the less likely they are to go the distance. So when it comes to landing pages, always remember that they should be designed to offer only one option.
Your landing page should be the page that follows up on the promises you have made in your title and meta description and is essentially the next step toward converting your visitors into becoming a lead or customer.
If your goal is to convert them into leads, then only have a web form offering an awesome bonus ebook; avoid over-complicating it by also including an invitation to an online webinar or sliding in your product pricing.
Ask yourself, what is the ONE THING you want to achieve with this landing page? And make sure your landing page is designed towards it.
5) Provide a Connected Experience
If you find that your audience isn't taking any action from your landing page, then it's time to reevaluate your landing page experience.
This refers to both the quality of the experience that your customer has while they are on your page and also the expectation they have towards your page. Does your landing page match their intent? Does the customer need to spend extra effort to find what they are looking for?
This is important if you are doing paid search, because a bad landing page experience can also affect your quality score, ad rank position, and your overall cost.
If your landing page is causing users to consistently leave without making a purchase, this may cause your ads to show less often, or even not show up at all.
11 Landing Page Optimization Tips and Practices
Now that we have covered landing page 101, next, let's get into the gist of how to optimize a landing page. These landing page best practices will make sure you achieve the highest possible conversion rate from the visitors who arrive at that landing page.
1) Make Sure your Offer is Clear and Obvious
Your CTA should be the first thing your viewer sees when they click on your page.
After all, you are building a landing page to drive conversions. The more clear and obvious your offer is, the more successful your conversion will be.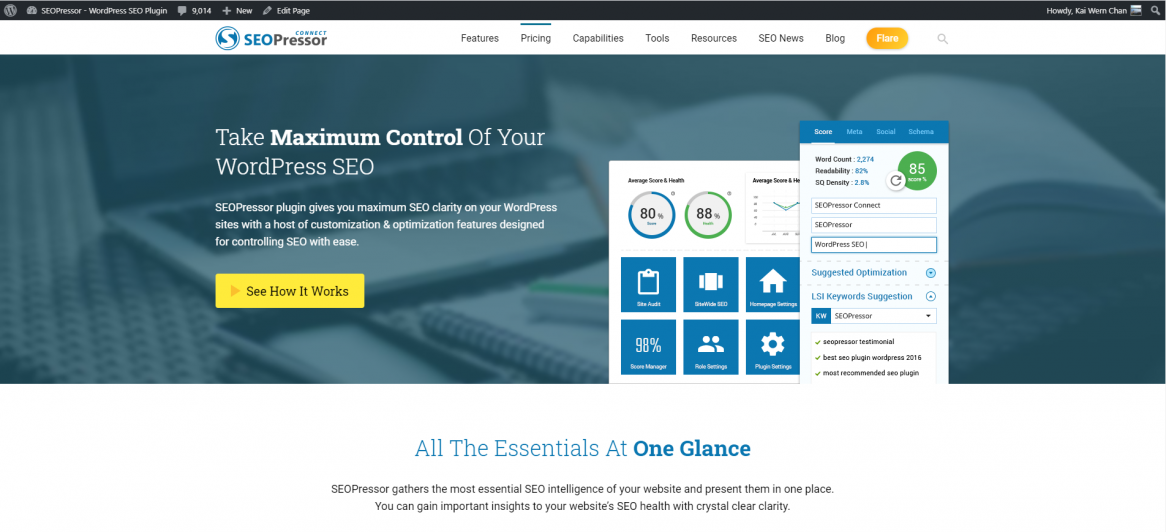 Besides, potential buyers might lose confidence if they start to doubt your offer and don't know what they are signing up for. So make sure you both are on the same page by providing an enticing, benefit-driven copy and visual imagery of what they are getting.
2) Simplify your Landing Page
Again, you want your visitors to focus on the main element of your landing page and that is your call-to-action (CTA).
Having a simple landing page will help you get rid of visual clutter and make the next action as intuitive as possible. Using one of our favorite landing pages as an example to represent this element is MuckRack.
The cool part about this landing page is that MuckRank directly appeals to and addresses both of its primary audiences. Featuring two CTAs, it literally kills two birds with one stone, and visitors can just click on the service catering to them.
Once clicked, this easily segmentizes and qualifies your inbound visitors and a very simple form appears that asks the user to opt-in. Also, if they are new and completely interested to know more, scroll down and there's all the information.
This landing page was created with intention and cleverly simplified all the important messages that are essential.
3) Try Contrasting Colors
When looking to increase your conversion rate, look no further than the colors you're using on your website.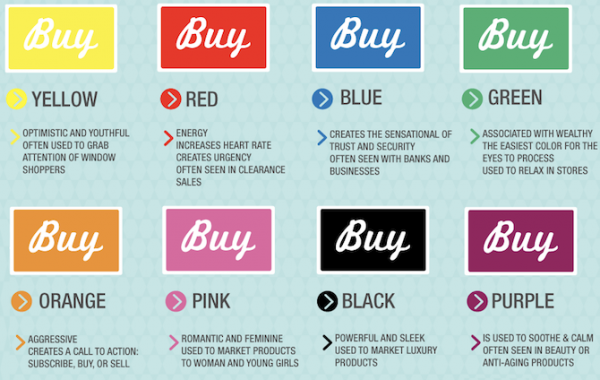 When you understand color psychology, you can use that knowledge to boost your conversion rate. So experiment with your call to action and other smaller, more impactful text elements to see which is most impactful to your click-through rates.
Also, when it comes to guessing the right color, always remember that what stands out gets clicked. Just check out Neil Patel's guide here to learn about the best colors for conversion.
4) Use Visuals or Videos to Boost Conversion
Creating the right visuals for your landing page is also important. Because effective visuals on your landing page can communicate your brand messaging in an instant.
Not to mention, visuals also provide subtle indicators that get visitors to act. So always make sure to complement your text with more convincing images for a greater impact.
Just take a look at Intercom's entertaining landing page which delivers the message of how easy your communication can be with Intercom.
5) Keep the Important Message in Your First Fold
First impressions are important, and the same applies to your landing pages.
You've only got one chance to capture your visitor's attention, so make sure to keep the elements that speak to your audience on the topmost part of your landing page, at the very first fold before your visitors scroll.
Make sure your messaging and visuals are impactful and entice your visitors to click or scroll to get more information. Also, consider creating different designs for different displays to cater to people who are using smartphones or tablets.
6) Use Scarcity Marketing Techniques
Your landing page is incomplete if it does not have an element of scarcity.
Often, it is this element of urgency that would drive people to action and secure this limited exclusivity. As a matter of fact, people value scarcity because it makes them feel unique, being something hard to acquire.
7) Keep your CTAs Straightforward
Your call-to-action or CTA buttons are among the most important elements on your landing page and deserve to be tested.
Imagine them as the door to the next step of your marketing or sales funnel, and it is what everyone clicks on to go to the next step of your marketing funnel. It's easy to just leave your CTA button as "Submit" or "Buy Now", but you shouldn't.
Also, don't restrict it to being a single word copy, most importantly your CTA should have a clear meaning even to visitors who have only skimmed your page. The key is to be straightforward and let your users know where they are going next.
8) Add Testimonials and Social Proof
Customer testimonials on landing pages are effective, but some might be more impactful than others. Though you may have already featured your customer testimonials to build trust, always experiment with different social proof and design to see which works best.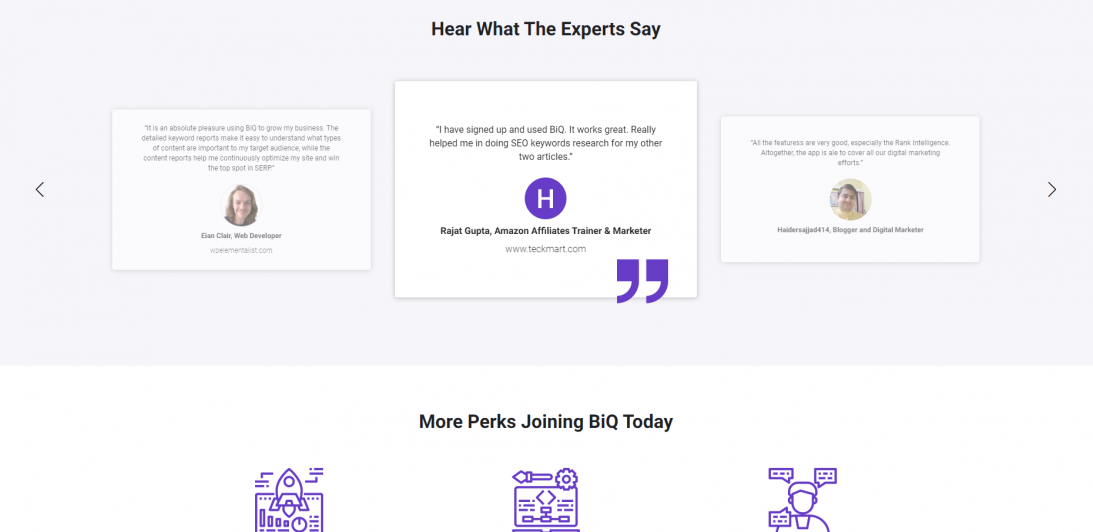 Just take this example from Khan Academy for instance. While they featured their student's personal stories as testimonials, it wasn't until they included their photos that the social proofs brought a powerful impact.
9) Persuasive Headline and Description
Your landing page needs a persuasive title and meta description if it were to get any clicks at all in the first place.
So make sure you create an enticing headline and meta description that is optimized with your target keywords. To avoid keyword overstuffing, you can use our BiQ Keyword Intelligence tool to find related search terms that you can include in your copy.
However, if your landing page is currently ranking organically for your target keyword, you need to do this step with an added precaution.
A simple change to your title and meta description could also probably affect your keyword rankings. So make sure you are tracking your keyword rankings using BiQ Rank Tracking to quickly adjust if your keyword ranking slips.
10) Try an Exit Popup
Exit popups might sound like a simple tactic, but you might be surprised at how effective it is.
It's your landing page's last shot in recapturing your audience's attention, and can only serve to further boost your landing page conversion instead of letting them just leave.
In fact, an optimized exit popup has increased Ryan Robinson's subscribers by 500% from visitors that otherwise would not have returned to his site. So why not give it a try?
11) Test Before You Use it for Paid Marketing
Now don't imagine creating the perfect landing page from day one.
The idea behind landing page optimization is about optimizing one element at a time before officially making your optimization changes permanently live.
It is a continuous process of making little tweaks as you analyze the data and see how the changes have impacted your conversion rate. If you are looking to use it for paid marketing, our advice is to test it with your existing subscribers first.
Using heat map tools like Hotjar can show you where people are clicking on your landing page. Are they ignoring your call to action? What is their focus on the page? Do they skim through your landing page?
Track your website visitor behavior and optimize accordingly. See their scrolling activity, see where they leave the page, and always take note of your optimization results and implement it to your other landing pages.
Conclusion
Now you know exactly how to optimize your landing page, it's time to get started! Follow our tips and landing page best practices to increase your conversion rates and ROI today.